aka Kang's Living Restaurant Guide version 4. Released to the wild in April 2012.
This list is put together to record the restaurants I love and would revisit. No guide is ever definitive, and this one is far from it. It is as transitional as the restaurants which rise and fall through the years. I do however hope you'll find this (quarterly to bi-annual update) useful and a pleasant read in planning your next meal in the city.
This list is organised into the following categories :
Personal Favourites ; British ; Special Occasions ; Easy Occasions ; Asia ; Coffee and Else
Classy restaurants, Institutions and 'Fine Dining' : £60 – £100 pp
Bistros, Wine Bars, Gastropubs : £45 pp
Post-Polpo, Tapas, Diners : £20 to £40 pp
Burgers £7 to £20
There couldn't be a wider spread of choice to dine out these days. The relentless rate of 'quality' restaurant openings seems to have slowed down in 2012. Generally speaking, I feel that newer restaurants are headed toward better value for money rather than to challenge for macaroons.
Le Critics
Marina O'Loughlin for Metro
Fay Maschler for Evening Standard
AA Gill for The Sunday Times
Jay Rayner for the Observer
Guy and team at TimeOut London
Restaurant Bloggers
Miss GT and Mr B at Gourmet Traveller
Critical Couple
XXX at Bellaphon
The Epicurean
Young and Foodish
Miss C of Gourmet Chick
Douglas Blyde at Intoxicating Prose
Burgerac
———
Jump to another section :
Personal Favourites ; British ; Special Occasions ; Easy Occasions ; Asia ; Coffee and Else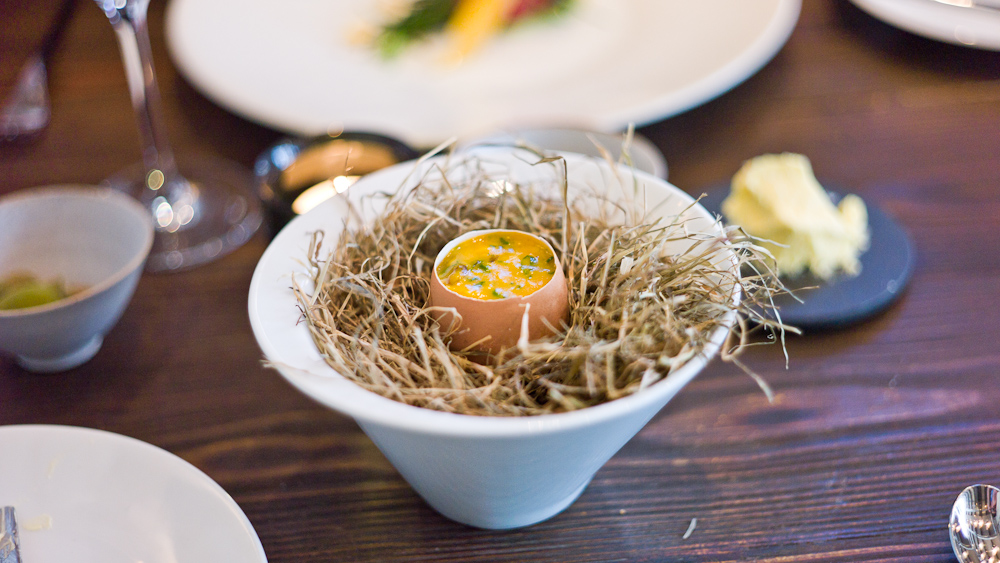 Dabbous
Next Gen, £40pp
39 Whitfield St, W1T 2SF
Tel : 0207 323 1544
Tube: Goodge Street
You should have heard of Ollie Dabbous by now, the young chef's eponymous restaurant opened earlier this year is certainly the most exciting food I've come across in recent years and consequently is now the hottest table in town. Good luck getting a booking for the next 3 months. I was fortunate enough to visit twice within the first month of opening, and on both visits, the cooking was a revelation. It's probably still a work in progress but its a bloody amazing work in progress and I suspect it may perpetually be a work in progress. The cooking is highly technical but the output is admirably effortless. Pure magic, very exciting stuff indeed. Each dish is a thoughtful and effective construct of few ingredients which work together to achieve umami. Dabbous is very new-age and may be a prime candidate for membership to the Le Fooding movement. Luckily for us, Ollie is based here and not Paris. Review here
Copita
Faster than you can say tapas. £33pp.
26-27 D'arblay Street W1F 8E
Tel: 0207 287 7797 but No Reservations..
Tube: Oxford Circus
This one really took me by surprise. I love this place. Opened by the guys who own Barrica, this little tapas bar is more bar than tapas. Portions are tiny, there aren't even any proper tables to sit down in, aside from stools and bar length table tops, and it doesn't take reservations either. But the cooking is a bold departure from the norm, there is lightness, creativity, nuts, citrus fruits and a whole lotta truffle. The slow cooked, custard-like duck egg with a touch of orange (i think) is a dish you only dream about in restaurants, the cod throat and clams were euphoric, and their Tom Jones beef tartare hand-chopped with sprinkles of truffle was mince beef heaven. There is a twist in every single recipe, a surprise with every mouthful. This is fantasy cooking, and one of (if not actually) the most exciting (of) openings in 2011. A recent revisit earlier in 2012 confirmed that things are still on the up and up, however prices have escalated slightly and it's just a little pricier than expected now. I ate some lovely barely cooked Scotch langoustines, flesh still translucent. A price premium, but definitely memorable cooking. Copita review here
Medlar
Anglo-French £25 for lunch at £38 for dinner.
438 Kings Road SW10 0LJ
Tel : 020 7349 1900
Bus: 328 to Chelsea World's End.
For me, this was the restaurant of 2011. Apart from Cambio, this is my favourite restaurant in the capital. Maybe I like a bit of old fashion decadence, but I think the disciplined French cooking is just fantastic. Chef Joe was formerly the sous at venerable Chez Bruce, and the other co-owner, front of house David O'Connors formerly of The Ledbury. Unsurprisingly, their restaurant feels distinctly like a Platts-Martin production – Value driven (£25/£40 prix fixe menu) , stunning but classical (and rich) French cooking in a low-profile and comfortable ambiance. I went to Chez Bruce and I think Bruce Poole would be extremely proud of his protege's work. The food is brilliant, front of house are visibly hardworking and come across as genuinely impassioned about their labour of love. I think they know they're onto something special with Medlar. I revisited in March 2012 and were delighted to discover that they serve Jurançon (just like Chez Bruce) and serve an exquisite prune & armagnac ice cream (with financiers) (just like Chez Bruce, too). Duck tart, crab ravioli, beef blade steak with triple cooked chips (and house whipped bearnaise) are my picks. Dare I say, the cooking here has surpassed Chez Bruce in nearly every department. Medlar review here
Cambio de Tercio
Spanish, £50pp ; 7 Course taster menu £37.
163 Old Brompton Road SW5 0LJ
Tel: 020 7244 8970
Tube: Gloucester Road
I've been visiting this restaurant since 2003 and glad to say that it was going strong in 2010, still riding the waves in 2011, and rumours are they are still hanging on in 2012 with word of minor but substantial tweaks to their already superb octupus recipe. Simply the finest Spanish restaurant in London, in my opinion, probably deserves at least a michelin star just for the sheer quality of food. The owner Abel Lusa is there almost every night since he opened in the nineties, and is as genial as ever.The heart and soul of the restaurant. I've never had a bad meal here and it comes with my highest recommendations. Read More.
Lucky Chip
£6 a burger
Netil Market,
Westgate Street
London Fields, E8 3RL
Ben – 07795816355
I think Ben & Comar sell the best burgers in London. The patty is well seasoned and has bags of beefy flavour. They steam cook their patties in a similar way to Meatwagon. In addition to the food truck at Netil Market, they are resident at Sebright Arms and are due to open in permanent format, tentatively Slider bar sometime this year. Be forewarned there will be massive queues, and because of the high demand, consistency can be a challenge for these folks, so perhaps its a good idea to show up early. Review here.
Corner Room
Hidden Genius £30pp
No reservations, no phone.
First Floor at The Town Hall Hotel
Patriot Square | E2 9NF
Tube : Bethnal Green
I met Nuno Mendes when Viajante was just a pipedream and he was still cooking at his private kitchen The Loft, before it became a platform for emerging chef-artists. I wish I'm half as cool as he is. "It's Vi-a-JAN-tey, with a J. I'm Portuguese.". Strokes the Jesus beard and a flick of his fringe. He is the antithesis to Heston's nerdy mad scientist, he is the vision of a manic artist revelling in his most creative period of his career. I am so glad for his michelin star with Viajante, but I am more glad that he has decided to breathe life into The Corner Room. This is a significant restaurant. It was once the breakfast room for the Townhall hotel's guests, but now it is London's worst kept culinary secret.
Sure its no booking policy mean that on weekends, food is tardy and inconsistent, which can be an absolutely let down after a pain in the a of a long queue (or getting completely wasted while waiting in the Viajante bar downstairs). During quieter times however, the corner room really comes into its own. With a bit of breathing space, the young chefs from downstairs Viajante are given the chance to rise to the occasion to turn out stripped-down cooking that is reticent and thoughtful. It really is like a solid B-side that you love it for its uniqueness.
The results are hearty dishes which are breathtaking, marvelously simple and free from the pomposity of Viajante's prerequisite theatrics. The Iberico pork loin with Portuguese bread pudding is a genius dish that you must try – it works equally for brunch or for dinner. This is an unplugged acoustic set of smoother sensations, like Bread & Wine or Rochelle canteen, it is the explicitly bare act of nourishment that makes it such a romantic proposition. Review here
Zucca
£30pp Italian.
184 Bermondsey Street SE1 3TQ
Tel: (020) 7378 6809
Tube: London Bridge
This lovely little restaurant was the first of a wave of River Cafe-lites when it opened nearly two years ago. Now it has matured into an Italian institution unto itself. I feel it is home to some of the best Italian cooking in London, epitomizing the elegant sensibilities of the cuisine. The missus loves it and can't stop taking her friends there and regularly books tables at random, weeks in advance. And you will probably need a few weeks of notice to nab a table at a sensible time, given the obscurity of its location (in Bermondsey St). The house-made pappardelle with ragu is inspirational cooking. They served the best grilled veal chops in London for less than £15 two years ago, and now they serve the best veal chops in London for under £20. Read more.
Made in Camden
Fusion, brunch, cafe, bar and free wifi. £20pp
Chalk Farm Road NW1 8EH
Tel : 020 7424 8495 Tube: Chalkfarm
Many dead trees have been dedicated to the launch of Ottolenghi's new restaurant in Soho, NOPI, and while I think NOPI is brilliant, I also think it's a little expensive, and just a little too glam for everyday. I feel that the once modest cafe at the Roundhouse, transformed by Josh Katz into a culinary destination, deserves time in the limelight. Katz had previously stinted with Yotam in a previous life, so maybe that's where the Medi influences in his cooking can be traced back to. If you're lucky, surprise dishes such as his take on Chang's Momofuku pork bun may show up on the menu. The weekend brunch menu of baked eggs, grilled banana bread and blueberry pancakes are completely fabulous.
I've been to MIC maybe 10 times, the missus keeps a loyalty card, but we always forget to take it with us. I really do think it's wonderful cooking. A real gem, especially in this part of town, and well worth a visit. Read more.
Sushi of Shiori
Very personal kind of Japanese, £45pp
144 Drummond Street, Off Hamstead Road, NW1 2PA
Tel: 020 7388 9962
Tube: Warren Street
I never thought such a fabulous labour of love would ever exist in London, this tiny sushi bar can only accommodate nine people, is run by a husband and wife team, but the sushi is as good as you will find in London. The chef is ex-Umu, and is a artist with the knife, who has probably decided to keep his restaurant small, so that he can personally wow his diners as they watch him prepare dinner. If you love sushi, or would like to be introduced to it, this is the place to go. The entire dining experience is unique and personal. My favourite Japanese restaurant in London. Read More.
Goodman
£45 – 100 pp Steakhouse in Mayfair, Canary Wharf, and the City
As a red blooded male, I love meat sweats. I frequent Goodman on a regular basis and this is my go-to restaurant for proper steak. There are two realistic choices for London steak, Goodman and Hawksmoor. I prefer this Russian owned restaurant for the sheer choice of meat, in particular the Nebraska Prime USDA beef. NZ, Chilean and Oz Wagyu, O'Sheas Irish Beef, Scotch and a number of English beef (Belted Galloway is good) are also on their menu.
Each of the restaurants have aging rooms on premises and they cook their steaks inside the vaunted Josper Grill for extra smokiness. There are three Goodmans now, the original at Mayfair, another in the City and the latest in Canary Wharf. Read more on Mayfair and City.
————
Jump to another section :
Personal Favourites ; British ; Special Occasions ; Easy Occasions ; Asia ; Coffee and Else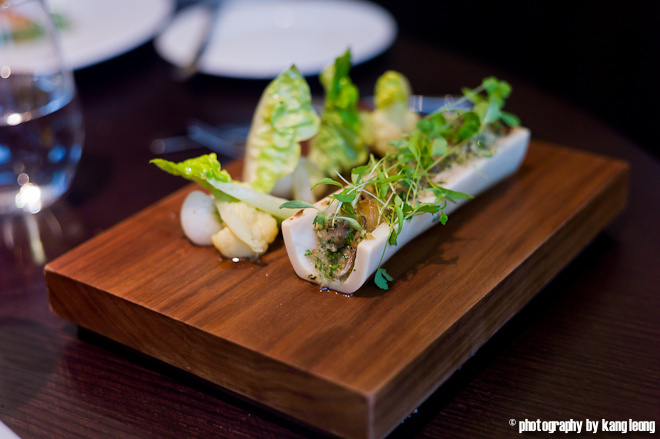 Dinner by Heston Blumenthal
British …but impossible to book, £70-100pp
Mandarin Oriental Hyde Park
66 Knightsbridge, London SW1X 7LA
Tel: 020 7201 3833
Tube: Knightsbridge
I think Dinner might be better than Fat Duck. I liked my visit to the FD, but it felt like a restaurant which you could never revisit. The ending was just too climatic. The theatrics while fun on a first visit, is a play I don't want to see again.
Dinner, on the other hand, serves a bloody good dinner. Ashley Palmer-Watts, Heston's right hand man, leads the kitchen. One could argue that the approach here is anti-Fat Duck, with the standard 3 course structure and portions generally more filling in comparison. There is just a residual Alice in Wonderland feeling bubbling in each of the recipes.You could also think of Dinner as a souped up version of Hind's Head. The triple cooked chips are on the menu, but so is the delicious porridge, still green and supple, but made with cod cheeks instead of snails. Most of all, this is a restaurant you could revisit and really marvel at the technical merits of a Blumenthal kitchen in producing stonking good food that's tastes better than presented. Could be one the greatest restaurants ever to grace the capital. It's only problem : Still nigh on impossible to get a table a year after opening. More here.
The Sportsman
British, The Best Kind. £55pp.
Faversham Road, Kent CT5 4BP
Tel: 01227 273370
Travel: Train from Victoria to Faversham, then 15min taxi ride.
I realise this is outside of London but I feel it that it should belong to any list about British/British-based restaurants. The original gastropub turned destination restaurant located on the fringes of Kent is one of the most loved in the country. It is arguably the epitome of the British restaurant. It certainly was the most memorable staycation I've ever had. The cooking is absolutely first class, vibrant and as enriching an experience as the sea and greenery that surrounds it. I've read that everything Chef Harris puts on a plate is either caught from nearby or grown in his garden behind the restaurant. The best egg custard tart I've yet tried, more like egg-mousse than cream. This is a real pilgrimage for food tourists. There's about a 2 to 3 week lead time to book a table, try and grab one on a weekday to catch their taster menus. Most of the B&Bs in Whitstable are good enough for a night (or two). The Sporstman review here
Brawn
British, French, Meat, wine bar, egalitarian. £30pp
49 Columbia Road, E2 7RG
Tel: (020) 7729 5692
Tube: Bethnal Green
Brawn is the funky East London offshoot of the hugely successful Terroirs. The quality of the sourcing, the amount of meat on the menu, the modest decorations in a relaxing square space are just brilliant. Can we call it French tapas? Or perhaps Anglo French tapas? A wine bar too? Just give this a go, it's very good. More here.
Odette's
British, £50pp ; Set Lunch £18 for 3.
130 Regent's Park Road NW1 8XL
Tel: 020 7586 5486
Tube: Chalk Farm
I don't understand why there is so little publicity about this charming restaurant in Primrose Hill. Bryn Williams is a brilliant chef, and six years on, the turbot dish he made for the Queen's 80th bash, is national treasure which deserves to be savoured. I don't know what it is about the room that has made a lasting impression, maybe it's the flower patterns on the wallpaper, or dangling lamps, or that it was mostly green. Genius chef, romantic location, relatively well-hidden. Read more.
Bull & Last
British, Great Pub & Great Kitchen £35pp.
168 Highgate Road NW5 1QS
Tel : 020 7267 3641
Tube : Gospel Oak
The North London pub is in its 4th year of operation, and I think it's one of the best examples of a great pub lunch. There is a feeling that everything is home-made, hand-picked and sourced responsibly to deliver cooking that is handsome and rewarding. The charcuterie platter is truly one of the best dishes I've ever eaten. The menu changes often to reflect the seasons, so there's always something new to return to try. Though finishing with the blueberry cheesecake sundae is a must. Read more.
St John / Hotel / Bread & Wine
Fergus, British £40.
26 St John Street EC1M 4AY
Tel: 020 7251 0848 Tube: Farringdon
The original purveyor of Nose to Tail cooking, Fergus Henderson's food is as stark as the restaurant's decor. Offal, game and lesser known cuts are the order of the day and the menu is more of an exploration of the limits of what should be eaten. At times, the bare-bones outfit might be too reticent, but its simplicity is also its greatest triumph. Roast bone marrow and mandelines are among the classic choices. For my money, the Hotel restaurant is just as good as the original. However, for even less formality, Bread & Wine always gets the job done. All St Johns (plus Rochelle Canteen) are worth visiting, just be prepared for the offal & game if you are still uninitiated. Reviews here St John , Hotel , Bread & Wine , Rochelle.
———
Jump to another section :
Personal Favourites ; British ; Special Occasions ; Easy Occasions ; Asia ; Coffee and Else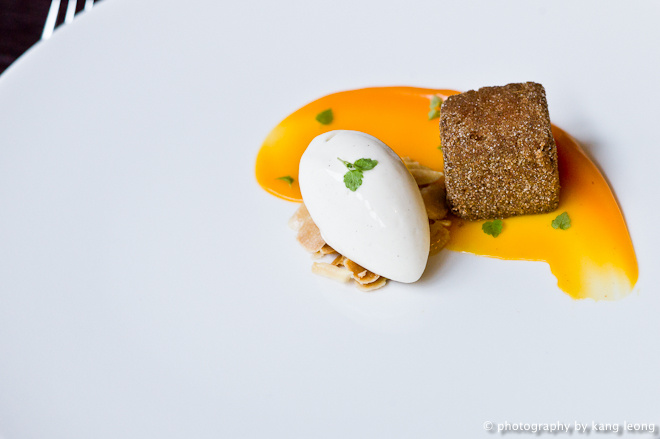 Roganic
3 hour dinner. Lots of ideas, etc.
£50 to £100 pp
19 Blandford St, W1U 3DH
Tel: 0207 4860380
Surprisingly, Ben Spalding has left Roganic to focus on solo projects. Roganic was always meant to be a two year pop-up, but in light of this news, I'm not sure if it will morph into a permanent effort after next year.
Simon Rogan will supposedly dedicate more of this time to the London restaurant, so it should still produce good meals. The signature potato dish (ala L'Enclume) was one of the best things I ate in 2011 – a perspective bender considering I never knew potatoes could ever be a main course – and one of the more dazzling marathon menus I've sat through all year. There's an emphasis on quality of produce here, much of which sourced directly from Rogan's own farm. Because of the way the menu is structured, this is one restaurant which if you do visit, that I recommend you try the full ten course experience.
Remember when Brett Graham was an up and coming talent? Looks like Ben has taken his next step. Where will he land? Roganic review here
Quo Vadis
Classic Soho Fayne Dining £45pp.
26-29 Dean Street, Soho W1D 3LL
Tel : 020 7437 9585
Tube : Leicester Square
With Jeremy Lee at the helm, Quo Vadis becomes a revitalized option to indulge in the spirit of classic Soho fine dining. If you were a fan of his cooking at Blueprint Cafe, you should be very familiar with his QV menu. On both visits, I was impressed with the classic cooking. Jeremy take on the St Emillion au Chocolat is to die for, and his smoked eel sandwich is really as good as the blogs claim. If you dare to believe my hype. Read more.
Bob Bob Ricard
Anglo-Russian All Day Diner, Vodka & Caviar, 40pp
1 Upper James Street, London, W1F 9DF
Tel: +44 (0)203 145 1000
Tube: Piccadilly Circus
This unconventional Soho fine diner is as wacky as it is glamorous. It has the shiniest brass booths and the slipperiest marble table tops ever to grace a restaurant. Its Russian-cum-British menu has some wonderfully nostalgic items like the veal holstein and a steak rossini (made with rump instead of fillet!) and some epic dishes like venison tartare topped with 15g of (presumably the best money can buy) sturgeon caviar. I'm curious how large its Chateaubriand (for one) actually is. Try the Russian salads chased by vodka chilled to -18C. Also worth trying are the lowest priced Ch. d'Yquem's (aka World's greatest sweet wine) by the glass. The 1996, as approved by the Chateau itself. There should be nothing cheaper in London by comparison. This is the only sweet wine in Bordeaux which is classified as a Great First Growth, so it is well worth trying. 2001/2006 were its best years in recent vintages.
(Speaking of, maybe I should nab some 2011 at en primeur.)
Don't forget to press the button for champagne. Read more.
Viajante
Well Travelled Portuguese, £25 for 3, £60 for 6, £85 for 12. *
Patriot Square E2 9NF
Tel: 020 7871 0461
Tube: Bethnal Green
I think that Nuno Mendes foraged-from-around-the-world cuisine is groundbreaking, a game changer and a wonderful addition to London scene. If he keeps up his mad genius, I think he can rival Noma's status. I believe he represents the next generation of superb breakthrough gastronomy. There is something very special brewing in Bethnal Green. I have been watching his development very closely, and on return visits, the zen kitchen is getting better at its method of minimalistic cooking, and perfecting their myriad of creative dishes inspired by world cuisines. And they even managed a star. Read more.
Semplice
Italian, £75pp *
10 Blenheim St W1S 1LJ
Tel: (020) 7495 1509
Tube: Bond Street
Semplice produces fabulous Italian cooking. The restaurant belongs to a previous period, when Italian fine dining was fashionable, as opposed to the younger, sleeker and ultimately cheaper Italian cucinas that have sprung up in the last couple of years. Nevertheless, you shouldn't overlook this gem, their Milanese risotto with saffron and bone marrow is a thing of heavenly beauty and the twist on the good ol' tiramisu is fun. Read more.
Gauthier
French, £80pp *
21 Romilly Street W1D 5AF
Tel: 020 7494 3111
Underground : Leicester Square
Alexis Gauthier spent a decade establishing Roussillon's reputation as one of the finest French restaurants in London, and this dude has loyal followers. His current venture, the eponymous Gauthier is his brainchild and a labour of love. His dream restaurant, and perhaps a dream to many as well. I love it. The buzzered entrance may be a little corny but cramped soho townhouse setting while comfortable can be a little too 'fine dining' for most nights, save for special occasions or perhaps business dinners.
I thought his signature truffle risotto, and his take on the Louis XV were both formidable. Although those who've had the pleasure to dine at Ducasse's original in Monaco say that Alain's former protege has yet to reach the dizzy standards set by his mentor. The food is surprisingly affordable (well, relatively anyway) at £68 for their full taster and just £35 for a three course meal. Read more.
The Ledbury
French £100pp. **
27 Ledbury Road W11 2AQ
Tel: 020 7792 9090 Tube: Notting Hill Gate
The last time I went was 2009, so I might be out of touch with the restaurant's latest advances. Brett Graham is now a lauded two star chef and Ledbury is considered to be the best restaurant in London.
I can still recall his celeriac dish, cooked wholly in a salt crust with ash and then served sliced with truffle mayonnaise and a kromeski of middle white pork, was real signature stuff. His other restaurant is the Michelin Starred pub, Harwood Arms which serve those scotch eggs which have since become urban legend. My 2009 review , but google a more recent visit if you want to know how (if) it has changed.
North Road
Danish £80pp … £20 for 3 course set lunch. *
69-73 St John Street EC1M 4AN
Tel: (020) 3217 0033
Tube : Farringdon
As if the Nordic trend has not come and gone. It received a michelin star last year, but praise for the Danish outfit in Farringdon has been inconsistent since Christoffer Hruskova transplanted his New Nordic cuisine from Fig to North Road. Criticism is squarely because it seems to share too many tricks with Noma, even though Hruskova had been doing it as long (if not longer) than Rene has. Anyway, I liked my meal there, and I think it's a bit of an alternative choice for an occasion restaurant. Cleaner flavours, cutting edge, that kind of thing. Read more.
———
Jump to another section :
Personal Favourites ; British ; Special Occasions ; Easy Occasions ; Asia ; Coffee and Else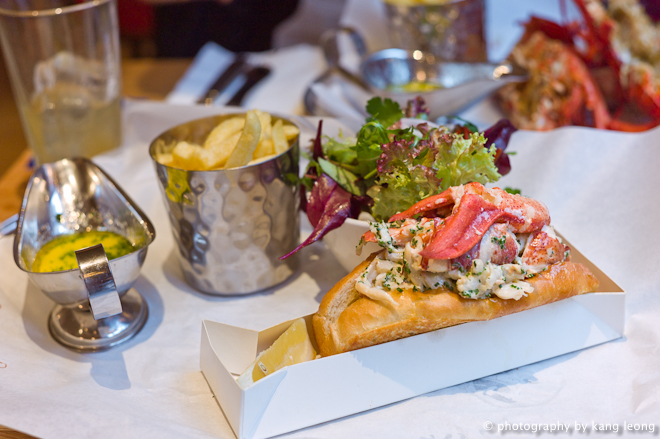 Burger & Lobster
Lobsters & Burgers & Lobsters. Only. £20 for each.
29 Clarges street, Mayfair London W1J 7EF
Tel : 0207 409 1699 but No Reservations!
Tube: Green Park
From the Goodman chaps, as the name implies, this Mayfair restaurant only offers 3 dishes at a single price : A fantastic burger, a whole lobster and a lobster roll. All served with chips, salad at £20 a plate. Intriguing isn't it? The lobster roll (about 3/4s stuffed in a toasted brioche) is to die for. You'll have to start queuing early (preferably 30 mins before doors open) otherwise you're looking at a 2 hour wait. It's so popular it's probably hurting the business. It is now the cheapest place to get a lobster fix. Actually, it is the first London restaurant where you can get a lobster fix, discounting the lobster noodles at Pearl Liang / Mandarin Kitchen. Read more.
Spuntino
American, £25pp
61 Rupert Street W1D 7PW
No phones, no reservations.
Tube: Piccadilly Circus
Spuntino was the third of Russell Norman's magnus opus, and depending on how you feel about the faux-Jewish deli Mishkin's (personally, I think Mishkin's is brilliant), Spuntino remains as Russell's greatest success. Moving away from the Italian baccaro theme and toward the American speakeasy, the result is a convivial atmosphere with greasy diner dishes like truffle egg toast, ground beef and bone marrow sliders with a touch of the wacky like peanut butter & jam sandwich re-imagined as a frozen pudding. Some Polpo-like dishes make cameo appearances too of course, but the sum of its parts is far more exciting and refreshing than anything that has come before. The tiny Soho diner may have lost a bit of its magic since opening last year, but I think the modestly priced greasy American offerings are still worth a visit, especially if you were looking to drop in for a swift sandwich during off-peak times. Read more.
Meat Liquor
Burgers, £7-15pp
No reservations
74 Welbeck Street, London W1G 0BA
The food truck that opened our eyes to the wonders of the great American invention. When I checked in March 2012, it still entertained an hour long queue. Meat Liquor isn't quite as special as the (now mythical) Meateasy, but the burgers are still benchmark material, and it would still make for a fantastic way to start (or end) the night. Word is that Yianni has another (larger) project for Covent Garden (Meat Market as it is dubbed) currently in the pipeline, which should hopefully satisfy the demand for his cheeseburgers, and ease queuing times. Read More.
Jose / Pizarro
Spanish. £40pp
104 & 194 Bermondsey Street, SE1 3TQ
No Reservations
Tube: London Bridge
Jose Pizarro completed his diptych when Pizarro opened to brilliant reviews toward the end of last year. His tiny sherry bar – Jose – now handling the overflow when Pizarro fills up and vice-versa. Both are open for nearly all day, every day and peak times and evening sittings cannot be reserved. If you walk in just before the peak times, you should be able to nab a free table. Like the Brindisa restaurants which Jose built up, his eponymous restaurants are completely about preserving the natural flavours of the incredibly fresh ingredients of notable provenance. You will adore it. Both are restaurants which you could easily make return visits to. Reviews: Jose & Pizarro.
Opera Tavern
Ever the dependable tapas specialist, Ben Tish's (of Salt Yard/Dehesa) Opera Tavern is a textbook example of British tapas executed perfectly. While Copita caters to the fancy things, Opera Tavern whips out solid and familiar recipes. In the vein of its sister restaurants, quality is found in every single aspect of the menu, but do believe the hype with the iberico pork sliders. Read More.
Dock Kitchen
£45pp British/Italian, Fantasy
Portobello Docks
344/342 Ladbroke Grove W10 5BU
T: 0208 962 1610
Underground : Ladbroke Grove
Steve Parle is ex-River Cafe and rising star in the chef world. He initially started Dock Kitchen as a pop-up cafe inside the kooky cool Tom Dixon showrooms for the London Design Fest in '09 (with chef pal Joe Trivelli) , but its popularity has allowed Parle to make it his permanent office. The menu rotates with the seasons, but I'd probably describe as Medi-Indian-Italian-British. Certainly not fusion, but closer to a sort of fantasy cookbook style of cooking which is both refreshing and unlike your usual outing. There are special theme nights (a la 'supperclubs) in addition to the daily menu, if you fancy it. Atmosphere alone is worth a trip, especially if the weather is good. Read more.
Chabrot
French, Bistro, French. £25pp
9 Knightsbridge Green
London SW1 X7Ql
Tel : +44 (0)20 7225 2238
Tube: Knightsbridge
We don't have many Parisian bistros in town (why would you when you could go to Paris) , and so one shouldn't overlook the nostalgia this restaurant can provide. The plat du jours are extremely well priced at under £15, and you can end your meal with a cafe guarmand (your choice of brew plus petit swweet things) and the price includes a glass of tipples too. Chef Thierry Laborde is ex-Le Gav and his friendly bistro is a captivating addition to the circuit. Read more.
———
Jump to another section :
Personal Favourites ; British ; Special Occasions ; Easy Occasions ; Asia ; Coffee and Else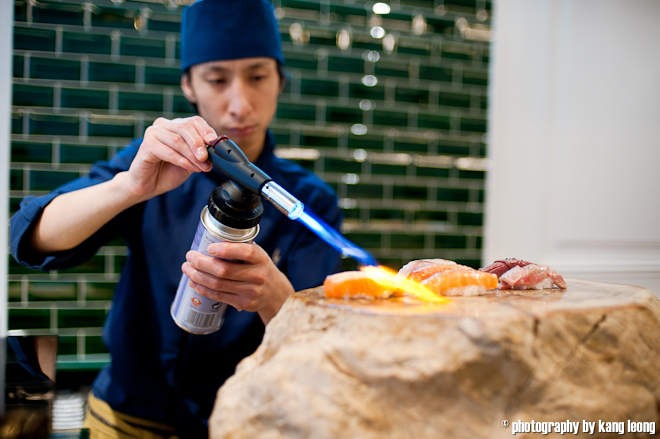 Yashin
Flame-thrower sushi without soy, but only if you want to £70pp
1A Argyll Road, off High St Ken W8 7DB
Tel 02079381536
Underground : High Street Kensington
This is an awesome sushi bar. Awesome showmanship. Awesome quality of produce. Awesome sake tasters. Awesome fushion of raw fish, rice and a flurry of modernist garnishing. And an awesome bottomline too, if you are not careful. Truly cutting edge sushi arrived in London two years ago, and in 2012, it still looks pretty great. Read more.
Atari-ya
Just Sushi, £Varies greatly depending on location
Golders Green, Ealing Common, Swiss Cottage, Oxford St.
Atari-ya are well-know importers of sashimi grade fish who are said to supply most of the pricy Japanese restaurants in town. And my lord, quality sushi is still so expensive in this town, but Atariya bucks the trend. In recent years, they've established a string of retail outlets/sushi bars selling premium fish (like thawed otoro by weight) at prices which are probably not too far off from what restaurants pay for them. They have absorbed the once vaunted Sushi Hiro in Ealing Common into their fold, rebranding but maintaining the operation.
For days when I cannot afford Yashin or Shiori, I go to Atariya. I work close by, so I tend to resolve my sushi binge cravings at that branch. However, the Swiss Cottage branch is probably the swishest, with the largest cooked food menu which includes black cod miso and fried oysters. Specials include abalone and razor clam too. Full fat otoro when in season is a fabulous thing of beauty, and a nigiri varies from branch to branch from as low as £2.40 to £4. The cheapest is the Golders Green branch which will also sell their premium stuff by bulk weight. Imagine lightly searing 200g of otoro tataki for dinner in the comfort of your own kitchen, at under a tenner. Obviously, a meal at an Atariya is all about the sheer quality of the fish and less about the years of training the sushi chef has under his belt.
Don't let your conscience get in the way though, if you suspect you might be chewing on the belly of blue-fin… Read more.
Seoul
Korean, £20pp
289 Finchley Road NW3 6ND
Tel : (020) 7794 9099
Tube: Swiss Cottage
I wouldn't necessarily trek all the way out to Finchley Road for this tiny family-style restaurant for special occasions, but if you do happen to be floating about in the area, then it's well worth popping in here. Everything is about half the price of something like Koba, but (nearly) as delicious. The bulgogi marinade is brilliant, so too the bibimbap (overly generous shavings of raw beef). Scraping the bottom of the dolsot at the end reveals golden, crunchy, jawbreaking toasted rice. Oh yeah. Read More
Tayyabs
Institute of Lamb Chops
£15pp, BYO (!)
83-89 Fieldgate St. E1 1JU
Tel: 020 7247 6400
Tube: Whitechapel
What can I say about this stalwart Punjabi grill which you don't already know about? I revisited in March 2012 just before a Noel Gallagher gig and we could not stop ordering the fantastic lamb chops. Try the mix grill, dry meat, the pumpkin and the lady finger. Actually, just try everything. Still entertaining massive queues, so either show up early or book well in advance (you'll wait around for at least 10 mins if you book). A firm London favourite and a true institution. Read More.
Cafe East
The Rare Beef Pho. £15pp
100 Redriff Road
Surrey Quays Leisure Park SE16 7LH
Telephone: 020 7252 1212
Underground : Surrey
The best rare beef pho in London. The best tri-colour sweet drink in London. And the best Banh Cuan, stuffed steam rice noodle in London. If you are a fan of Vietnamese cuisine, you got to try this place. It's far away for Westies like me, but it is worth the trek. Read more.
Viet Grill / Cay tre
Vietnamese, £25pp
44 Dean Street, W1D 4QD
Tel: (020) 7317 9118
Tube : Piccadilly Circus
These are the Hieu Trung Bui restaurants connected to Mark Hix, or I should say, which Mark Hix adores. Initially a Kingsland Road favourite, but now firmly established in Soho. I would say their Ox Cheek Pho are underrated and an amazing pot of noodles. However, I will note that the missus prefers the more modest Viet, a few steps from the bling of Cay Tre. Read Cay TreS Soho , Viet Grill .
Koya
London's very first Udon-ya opened in 2010 to feverish reviews and had entertained large swathes of hungry noodle lovers wanting to give the freshly made Udon (daily in-house) a try. In that time, it seems to have lost a bit of its shine, and recently some diners have complained about the service. Personally, I haven't visited Koya in over a year now, but I have good memories of it, and will probably try to make it there again this year. They serve Echigo beer brewed from Koshihikari – the most prized of rice grains for sushi. On the other hand, Tsuru Sushi are about to open their ramen house called Tonkotsu this year, and early indications are that this might be something quite esoteric but could also be special. Read More.
Tosa / Bincho Yakitori
Skewered things grilled over hot stones, £25 to £45pp
Stamford Brook and Leicester Square.
It is a toss up between Tosa and Bincho. Both are yakitori restaurants, both cook skewered meat and veg over charcoal, and both produce stonkingly excellent charred and juicy things. The chicken skin and chicken oysters are better at Bincho, but for everything else, Tosa comes up tops. Plus it is slightly cheaper too. If you've never tried yakitori, both are good places to start. Personally I would choose the chicken oysters at Bincho. Read Tosa & Bincho reviews.
Princess Gardens
Dim Sum, Classic. £25pp.
8-10 North Audley Street W1K 6ZD
Tel : 020 7493 3223
Tube : Bond Street
In my humblest opinion, Princess Gardens serve the best dim sum in London. Well-priced, a nice sort of premium weekend family-style atmosphere, good har gaw, good ho fun, good cheung fun and great shiu mai. You know all the classics hit the spot. I don't need more for Sunday morning, but if you do (and have deeper pockets) , the Yau legacy restaurants will not disappoint. But I'm not willing to recommend. Read more.
Pearl Liang
Chinese £20-£40pp
8 Sheldon Square W2 6EZ
Tel: (0)207 289 7000
Tube: Paddington
This is my benchmark dim sum in London. Food is good across the board, prices are reasonable and the dining room is pretty. Cheung fun has great consistency, it doesn't fall apart when you pick it up; har gau and siu mai will bounce around as you bite into them and I particularly enjoyed the wasabi prawn dumplings, even if purists say it's flirting with fusion. Purists like my dad for example. Good dim sum restaurant do not usually make good dinner restaurants, but dinner here is exemplary, by London standards. I would try the lobster noodles and salted egg yolk fried prawns. Dependable quality. Read Dim Sum and Dinner.
———
Jump to another section :
Personal Favourites ; British ; Special Occasions ; Easy Occasions ; Asia ; Coffee and Else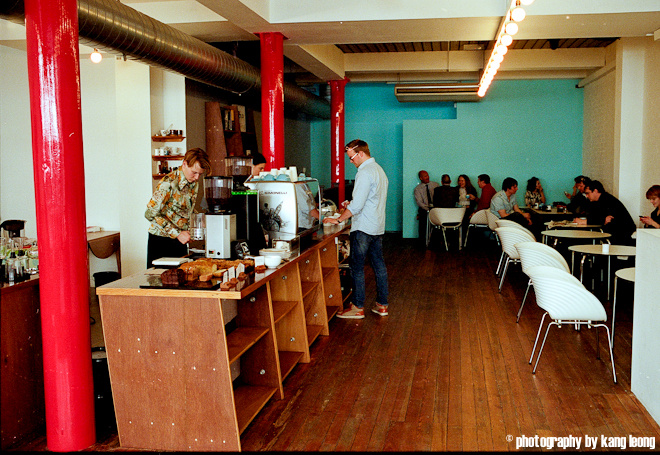 Prufrock at Leather Lane
Coffee, cafe… lazy, special ,£3pp.
23-25 Leather Lane EC1N 7TE
Gwilym +44 (0) 7852243470
Tube: Holborn / Chancery Lane
This is everything a modern coffee shop should be about. World champion barista Gwilym Davies has expanded from a coffee cart in a men's clothing shop to a really brilliant space in Leather Lane. At the ground level, you have a spacious gallery like space with a generous brew bar/counter, and lots of cosy corners to wedge yourself into. Downstairs Gwilym and his passionate team of knowledgeable baristas teach you how to appreciate a fine brew. In my opinion, this is an extremely special coffee project. It is especially pleasing to see the brew bar concept fully realised as such a wonderful site. I visit every Friday afternoon where I can to read and blog. Of course, all of Gwilym's baristas are well-honed in the dark arts of brewing the perfect flat white, but do give the brewed coffee a try when you are there. I'd recommend anything filtered with a siphon, simply because watching it push coffee (seemingly) against the gravity tickles my limited intellect. A shrine. Very easy to fall in love with. Read more.
Towpath
Cafe, Lunch, easy.. £10pp (cash only)
Regent's Canal Towpath
42 De Beauvoir Crescent N1 5SB
Tel: 020 7254 7606
Bus: 149 from Liverpool St Station to Haggerston rail.
As it says on the tin, a cafe by a towpath. The food selection is modest but it is good and the coffee is warm. It is best to check when it is open before visiting though. Read more
Fernandez & Wells
Fernandez & Wells Food and Wine Bar official site
Sandwiches £6
43 Lexington Street W1F 9AL
Tel: 020 7734 1546
Tube : Leicester Square
There are three Fernandez & Wells café-bars all in close proximity to one another, each with a slightly different offering. The St Anne's court branch caters for coffee lovers, the Beak St branch is mainly for cakes, while the Lexington branch has an open kitchen which offers delicious savory fare and a superb wine selection. The Lexington branch mainstays are European inspired sandwiches served with cuts of premium cured hams. Speciality items include Jamon Iberico Bellota (Iberian pigs fed on acorn and cereal diet) and legs of Jambon 'Le Noir de Bigorre' – a French ham from black pigs, cured for 24 months – which hang invitingly from the ceiling. F&W also serve a changing daily menu of cooked specials ranging from roast chicken to rabbit stew. Their roast pork ciabatta is splendid, hand carved by the waitress, stuffed with resplendently golden crackling and lashings of mayonnaise with fresh mustard seeds. Read more.
Tapped and Packed
£cheap Coffee 26 Rathbone Place, Fitzrovia, W1T1JD
Second only to the fantastic Prufrock. In addition to silky flat whites, they also offer brew coffee via the myriad of filtering methods known to baristas, however, I am mostly enamored by their hot chocolate which is surprisingly divine. Made with chocolate flakes and cream, it is buttery, chocolatley but not overly sweet nor muddy. It's small but isn't as cramped as Flat white/Milk Bar, expansive tables to spread yourself and your laptop, with free wi-fi. Read their blog.
Gelupo / Gelatorino / Chin Chin Labs
It may be apt to recommend a few ice cream bars, seeing as to how it is yet another trend which has spun out a number of quality competitors. Gelupo is an offshoot of Bocca di Lupo, and are probably seen as the premium level gelateria at the moment. There's always some sort of breakthrough flavour combo each season but when available, I think their sour cherry & ricotta is fantastic. Every now and again, there's zabione/zabaglione which is great, but it is rarely seen. Gelatorino is the alternative to Gelupo and I like them mainly because zabaglione is a part of their main stable of flavours. Their fior di latte is excellent as well. Most of all however, they are most proud of their Gianduja, made from Piedmont hazelnuts. The best kind of hazelnuts if you believe the hype. They boast about their special ice cream making process called 'mantecazione' (or freezing in Italian) to get rid of all the ice crystals for a silken mouthfeel. This is probably true for all gelateria. Probably. The end result however is a whippy end product. Finally, if you still haven't tried the nitro blasted frozen custards at Chin Chin Labs in Camden, then you should be in for a treat in 2012. They are even more experimental now (like Root Beer & Burdock with Fleur de Sel Caramel and Heather Honeycomb) with their latest offerings blurring the lines between serving just ice cream with sprinkles to a dessert bar that does full blown frozen puddings. Read Gelupo , Gelatorino , Chin Chin Labs.
Byron Hamburgers
£7.25, all over.
If all else fails, get a Byron. I've lost track of all the locations in London, but if you fall in the camp who think that burgers should never be gourmet, then eat here. I eat byron hamburgers so regularly, I should invest in them. Latest openings in Camden mean that I can finally resume my one-byron-a-month plan. Read more.
Jump to another section :
Personal Favourites ; British ; Special Occasions ; Easy Occasions ; Asia ; Coffee and Else