March 2016: Josh Katz is now head chef at Berber & Q.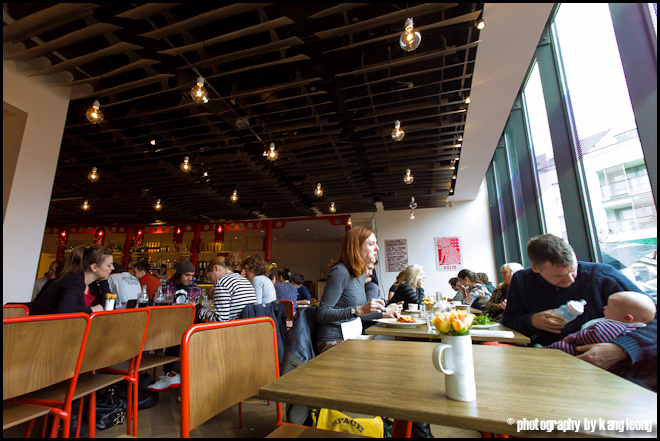 Camden doesn't lack restaurants in number, it's just most aren't worth the detour. But things are changing. On the surface, one wouldn't think this bar-café located at a gig venue – serving the purpose of tanking up visitors before any given performance – should suffer the unfortunate scrutiny of a blogger's dour thoughts. However, after reading the Guy's glowing review, which had cast the Roundhouse's little known cafe as the most excellent over-performing underdog, I booked a table for a weekend lunch on Open Table. Off I trotted, on the route 31 toward Camden town.
As I entered the semi elliptical room, that followed the contours of the Roundhouse, I couldn't shake the feeling as if I had walked into a university café, a waiting room ambiance, a departure lounge. At first, I was puzzled with how short the menu seemed. Baked eggs, spicy tomato with yoghurt. Pancakes with blueberry, American style with maple syrup. Grilled banana and chocolate bread. Fried egg, sweet spiced chickpeas, labneh, pangrattato and coriander. Not that it didn't sound good, but I was actually after the creative, extended small plates menu. Which was not available for lunch over weekends.
Can't say I wasn't a little bummed. I had my eye on such beautifully described dishes such as the Jerusalem artichokes, walnut and gorgonzola agresto, slow-roasted tomatoes. Lamb, prune and walnut koftas, pearl barley tabbouleh and green tahini. Momofuku pork Chinese bun, scallion, cucumber. The last is a David Chang recipe.
One might wonder about where all this urban fusion fare stems from; perhaps the chef is a former protege of Peter Gordon's, but that would be too obvious. Instead, Chef Josh Katz was reportedly part of the Ottolenghi empire (back in the spotlight this year with Nopi), which explains the Mediterranean influence, and winded menu items.
Josh and interior designer Michael Sodeau are both men on a motivating mission. Both are North Londoners, they have turned this little project into an ambitious statement of intent to bring pack a seriously well-priced, yet refreshing menu to the area. Local produce seems to be at the heart of their operation. Fruit and veg are supplied by First Choice in New Covent Garden, fish from (the super pricy) James Knight mongers, Flour station for the dough and meat comes from Islington family butcher, Frank Godfrey.
Brunch. I get it now. This reduced menu is for the lazy late waking weekend wanderer.
Brunch
Pan-fried mackerel, grilled sourdough, blackened tomato passata, harissa mayonnaise, £8.50.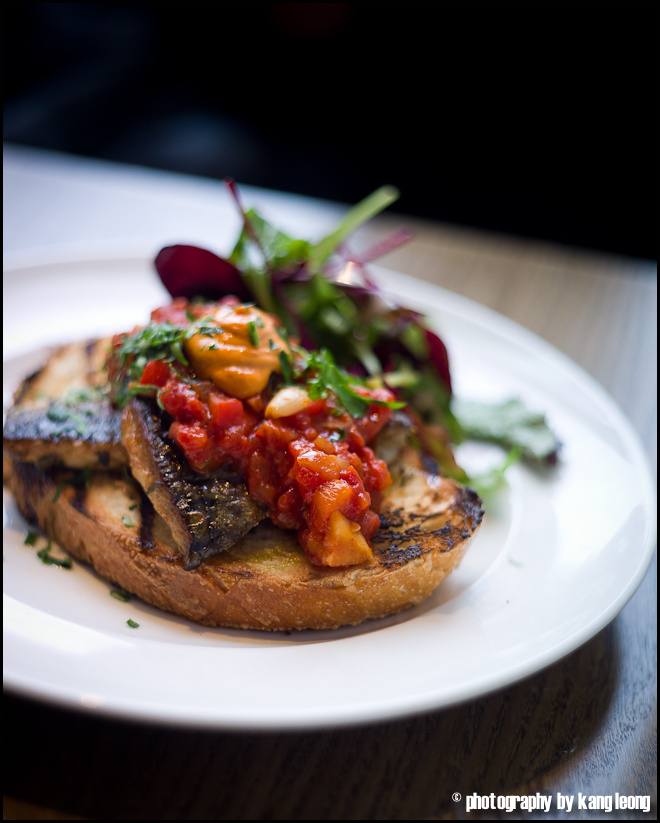 As this dish landed over on the better half's side, we were both struck by how appetising it looked. Fresh and vibrant, it tasted even better, which was a wonderful surprise. A spicy, feisty salsa-like whipped sauce, dare I say, like a red guac, that went beautifully with the fishy mackerel. Ah, it must be the harissa, the Tunisian chilli paste, that also I believe, is a crucial ingredient in a bouillabaisse. The fish was warm, the bread was warmer, and crunchy, it was gorgeously hearty.
Wasabi apple coleslaw and Pearl barley tabbouleh, £2 each.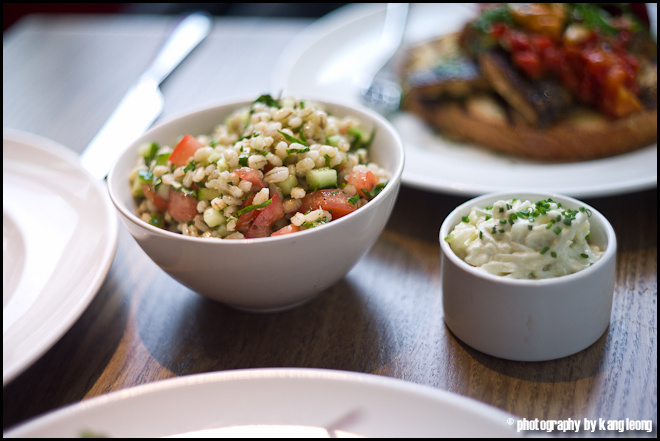 These two side dishes were comfort food supreme. The barley, rock salted, well oiled and cucumber gave way to a reminder that this sort of food was born along the coast and under the sun. The apple coleslaw was a refreshing change, swapping the gooey crunch of cabbage, for the fresh zest of shredded apples.
Seared steak sandwich, horseradish cream & balsamic red onion, £ 8.50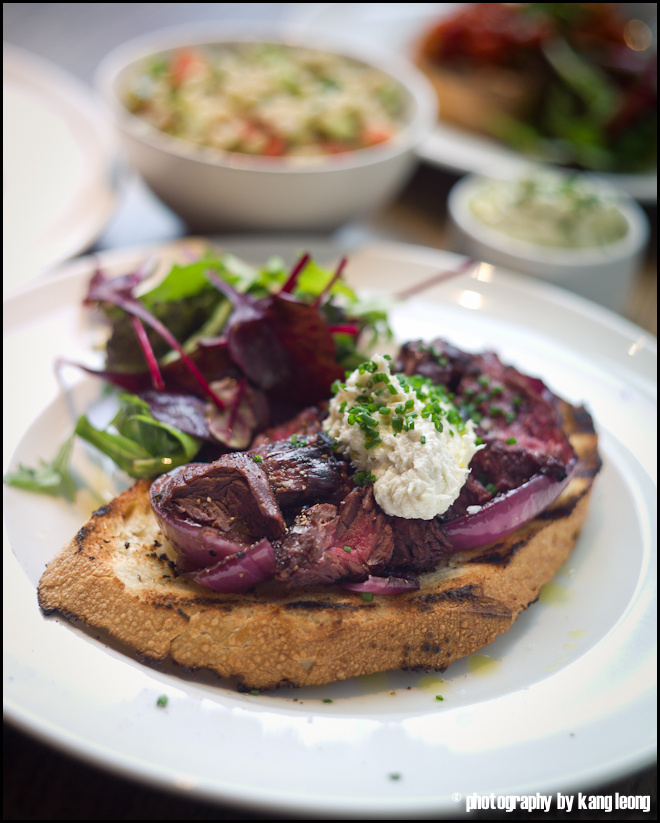 I strongly suspect they have used an onglet. Perhaps because of the way the meat curled when sliced, perhaps because they have chosen to cook this on the better side of medium rare, but also perhaps because it was both tender and chewy and oozed charry flavours all at the same time.
But mostly because grilled onglet is an item on the dinner menu too.
Lots of places struggle to get a steak sandwich right, let alone one done as well as this. Whole grilled onions, softly acidic, a subtle bite to the horseradish sauce, radiant and the entire dish is sweet, vinegary and toasty.
Along with a great cut, I felt it was creative and budget conscious. I felt that Josh is the sort of chef who knows how to squeeze the potential out of the available ingredients he has to work with. The only downside are those rather dull raw greens on the side, which were the only reminder that this was a modest café at a gig venue.
Grilled banana and chocolate bread, butter, £5.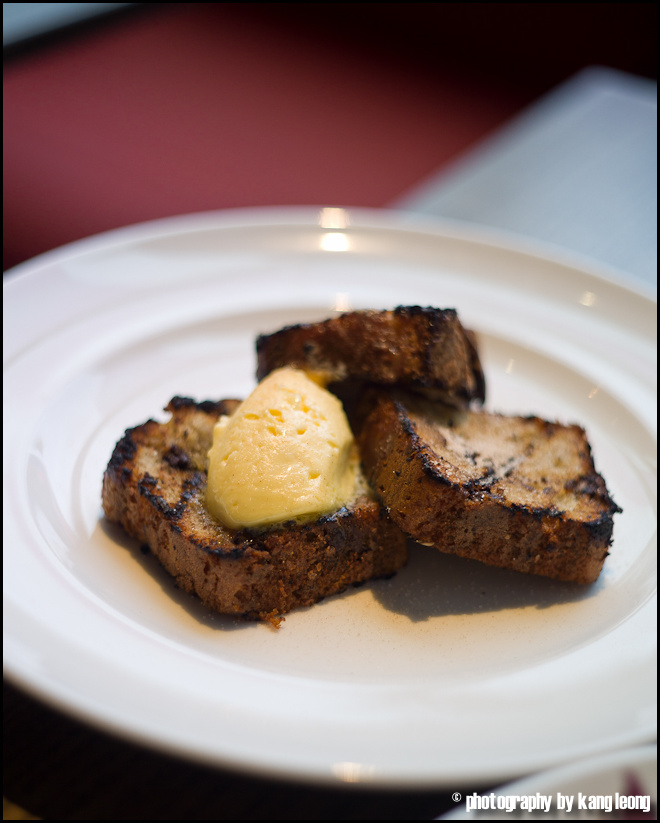 Fragrant banana bread with swirls of melting chocolate, grilled to a warm, toasty, crunchy crisp and then smothered in creamy, melting, whipped butter. The crunchy crusts were the best bits. This was ridiculously wow. It transposed me to five year old me and reminded me of the sheer joy of a child's obsession with sweet things.
After we finished, I peeked at what other tables were having, and wished I had a dump valve on my stomach, or perhaps an extra stomach. Everything else looked delicious, especially the eggs. If you were a Providores breakfast lover, you may like the sound of this too:
Baked eggs, spicy tomato sauce and lemon yoghurt/chorizo – £ 8/ £ 9
Two fried, scrambled or poached eggs and toast with;
– Grilled pancetta and slow roasted tomatoes – £ 7.50
– Grilled chorizo, red onion and feta – £ 8.50
Fried egg, sweet spiced chickpeas, labneh and coriander – £8.50
We finished with two coffees, the mocha in particular was really good, smoother and richer than the Tapped and Packed hot chocolate. All in all, for £33.30, it was great value for money.
I was so impressed that I decided to return for dinner a few hours later to try the full menu.
Dinner
Expectedly, during dinner, Made in Camden was the natural meet-up point for people waiting for their show to start.
Miso-marinated chicken wings, sesame seeds, jalapeno and grilled spring onion, £5.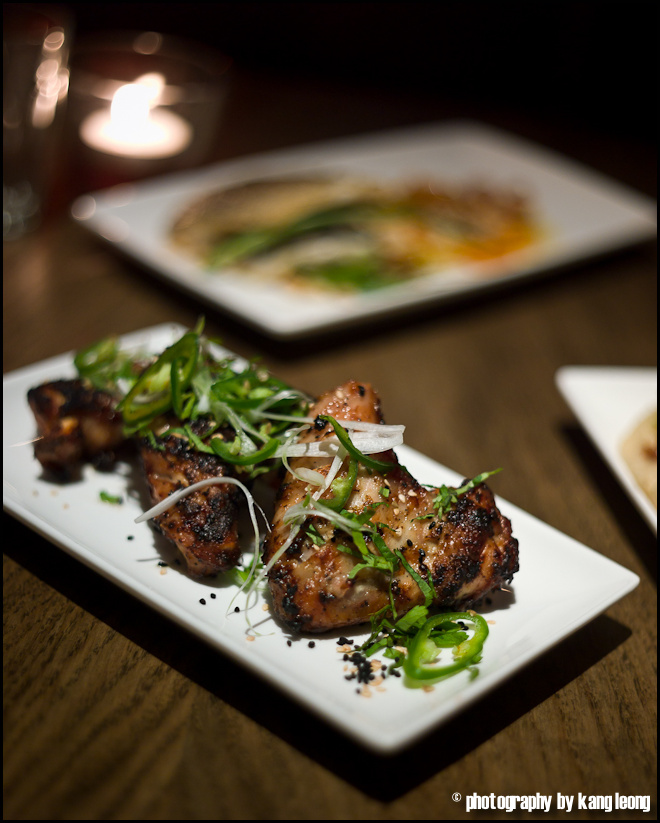 Buttery wings with sprinkles of sesame and the taste of burnt miso. Mmmm, as good as the crispy wings from the local pizza takeaway, a compliment, with a kick of jalopeno.
Crisp sea bass, tahini, oregano, orange, sharon fruit, pine nuts, £9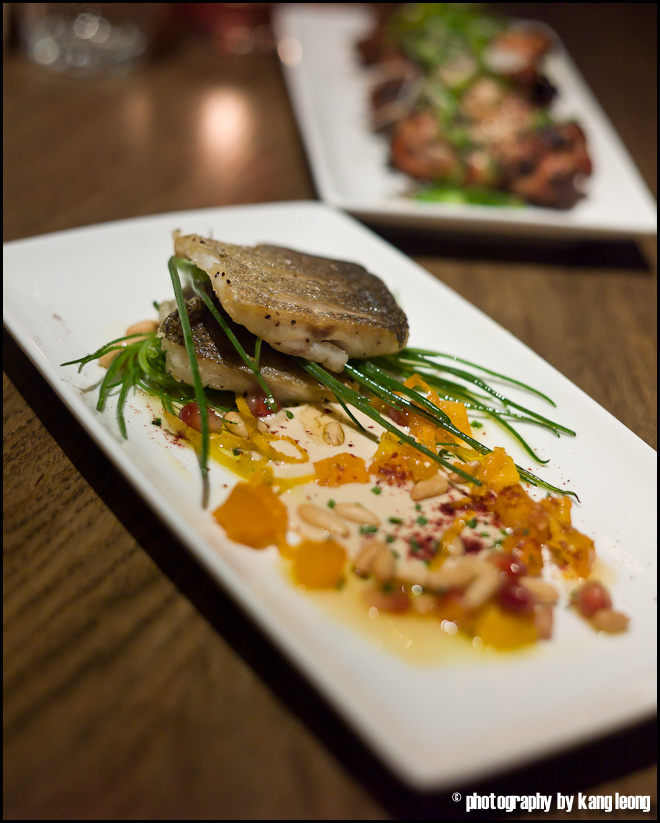 The tahini was very nice and very light. Spring-time flavours of pinenuts and diced orange, gave it the Mediterranean feel. Fish was beautifully cooked, flaky and silky, sweet and savoury, the orange was the stand out ingredient here, it was redolent of orange cream popsicles.
Momofuku pork Chinese bun, scallion, cucumber, £5.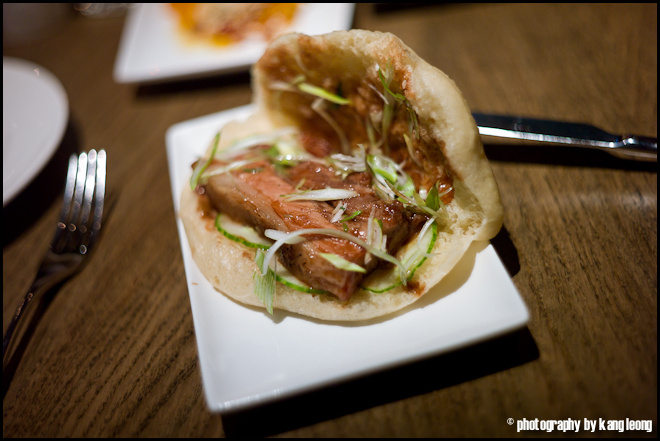 And finally, the momofoku recipe. Not unlike a Taiwanese pork pocket, sans the peanuts, and I thought this was quite well done. The bun was soft, sticky and sweet, and the pork was slithery, juicy and slow-cooked tender. Sweet bbq flavours, with fluttering fatty bits that brought extra flavour, and cucumbers for balance. It was good. I could easily have had two.
Earl grey brulee, prune puree, shortbread, £5.50.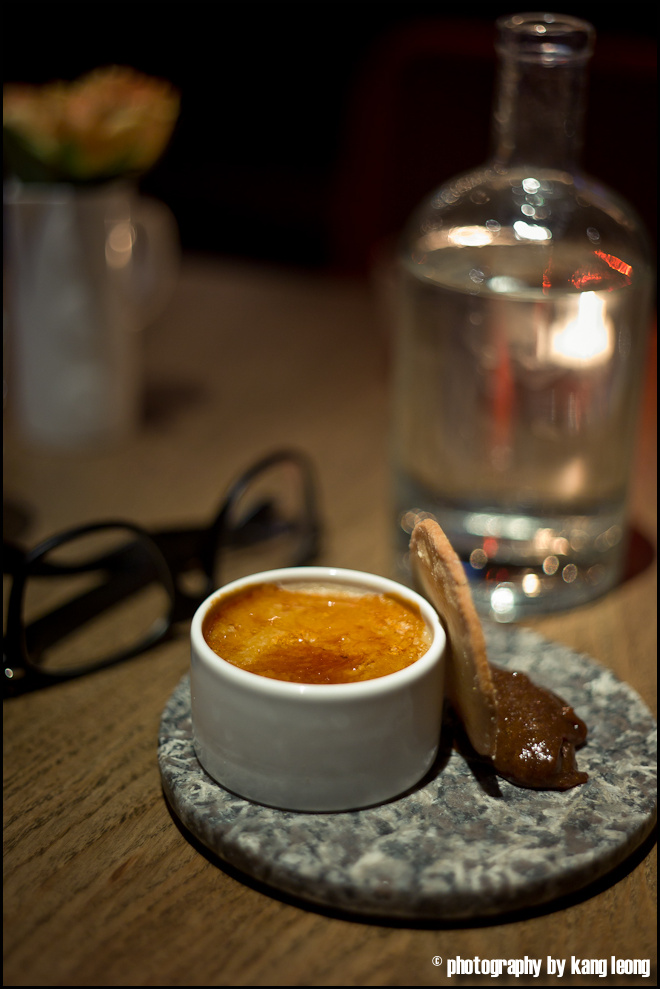 For dessert, I chose the tea brulee. The brulee tasted like a melting earl grey ice cream, made with clotted cream, or perhaps even a concentrated, congealed cream tea, made into an egg-based custard. The prune paste was tremendous on its own.
I finished with a mocha, had a glass of Grenache and all in all was very satisfied with the bill, £34.43 plus service. Tremendous value for money.
A nod to the power of the local. This could serve as an example of what the standard of everyday, modern day urban city cafes could be about. It's not expensive, it is not shackled by the long yawn of fine dining, it's just delicious, hearty food , fit for nearly all ages. Imagine a future where every museum, local theatre, community leisure centre, and junior common room served to this standard.
I think Josh Katz is a brilliant chef. He has created an attractive menu, based on solid and varied recipes that make good use of allowing the quality of produce, to shine through.
I'm sure Josh will move to a bigger production someday, but until then, I'm glad I am able to jump on the route 31 on a wet and windy Saturday morning to tuck away his soul food and hot mocha, while watching the latest episode of glee on my iPad, over the free – and fast – wifi.
The Gist of It
Made in Camden
Fusion, brunch, cafe, bar and free wifi. £20pp
Chalk Farm Road NW1 8EH
Tel : 020 7424 8495
Tube: Chalkfarm
More photos on myflickr page.
Sound-Off : TO ; Londonist ; Foodepedia ; Islington Tribune
Did you enjoy reading this? You can subscribe to the Newsletter. Alternatively, you cansubscribe to the RSS feed.