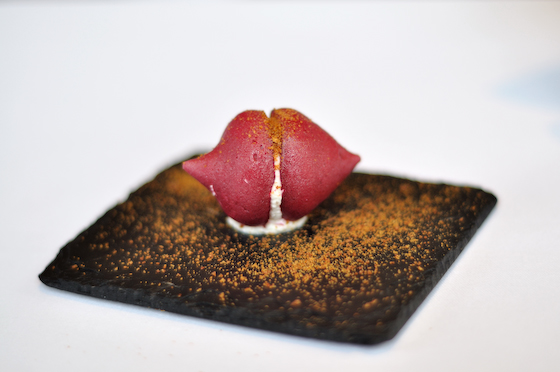 Beetroot meringue, with a little bit of goats cheese.
I'm running late. The Hammersmith and city line suddenly decided to pull a district, I'm starving and I should have worn something warmer. So when I got off at Westbourne Grove station, I ran. I ran like my tummy depended on it and when I got there, I was warmly received by the front of house and greeted with canapes. An airy and puffy sweet beetroot meringue sandwiched an intense goats cheese. That cheesy flavour is so familiar though… why yes of course. It's a posh cheesy wotsit.
The Ledbury is well-liked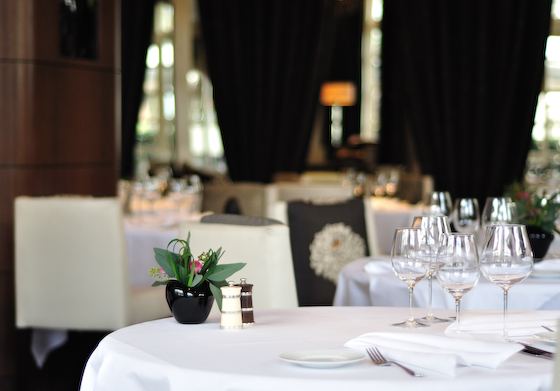 Well liked is an understatement.
It received a 'rising star' backslap from the Michelin man in January when they revised the red guide and is ear marked to hit two stars very soon. Critics and bloggers alike seem to be loving Chef Brett Graham's work and having trained under Phil Howard at the foodie rockstar central, The Square; The Ledbury has true pedigree and then some. I've been wanting to eat here for months now, what with all the positive publicity that's been directed this way, and after an awesome visit to the Square earlier this year, well, I'm expecting fireworks.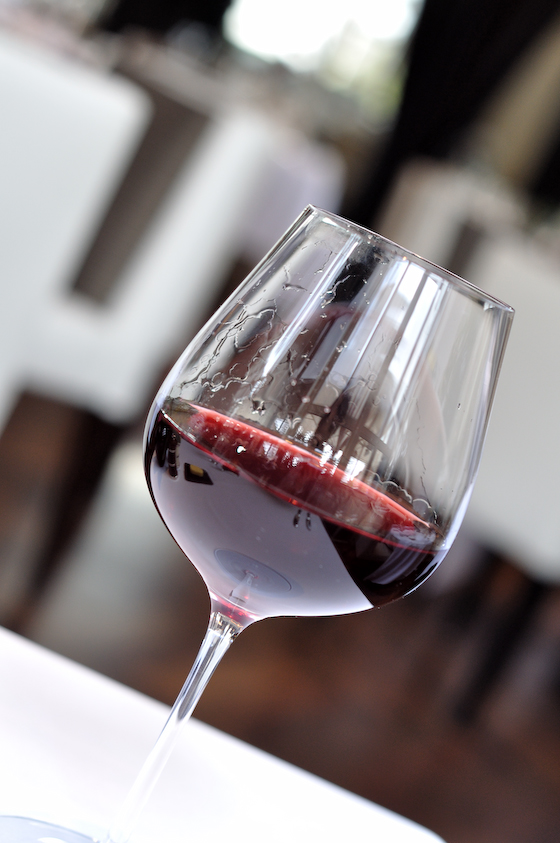 Take a menu away with you, I always do, and build up a collection. Seriously, I really do at the end of the meal. Most restaurants print them out on A4 in any case, so they'd happily give it out. It's how I keep track of the long descriptions of dishes, plus it makes for a pretty cool souvenir to take home. I'm thinking some sort of scrapbook of menus from all my London Eater conquests. Fancy that, eh.
Lush cream and silk curtains flow along the walls and they hit the dark wooden floors with a pattern that is not too dissimilar to that of The Square. Behind the curtains are actually wall length glass panels, which curiously, make it feel like a dressed up ballroom. There doesnt seem to be any dark corners where couples can duck away, but the restaurant itself is not very big, though not tiny. I'm sure the same designers have done up the Ledbury as one really does get the impression like this is The Square's little brother. Different salt and pepper shakers, but similar set up. 
More canapes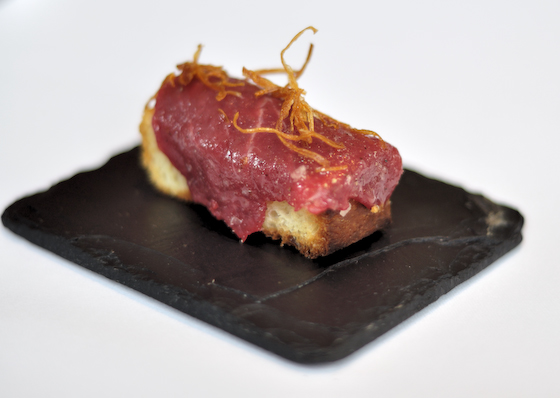 I was a little torn over lunch. The set menu is competitive: scallops to start, monkfish for mains, for only £25 (for 3 cs). On the other hand, the a la carte is a reasonable £40 – £45. Hmm, perhaps it's best I mull over this while I gobble up more canapes (free food!). I believe this is a carpaccio of Roe Deer on Toasted Brioche. Never quite had salted deer meat before, and I am told that Chef does likes his game. Woah. That is a good chunk of free food. The carpaccio is very good. It carried a full bodied savouriness that was expertly balanced with the bread.  There were hints of smoke in it's taste, and not visible is a creamy, sort of sour cream like paste that the whole thing sits on. A mini melt in your mouth sensation. Even the bread was good, actually a bacon and onion roll.
Ok drumroll, Chef Brett is in the kitchen today. Yes. That's decided then, I really need to pay my respects in that regard. Bring on the A la carte Brett and hit me with all you've got.
A lesson in celeriac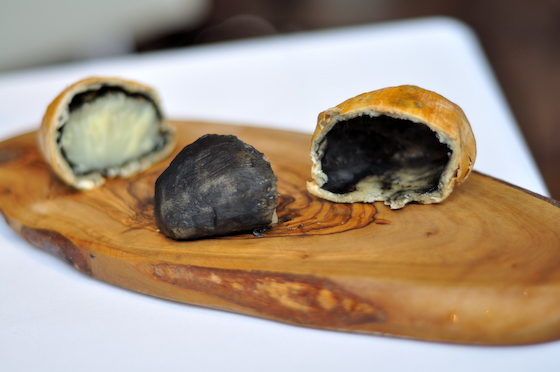 I'm one of these boys who hated eating his veges while growing up. I didn't like spinach, even though I loved Popeye. I couldn't understand why tomatoes tasted so sour to me, and I didnt know why some people enjoyed the stickiness of ladyfingers. My eyes gravitated toward the eel as I chose a starter, but I was intrigued by description of the celeriac: "baked in ash with hazelnuts, wood sorrel". Sounds amazingly fancy. I do know that Phil Howard is totally into his molecular gastronomy, and I got A's for GCSE Chemisty, and the two are completely unrelated but that's how my mind works.
I ordered a glass of Marlborough Pinot in case you were wondering. I guess my tastebuds still haven't matured to the point where I need something more robust than strawberries and jam. Celeriac is usually pureed into veloutes in puffy restaurants, and so this is my first time eating it, in a more solid form. Here's the really cool part. The chef insisted I get abit of insight about how this dish is cooked and brought out the lump of celeriac. It was wrapped in a salt crust, and when my waiter cut into it, there was alot of aromatic steam rising from within. It really looked like such a hearty lump of goodness. I also noticed how the entire celeraic is darkened with ash, oh just that smell, it's really amazing. I'm starving looking at it.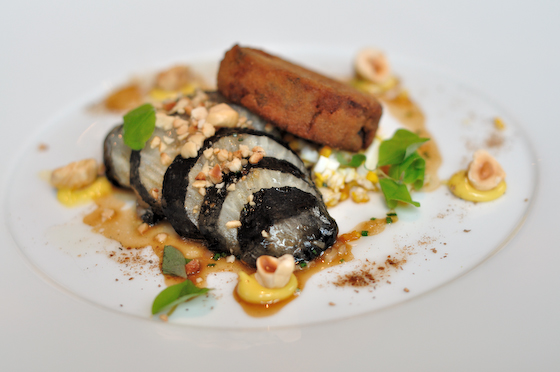 Celeriac baked in ash with hazelnuts, wood sorrel and a kromeski of middle white pork £13
It didn't take them very long to plate up and what a glorious looking dish. The little mayonic dashes dotted around the dish is actually a black truffle mayo I'm told, and it also comes with some shaved hen eggs. The celeriac was simply amazing. It had a rich salt flavour, but also had a warming smokiness associated with it as well. The inherent natural sweetness of the celeriac added dimension, and the slices of celeriac seemed to retain alot of moisture. The texture was almost like a gently silky steamed turbot, or even a cod. If I was blind tasting this, I wouldn't have guessed it to be a vegetable. The hazelnut really added alot colour to the flavour, it gave it that regal and fragrant aftertaste. The breaded pork – in comparison – was smooth and mild, but the celeriac didnt need it at all. Of course,  when you try to put abit of everything together, the dish becomes a whole new rollercoaster ride altogether, though the celeriac really dominates.
Very skillful work and I'm thoroughly impressed.  
The best end of Deer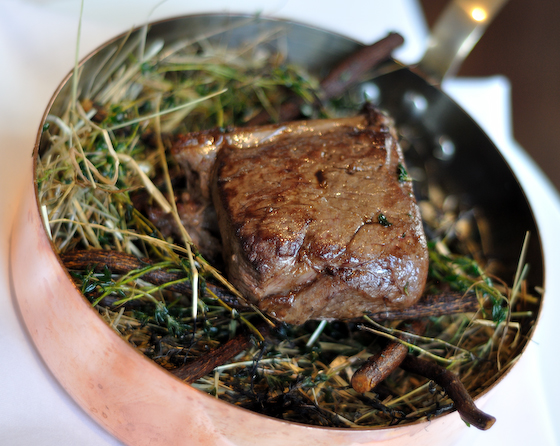 So far so good. I'm feeling comfortable in the dining space, no music on friday lunch, but otherwise I like the high ceilings. I just have to share this picture with you, again the chef wanted me to see it. I went with game (hopefully all shot removed) because that's what Brett loves to cook. I'm not sure if it was actually roasted in the mountain woody.
That is a royal piece of meat, the best end of it no less.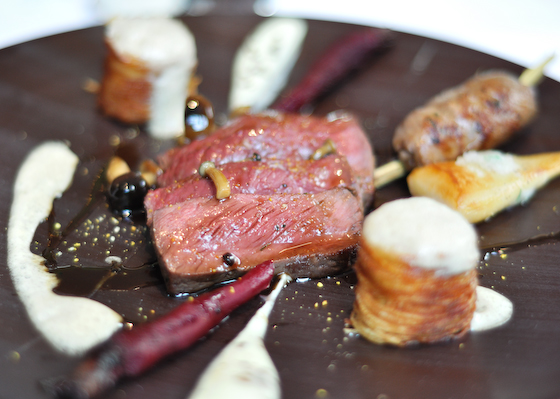 Best end of Roe Deer baked in Hay with a Croustillant of Parsley and Chervil Roots, Baby Beetroots and Pepper £26
So here's the glorious main dish. I immediately noticed the resemblence between this one and Phil's Ayrshire fillet (picture on the sidebar to your right). There is alot going on with this one. There's the creamy pepper veloute with black olive shavings. A gorgeously rich slice of parsnip wrapped in a sort of salted mountain herb lard (if I remember correctly, an old Italian recipe), baby beetroots, little potato croustillants and a deer sausage. The meat itself: is the best end stuff. Incredible gamey sensations, not for everybody, but certainly a fully realised flavour that carried alot of smokiness to it. If an aged aberdeen ribeye was a cab sav, this would be a Grange. Lots of muscular flavours in the game and you know what, it was amazingly tender as well. I noticed how it took almost no effort to chew down the moist meat. The grand ingredient was also accompanied by a sweet, honey like sauce. I'm a real stickler for natural flavours, but this sweet sauce masked the intensity of the game rather well. I couldn't quite figure this one out and tapped on the waiter. He told me it was made from the juices of the deer and then finished off with Madeira. Amazing.
In it's totality, this dish was a tender mish mash of sweet flavours interplaying with the smokey and powering game. Somehow it kept evoking a sense of the great outdoors, I just don't know why I kept thinking about the woods and the need for timberlands to keep warm.    
Oh, I should also mention that the mushy lamb sausage carried a bitter aftertaste and was mince hache liver-like in taste. Every ingredient on this dish jived like grand symphony and the essence was an amazingly tender and bouncy game, masked nicely by the jus and it was a meaty dish which one could wash down like good glass of wine.
Pudding!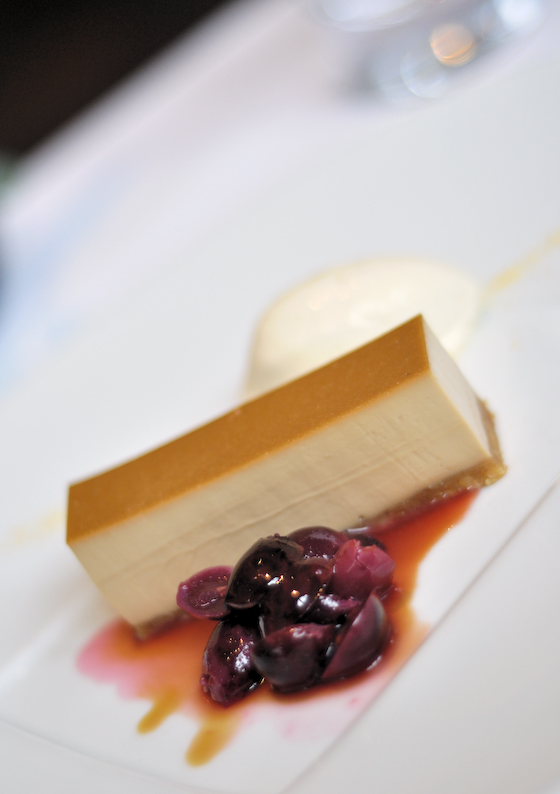 Brown sugar tart with muscat grapes, white raisin ice cream and vin cotto £6.5
I don't always dedicate a section of pudding these days and I don't do it because sugar hardly ever goes wrong. I know, I know, pudding is an exact science, but most restaurants will get it right, just not mind blowing right.
The brown sugar tart was good. It had a short cake layer that was infused with a very pure sugar taste. Sitting on top was a dense and wobbly reformed cooked cream – milky and yummy. 
I wasn't too bowled over with the tough skinned muscat grapes, but I did enjoy the foamy white raisin ice cream.
I was running a little late to catch Two Lovers, so I skipped on the souffle, perhaps that might have floated my boat abit more. Good pudding, nothing wrong with it, except that I've had better.
See what I mean? 
My thoughts are wow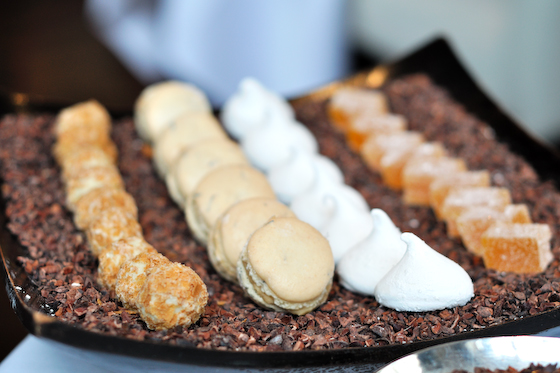 I enjoyed the Brett Graham show, alot. I think the young Australian is chock full of talent and he rightly deserves his rising two star status. If he keeps up this standard of cooking, he will rocket all the way to the top. I didn't detect any basic technical flaws, the overall theme in his playbook seems to offer rich, intense and earthy flavours. Strong flavours, but he does understand the need for contrast and downplays those dominating flavours with something sweet to balance it out. I did notice the similarities between Brett's style of cooking with Phil's, and if I'm being honest, I think I still had a better meal at the Square (it better be, the square is £75.00 for three courses). Choice of ingredients aside, I think Phil errs a little bit more toward to centre with regards to the flavour balancing aspect and for me, its a personal choice to eat 'milder' food.
That's not a knock on the Ledbury at all, in my humble opinion, the celeriac starter was one of the best dishes I've ever eaten and if I had to choose one restaurant to go back to – I would choose the Ledbury. Price wise, it makes alot of sense, my meal plus a glass of wine and service came to just under sixty quid, and I think Brett's cooking is definitely at the top end of the one michelin mark. Exciting, thoroughly impressed and I admire how the Ledbury is totally focused on delivering the best dishes to the customer. That kind of pretension free attitude, and commitment toward cooking is what Michelin stars should be all about.
One of the best meals so far.
Clap, clap clap.
The Gist of It.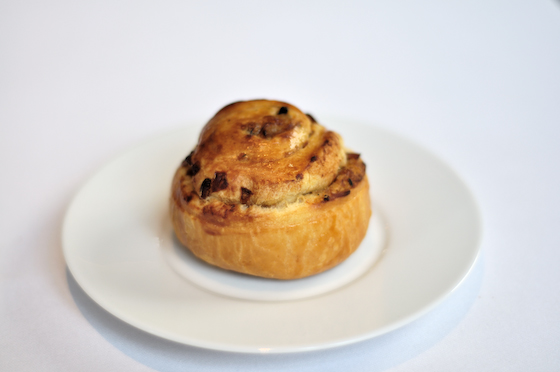 The Ledbury Official site
127 Ledbury Road W11 2AQ 020 7792 9090
Set Lunch £25 Ala Carte £45 three courses
Verdict: Fuss free and totally focused on creating exciting dishes. Chef Brett understands the essence of the michelin star. Slick, awesome food, nearly impossible to describe and even more impossible to replicate. High cooking indeed.

Did you enjoy reading this post? Why not subscribe to my feed updates for free. Alternatively, You can subscribe via email.