Best of 2016
And that's it. 2016. Done. To you, dear reader, who continue to read blogs in 2016, thank you very much. Have a jolly Christmas and New Years, eat and drink till you drop and see you in 2017.
16. Christian Parra Boudin Noir with spring vegetables at Six Portland Road (Review, May 2016)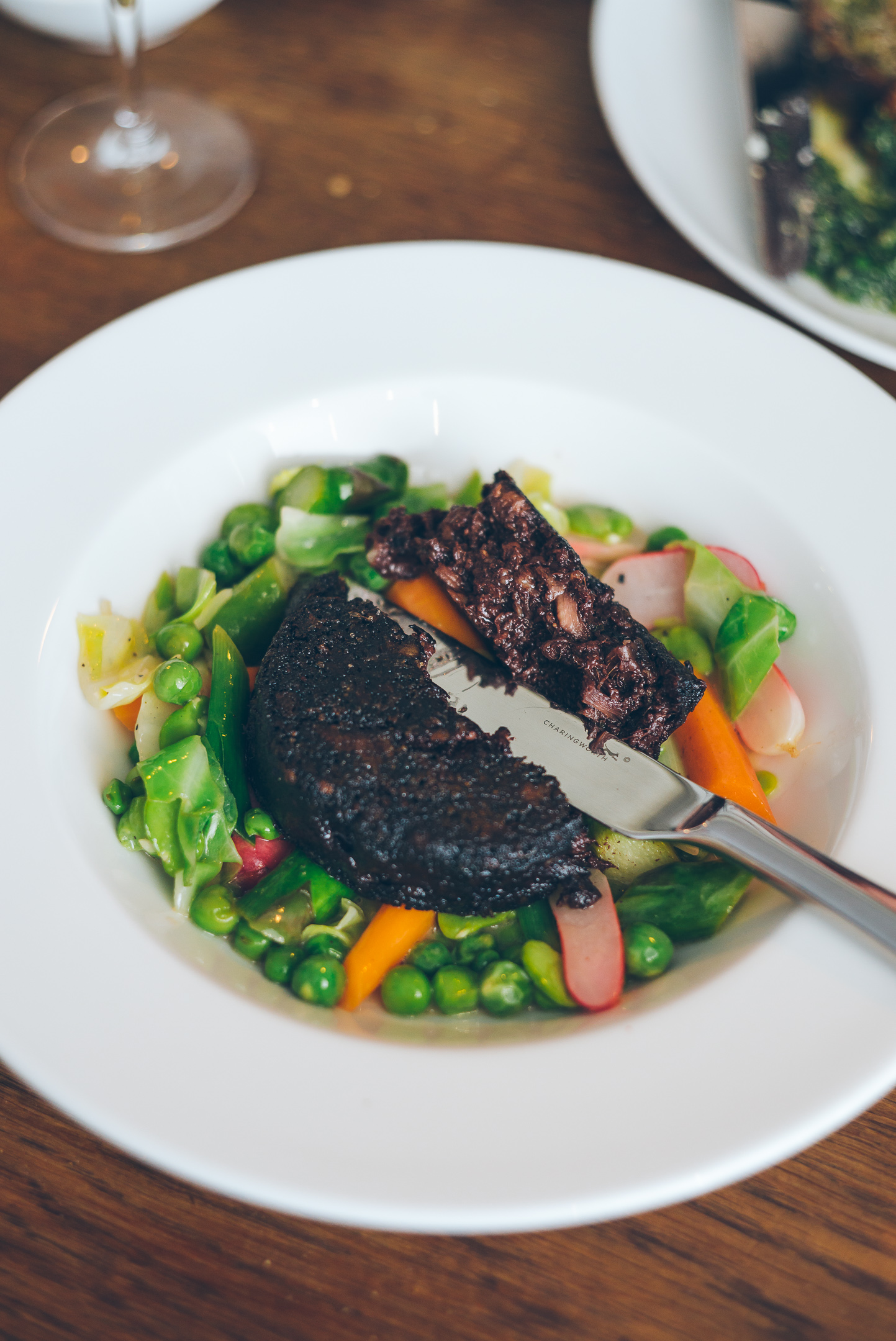 Small and beautiful situated in leafy Holland Park – a change from exciting East London prospects – and only newly trading since Spring. The team are mostly an exodus of Terroir alumni, led out West by owner Oli Barker (after he split from the Terroirs group). In the kichen, Pascal Weidemann lays on a simple yet decidedly considered menu using good ingredients – both raw and preserved – and cooked with heart and soul. Exactly the sort of thing that is conjured, when you think of hidden gems.
15. Smoked mackerel veloute, oysters, smoked eel toast at Elystan Street (Review, Sept 2016)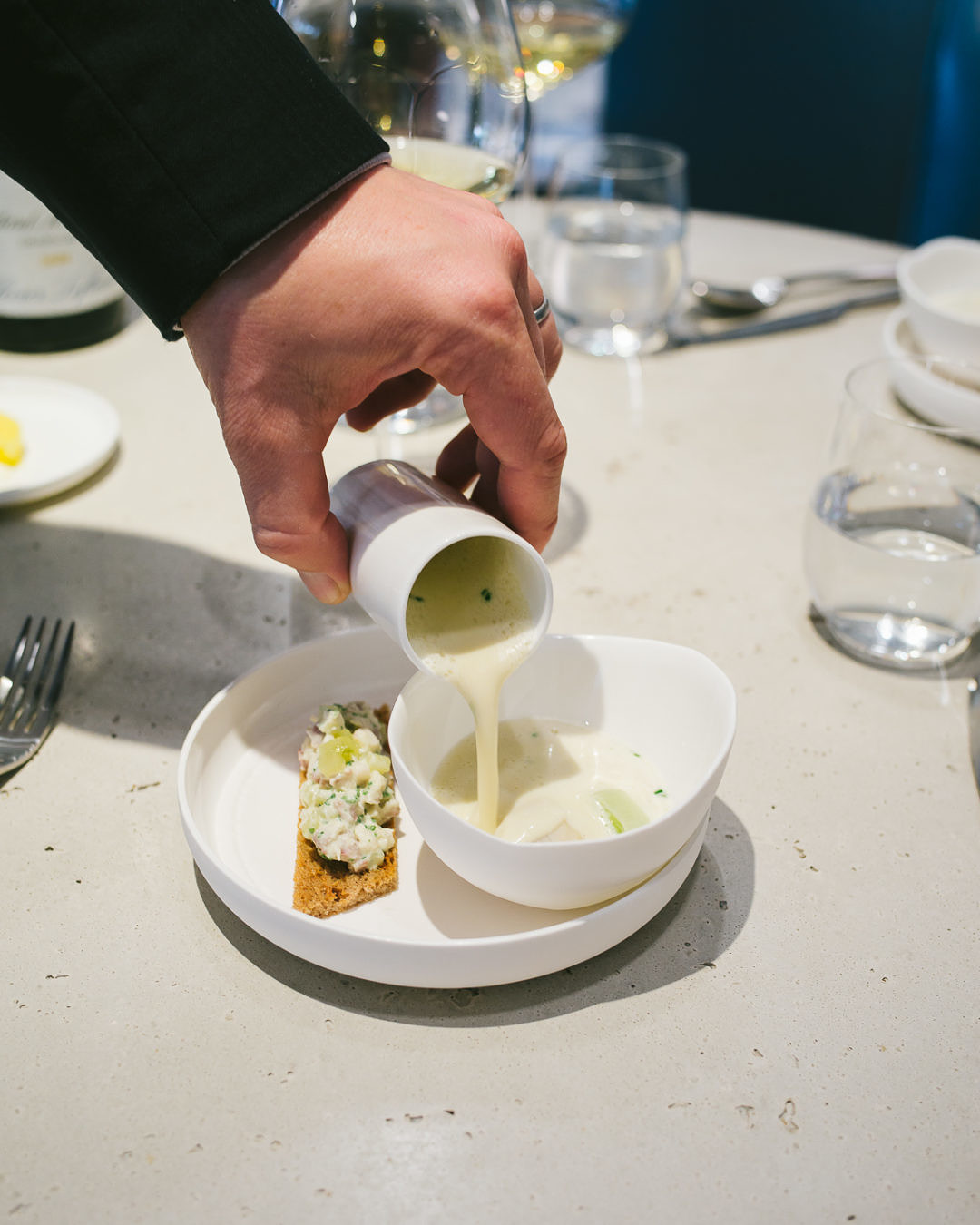 I remain a big fan of Phil Howard, initially shocked that he decided to sell The Square, but now glad that Elystan Street has got off to a flying start. The price tag attached to the dinner menu looks a little scary, but that is why you should drop in for lunch. I for one am keen on his Sunday roasts, from what I've seen so far, it's fantastic.
Two visits in the first couple of weeks trading showed that Phil has lost none of his ability. He may be actively paring down his cuisine, but it is inevitable that the old Square magic will leak through. Like this smoked mackerel dish for example, a simplification of his 2012 GBM winner. ?% deliciousness.
14. Bavette tartare with mussels puree at Brunswick House Cafe (Review, Sept 2016)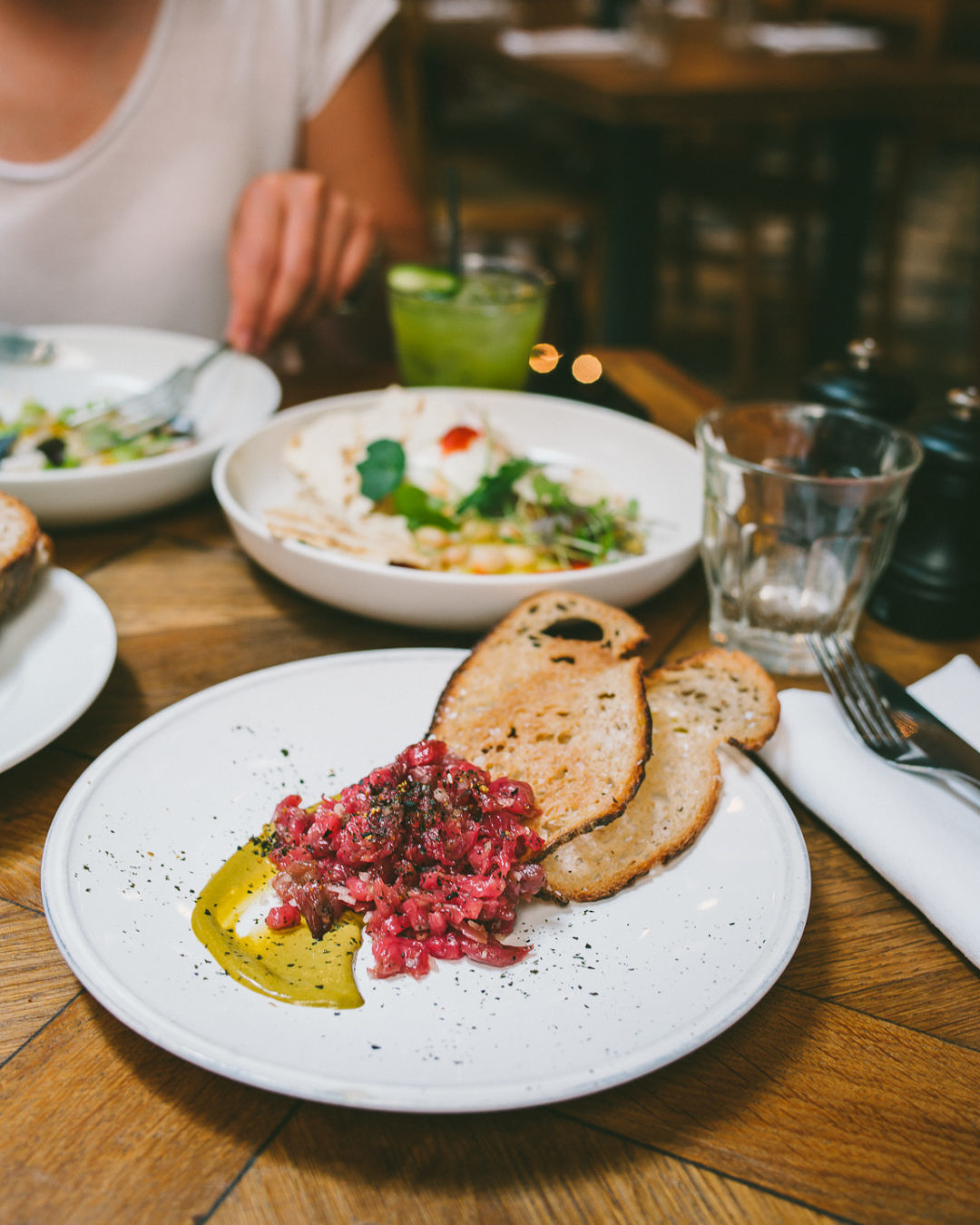 I am pleasantly surprised by the quality from this restaurant attached to a salvage yard. Led by chefs Jackson Boxer and Andrew Clarke, they have crafted a constantly changing menu, sensitive to seasons and unshackled from tradition. Priced incredibly well, all the while delivering tasty food inside an interesting decor of mostly reconditioned trinkets. I have visited 5 times in the last quarter, each meal something different and each bite a delight, like the above pairing of texturally exciting chopped bavette with a puree from blitzed mussels.
The keen eye amongst you will recognise the rather swish table and chairs that were part of the maligned Aizpitarte project, Le Chabannais. Now in a better foster home I think.
13. Brown Butter & Honey Tart at Marksman Pub (Review August 2016)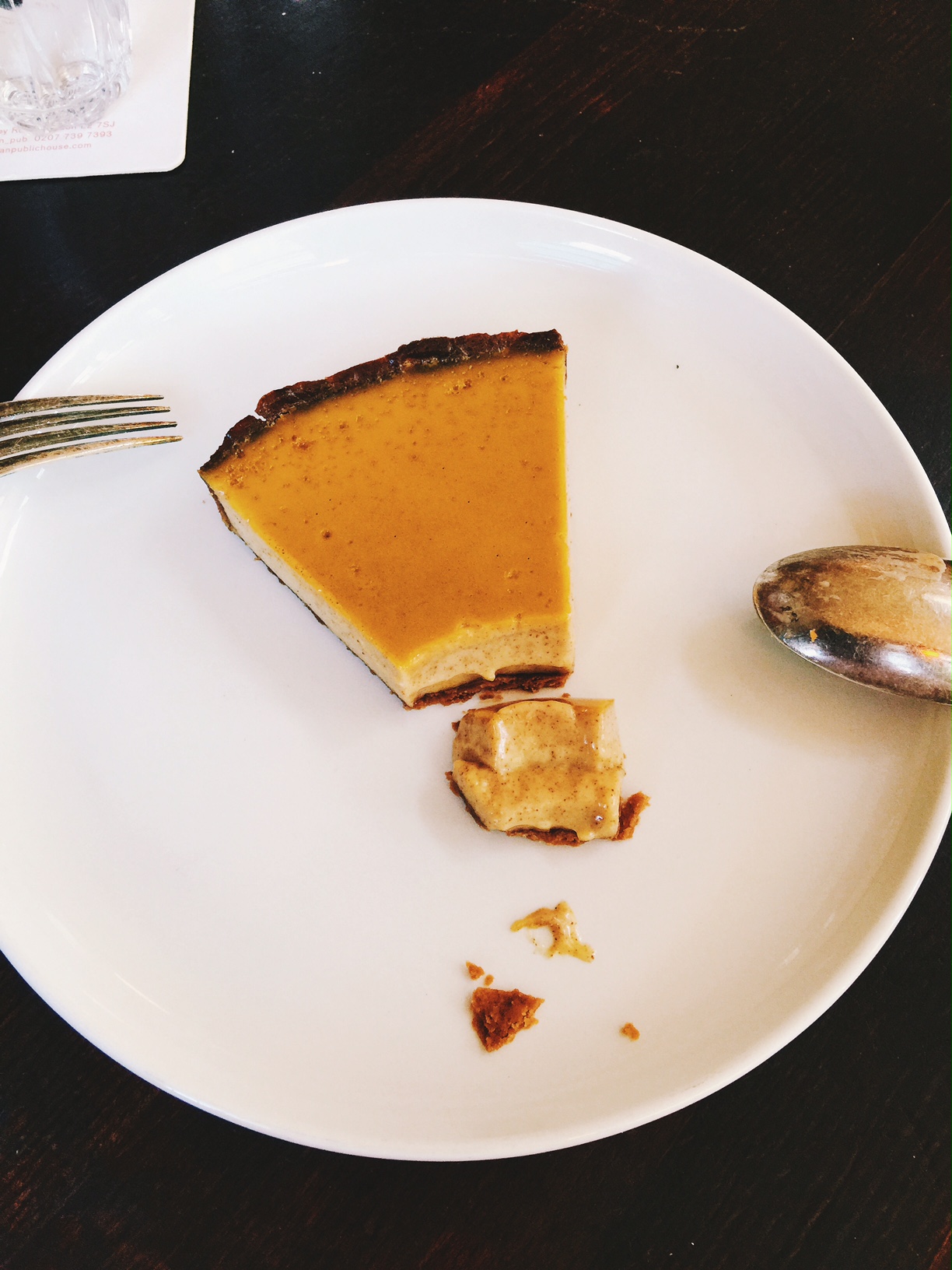 This is the Bib's pick for pub of the year and I think is a fully deserving accolade, if not also a full star to be restored to the co chef-owners, Tom Harris and Jon Rotherham, both ex-St John Hotel.
Of puddings this year, the brown butter and honey tart is hands down my favourite. From the impossibly thin architecture of the pastry base to the gravity defying wobble of the custard – exacting and sensational patisserie. It tastes great too.
They are a little understaffed for the moment, and turn over an incredible number of tables on Sundays, so just be wary that you may end up with an inconsistent meal. When they have the time to be on their game however, all of it is straight fire.
12. Bincho charcoal grilled Iberico pork loin at Neige d'Ete (Review June 2016)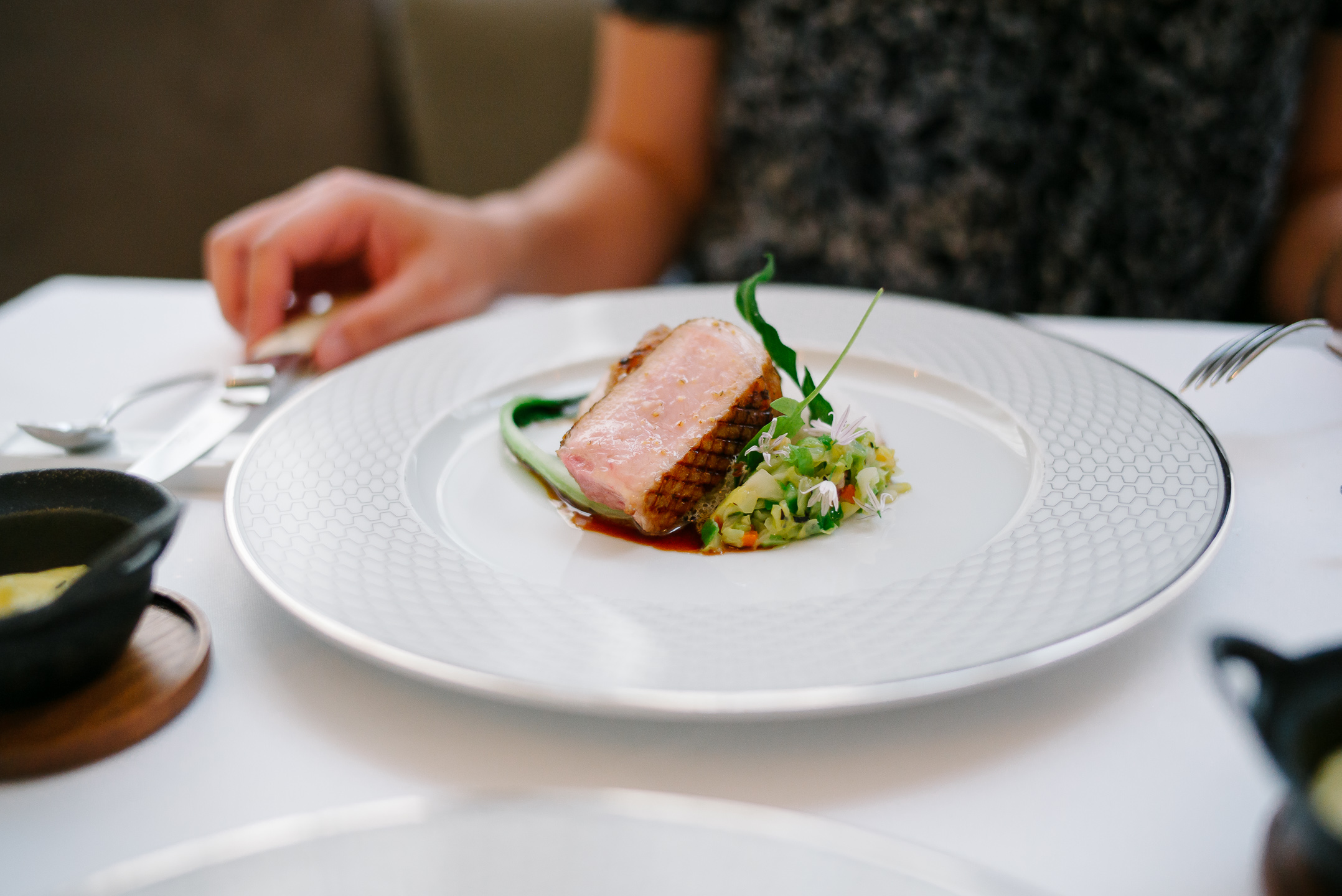 I love Paris for gastronomy and bistronomy and in 2016, I think they (still) do it better than we do in London, on both sides of the bank. Of the ones that stood out for me was without question Hideki Nishi's Summer Snow. The ex-Taillevent Chef works with the best of French produce, applying precision classic technique with just the right dose of Japanese heritage. Like this beautiful pork loin, grilled on the bone over Japanese bincho coals. SO delicious. I wouldn't be surprised if Nishi san gets promoted by the Bib sometime in the near future. For me, it is a restaurant I must include on every trip to Paris.
11. Roast veal, salsa verde, fondant potatoes, girolles at Medlar (Review August 2016)
One of my all time favourites in The Smoke. David O'Connor and Joe Mercer-Nairn's restaurant turned 5 this year, and is as strong as ever. The bib may have forsaken them, baffling because dishes like above stand head and shoulders above some starred restaurants in town. Although the lack of a star is probably a blessing in disguise. Five years on, it is still the best money (£35 for 3) you can spend anywhere for a decent lunch in London. If you have never been, now is the time to make it happen.
10. Crab, white asparagus, green tomato at Typing Room (Review May 2016)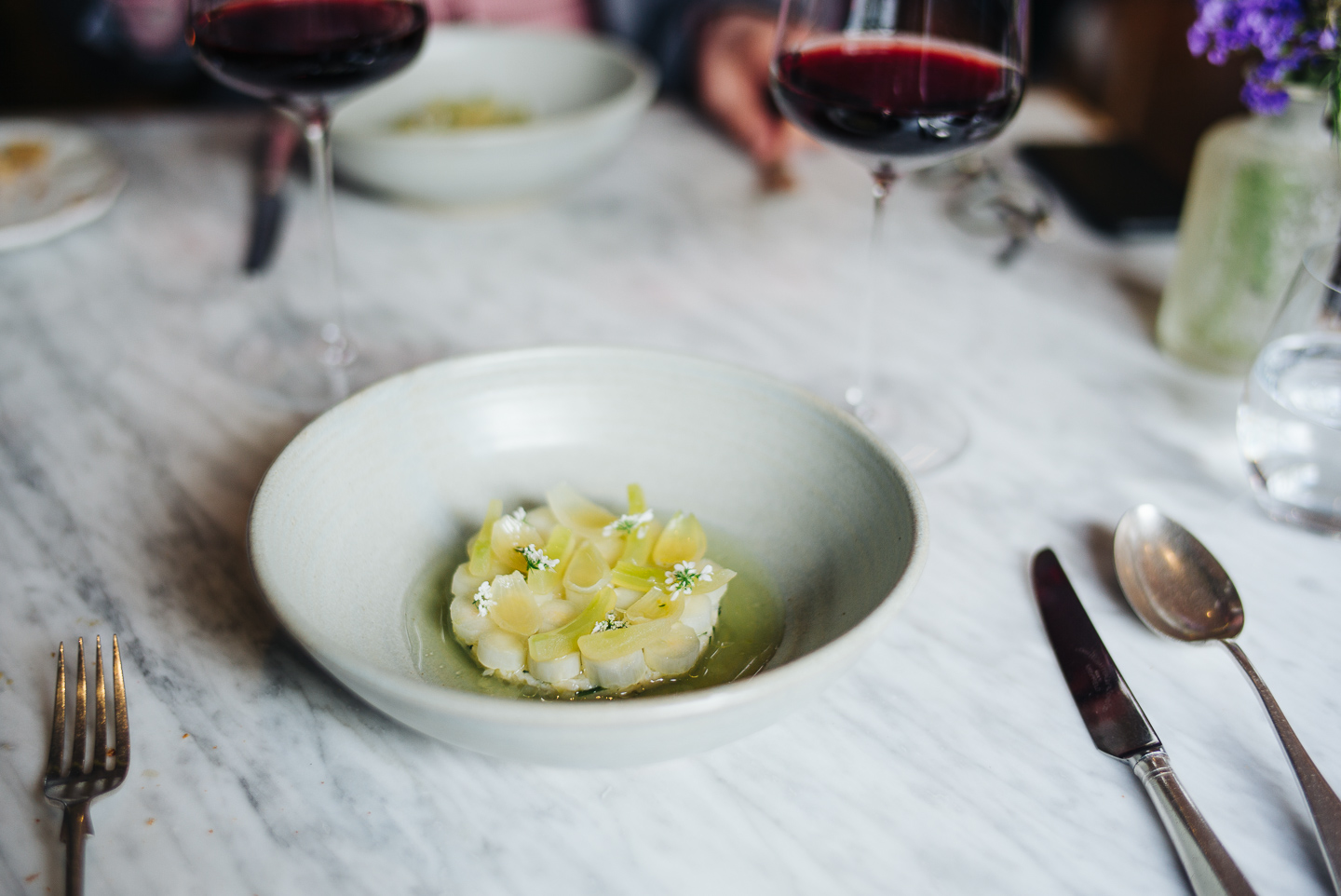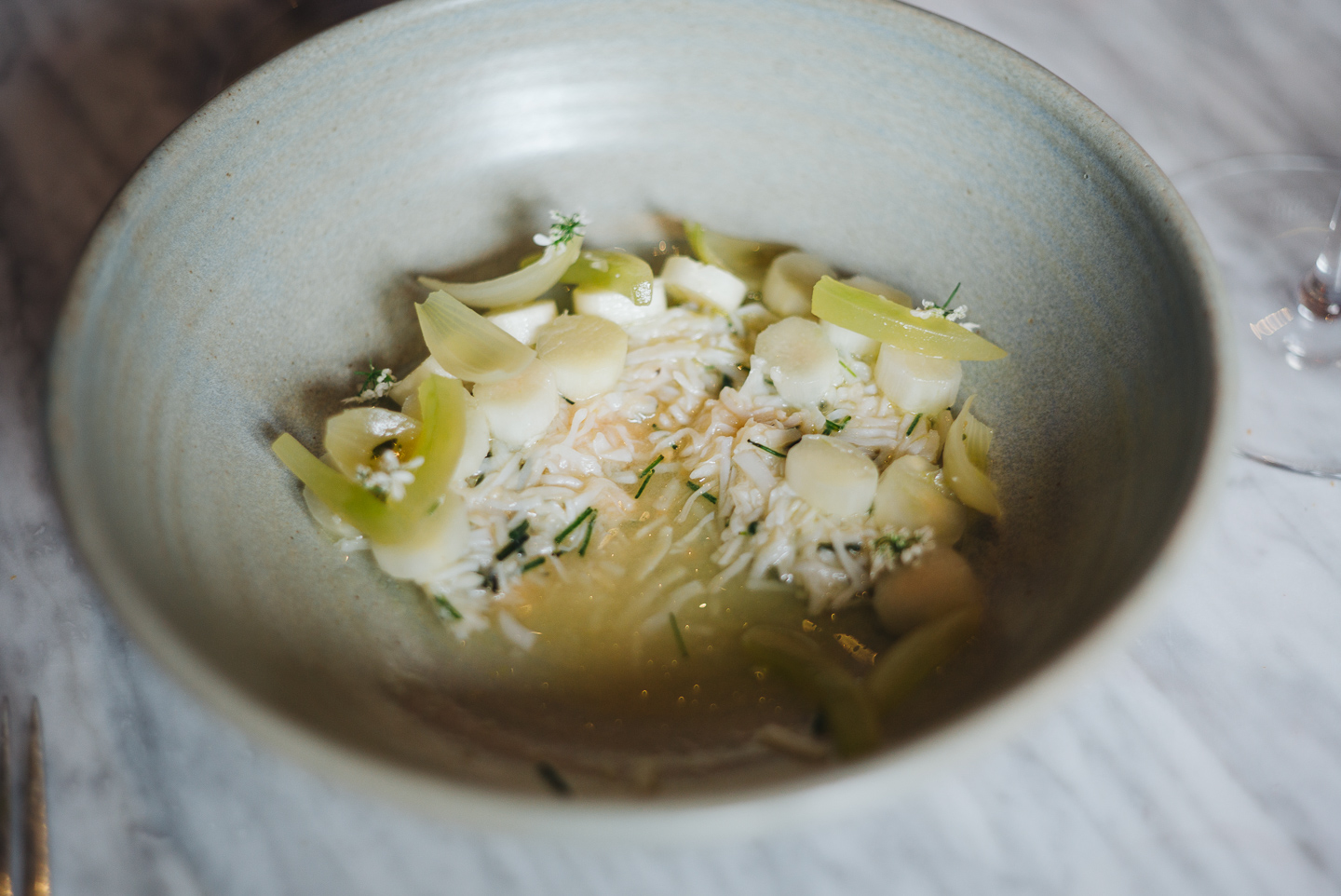 I've been a Lee Westcott fan since his head chef days for Tom Aikens (at Elystan Street). And like Tom, this guy is quite the gifted chef, able to finesse seemingly humble ingredients into higher planes, through modernist methods as well as the naturalism of New Nordic to deliver a solid idea of what Modern British cuisine ought to look like. This Spring expression of Devon crab for instance simply dances on the palate. Where is the bib on him, I wonder.
9. Lobster two times at Les 110 de Taillevent London (Review Oct 2016)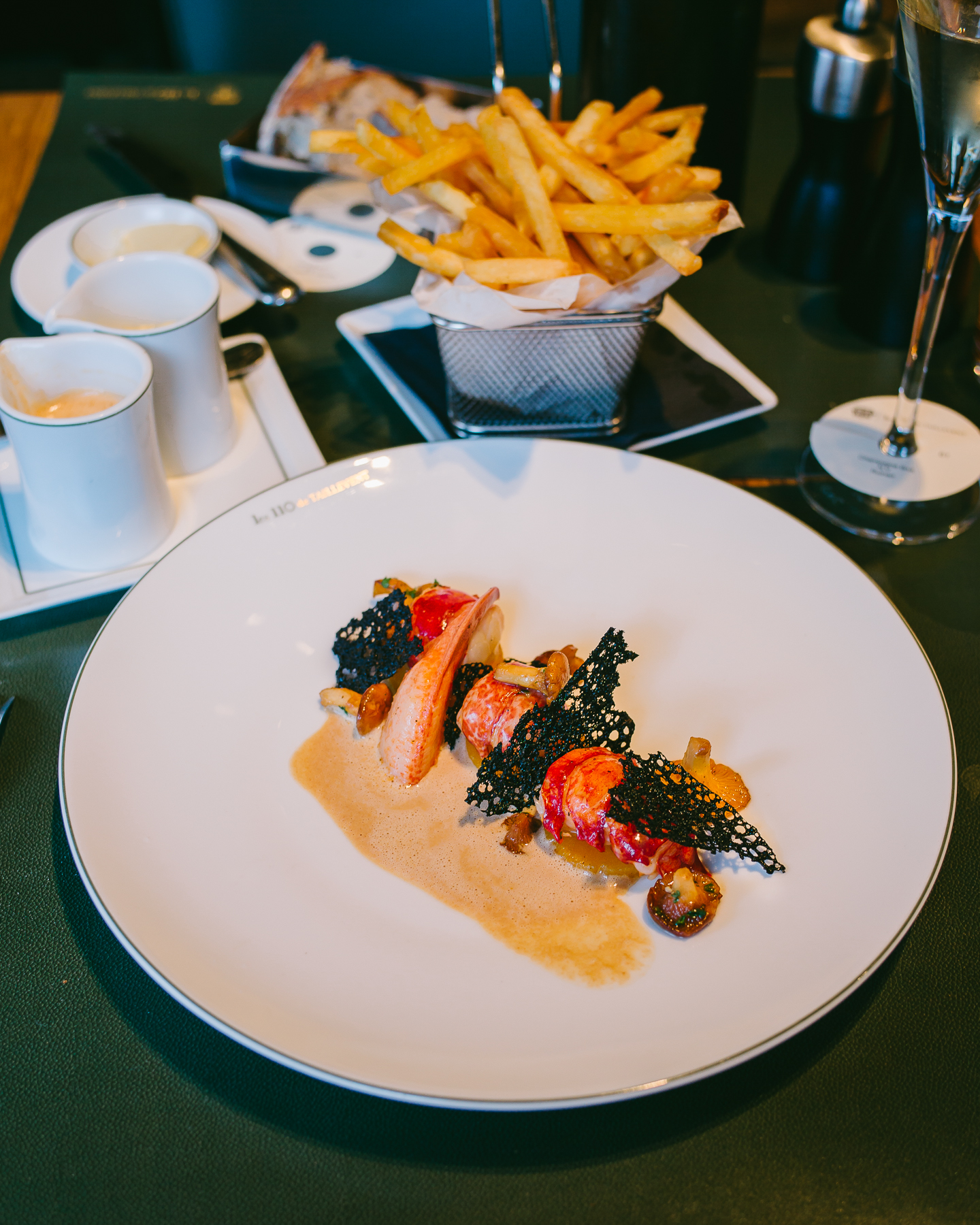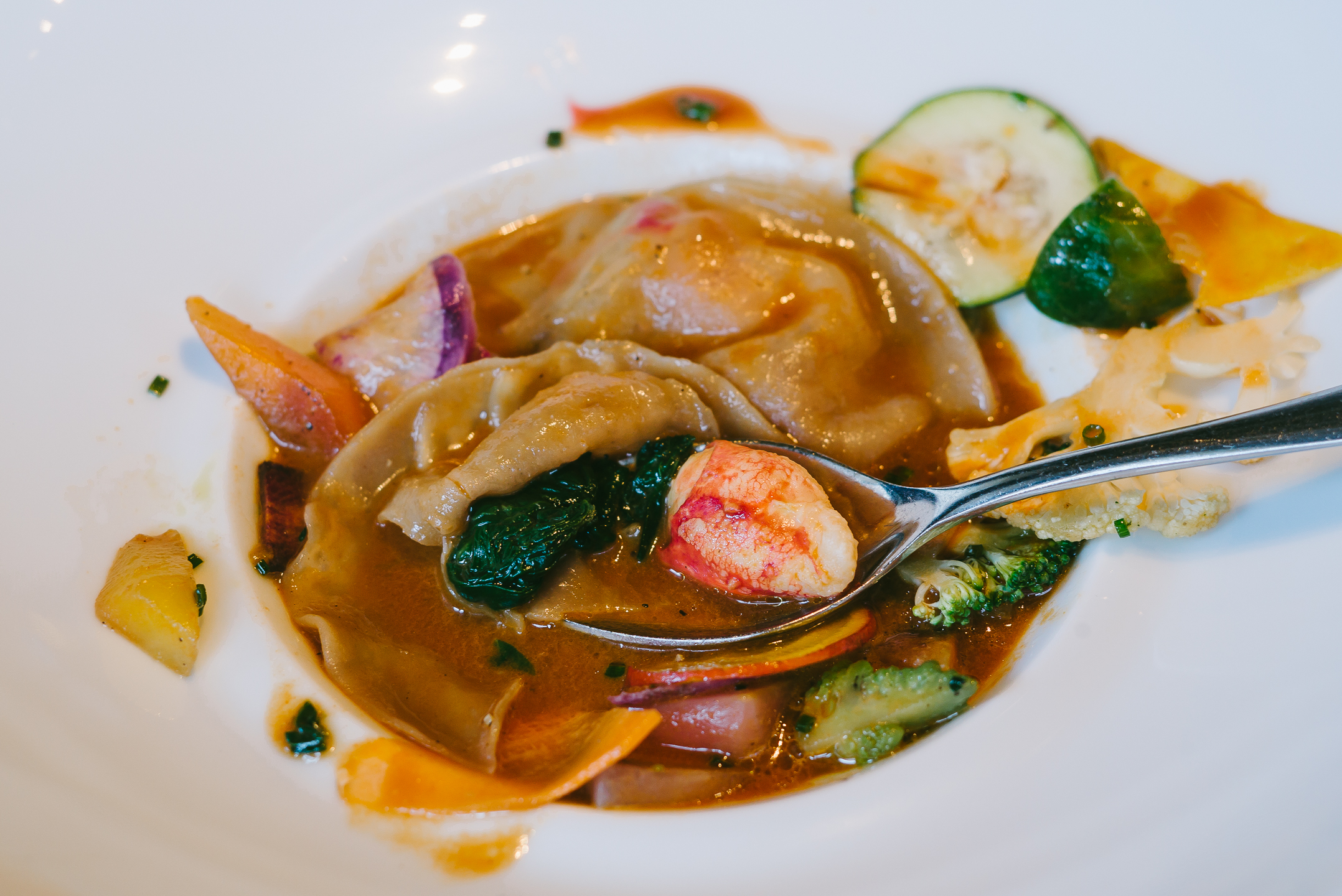 And indeed it was, delivered across two plates. First, as roasted tail to a perfect mi-cuit and secondly with its knuckles folded into a ravioli. Both with full-flavoured bisques, each distinctly spiced from the other. I visited twice, the first was a Bretagne blue, the second a Cornish blue. Both times were fantastic. A little more than the lo-key brasserie image I think. The Chef is one Rapheal Grima, from the two meals I ate here, this guy looks serious about making Les110 a splash in London. At these prices and for this sort of execution, I'll gladly eat live native lobsters in its own stock all day long. Two more please.
8. Jesse Dunford Wood's Chefs Table at Parlour (Review April 2016)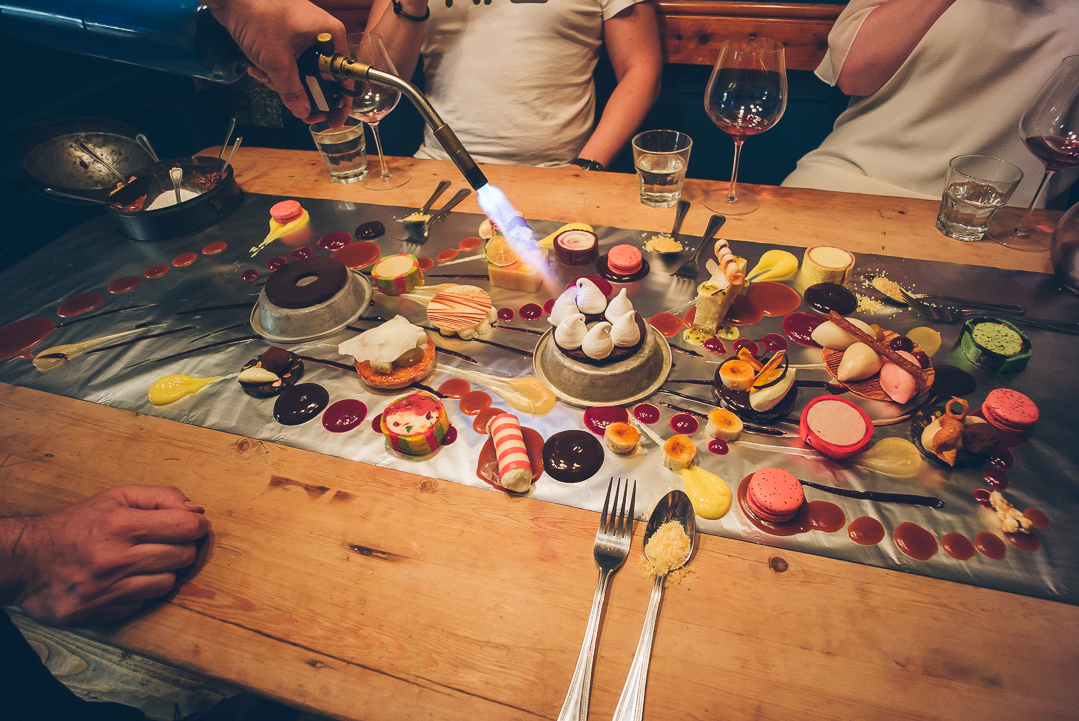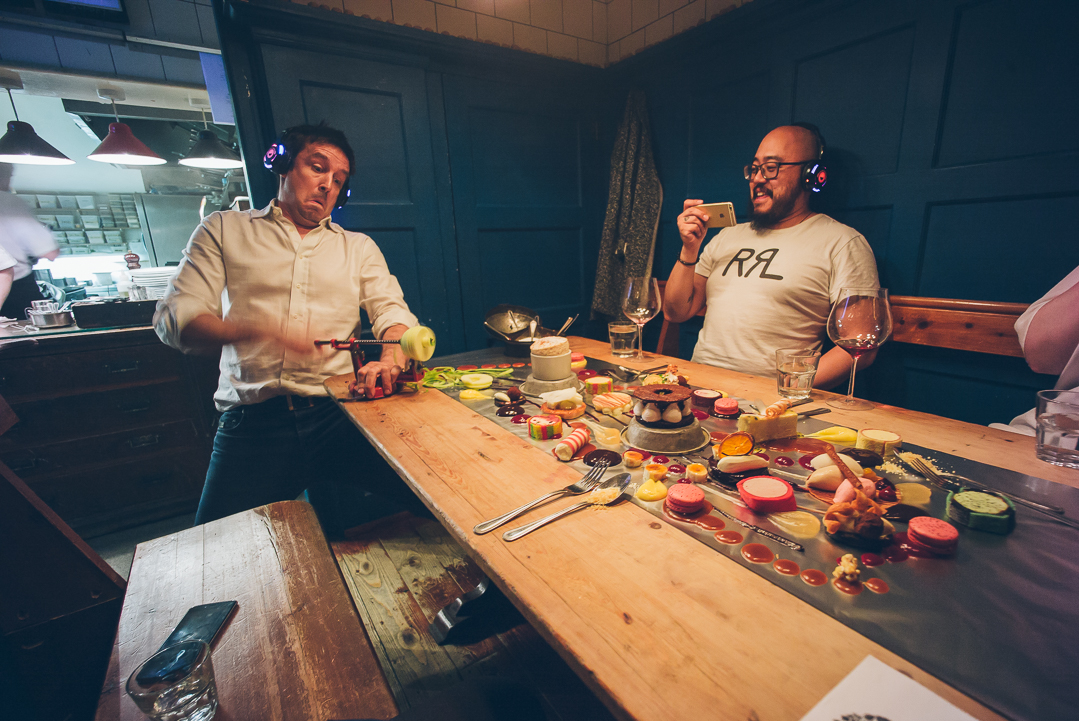 Even more fun than it looks. Tucked away in a North West London pub is the talented Jesse Dunford Wood and whilst his standard menu at the pub is more than decent, it is his Chef's table that's special. For £70pp, Jesse will feed you, and feed you, tell you some stories, display his sabrage skills and finish the show with a nod/wink to that other guy who also worked for Charlie Trotter, or a dessert bar in Hong Kong depending on where you read it first.
7. Smoked Yorkshire Ham at 40 Maltby Street (Review July 2016)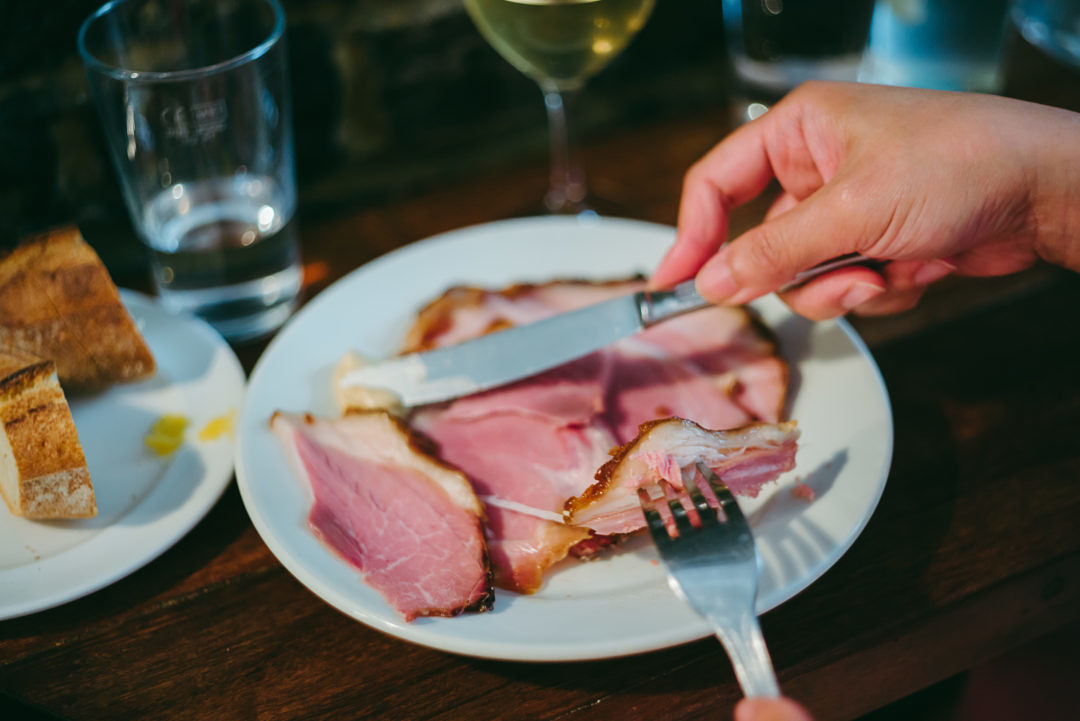 This probably qualifies as one of the most delicious things London has to offer. Available on Saturdays mornings only. The rest of the menu is just as gorgeous and expectedly so since it is Stevie Williams (Ex-Harwood Arms Head Chef) who does the heavy lifting here.
6. Squid ink, smoked cod's roe, egg yolk flatbread at BAM (Review April 2016)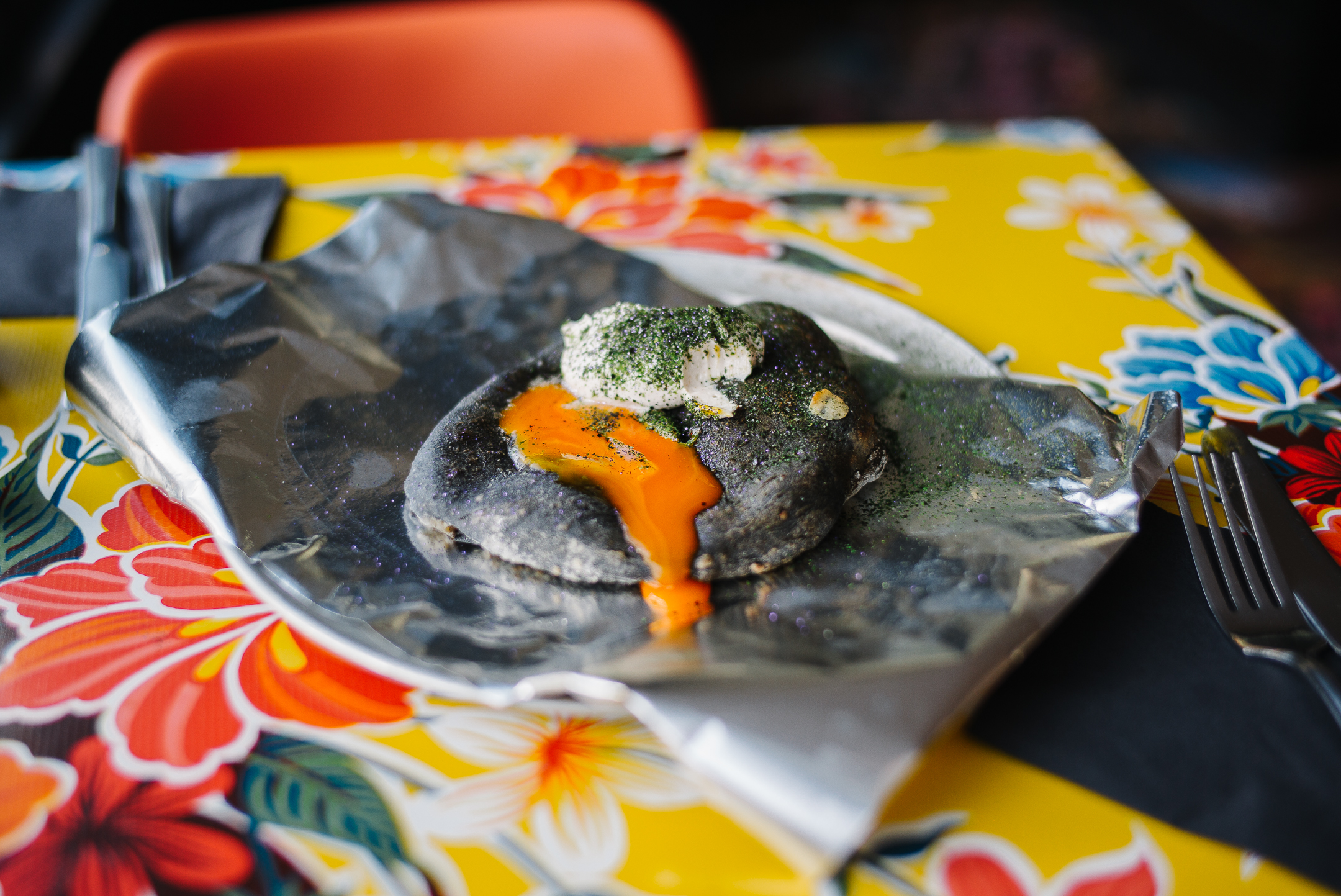 San Francisco's finest via St John Bread and Wine and mad love for Kiss. Nothing is what it seems, which is what makes Lee Tiernan's Mission North London such a genius turn. Leave the earplugs at home and order everything on the menu.
5. Devon crab, apple, hazelnut at Hedone (Review July 2016)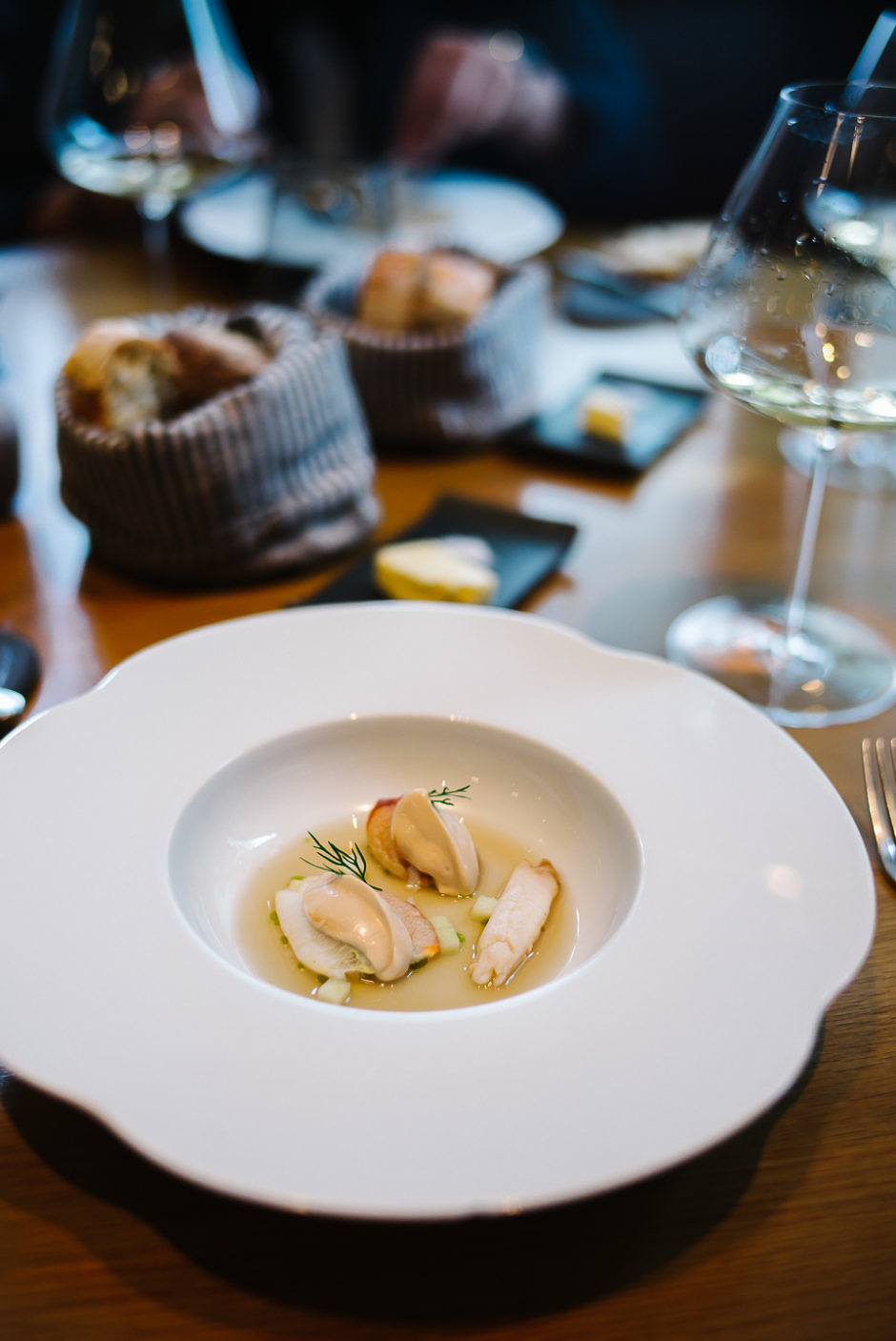 I can't exactly say I enjoy every thing Mikael Jonsson puts on a plate, but I do return every year and respect the risks he continues to take in polishing his cuisine year on year. I have to say I was bowled over by this crab dish, one reason why I thought the meal at Hedone this year was several notches above last year's. Such purity of flavour, such respect for the ingredients – two types of crab Devon cock and (invisible) tiny velvet swimmer crab – something like this has to be cooked a la minute with absolutely the freshest and best you can get your hands on. The result is perfection. Perhaps the clearest representation of Mikael's style of cuisine I've yet tasted. Like Medlar, Hedone also celebrates 5 years in the business, whilst gaining an international profile along the way. Quite some work Mikael and Aurelie have achieved in this time.
4. Roast Duck 3 ways at The Clove Club (Review May 2016)
Challans duck, aged in-house for 21 days, roasted whole and showed at the table. While it disappears into the kitchen to be carved…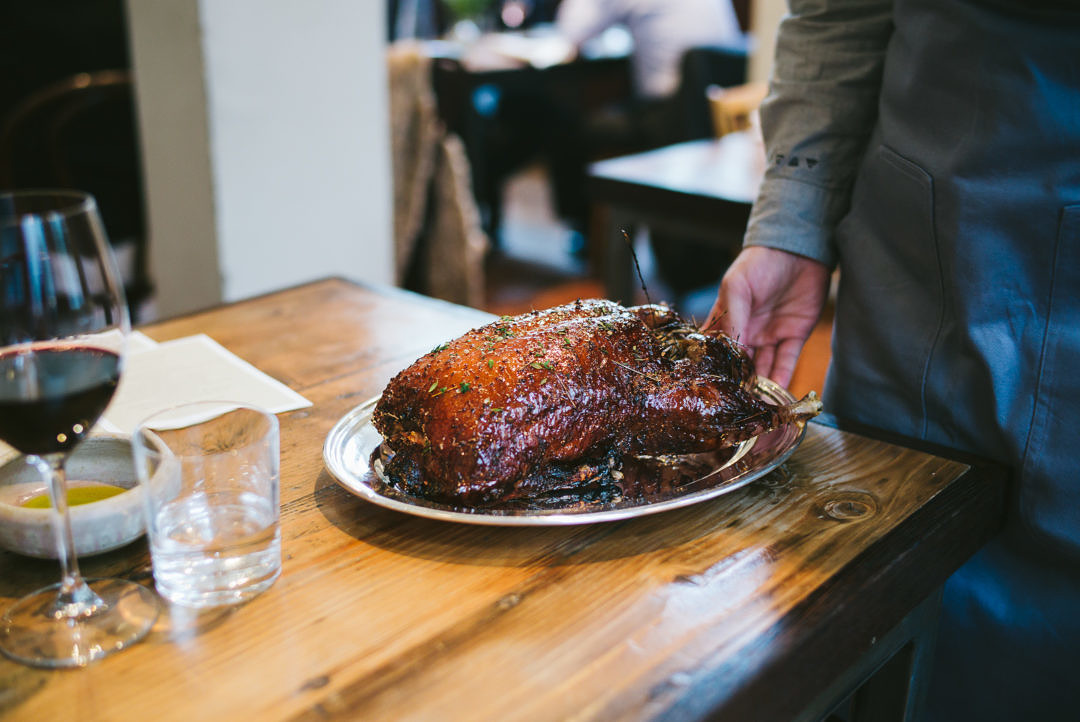 …We are firstly presented with duck consomme, with a drop of 100 year old Madeira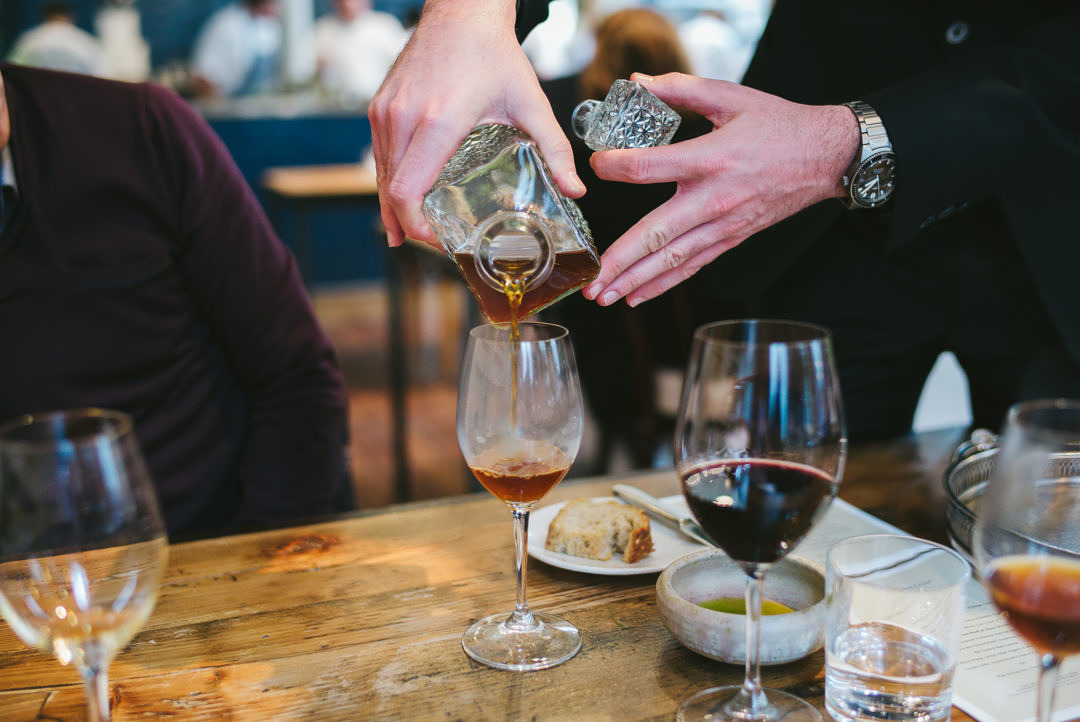 Followed by the main event: Breast – perfect in pink – with fermented cabbage, beetroot and jus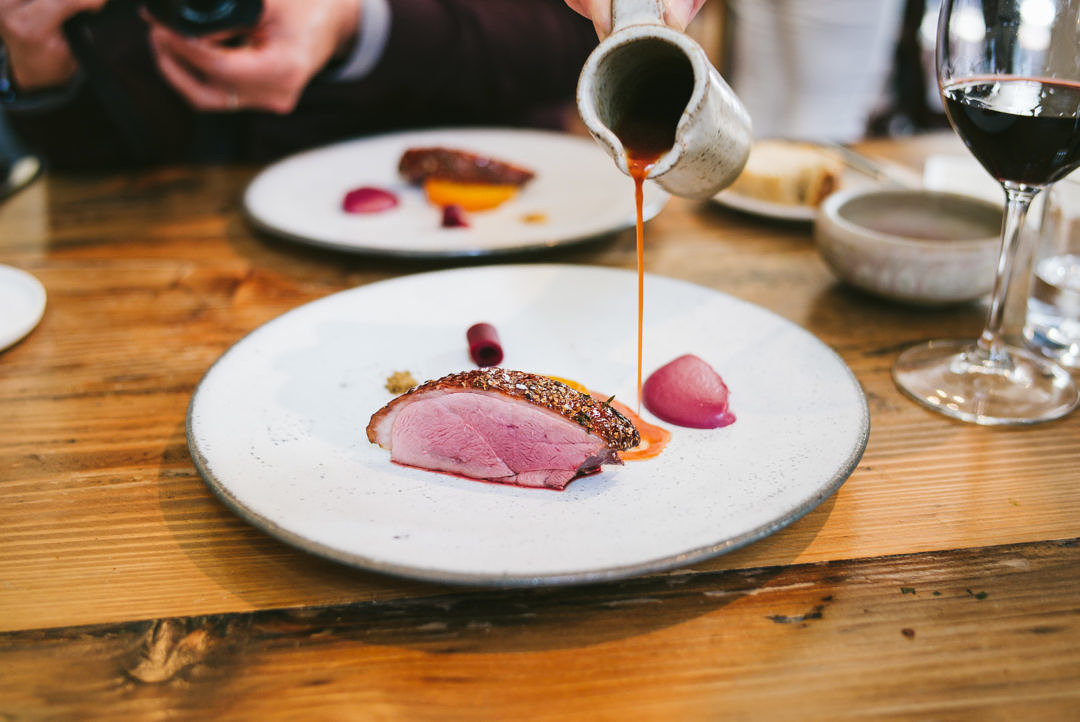 Finally, the third act is hay smoked duck sausage, leg…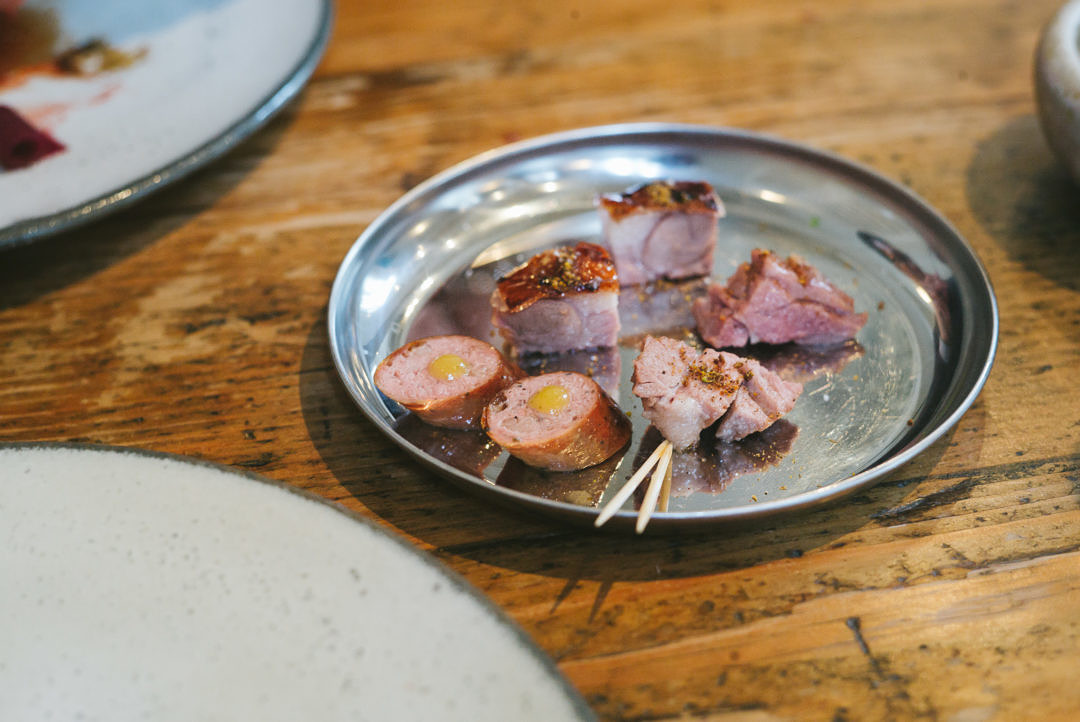 …and skin.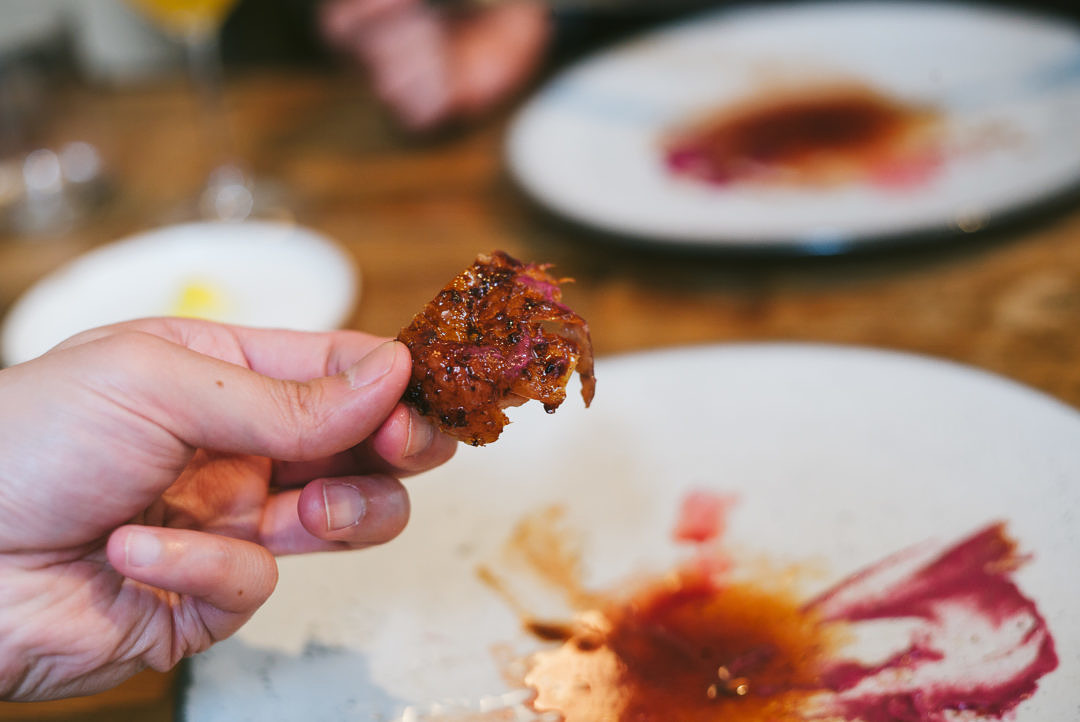 Perfect duck. Definitely one of the best in memory. Meals like this explain why Isaac Mchale is doing as well as he is in 2016.
3. Wild Northern Irish Eel Kabayaki (Kansai style) at Umu (Review May 2016)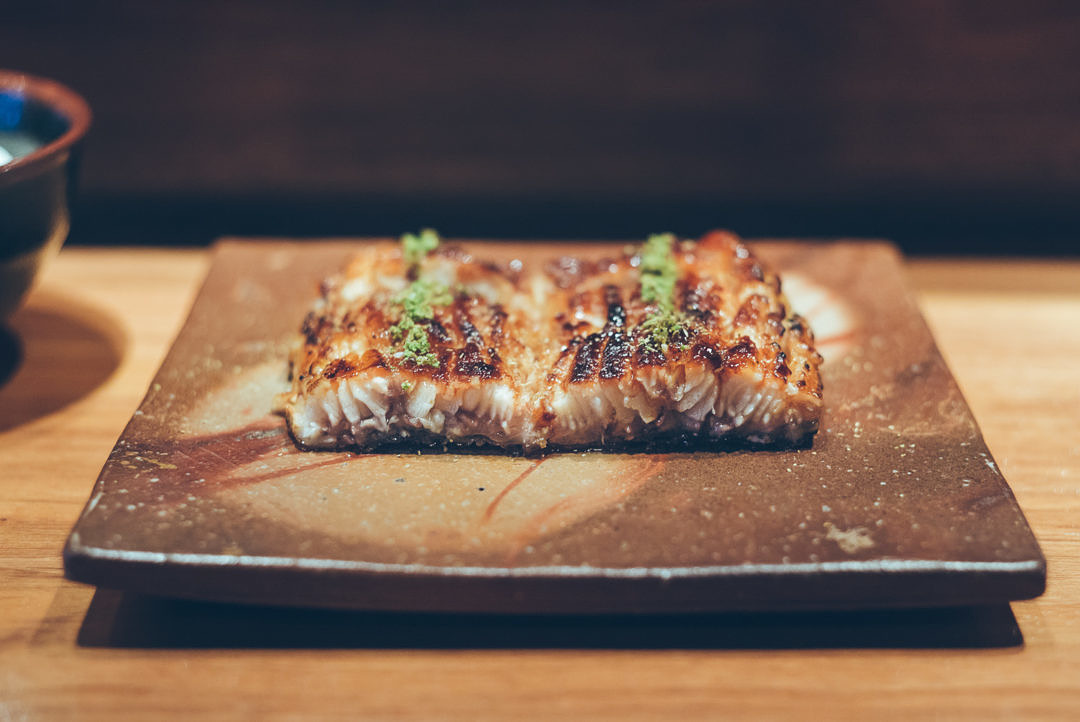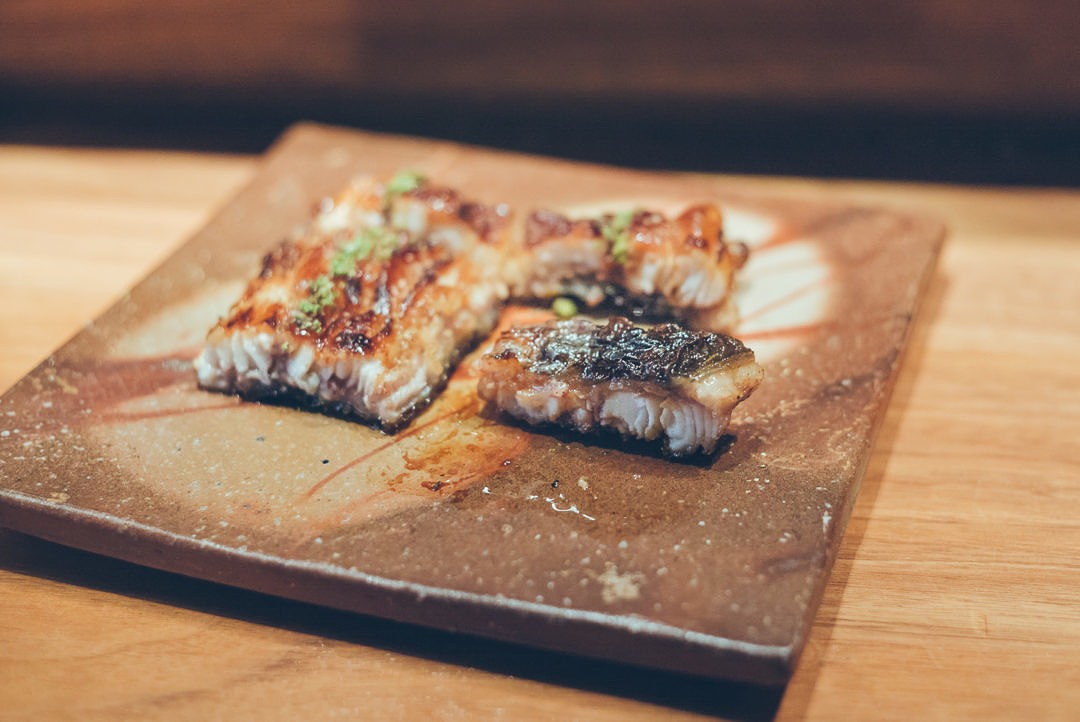 Kayabaki eel in Japan can be broadly classified into two styles that relate to preparation and cooking method. Kanto/East/Tokyo style slits open the wriggler from the back, and the cooking process includes a steaming step, in addition to skewering, grilling and finishing with sweet tare sauce over bincho charcoal.
Where as the Kansai/West/Osaka style slits from belly (like 'harakiri' and because Samurais are mostly in Kanto) and the cooking skips the steaming, and therefore leads to crispier skin, like crackling, generally a better 'sealing effect'.
The latter is sometimes referred to as being the more masculine style, the meat is firmer and more robust, more flavour, as it has not been softened by a steaming step.
I'm hardly the unagi expert, but I'm willing to take a punt and suggest that Umu's unagi is prepped Kanto style, but grilled Kansai style. This I speculate is due in part to Chef Yoshinori Ishii's training, beginning in Osaka and then moving on to the revered Kitcho in Kyoto.
For me, this is an incredible take on British freshwaters and one in which Ishii san has applied his considerable talents to adapt his cuisine to local produce, not to mention his efforts in bringing ikejime to the shores of Cornwall.
It costs an arm and leg (as it does in Japan), but it is absolutely worth sampling this, especially for ALC (£32 for eel + £8 for a bowl of rice, which you need). Meaty, fleshy, full of natural oiliness, comprehensively unctuous. Undoubtedly the best unagi I have had outside of Japan and unbelievably, this is unique to Britain because of the native eel. Reasons why he holds a brace of stars.
2. Game season at Bonhams Restaurant (Review Oct 2016)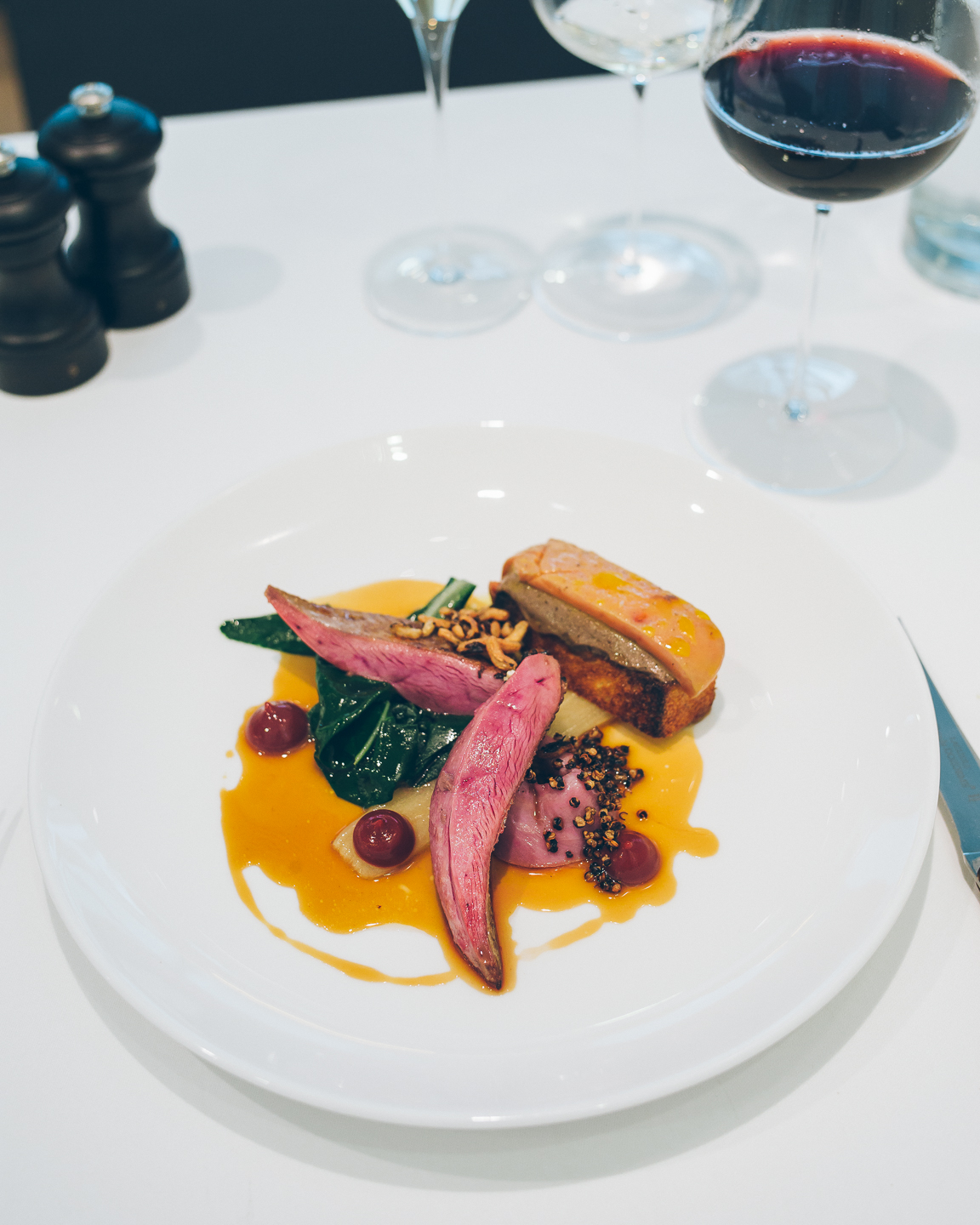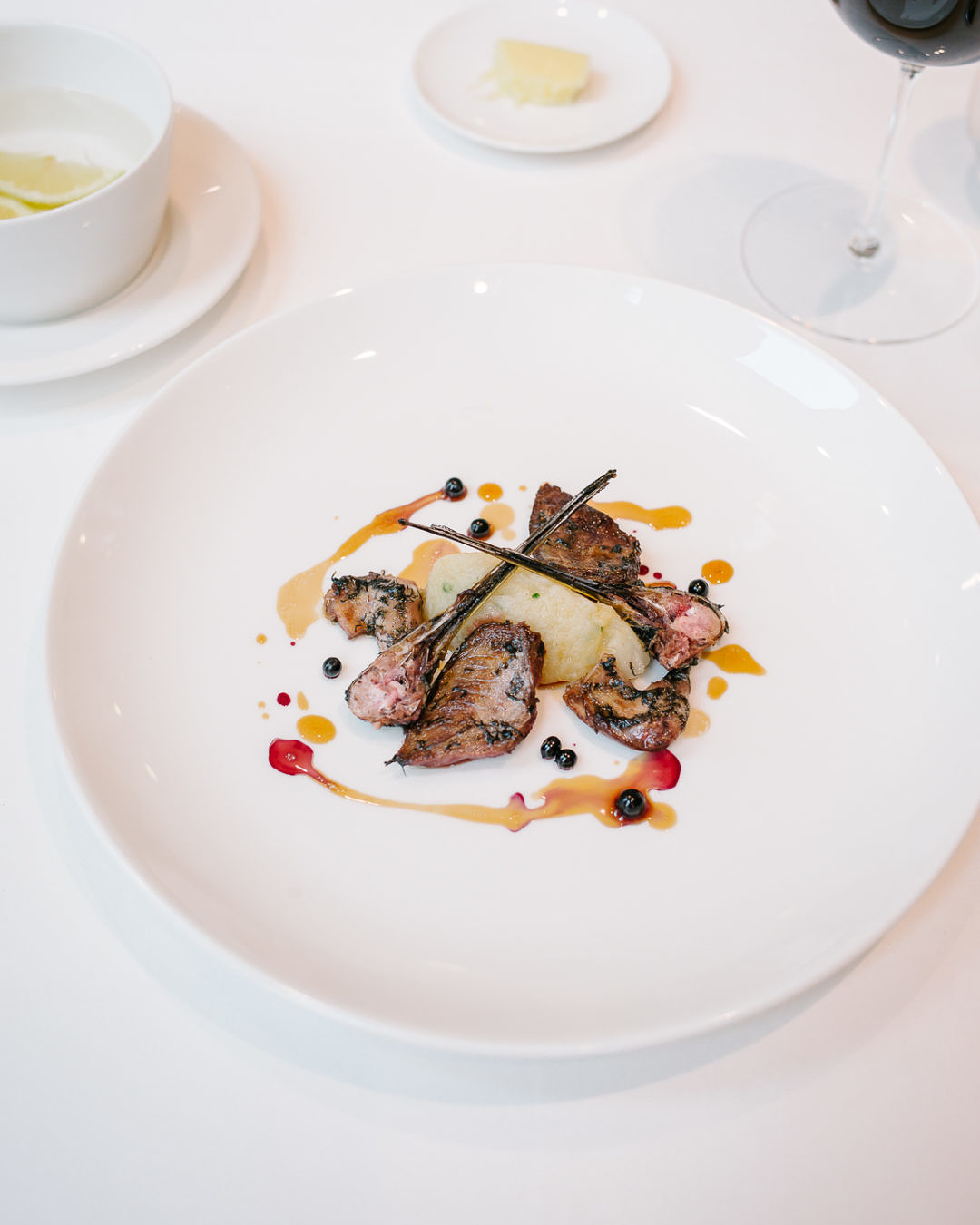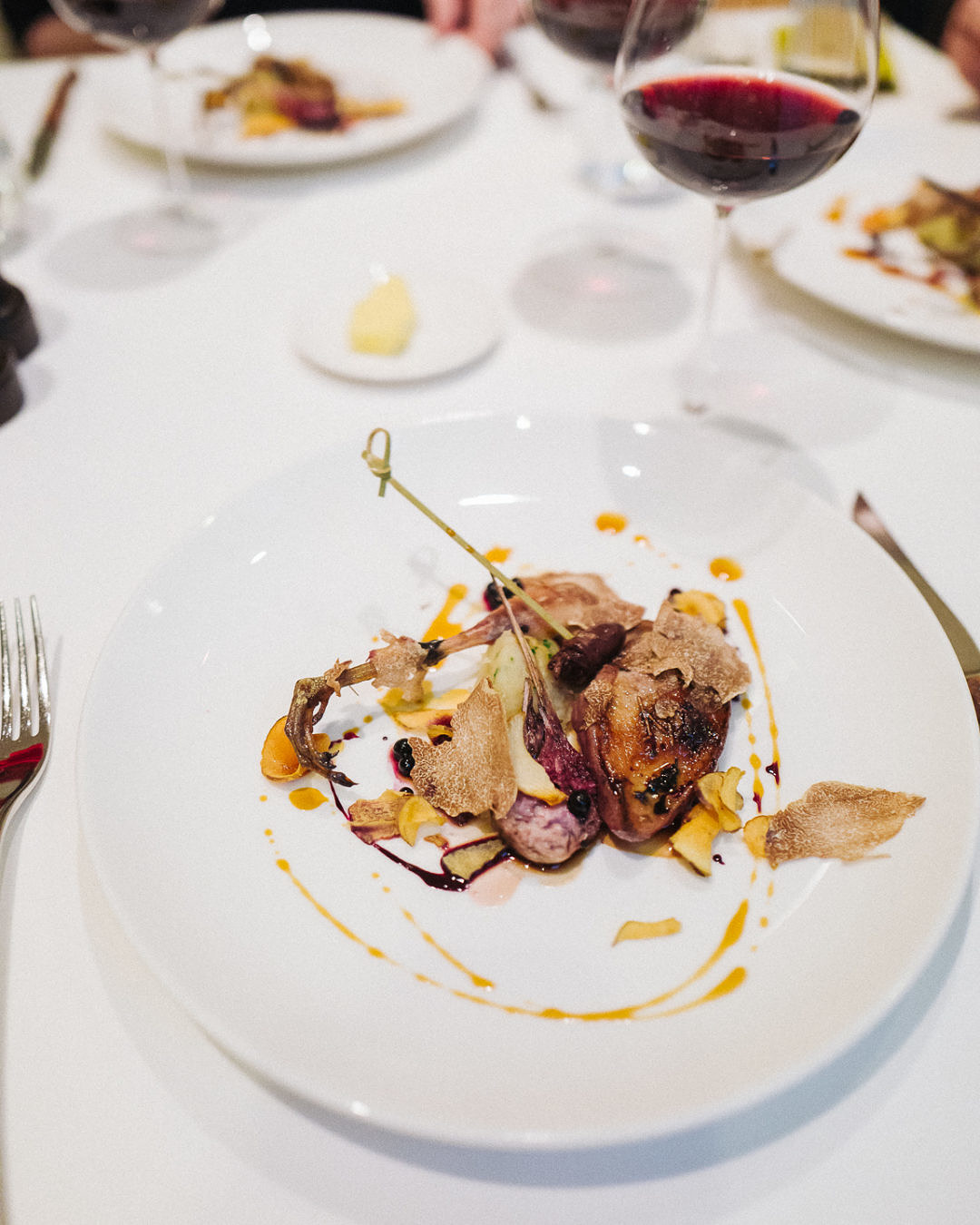 Celebrating Game season at Bonhams this year was magnificent, taming the rich flavours of wild birds with a confit and roast technique that produced a fine expression of British Terroir. In September, a full flavoured mid-season Grouse in balance with damsons and a luxurious foie on toast. October was (my first experience) of Snipe, brain and all, executed with perfection, and finally in December, Woodcock breast,leg, head and heart with White Alba truffles, salt baked Jerusalem artichokes and pickled elderberries was truly the pièce de résistance.
My favourite new restaurant in 2015 is now my firm favourite in London. I think I'm on my 14th visit and each meal better than the last. Intensely seasonal produce is the point, with the Chef intervening to deliver maximum natural flavour. It takes quite some skill to do simplicity and in Chef Tom Kemble and sous Theo Clench, we have a cuisine that excels in the classy, subtle and delicate.
And they continue to develop and progress, most recently, an unveiling of Abalone two ways, that turned out to be an unadulterated pleasure. All those precious juices. I hope this catches on in London.
Nobody can predict what the Red Guide does anymore, though FWIW, I think these guys are on a trajectory towards Two Michelin Stars. I've been watching very closely. The future of British Gastronomy, here and now.
1. Veal cheeks at The Crown Burchettes Green (Review October 2016)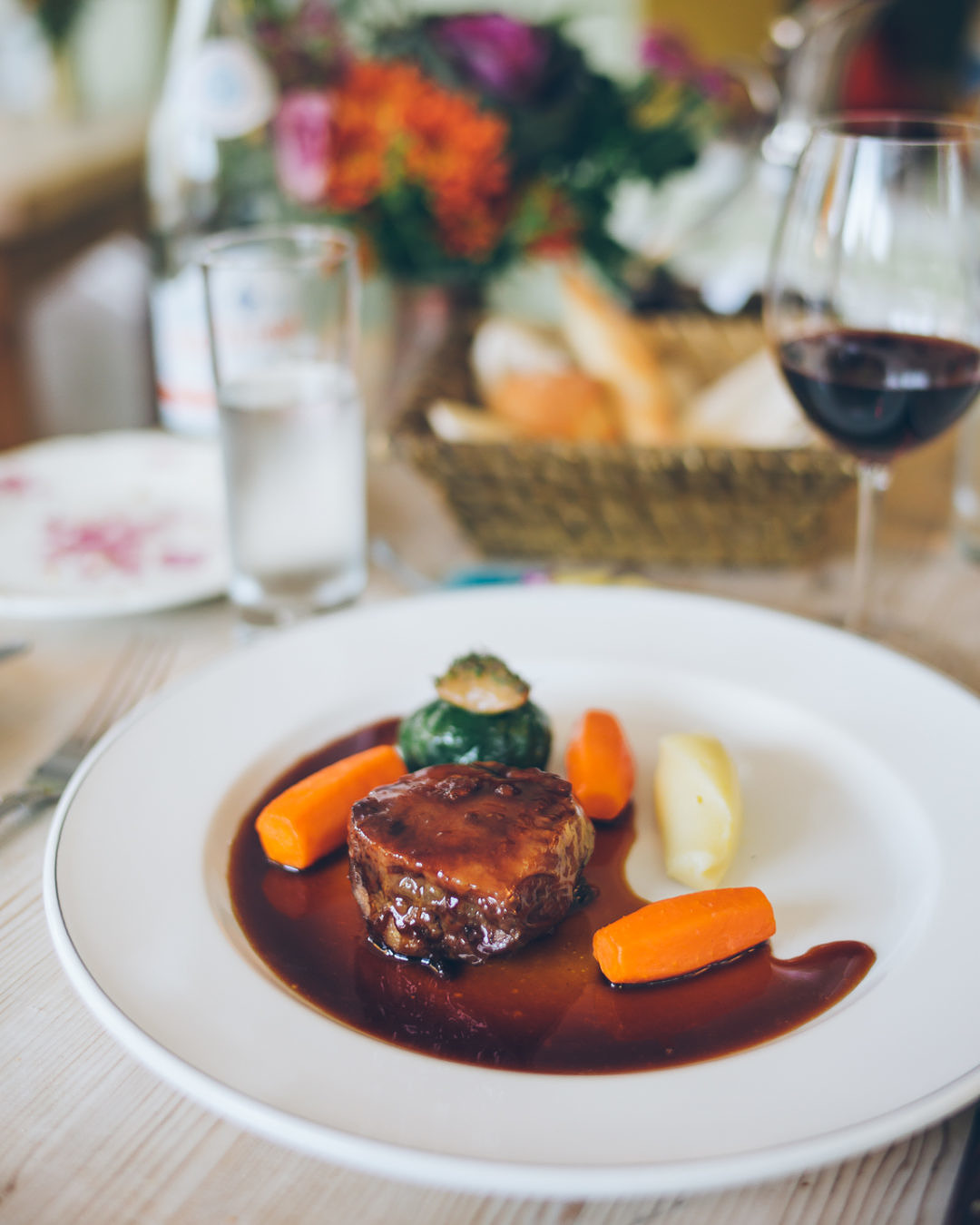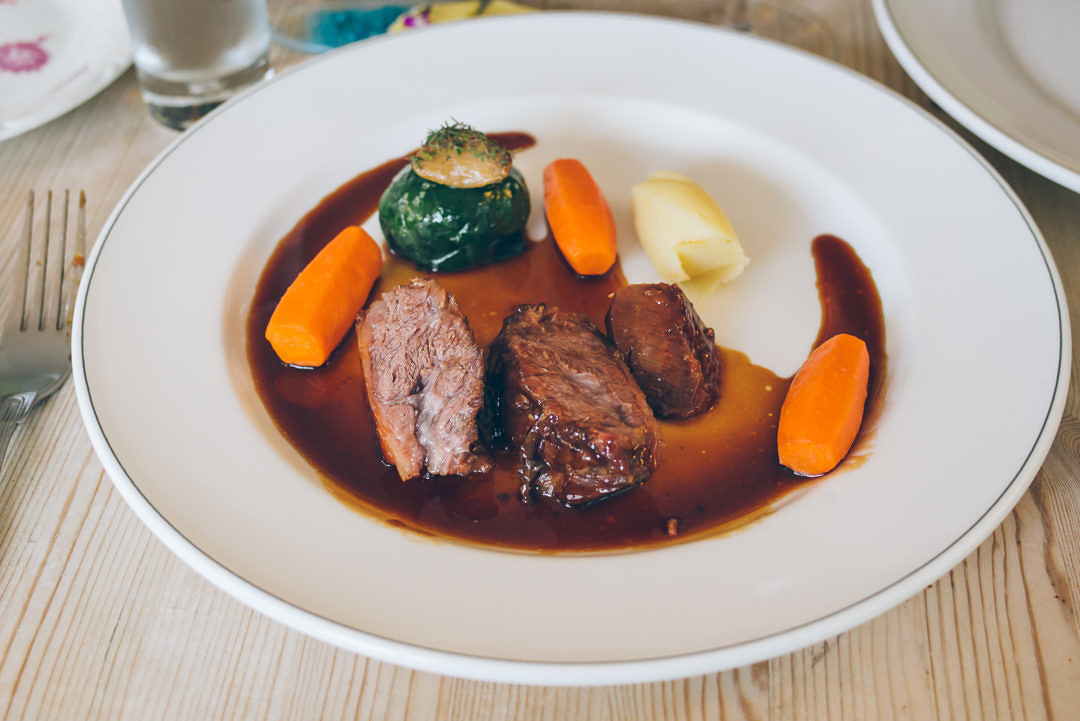 Simon Bonwick won a fresh star this year and I think he totally deserves it. Amazingly he works alone in his kitchen and yet he turns out plate after plate of proper delight with classical precision. A mere £25 for a menu choisi consisting five courses.
His son Dean runs front of house like a champ, and if you take a look at Father and Son's combined resume, you will understand why their family restaurant is as solid as it is. A true practitioner of gastronomy and for these exact reasons, I think it deserves to sit at the top of my modest heap in 2016.
Best New London Opening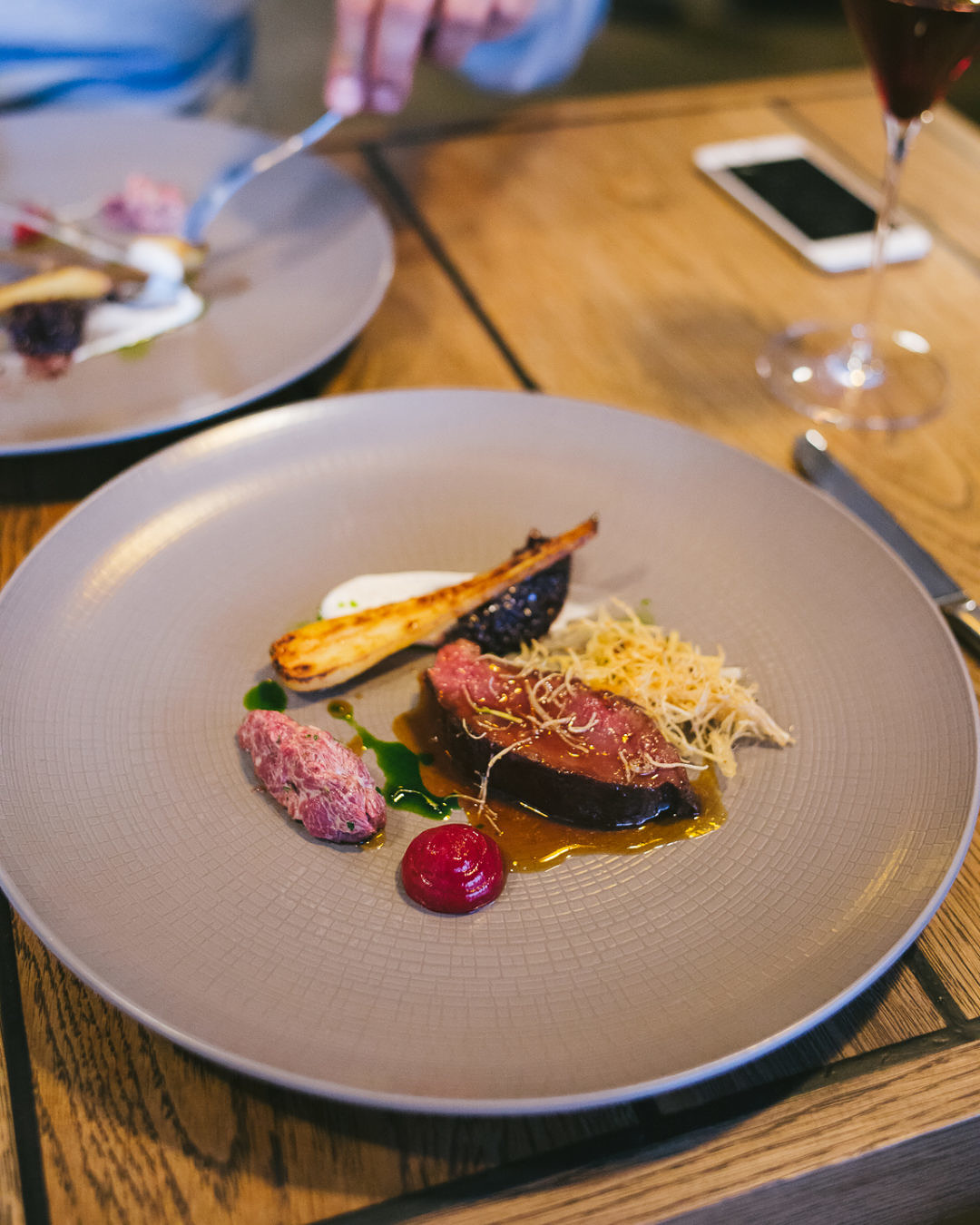 My pick for 2016 is Anglo restaurant. Opened by Chef-owner Mark Jarvis with head chef Jack Cashmore and FOH led by Nick Gilkinson. Two meals six months apart showed that the team have rapidly developed their cuisine, and yet I think there is more to come.
In a year which is again heavy on casual, concept-driven openings, it is refreshing to come across the ambition behind Anglo. It reminds me very much of Clove Club's beginning days (Upstairs at Ten Bells to be exact), Chris John's Antidote and also Merlin Labron-Johnson's (also ex-In de Wulf) Portland.
A cuisine that is driven by British products, offered in a stripped down equilibrium of modern and classic, with interesting pairings here and there, and accurate balancing of flavours. The price point is pretty delicious too. It's a good thing going and I do hope they continue to strive for improvement.
—
Though technically 2015 openings, I also enjoyed Jun Tanaka's The Ninth, Noble Rot Magazine/Stephen Harris's wine bar (the emphasis is on the wine, guys…) Noble Rot with Paul Weaver at the helm and Nobuhisa Takahashi's eponymous izakaya in South Wimbledon. All excellent additions to London's scene.
I must also mention Josh Katz's Shawarma Bar and its excellent short rib rice bowls (and roasted cauliflower) and to Hoppers, specifically the bone marrow varuval + paratha is a kind of perfection – More than enough words for a restaurant already over-showered with praise.
Other delicious things
To Tokyo, steak sandwiches at Hirayama and Shima were revelations, so too the ultra-tender tonkatsu at Narikura and Tonta respectively.
In Paris, I went to L'Astrance for the first time and found Pascal Barbot's foie gras tarte to be a modern masterclass, but equally I was very impressed with L'Inconnu – Italian in Paris, by a Japanese chef, ex-Passage 53.
Back in London, I had a hugely enjoyable revisit to an old favourite Gauthier Soho and a double revisit to Ledbury this year revealed Brett Graham's consistent form. Even though the menu is quite static, it is one that is executed with extreme precision. Is this still London's best restaurant? Yes, I think so.
And we wave goodbye to Koffman's, as the great chef takes his 2nd retirement. It was a fabulous run, I am glad I got to eat the trotters and souffle, one last time this year.
Finally to Abysse in Tokyo where young Kotaro Meguro's (ex-Quintessence) fish-only restaurant delivered the complete wow factor. Mastery of modern and classic technique, perfectly executed with creative pairings that – for me – show a brave Chef carving out his corner of Tokyo. Loads of potential in the tank. One to watch for sure.
Into 2017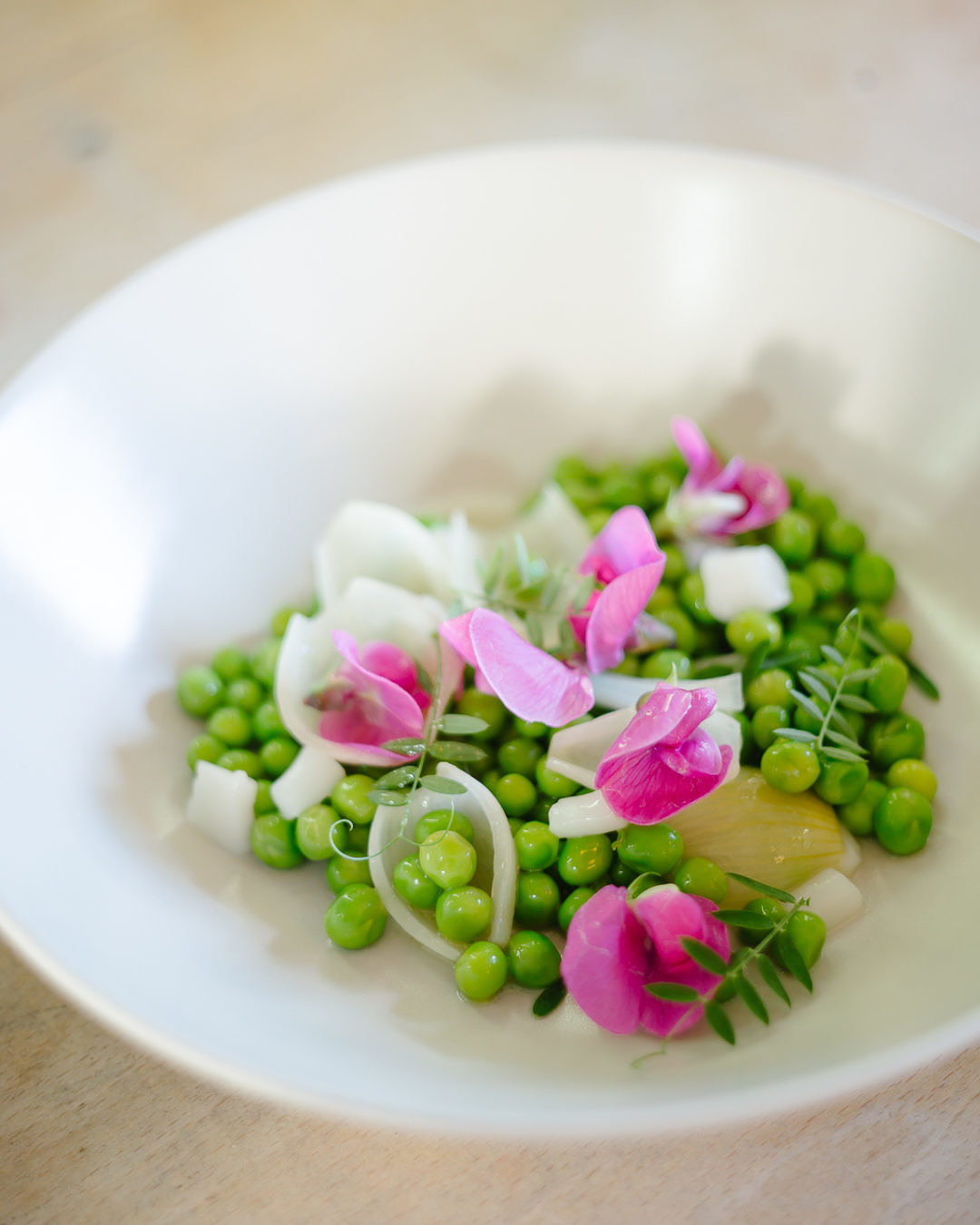 I'm keen to see where Leandro Carreira ends up as his pop-up was utterly fantastic. Here's to Leo's new digs in the new year.
—
RIP AAGILL.