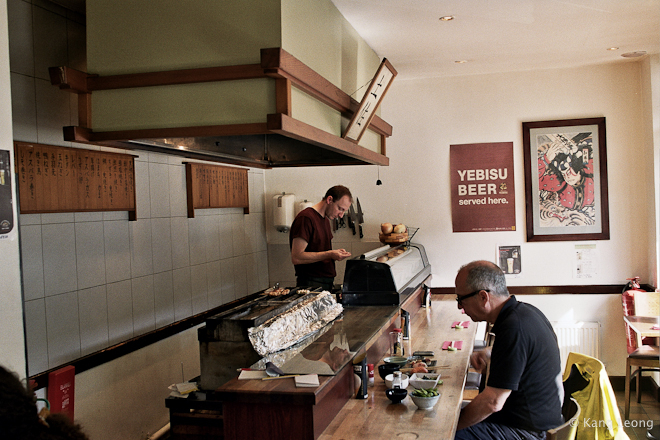 I've always thought about upgrading (or downgrading depending on where you stand) the photography on this blog to film-based rather than digital, but after visiting 300 or so restaurants with the Nikon D700, it's hard to it put. Digital is just so, easy you know, snap and pap, quick and (relatively) unobtrusive, and one can mess around with the image in the computer to one heart's content. But you know film has that distinctive look, the cinematic signature, the big screen gloss which you are probably familiar with, everytime you visit the cinema.
So it was the last sunny Friday in September, and I decided to take my FM2n and two rolls of Kodak Portra. Roughly 72 exposures, fully manual, completely mechanical (that means no battery required) and made in 1983. Yes, as old as me. As per usual, I was in the acquiescent company of my partner in crime, Marcus Aurelius, imported from China.
I am indebted to the exuberant Jennifer Joyce, who told me about this neat little gem. Amongst my many personal projects, I've been helping the intrepid food writer with her digital real estate…. Which is nearing completion, so I will show it you folks soon enough.
Tosa is a well-regarded yakitori specialist, based in Hammersmith (or Stamford Brook I should say), and a secondary outpost in East Finchley. Yeah I know, the most obvious competitor is Bincho in Soho (formerly Oxo Tower) whom are the other practitioners of smoking birds over charcoal. The difference is perhaps Bincho's minimum 2 skewers per order rule which thankfully it doesn't apply in Tosa.
I wanted to present a holistic angle on the menu (an excuse for being a fat bastard) so opted to try abit of everything. The menu is arranged by style of cooking (Grilled, fried, raw, etc) and are all to-share plates, no main courses.
Sushi & sashimi
Raw turbot muscle sashimi, £8.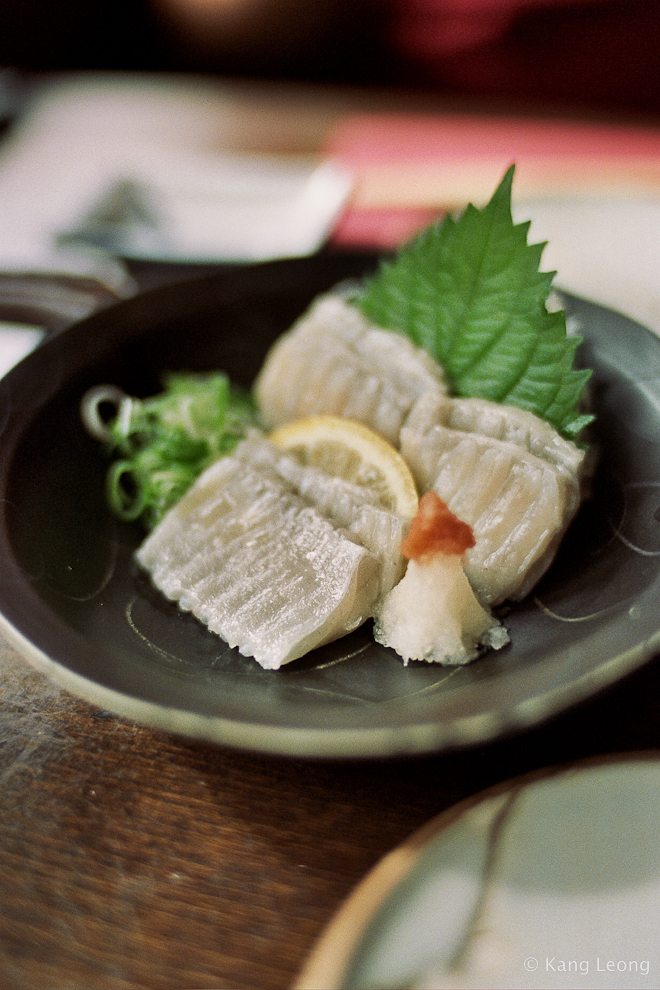 Yes, I was intrigued by the description as well. This particular species swim in British waters, and if I'm to be frank, it's not a looker, even amongst fish. Easily identified, as it is large and flat, usually brown or sometimes slate grey, and fetches really hefty prices (the fishmonger at Queen's Park's Sunday market don't sell 'em cheap). Studying the pattern of the sashimi, I wondered if the 'muscle' Tosa refer to, are the fins which line the periphery of the fish. Biology aside, the texture was interesting to say the least, rubbery and a little oily (if memory serves) , the fish is quite mild in flavour, so it was easy to eat. Lively stuff.
Unagi Nigiri, £2.20 each.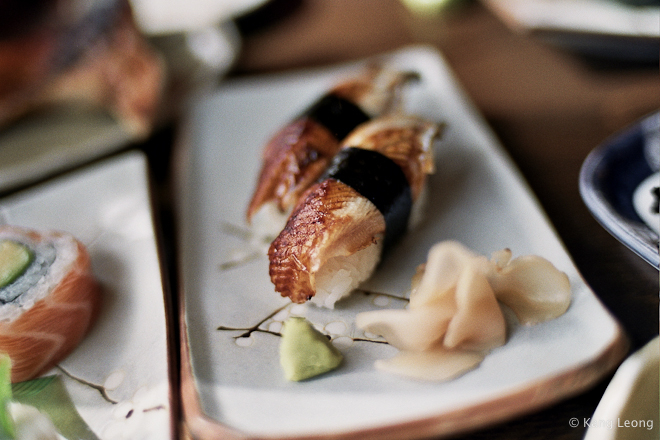 'Course, I don't expect great sushi at Tosa, but I thought it was mostly above average, the rice was abit clammy, but it had good vinegary flavours, and the unagi if abit cold, was of a good quality.
Tosa roll, the chef's special, £4.60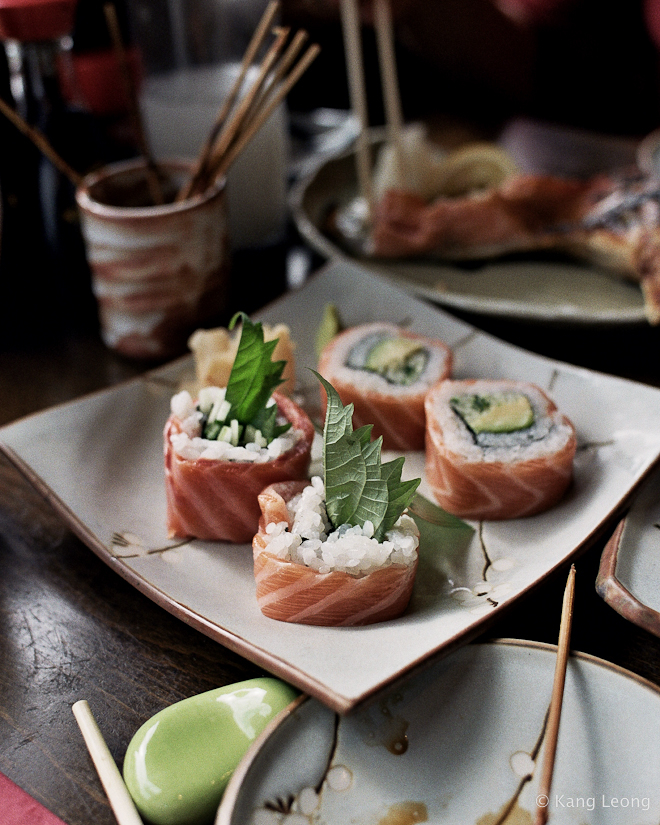 If it's good enough to be the chef's special, I best order it. The maki was stuffed with avocado and cucumber and shiso and wrapped with thin slices of raw salmon. The result was something cleansing, fragrant and fresh. I enjoyed it.
Deep fried oyster maki, £6.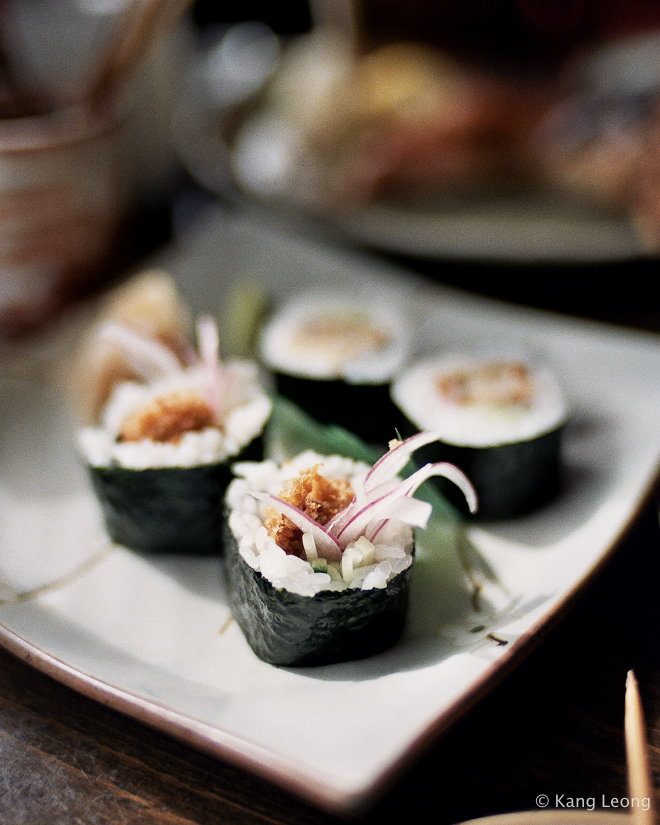 Finally, some deep fried oysters, onion and cucumber rolled into an outside maki. Yeah not bad.
From the grill
Asparamaki, £2.20 each.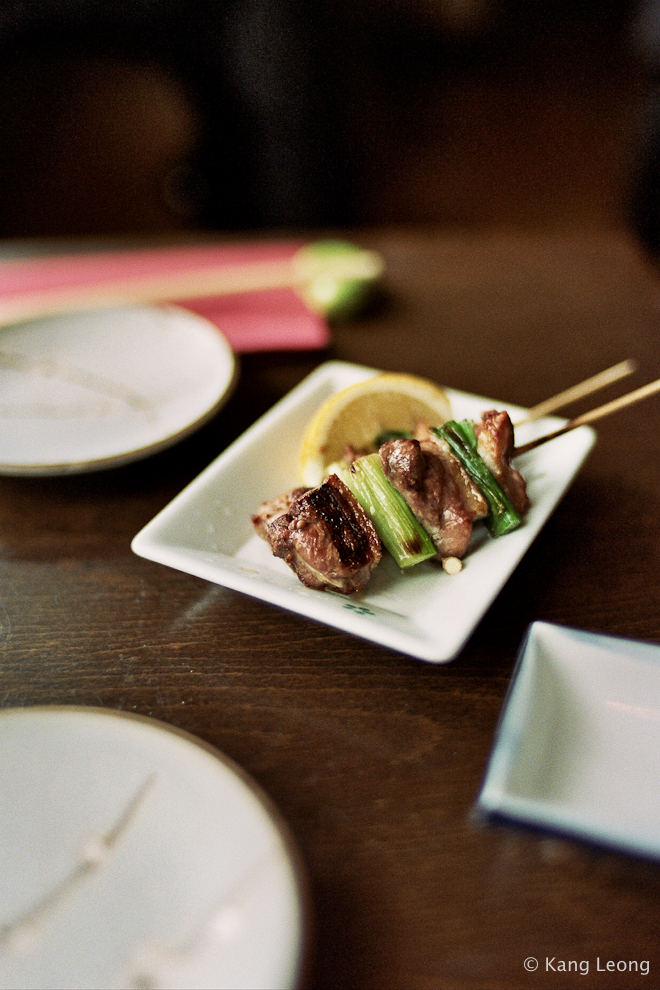 The first of the skwers, grilled asparagus & pork belly. The first impressions were that it was it was juicier and smokier and just generally, better cooked than Bincho, where I found the kushiyaki to be pretty horrendous.
Uzura, £1.60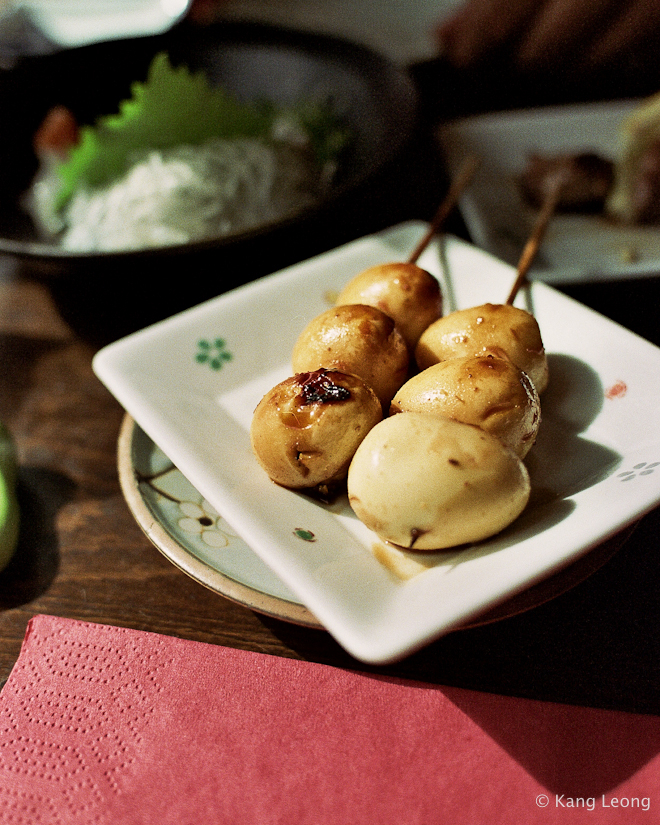 More good news, in the form of mini quail eggs infused with smoke from the charcoal grill. Speaking of which, the decor is basic at best, the bar table which overlooks the robata is tiny, and the tables in the windowless backroom, is seriously devoid of oxygen, and just drab. If we're still locked in comparison, I would say Bincho wins hands down for atmosphere. Food-wise, Tosa is in the lead.
Torikawa, £1.90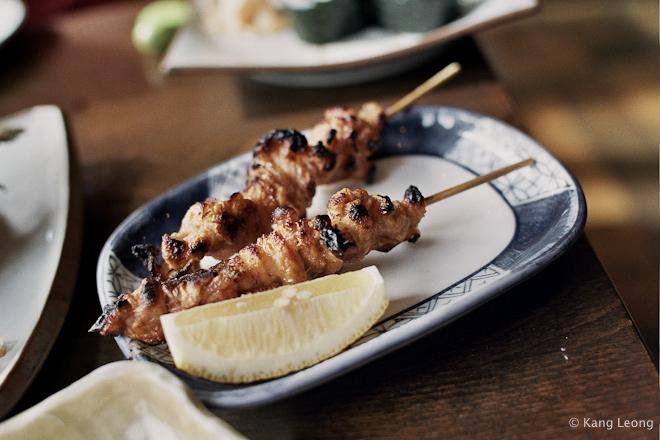 Ah, Yakitori time. This is the crispy chicken skin, which were actually more like sizzling fat globules than actually straight up grilled skin. Abit of fat is nice, but this might be a tad too much. In this instance, Bincho's chicken skin wins on that basis that it's leaner and meaner.
Shisomaki (the round ones), £2.30 each and Yakitori, £1.70 each.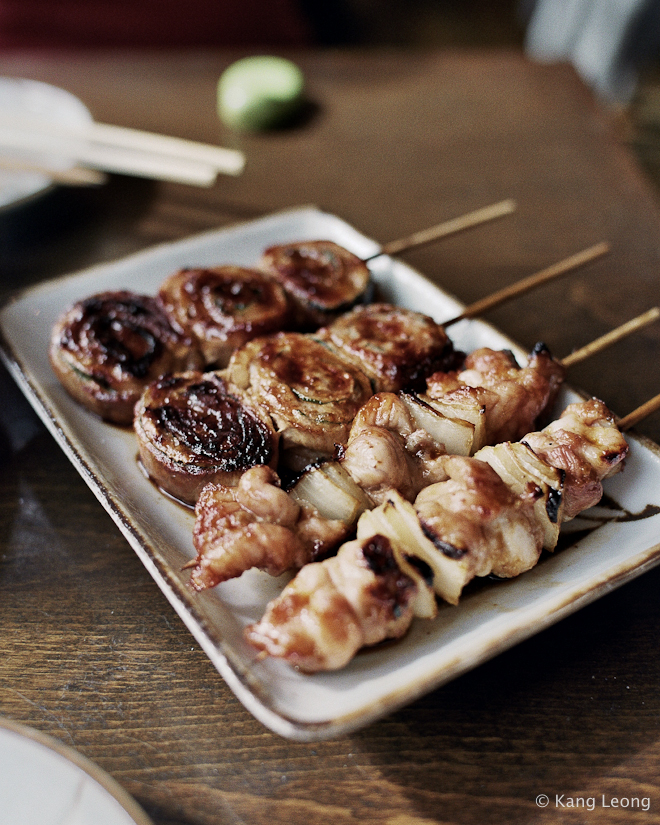 The round ones are the shisomaki, that's shiso leaves and pork loin, and they are really amazing. Smoky grilled pork – dripping, wet and juicy – with a touch of fragrance from the shiso, beautiful stuff.
As for the yakitori, which is plain grilled chicken (I think it was thigh), it was juicy, well-seasoned and smothered in a lovely soy based sauce that carried a hint of sweet to it. Better than Bincho.
The shiso and pork loin skewer up close.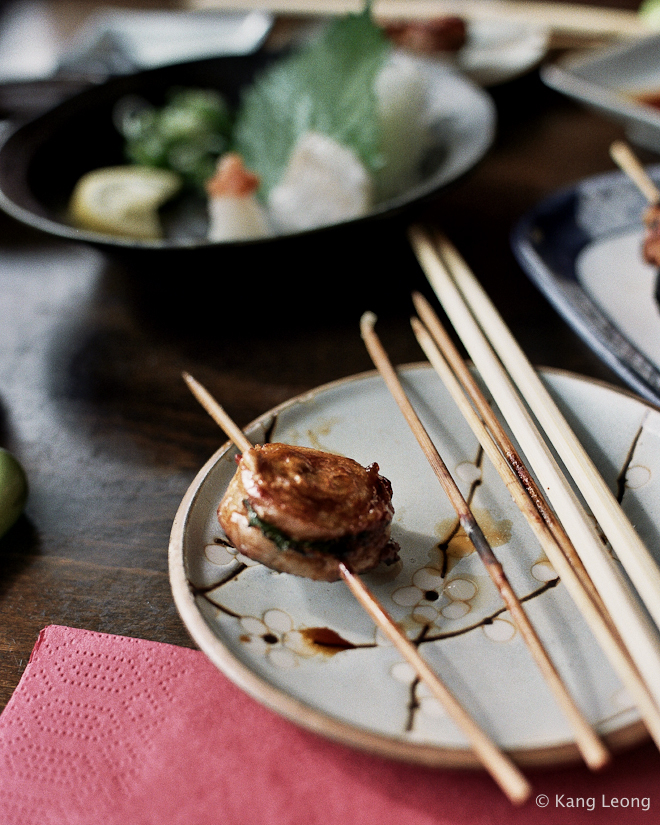 Feeling a little indulgent with the film camera, I thought these were great. The skewer, I mean.
Sakekama, £5.50.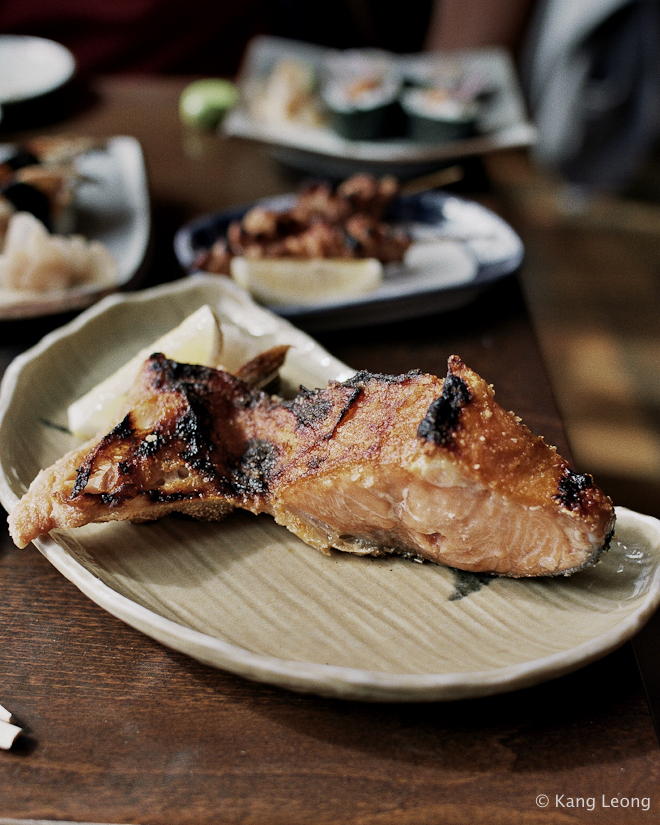 Salmon cheek, grilled with salt, grated radish and served with wedge of lemon. Probably the best of the lot, and like the rest of the grilled stuff, it was heavily seasoned, oily and juicy and oozed smoky perfection. Massive portions too, as good as grilled salmon can get.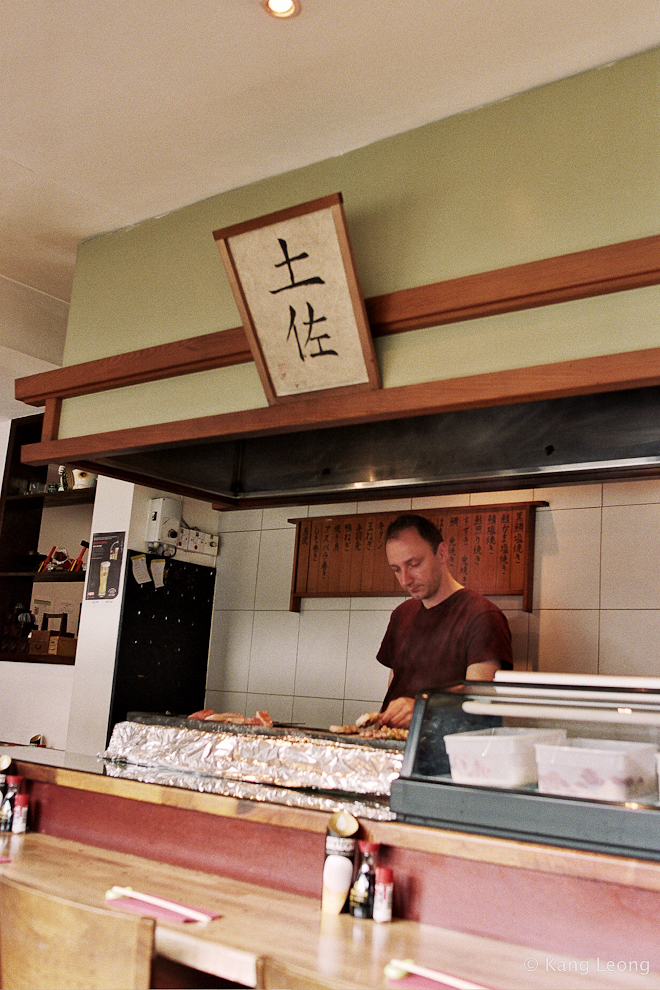 So… how's the film photography so far? More natural colours?
The bill came to £57.08, so we paid £28 each, which includes the price of two glasses of Calpico. Excellent value for money and beautiful food all round. In fact it was so agreeable, I went back a week later for dinner, taking my colleague with me, who agreed with the goodness of the skewers. We also opted for sake, served on in a cedar box (like Bincho) and which came with a pinch of salt. Interesting. By the way, Tosa offers 15% discount vouchers as a promotion on their website, something you will no doubt take advantage of when you visit. I suspect that Tosa (like Bincho) is perfect for solo dining, quiet school nights, and for those who simply want to watch the man turn skewers on his grill, except that Toas are better at the meat flipping. Shame they don't do chicken oysters however, but you can get really good ones at Bincho. Aside from that, I heartily recommend the trek out West.
My Bincho review for comparison sake.
The Gist of It
Tosa
Japanese, £25pp
332 King Street, Hammersmith, W6 0RR.
Tel: 020 8748 0002
Tube: Stamford Brook
Grilled : Time Out London , Randomness Guide to London ; Will Eat for Money
Did you enjoy reading this? You can subscribe to the Newsletter. Alternatively, you can subscribe to the RSS feed.