Rather embarrassingly, I allow myself to get lost along the cramped sidewalks of Soho, on the odd occasion. Even with my eight years as an avid London restaurant collector and in the face of advancing technology (Turn the phone around. And again.), I still can't work out the differences between Beak Street and Lexington Street. Ultimately this is the reason it has taken me so long to visit Fernandez & Wells, already a favourite sandwich bar for many food lovers.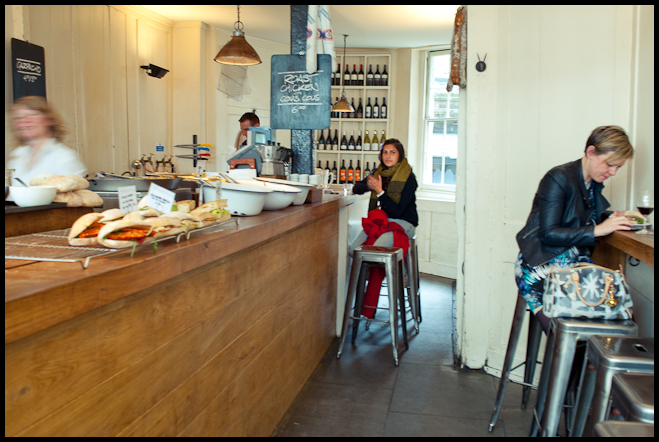 I think it's safe to proclaim that Spring is finally back. I am gladly replenishing my supply of antihistamines and have been busily stopping to smell the proverbial flowers at every opportune moment. Falling cherry blossoms decorating the side walks like a fluffy pink carpet, what a great time to be alive. Let rip the pollen grains somebody. When the sun shines in our capital, I feel as though the drenched reputation London has, begins to evaporate; Colours become more vivid, people are generally merrier. You have to be, since it is one of the rare days you get to rock £100 Ray Bans. Given that we would be spending more time out of the house, certain establishments suddenly become a more attractive proposition, and F&W is one such candidate. It has much to do with the decor: basic, transparent and mellow. I don't recall background music and really I can do without in cafes which are at times, over designed in my opinion. The shop front is painted black, but you will hardly miss it as large legs of the finest hams hang from the ceiling, visible through the large front window. One might think the short stools and short bar tables a little restrictive, where in reality, the prudence isn't so bad, in fact it is quite cosy settling down. There are also large jugs of tap water with small tumblers, free of course. As much as I try to deny it, I can actually see myself tucking into a sandwich while my fingers glide over the latest edition of WIRED … on my soon-to-be-acquired 3G enabled 64GB iPad running OS 4.0. Ah what a perfect way to spend a Friday afternoon. Please do not tell my better half.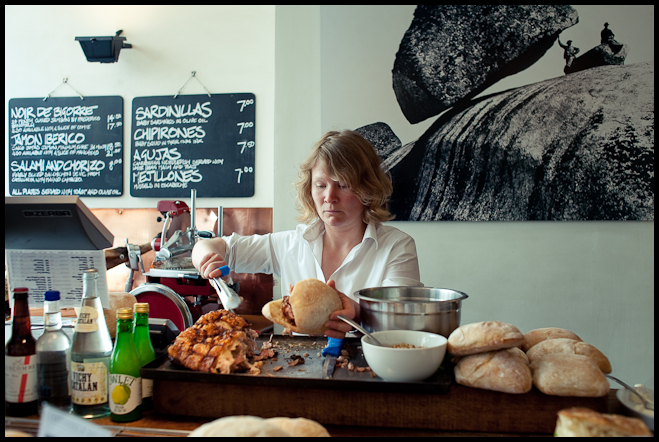 There are three branches of F&Ws all in close proximity to one another and each one slightly different. The Beak St branch is mostly for cakes, at St Anne's court for coffee and this Lexington branch for savoury sandwiches, hot food and tipples. Their mainstays are European inspired sandwiches served with cuts of premium cured hams. The star products include Spanish Jamon Iberico Bellota (Iberian pigs fed on acorn and cereal diet) and legs of Jambon 'Le Noir de Bigorre' – a French ham from black pigs, cured for 24 months. Bread comes in two varieties, firstly the 'boccadillos' – French stone baked baguette – with choices ranging from Grilled 'Lomo' (thin-sliced loin of pork) with Manchego and Garlic Butter; Chorizo with unpasteurised Manchego Cheese and Jambon 'Le Noir de Bigorre' with Plum Tomato. The other choice are ciabattas and their selection includes Grilled Chorizo, Roasted Red Pepper and Rocket; Mortadella, Aioli, Saucisson, Rocket, Shaved Parmesan and Parma Ham; Prosciutto, Plum Tomato and Rocket. Sounds so good doesn't it?
In addition to the sandwiches, F&W also serves a changing daily menu of cooked specials ranging from roast chicken to rabbit stew. There are reports that these dishes are equally splendiferous, though I didn't try them specifically. I am a huge fan of iberico ham and I was prepared to ask if they served made to order iberico ham sandwiches. Abit of comté , warm ciabatta would have been the perfect marriage between Spain and France. But then the waitress enticed me and Mark with a beautiful pork roast, covered in a golden brown crackling, which we couldn't say no to. Six quid.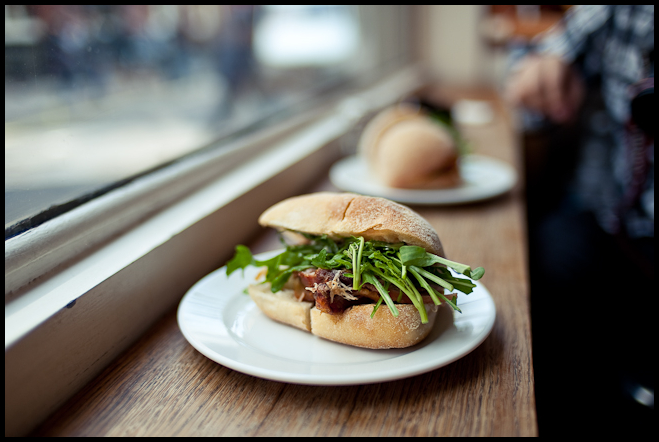 Mustard, mayonnaise and fiery rocket leaves accompanied the handsome bun, with but the faintest whiff of roast meat emanating from the sandwich. I take my first bite. Damn… this is so juicy. The tenderest of pork, perhaps the result of a slow cooking roast. I spotted mustard seeds in amongst the mayonnaise spread.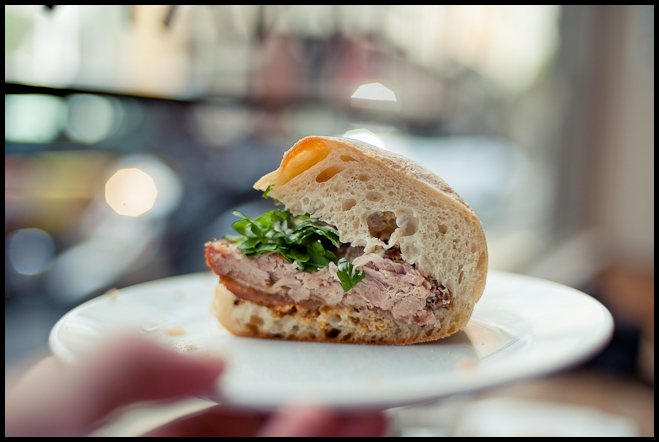 You know, a good sandwich need not be brandished with long sentences of gushing adjectives, it simply needs to be eaten again, and so I ordered another, with extra crackling. Look at the densely packed meat – you know you want some of that. There is a distinct lack of able boulangeries in London, but where quantity is wanting, quality is found – in heaps – at Fernandez & Wells. The large windows let in so much light that it is the perfect place to sit and read a book…. I do fantasize about those large legs of ham dislodging and somehow landing in my mouth…. glaring reflections from extra sunshine might not be ideal for an iPad, though one can retreat further into the well-lit shop for the already tablet wielding types among us. So there you have it sandwich lover, heaven or something close to it.
PS: On the subject, do check out Tim Hayward's excellent exposition regarding a shooter's sandwich.
The Gist of It
Fernandez & Wells Food and Wine Bar official site
Sandwiches £6
43 Lexington Street W1F 9AL
Tel: 020 7734 1546
Tube : Leicester Square
Glorification Elsewhere : Greedy Diva ; Time Out London ; World Foodie Guide ; Food Tourist ; Londonelicious
More photographs on my flickr account.
Did you enjoy reading this post? Why not subscribe to my feed updates for free. Alternatively, You can subscribe via email.