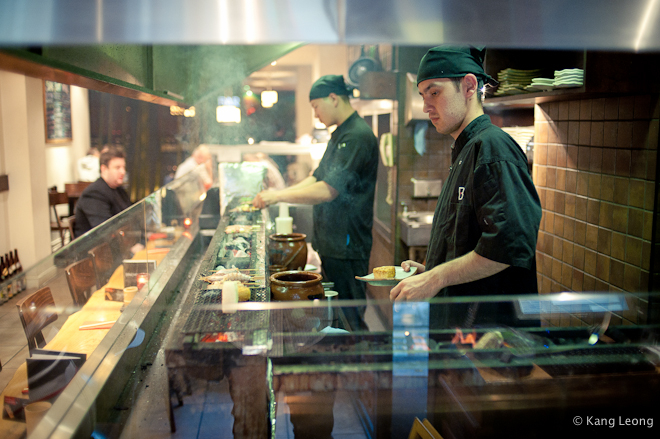 All hail the gods of charcoal, keeper of the exalted flames, oh revered and magnanimous Ganko Ojisan, for I require six allotments of your juiciest chicken oysters. I imagine this place would be a hit on weekends what with its convenient location in Soho and for its appreciably straightforward and tasty grilled goodiness. Good for groups, but flexible enough for quick solo bites, a true alternative to pizza, a burger, ice cream or even duck rice and much cheaper than Roka.
Yes, this was once the Bincho at Oxo Tower, now relocated to Old Compton Street, and soon expanding into Central Saint Giles. Food was always going to play second fiddle to the view from Oxo, but now that it has moved, I wonder if certain sunset appreciators will miss it. The concept remains largely intact, the chefs still don black bandanas behind the charcoal and the main offerings are still Yakotori (grilled bird) and Kushiyaki (anything but bird). Additionally, there are salads, rice dishes but no sushi.
Their USP is a three pronged attack: Firstly the grill is flown from Japan, secondly their Yakitori sauce will blow your tastebuds to smithereens and lastly, the use of the mysterious binchō-tan, a white charcoal (also from Japan) made from oak that sounds like metal when struck (its inherent quality is so unique, wind chimes are made from it), and is chosen chiefly because of this burnt wood's innate ability to heat up, be smokeless and free of odour.
Hajime!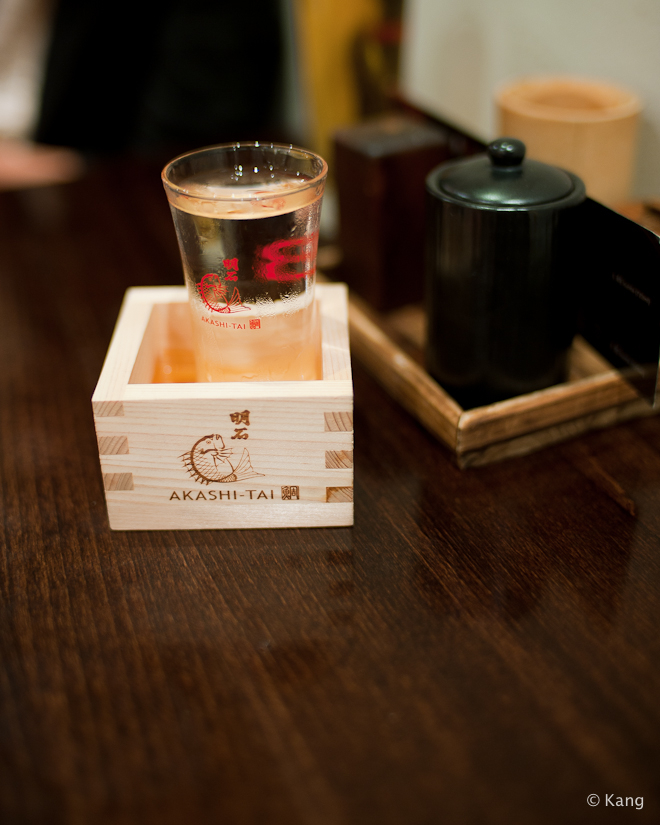 I started with a glass of Kyoto Fushimizu sake, brewed with miyamizu, 'heavenly water' from Nishinomiya, a city in Hyogo, Japan. Interestingly, the waiter told me the overflow from the glass to the masu (square box made from cedar) it was served it, was not decorative. He told me to let the sake flow, and to drink from the box as the cedar would help bring out more sake-ness in the rice wine – an ancient tradition so I read.
We start with the Kushiyaki.
Unagi £5 for two skewers.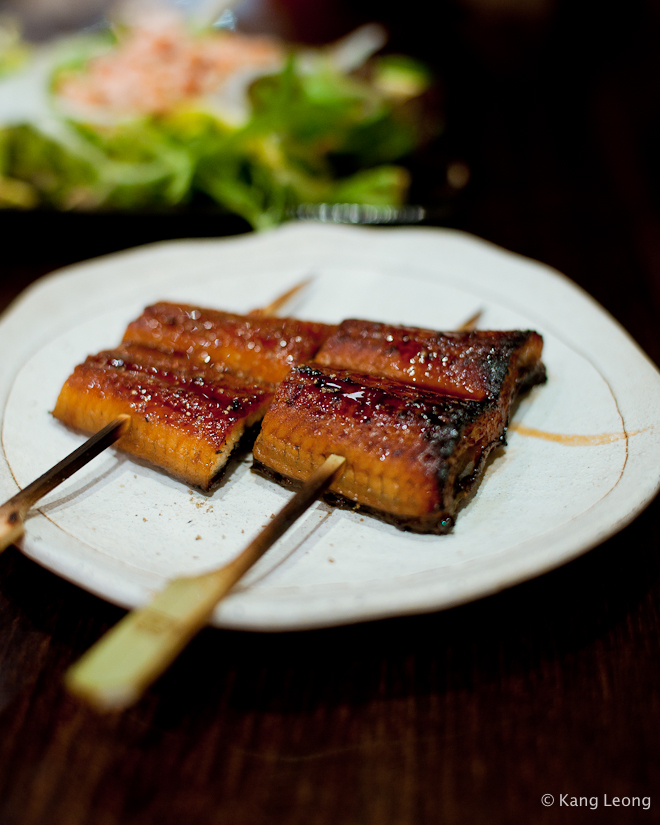 Prices are listed per skewer, but the minimum order is two, which is fine by me. So it appears the charcoal has done its business, allowing the surface of any meat (or unagi in this case) to be reduced to a incrustatial state of crustiness, burning out the exterior which in turn creates a dry contrast enough for one to notice the protected, interior wetness and thus giving rise to the sensation of well sealed juices. That first bite of sizzling smoke rushing into your mouth is heady, burn me baby.
Sea bream £4.60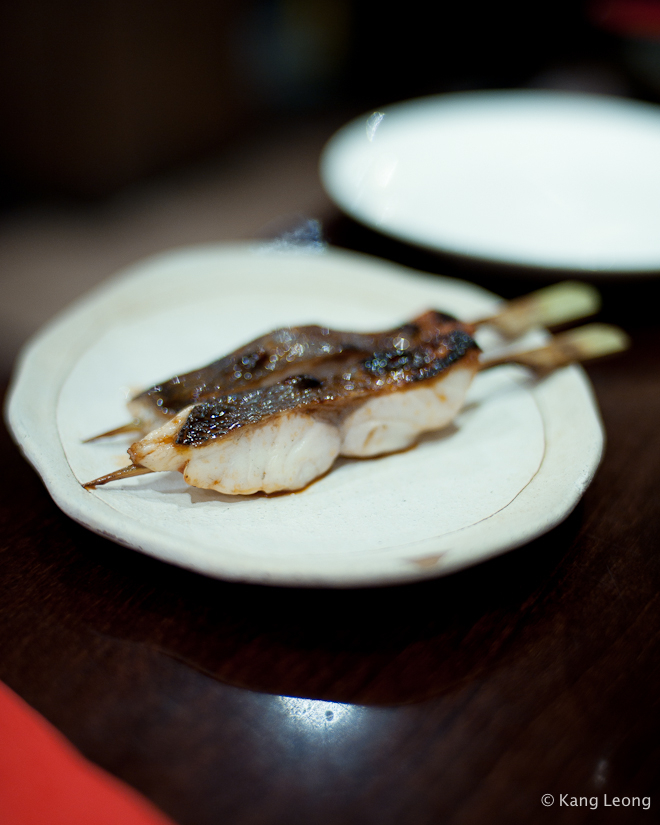 Unfortunately, bincho-tan doesn't work well with fish, this was tepid, dried-out and tough.
I should note that food flew out from the charcoal grill very speedily, we probably waited no more than 5 minutes.
Beef ribs £5.20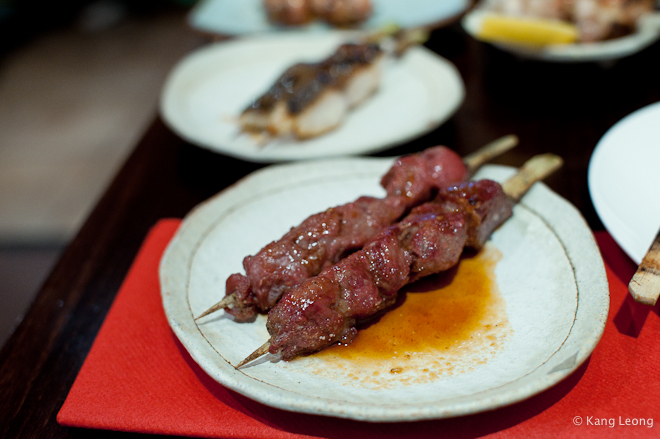 Similarly, I found the beef rib was too much like warmed-up beef jerky with lashings of a sweet and sticky sauce. It was ok.
We avoided the vegetables almost entirely.
Yakitori time.
Duck breast, spring onion and wasabi £4.40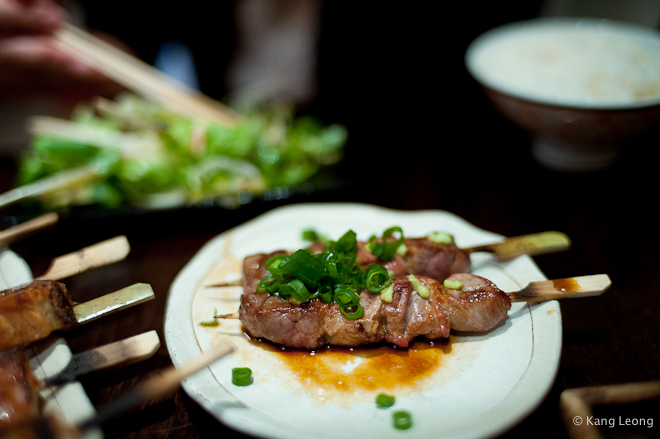 The grilled birds are much, much better, I was astounded at how much juicier and fleshier this was, redolent of a campfire barbecue.
Chicken Oysters £4.00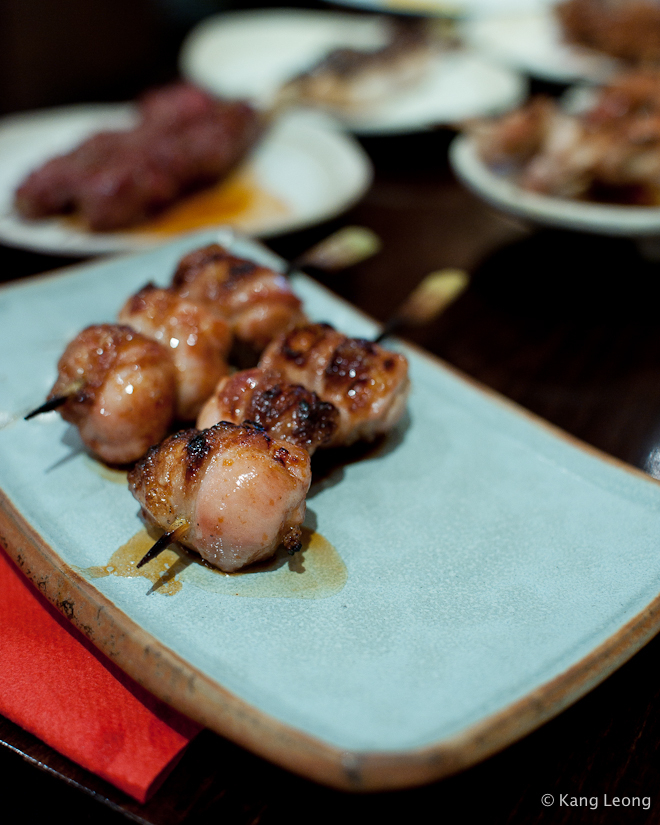 Bincho will happily grill and serve any part of the chicken so long as they have it in the kitchens, so if you have a particular craving for chicken bum (which some do), then you can request it off the menu.
Great balls of fire…. the chicken oysters, fantastic! The oyster is a ball of meat found on the backbone and attached to the chicken's thigh, so succulent that I would be a fool not to order it. Juicy, brawny, bouncy and smoky – when you go, you must order these pearls of joy, it is as good as chicken will ever get.
Chicken Skin £1.50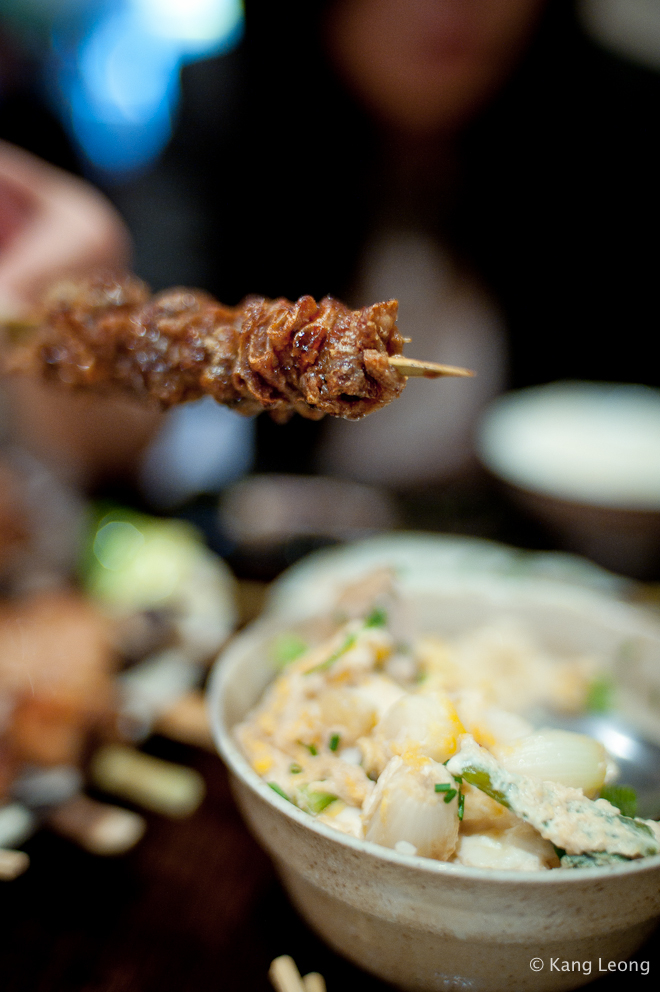 Probably even better than the chicken oysters were these crispy, crunchy and oily chicken skin on skewers. Naturally, it is full of natural buttery flavour, almost a tad too salty, but that's where the rice comes in.
Oyako don, £5.50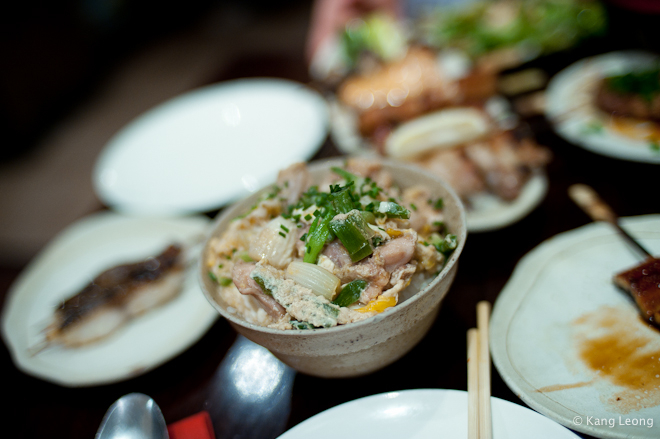 Actually, I wanted the buttered garlic rice, but the waitress had one of these electronic touch screen ordering gizmos, where the order goes straight to the kitchen as she took it down… annoyingly when I changed my mind, she said the kitchen had probably started prepping it, so she wanted to avoid the hassle of running downstairs to change it, and urged me to stick with the oyako don. Puppy dog eyes ensued. Hmm… How much for service again?
Thankfully, this was a heartily warming bowl of rice topped with generous slices of chicken. Not quite megalamous portions however, as say when compared to Sakura, but rice was a necessity to balance out all that salt and protein.
Pre-theater menu £9.99. While I indulged in my a la carte, the missus had been quietly working her way through her superbly well valued set dinner.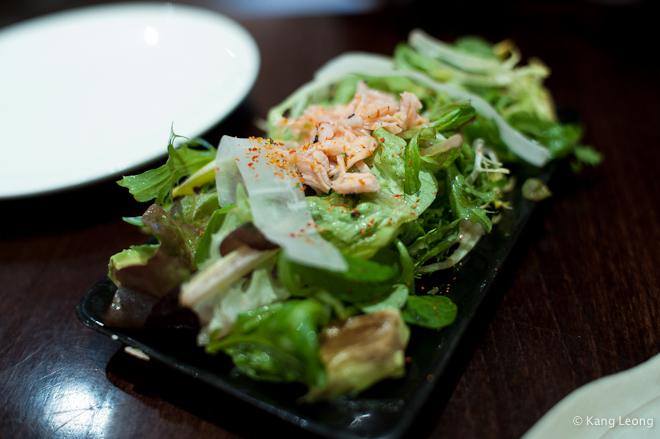 The set comes with salad (with salmon), a bowl of rice and a selection of grilled meat.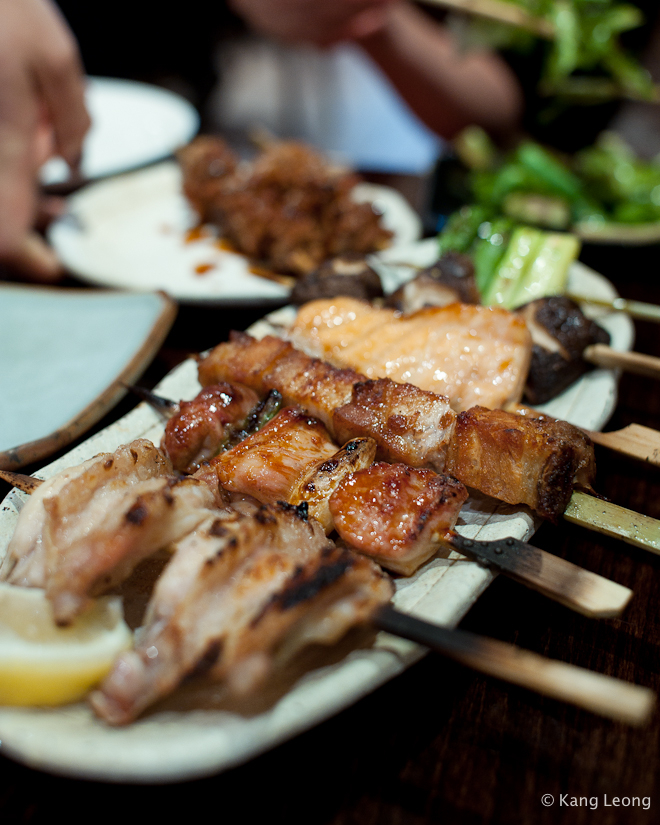 Pork belly, chicken wing, chicken, salmon, shitake mushrooms and asparagus… all brilliantly juicy and smoky. In contrast to the dried out seabream, the salmon was juicy, but perhaps that's partly because of the inherent oiliness.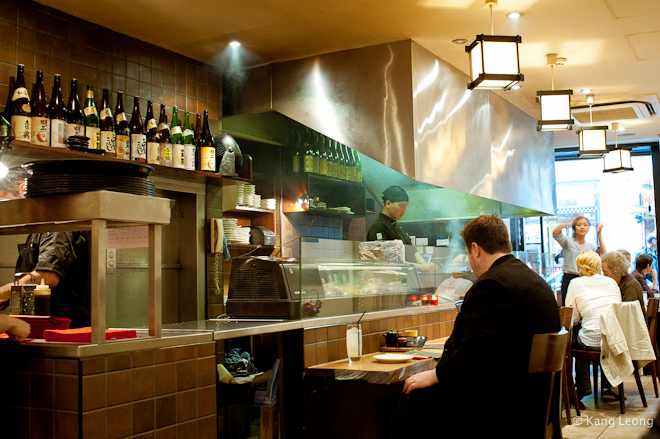 The bill came to £56.13, which broke down to about £40 for my alacarte, and £16 for the missus' pre-theatre and short Asahi. So be careful with this one, it can balloon to a pretty pricy affair if you order carelessly. Deceptively Chinese staff, undeniably camp chillout background music, what's not to like? I would revisit. It sure beats Eds Diner… and I'll follow this up with a visit to Tosa just for the sake of comparison.
The restaurant filled up as the evening wore on, I noted a few solo diners who really seemed to enjoy taking their time ordering skewer, after skewer, after skewer and I can see how this can easily become an addiction. Not everything was amazing, I would avoid the beef or pork; The yakitori on the other hand, is generally fabulous. Do keep an eye out for their specials, which on my visit were priced at £1.50 per skewer, and represented fantastic value for money. Otherwise, the 'Seven Samurai' for £10 is a good place to start, if you are struggling with choice. Although, I would say it's all about the chicken oysters and chicken skin. Choose wisely and you shall be rewarded.
The Gist of It
Bincho
Japanese, £30pp
16 Old Compton Street W1D 4TL
Tel: 0207 287 9111
Tube: Leicester Square
Grilling the Birds: Gourmet Traveller ; Suzie's Notes ; Greedy Diva ; Susan Loves Food ; Grumble Mouse ; Fay Maschler (covering the original OXO Tower iteration)
Did you enjoy reading this? You can subscribe to the Newsletter. Alternatively, you can subscribe to the RSS feed.
All text and photography on this blogpost is copyright and belongs to Kang Leong, LondonEater.com. If you repost this without my permission, bad things will happen. So please don't do it.