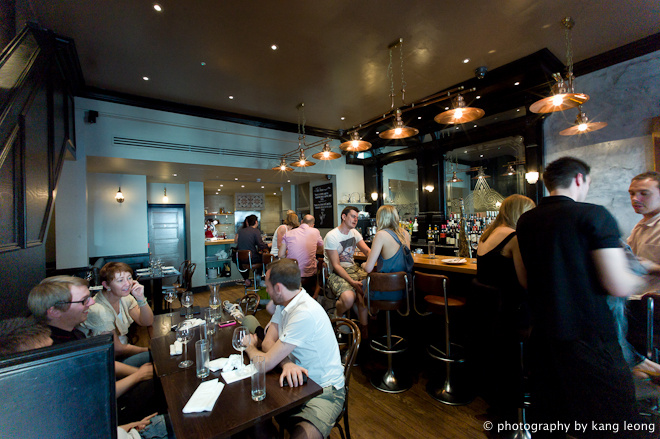 I shan't patronise you with a protracted preamble about the intertwined fate of how tapas became part of the culinary landscape of London (something which you no doubt are already well acquainted with), and simply get straight to the point: This is a rather perfect London tapas restaurant.
Hardly anything else was expected, considering Simon Mullins and Sanja Morris-Mullins, the owners, are also the brilliant minders behind 2005's Salt Yard and 2008's Dehesa. Ah, I see. So we shall expect another superb Mullins tapas bar in say 2014.
The decor is spell bindingly beautiful. Spread across two floors, in a once former 19th century built pub. All that dark wooden furniture cutting lovely shades of shadows around the food (and your dining partners), coupled with a contemporary, light-hearted approach to service, equals a formidable ambiance.
Anyway, you can read about history elsewhere, let's skip ahead to the food.
Ibérico Pig's Head Terrine £4.00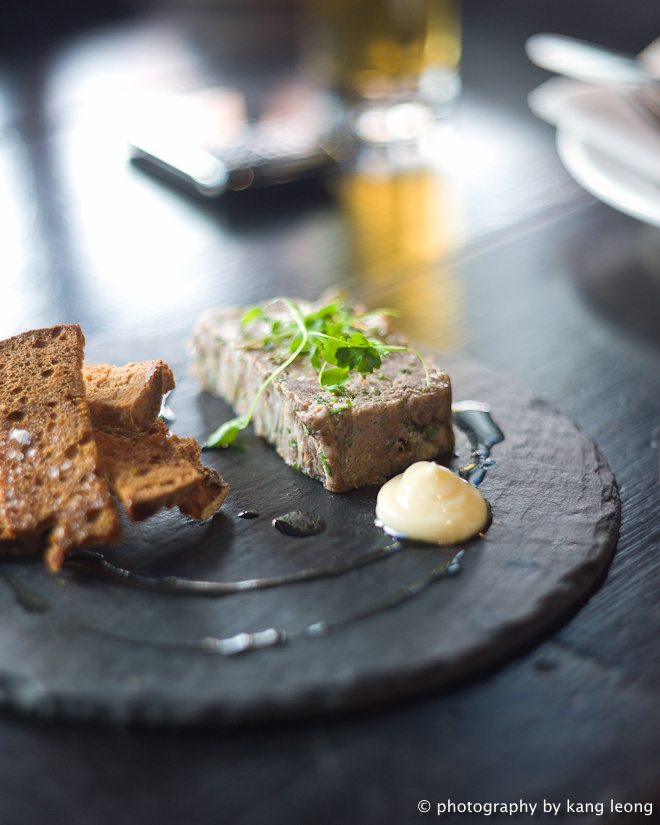 As the ingredient suggests, the terrine was gelatinous, unctuous, slippery and full of rich, salted pork goodiness. A champion terrine, no two ways about it.
Jamón Ibérico de Bellota, aged 5 years, Castro y González, Castilla-Leon £14.95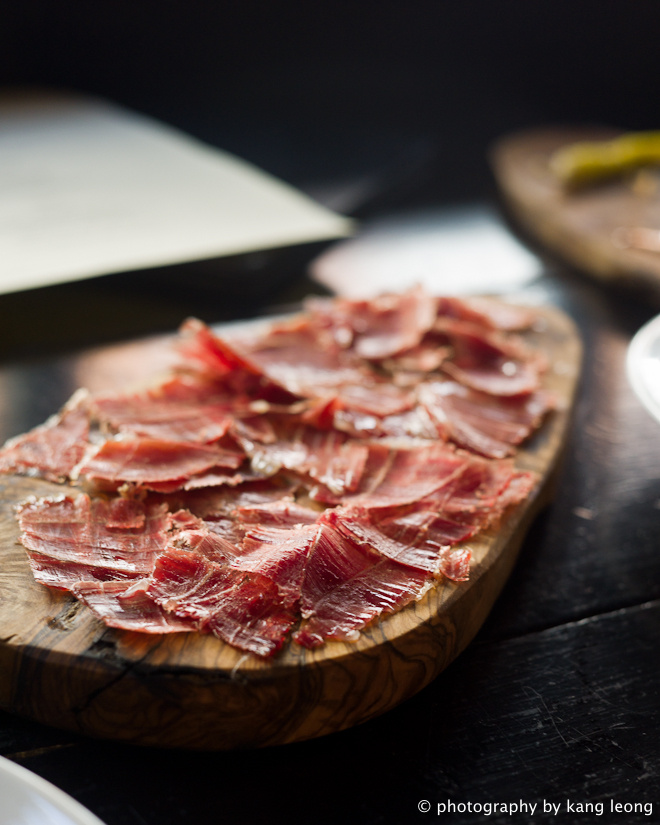 Five years? Yowza, that's old pork leg. I think three years usually qualifies for the top grade of gran reserva, so I assume the older the better. Well I could be wrong. Whatever the case, I am guessing we were served about 75g, so £14.95 was pretty good value. Of course, Iberico ham is always amazing, this was no different really. It's – how do we say – 'Spain's caviar' afterall.
Italian Style Scotch Egg £3.75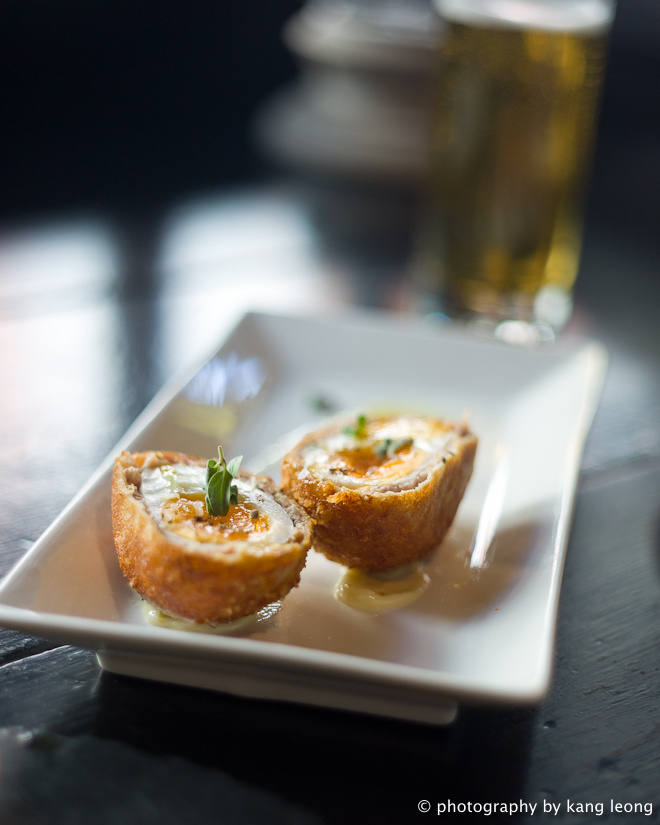 I can't recall what was so Italian about these. Runny yolk, check, crusty crumbly shell, check, creamy aioli, check. Nice, but you know it's no Harwood Arms.
Chargrilled Salt Marsh Lamb with Farro, Peas, Broad Beans, Wild Garlic and Goat's Curd £7.25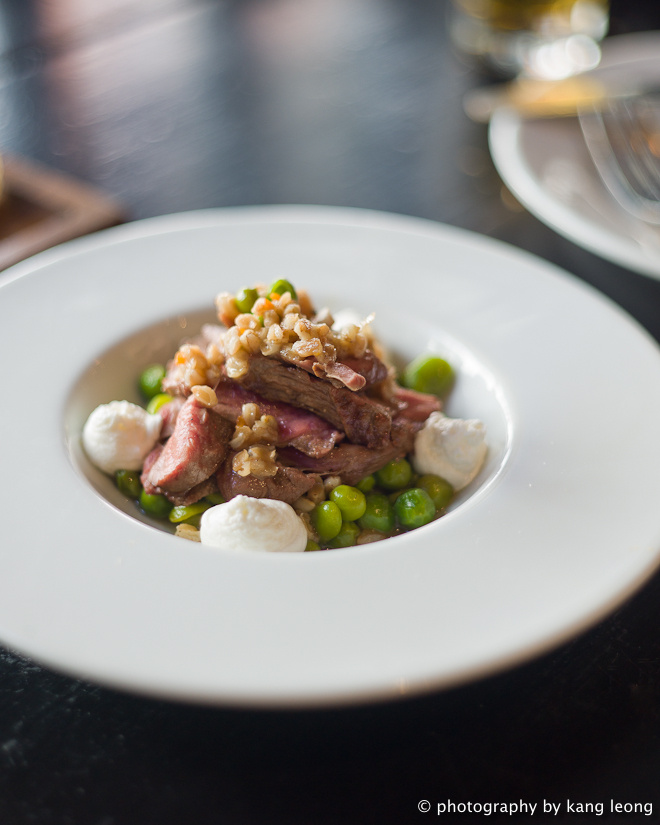 I think this dish is representative of the Salt Yard/Dehesa and now Opera Tavern's delicious appeal. Delicately cooked lamb, juicy and tender, flavours emphasised with goats cheese, a touch of hearty wholesome richness with the peas and farro.
Mini Ibérico Pork and Foie Gras Burger £5.50 EACH.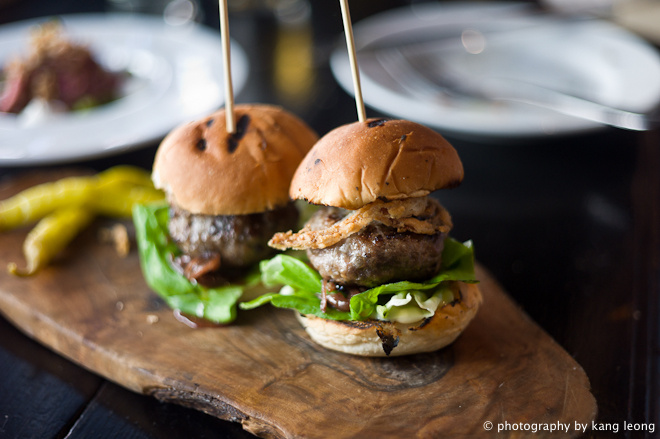 Ah yes of course, the much lauded pork sliders. I suggest reading Marina of Metro's description of these baby burgers, indeed as she points out, the 'almost lubricious juiciness' of the awesome iberico pork, translates into something more than worthy of the internet worship. Probably a little pricy, but so are most sliders in London.
Although having said that, I personally prefer the beef & bone marrow sliders at Spuntino. It's just all that melted cheese, is so… visually engaging.
Steamed Sea Bream with Confit Salsify, Monks Beard, Capers and Smoked Anchovy Dressing £6.75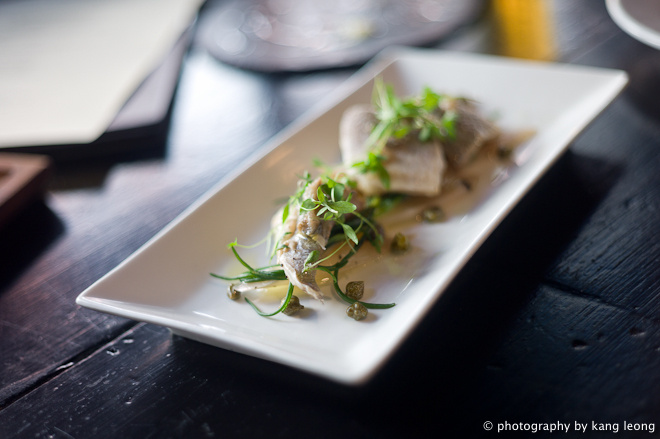 At last, we ended with a serenely steamed fillet of fish, that laid peacefully on a bed of sliced salsify.
The bill including a beer and a glass of wine was £68.63. Ah but you see, if you control that greed, a light tapas lunch with an affordable bottomline, can be reality.
With great hype, come those who will inevitably be disappointed. Such is the complex relationship between restauranteur and opinionated patron. You may read a whole lot of really positive reviews (this one included), but you will also read reports from some who don't think so highly of Opera Tavern. I thought the food was more or less spot on. Maybe critique exists because this is a form of restaurant that we are already so familiar with. And depending on your predisposition to eating out; it's either going to be pleasantly familiar or a case of pleasant, but oh so familiar. But I think you might lean toward the former after you visit it. Definitely. Maybe.
Add OT to your list of recommended tapas restaurants. This one – like its heritage – is a keeper.
The Gist of It
Opera Tavern
Perfect Tapas, £40pp
23 Catherine ST WC2B 515
Tel : 0207 836 3680
Tube: Covent Garden
Alot more snaps on my flickr.
Trotters : TimeOut London , Foodie's Land , The blog about nothing… in London , The Perfect Trough , The critical couple , Andy Hayler , The Skinny Bib
Did you enjoy reading this? You can subscribe to the Newsletter. Alternatively, you cansubscribe to the RSS feed.