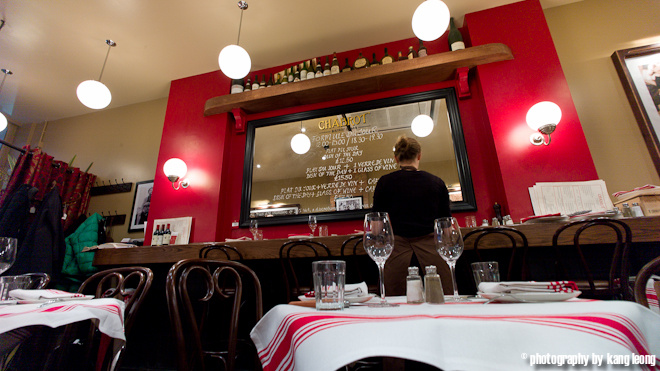 You can almost expect Audrey Tautou to waltz through the front door of this cosy restaurant; hang her coat, and whip her beret onto the coat rack. With Piaf marching on in the background, your eyes follow her every move, as she sits herself down on the round corner table for two (except she's by herself), briefly re-arrange the silverware, and as she settles to her comfort spot; she senses your longing gaze and looks up. At which point, you change focus and start making eyes with the French waitress, who is in the process of handing the menu to you. You hesitate to say merci, because you feel insecure with the language, but know that it might make the difference between a successful or failed connection. Anti-climatically, you end with a simple thank you.
Ah the romance.
Tucked away in the nether regions of Knightsbridge, an alley way connecting either side of Brompton road, is Knightsbridge Green, where a relatively new bistro, opened by a rather well-regarded chef, has made its home. The full name Chabrot Bistrot d'amis, for the friendly bistro, I believe quite aptly describes the cosy, comforting, Parisian ambiance. Particularly the Parisian bit. Thierry Laborde is the previously mentioned chef, who brings with him an all-star track record that includes time at heavyweight French restaurants namely Roux's Le Gav and Ducasse's Louis XV.
And the atmosphere is a winning one. The bistro is very tight inside, atmospheric, and the white and red linen is a thoughtful reminder of Parisian equivalents.
In true bistro spirit, the menu is easy reading, plenty of small plates, of hearty recipes, some to share, such as half a dozen fine de claires with chorizo, soup, bone marrow and smoked salmon.
Main dishes include such classics as entrecote with frites (Oshea's beef from down the road), veal escalope and Chou Farci Chabrot or stuffed cabbage, veal, chestnuts, foie gras and ceps. Mark gestured at the last dish, what with his French connections, that it was a traditional dish in South West France, something you could even get pre-packaged at the local grocers.
However, Chabrot's real attraction – as is any Bistro – are the competitively priced plat du jours. Costing £12.50 per dish, £15.50 with a glass of wine, and £17.50 with wine and café gourmand (more on this later).
We were a table of three, comprised of myself, the better half and Mark.
Pate de foie de Canard tiede, Gougères au comté, £8.50.
The comte-infused pastry bread was puffy and stellar. The accompanying duck liver pate roughly diced, capery and peppery. It was honest and down to earth.
Chipirons Frits et piment d'Espelette, £7.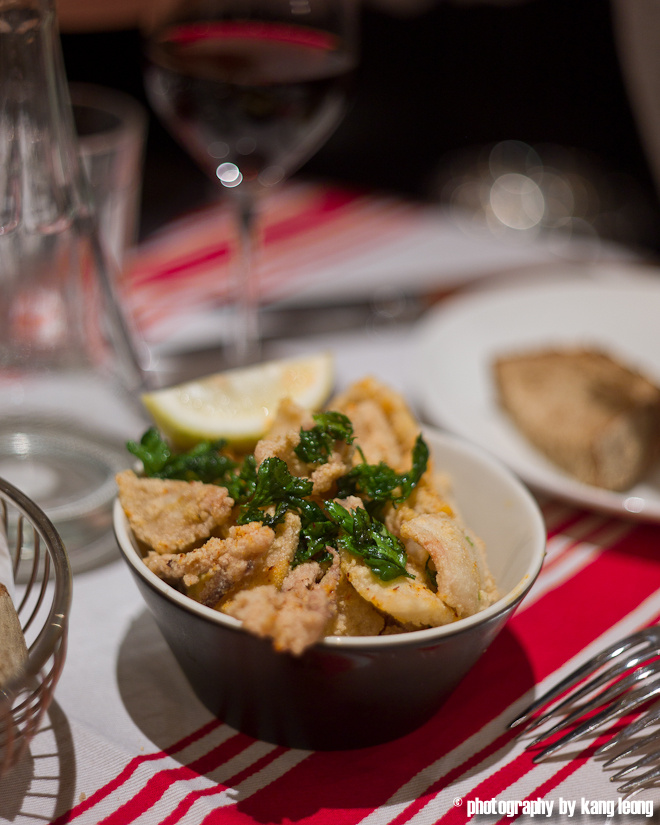 Crispy baby squid and piment d'Espelette.
Beautiful recipe here, squid fried to a powdery crisp, well seasoned, and quite a large portion which was shared out amongst the table.
Os a Moelle, £6.50.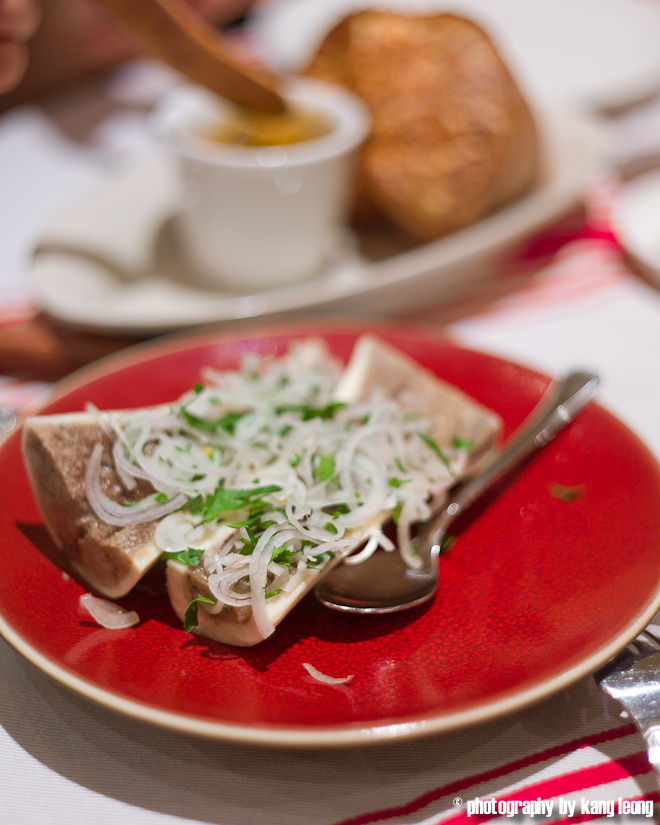 I really should have gone with the snails, but instead I chose roasted bone marrow, with lots of onions. Scrapping the buttery marrow and onions onto the sourdough, was delish, and I wish there was more on the plate.
Main courses.
Pates fraiches aux truffes du Perigord, £15.50.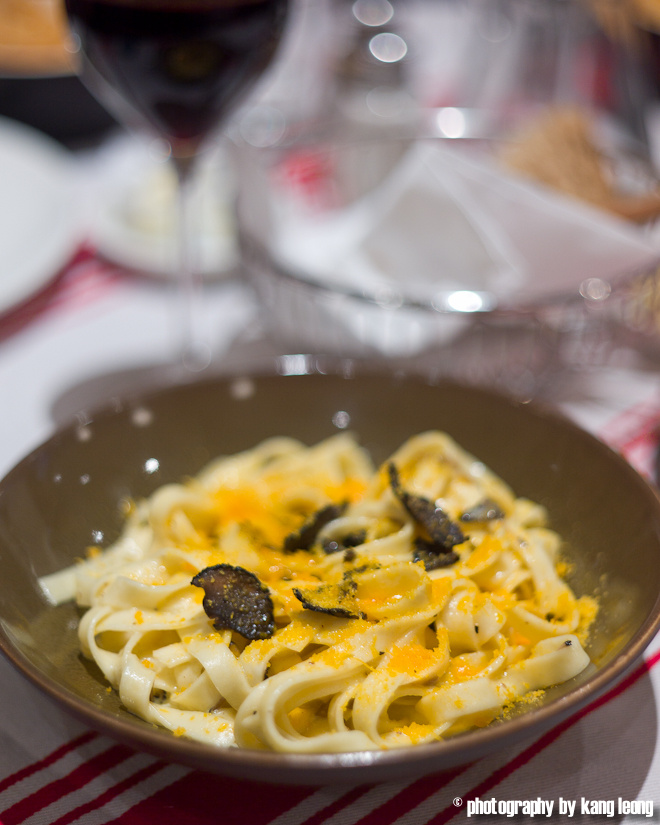 I decided to go with this home-made pasta with Perigord truffles, as Mark had cited being a rather commonly found dish in restaurants in South West France, as well. I believe there were shavings of hard cheese, sharp and tangy, which at my best guess was a mimolette. Beyond the cheesiness, the pasta was al dente, with the shaved black truffles saturated the tastebuds with flavour.
Skirt steak with chips, £12.50.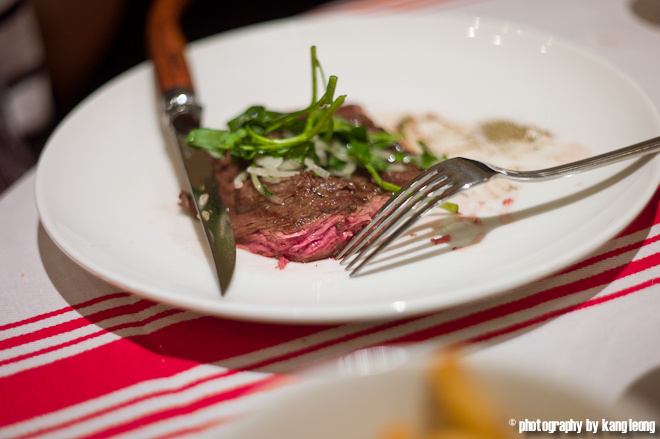 The rest of the table went with the classic skirt steak, both medium rare. The chips were too fat and a little soggy, different from what we had expected, ie, skinny, crispy Parisian frites. For the money however, a great piece of meat, juicy with nicely charred flavours.
Café Gourmand, £8.
We ended with cafe gourmand, which allowed for a choice of brew (I chose a latte) and came with three sweet things to help wash down the caffeine. Our sweets included appreciable cannelés, a sinful chocolate mudcake and three dollops of ice cream in three different flavours (the rum & raisin was to die for).
This type of coffee + mini sweets combo is apparently all the rage in Paris bistros now, the concept of which is simply to allow for a nibble of something sweet, rather than a full whack of decadence, as the end of a three course meal. Usually something with chocolate, a canneles, perhaps a macaron or a creme brulee, but I suppose different bistros will probably put their own spin on it. An interesting idea, which you can read more about here , here and here. I for one, enjoyed the mini-sweets, especially the canneles.
On the topic of the rising popularity of bistros; my Parisian mates have always advised on restaurants similar in concept to Chabrot, the hunt for a nice meal, is down to how competitive (and imaginative by extension) the prix fixe menus are, rather than to collect experiences based on how many stars a restaurant has garnered. The idea being that the new wave of Parisian bistros are the result of high-flying chefs seeking to bring their top-end cooking to a more democratic and honest setting. Perhaps the Parisian palate, is more price sensitive, more demanding, more distrustful of the red guide, and tend to prefer a diffused eating environment than we do on this side of the channel. Hmm… I think a return trip to Paris is overdue.
The bill for three was £99.50, which included two glasses of Bordeaux (Le Grave). Hugely affordable, and I felt that the food was of a high standard and was largely well cooked. It fell within the expectations of a classic bistro. Although, if you inspect the menu, it might appear to be quite uninteresting (I refrain from the Café Rouge reference), but don't be put off by this, because I think its strengths lie in their plat du jours. Perhaps one day, we might see red wine and poach eggs (a la La Fontaine Du Mars) on the daily menu?
For me, it was the atmosphere that had absolutely won me over. This tucked-away restaurant is just the sort of hidden gem to romance better halves, and to enjoy the company of close friends. It is as the name suggests – a friendly bistro.
The Gist of It
Chabrot Bistrot d'Amis
French, Bistro, …French. £25pp
9 Knightsbridge Green
London SW1 X7Ql
Tel : +44 (0)20 7225 2238
Tube: Knightsbridge
Jay Rayner ; Guy Dimond ; Fay Maschler ; Giles Coren (requires an active Times subscription) ; Hardens Brothers ; Yapp Brothers.
Did you enjoy reading this? You can subscribe to the Newsletter. Alternatively, you cansubscribe to the RSS feed.