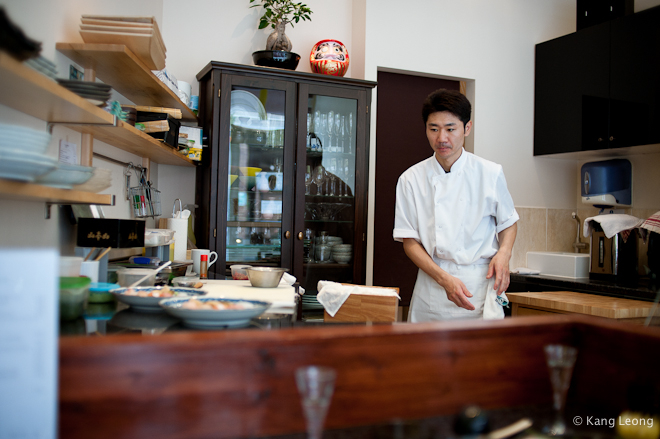 You might remember my first visit to this excellent sushi bar run by a husband and wife team in Warren street which I wrote about exactly two weeks ago. I loved it, praising the artistry, attention to detail and the sheer brilliance of the cold food. I said I would return for a birthday meal, and I did just that last week. Suffice to say it was yet another enthralling experience, this time there was more of a structure to it, as we opted for the omakase as opposed to the a la carte. It was no less dazzling. Omakase means 'It's up to you', which I suppose is analogous to a taster menu, and prices start at £30. You get a choice of however much you want to spend. It was me and the other half, and she decided to spend £40 on me. The sushi bar is tiny, only has space for nine, and you would easily walk right by it. There is no glamour about it, but I suppose that's why the idea of it is so romantic. It is quite a bit of a secret. Talk about substance eh. We drank 150ml of Chiyo Kotobuki sake (Daiginjo, kept cold in the refrigerated counter between refills) for £15.00. Minimal chatter (well, relatively anyway) on this one, if you want a wordier exposition, do read this in tandem with the first blogpost. The photographs here illustrate the portions for one.
And it begins…!
Crab roll, seaweed, cucumber, fish stock, vinegar.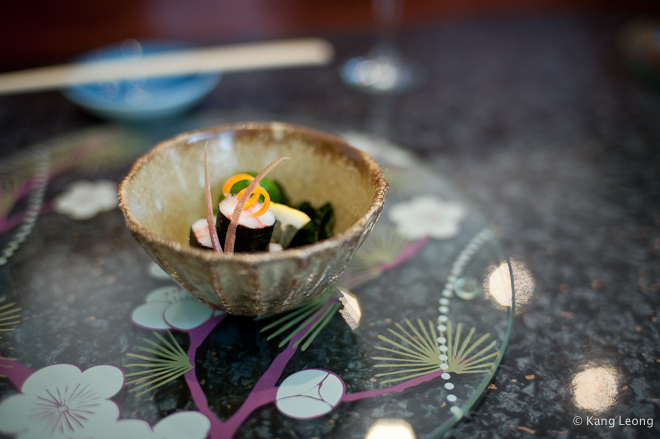 Dinky, delightful start. The zingy vinegared fish stock with a juicy crab roll, made the palate sizzle.
Miso soup.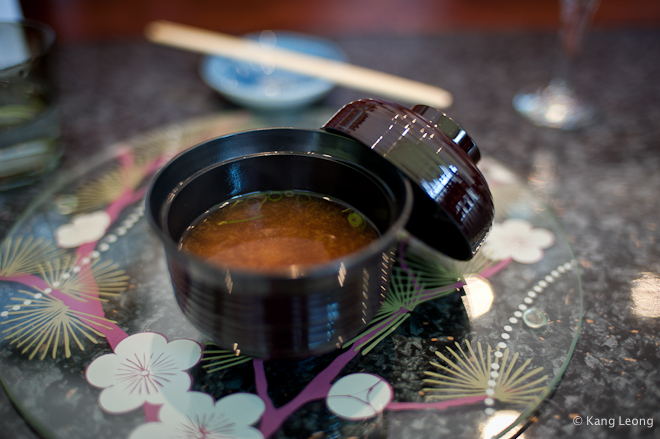 We were told that miso soup of the day was yuba (dried beancurds), indeed it was and it also came with seaweed. Slurp!
Seabass sashimi with mooli (daikon), spring onion and ponzu.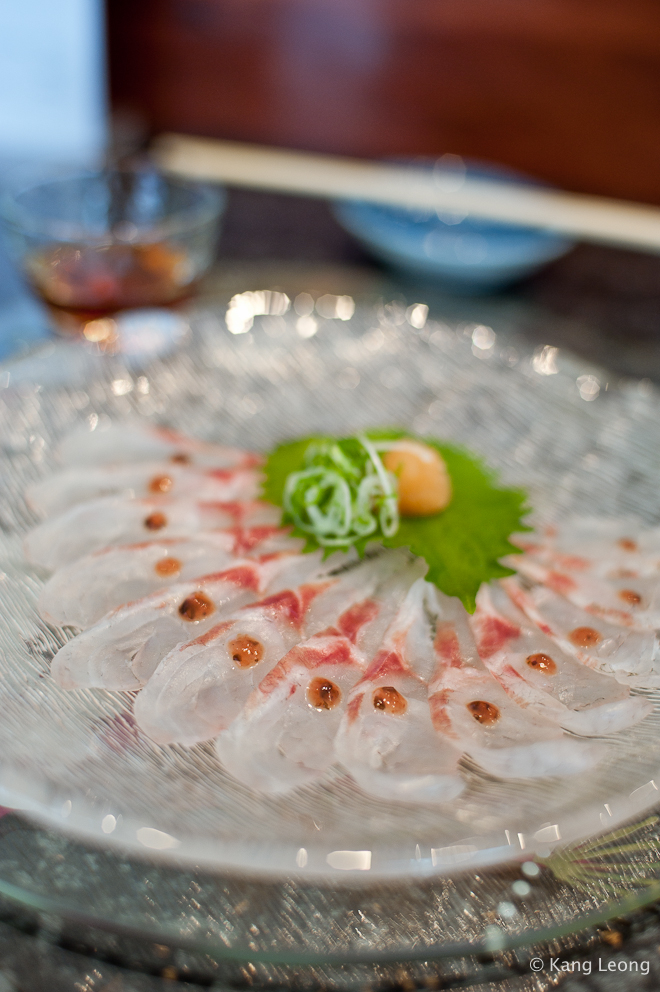 Here's where the action began in earnest. Part of the Shiori experience is the theatre of becoming mesmerized with watching the chef prepare the next course while we eat the current one. Since the sushi bar is so small, diners are up close and personal with the chef. You catch all the little details as one witnesses the chef's careful and meticulous focus in carving out silken slices of seabass. Beautiful isnt it? I think this illustrates his true trimming powers. It was so thin, I'd believe it if I was told it was shaved by a machine. Served on a glass platter, seemingly to emphasis the elegance of the sashimi.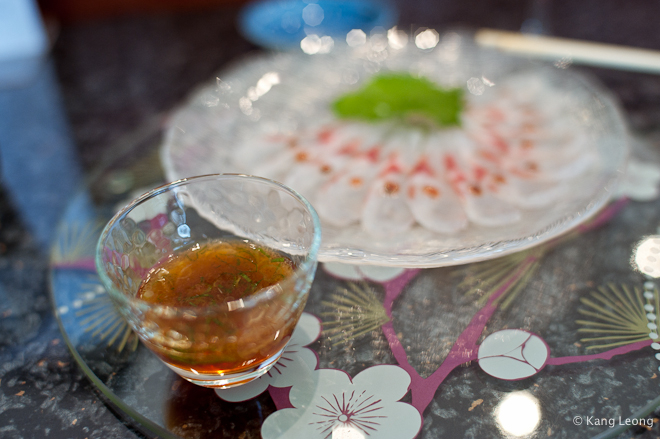 We were advised to drop the dollop of crushed mooli and spring onion into the ponzu, to make a dipping sauce for the sashimi. The result: a tangy, mandarin flavour with a herby edge from the onions. Personally one of the most exemplary sashimi experiences (in London), you know, I forgot for a moment that I was having raw fish, it's just so well prepared that the final product felt so clean, so clinical.
Sashimi platter.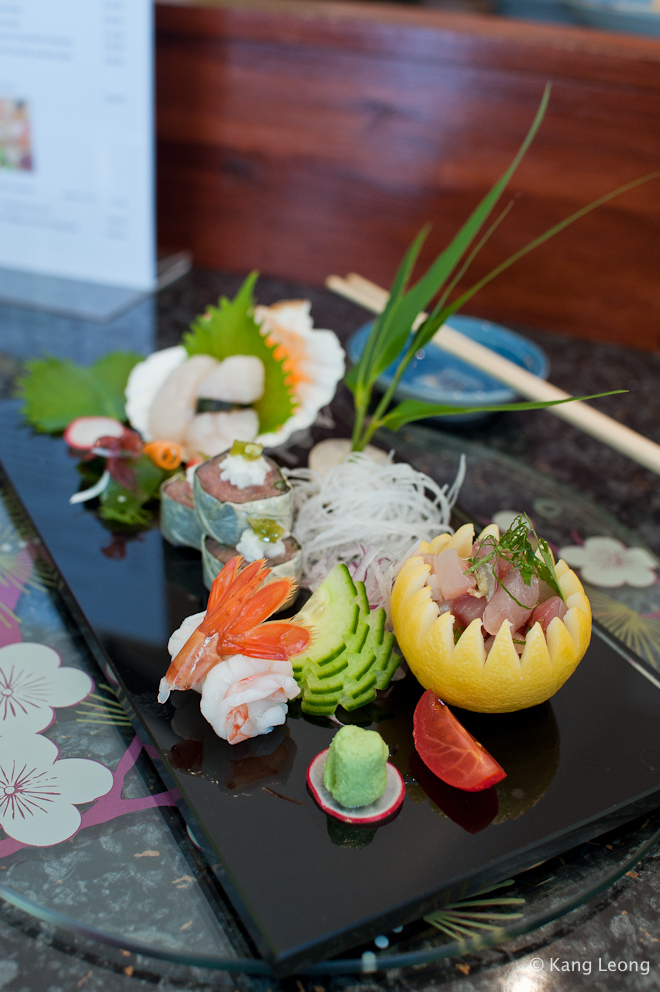 It was a happy birthday. From back to front, Scallop sashimi rolled with truffle paste (that I raved about last time)…sweetness of the scallop plus the umami firepower of the truffle resulting in exothermic gushes of approval.
Next: Chutoro (half-fat belly tuna) wrapped in nori and yuba (I think) and topped with chopped yam and fresh wasabi. Oh my days, this was brilliant, the melting juiciness of the chopped chutoro was menacing, and the slimy yam added texture and just a subtle kick from the sliced wasabi. Forget deftly cut toro, I was completely gobsmacked with this rendition, it was a little like a burger mince, or a dumpling mince, dare I say.
A simple sweet prawn with shiso pesto hiding under the tail, and finally chopped aji. There was no lack of attention to detail on this platter, the radish with the leaves for wings; the shaped cucumber slices, the wasabi resting on a slice of radish.
Sushi platter.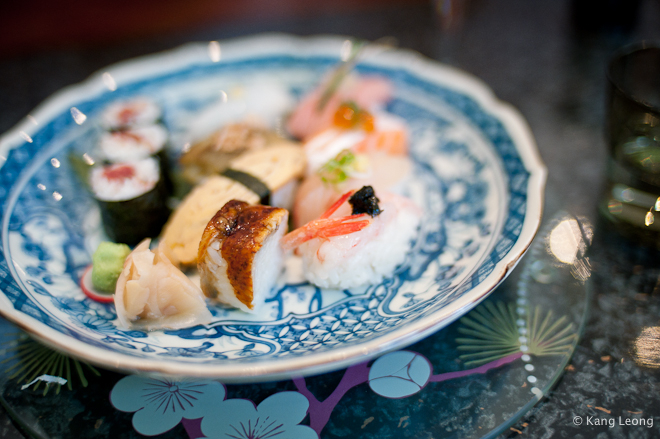 Watching the chef create plate after plate of superbly presented food never got old, we just continued to be in awe of his godly talents. Stare at the sushi platter. Stare…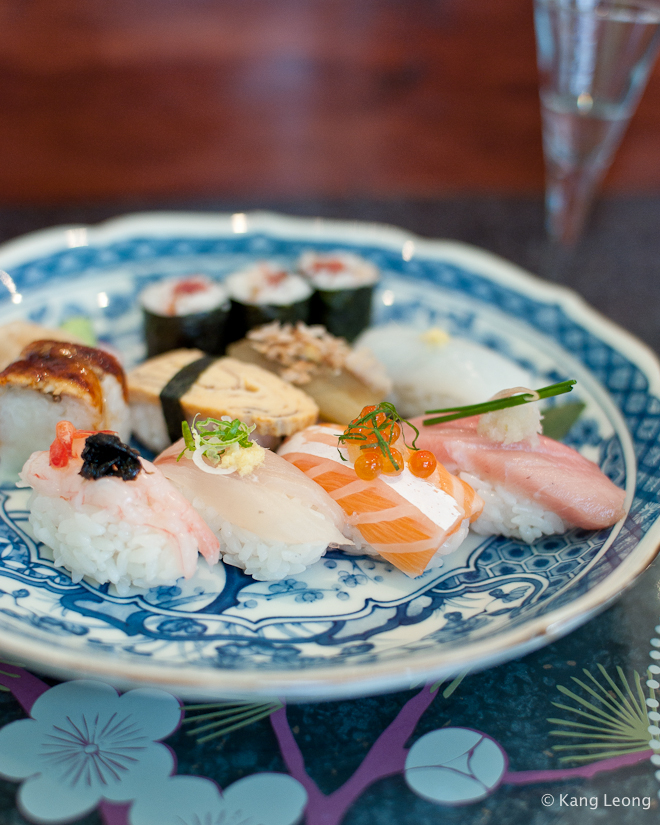 Needless to say, everything was tear-jerkingly good. The nigiri were sweet prawn with shiso pesto, mackerel (or was it seabass…I lost track) with ginger, salmon belly with fish roe and otoro. Back row, unagi with sancho pepper ('bo-zushi'), tamago, aubergine with bonito flakes and scored squid nigiri and three spicy tuna maki. The rice need be praised as well, taking on a creamy, silken mouthfeel, a little warm, a little sugary, a little bit pickled. Beautiful work, just gorgeously fantastic, superbly brilliant, insurmountably awesome. Insert adjectives et cetera.
And lastly, wagyu nigiri with ponzu jelly (One for each diner).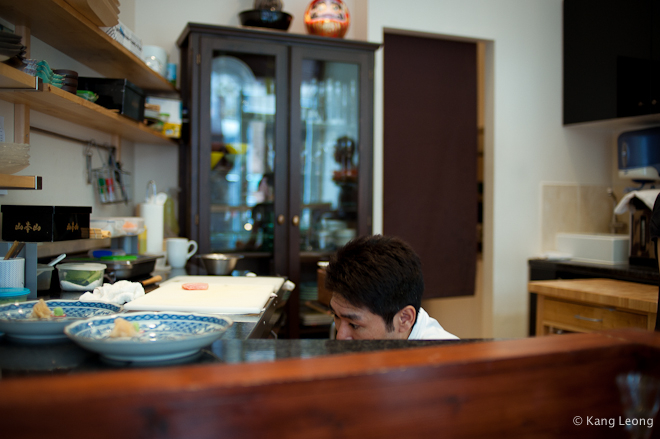 As we moped up the remnants on the sushi platter, the chef cleaned up his table top, whipped out two slices of wagyu beef, and disappeared into the kitchen behind the curtain. I could hear the whooshing sounds of a blowtorch going off. Boom. Before long, he came back out with two torched slices of beef and pressed it flat between two pieces of paper. Not sure why he pressed them flat however.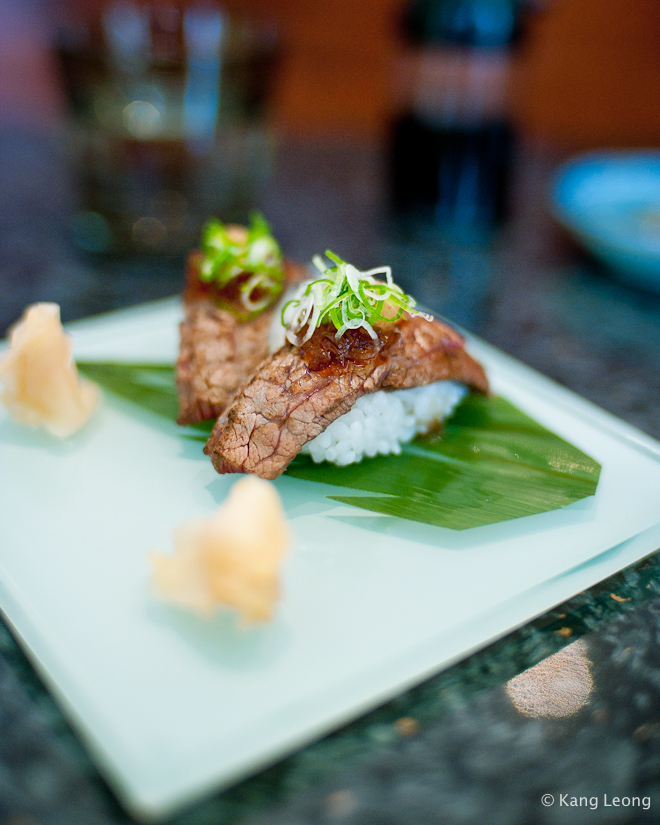 And like the previous meal, this was utterly orgasmic. The chef's wife (who took care of front of house duties) informed that it was Australian wagyu, the ponzu jelly rapidly melting atop the seared beef. I took the first piece, and put it in my mouth. Mmm. I took the other piece, and put it in my mouth. Mmm, déjà vu. It was my birthday after all.
Home-made ice cream, sesame and sweet potato.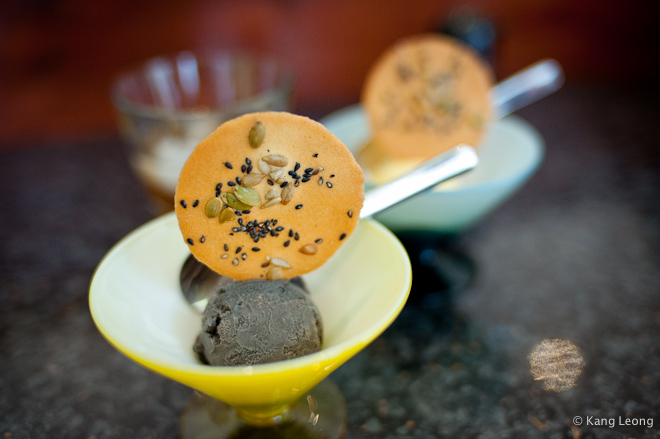 These were lovely, with the grainy texture of Japanese ice cream I have come to love, the black sesame in particular was really good, taking on a inky mouthfeel about it. Nice.
As we finished, we got chatting to the husband and wife team, she very kindly made us a pot of her favourite tea, hojicha, over ice to match the season and she explained how this was a common feature in Kyoto restaurants. She then asked us about the portion size/number of courses to gauge if the omakase was filling enough. I said yes on the spot, but of course, secretly, I couldn't get enough, I could have the omakase twice, thrice… (what comes after?). On a more serious note, perhaps this could do with a small bowl of noodles to round things off. Otherwise, it was £40 well spent, and in my humble opinion, you're getting alot of bang for the buck, alot of premium ingredients were used to create this omakase. She had also mentioned that spending more meant even more expensive ingredients, and it doesn't really affect portions so much.
Sushi of Shiori is my favourite sushi restaurant in London now, they tick all the boxes, I am just utterly in love with what they are doing. I can safely say that everything on the menu is excellent. The flair really comes across, and I am so glad that Shiori are in London. They have been opened for just over a year now, and I am hoping they will have many successful years ahead. I'm going to revisit as much as I can, bring as many friends and family there as is humanly possible. About the only thing I regret is not getting a proper introduction to the humble couple who own and run Shiori, but the next time I go (I'm taking my brother next month) I will get their names. The final bill was £95, £40 each for the omakase and £15 for the sake, service at the discretion of the customer. I cannot recommend this highly enough, if you have a passion for sushi, spend your money at Shiori and be dazzled.
The first review here.
The Gist of It
Sushi of Shiori
Japanese, £45pp
144 Drummond Street, Off Hamstead Road, NW1 2PA
Tel: 020 7388 9962
Tube: Warren Street
Even more sushi love bookmarked: Rocket & Squash ; Hollowlegs ; The Catty Life ; Felixhirsch's tour de table
Did you enjoy reading this? You can subscribe to the Newsletter. Alternatively, you can subscribe to the RSS feed.
All text and photography on this blogpost is copyright and belongs to Kang Leong, LondonEater.com. If you repost this without my permission, bad things will happen. So please don't do it.