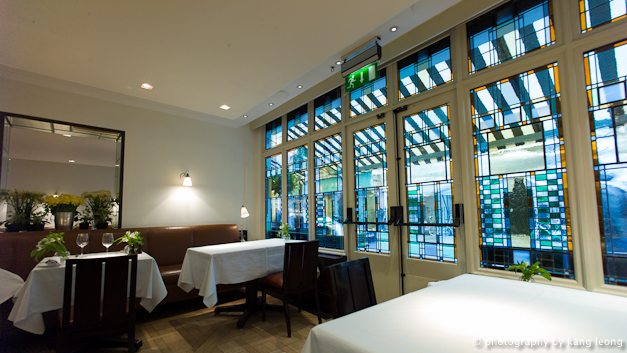 I am too tender in age to have lived through the days when Conran restaurants were the pride of the industry. Those glory days are no more than urban legend as told by the doyens amongst food writers… some of whom have exhausted equal column inches in slagging off the same restaurants dreamed up by the original Design Entrepreneur.
I've wanted to write about the radio initiative of Tyler Brule's pioneering (and my favourite) print magazine, Monocle 24 for some time now. I love it so much; it has become an integral part of my gym routine. There are 12 radio shows, my favourites are The Menu, The Entrepreneurs and Section D. In this particular winter special, Section D managed an interview with Sir Terrance, who spoke about his Habitat days as well as his career high in striking a tie-up with M&S. It meant he got to sell his furniture to the masses, as opposed to being niche. Or to paraphrase – how distribution of his designs were democratised.
Alongside his entrepreneurial adventures in home furnishings, Conran's expansive brasserie empire grew to include The Orrery, Bluebird, Coq d'Argent, Pont de la Tour as well as Bibendum at the Michelin House in Chelsea. Eventually he sold up to the D&D group which now operates this group of restaurants. The owners Des Gunewardena and David Loewi are both ex-Conran.
Conran's legacy also include the Design Museum and the resident restaurant, The Blueprint Café. This brings us (finally) to the darling chef of the moment – Jeremy Lee. His tenure at Blueprint lasted for 16 years, garnering a number of glowing reviews and long time admirers along the way. So the story goes that the Harts have always been hardcore Lee fans, and they had been pining to obtain his services ever since they took over the reigns at QV (responsible for such hits as Fino and Barrafina) in 2008. His poaching earlier this year had generated a lot of buzz on the internet (and in print) , but I for one have never visited either restaurant at any stage of their ownership. I fall firmly in the category of this new generation of chef worshiper, engaging in the reintroduction of Jeremy Lee to the scene.
I visited for a very late Friday afternoon lunch a couple of weeks ago.
A faint whiff of mutton filled the air inside Quo Vadis, it's very chatty, fully booked and nearly everyone in the room was smartly dressed in weekender polo shirt at a minimum. I must say, I enjoyed the revived old school (at some point table cloths were off), theaterland, brass, linen and leather booth ambiance. The ceilings are quite low, making the restaurant feel a little chamber-like (dungeon & dragons?). It is one of few (if any) London restaurant lit by natural light from beautiful stained windows. There is certainly an undeniable je ne sais quoi with the throwback vibe, it is a perfect venue to entertain business and friendly dinners.
Jeremy's cooking (to me) appears to be classical Anglo-French cooking, and reviews indicat his food's timeless quality. Some of his dishes sound like this: Daily pie of hare & beef £16; Brill, celeriac & puntarella £18; Sardines on toast & a fried egg £7. Rather reticent but descriptions are also reminiscent of the post-polpo openings. Though perhaps I think the restraint is more the case of someone highly attuned to and in total control of the forces which govern umami.
As an aside, Jeremy's influence appears to linger on the Blueprint Cafe's menu … or at least it appears that Blueprint hasn't yet updated their website. The menu still shares an uncanny resemblance to the newly Jeremy Lee-fied Quo Vadis one.
Smoked Eel & Horseradish Sandwich, £7.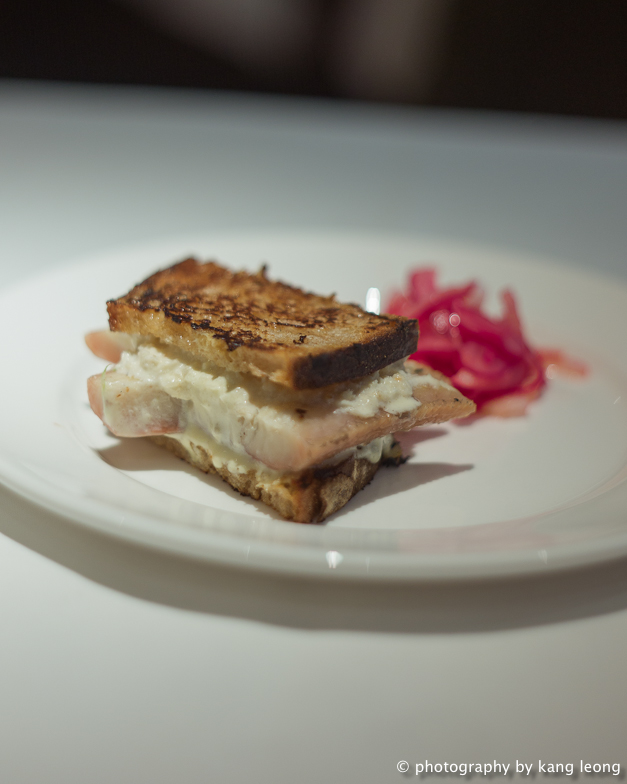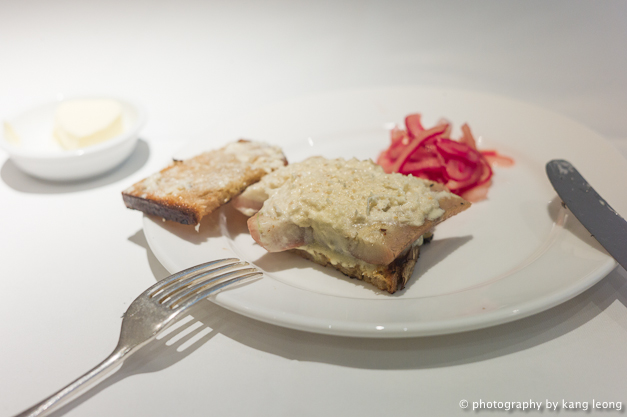 There is it – Jeremy Lee's now legendary smoked eel & horseradish sandwich. Sweet, a little smoky, sour and a concentrated horseradish cream that bit my nose off! A generous wedge of chunky smoked eel, a sharp cream with charred then oiled sourdough was an unnervingly straightforward recipe. Surprisingly effective and addictive, it was certainly a version of a perfect sandwich. I did however feel it was just a little small. It probably measured no more than 3 inches by 3 inches.
Middlewhite & beans £18.50.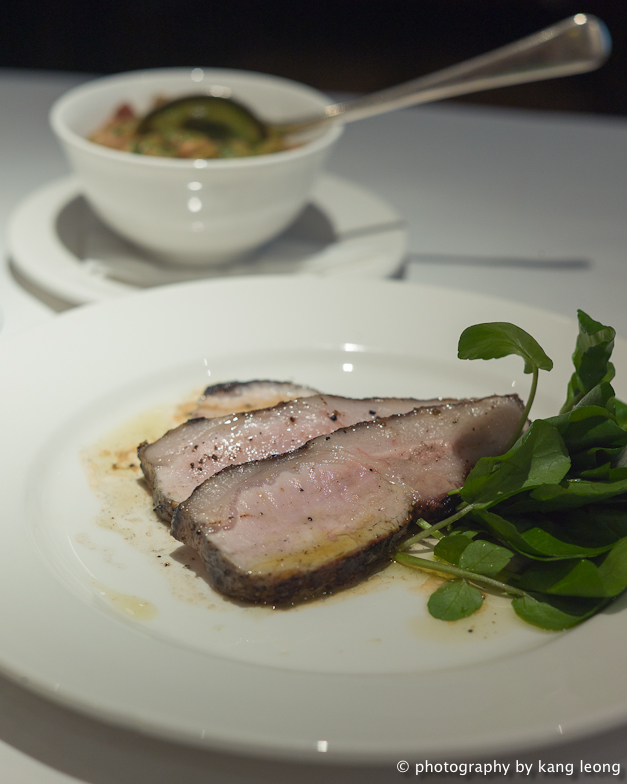 A charcoal dusted crust, a rim of bulbous fat and then plump perfectly pink pork inside. This is genuine comfort food. Middlewhite when cooked ever so slightly under like this is always incredibly tender and juicy. With a delicate lick of smokiness, this was a version of perfect grilled pork. However, those slices really need to be twice as thick; the portions are just a little too meagre for £18.50, in my opinion.
The Green Sauce. Gremolata. Salsa Verde. Jeremy Lee's secret weapon…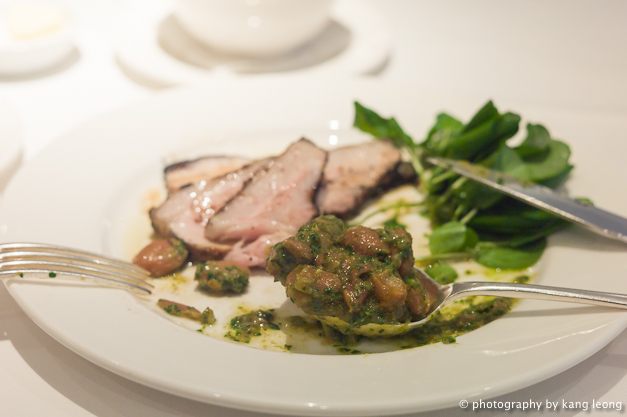 The green sauce which coated the beans was unbelievably good. This is the kind of recipes which generates profit. What was in it I wondered? Was it cress, coriander or parsley? It tasted of capers, a little fishy, with a garlicky punch. Whatever it was, it was gorgeously appetising, it's the kind of comfort food that you only read about in cookbooks.
St Emilion Au Chocolat, £7.00
A classic recipe of dark chocolate and crushed macaroons, with originating credits tracing back to a cookbook called French Country Cooking by Elizabeth David which was famous in the '60s. Essentially, this is melted dark chocolate with egg, butter and sugar solidified over a base of crushed macaroon, pre-soaked in brandy. You can just about notice the two layers (with the bits of honeycomb crumbs on top). The pud was served cold, but each spoonful promptly melted in the mouth, with wet crumbs of macaroon. The chocolate had regal richness, so the dash of cream on the side really did help to smooth over the intensity. It's a lovely pudding, it is a real classic, the way it sucks up your body heat to melt itself in your mouth was a racy sexual encounter. A version of a perfect chocolate pudding, personally, second only to the posh kit-kat that is the Louis XV.
With a cup of black coffee, the bill for one came to £40.50 plus service.
One of my best lunches ever, in fact, each dish as I mentioned, resembled a level of perfection. Even though I felt the portions could have been a little larger, I ended the meal feeling completely well-fed, happy, red in the face and ready for an afternoon nap. Saying that, I'd like to still see more on a plate, simply because it was so delicious that I would have loved to have a larger (or second?) serving.
While bare bones, unplugged cooking is trendy, it isn't always delivered with such class, efficiency and style. Lee's kitchen doesn't dick around with concepts or gimmicks, they seem to just be interested in delivering delicious cooking, which is all anyone expects from a meal. Jeremy Lee is certainly a master of his craft. The old school ambiance makes for a memorable experience, but it's the easy cooking which will tempt you to make return visits to the restaurant. At the end of the day, QV is dependable, produces high quality food and (its ALC) is just on the fringes of being good value for money.
So if you ask me where I'm going tonight, then I'll tell you that you will find me at Quo Vadis.
The Gist of It
Quo Vadis
British £45pp.
26-29 Dean Street, Soho W1D 3LL
Tel : 020 7437 9585
Tube : Leicester Square
Did you enjoy reading this? You can subscribe to the Newsletter. Alternatively, you can subscribe to the RSS feed.