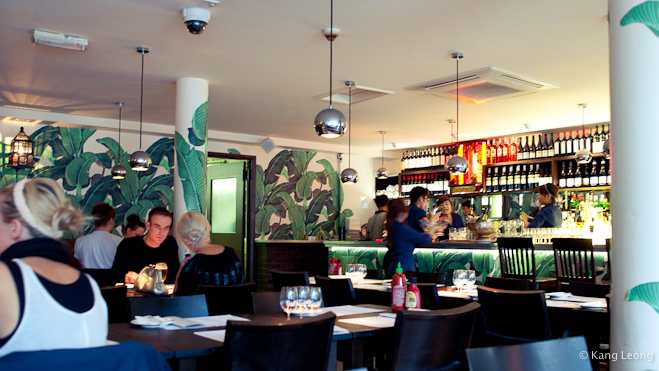 The idea behind Viet Grill and Cay Tre – sister restaurants both owned by Hieu Trung Bui – is simply to bring delicious (and authentic) Vietnamese cuisine to London. They're not the only ones in the Shoreditch area hoping to do so, of course, with much of 'Phở Mile'[1. Phở Mile as described by Bellaphon], the term coined by Bellaphon, vying for the same. Affectionately or otherwise, many have come to recognise the brillance of this wonderful strip of Vietnamese restaurants along Kingsland road. Personally I have limited knowledge of Vietnamese cuisine, being Chinese, I grapple on to equivalents when 'translating' the cuisine whenever I visit a Vietnamese restaurant, for better or worse. They eat rice, we eat rice. They share dishes, we share dishes. They have noodle soup, we have noodle soup. Chopsticks apply. I have colleagues who hail from Vietnam and their first choice is Song Que, the crowd favourite really,I loved it too on my visit. Unfathomable affordability and food was delish.
With Vietnamese cuisine being so accessible, it was only natural for people to be fascinated with it. Twitter is always alive with praise (and debate) of Vietnamese restaurants in London, not limited to Kingsland road of course, as the bloggerati claim phởveyors further afield such as Cafe East[2. See Catty's review of Cafe East] in Surrey Quays.
Generally speaking, Londoners and especially bloggers like Viet Grill. Its popularity is also partly attributed to Mark Hix's very public affirmations toward this restaurant. If a superstar chef regularly raves about it in his national food column, it can't be half bad. Styled with a 'French Colonial look' of patterns of trees across the beige walls. It feels like a vacation inside, even more so with the sun beaming down on us right now.
Let's cut to the chase then, Cha Ca La Vong, for two £10.
'Cha ca' means grilled fish, and this dish has its roots in Hanoi. The original place said to have popularised 'Cha Ca La Vong' is also the name of a restaurant in Hanoi[3. Read about the restaurant Cha ca la vong in Saigon]. I'm not sure how they serve it originally in Cha Ca La Vong in Hanoi (or Saigon for that matter), but at Viet Grill, I was pleasantly surprised when the waitress fired up a moveable gas cooker on our table.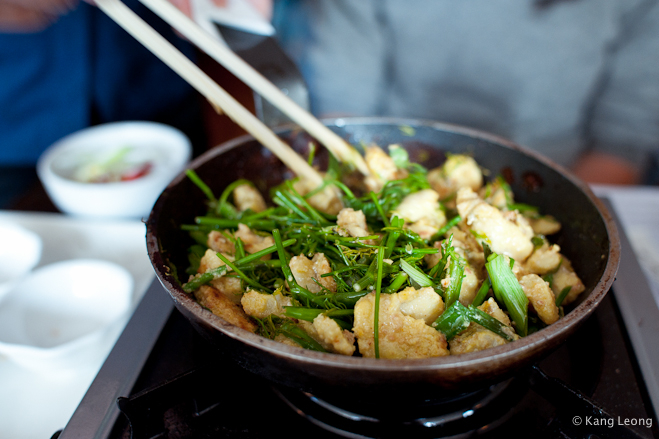 "Slices of Monkfish marinated in galingale and saffron, grilled at your table and served with rice vermicelli, pimento, ground nuts, fennel and shrimp sauce." …. yeah exciting fine print. Watching the gold coloured monk fish fillets sizzle away in front of us was hugely gratifying. As it heated up, a bevy of herby and grassy aromas accompanied, it was a great way to start a meal, with our senses fully engaged.
Such a visually arresting dish could taste as good as it looked. The range of ingredients was like a field of blooming roses (well…) on the palate. There was zestiness, not unlike mango, there were grass-like flavours, dare I say which reminded me of dill, nutty, saffron and pimento for a perfumed kick. I read elsewhere that a fresh water fish known as hemibagrus[4. Read about choice of fish in Cha ca] is the primary choice for this dish. For purists, a fish only available in Vietnam called Anh Vu[5. Read about Anh Vu FIsh]. Can't say I've ever been to Vietnam, for what it's worth however, I thought monkfish was a good substitute, necessarily flaky and all.
Saigon Sate Phở, £8.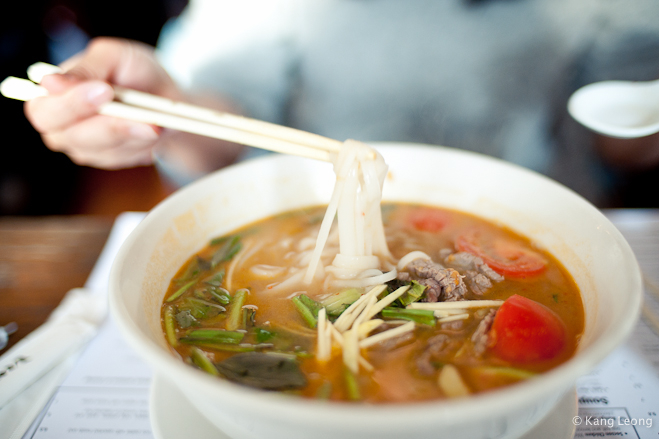 We ordered the mandatory bowl of phở, this one in particular made "with tender beef poached in a full bodied chilli broth, smothered in Viet basil and smashed nuts".
It was bloody full bodied alright, a big whack of chilli, like pouring a volcano down the throat. Also present were rich flavours of tomatoes. The soup was cloudy, so I assumed it was coconut cream that I was tasting, along with slices of mango. The better half thought it was great, especially the soup. About the the only thing I found wanting were the noodles, I thought they were a little too mushy.
Beef Vinh, £7.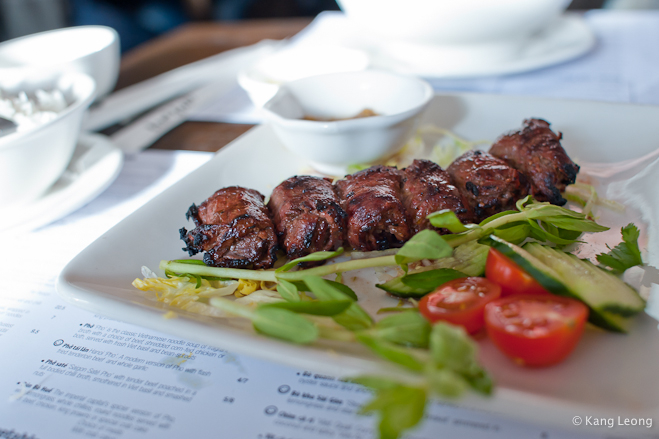 This one was from the 'Dishes we like most' part of the menu, with a smiley face next to it. Rolled beef fillets, seared over charcoal and stuffed with what appears to be it's own fat. I really liked this. It came with a nectarous ginger paste on the side, not unlike a ginger beer, perfect as a dipping. The beef itself was smoky, juicy and plump, I suppose with it being marinated with a number of spices unknown to me, the seasoning helped to add depth to savoury and beefy flavours.
Vietnamese durian and Tapioca Cake, £5.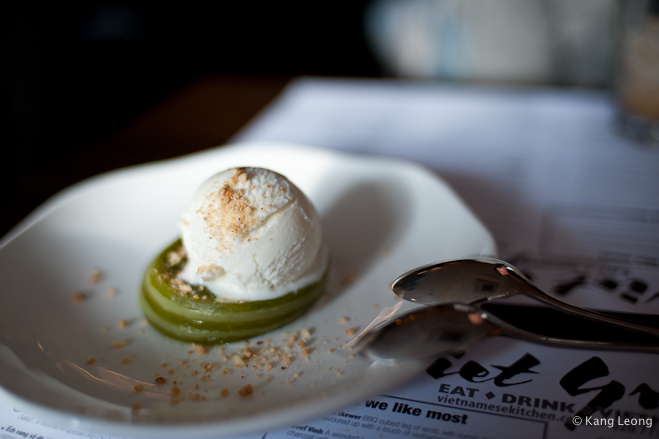 Pudding was lovely, I didn't detect the fragrance (or stink) of durian in the tapioca cake, rather it carried a sugarcane starchiness, a gluey textured. It was served super hot which provided a lively contrast to the icy coconut ice cream which began to melt from the moment it was served. Simple, enjoyable.
Condensed milk is such a revelation isn't it? We finished with two Vietnamese coffees, one hot, the other with ice, both with condensed milk. Along with a bowl of steamed rice and a glass of soya milk (freshly made), the bill was £47 for two. Hmm, a little more expensive than I expected, considering we only had four dishes. All in all however, we enjoyed Viet Grill, the cooking seemed able enough and food was delicious. Of course, the beauty of such a restaurant is hidden in the sheer depth of the menu. Campfire beef, sitting duck curry, slow-cooked Mekong catfish… the next time I go to Viet Grill, I'm bringing my extended family and ordering one of everything. All to share.
The Gist of It
Viet Grill
Vietnamese, £25pp
58 Kingsland Road E2 8DP
Tel: 020 7739 6686
Tube: Hoxton
Distilled from the digital ether Chris at Cheese and Biscuits ; Fay says ; Cara at Gourmet Chick ; Luiz at The London Foodie ; Mathilde at Mathilde's Cuisine ; Tom at TomEatsJenCooks and Mark Hix's passion...
Did you enjoy reading this? You can subscribe to the Newsletter. Alternatively, you can subscribe to the RSS feed.
All text and photography on this blogpost is copyright and belongs to Kang Leong, LondonEater.com. If you repost this without my permission, bad things will happen. So please don't do it.