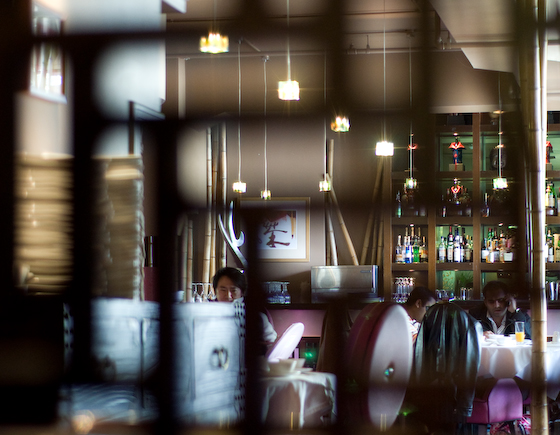 Pearl Liang official site
8 Sheldon Square W2 6EZ (0)207 289 7000
Dim Sum £15pp
I can be a right tit, sometimes. You'll remember my superficial slating of Chinese food during my cha cha moon visit and how I proclaimed that Chinese restaurants need to up the ante on the shameful way they've presented food of me ancestors. Well, thank Colonel Sanders for Pearl Liang, because I need to print a retraction as majesty is quite possibly being created in the decorative kitchens of Pearl Liang. Who am I kidding, Kang doesn't print retractions.
The Benchmark.
Legend has it that Dim Sum is meant to touch your heart, some call it 'sipping tea'. To me, it's brunch on a sunday, chinese style with the folks and definitely with the special peeps (that includes you). The Cantonese in me normally shoots for the classic prawn, pork, prawn pork combos be it the dumplings, the cheung funs or the buns, however, the Taiwanese of me suggests that venturing out from the comfort zone once in a while, ain't a bad thing.
So I started with the wasabi prawn dumplings, which is really a har gao with abit of the green stuff on top. And you know what, Yes. The dumpling wrapping is slightly chewy, with abit of spring, doesn't break when you bite into it, and the minced prawn stuffing is heavenly. Spongy yet delicate; fresh yet appetizing and with a sharp shooting zing of the wasabi in the nose. We're off to a great start.
Fry me some turnips.

As a foodblogger, my fingers itch when it comes to something I think I know alot about, but I'm going to refrain from giving you a dim sum history lesson. Forget the whole sunday brunch thing, eat it whenever you feel a craving, use a fork and forget the chopsticks, throw all the rule books out the window, because food is meant to be enjoyed and so, you should enjoy it however you like. I always do, and that's why I only have one bottomline when it comes to blogging (not critiquing) : Tasty, or not. Off to the fried stuff then, the shredded taro puff is actually a shredded turnip puff, which almost tastes like silky moist squid pieces enveloped in a moon shaped light puff pastry.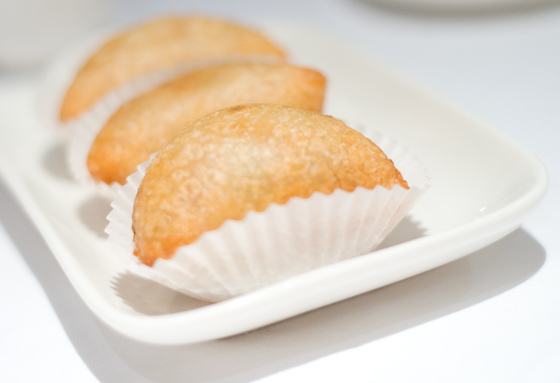 A slightly heavier puffer were the mince pork croquettes, the pastry is more of a sticky dough, fried crisply on the outside, and the stuffing is a rather sweet mix of pork, dried shrimps, lots of yummy aromas. The two puffers are easy to eat and goes down like a good vintage, leaving me hungrier rather than bloatier, which is a good sign.
Intermittently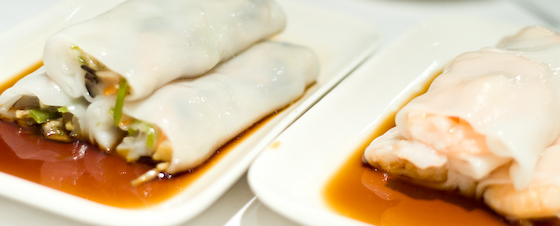 Even the cheung fun is good. Slightly sweet soya sauce check. Rice flour wrapping doesn't fall away when I pick it up. Check. Prawns with springs. Check. Salivation. Check. I also ordered the monks vegetable version and was pleasantly impressed with the mix of carrots and mushrooms medley.
By the by, the restaurant is really pretty. No, I'm being serious here, some might say its ultra sleek or chic in the crazy sexy cool urban jungle of Paddington Central… but it really is quite pretty. Low spotlights, lots of rose wood, and a wallpaper of a painting, er, a painting for a wall paper, you get what I mean. For a moment, I really did feel as if I was in Asia. Ahh. More Chrysanthemum tea please.
All steamed up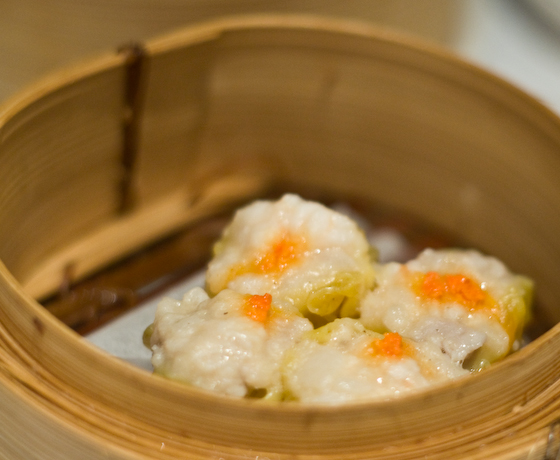 Someone once told me that shui mai isn't really healthy. Sure it's steamed, but alot of the satisfyingly rich flavours actually comes from stuffing alot of pork fat with the prawns in the mince. I love shui mai, normally order two servings, but this one was a little disappointing compared to the other luminaries around town. It was more porky than prawny, which meant it stank more than it was fragrant. It was a little on the dull side and I just didn't feel instant gratification. For comparison sake, I still think Royal china's version is 'best in class', followed closely by Yauatcha's….and maybe several steps behind is this one. Small matter, there are other things to eat.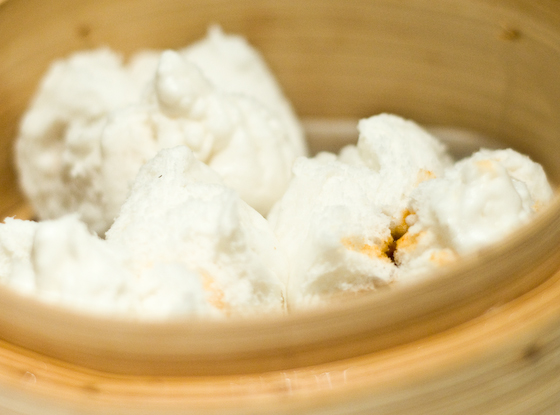 Such as these very good examples of the classic char siu bao. The bun itself is a pristinely fragrant delight, with a melt in your mouth fluffyness not unlike candy floss. With a tinge of sweetness in the bun, it married nicely to the sugary savoury roast pork filling, if I'm nitpicking, I reckon it could be a little lighter, somehow I think that the Yauatcha version beats this one out – but only just.
Beautifully, done.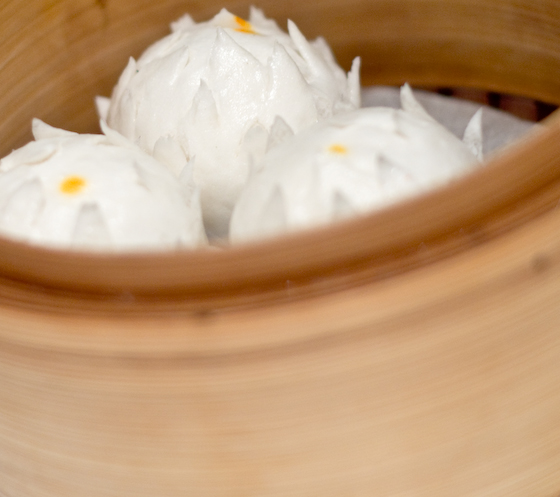 I chose to end the meal with amazingly steamed Chrysanthemum custard buns, the orange tinge paste, is a rich egg flavoured grainy custard, almost like grounded sweet beans and the flowery fragrant of the chrysanthemum added natural sweetness to very satisfying and hearty custard bun. I really enjoyed this one and the flower bud styling looks great too.
Wonderful, simply wonderful dim sum and this has displaced the special place in my heart, which was previously occupied by Royal China (and Yauatcha when the FTSE was still surfing above 5000). I must say, the prices here are very competitive, my bill, 9 dishes, plus service came to just under thirty squiddodles for two, and I think on average it's about a third, or even half that of a Yauatcha bill depending on what you order. Most importantly, food is excellent – mostly it is characterised by lots of melt in your mouth sensations, I previewed the dinner menu with an order of a double boiled soup with flat tofu skins (I think, unsure of the proper term for it) and flavoursome flat mushrooms (again, unsure of this, it's the big dried brown chinese ones, help me out here guys). I was really impressed with this, just a light layer of oil, tingly as it goes down and a full umami rich taste to accompany a gentle broth.
Pearl Liang is good, perhaps even very good. The dim sum rivals some of the best ones in the city, and I really am impressed with this one. Even more so, the dining space is both easy on the eyes whilst still maintaining a rather relaxing atmosphere; a comforting experience all in all, and I can't wait to go back for dinner.
The Gist of It.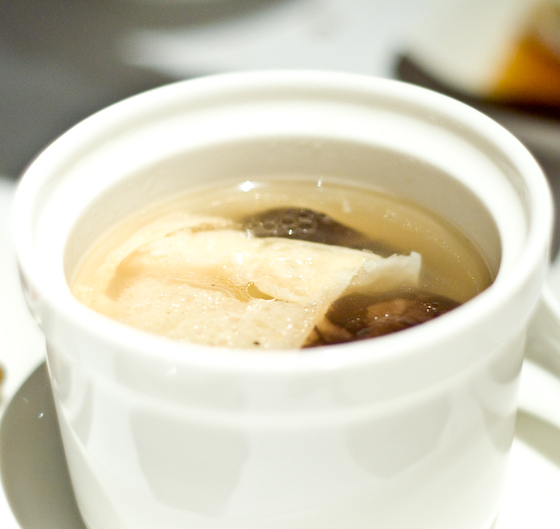 Pearl Liang official site
8 Sheldon Square W2 6EZ (0)207 289 7000
Dim Sum £15pp
Verdict: Great dim sum, affordable prices, a spiffy dining space and really springy prawn dumplings – must eat.
Did you enjoy reading this post? Why not subscribe to my feed updates for free. Alternatively, You can subscribe via email.