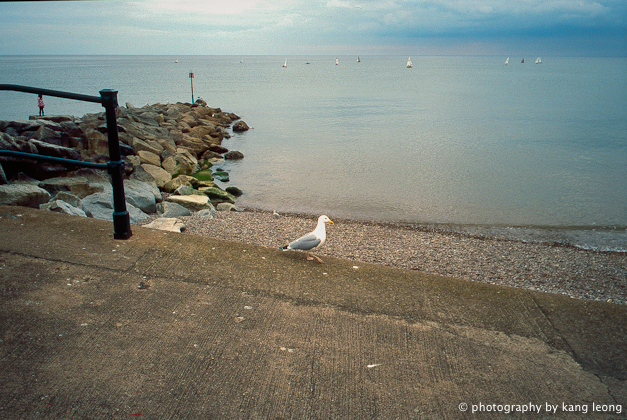 Ah …Easter weekend. We drove all the way to the Sidmouth coast, to marvel at the bronze cliffs, seagulls and took in other bits of Devon (like Beer) while we were there too. Aside from M.Caines' iron grip on Exeter dining (We did eat at his restaurant at ABode Exeter, but not worthy of a write-up imho) , we were on the look out for something decidedly local.
I couldn't secure a last minute booking at La Petite Maison nor did we try a Rick Stein chippy, but instead we made time for this well-regarded humble fish & chip shop located on premises at Darts Farm in Topsham.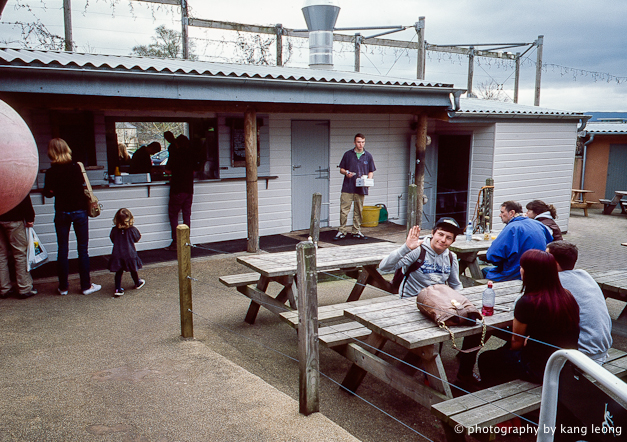 Curiously the farm is a set of modern looking buildings which hosts an Cotswold outdoors shop as well as an AGA outlet. It certainly looks more like the facade of a leisure centre than a traditional farm. Started initially by Roland Dart 40 odd years ago as a small hut selling produce to the locals, it's now morphed into a major food hub in Devon.
I suppose if Wholefoods were to expand their influence, Darts Farm would be the ideal candidate to mount a take-over. Inside, the main shop floor sells local produce, a local (award-winning) butcher and a cider & ale corner. I do regret not picking up a bottle of aged cider brandy!
The Fish Shed is very modest, literally run from a shed extended out from the main shop building. There's an al fresco area, but there were also tables right inside the food shop looking out to the shed.
The owner is Dave Kerley, a one-time scallop diver and so has insight into securing the best available fish for his chippy. They claim to only ever cook fish which is caught & landed from nearby Lyme bay on the same day (or within 12 hours) , ensuring freshness and quality.
Naturally his daily prepped beer batter (finished in a fryer filled with beef dripping) has been lauded and ultimately led to whispers as one of the best fish & chip shops in the country. In addition to the greasy option, all fish can be served grilled.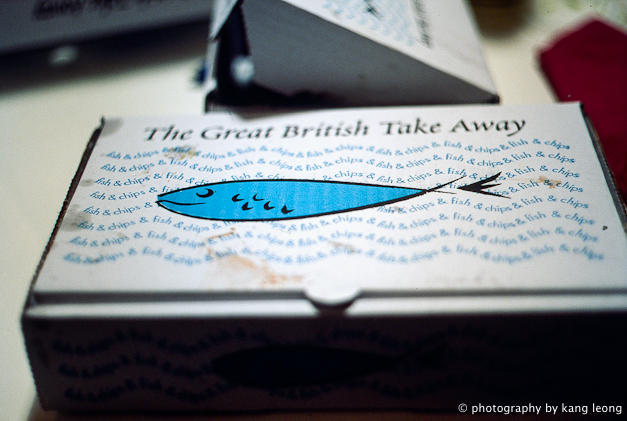 On the day we visited, the option for lobster & chips wasn't available (perhaps Devon Lobsters weren't yet in season), but there was a pretty wide range of fish available including cod, brill, haddock, monkfish, lemon sole and john dory.
Fish cakes and sausage (with chips) was also on the menu, but we avoided. Everything came served in sturdy take away boxes labelled "The Great British Take Away". Nice.
Beer Battered Cod (£7.15) , chips (£2.75) & mushy peas (£0.80).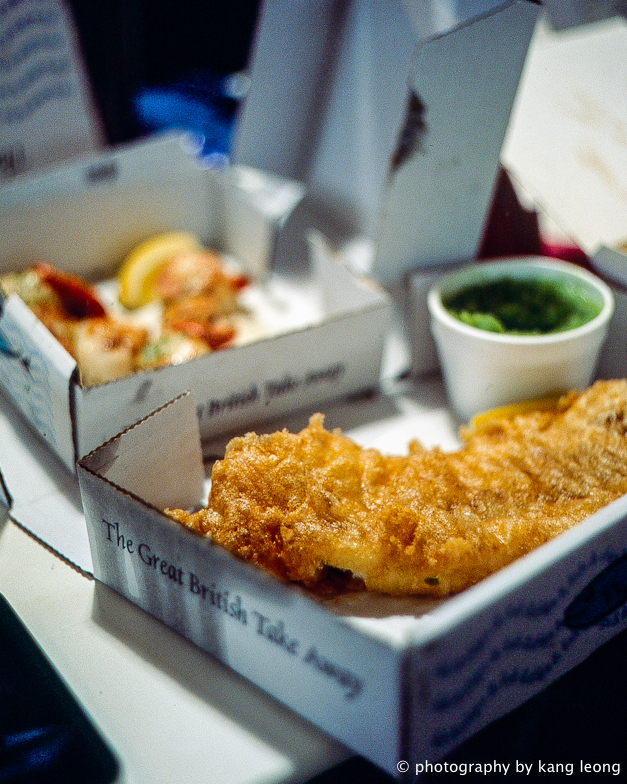 The bubbling and crispy golden batter was very light and immediately appealing. Already well-seasoned so only the lightest dabble of salt was necessary. The batter certainly tasted quality (and clean) , not overly greasy and on the lighter side.
The fish was tremendously moist and flaky, it certainly was eye-openingly fresh! I'm no fisherman, so have no idea about the likelihood of cod caught off Devon (maybe deeper seas?). But whatever the case, 3 out of 4 of us had the battered cod and we were all cooing with delight. Certainly one of the best fried fish to my tastes.
The other half decided against deep fried fish, and opted for her John Dory to be grilled. We also noted the supple freshness of the fish. Incredible stuff.
Chips were thick cut, fluffy and golden. They were alright. Mushy peas were a bit of a let down I thought, a little deflated and dry.
Scallops, £7.70.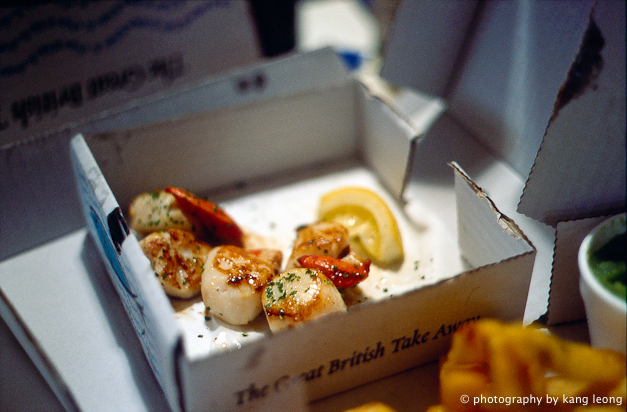 Devon scallops are tiny …but god were these good! Not over-grilled, and just perfection! Really fresh, and amazingly sweet. Could have had two more boxes of them.
I don't want to turn this into an opera, but I did really like The Fish Shed. Regret not making a return visit the next day. London restaurants blog posts may saturate the internet these days, but it's slim pickings when it comes to finding decent places outside of the M25.
Anyway, if you're headed to Exeter anytime soon, I think it's worth dropping by Darts Farm for lunch. I'm not a chippy expert but I will say that for me personally, the visit to the Fish Shed was certainly worth the 3 hour drive.
The Gist of It
The Fish Shed
Fish & Chips £15pp.
Darts Farm, Topsham, Exeter EX3 0QH
Tel : 01392 878200
Did you enjoy reading this? You can subscribe to the Newsletter. Alternatively, you can subscribe to the RSS feed.