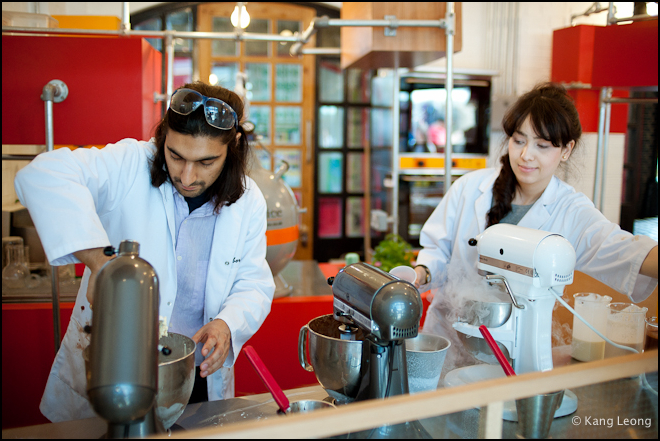 So you've been to every one of the coolest ice cream parlours in town and you need an alternative scoop to Scoop. Well here's one for your list. Chin Chin is London's (and Europe) very first nitrogen ice cream parlour. Yes that's right, instead of freezer-stored ice cream, these guys make theirs by cooling with nitrogen vapours instead. The best part is that it happens right in front of your eyes… while you wait!
I first read about it on gourmet traveller (which is an awesome blog) and thought this whimsy looked a worthy gimmick. It's only £3.95 for a scoop afterall. And it is literally very cool. In fact so cool that safety glasses and gloves need be adorned by the ice cream makers to protect against cold burns, when they unload liquid nitrogen from the storage tank. This visually visceral concept is the brainchild of husband and wife team of Ahrash Akbari-Kalhur and wife Nyisha Weber, who have partly borrowed inspiration from the molecular journeymen of gastronomy in Adrià and Blumenthal. Actually it is worth reading this article by Victoria Maw about couple which appeared in the FT a couple of weeks ago.
So on to the wacky sciencety bits: Using nitrogen to make ice-cream is a much quicker route to freezing, since nitrogen boils off at a much lower temperature of -195.79 °C. Ahrash has theorised that in this short time, ice crystals are prevented from forming, and thus ensuring a smoother, denser, sexier resultant product, ergo happier customers. Q.E.D.
The shop looks like a mad scientists' lair, bringing back memories of Bill Nye, TV's preeminent science dude. I loved that show. Pyrex glass beakers, measuring cylinders (and maybe even pipettes!) to white lab coats are both decorative and practical; for a moment, I was zapped back into my uni lab making up another batch of anti-misting polymers, to splatter across the walls. As you'd expect, the ice cream is made to order, and part of the experience is watching the process occur right before your eyes.
That means snappy happy Kang, (if you don't want spoilers, don't scroll down!). There is something incredibly rewarding watching ice-cream being made in front of you. The stream of nitrogen fumes definitely adds a certain dramatic effect too.
Ok here goes…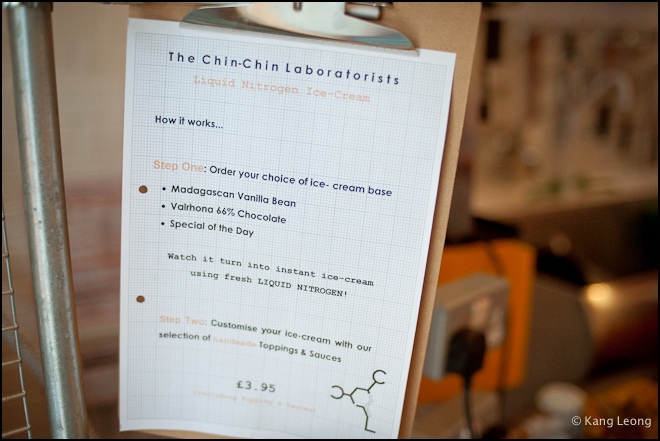 First we choose from one of the three available ice-creams. Vanilla and chocolate are the main stays, the 'special of the day' on my visit was lychee. More flavours will become available in the future, Ahrash mumbled dehydrated peanut butter as he explained the concept to me.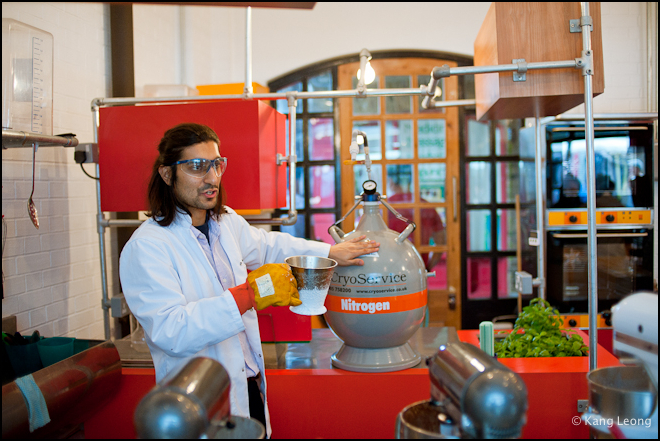 Goggles on. That's the liquid nitogen tank, note it is from CyroService, I wonder if Air Products sell them to 'private' citizens too..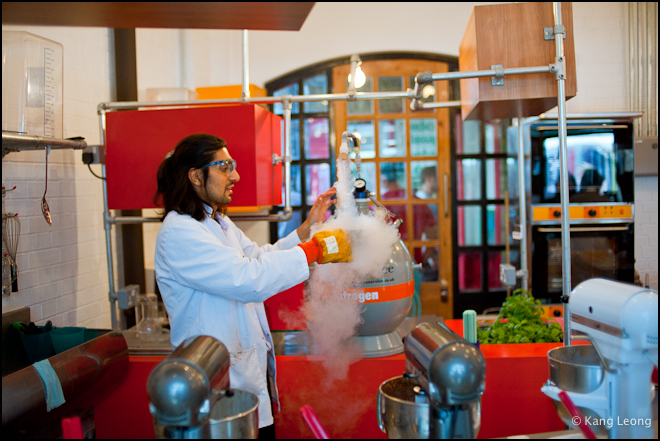 And we're off! Streaming liquid nitrogen…. the fumes – I assume – are of nitrogen boiling off, since -195.79 °C relative to 20 °C is alot warmer. It's like pouring out water when the ambient temperature is above 100°C – it would start boiling off straight away…. I think I'm a Chemical Engineer.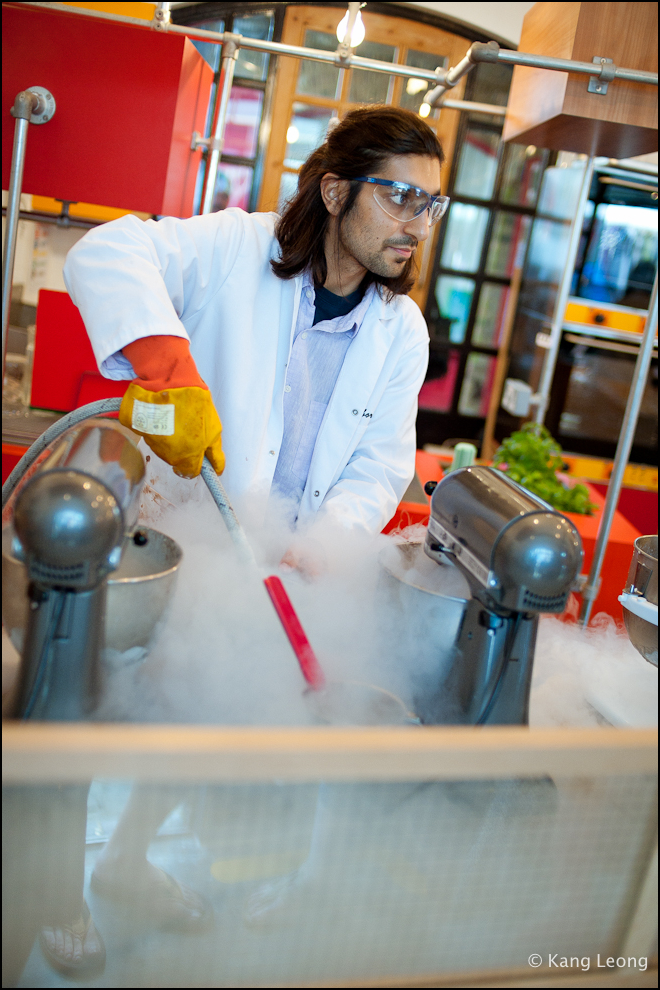 In goes the nitrogen to the mixer and within seconds….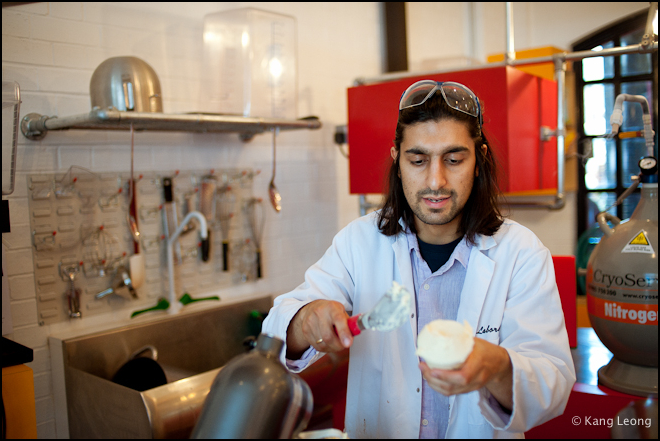 ….we have nitro-ice cream!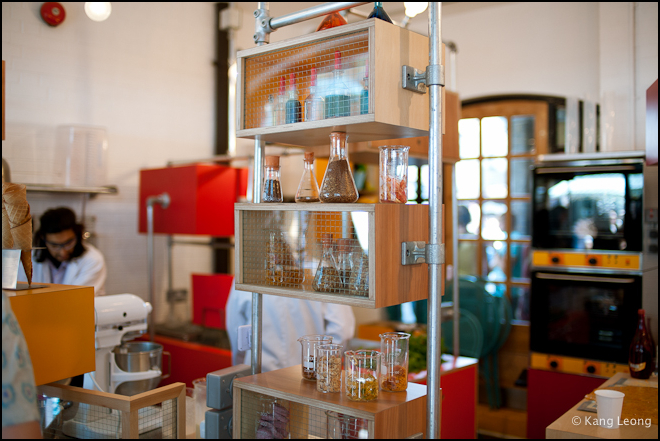 That's not where the magic ends however, we move on to the next counter to have our ice cream finished with various toppings. Each of the glass beakers holds something edible. There's a variety of nuts, candied sugars and such.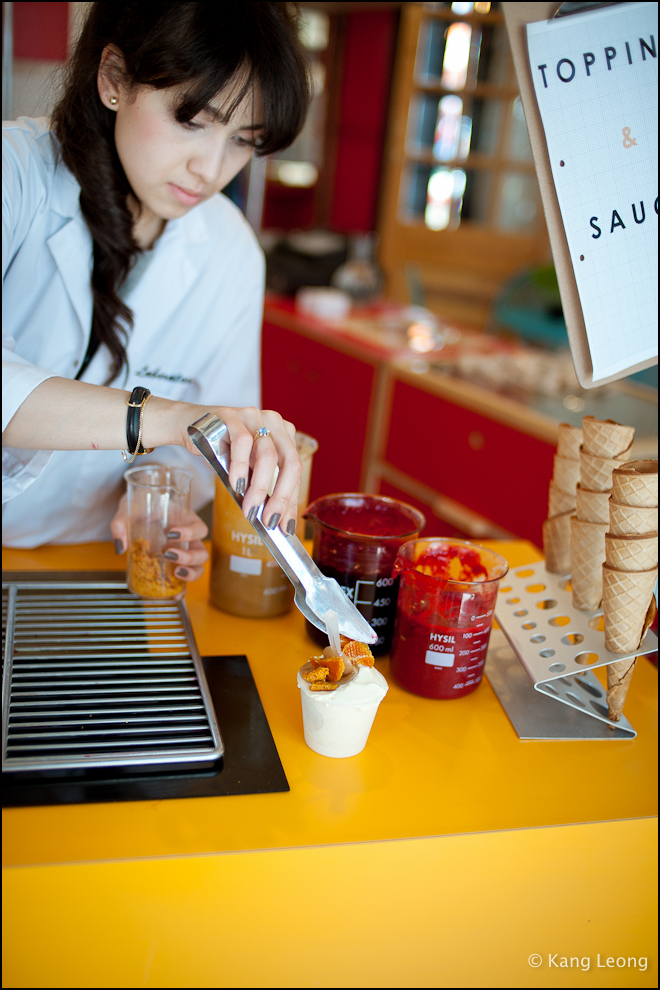 Here, Nyisha is meticulously garnishing my vanilla ice cream with a few well-positioned honeycomb pieces.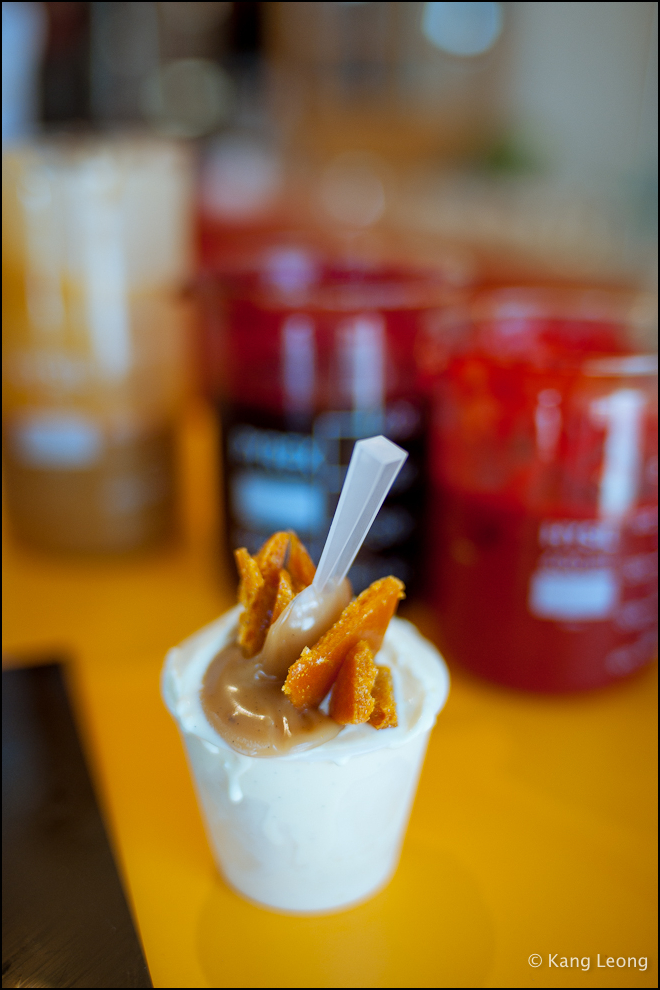 Vanilla ice cream with caramel sauce and honeycomb…. looks amazing right?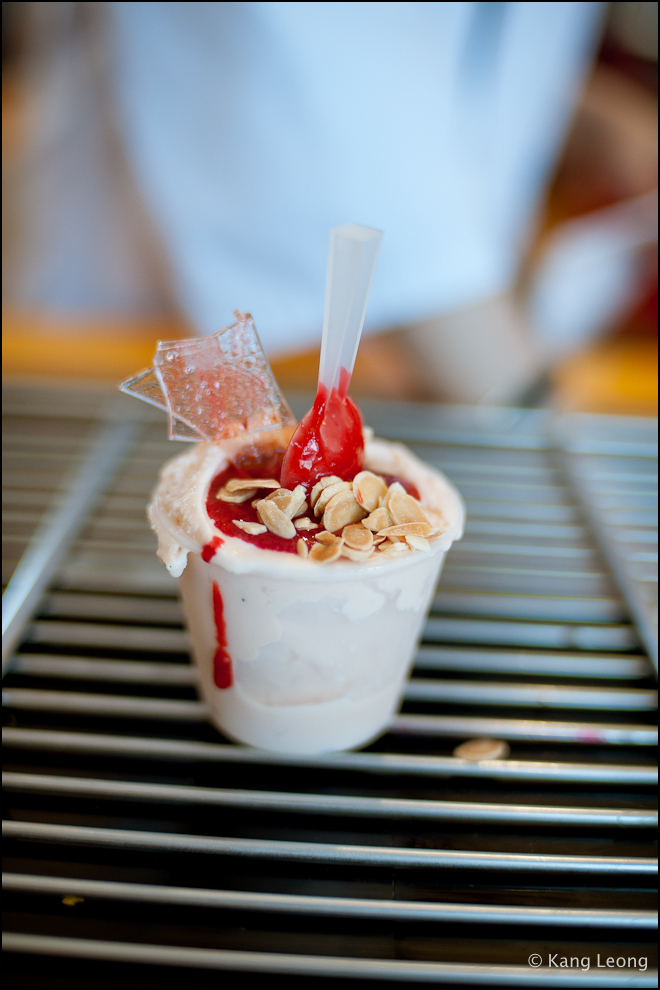 Lychee and rose water ice cream with rose crystals, toasted almonds and raspberry coulis. Check out the little translucent spoon!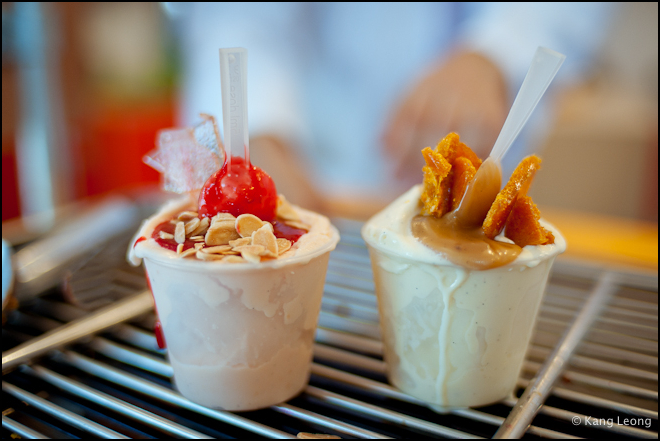 This has got to be one of the most handsome ice creams in town no? Chilled art…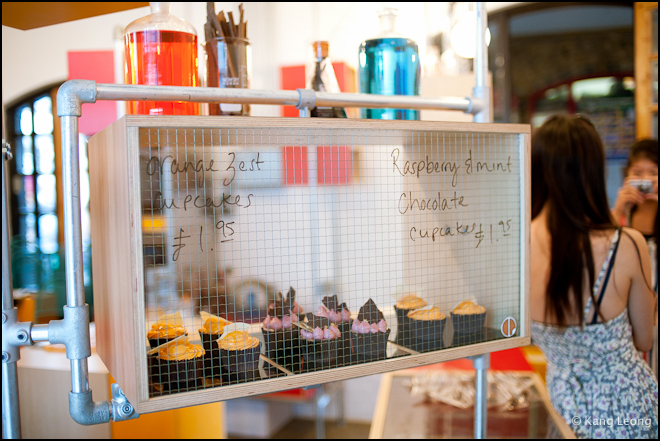 The futurist look about this place is so visually appealing. If you don't fancy the ice cream, they also do cupcakes. I didn't try one, but it looks great too.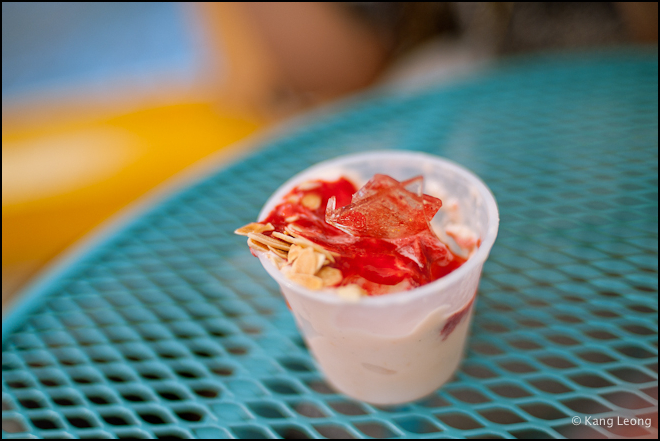 So the five million pound question, is it smoother, denser and sexier? I think so. The better half and I enjoyed it immensely. Hey this place is alot of fun, and I think it is worth a go, especially when summer is still around. The owner has pretty interesting ideas in the works for his chin chin lab, for one, he told me that he is collabing with other like-minded creatives to craft a fuller experience, possibly special events as well. He explained some kind of multi course meal idea with nitro blasted consommé and such….but I shouldn't fuel a rumour mill so we'll just have to wait and see what appears in the horizon. In the meantime, the future of ice cream has landed in Camden.
See even more photographs on my flickr stream.
The Gist of It
The Chin Chin Laboratorist
Nitro Ice Cream Parlour, £3.95.
49-50 Camden Lock Place
Tube: Camden
Did you enjoy reading this? You can subscribe to the Newsletter. Alternatively, you can subscribe to the RSS feed.
All text and photography on this blogpost is copyright and belongs to Kang Leong, LondonEater.com. If you repost this without my permission, bad things will happen. So please don't do it.
28th July 2010 Update: I am indebted to Michele for this, if you want to visit Chin Chin Labs, you need to note their opening times: " Just to save everyone else some trouble, I learned the hard way that Chin Chin is closed on Mondays! Unfortunately I couldn't find details on their website or anywhere. Also I believe I saw that their shop closes on weekdays at 6pm. So I'll probably be aiming for a journey back up over the weekend..
Also just a note on location – contrary to what Google Maps seems to show, the shop is not actually on the waterfront – it is just in that interior corridor, the one that starts at Gilgamesh and continues down alongside (but outside) the market area."