There is collective praise for this bare-bones Udon-ya, specialising in thick wheat flour noodles that hail from Shikoku Island in Japan. Slippery, stick-to-your-chopsticks elasticity is the result of a traditional kneading process, carried out on the premises, with wheat imported from the mother land. Affordable, quick, delicious and novel – the next over-subscribed sensation has arrived. Introducing Koya.
Luckily Mark and his better half had already secured a table for us, I was fashionably late as usual. When I arrived, I had to push my way past an army of hungry fans falling in line to make a short queue outside the blue noren which shielded the noodle shop. Inside, the barely furnished restaurant was rumbling with the chatter of hungry noodlers. On service, a bearded man who we assumed was owner John Devitt led a party of two waitresses, barely keeping up with customer turnover. The efficiency extended to its décor, cream walls and square tiles for flooring, so reminiscent of modest cafes in Asia.
There are more than 600 Udon restaurants of a similar vein in the Kagawa prefecture (formerly the Sanuki province) of Southern Japan where Sanuki udon originates. Koya's zen-like objective is to import this experience of teuchi style (hand-made) Sanuki udon to the Big Smoke. This Udon-ya has barely been open for a month, but already word of mouth regarding John Devitt's lovely addition to Soho has spread like wild fire. In fact, by the time you read this customary blog post, you would most likely have already tried the slurpy noodles yourself. The secret to its success due in part to the mythology behind the in-house kneading techniques. The udon is freshly made on-site daily. John has been leaking information to the press regarding the methods he has in place which includes kneading by foot for a number of hours, albeit covered in plastic canvas to quell hygienic concerns. I did a quick search for this aforementioned process, and had found a recipe for making udon, step 1 (after prepping the wheat flour mix) is known as ashibumi or 'stepping on the dough'. I imagine similar steps would be undertaken by John and his team at Koya to create their prized product.
Devitt – a former chef at Zafferano – employs two key pointmen in his kitchen, Shuko Oda and Junya Yamasaki, both of whom have had stints in Kunitoraya in Paris, which unsurprisingly also specialises in Udon.
The menu's only noodle offering is udon with a choice of it being served hot in a hot broth (Atsu-Atsu); cold in hot (Hiya-Atsu) or cold in cold (Hiya-Hiya). Consistent with the custom of having warm noodles for winter, and cool noodles for hot summers. Hiya! Accompanying the noodles are a selection of 'Donburi' – rice + meat/veg bowl – as well as a number of small dishes such as tsukemono (home made pickle), Kakuni (pork belly) and Umeboshi (pickled plum).
We kicked things off at London's premier Udon-ya with a single Onsen Tamago (£2).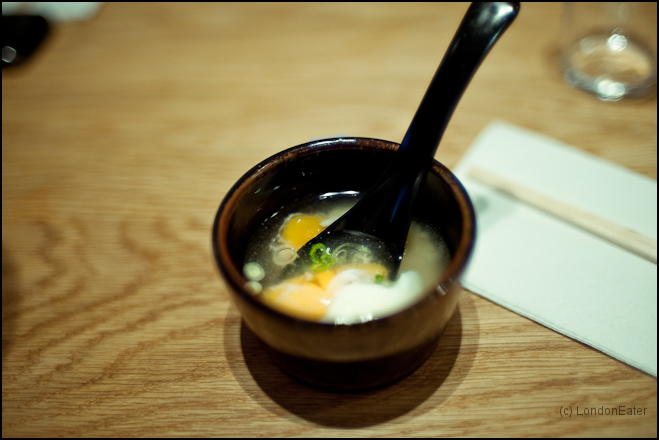 I poked into the delicately cooked hot spring egg to reveal a half custard-like yolk with the other half turned into a viscous golden liquid that spilled onto the cold dashi soup it was served with. I really enjoyed the velvety texture of the softly egg. Boiled in their own shells at a low heat of around 70C, this gave the egg-whites a cloud-like feel, and the yolk, a flocculent texture.
Kakuni, Braised Pork Belly in Cider (£5.50)
Juicily flossy pork belly cooked in cider gave it a sweet, effervescent quality, though I found that the sogginess damped the flavours slightly.
Cod Tempura £5.50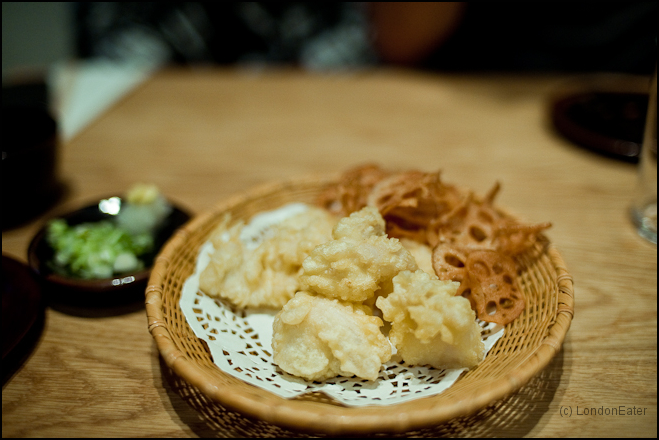 The last of the small dishes were exquisitely battered pieces of cod, a decidedly light crunch that hid silken flakes of lively cod pieces. The juicy fish nuggets were accompanied by thinly sliced deep-fried lotus-root chips, sweet and salty. A magnificent primer for the main event to come.
Hiya-Atsu, Hiyashi Buta Miso. Cold udon with hot miso pickled pork soup. (£7.50)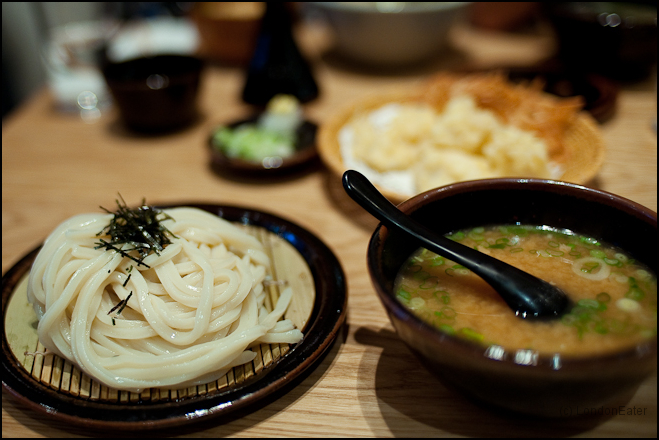 The cold udon was presented on a zaru (bamboo basket) , with sprinklings of chopped nori (dried seaweed). I marvelled at the footmanship by picking up long strands of udon with my chopsticks to stretch it as far as my outstretched shoulder would allow. The noodles glistened under the lights, had wonderful elasticity, rubbery to touch, slightly sticky to feel and the friction it created between my lips as I inhaled them made satisfactory zippy noises. The rubbery texture had also reminded me of sago pearls used in bubble milk tea. The noodles were in full koshi glory when cold, koshi being the Japanese term to describe the evenly sticky, spongy bounce of noodles, analogous to being al dente.
Their base stock, the dashi is made with using imported katsuo-arabushi (Fermented and dried Japanese skipjack tuna), souda-bushi (another type of smoked and dried fish) and iriko (dried anchovy) and boy, was it strong. Minced pork pieces sat at the bottom of the intensely flavoured dashi base – an extreme hit of salt on my palate, perhaps a tad too salty to have on its own, but with the noodles – it was godsend, bringing about a bouquet of deep, deep flavours to the noodles. Yummy. I should add that the pork dashi was the perfect dip for the cod tempura too. I scooped some of the udon into the soup, to see how and if time in the soup would change its texture. It did, how interesting. As I progressively slurped the noodles, I noticed how the 'koshi-ness' changed from sticky spongy to slippery spongy as the juices of the soup seeped into the noodles. After perhaps a couple of minutes in the soup, it hit just the right texture and consistency. The noodles didn't sit in the hot soup long enough for them to become soggy. I didn't allow it. It was that good.
One bowl of noodles is roughly £8, but you could easily have two or perhaps share a third one because the udon are excellent. There is something very strangely addictive about chewing on sticky, elastic noodles that goes far beyond words can describe. I suppose it's akin to pizza, or a burrito or I guess a very good Spag-Bol. I could easily do this for lunch every day. Indeed if you do a swift check on twitter during lunch time, you will likely find a good proportion of the London foodie republic doing exactly that. After all, this explains the popularity of very good hand-made noodles being consumed over lunch hour across much of Asia. Simple pleasures.
Affordable, quick, deliciously springy noodles, some say a 'healthy' alternative and a novelty factor to boot, what's not to like? Now get your grease-laden arse down there now right now and make lots of slurping sounds when inhaling your noodles, it's only etiquette.
The Gist of It
Koya official site
£12pp Japanese, Udon-ya.
49 Frith St W1D 4SG
Tel : 020 7434 4463
Tube : Leicester Square
Gospel Elsewhere: Marina for Metro ; Charmaine for Time Out London ; Foreignmuck on Chowhound ; Will Eat for Money
Did you enjoy reading this? You can subscribe to the Newsletter. Alternatively, you can subscribe to the RSS feed. Free, free free.