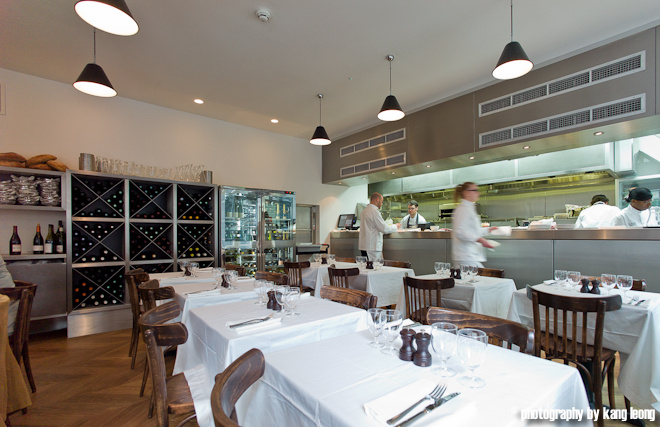 At last. After months and years of hearsay and delay, Fergus Henderson and Trevor Gulliver's newest project in the city is finally ready for you and I to throw our cash at it. The hotel occupies enviably concise address of Number One Leicester Square, where it was once Manzi's seafood restaurant (which incidentally also had a hotel above it) that was, and I quote, as I lift this directly from St John Hotel's website –
Like most London folk Fergus and Trevor have memories of Manzi's through the years and if it was to have a new life it seemed right that St. John should be the ones to do it. Through the years the building had developed its own extensions, corners and idiosyncracies, the truth was that it needed to be completely rebuilt and this is what has been done.
As you know, I love all the Henderson restaurants. From the bare-bones original that started it all 17 years ago in a former smokehouse, St John in Smithfield, to the just bones Bread & Wine in Liverpool Street, and of course, Margot Henderson's delightful (and I hope soon to be rescued) Canteen based inside the creative hub in Rochelle School at Arnold Circus. Pioneers in making offal sexy to plate up, and pioneers in the zen of the minimalistic approach to dining. And now the minimalistic approach to folded bed linen.
This really is a half-arsed write-up because, I didn't stay in one of the fifteen rooms at St John Hotel, observing the St John ethos, since I did not require a post-supper room, as it was a light lunch (by St John standards) , with fellow glutton Mark.
We did take a drink at the 1st floor bar, and whilst navigating the narrow building, it felt a little like navigating a cruise ship. Perhaps it were the porthole windows present ,seemingly, on every door. I'd imagine that Fergus the Architect, had a hand in redesigning the former Manzi's. The famously efficient St John ambiance extends throughout the entire building. Clean, white lines run everywhere throughout the hotel.
That's it, close your eyes for a moment, and try to recall your last experience of St John… the hotel restaurant is near enough a carbon copy of the original, save for that it is in the middle of Soho. I suppose it is apt that Fergus has returned to this part of town, after all, he did once operate the dining room (at what is now Polpetto) at the French House in a previous century.
The ground floor restaurant looks a tad smaller than Bread & Wine, and the white tablecloths, exposed steel kitchen, equally pristinely presented waiters, wooden flooring, wooden chairs and the now famous sourdough are as consistently present, and similar to the rest of the eateries that bear the St John brand.
So it was little surprise to find the same waste-not menu, typed out on a sheet on A4, with the day's date, indicating an ever changing menu, just like the other St Johns.
Breakfast, elevenses, lunch and supper are now joined by little bun moments, room service, and the kitchen opens shop at 7 in the morning, and stays that way pretty much into the wee hours. Where I believe it will have the honour of joining the Chinese restaurants in the area to serve hot food till two in the morning.
No roast bone marrow on this Sunday menu however. At least not yet.
Pig Skin, £3.50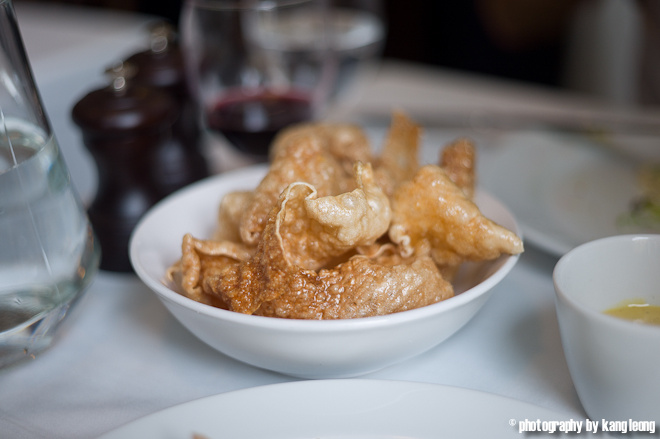 It wasn't on the menu, but Mark spied Fergus and his buddies trying out this dish still in its experimental stages, as he took his drink at the bar, and he became so enchanted with it, he was determined to try it. "Just like Quavers" "Dehydrated first" "Let me ask the chef if we are allowed to serve you this" , after receiving three cautions, our waiter gleefully handed a bowl of them. We could still hear them crackle and pop, still piping hot from being fried. The sheer airy lightness was eerily like quavers, and perhaps a little like Chinese prawn crackers too. It was fun, and a nice alternative to the excellent basket of St John's sourdough.
Pigs Head, Rabbit, Radishes & Frisee Endive £7.50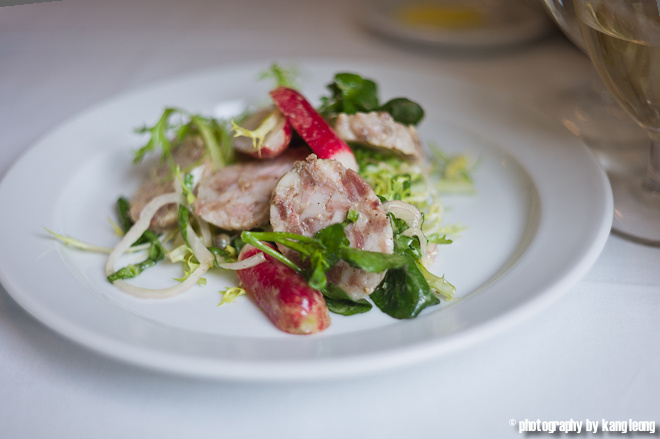 Salty, savoury, bouncy, seasoned, a hint of brawn and a hint of floss, a light and delightful terrine, with an efficient mustard spike salad, that was classic St John. It was as expected, fresh and tasted just right.
Brown Shrimp, Artichoke & Egg, £9.00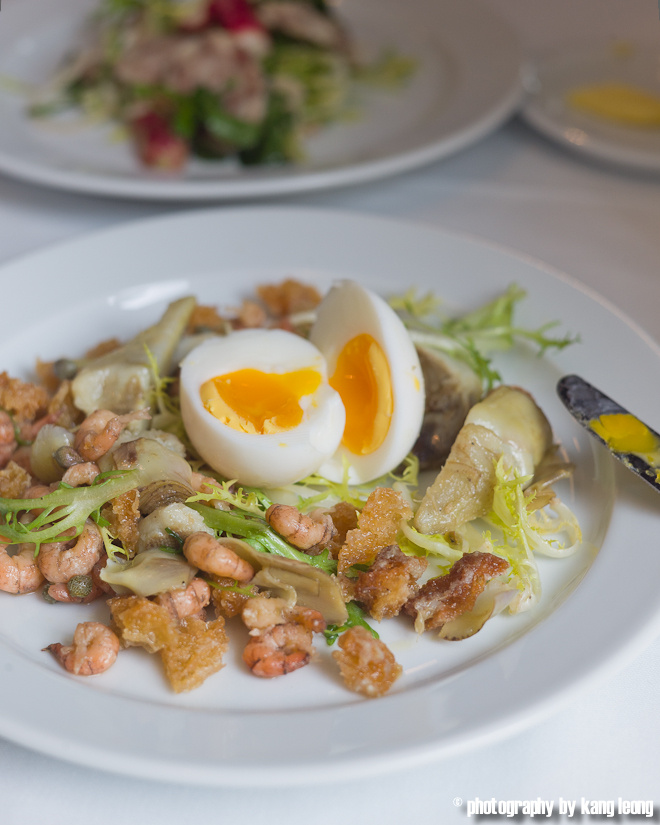 With bits of crushed crostini, a little sandy, capery, salty, fresh and also refreshingly efficient. Yet another elegant classic that had St John written all across it.
Bacon & Snails, £19.00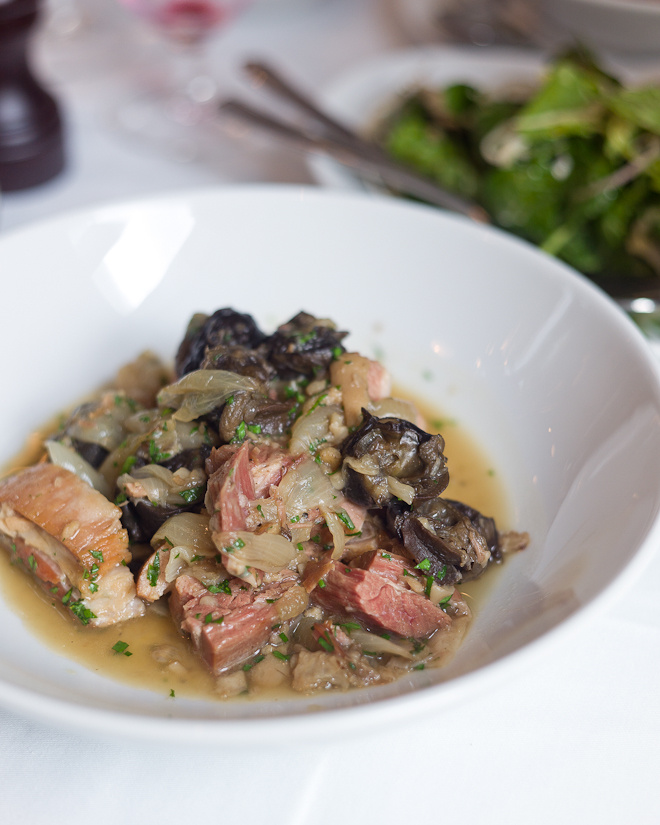 The sort of controlled mess-hall grub, a meal reduced to essentials, the brilliance of the St John style being it's utter simplicity. Knobs of intensely flavoured bacon, with shallots and a handful of snails, with its juices making a light broth; I dip the bread into the sauce. I like the hearty, home-cooked feeling I receive afterward.
Tripe & Onions, £16.50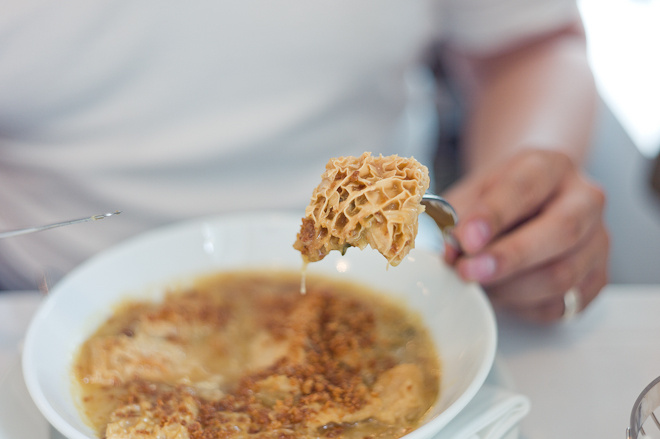 A St John meal would be incomplete without ordering at least one dish of offal. As expected the tripe was not one for the faint palate, smothery, rich, muscular and a smell strong enough that it was bordering offensive territory. Mark took down all but one last square of tripe. I commend him.
Blood Orange Jelly, £7.00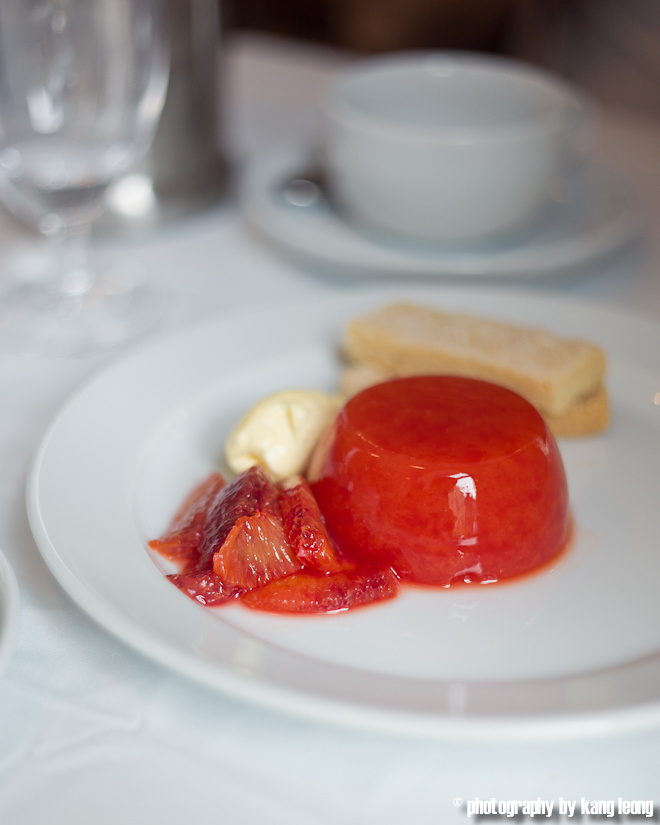 In the end, we ended the meal with something playful, a zestful, entirely wobbly blood orange jelly, served with shortbread, clotted cream and shards of blood orange.
We were a little surprised at the price, £109.24 plus coffee and two glasses of wine, but we were both very satisfied. We came expecting a St John meal, and it was exactly what we got.
All the minimal, muscular magic in the nose to tail cooking is retained. The full St John experience had been successfully transposed to Chinatown and it was alive, kicking and very delicious. Tom Harris (the former sous chef at St John) is doing just fine, even if it was only their second official day of service.
If you google the Henderson's track record in hospitality, you would find snippets and of love letters written about the true London restaurateurs who had burst on to the scene with the French House. A time when food lovers spread the good word about their favourite haunts the old fashion way, by mouth, and probably by way of obscure internet forums. What it must have felt like to be a witness during those times. Days when MPW hadn't yet throw in the apron, and PK was still rocking the trotters at Tante Claire. I suppose in many ways, St John Hotel is testimony of an enduring legacy. Proof that the once ground-breaking concept of nose to tail has flourished, succeeded and now, universally respected. No longer is it a mere fascination to a creative crowd, this is a bona fide institution that has grown immensely in the last two decades. Today, they exert (at least to the observer) a total influence on their supply chain, with the new St John bakery and also in their support of wine makers by selling their precious elixirs as St John Wines. As a fan, it is nice to see that success hasn't changed the ever winning nose to tail philosophy. The dead-pan, precise and efficient cooking is still ever enjoyable.
If you ever feel like elegantly minimal British cooking and are not afraid of heavy, meaty and potential bits of offal, I (still) wholeheartedly recommend giving St John a go.
The Gist of It
St John Hotel
Made in London, £50pp
1 Leicester St WC2H 7BL
Tel: +44 (0) 203 301 8069
Tube: Leicester Square
More photos on my flickr page.
Out there: Grumbling Gourmet
Did you enjoy reading this? You can subscribe to the Newsletter. Alternatively, you cansubscribe to the RSS feed.