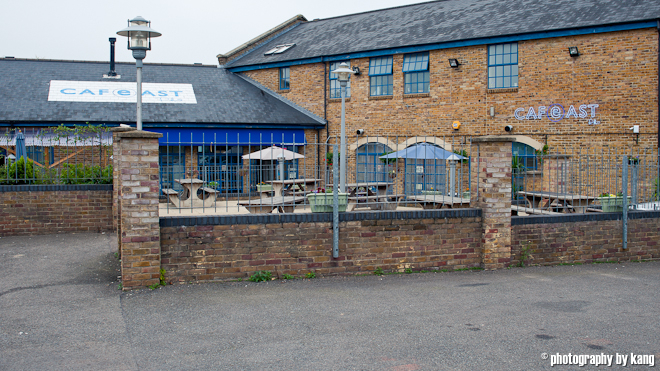 It was the first time we rode the 'new' overground trains all the way from North to the nether regions of South East London. It's a whole other world out here, bridges, apartment blocks, round-abouts and eerie silence. Arguably the best pho in town is said to be found Cafe East, housed in a brick laden warehouse situated in a 'Leisure Park' , which I imagine, are where starting investment banking analysts hang out, on Sundays.
OK… so, there are two things to remember when you eventually make your visit, one: Cafe East is cash only and two: if you see a blue side door that is locked, you need to walk all the way around it till you see the al fresco garden.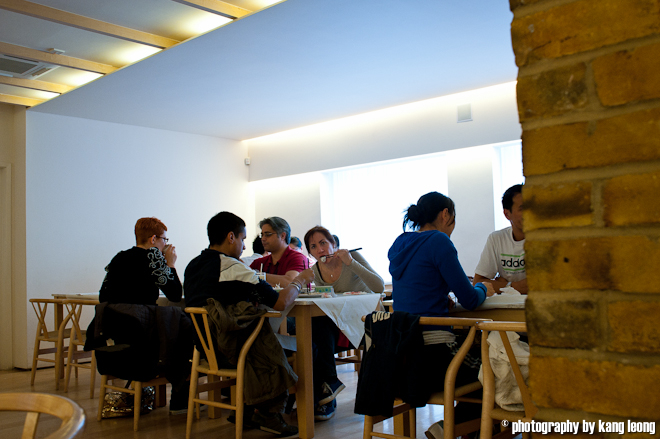 Inside, the plainly decor feels like a permanent marquee, with an abundance of innocent, white light bouncing off those white paint walls. For some reason, this place reminds me very much of Asia, and in particular one of my dad's friend's restaurants. He had decided to convert his garage (a large one) in his double storey house into a restaurant, and if memory serves, he went to Hong Kong to employ a hotshot chef to do the food. Pretty good ho fun.
Che ba mau, £3.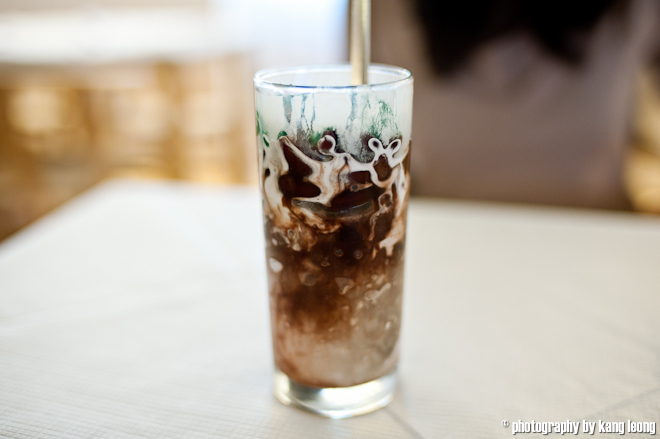 Or the special three-coloured drink, with red kidney bean, green jelly and coconut cream over crushed ice. I'm sure you are well acquainted with this liquid genius by now, most Viet restaurants offer this, the Cafe East version is brilliant. It must be some super suped up syrup used, as it was an unadulterated sugar rush to the brain. The tapioca green jelly is a revelation here, squidgy like an elastic rubberband. Boing..! We ordered this twice.
Cha Gio, £4.30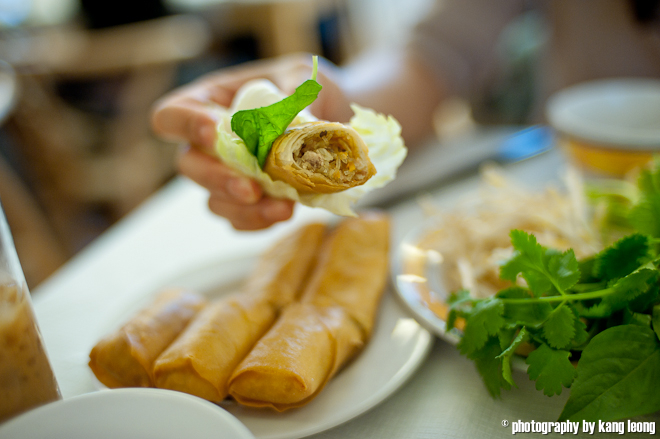 Straight up fried spring rolls served with their very own secret fish sauce on the side. Yeah great.
Banh Cuon, £4.80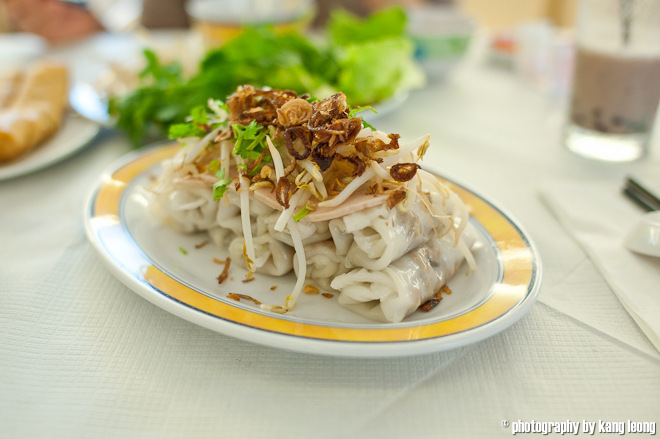 This is the must-order dish. Vietnamese steamed rice pastry filled with savoury Chinese mushroom and minced pork. Topped with meat loaf, poached bean sprouts and shallots and also served with their secret fish sauce.
The rice pastry is really well made, vibrantly rubbery and squidgy, analogous to great cheung-fun. The mince pork is bland by itself, but dip it into their secret sauce, and it brings about all kinds of colourful flavours. Ideal and appetising start.
Pho Tai Chin, £6.50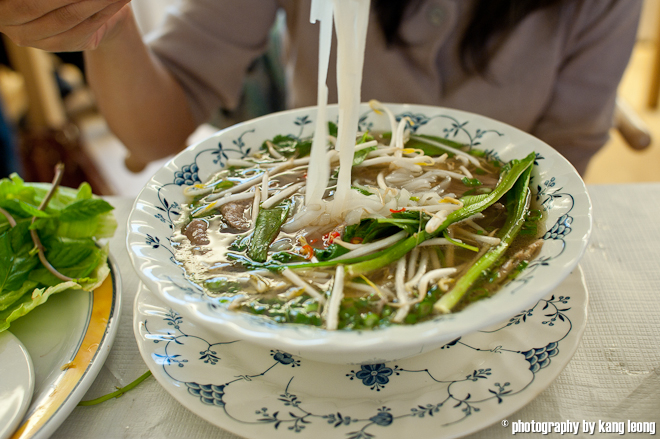 Right then, this is the main reason you come to Cafe East – for the pho. The better half ordered 'well-done beef and rare beef' with flat rice noodles. The strength – like the banh cuon – are those squidgy and spongy noodles, which I am supposing, are all made in-house. They taste fresh and lively, making for a joyful slurping session. Beef were cut razor thin and were tremendously tender, and on our return, we'll do (and I recommend you order) the Pho Tai – noodle soup with only rare beef – for a fuller experience, ie, watching rare beef slowly cook itself in the broth. Speaking of which, the soup was a case of zest and mild chilli (we asked for mild I think) with well-balanced, if subtle flavour.
Personally, I think the Viet Grill soup base might be a touch better, but overall, I think the missus enjoyed the Cafe East pho the most. She loves soupy things by the way, and was really impressed with this. It was certifiably delish, and rightly so, deserves the attention it has enjoyed thus far.
Com Suon Bi Cha, £7.50.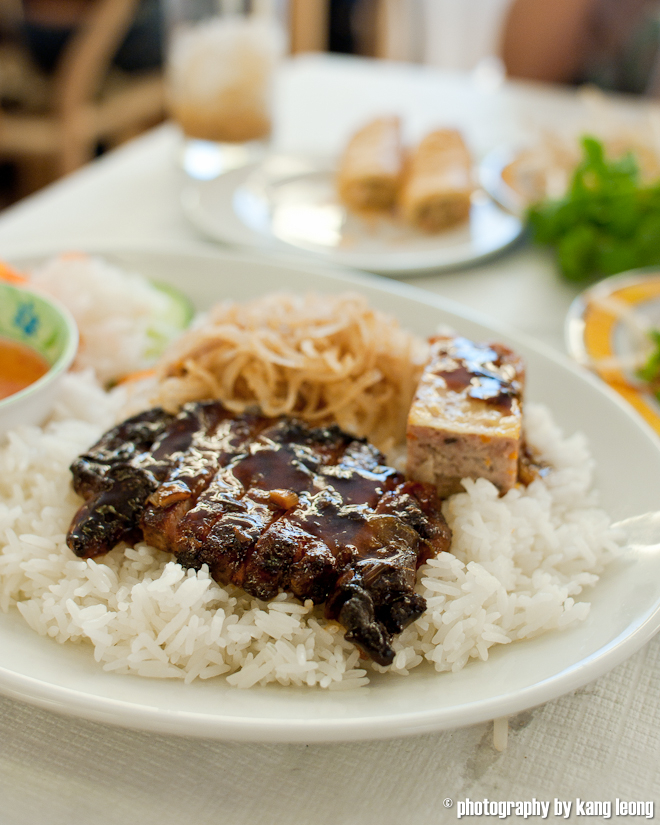 In English – Vietnamese Lemongrass pork chop, meat pie and shredded pork skin served with boiled rice and Café East fish sauce on the side.
And I prefer dollops of meat on rice.
Much less successful, I'm afraid. Biting into the pork chop was not disimilar to biting into lumps of of charcoal, the meat pie was pretty good, like a meat loaf, but on the whole, just disappointing. It is as if the owner has deliberately turned out average rice dishes to emphasise the superiority of their pho.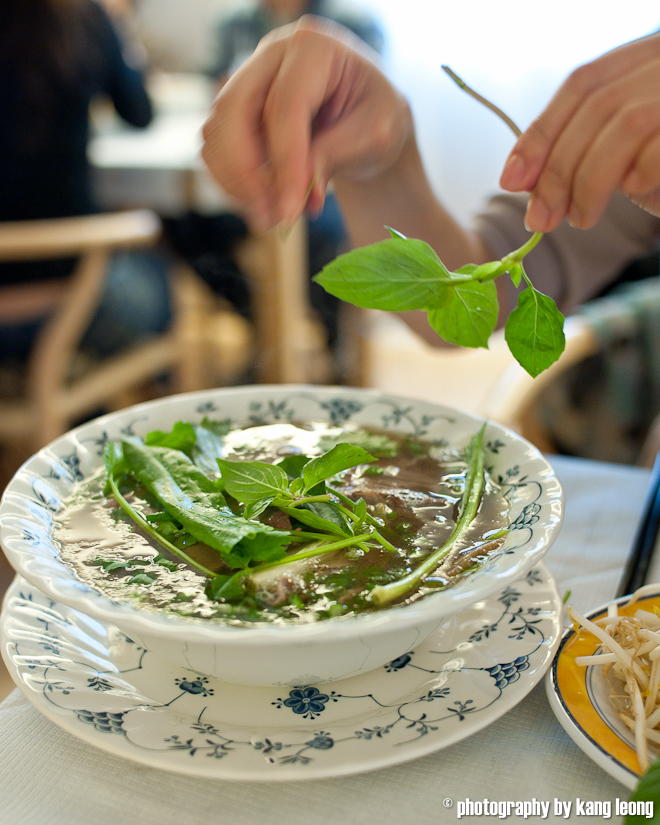 We paid around £30, assuredly, bottomline isn't an issue with Vietnamese restaurants in London. Anything with rice noodles/pastry at Cafe East is brilliant, in my opinion, because their rice flour recipe produces benchmark ho fun and I feel that contributes to the excellent pho. The rice dishes pale in comparison. We really like it here, if not for it being so far, we would make more frequent return visits. However, as it is, I think Cafe East is worth the journey, plus you get to ride the rather plush overground trains to get there. Phoking brilliant.
The Gist.
Cafe East
Vietnamese, £15pp
100 Redriff Road
Surrey Quays Leisure Park SE16 7LH
Telephone: 020 7252 1212
Underground : Surrey Quay
More pho: Catty didn't eat Pho, Tehbus ate vermicelli ; The boy who ate the world, ate pho ; Wild Boar ate the pho, too. ; TimeOut ate it all.
Did you enjoy reading this? You can subscribe to the Newsletter. Alternatively, you can subscribe to the RSS feed.