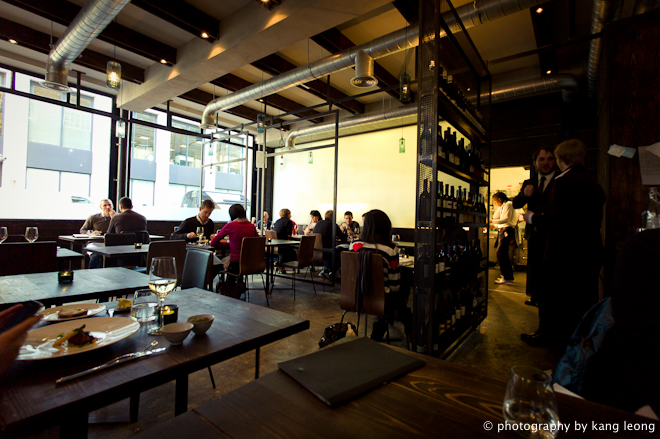 The man is almost too beautiful to be a chef.
As we ended the meal, I told our waiter to give our compliments to him. "Oh you know Ollie?" he said. I said "No, but I read about him last night, five star game changer to paraphrase Fay, and we are tempted to agree.". Shortly after, the chef came over to greet us. He seemed a little nervous meeting paying customers but he was clearly enthusiastic with his new restaurant. He had a blue pinstriped butcher's apron around him, but wore a thin white loosely hanging tee underneath, giving us a glimpse of his his well-endowned (and furry) man-chest. No heavily threaded chef robes here. I noted his well manicured beard. "I heard somebody knows my first name, so I thought I'd come over to say hello." he said.
His name is Ollie Dabbous (phonetically Dabboo). Remember that. You'll be hearing a lot more of him from now on. He is but one of the talents which represent the future of British cooking. Ollie started as a protege at Raymond Blanc's Le Manoir before travelling around the world to stint in the kitchens of some of the most written about chefs in Europe. Like Andoni Luis Aduriz, Claude Bosi, Pierre Gagnaire, Heston B, Rene R, Wylie Dufresne, before moving to lead Agnar Sverisson's under-appreciated Texture. (I hear what you're saying – another young chef's CV that can match these glittery restaurants is Ben Spalding. And maybe the Young Turks fellas.)
That was about two years ago, since then he's done Loft Project pop-ups and been trying to secure enough funding to get his solo project off the ground, but now he has finally done it. Simply christened Dabbous. Can we say his cooking is French-Icelandic? How about North-West European? Let's say it's French-Icelandic.
I'd have to agree with Fay about Ollie's cooking being influenced by Le Fooding movement. All these young guys seem to be doing it. A style of cooking that is artsy, liberated and inversely-pretentious. I wouldn't say modern or even post-modern nor is it breakthrough or even new, but perhaps just a differnt way of eating. My personal view is that Le Fooding is the culinary parallel of the Surrealist movement of the 20s-30s. You know, Cartier-Bresson and Dali, the decoupling of high art and high society, etc.
I think restaurants are going through a period of growing pains now, and some kind of post-fine diner is forming (if it's not already happened) where something between a bistro and a traditional table-clothed starred restaurant is emerging. Food may be bastardised re-interpretations of what the chef has experienced in his own travels. Whatever right, what do I know, I'm just an idiot blogger. Trying to describe influences is moot unless we actually sit down to ask the chef where his ideas come from. But one thing is for sure: Bistronomy is very cool, it's a way of eating/cooking that has already permeated European food culture.
Let's leave ambiance to the last leg of this post, and go straight to the menu. ALC prices are competitively, starters at £5-7 , mains for £11-14 and puds at £6, the 6 course taster is £49. But you'll probably be interested in their 4 course set lunch for £24. By inspection, it seems like the set is a subset of the ALC, rather than a menu comprised of cheaper ingredients.
Bread. Freshly baked and Warm.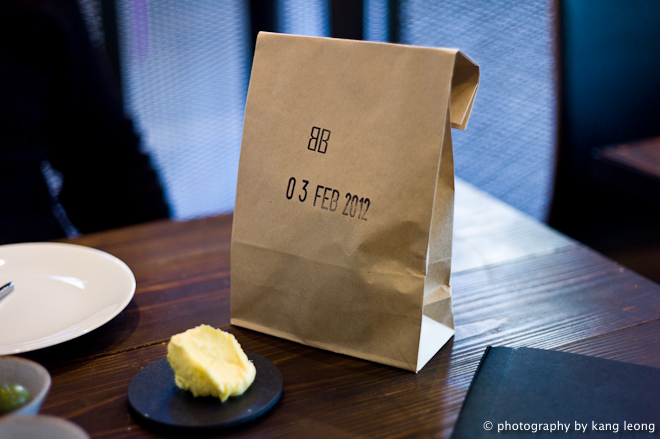 And bagged and dated too to keep it so. A charming start to the meal, setting the tone for the laid-back service.
I went for Friday lunch with Mr Mystery (who cannot be named for legal reasons, but really he has eaten with me for most of my review meals) on the 3rd of Feb, at which point, the restaurant had only been opened for exactly 2 weeks. Ollie was in the kitchen, and we decided to do four courses each, one from the set and the other plucked from the ALC.
Starters.
Beef tartar with cigar oil, whisky and rye (Set).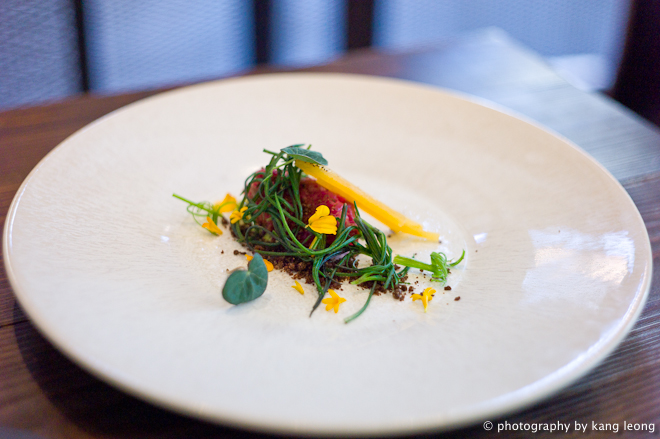 Well would you look at that. I've never seen a healthier looking tartare. Quail egg replaced by tiny gold coloured petals, capers by monks beard and powdered rye for crisp bread. Was it good? No, it was better, it was bloody fantastic. Mysterious thought it was simply illuminating.
I tried a spoonful and thought the same, and wanted one for myself. The tartare was chopped to a mushy mince, it tasted raw and pure but also floral and herby. It did remind me of negi-toro (bashed tuna belly), and so was more Japanese than French, or perhaps more Scandinavian than Japanese actually. Only the slightest hint of smoke, a little minty and delicate aftertaste of fruit & sugar. Yeah, we thought it was fucking great, it's absolutely reversed-engineered tartare. (Sorry Thomas, turns out I can't help myself after all.)
Coddled free range hen egg with woodland mushrooms and smoked butter, £7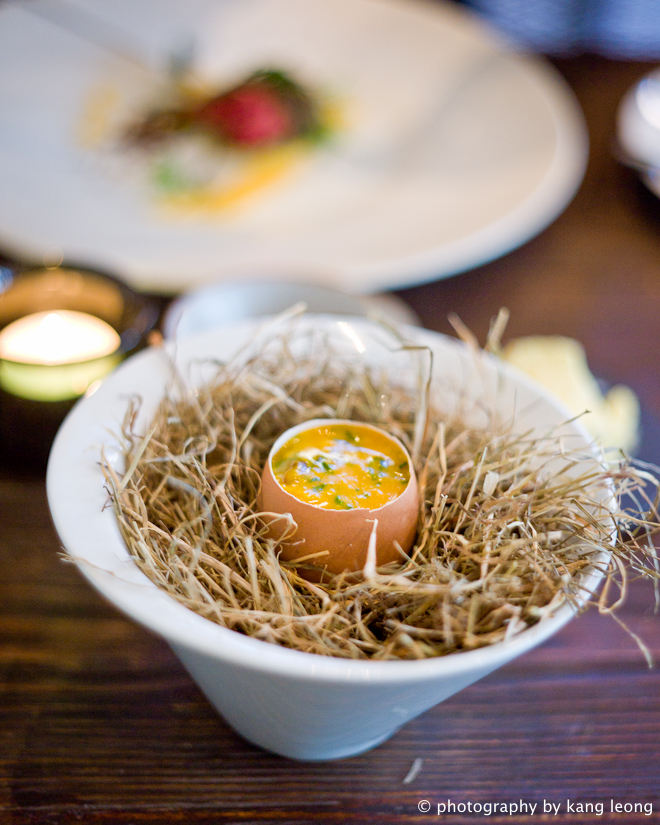 Fay and Guy have already dedicated a couple of column inches to this dish, turning it into the poster-dish for the restaurant. It looks the part yes? Whisked egg served in its own shell, coddled in a bowl of hay. Full marks for presentation. What kind of redolence are you evoking? Are you standing over a hen's nest with a silver spoon ready to crack an egg (still warm from her bum) open? You sicko, the hen is behind you.
Look at that huh, ain't it great? The textures were amazing, a golden-hued viscous custard cream consistency. A real visual delight, served warm, my palate coddled on to every spoonful of before it was forced down the rest of my system. Breakfast in a shell? It could even do with some soldiers maybe. It reminded me a little of the reverse of Atherton's fluidised english breakfast, but it's much less pretentious, and is a more superior dish altogether.
This dish is a talented chef flexing those cooking muscles. It's the best scrambled eggs & mushrooms I'd ever had. An organic, return to nature kind of feeling. And it's refreshing that this isn't sous-vided, slow cooked or an onsen egg. I loved it to bits, but Mark loved it more than I did. Opps.
Fish
Grilled monkfish cheeks, squid ink, virgin rapeseed oil mayonnaise, Jerusalem artichoke (Set)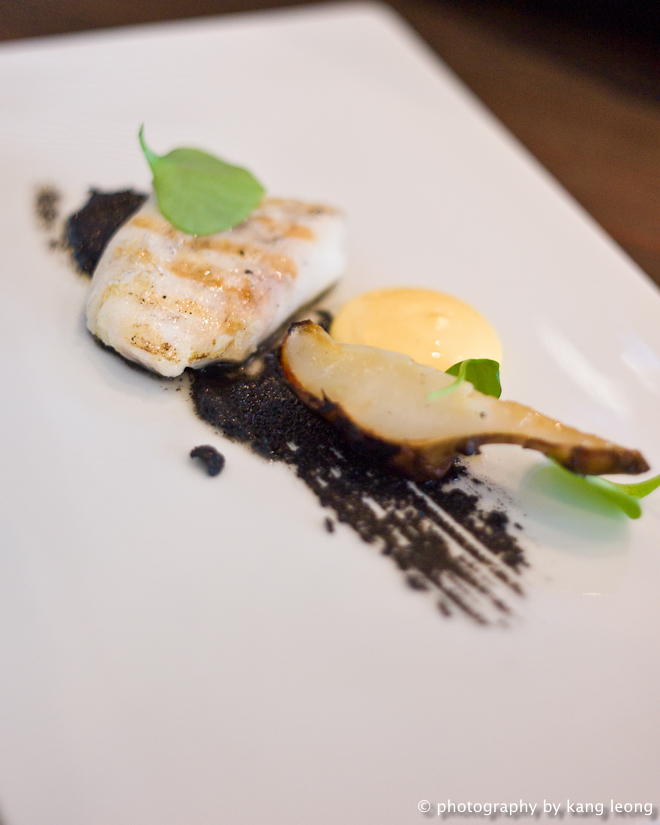 Look at that glistening translucency right under the grill lines: That there is the epitome of perfectly executed undercooking-tethering-on-the-edge-of-being-cooked technique. On the surface, its a simple construct, but it's four high impact elements which are designed to work toward high impact unified umami. Which they do by the way. Squid-inked flavoured monk fish (serious), with perfect slithery textures (approaching sous-videness). A side of simply roasted (maybe) and richly flavoured Jerusalem Artichokes provided texture, a perfectly whippy for seasoning. Considering the difficulty of monkfish, I thought this illustrated how good the cooking really was. Fundamentals, something often sacrificed for creativity is ever present here.
And this is part of a £24 four course set – Amazing. What do you think? Wouldn't be out of place on a Le Dauphin menu at all yes?
Roast king crab with warm buttermilk and hispi cabbage, £12.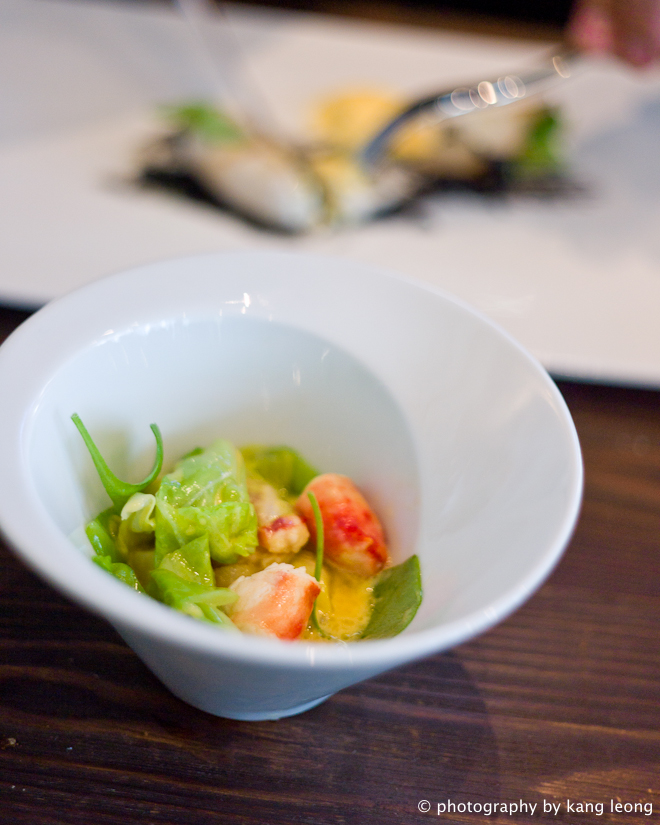 This blew me eight ways to a castle full of fire breathing dragons who eat lobsters for breakfast. Again, let's start with the superb texture of the cubes of crab claws – absolutely spot-on, remarkably tender, fresh, juicy, as perfect as crab can be cooked. How this kind of texture was achieved by roasting was beyond me. Deus Ex Machina perhaps, the unseen force that guides the chef's hand may be beyond human comprehension.
The buttermilk sauce was even better. Textures were somewhere between a milkshake and olive oil. Flavours, a little tangy, a little like sour cream, a little like milk and a little bit like regurgitated hollandaise, I know this seems like a strange description, but really it was absolutely brilliant. This really is bistronomy done right. That buttermilk coating for the crab was nothing short of sheer genius. Ollie didn't just set the lake on fire, he dropped a nuked in there and everything went thermo-nuclear.
Meat
Braised veal cheek with spelt, mixed alliums, and a light St. Gall broth , £11.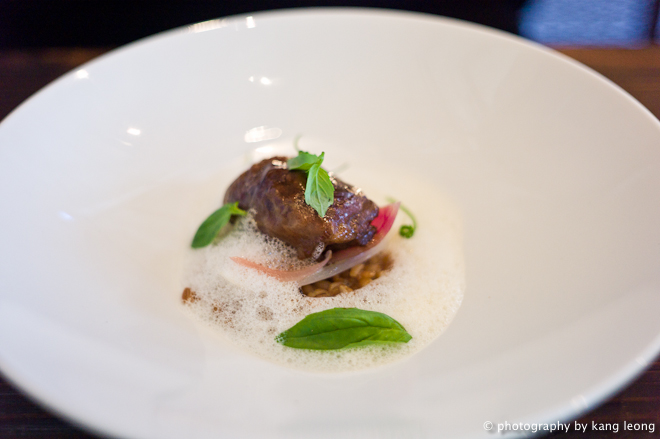 I can see your eyes rolling – yeah it's foam but who cares, it tastes great! In fact, the veal cheek was so good, Mark gobbled it all up and then apologised before I had a chance to dip my spoon in. I did try the rest of the innocent foam with the wheat: Calming, pure, Nordic-like, kind of healthy.
Barbecued iberico pork, savoury acorn praline, turnip tops, homemade apple vinegar, £14.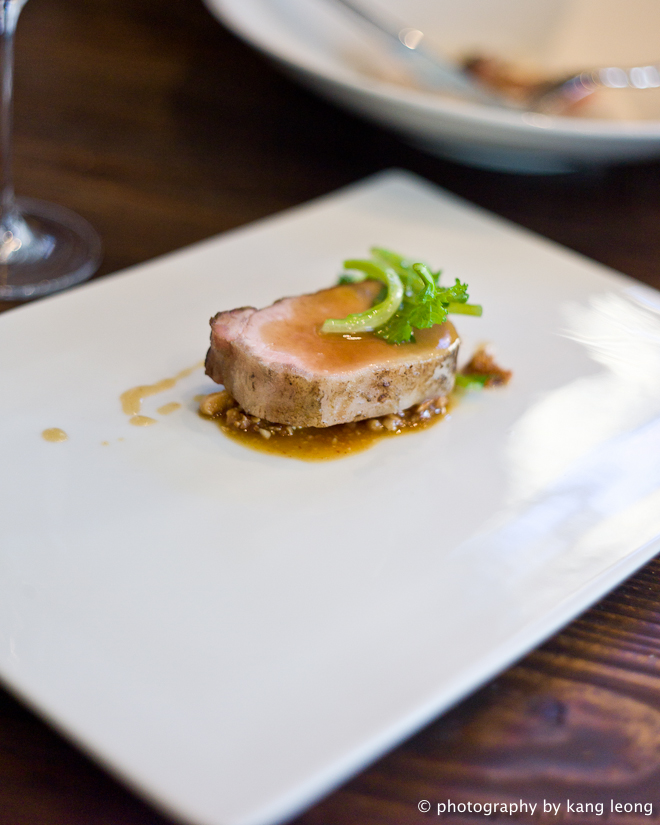 I chose the iberico pork loin. I cut into it and my hand trembled – fucking wow. Dense but soft, juicy but chewable, pink but cooked all the way through. How did he do it? There wasn't any hint of smoke, how did he bbq a side of pork so gently? We probed our waiter: "Water bath? Ban Marie? Steam? Magic?". Technically speaking, this is a work of art. Wait? Isn't that an oxymoron? The praline was like a kind of rocky-road biscuit base. Nutty and caramel in terms of flavour. There doesn't seem to be any salt, butter, pepper, red wine in this one. And again, the dish felt (not just tasted) so natural, so organic, so refreshing, a little French, a little Scandinavian and nothing like any of it at all. The bottom line: Quality ingredients cooked to absolute perfection. This was almost as good as Ash PM's pork chop at Dinner at the Mandarin Oriental. Almost.
Puds
Barley flour sponge soaked in red tea, Tahitian vanilla cream, £7.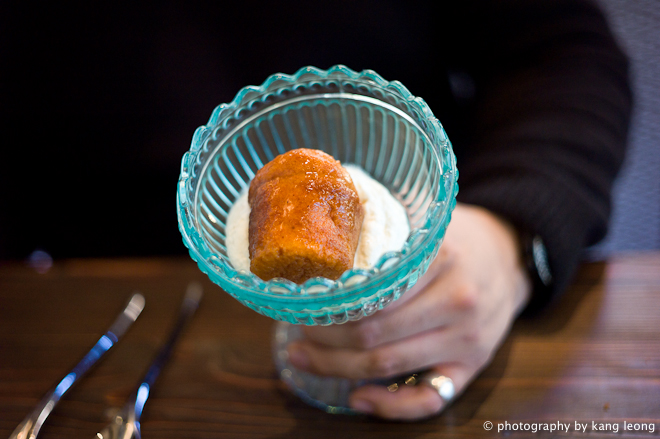 Or Rum baba without the alcohol. The sponge cake was wet with tea instead, a whipped Tahitian vanilla (truthfully, I can't tell how Tahitian Vanilla is actually different) being lighter than Chantilly.
Chocolate and virgin hazelnut oil ganache, basil moss, sheeps' milk ice cream, £7.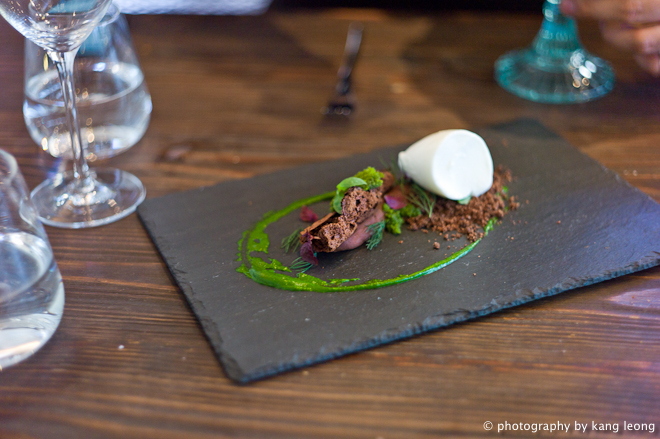 I ended on this stumble-upon recreation of a conifer forest floor on a plate. The chocolate log was actually quite lovely. It crackled like what I imagine a dried dead log of wood would feel like, if I was to bite into one, I suppose. Honestly, I didn't really like the herb flavours (basil and.. douglas fir?) but thank goodness he didn't use ice shavings in this one. I've had better forest-floor type natural puddings, like the stuff at North Road for example. This looked better than it tasted, the only dish I thought was average through the meal. The barley sponge was clearly better.
We both had a cocktail each (I had a great Saceraz) and we paid £90 in total. That's great value for money.
Portions were a little small, but I think considering the cooking, it's justified for its price. You'd have to have a four to five course meal to fill up, in which case, it's a no brainer to choose the £49 six courser for the voracious lady and the £24 for the gym bunny fella. In a way its a good thing, the small dishes give you the opportunity to sample his range of dishes.
Yes. Dabbous is a revelation, it's probably still a work in progress given it's only 2 weeks old, but its a bloody amazing work in progress. On the other hand, I think it may perpetually be a work in progress. The cooking is stripped down and there is a raw energy driving this restaurant forward. Each dish is a thoughtful if efficient construct of few ingredients which work together to achieve umami.
I think the cavernous wood and steel cube-shaped room is utilitarian and a little blade runner-esque. It certainly feels like it belongs in a metropolis, but equally it looks like it could be perched atop a summit overlooking a valley somewhere in central Europe or Japan.
This restaurant feels young, fresh and bold. I think we've seen a small number of restaurants in London which have tried to bring about the next step change in 'fine dining' or perhaps to rationalise alternatively dining (which may qualify as edible art) as a viable business. Concepts seem to bog down many. But with Dabbous, I feel there is a clear focus. The food certainly entralls and Ollie may be the one who come closests in transitioning this type of uber-cool dining to the mainstream (if there is such a thing as mainstream haute cuisine..).
I get the feeling there's a lot more brave ideas swirling around this young chef's mind (who is barely older than me.. if not actually younger) and that Dabbous may evolve into an exciting beacon of culinary progress. Maybe. Crucially, I enjoyed the meal because I thought the fundamentals were spot-on. Ollie and crew understand the importance of balanced flavours and the nebulous zone of undercooking. As I've pointed out before, I believe that punters go to restaurants to witness how chefs display their perfect triple flip-triple toe loop landings on plates. Good ingredients are obviously important, but a good procurement policy should only serve to compliment great cooking and not the other way around. There's only one dish with truffle on this menu, and it's served as part of mash. Potatoes and truffle – you may think 'cutting edge' but there couldn't be a more classic pairing. For me, these restaurants intrigue because the people behind it appear to be global high cooking otaku who build their ideas on the foundations of the established foundries, but who come out with something completely new on the other side.
What is that old adage about the probability of great chefs who can cook anything and turn it into something delicious. Ollie Dabbous can probably do this… but I think he's also spent a lot of time working on a set of winning recipes, which are er, winning over people like me.
At the moment, it looks like items on his set lunch (£24, ridic value for money) are subsets of his ALC. At least in these beginning days, it seems like the restaurant is offering a genuine discount for lunchers. As I understand it, the phone-lines are already bonkers, and their books are filling up quicker than they can punch it in.
Some of you will be bewildered by this post-modernism, others are still mourning the slow death (I am in some ways) of the table-cloth army of the macaroon go-getter, but I think there will be some of you who will absolutely love (Ollie) Dabbous. We celebrate the arrival of the Fooding spirit in London. Yeah man, it's not just the four senses of taste, it's the holistic feeling, total food, total mind and body experience, ohh … you feel it yet?
But it's still early days, let's coddle the chef, and shield him from hype and the pressures associated with expectation.
For me, I loved it enough to book a return visit with the missus for next weekend as we settled the bill. I have a promotion to celebrate (yes, I still have a day job). Maybe I'll bump into you? If so, please feel free to give the Chinese fella a hug from behind.
Dabbous
Modern, £40pp
39 Whitfield St, W1T 2SF
Tel : 0207 323 1544
Tube: Goodge Street
Reviews: Fay ; Guy ; Sbib ; Ray
Did you enjoy reading this? You can subscribe to the RSS feed.