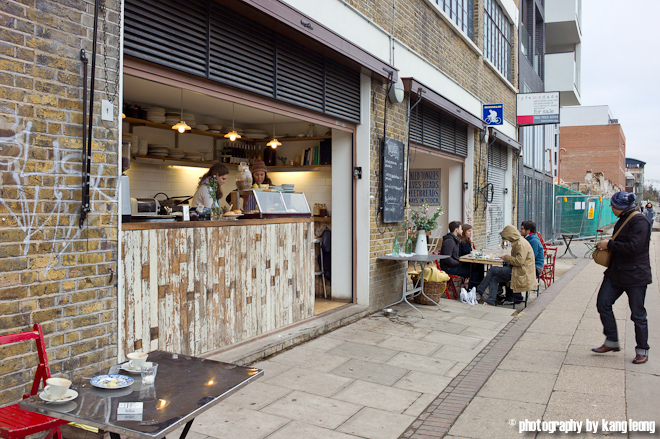 You might think that something as modest as a cafe on the side of a towpath, used by neighbouring residents as a jogging and cycling route, would always remain hidden and truly a gem. That can no longer the case in the internet age. This sort of concept that oozes on-the-fringe appeal is exactly the kind of thing that would – and has – inspire tens if not hundreds to blog about it online, and then tell their friends the old fashioned way, offline.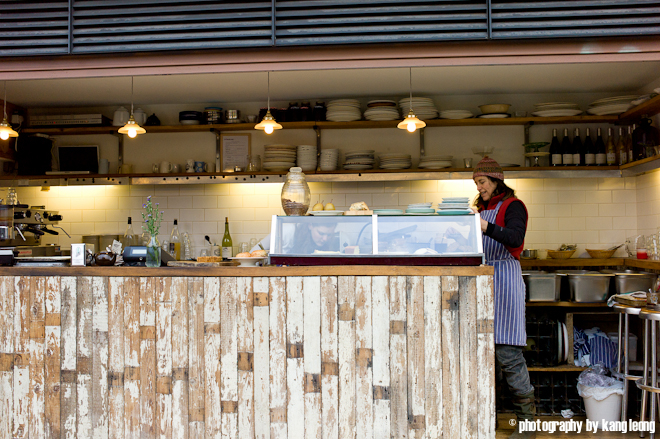 Towpath Cafe sprang up sometime in the 1st quarter of this year (my,my how the year has flown by) , and since, it has won many a fan, from nearby Shoreditch and further afield. The quirky little caff was started by food writer Lori de Mori and her award winning food photoging hubby
Jason Lowe (great portfolio!) and in the last nine months or so, have garnered the love of the internet. I have a feeling this project is here to stay for the long run.
I've been planning to visit Towpath a few months now, but given its remote (to me anyway) locale and my other commitments, it's taken me until now to finally get there. If you follow my photoblog, you'll know how much I love Leicas, for their compactness and high image quality. I've always thought Leicas could never do food photography since it doesn't get close enough (0.7m focusing limit), but last week, I found a way around it… and so I thought I'd try an M9. Hence the protracted picture essay (more on the flickr set.).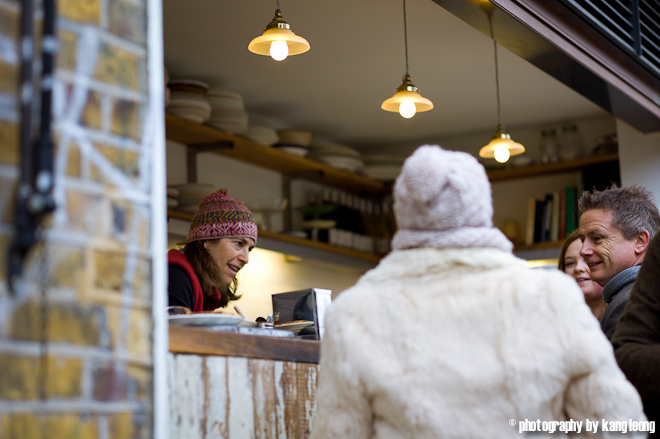 Derelict buidlings, large heaps of rubble, which ordinarily may be beauty undone, becomes a strangely fascinating backdrop for this towpath side cafe. Especially with a bevy of ducks gently paddling up and down the canal (which never turned into a badelynge). On a chilly Sunday afternoon, I met with Markus Aurelius (made in China), and walked down the tranquil canal, taking in the murky waters. Upon arrival, we noted how popular this place seemingly was, during lunch hour, and also how modest things were. Tables, benches, heating lamps, cushions, blankets, dogs and people who looked much more fashionable than me.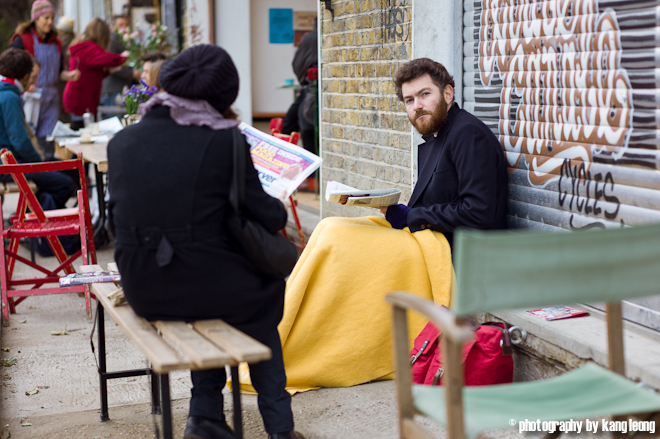 It must be the strange serene quality the murky waters of the canal exudes, it must make people feel calm. You could hear pins drop, a little too cold to be outdoors during this time of year, but I'd imagine the caff would be rammed on sunnier days.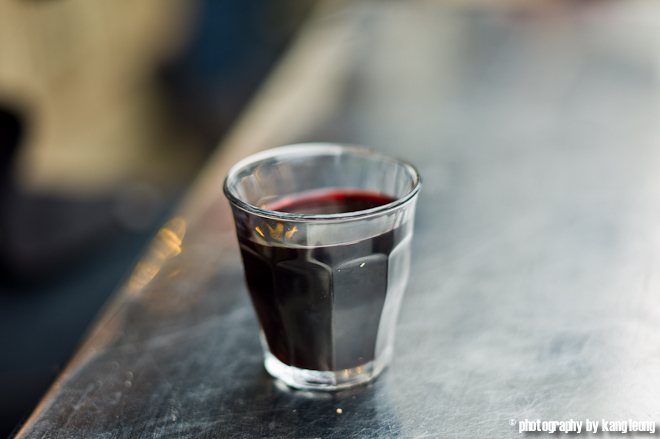 Note the tilting tumbler of red wine. It opens at 8am on weekdays and for elevenses on weekends serving breakfast, lunch and snacks into dusk on a seasonal, and all too brief menu – and I assume – , cash only, and food does run out.
Behind the counter, toasters, a grilling machine George Foreman might endorse and a coffee machine. I sniff out the wonderful grilled cheese sandwich melting in the background. Sadly, they ran out.
Quiche, approx £5.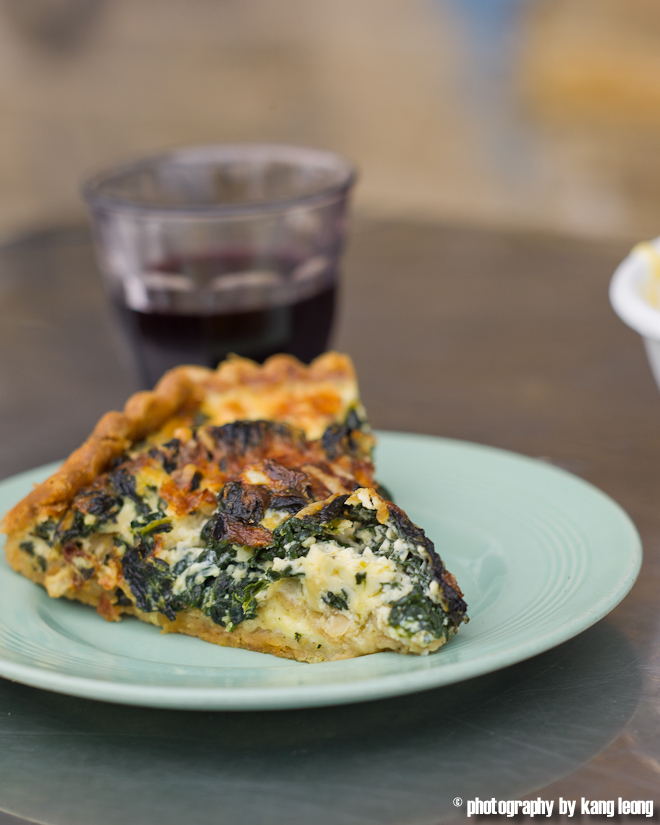 Homely buttery and crispy pastry, with rich custard-like egg mixture over it. I won't hype it up, it was merely a quiche, but it a delicious one.
Polenta, Parmesan and New Season Olive Oil, approx £4.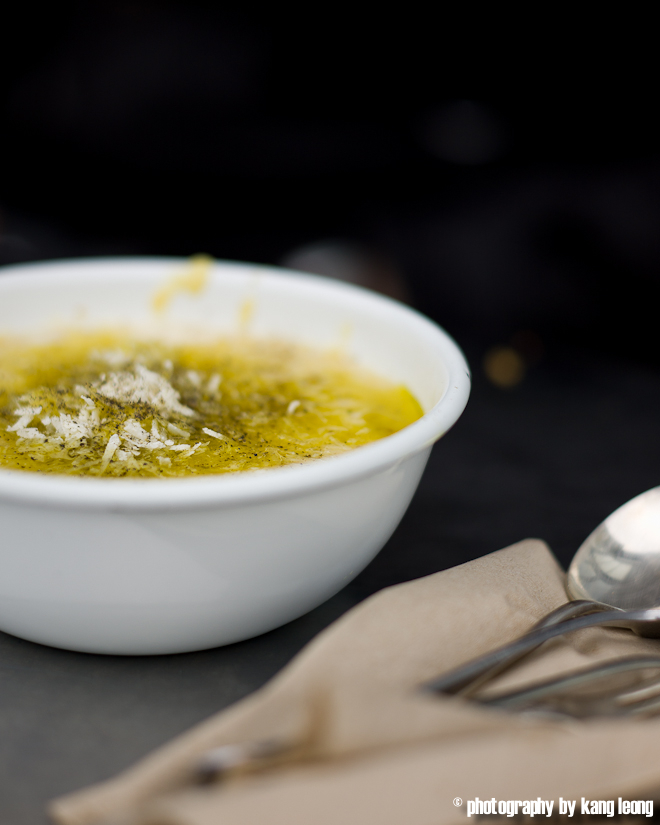 We needed this. It was served piping hot, thick, soupy, porridge-like in texture. But it was beautiful, so warming, and so tender as it went down. The parmesan was genius, the sharpness teased out the sweetness of corn, but it was the olive oil that had stimulated the palate. Again, not to hype things up, as this was just hot polenta with abit of cheese and oil, and it was tasty.
Lemon curd and Chocolate Brownie, approx £6 for both.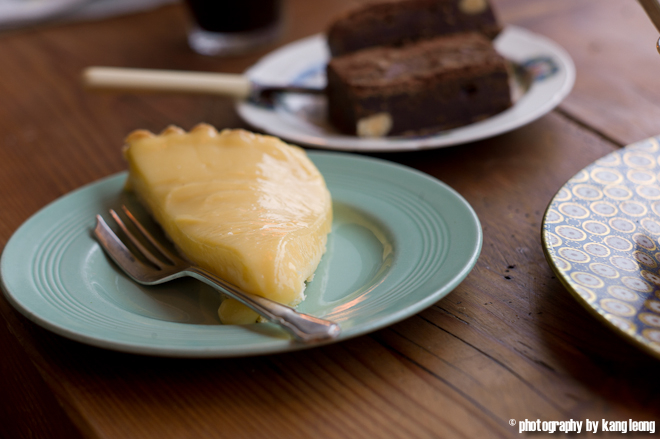 I'm not really a fan of puddings made with lemon, though I enjoyed the melting gelatin-like texture of this particular pud.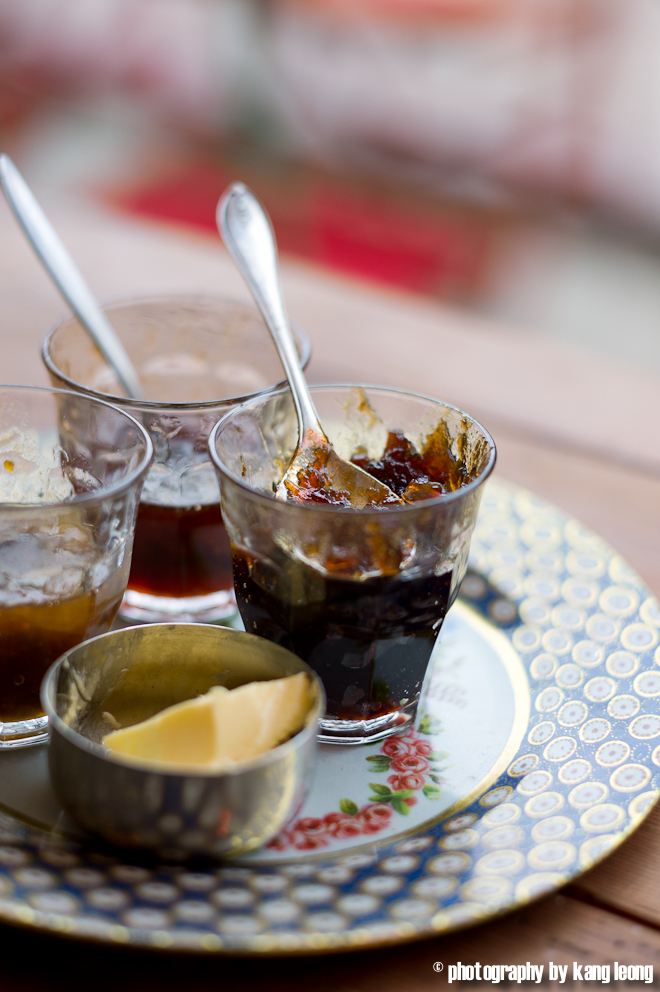 A nice getaway from reality, and it was especially delightful just to reflect on the year that has past us by. We probably spent £15 between us for the food, wine and coffee. Needless to say, it's cheap. It is difficult to write something definitive about this type of caff, for one, the menu is ephemeral, but then again, this is also the sort of caff, where it isn't about conventions nor comprehension or exposition, but rather it is about its incalculable qualities. There is something about Towpath that makes it special. Something about the combination of location, the concept and the modest, homely style cooking. Ultimately, I think that the reason why Towpath is loved, is because it feels, human.
More photos on my flickr set.
The Gist.
Towpath Cafe
Cafe, Lunch, easy.. £10pp (cash only)
Regent's Canal Towpath
42 De Beauvoir Crescent N1 5SB
Tel: 020 7254 7606
Bus: 149 from Liverpool St Station to Haggerston rail.
The Path : Yelp! ; Time Out London ; Crockery, cakes and caffs; Daily Vitamin D ; ST CLAIRE AND THE NOTES FROM THE DREGS ; The London Review of Breakfasts ; Tired of London, Tired of Life ; London Expat ; Urban Junkies ; Greedy Diva ; How to project manage your life
Did you enjoy reading this? You can subscribe to the Newsletter. Alternatively, you can subscribe to the RSS feed.