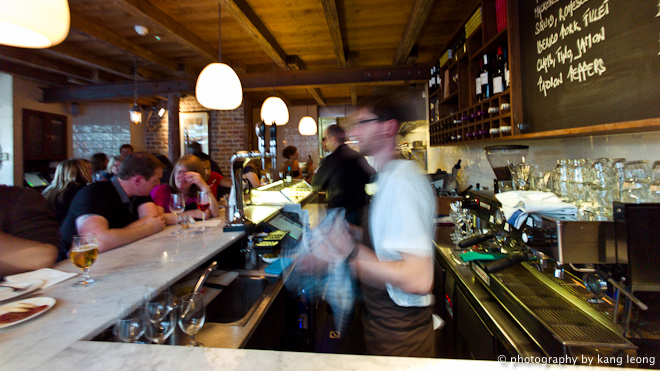 Pizzaro. One of a select group of individuals who masterminded the transformation of the Spanish perishable importer into a synonym for the British definition of a Tapas restaurant. He is a huge reason why we are so comfortable with the idea of sharing small plates of food, and thanks to the sheer dependability of the Brindisa restaurants he helped create over the last few years, his efforts has shaped this category of London restaurants.
Yes, it is about the right time for José Pizzaro to his name on the signage and he has decided to do so by splitting it into two discreet projects. The latter is slated for a late October debut, a more civil sit-down affair that will formally bear his last name, Pizzaro. Until the real party arrives however, we have to make do with a sneak preview of his cooking with this teeny tapas bar situated in the heart of Bermondsey street, casually known as 'José'.
The space is seriously tiny, it's like a food truck, except you eat with the chef inside the claustrophobic environs. It's got bags of ambiance, and it is hugely popular at the moment. The lack of floor space (and chairs) is perhaps accidentally on purpose, it fills up by 6pm (on Friday nights, and every other balmy night, I imagine) and perhaps also accidentally on purpose, the casual exclusivity of this place is what has made it so damn popular.
José is not a restaurant, as you will have read from the overloaded internet press, this is a bar which incidentally serves quality tapas, and since there are no sit-down tables, it operates a no bookings policy.
In the dying days on summer, I finally got to José early enough to squeeze into an unoccupied corner by the bar. It was a warm day, but it was warmer inside. Space was so limited, I ate this meal standing up, rubbing bums with the woman behind me (curiously, her bum did not seem to mind), our bodies becoming increasingly sweatier, our laughs increasingly louder as the alcohol levels in our bloodstreams climbed and our hands getting increasingly dirtier as we tucked into the wave of small dishes.
Padron peppers, £4.00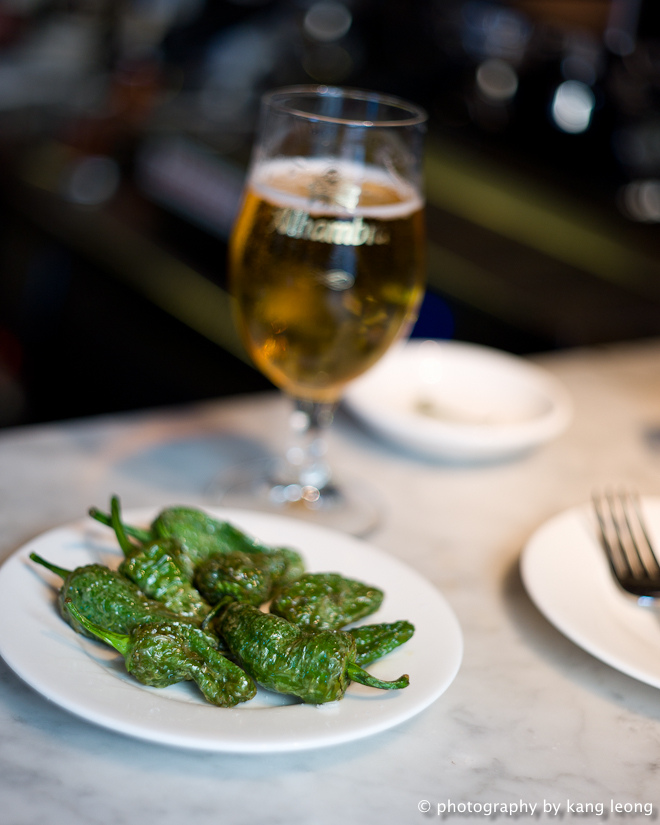 Most of the dishes were quite elemental and invited you to use your hands.
Pisto, duck egg, £6.00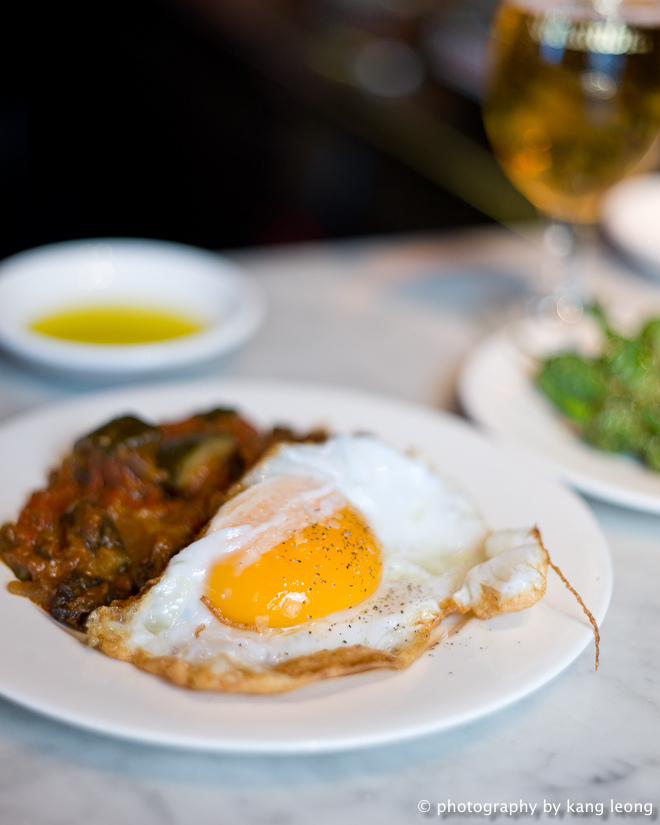 Much like enhanced versions of bar snacks, but where stewing or braising was involved, like this tomato and courgette stew that accompanied a fried duck egg for instance, it was brilliant. Satisfying bread dipping stuff.
Clams, fino, jamon, £7.00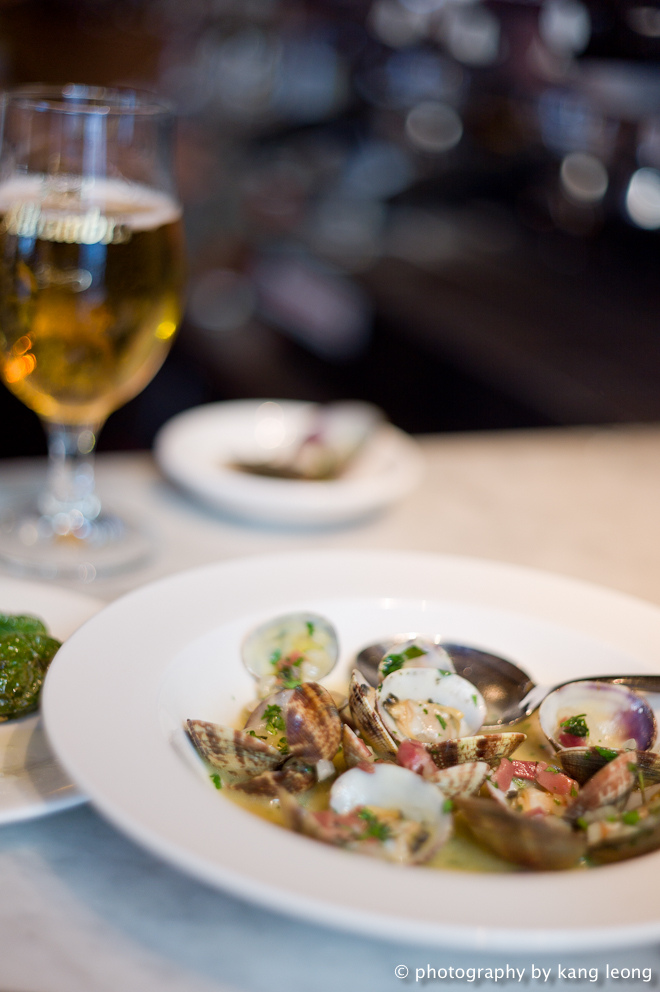 Where less cooking was involved, like these bittersweet clams, it still went down a treat, One could smell the bubbling alcohol rising from the light broth, which also made for a fantastic bread dip. Heady.
Squid, romesco, £7.50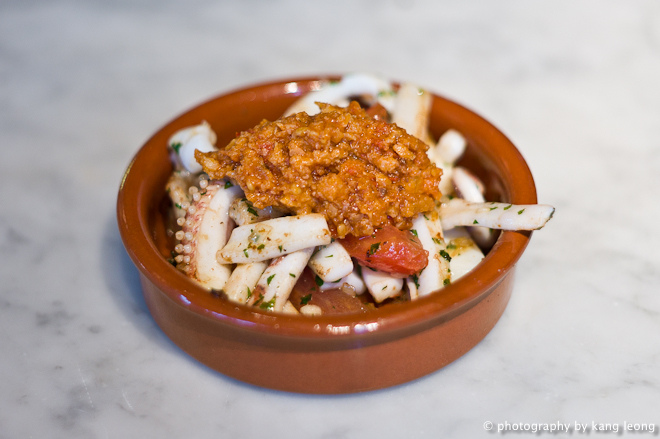 A cracking romesco! More paste than sauce, chopped nutty bits (almonds perhaps) , garlicky, full, rich, invitingly appetising – I though this was a stunning example of a retro recipe that is seeing a kind of resurgence in restaurant cooking today. Really nice.
Hake, garlic aioli, £6.00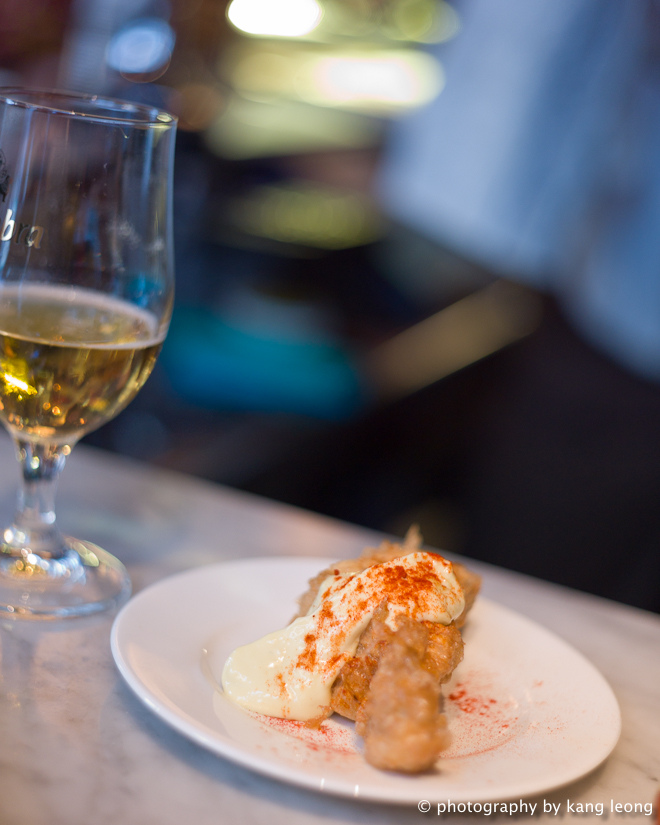 Fried fish with a good whack of aioli was alright, but I ran out of bread by this point, and I didn't really want to pay for more bread (£2.00) , but it was nice.
Iberico pork fillet, £9.50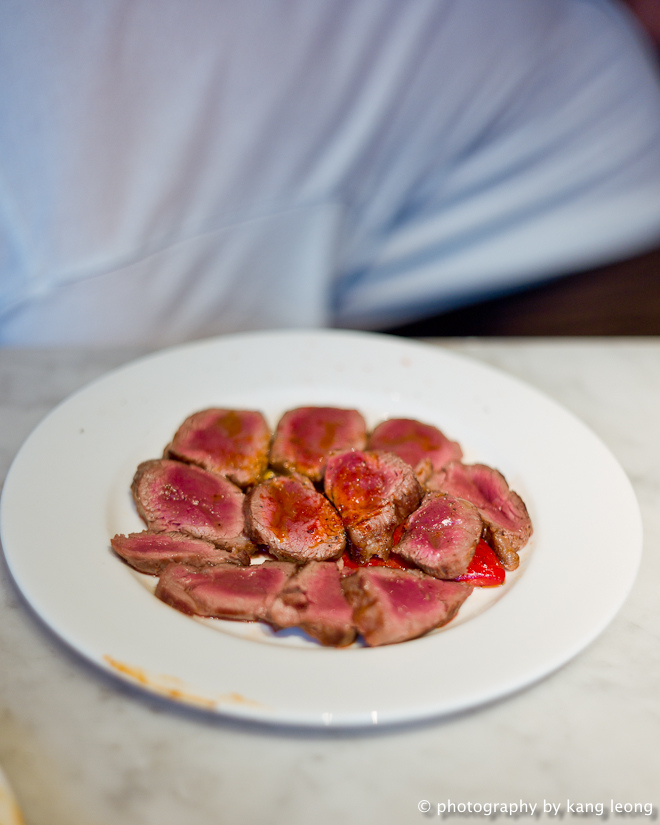 Cooked medium rare (a la plancha, most likely) and with some sprinkles of paprika, it came unseasoned, but what it really needed were just a few sprinkles of rock salt to really bring out the excellent quality of the pork. Grilled iberico fillets are also something that's coming into fashion these days, it's so tender, fragrant and rich in flavour that aside from some heat, little else is needed. This was just served pretty much naked.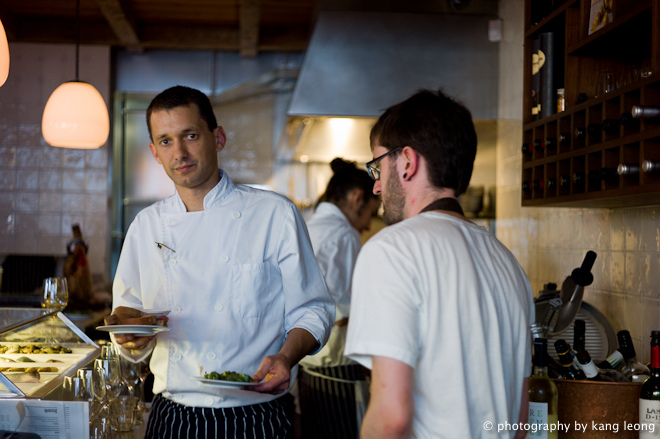 We paid exactly £50 for two. I must say, it was a little hard to concentrate on the excellent snippets of food, especially since the narrow bar table can only take three or four dishes at one time, any more, and there leaves very little elbow room. It gets trickier as neighbouring diners are constantly rubbing up against one another, with all the movement, it did feel like I was trying to have a meal on a moving bendy bus. Between spreading romesco on bread and putting it in my mouth, there were a few instances where my food was in danger of being knocked from its intended trajectory. As much fun as it was eating standing up, sweating and licking my fingers, I actually wished I ordered less food and more beer, or at least had managed to fight for a larger corner in the bar with stools. As a bar, it's fucking brilliant, a couple of Alhambras here, a couple of plates of jamon iberico there, a template for the perfect way to usher in the weekend.
Make no mistake, the godfather of tapas is back, but this is merely a herald for greater things to come, the flashes of brillance in his recipes were inspiring, and I really cannot wait to see what sort of grand design he is planning for the launch of Pizzaro. I do wonder if Chef José has set this up as a testing ground to tinker with his fundamentals before official roll-out at his restaurant. Whether this is a mere incidental observation, or completely on purpose, I for one think that the kitchen is headed down a very exciting path. As it stands, Abel Lusa's restaurants are still my favourite Spanish restaurants, Cambio de Tercio and Capote y Toros included, but I suspect I may have the same sentiments about Pizzaro before the year is over. Only time will tell. Pizzaro is coming, and I am insanely looking forward to that.
The Deets.
José
Tapas bar £25pp.
104 Bermondsey Street SW1 3UB
Tube : London Bridge
You love it. TO , Guardian , Metro , 12.5 , Lussorian , The London Bite , No Expert , Wine & Jazz
Did you enjoy reading this? You can subscribe to the Newsletter. Alternatively, you can subscribe to the RSS feed.