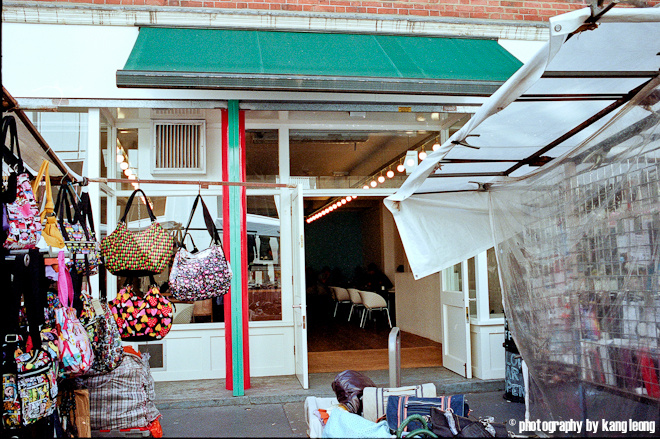 I really like Leather Lane over lunch hours, because it converts into an electric street market, overflowing with people. It's like a crack in the universe peering into an alternate world, where Holborn is cool, eclectic, and entirely down with the kids.
It is especially special to me, because it's also home to a very awetastic permanent mobile food cart, which – in my opinion – serves one of the best steak burritos in London. Mucholy hot if you get the burrito with hot salsa. Yowza. Lunchtimes in Leather Lane can get very cramped, extremely bustly and chocked full of life. Topless construction workers woo at passerbirds, women haggling over pashminas, and whatever garments that catches their eye. Legend has it that the Leather Lane street market has nearly 100 years of history.
On the topic of history, London was once the capital of coffee sniffing accompanied by a good dose of gentlemanly debate. Affectionately, these coffeehouses were called Penny Universities, as it only costed patrons a penny to enter – referring to the total egalitarian nature of its clientele – which meant anyone from whatever societal class were able to exchange minds on whatever issues they wished to talk about.
Of course, not very long ago, the very concept resurfaced when Square Mile roasters decided to create a pop-up brew bar, calling it the Penny University last year.
I didn't manage to write a post about it, but I did wish for a permanent version. Who knew filtered coffee was so addictive, delish and education.
Of course, it took an Antipodeon influence to kickstart the London coffee renaissance, yes, I am speaking of the devilish milky sensation that is the Flat White, and now we're all well schooled with the cuppa. The better half always rolls her eyes everytime I marvel at the Jesus pattern in my flatwhite "We had those ten years ago. Turkish flat bread hasn't made it here yet. Nor has blueberry bagels.".
But we do have great burritos. This side of the Atlantic. I think.
While the cafe revolution is really only just beginning, and I'm not talking coffee, I mean proper airy, anti corporate, properly indie, properly cool, totally whack with full wi-fi access and furniture that looks IKEA, aeropress and anti-cafetiere revolution, but it is here.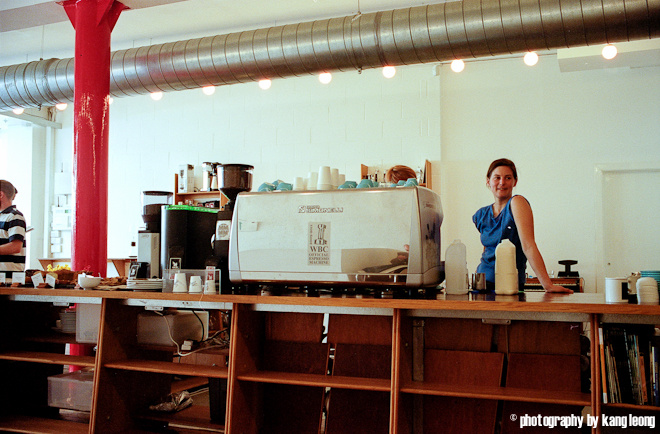 You may or may not know I am a Tapped and Packed fan, the space is beautiful, the ever changing artists works on the walls are always inspiring, and I am only ever so very glad to find Gwilym Davies – World Barista Champ '09 – has expanded his previously modest coffee cart in a men's clothes shop in Dalston Kingsland to the crack in the universe that is Leather Lane.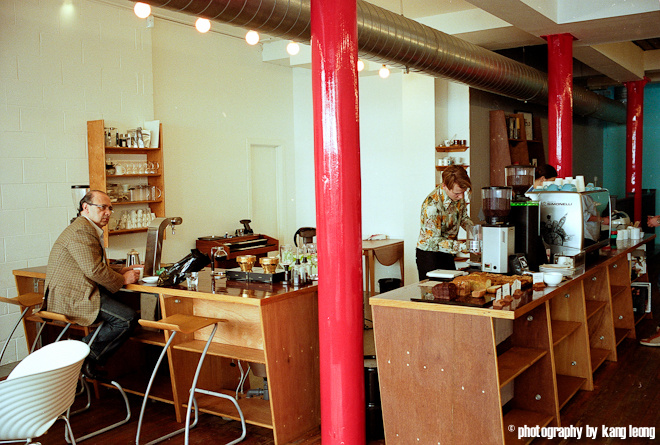 The new establishment is heartwrenchingly beautiful. Elegantly stripped down designs, expansive, creative, mind opening, it is anthesis to franchised coffee. Observing this shift in the industry is like watching James Bond reboot himself into a sleeker, sexier, contemporary and ultimately enjoyable version of a coffeehouse.
I don't know that much about brew coffee, I'm still learning and appreciating the art of the medium, though I have seen the magic of siphon coffee makers, what with the science of hot steam pushing water up and down a siphon and all, and the less fancy, mechanical equivalent of the aeropress, or simply just a straight up filter. Essentially it's different ways to force hot water through (freshly) grounded coffee beans to make a brew. I think.
Alright, alright, so shoot me, I came here to savour a flat white, milk in coffee, and didn't ask the wonderful staff to brew me a real cup of coffee. I will be back of course, and I hope to bump into you (with your Times subscribed iPad) there, spreading yourself across a table. This will be one of the greatest coffeehouses in town. Well, at least I really want it to be.
Cue the photographs. All shot on Portra 400NC, and a single 35mm lens.
Happy Easter folks. (I checked they are open)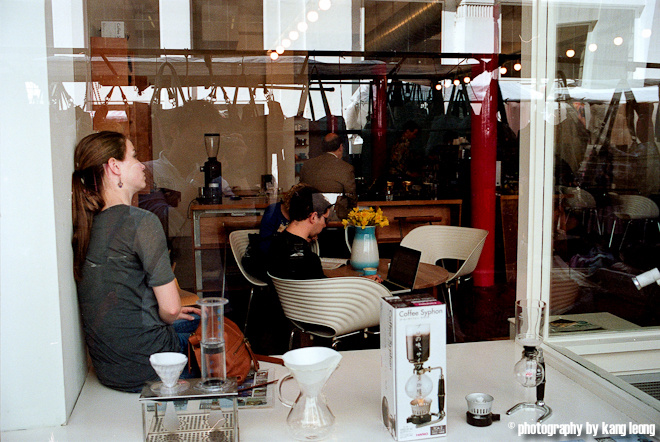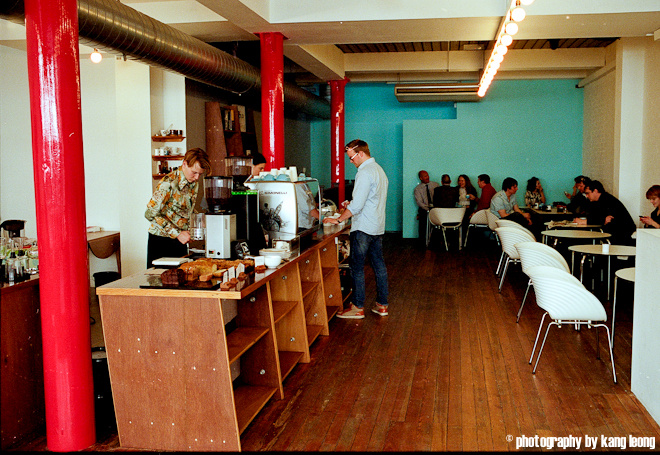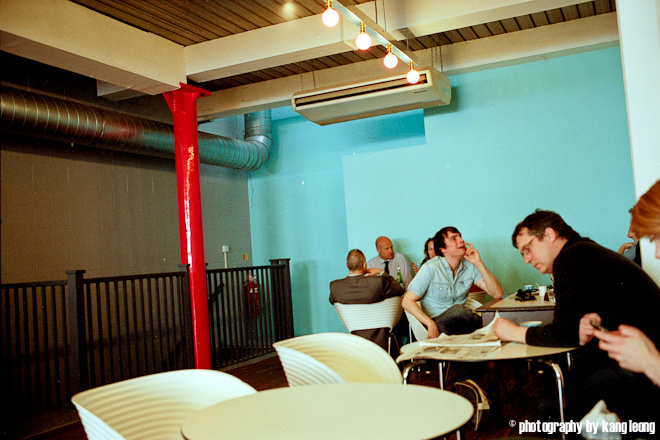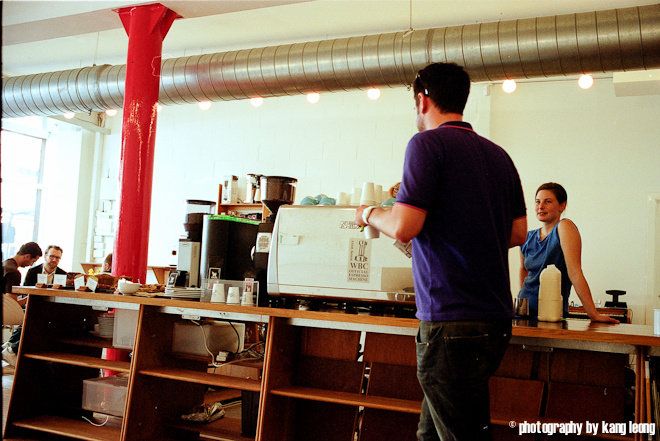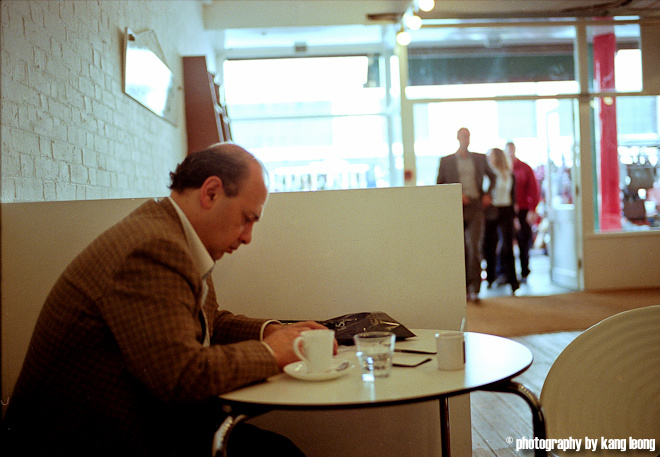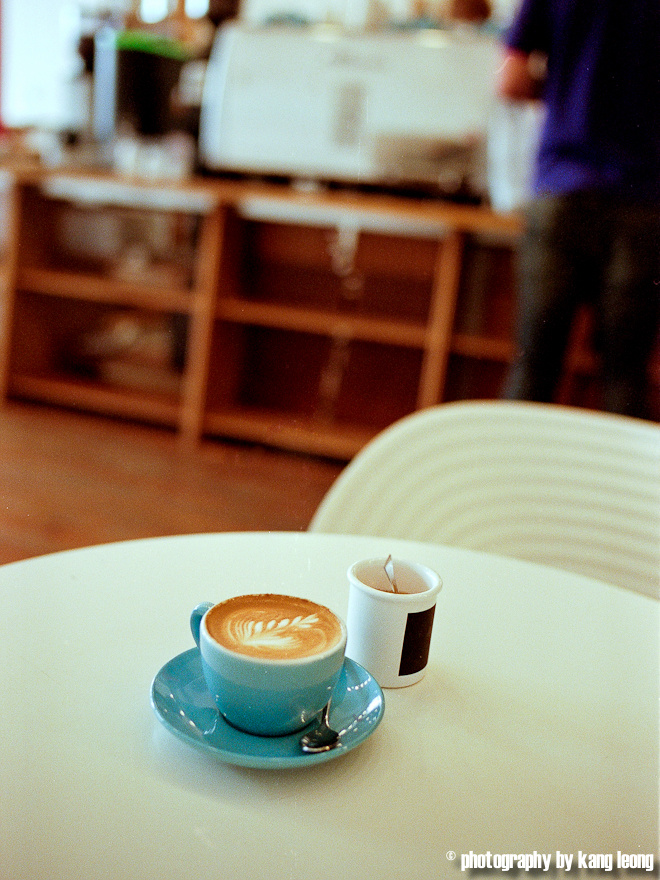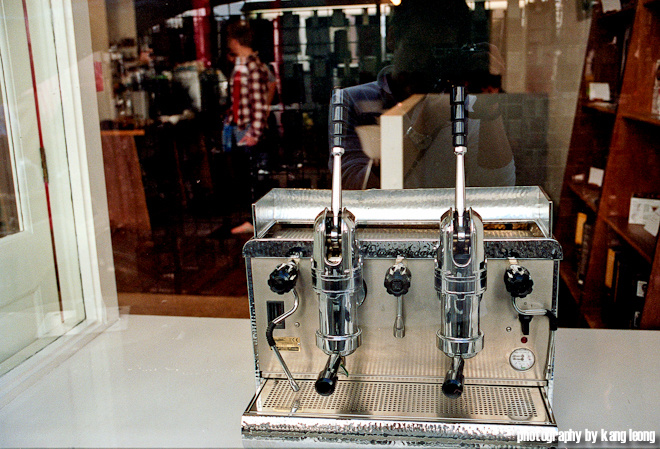 The Gist of It
Prufrock Coffee
Coffee, cafe… lazy, special ,£3pp.
23-25 Leather Lane EC1N 7TE
Gwilym +44 (0) 7852243470
Tube: Holborn / Chancery Lane
Reviews: The Faerietale Foodie
Did you enjoy reading this? You can subscribe to the Newsletter. Alternatively, you cansubscribe to the RSS feed.