We already know that Pearl Liang's dim sum menu is more than formidable, however for a Chinese restaurant to have an equally capable dinner menu, that is a definite rarity in London. The word on the street is that Pearl Liang is one such rarity. I already consider this establishment to be serving benchmark dim sum in London, and I wanted to find out if they were a true jack of all trades. For this, we descent to the depths of the Paddington Basin to discover just how alluring it really is.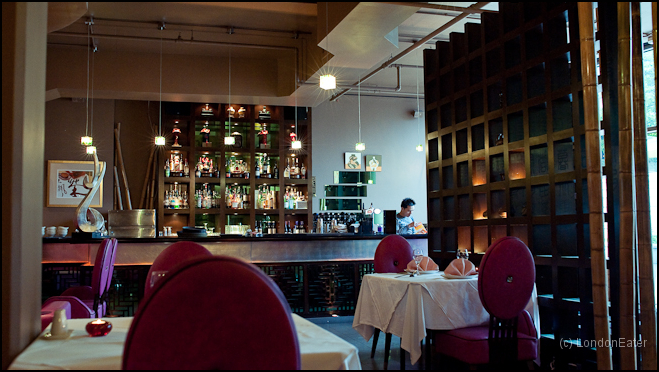 My first visit to Pearl Liang was a little over a year ago, going on a recommendation from Helen, the retired but still ever so amazing World Foodie Guide and whom I still look up to as the Queen of London food bloggers. Since that time, I have visited other reputable dim sum restaurants though it hasnt kept me away from Pearl Liang – it is my most frequented dim sum restaurant in 2009. I am usually averse to set menus in general though the nine piece set for nine pounds eighty is just sheer value for money, and most of all, delicious. There is this convention about restaurants serving good dim sum and the assumption is that if dim sum rocks then dinner will be appalling. It is not entirely unfounded of course, case in point : Leong's Legends. Great dim sum, some even claim it to be the 'best' in Chinatown which is the view I share (if we leave Yauatcha out of this equation… different price class), however I found that like many contemporaries – including Royal China – they have utterly ordinary dinner menus. I don't know why there is a disconnect in quality, perhaps some sort of Chinese wall exists between the dim sum and the dinner guys even though they share the same kitchen. Anyway, enough hot-air, let's dissect some evidence. Table of six.
Lobster Noodles, £33 (Market Price)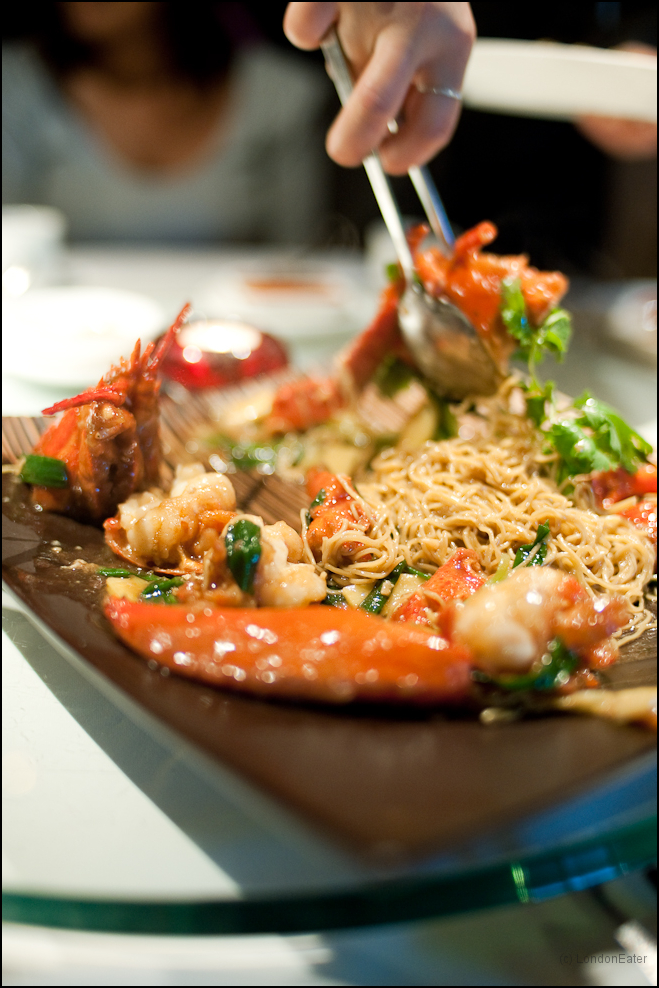 It is well-known that Paul Ngo, the head chef at Pearl Liang used to lead the capital's most famous restaurant for lobster noodles at Mandarin Kitchen. While the latter has maintained its legacy since Paul's departure, it comes as little surprise that he has brought his most commercially viable creation to Pearl Liang. A variety of sauces are available including shaoxing wine or black bean and one can even choose to have it as a sashimi. We chose ginger and onion. The sauce is great, thick gravy-like, full bodied flavours, so richly aromatic of its major ingredients. Juicy chunks of lobster meat wok-fried with savoury floury bits, noodles are just a tad chewy. Overall, the dish has an effervescent quality about it, satisfyingly lively. I prefer this to the current Mandarin Kitchen.
Half Drunken Chicken with Old Wine (£15)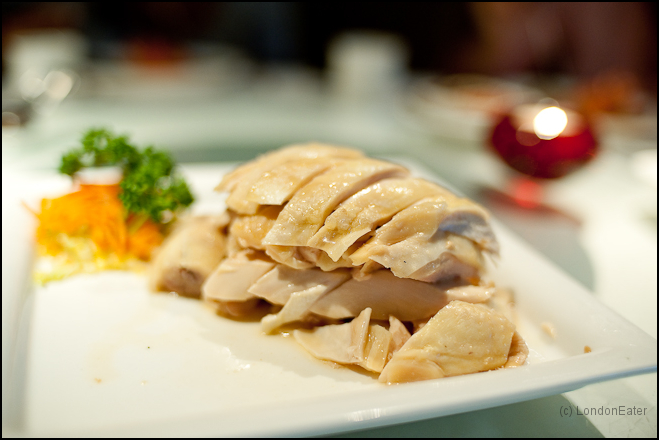 One from the 'cold toss' section. Salty soya sauce flavours, with a fruity (is that the right description?) alcoholic, almost medicinal compliment. It is served cold so the elemental flavours are muffled, but refreshing. As for the chicken itself, a very juicy texture, the breast meat is mellow, probably from a delicate poach and perhaps broken down further by the wine marinade. The leg meat was satin. My only gripe was the alcohol content, a tad high, and the balance just tipping over at times but that's just me being pedantic. It took nothing away from the overall experience. I really enjoyed this.
Pei Pa Tofu (£8.80)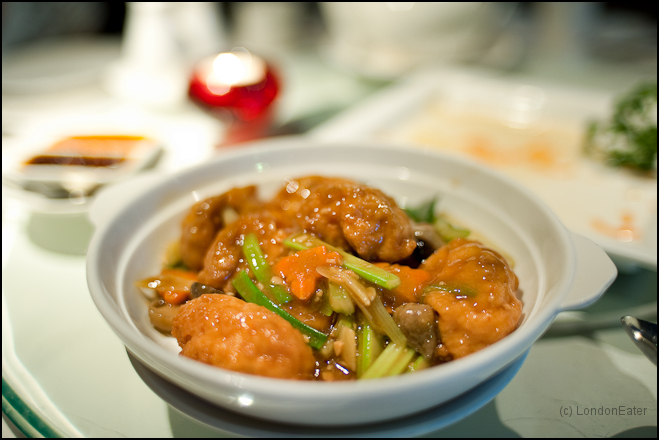 A staple offering in most Cantonese restaurants. Deep-fried tofu swaddled in a golden gravy, straw mushrooms, carrots and spring onions all feature. I cannot remember if the tofu was stuffed with shrimp to be quite honest, while the hearty sauce filled the senses, it was ordinary.
Sizzling beef sirloin with fruity mandarin sauce (£10.80)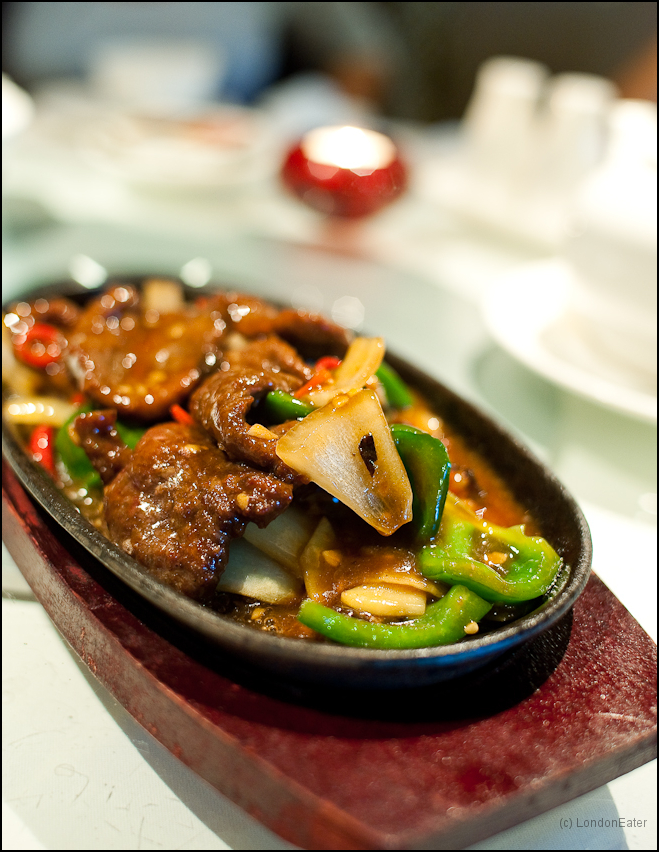 'Chinese style steak', a literal translation, is usually one of the dishes I order for benchmarking purposes. I've done this in Chinese restaurants around the world from Singapore, Hong Kong to Sydney (not Taipei I don't think) and is something I inherited from my dad. Usually it is medium rare and served cubed. A good example will still bloody and juicy. A good example will also exhibit the hallmark smoky charred flavours otherwise known as wok-hei. A good example will also have a skilfully balanced fruity sweet sauce, where one can taste the sugar, but in which that tarty edge is taken away by salty soya and just a hint of pepper. This had none of those qualities. The beef was ridiculously rubbery, the sauce was too salty. A horrid example.
Sauteed King Prawns with Salted Egg Yolk (£10.80) … Twice.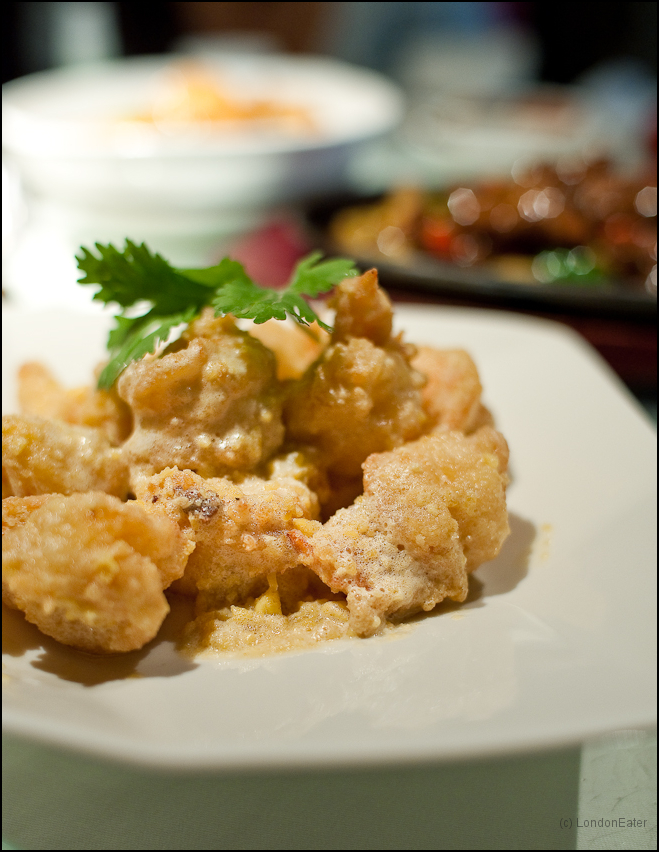 There were times during this meal, where I would have very nearly wrote it off. Just as I wanted out, they reeled me back in (Pacino!). These are not just your average battered prawns. These are battered with the yolk of salted duck eggs, which are pre-prepared by soaking in brine or sometimes covered in charcoal paste. The duck egg takes on an intense salt flavour, great with congee, though this is the first time I have experienced it being used as a batter, and if my research is right, a bona fide Cantonese dish. Very interesting indeed, the yolk crust formed a powdery yet crunchy batter, rich in brine flavours and with a creamy eggyness. Some of the yolk was also made into a runny juice with grainy bits of what I suspect are the egg white. Doused over the prawns, it intensified the flavours. Fantastic with steam rice, in fact I liked it so much I ordered another just to have it all over again. I've had deep-fried shrimp in all its various guises, wasabi, cornflakes, butter, nestum, thousand island sauce, you name it, this is my favourite recipe.
Stewed Pork Belly with Preserved Vegetables (£8.80)
We had to order a pork belly dish and this took me all the way back home. Stinky, mellow, hearty, homey and the fatty bits just disintegrated like hot butter. What excellent texture. I thought it was just right, however my Taiwanese half claims that it was a tad too sweet compared to say the Hakka recipe. The differences probably down the choice of 'mui chai' or Chinese pickled mustard cabbage, and in which there is a preference for it to be sweeter in order to fit Cantonese cooking.
You know me, I take – what some would say – a rather dim view of Chinese restaurants in London. Compared to most other cities around the world, I feel that our Chinese restaurants are weak. I keep hearing these hero stories of Toronto's char siu rice from my cousins, London just doesn't have quite the same depth or variety. I'm sure most Chinese restaurants would not hesitate to kick me out if they knew what I've said about their food. I still stand by the view that London Chinese restaurants are mostly – for want of a better term – lousy. I am only so critical partly because I feel that quality has slowly dwindled over the years. I feel that Chinatown circa 2002 had alot more to offer than Chinatown today. Take Royal Dragon for example, pre-refurbishment days in 2005/2006. Fantastic dim sum, amazing chinese style steaks. Now, a mere shadow of its former self. Mayflower did I hear you say? No longer the institution it once was, just surly service, more reputation than actual mettle. Other reputable places such as Matt Norman's 9.95/10 outpost in Hampstead, Goldfish, and Hakkasan (which I was once I huge fan of during its hey day and when it was still owned by Alan Yau), are in my opinion overpriced and not worth a visit. So it is refreshing to find such good food at Pearl Liang.
Food, plus tea and rice for six came to £130, just a little over £20 per head. Great value, as it should be. The menu is expansive, it is spread across ten pages. I don't think that everything is amazing, based on the evidence from my visit, I believe most are of decent quality. And based on this visit, I would be comfortable to take my family to this restaurant, confident that it can even impress my dad – one of the pickiest eaters I've ever dined with …You should have seen him let rip at Gaucho…
Overall, I enjoyed dinner at Pearl Liang, benchmark cooking and I highly recommend it if you are in the mood for affordable and delicious Chinese food. For those of you who prefer dim sum at night, I believe there is a small selection on their dinner menu, so do feel free to mix and match. I recommend the wasabi prawn dumplings.
Read about Dim Sum at Pearl Liang here.
The Gist of It
Pearl Liang Official Site
£25pp Chinese
8 Sheldon Square W2 6EZ
Tel :020 7289 7000
Tube: Paddington
Did you enjoy reading this? You can subscribe to the Newsletter. Alternatively, you can subscribe to the RSS feed. Free, free free.