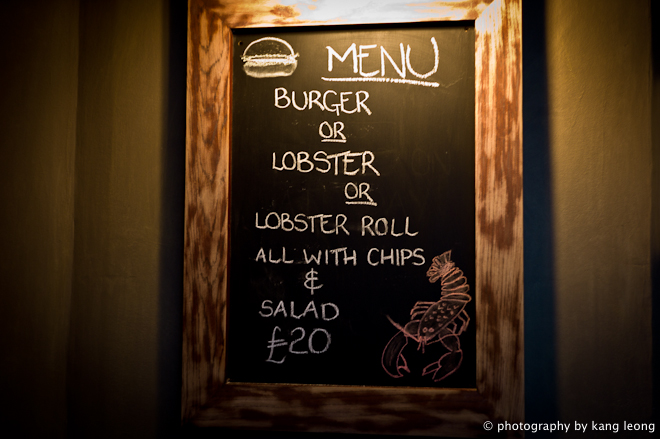 This is the only time you'll see the food menu, because these three items are quite literally all they serve. After Hawksmoor successfully ported the America's favourite summer roll to the El Smoky last year, it was only a matter of time before the Russians would follow. Well it took them a while, but the good people from Goodman (who are imho still the capital's best steakhouse(s)) bring you the first lobster bar in London. With burgers. And cocktails, designed by The Soul Shakers.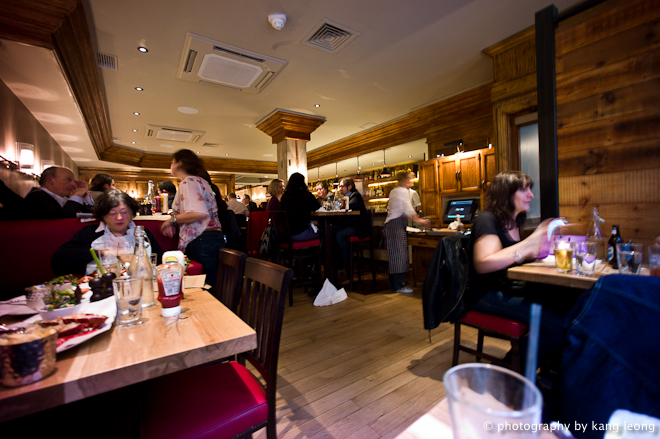 If Goodman attracts the mid-week fat banker stereotype (actually, I think they entertain more Chinese tourists rocking bling Vertus than city workers) , then Burger & Lobster is where the fat banker would take his family for a weekend meal. If I was 10, I could totally see myself bibbing up every Sunday with my family at this restaurant.
No really, I love this place, it's basically premium fast food. So, you choose either a Beef burger, a lobster roll or a steamed/grilled whole Canadian lobster for £20. Every plate comes with chips, salad, clarified butter (with or without lemon) with the seafood and in-house pickles for the beef.
Grilled Lobster, chips, salad, £20.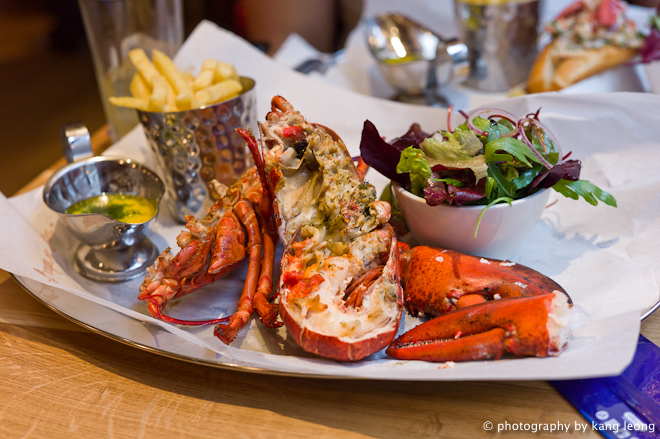 When you visit, ask Dave Strauss (if he's about) to show you the lobster tanks which they have specially put together in the basement to hold … tonnes of live, swimming critters. It smells really clean, like the great lobster prison, and it's made out of.. er, some sort of polymer I think. It is quite breathtaking seeing so many lobsters in one place like this.
They kill the lobster (as humanely as possible) with a stunning machine called a Crustastun. Thus avoiding having to boil the poor crustacean alive or the mess in slicing it down the middle of his head with a cleaver. (Every time I slice a lobster in half, and the claws and legs let go of life as the knife goes in his head, believe me, a little bit of me dies inside).
Sigh. Ok, morality aside…
… just fucking wow man. You can't beat fresh whole lobsters finished on a grill. Aside from mild smokiness, the distinctive, purely addictive natural richness of lobster is simply brilliant. The dense, chunky muscular texture of lobster meat is unmistakably delicious of course.
Lobster is the king of seafood (erm, maybe abalone, ok no, red garoupa) , it just has such fantastic natural flavour, you can almost eat it raw (and indeed some of you do) and it'll still be the greatest, sweetest meat you could ever savour.
Oh right, and these are Canadian, I suppose they swim in the Atlantic, which would classify them as American Lobsters, I believe. I'm not sure if these are the same species as Maine lobsters. Who knows. B&L DO have Scottish Native Blues swimming in the tanks downstairs, but I don't think they sell them for £20 a pop. Those probably go for more, and I think you'd have to ask Dave if you want to spend a bit more moolah on something a little more exotic.
However. The highlight of the restaurant is not the lobster. It's the roll.
Lobster roll, with chips and salad. Also £20.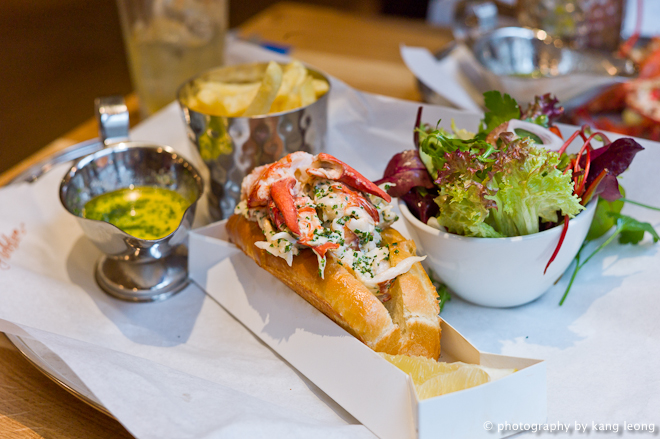 She is beautiful yes? You have to see this from the other side. It's immense.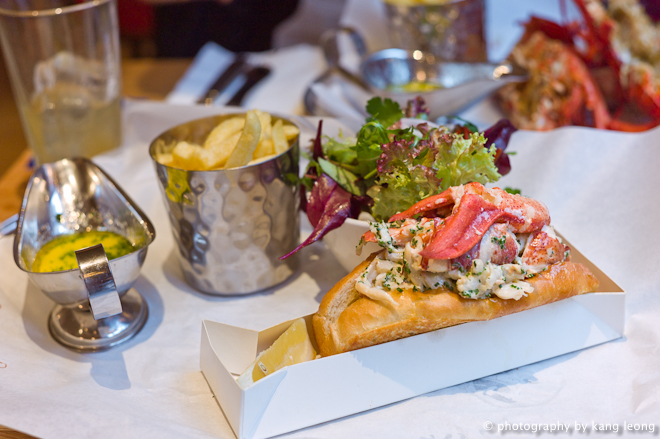 Look at that, haven't they just stuffed this roll silly. Kapow. It isn't an entire lobster, it's about 2/3s and a claw. But my god, it's an experience. Love it to bits.
The toasted roll is very light, crispy but still soft inside. Now I don't know how it compares to America's darlings, like say Luke's for example, but for what it's worth I do like this version. The mayo and butter moistens but does not overpower the meat, so you taste natural flavours rather than butter. But that's why they've provided the clarified butter (with lemon) on the side, so you can dip to your preference.
It's just a really great lobster roll, I could eat four of these in one go easily. And in fact, that's probably my only gripe, that it's so easy to eat this in four or five bites, that it ends prematurely, just when you start salivating. So I recommend you try to stretch it out by breaking the roll into smaller bits and savouring each bite slowly instead… or if your pockets go deep, just order two more rolls and give the burger a pass. I guarantee it will be one of the most exciting binge moments in your life. We did that on the first visit, it was great, just great.
This would be me and Mark's second visit, and it tasted even better then 2nd time around. As I said earlier, its so good, that if I look back years from now, I'm sure it'll evoke memories etc.
The chocolate and lime mousse are both very good, especially the chocolate which has a bit of coffee in it. This is what the burger looks like , also £20, it is a good burger, but quite frankly, you are probably better off queueing for more superior ones at Meatliqour or Lucky Chip for half the money.
The cocktails are fantabulous of course, they are around £8-£9 which is competitive pricing, and I would recommend the Riesling Smash, which is German white wine smashed with apricots, pink grapefruit and Kammerling's.
Ironic how easy it is for restauranteurs to take our money these days no? Plain lobsters, a bit of butter and chips are enough to get the job done. No that's not true, some of us still like that fancy shit, besides I like wearing ties to restaurants, sometimes.
No seriously, you won't find cheaper lobsters of this quality in a London restaurant. Probably. But really it's just a great place to grab a delicious and easy meal while tanking up on equally delicious booze. Who knows if this operation is actually going to turn a profit or if it's just a generous restauranteur fulfilling his social responsibilities in giving punters what they really want. If you grew up on lobsters like me (curiously, lobsters in Asia do not have claws and they make clickity noises) GO HERE. If you're sick of having lobster noodles at MK/PL, then this will be a welcomed change. If you've never been curious, now is the time to try lobsters. When 2012 opens, go here before the queues start forming (no reservation policy strikes again).
Mark and I paid £65 for this meal: One lobster, one roll and two cocktails.
Happy Christmas folks, I'll be eating sushi on a mountain somewhere in Taipei next week, tweet you then.
The Gist of It
Burger & Lobster
Lobsters & Burgers only, £20 for each.
29 Clarges street, Mayfair London W1J 7EF
Tel : 0207 409 1699
Tube: Green Park
Did you enjoy reading this? You can subscribe to the RSS feed.