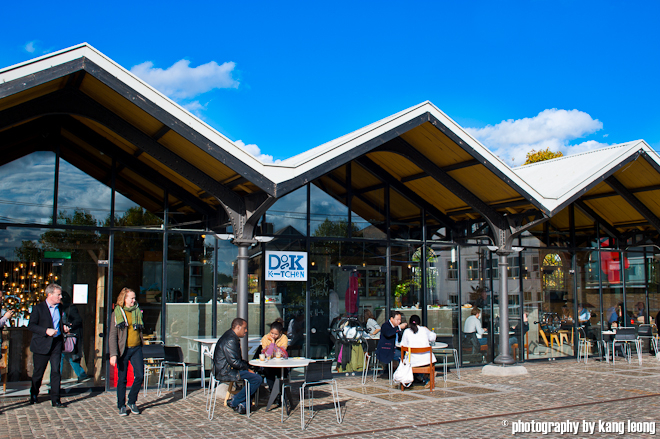 I had a lovely lunch when I visited the then pop-up version of Dock Kitchen in October last year. It was part of Stevie (and kitchen buddy Joe Trivelli)'s mobile restaurant project titled "The Moveable Kitchen" which began at the height of the underground restaurant craze in 2009. Initially, DK served as the canteen for the London Design Festival taking place at Tom Dixon's premises, but which became so wildly successful that it morphed into a permanent fixture. It was hugely enjoyable for me, mostly because Stevie had laid on a changing daily menu in a similar temporary feel to Rochelle Canteen, that meant a chillaxed ambiance for the intrepid lazy luncher.
Fast forward 365 days, Stevie Parle is still in charge of Dock Kitchen, with his street cred now increased by many folds. Since, he has written a well-received book, is the newly crown 'Observer Food Monthly Young chef of 2010' at 25; And (most importantly), Dock Kitchen has been such a success, that it has become fully anchored and has now expanded its operations to engulf the entire top floor of the resplendent Tom Dixon owned property in Ladbroke Grove.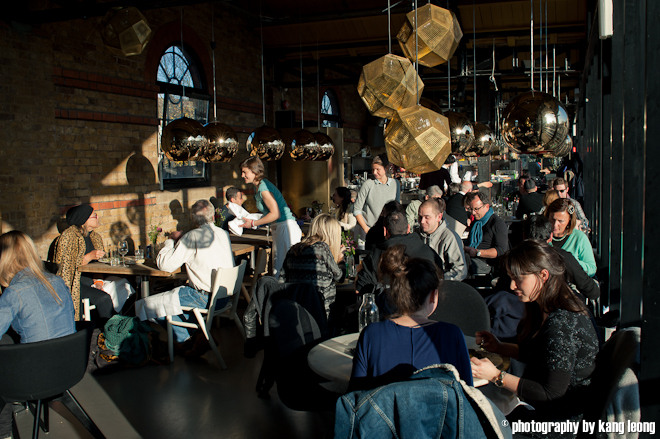 What makes this space so immersive is partly down to the huge glass panels lining one side of the wall. During the day time, diners are bathed in all that loving, vitamin D enriching sunshine. The brass, copper, brick and wood decked building is spruced to the teeth with Tom Dixon's range of glamourous products, the space is space-aged chic (really shiny) and uber-cool. The main entrance has also switched to a more direct route by the main road, as opposed to the finding a buzzer at the large side gates. The rebooted restaurant feels like it has been upgraded with a Hollywood movie budget, everything looks much the same, but it is now bigger and better, and sports a receptionist too.
The better half and I visited on a Friday lunch, and we were glad to see that the hugely impressive open kitchen was still visible to all diners. Gosh what a lovely, open restaurant. And like our visit a year ago, we were both happy to see Stevie once again manning the kitchen during service; Unmistakably lanky fella with the flops.
You would have read about Stevie's River Cafe credentials, which has most probably influenced his cooking; One that leans on emphasis the quality of produce and allowing naturally fabulous flavours to work its way to your palate. So you'd expect abit of Mediterranean and Italian on the menu. Although Stevie has also spent time travelling – and I surmise picking up gastro experiences – around the world, amongst them India, which manisfests itself on his menu, such as dhal and chapati bread.
Pricing is adequately competitive, three courses of ala carte during lunch cost an average of £30 (£7/£13/£5). However, during tea time, the restaurant morphs into a 'supper club', with diverse, themed – and I'd imagine educational' dinners (of varying cost, starting from £30) such as 'English Food' , 'Italian cooking with White Truffles' and 'Claudia Roden Series – Middle Eastern'.
Yes, it is quite one of its kind in terms of London restaurants, you have to admire just how cool Dock Kitchen is through and through. Absolutely modern in vision and execution, a chef's restaurant where Stevie is allowed to flex his creativity unhindered.
On to food then.
Deep-fried New Season's Cornish Anchovies with Salt and Lemon, £7.50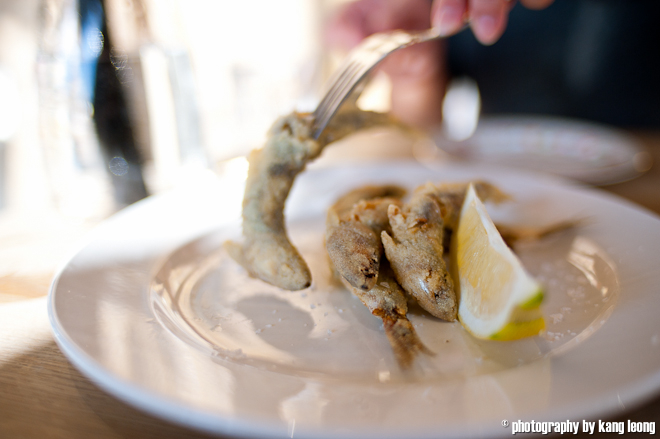 So we start with an example of just fantastic produce allowed to shine, rubbed in a powdery armour of flour, the crispy crunch was absolutely complimentary to the meaty sardines. Refreshing.
Festa Del Mare En Papillotte – Bass, clams and red mullet cooked in a parcel with white wine, thyme, dill and cream with spinach, £14.50.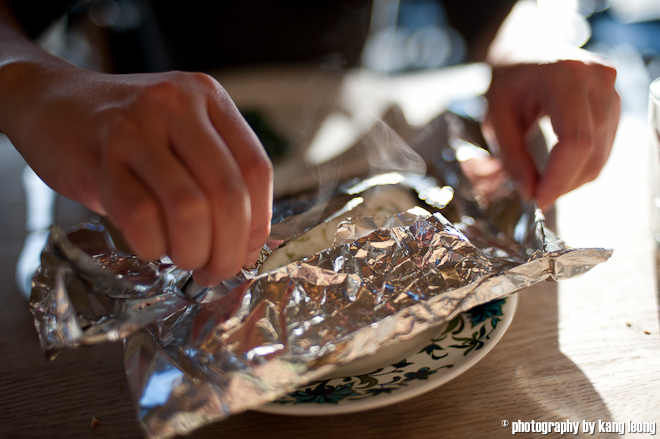 And yet another example of magnificent ingredients, cooked simply and allowed to stand out naturally…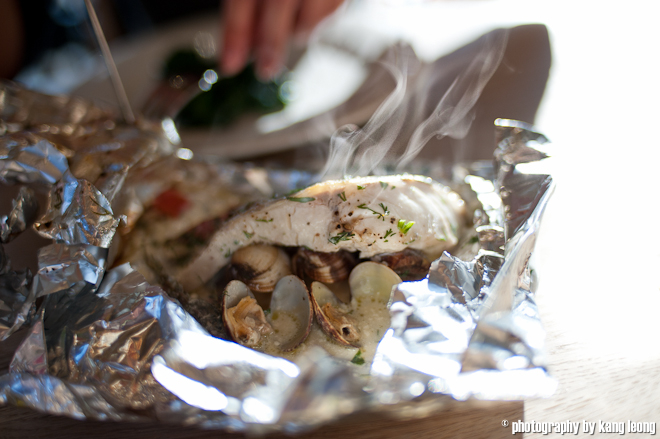 We really enjoyed this, especially the missus – steamy, sweet, fleeting and rustic. Just properly fresh seafood, cooked with a touch of flair, and reminiscent of something from the River Cafe. It was dill & cream brought into the 21st century.
Thick cut pork chop grilled over cast iron with swiss chard and anchovy gratin, £15.50.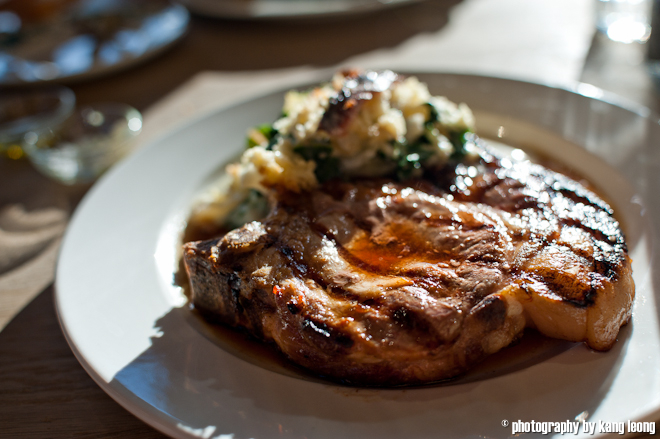 The words thick and cast iron propelled me to order this dish.. and oh my, what a beast of a dish this was… visually it was making love to my eyeballs. That's a properly thick cut pork chop alright.
I could instantly taste the smoking iron on the crusted pork, it was unbelievably juicy. I'm not sure of provenance, but the quality of the meat was simply out of this world. Mellow, a tender cut and a subtle sweetness about it, free of odour – an astonishing cut of meat. This reminded me of the Zucca's mighty veal chop, in that both dishes shared an incomparable juicy, charcoaled quality, but I have to say, this one might just be better. With the exception of the faint whiff of vanilla which I usually detect from veal – and free of the morality involved with the consuming veal, rose or otherwise -, it was perhaps the best grilled chop (of any kind) I've eaten this year.
Rum baba, £5.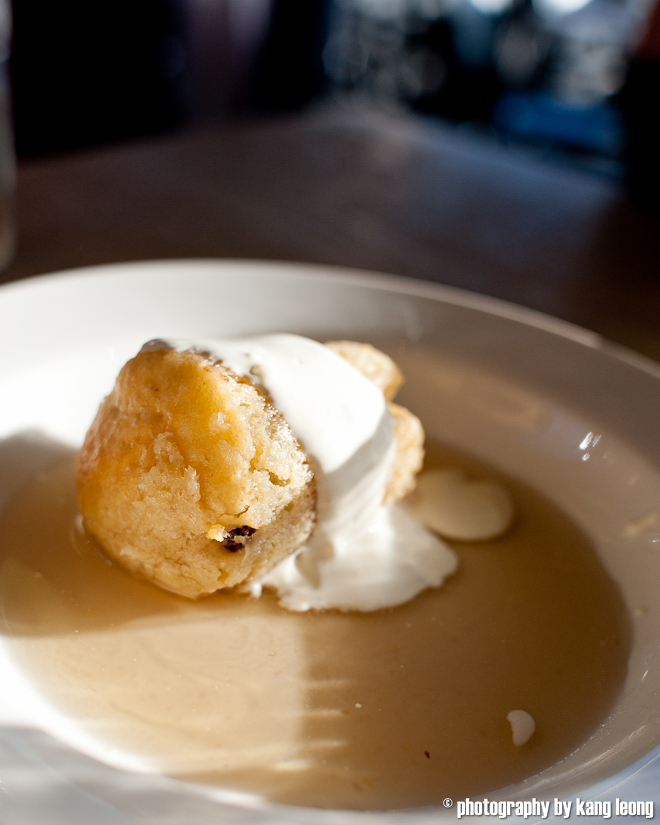 To finish, we were treated to a paradisiac rendition of the classic French pud, and probably the best version we've had this year too. Better than the one I tried recently at Les Deux Salon. And I know it's better because the missus – who doesn't usually like rum baba – liked this one. The cake itself was floury, eggy, porously holding the wonderful alcoholic soup it was soaked in. The (expected) flavours of potent, sugary rum and raisins. The syrup was just so good, that it had us both swooning. The right amount of sugar to cancel out the bitterness of rum – what a beauty. As I gobbled up the cake, I tipped the bowl of syrup into my mouth.
The bill came to £52.88, which includes a glass of house red for a fiver. On my visit, it was near full capacity, so it is well known, and deservedly so. Alot of people like Stevie's project, yours truly included, and I think you might like this as well.
I'm glad Dock Kitchen is totally anchored now, and am hoping it will stay that way for a while, because I think Steve Parle is a genius. The man is still so young (25) but his cooking is already oh so brilliant, there is still so much time ahead of him to evolve as a chef. Exciting really. As for the concept of DK, I think it is just so modern, no bullshit, no conventional amusers aspiring to recipes of the old Nouvelle; Just unadulterated talent channeled into ensuring that the best ingredients are sourced and that natural flavours are not drowned by complex recipes. All against a backdrop of soulful, bluesy rock music.
When it popped up, it was a successful experiment, but now I think Dock Kitchen is a full fledged, well-oiled machine venture, which with fine tuning represents a shimmering template of what the future of London dining looks like. Imaginative cooking, soothing ambiance and just delicious stuff to experience all round.
For reference, my review of the 2009 'Pop-up' version of DK.
The Gist.
Dock Kitchen (Permanently now)
British, £30pp
Portobello Docks
344/342 Ladbroke Grove
Kensal Road W10 5BU
T: 0208 962 1610
Underground : Ladbroke Grove
Anchorage: Lisa Markwell ; Jay Rayner ; Charmaine Mok ; GT
Did you enjoy reading this? You can subscribe to the Newsletter. Alternatively, you can subscribe to the RSS feed.