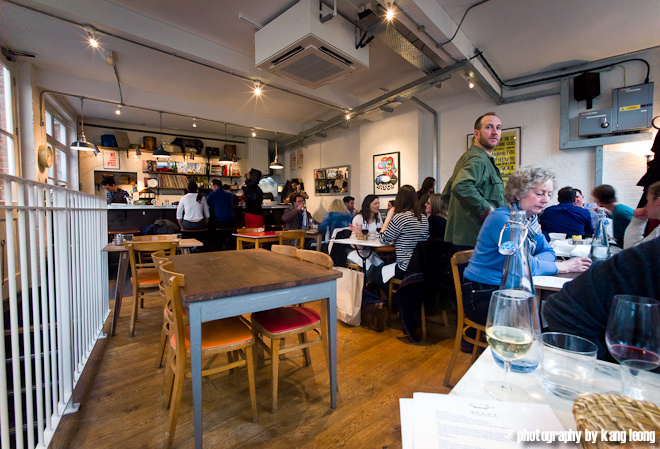 Remember back in 2008, there was a little known wine bar, in Charing Cross called Terroirs? You know the one I'm talking about. It garnered gushing reviews from all four corners, everybody showed up to the party, and everybody thought it was pretty amazing.
Well, get ready for the second coming, because they're back!
The people behind Terroirs recently extended their operations, this time into East London. Opened – by my best guesstimations – in Nov/Dec 2010, it has already been lauded by our capital's favourite critics and blogs (scroll down for the usual links); Needless to say, the reports are largely positive, but perhaps it is a resolution of sorts for the food media, as it appears the hype machine has been spinning a much more reserved message about Brawn (the "good but not great" line); As opposed to an emotive, balls out love fest.
I, au contraire, am more than happy to hype it up. I loved my visit. It was fabulous, it is fabulous, it definitely shares DNA with the older sibling, Terroirs, a good thing of course, and I think I prefer the younger and sleeker Brawn.
Firstly, its location is set deep within the (apparently) historically rich part of East London, in Columbia road, that morphs into a famous flower market on Sundays. Which I've never been to, as I (must admit) do not endear myself to flowers.
I suppose the idea behind Brawn is the result of an elegance solution. As such, the menu changes daily – perhaps to reflect best available produce in season – svelte, black helvetica font printed on crisp A4 sheets. Sections include Taste Ticklers to start (oysters, cheese, radishes); a dedicated 'Pig' section for preserved meats ; Plancha for grilled food , Raw (tartare) , Slow cooked dishes and puds. Like its predecessor, this is a wine bar with an over achieving kitchen.
I believe it wins major points on decor, compared (again) to Terroirs, Brawn is much less intimidating, more mellow, more stripped down. As you know, I take to these sort of indie, modest looking, shabby style, egalitarian, all about the food, basic premise type ambiance. It's very inviting grazing in this sort of environment. The decor is in step with some of East London's favoured caffe/easy-easy Brit diners including Rochelle and SJ's Bread & Wine.
We arrived as a table of 3 in the mid Saturday afternoon and were greeted by Oli, with the beard of envy; austere, calm and professional in making sure we were comfortably settled in. An assassin of a man, he sure knows what he's doing.
Maldon rocks, £1.50 each.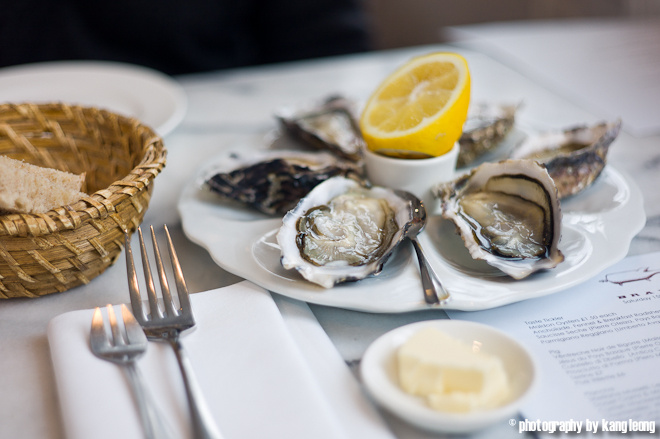 So the procession began with six oysters, to tickle the tastebuds. Expertly shucked (we did not expect otherwise), it went down well with my glass of crisp yet bodied verdicchio (£5.30). Tap water was filtered using Vivreau tech, sourdough hails from the E5 Bakehouse, both very good, free-flowing and complimentary.
Provenance is proudly emphasized where ever possible on the menu.
Pork Rillette, £6.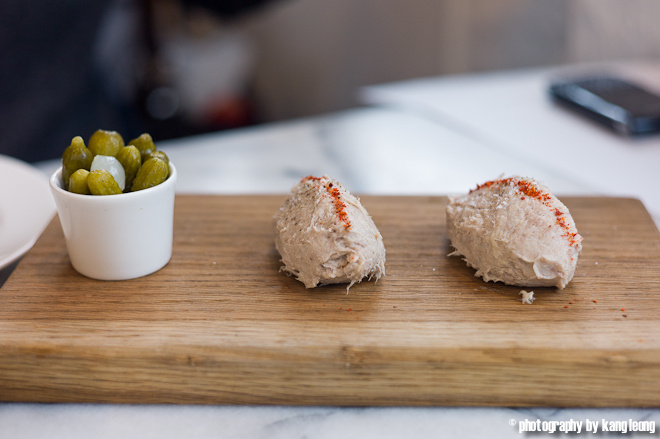 Simple, straightforward, floss-like, mushy, chunky, with a mild flavour, spreading beautifully on bread.
Dorset Clams, Manzanilla, £8.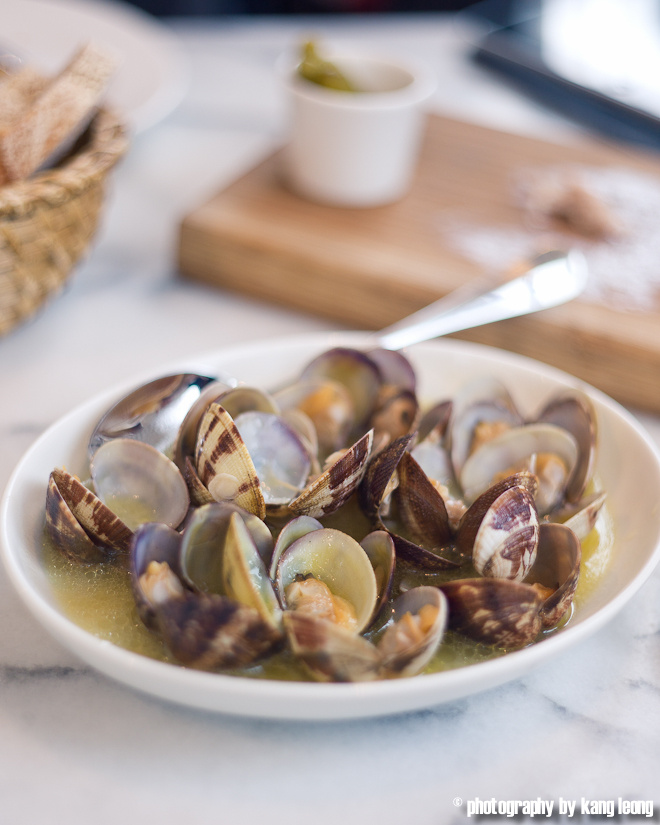 The sauce tingles with wonderful aromatic and alcoholic sizzle. An elegant dish, homely.
Chanterelles, warm duck egg yolk, toast, £7.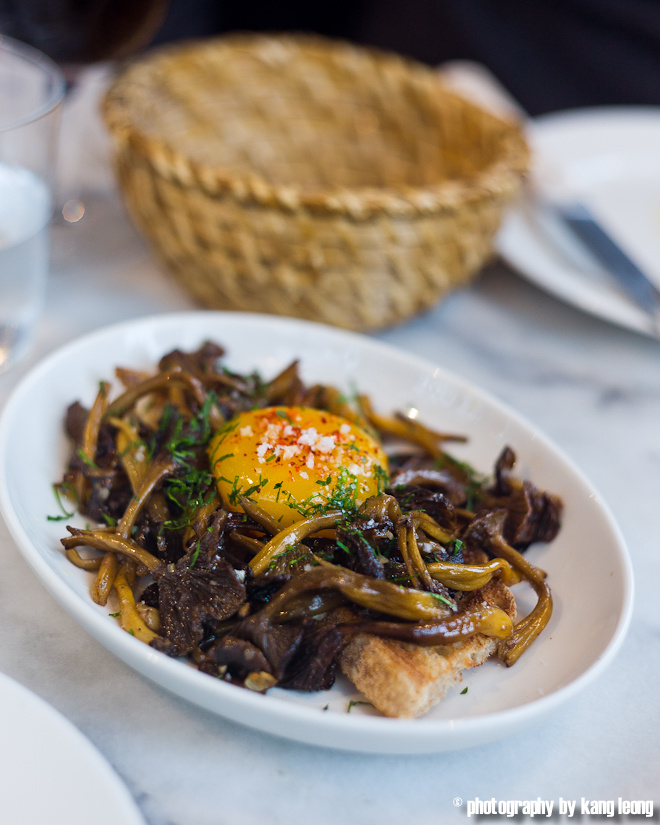 This was awesme. The rich, runny and creamy yolk, smothering itself across the umami intense mushrooms. Perhaps just a tad too much flavour, the saltiness was too sharp, otherwise, a muscular dish.
Buffulo Mozzarella (Pasquale Vito, Compania) Anchovy & Lemon, £7.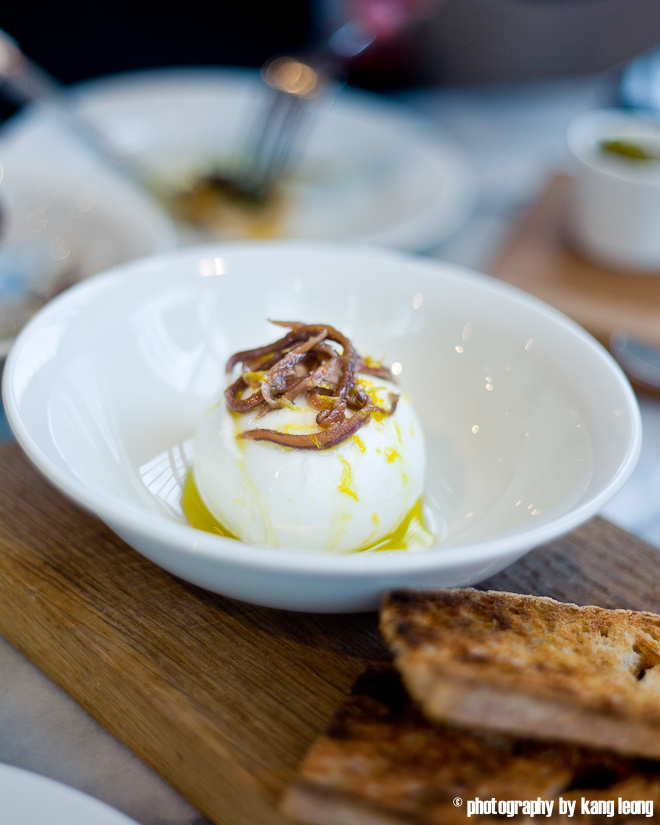 More of the same really, this dish illustrated the expert sourcing skills behind the operation. Valentini olive oil drizzled over it, on our table. It teased out a wonderful bouquet of fresh, wholesome flavours. This is what a total mozzarella experience should be. Obika shivers.
Hand chopped Tuscan style beef, £8.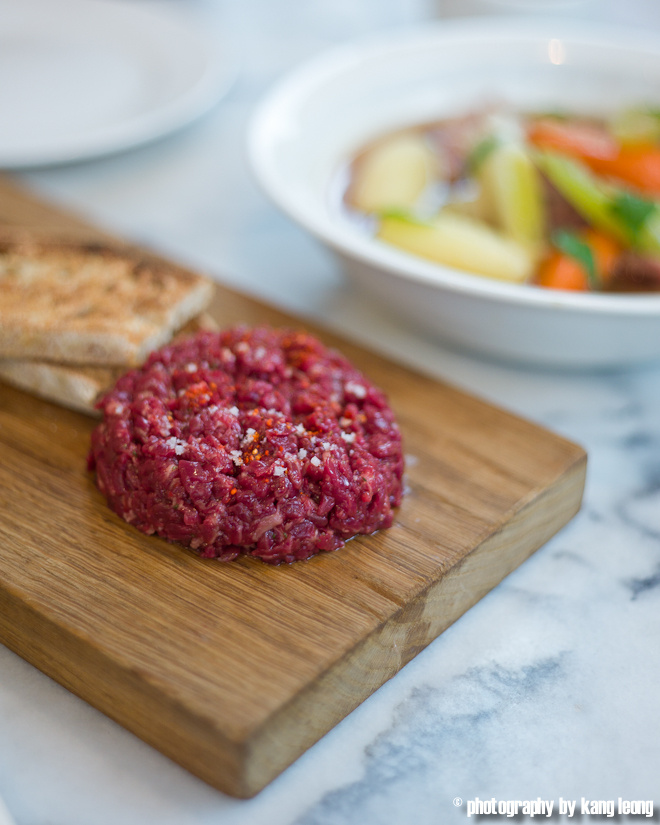 I failed to secure the details and whereabouts of the cattle used, whatever it was, it was – again – expertly prepared. Generously salty and peppery, perhaps a little too much so, but otherwise, it was indulgent. It spread very well on the toast provided.
Tete de Veau, Sauce Ravigote, £13.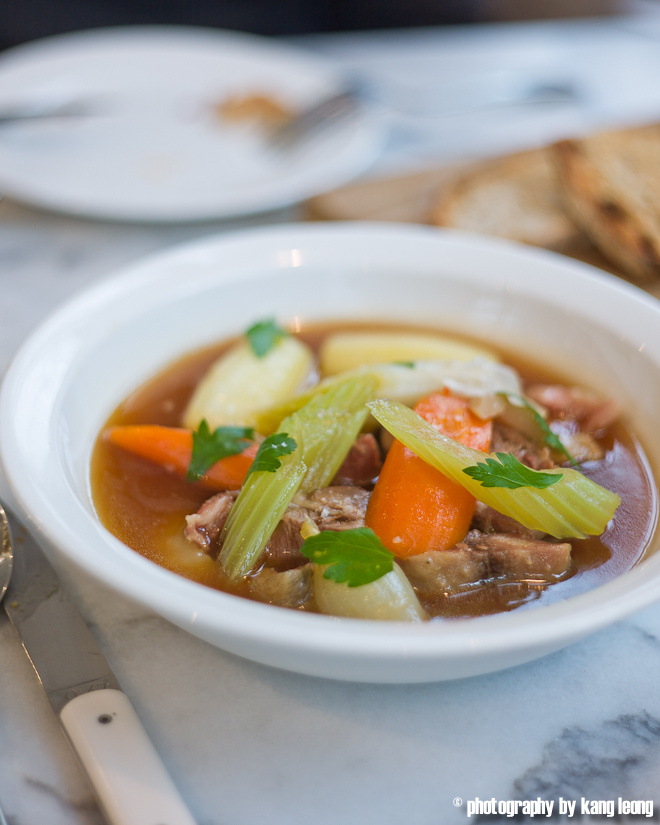 Finally, the closest we'll come to brawn, the dish rather than the name of the restaurant. Tete de veau, or 'calf's head'. A very French recipe I gather.
Bang. Imbued with potent, gelatinous extracts from the the calf's head. Some bits even came with the original unpluckable follicles still visible, but darn it, what a brilliant soup! Oily, full bodied, rich and heart-warming. The best dish we had, redolent of the wonderfully simply mutton broth I once had in St John years ago, and the epitome of Brawn's approach to filling up their customers.
The bill was £87.55 for three. Just under £30 per head. We were really stuffed. Enough to last the rest of the day. It's a brilliant sequel to a great debut, Terroirs and Brawn together represent two of London's best easy-going, share the plates type restaurants. The food is restraint, but in its simplicity, one is likely to find delicious beauty. If you were looking for a contemporary, relaxing eatery, I think Brawn is the ticket. The location is both boon and bane, it fits well with what's around it, but because it's a little difficult to get to, many of you will be weighing up the travelling times for the food. Look, I love these sort of stripped down outfits. Food is simply amazing, service comes with two broad smiles, the bottom line is reasonable and the wine is drinkable. I will return, but probably I should revise my Terroirs write-up for the new year as well. Heartily recommended.
More photos on my flickr account.
The Gist of It
Brawn
British-European wine bar, egalitarian. £30pp
49 Columbia Road, E2 7RG
Tel: (020) 7729 5692
Tube: Bethnal Green
All Muscle : Lisa Markwell for The Indie ; Marina for Metro ; Fay for the Evening Standard ; Hungry in London ; Eating East ; Rocket & Squash ; The Critical Couple ; Gourmet Chick
Did you enjoy reading this? You can subscribe to the Newsletter. Alternatively, you cansubscribe to the RSS feed.