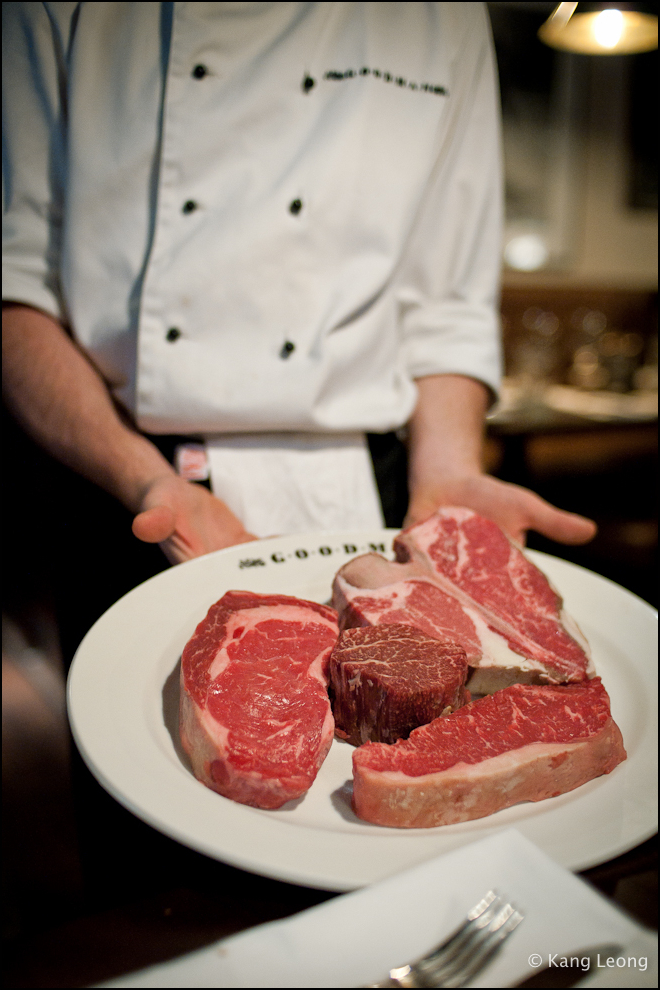 I have been itching to supersede my first Goodman post which I wrote last year with something that better reflects my feelings about the restaurant. I love my meat sweats obviously, and in the twelve months following the first visit, I've returned to many a fabulous meal at Goodman in Maddox Street. With the launch of their City branch, I thought this was the perfect opportunity to formally update position with Goodman.
In the last few months, the Goodman team have been frantically preparing the launch of their second restaurant in London, quite fittingly in the heart of the Square Mile, to cater to testosterone charged suits. David who represents Goodman's front of house had kindly extended the new branch's 50% soft launch discount to me, and so I was more than delighted to go along and spend my money to gorge even more steak for half the price.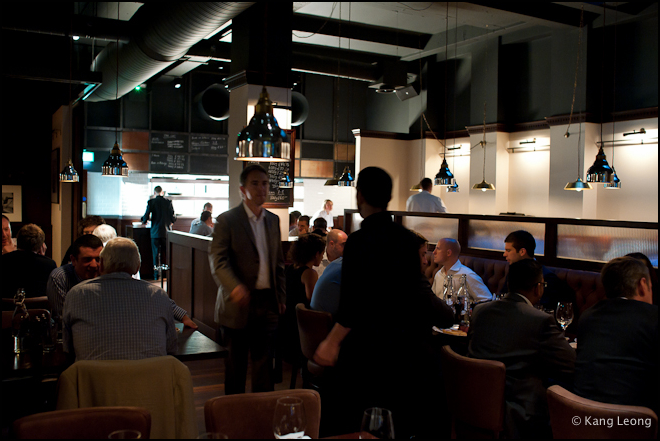 The missus and I went on a Thursday night, and expectedly, the room was rammed with pressed shirts and metrosexual hairdos – it's like the perfect hunting ground for single females looking for a plump husband to be. You know who you are.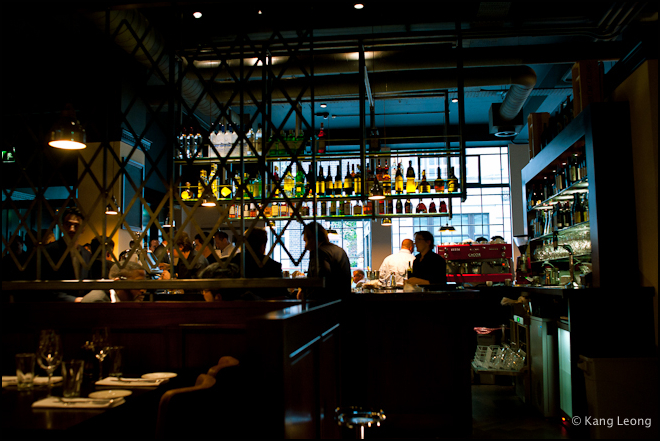 The new restaurant is also quite alot bigger and buzzier than the Maddox branch which was always abit cramped, especially with how the bar is laid out. Same furnishings, brawny woods and hanging lamps and black and white photographs (at 16×24 instead of 8x10s .. I think .. ), and a much higher ceiling, exposing pipework, albeit masked with black paint. Everything is brought to the same level, where at Maddox street, it overspilled into the basement. The kitchen is open to the dining room and the dry ageing room, is visible to all diners as it behind a glass panel. Abit like an aquarium of steak. The new bar is massive.
As any steak lover will tell you, a great steak house lives or dies by the quality of beef they use, and whether if it had been properly hung or not. Not only do Goodman have their own dry ageing facilities in house, they also source their meat from arguably the best butchers in Britain, as well as the best imported beef they can get their hands on. Oh yeah, there's also the small matter of installing a Josper grill and taming this temperamental beast of charcoal, which some kitchens have reported failure with. Family and friends whom I have dragged with me to Goodman Mayfair have always been thoroughly impressed with the bafflingly fantastic charcoal-infused steaks.
As I had the power of a 50% discount on me, I didn't hesitate with creating my bespoke platter by selecting from their best stock. As they always do, the waiters will present you with a platter of cuts to help you decide what you want, always spot on with showing off and explaining what they've got in their ageing rooms, and service is the City branch is at the same top notch levels as Maddox street.
Before I talk about steaks, I want to recommend the Frank Hederman smoked salmon (£11) , Lobster bisque (£7.50) , the Russian sweet herrings (£7, a nod wink to Goodman's owners) and the excellent in-house made pate (£7.5) as excellent choices to start, if you are so inclined to have a starter that is. They might specialise in steak, but the lobster bisque is so seriously good that it can rival more eloquent peers in the city. I skipped starters during this visit however. Just for the record, I do not rate Goodman's burger, I find the patty to be too salty. Go to a Byron if you want minced meat, Goodman is all about the steaks.
Ok back to the meatfest.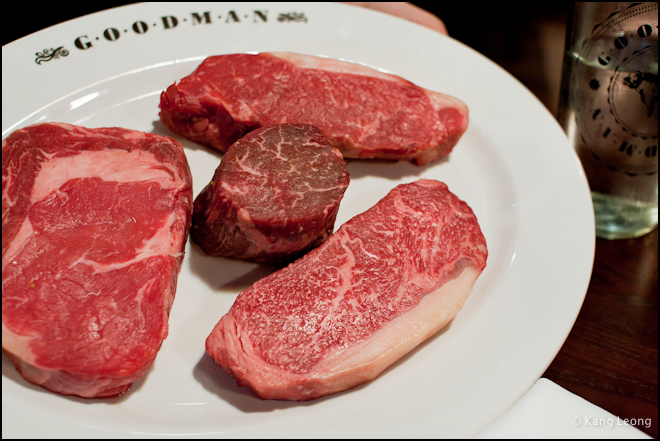 You see the superbly well marbled piece of beef in the foreground from the picture above? Well that's the Chilean Wagyu sirloin (NY Strip to be precise) with a marbling score of 7 to 8 at £60 for 300g. Seriously, look at the marbling on that beef! See the sirloin on the top right? Well that's basically the same cut, but a Prime USDA. Visual evidence of why Wagyus are prized as they are. The fat content is incomparable.
On the 'regular' menu, they list the same cut but with a lower marbling score at 3-4, for £45.
By the way, when you visit a Goodman, forget the menu, always ask for what's well hung in the ageing room. The chef will usually cater to heavier weights and cut them specially if you request it. Personally, I don't scrutinise dry ageing times so much, because it varies from breed to breed, some requiring more time and some less, so if the chef says it's ready, then I'll believe him.
Anyway, I ordered Goodman's triumvirate of meat – (Darragh) O'Sheas Angus Grass fed Bone-in Ribeye 450g (£26) ; (Erm, should be Nebraska) Prime USDA Angus Corn fed Bone-in Ribeye 700g (£43.75) ; Chilean Wagyu Sirloin score 7-8 300g (£60). Unfortunately, they didn't have a Wagyu ribeye carrying that marbling score, which would have made from a better comparison (not to mention a much softer and even fattier cut), but we made do.
We waited a good 20 minutes (or so) before the steaks landed, and waiting is a good sign, since steaks really need to be rested so that their juices are retained and redistributed evenly before being sliced and served. Probably even more time considering how thick they serve 'em.
Here's our steak platter (£26 + £43.75 + £60 = £129.75 )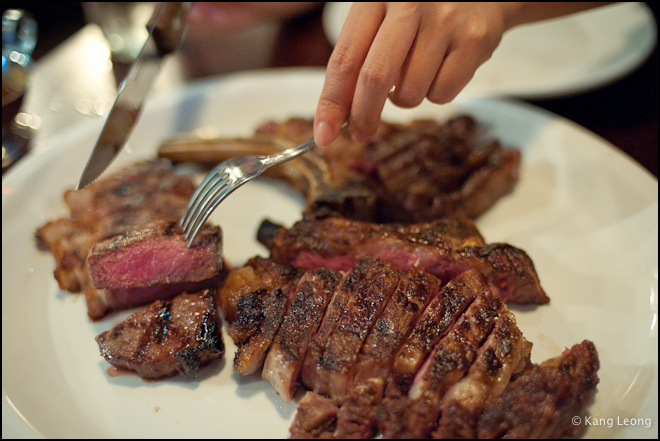 Beautiful innit? I prefer to have my steaks served as a platter and pre-sliced. The steaks look plump, and juices aren't overflowing (Although they are probably cut on a board before plating up) on the plate, which is a good sign. I love their bearnaise but the stilton and red wine sauce is really interesting, we ordered both.
Time to taste it!
L to R. Wagyu Sirlion , O'Sheas Ribeye , USDA Ribeye. What say you? Is that a perfect 51C?
To my eyes, that's perfectly medium rare. General comments first – it appears Ollie and his team have mastered the dark arts of manning the Josper Grill. The surface is crustily charred, inside the juices burst out as you bite into them. Oh and the signature, smoke-filled charcoal flavour too.. Mmm… As far as I can tell, Goodman City's Josper skills are equal to John's at Goodman Mayfair.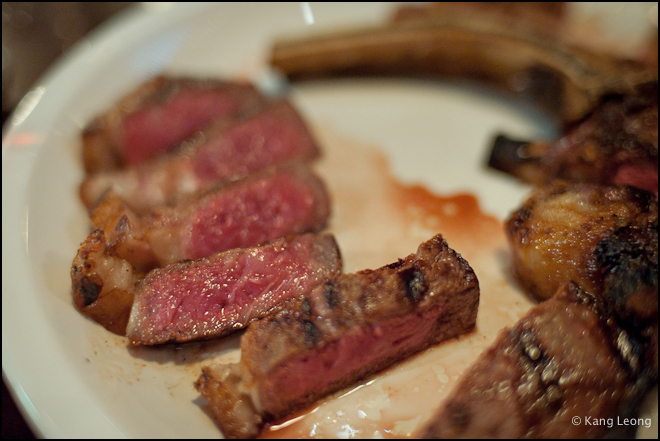 Right then, the Chilean Wagyu. Fantastic. It is pretty soft for a sirloin, as soft as the O'Sheas and USDA ribeyes. The meat is very plump, mellow beefiness, and it is noticeably oilier than the other cuts, in fact it oozes oil, giving rise to a very viscous mouthfeel. I suppose the oil is due to the inherent marbling, some of it hadn't yet melted away completely and is still visible. It's just an extremely pleasant experience of steak.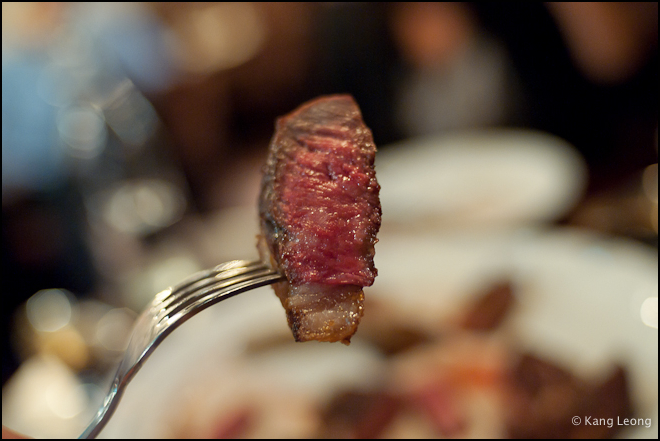 Fat equals flavour, and the fat on the wagyu is on the mellow side. No intense blue cheesiness here, very graceful stuff. The oily mouthfeel is really fantastic, it is sixty quid for 300g of pampered cows massaged daily, which listen to classical music and allegedly drunk on beer most of their lifetime… it had better be amazing and it was.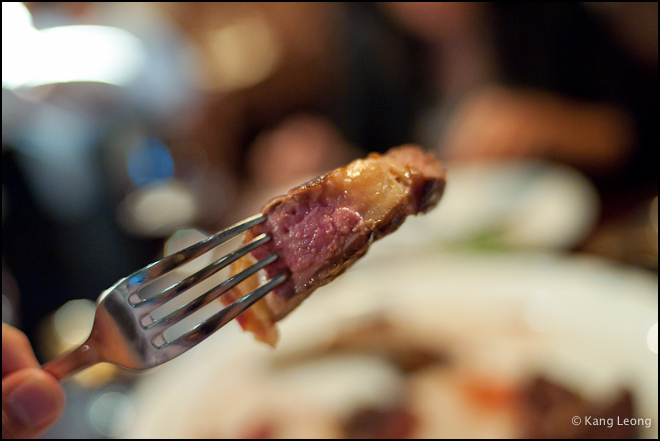 Here's a close up of the USDA ribeye (£43.75 for 700g). It's no slouch either. Surprisingly, it is the softest of the three cuts, albeit the wagyu was not a ribeye. Just look at how easily the fork pierces the meat. Unsurprisingly, the meat carried the least flavour of the lot, sweeter and even more mellow, but superbly tender. This is a cut that benefits from even more fattiness, as that helps to boost those sugarcane notes. Nothing abit of bearnaise can't solve though. I still really enjoy eating USDA ribeyes, the tenderness is unmatched. Well maybe a matsusaka or a true kobe steak.
Finally, the superb O'Sheas ribeye, 450g for a fantastic price of £26. You know I love O'sheas, I think this Irish family butchers consistently produce the best beef of the British Isles. If you step into Darragh's shop in Knightsbridge, it doesn't stink like a usual butcher shop, instead there is a fragance of bovinity in the air. The only thing better than slapping a monster Cote de Boeuf on my Le Creuset, is to have Goodman slap it in their Josper. The beef is tender – as is any well hung beef to be quite honest – although it has a nice firmness about it as well. I find that with O'Sheas, it is all about those blue cheese flavours, it is carries much more beefiness than the other two breeds, the fat is rich. As an aside, I feel that Scotch steaks carry even more rich beefiness… but perhaps just a little too much for some, especially when one is having it bloody. I think the O'sheas strike a great balance between being affordable and being well balanced in terms of flavour and tenderness. If you don't want to overspend, the O'Sheas are a solid choice.
It is all a matter of personal preference really, and to be quite honest, these cuts of beef are at the very top end of what your money will buy, at least in London. Well hung beef, Check. Well marbled, check. Grilled over charcoal, check. Crusty exterior, check. Well rested meat, check. Whippy bearnaise, check. Affordable jammy, medium bodied, easy drinking reds by the glass, check. Buzzy steakhouse atmosphere, check. It is a cracking steakhouse which gets alot of things right, especially the atmosphere. Ask for a quick whizz around in the dry ageing room too, if the restaurant is not too busy… do try and put your nose close to the beef and smell them. They should be sweet smelling. Anyway, the bill before discount would have been £176, which includes two sides and two glasses of red and service, but we paid £95.48 – a generous £68.88 soft launch concession, and which makes it £47 each. Of course it's expensive, but considering the sheer quality of meat and the care that has gone into preparing it, you do get what you pay for. I know some of you prefer the All British Ginger Pig stuff at Hawksmoor (which is great as well), but I prefer Goodman's for its low-lit steakhouse atmosphere, and what with it constantly being packed out with men in suits, must mean they are getting the job done properly. The next time you plan a steak dinner, consider a medium rare, O'Sheas bone-in ribeye at Goodman.
The Gist of It
Goodman City
Steak, £60pp
11 Old Jewry EC2R 8DU
Tel: 020 7600 8220
Tube: Bank
Did you enjoy reading this? You can subscribe to the Newsletter. Alternatively, you can subscribe to the RSS feed.
All text and photography on this blogpost is copyright and belongs to Kang Leong, LondonEater.com. If you repost this without my permission, bad things will happen. So please don't do it.