This is what you see when you arrive at The Sportsman.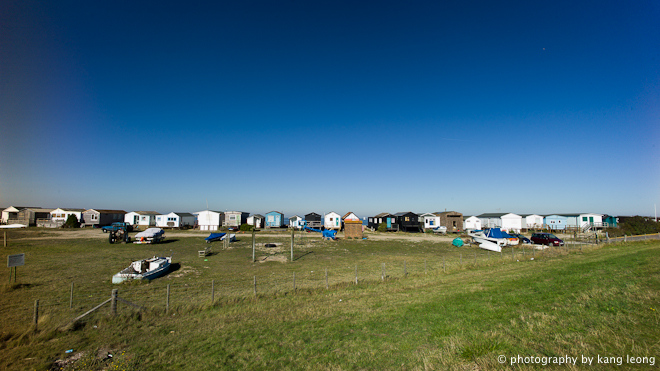 Perhaps this is the secret to the good cooking since this is also the view from Stephen Harris' kitchen. I'm sure you must have heard about this place by now, quite literally every blog and hack with the vaguest interest in food, in this country has written and raved about this michelin starred restaurant. It is one amongst a very rare collection of restaurants which commands near unanimous appeal, and as such, it is often regarded as the very best this country has to offer.
The original gastropub began life when Stephen sat through a revelatory meal at Chez Nico way back in '92, which then became his inspiration to bring the slickness of high cooking to a more accessible setting. In the subsequent years, Stephen set about unravelling the mysteries of macaroon winning ways by visiting the nation's darling restauranteurs of the era including MPW and GR until one fine November day in 1999, he decided to buy an isolated pub nestled between the English coast on one side and rolling fields of grazing sheep on the other. He crafted a brand new kind of experience that sought to marry cutting edge decadence with a wedge of the English seaside. Boy, did he managed that and then some. Today, he holds a Michelin star, the restaurant is constantly full up, and it must be said that the local taxi operators owe a large chunk of their business to Stephen.
Venturing out of town exclusively to experience a mind blowing meal is very appealing to me these days. The anticipation and the physical act of travelling to an alien location. You feel your mind mature on the train (as you lock eyes with grazing sheep) and contemplate how life may change after the adventure. The Sportsman is located in Seasalter along the North coast of Kent, between Faversham and Whitstable. To get there, one must brave a 90 minute journey from Victoria (assuming you are travelling from London) , 70 of which on a train to Faversham, and the remainder is spent hurling on the narrow and winding roads toward the coast. The experience is pilgramatic (not a real word) altogether, when we finally reached the destination, I couldn't help but admire how peaceful this part of the world was. The air was fresh, time moved at a more profound pace, the winds whispered sweet nothings as they brushed past my hair, how nourishing for the soul… is this what heaven looks like for us gluttons?
Decor is as unassuming as any loved-up family owned pub in the country. The all-wooden interior does feels a little shabby, musky but very down to earth leading me to speculate that this is all probably intentional. It was reminiscent of walking into a warmly welcoming B&B, the ambiance has more in common with a home than a portentous purveyor of gastronomy. Everything seems so blissful, I felt like I was on holiday. Total zen.
Taster menus were not available on weekends, so instead we were instructed to pick our 3 courses from the chalked up daily menu by the bar. I washed down with a pint of late red ale as I resisted the temptation of ordering everything on the menu. After we settled on our table, I headed to the restrooms to wash my hands, and contemplated putting a two pound coin into the condom machine, to take home a souvenir from this visit.
Home-made bread on the house.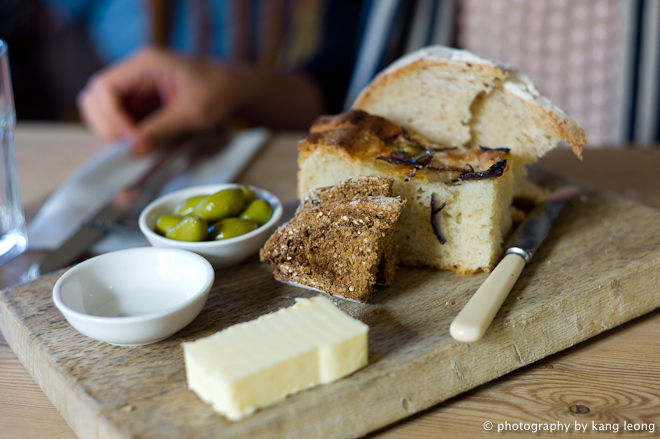 "All baked in-house." The restaurant's pride in their food is immediately made known to us. It is widely understood that Harris places a lot of emphasis on his produce, leaving as little to 3rd parties as is possible, which (so I read) include churning their own butter and growing much of their own vegetables. Sourcing locally is in vogue these days, after all the ability to secure fresh ingredients of consistent quality is half the battle toward perfecting the art of sustenance. The soda bread, foccacia and sourdough were perfect.
The Starters
Crab risotto, £9.95.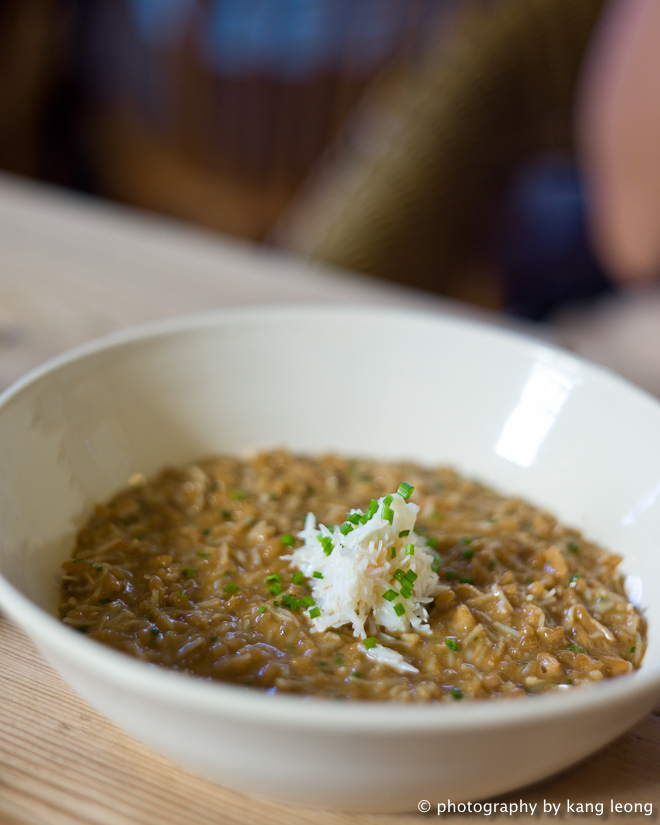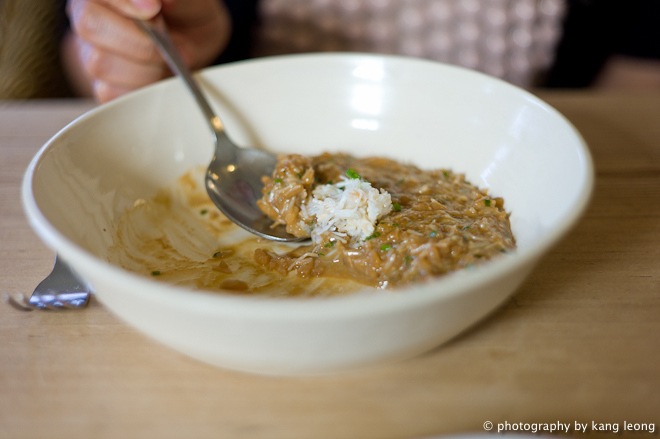 I think the risotto was made with brown crab meat, and so came infused with a mud-like minerality. My attention was immediately arrested by the essence of shellfish within the risotto. The flavours were in perfect balance. The fishy brown crab allowed to clash with the brightness of the white crab meat in the ultimate battle for your tastebuds' affections.
Many have praised how brilliantly simple the food is at The Sportsman, and based on this meal, I have to agree. It is brilliant. I'd add to that hyperbole and say that it isn't just mere simplicity that has intrigued, rather I think they have achieved some higher form of elegance. I think it is mainly to do with the balancing of flavours – eerily harmonious. The dish was entirely easy to eat, there was such clarity in the execution, that one feels will appeal to any set of tastebuds, imparting a sense of total nourishment, and I believe that's the beauty – you don't need to acquire any tastes to eat here, it is simply just good grub.
Pork Terrine, £9.95.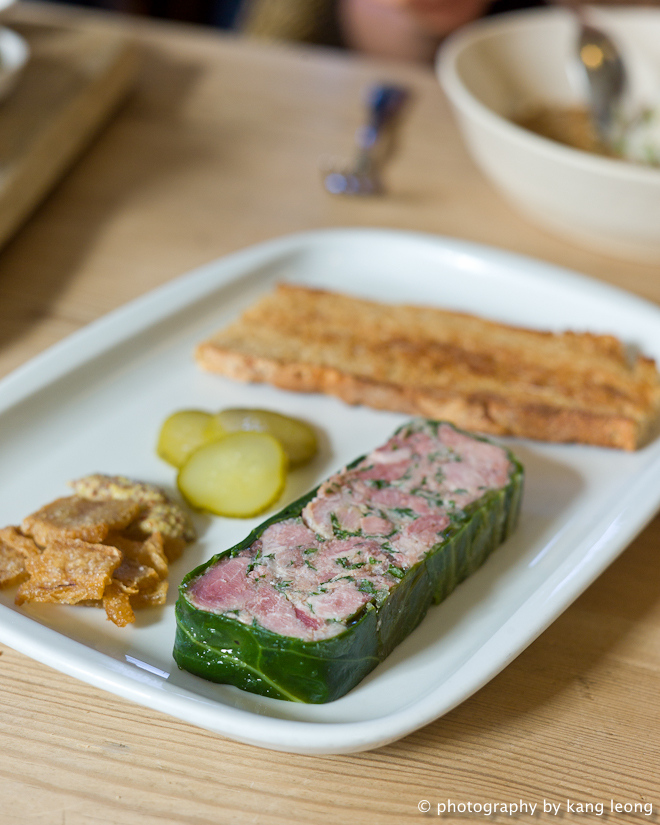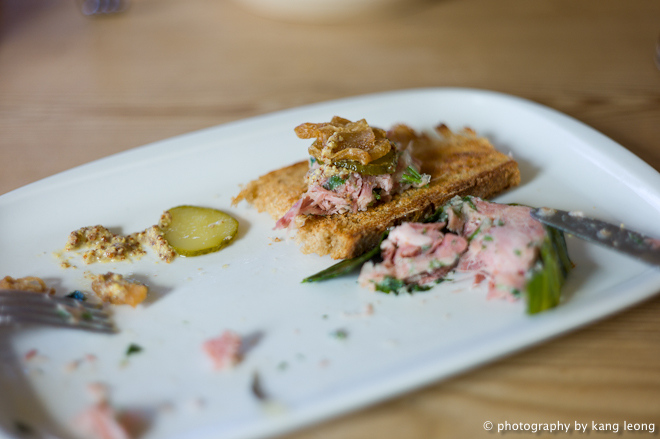 Same story here, like the missus' risotto, this cold terrine was another lesson that highlighted the importance of balanced flavours. I appreciated that it was not overly salty, and was made with dense chunks of pork. The cabbage wrapping was the stand out feature – imparting a crisp brightness to the flavours. Cabbage-infused pork, it was brilliant because it was such an easy dish to eat. Needless to say, the scratchings on the side were fine as well.
Mains
Roast Waterham farm chicken with bread sauce and roasting juices, £17.95.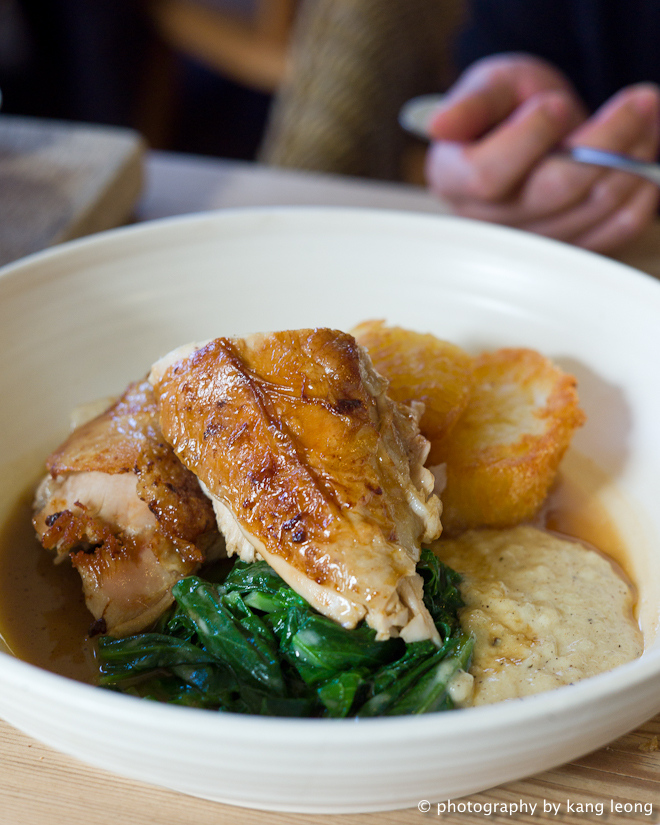 Damn fine roast chicken in every respect. I can't seem to remember a better version of chicken at a restaurant, maybe when I visited Harnett's Y&A , but as chicken goes, this has become a cherished memory for me. Tender, smooth and soft textures, the bread sauce was lightly spiced, and the roasting juices enveloped the chicken with a wonderful vanilla-like fragrance. Perfumed chicken, I must also applaud the sheer quality of produce – great ingredients carefully cooked by someone who loves to eat. Most of all however, I thought the potatoes were ace. Like mashed potato croquettes as opposed to just potatoes cooked in fat.
Thornback ray, brown butter, cockles and sherry vinegar dressing, £19.95.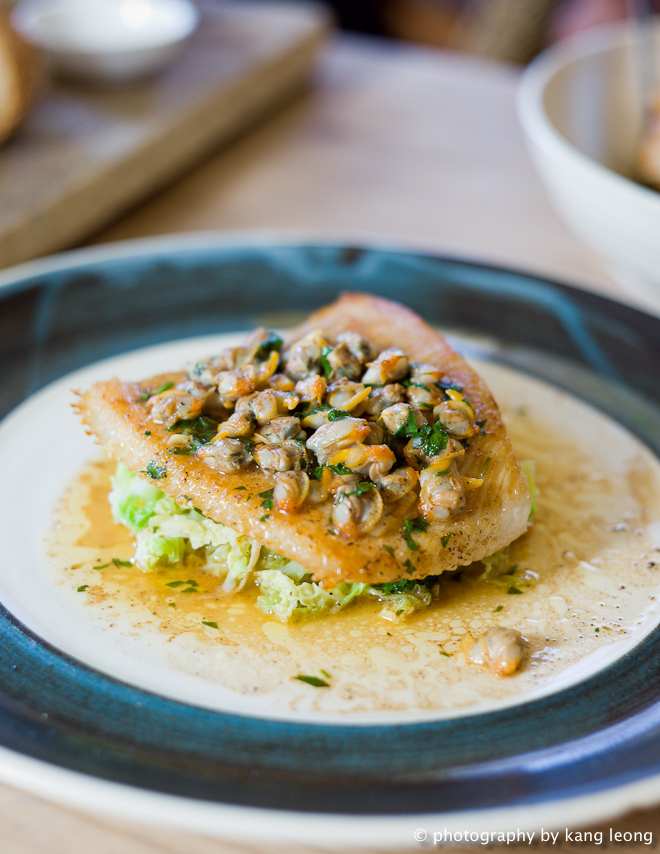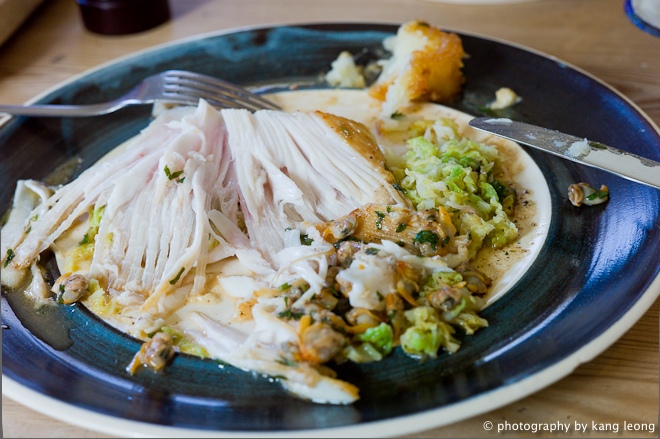 A sweet vinegar, feminine lemon butter flavours, smelling all lavender and tulips, the garden of flavours were as nourishing as the surroundings we were in. The fish was fresh, and so the textures were lively, the cockles were chock full of sand, and so were a little rough upon chewing. A nice fish dish, visually stunning, but if I am honest, just a shy overcooked and probably a tad under seasoned, but still it was a satisfying main dish.
Custard tart with plum ripple ice cream, £6.95.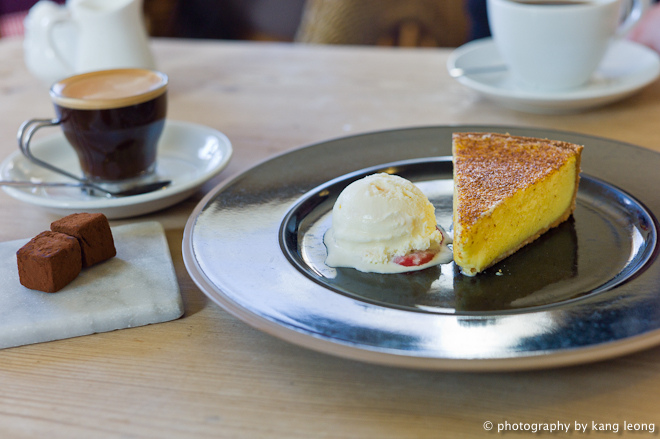 I loved the pudding. This is better than the Marcus Wareing recipe. The textures were so cloud-like, more akin to a whippy mousse, or perhaps meringue from a baked alaska than humble baked custard – how did they manage this kind of texture? Easily the most unique custard tart I've yet had – the lightness was pure genius.
This is what you see when you leave The Sportsman.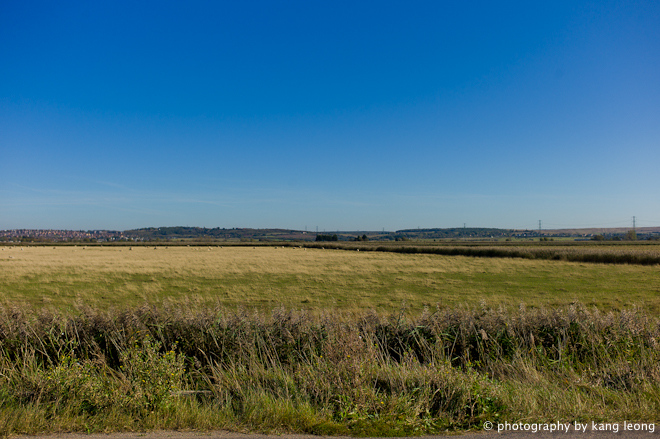 Salt and fish recovered from the sea, lamb and poultry from within driving distance and vegetables grown in their back garden – This is our Noma, why travel to Copenhagen when we already have such a gem in our backyard? Amazingly, for 5 dishes of food, two coffees and two drinks, lunch was an extremely appealing £72.35. What fantastic value for money.
All in all, I think The Sportsman thoroughly deserves its reputation, this kitchen is a finely tuned instrument, Harris and his team can definitely make sweet music with pots and pans, the sheer clarity in the cooking is rarely experienced, and something that eager gluttons yearn for. But upon reflection on the ride back to London, I don't think this meal was the revelation I'd hope it would be. It came very close to changing my life, but truthfully it didn't. In a way, I don't think it's meant to, this isn't the precise opera of Blumenthal, this is the jazz of Harris in a seriously laid back pub. I think that while the honesty and authenticity in the cooking is admirable, it is the pure romance in its setting that makes The Sportsman truly special. I can see myself coming out here again, The Sportsman is a charming restaurant and a class act. Together with Kerridge's Hand & Flowers in Marlow, I believe they epitomise the concept of haute cuisine without table cloths. Not absolutely extravagant, but still more than worthy of a visit, if only to lock eyes with the sheep.
The Deets.
The Sportsman
British. £55pp.
Faversham Road, Kent CT5 4BP
Tel: 01227 273370
Travel: Train from Victoria to Faversham, then 15min taxi ride.
Did you enjoy reading this? You can subscribe to the Newsletter. Alternatively, you can subscribe to the RSS feed.