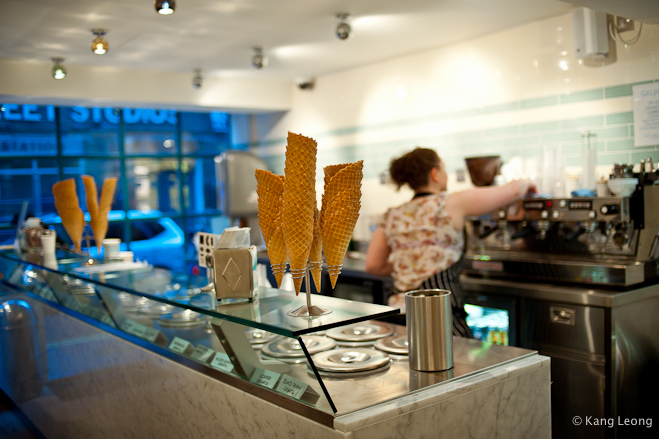 Are you melting in the English summer yet? I'm surprised how humid the weather is so far, I went to Uniqlo to get new shorts so I can let the wind blow me dry…
…. So there is a new gelateria in town, the same group behind the excellent tour-the-Italian-regions restaurant, Bocca di Lupo, and how very timely too. The gelati are pretty unique rather than just offer a standard selection (such as stracciatella or fiore di latte), there are combos such as ricotta, coffee and honey (which was excellent) and avocado & honey (which was a little off kilter, was a little sour).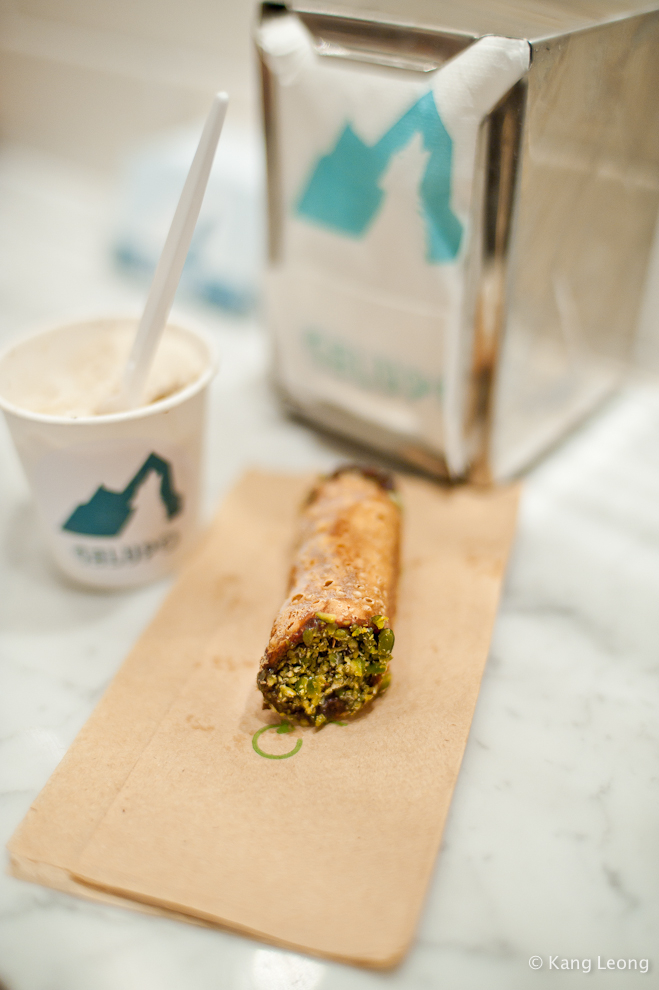 What I really enjoyed however, were the sorbets, the melon in particular tastes just like frozen cantaloupes, sweet, sugarly, stringly and fresh, just what one needs to cool off really. Even better were their granitas, we tried the watermelon, icy, syrupy and quite literally chipped frozen watermelon. Other granitas on the menu include coffee, blood orange and almond.
The only things that disappointed were the cannoli. On paper it sounds interesting, stuffed with pistachio ice cream, fresh pistachios and a dark chocolate icing. It did taste freshly fried, but as it was stored in the freezer, the pastry dough became soggy. If only they fried and stuffed the cannoli (with gelato of choice, and as an alternate choice to wafer cones) to order, that would be a hit, perhaps in the near future, and a suggestion?
There are other sorts of gelato-stuffed products too, including stuffed melons and pineapples (flesh scooped out) as well as gelato cakes. I also hovered over the small selection of Bocca di Lupo pasta, sausages and sauces, available frozen to buy, but didn't commit to anything. Canned tomatoes.
Tall stools, tables by the walls and marbled furnishings brightens up the blue-themed gelato bar and deli, if you're searching for an alternative to Scoop! in Central London, give the Gelupo granitas a try as I think you might like 'em. Although beware, visual satisfactory will be minimal as the gelati are hidden within deep stainless steel wells as opposed to being shamelessly naked on show behind glass counters…
The Gist of It
Gelupo
Gelateria, £2 per scoop
7 Archer Street
Tube: Piccadilly Circus
Tel: 020 7287 5555
Did you enjoy reading this? You can subscribe to the Newsletter. Alternatively, you can subscribe to the RSS feed.
All text and photography on this blogpost is copyright and belongs to Kang Leong, LondonEater.com. If you repost this without my permission, bad things will happen. So please don't do it.