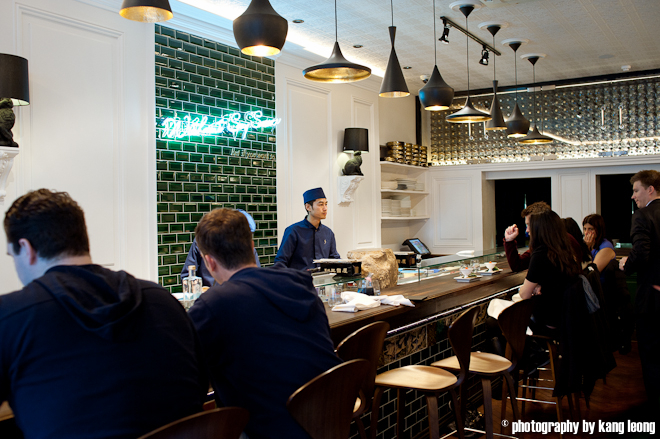 I write this shuffling in my seat, on a flight bound for Norwegian airspace, and it isn't often that I dream about London and its murky skies, but here I am, fantasizing about the startlingly magnificent lunch I experienced last weekend at Yashin, the latest addition to the London sushi scene. My god, was it exciting. Great sushi, and oh my gosh, did it burn an excitable hole in my already stick thin wallet. We go West.
It's been two months since my move from Kensington, a part of town rarely known for sushi, and when it comes to restaurants on High St Kensington, choices narrow considerably; It is largely between a spacious Wagamama or the prospect of a tepidly overpriced burrito from Wholefoods. But things are set to change. Yashin is the latest debutant in this year's hugely impressive armada of 'serious' restaurant openings. The concept is that of a upmarket sushi bar with all the accompanying glitz and pretension (and chill out background noise). Think of it, as Nobu alumni, ripping out the sushi bar with their escape from the mother restaurant, and the result is a sushi bar that is dedicated on forming the best by hand. Cooked dishes are kept to its bare minimum. If the small scale operation sounds familiar, it should as we've been dazzled before with the hugely romantic sushi bar run by a husband & wife team, otherwise bookmarked by yours truly as Sushi of Shiori (also of alumni from an equally starred Japanese restaurant).
Its respective owners boast pedigree and sushi credentials, namely Yasuhiro Mineno was Executive Chef at Ubon (of Nobu Group) in Canary Wharf for 7 years (which has shut, but was never really that good anyway) and Shinya Ikeda, who spent 5 years as a senior Chef at Yumi (which if I'm honest, I've never heard of).
You might ask if all this fluff which I'm making you read is at all relevant. But then you already know that I only do this when I think a restaurant is flippin' fabulous. The writings (quite literally) on the wall suggest a radical experience – without soy sauce – of the idealistic intent of creating fanciful nigiri that merges the elegance of this stick and dip delicacy with a contemporary infusion of 'fine dining' elements in an effort to enhance the umami qualities so as to warp the senses. While soy sauce is not initially available to dip the sushi, it is only because the chef has worked elements of flavour directly on to the nigiri. Hyperbolic psycho-babble, you say? I blame the Norwegian time zone. Bear with me, the photographs are colourful.
The Yashin sake taster, two 50ml vials, £8.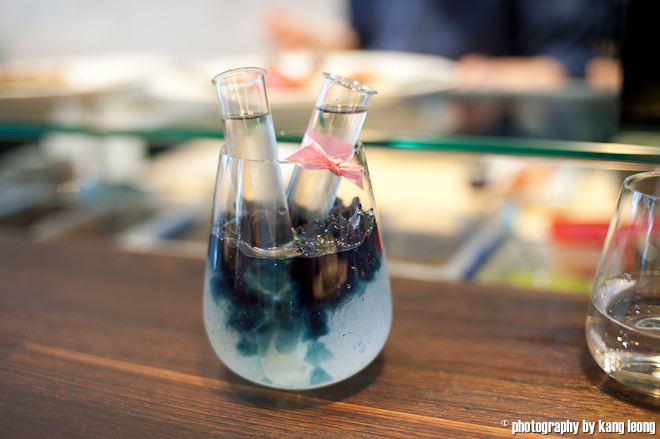 We start with Dewazakura Muroko Namagensyu – a Junmai ginjo which has fantastic body and a hugely vivacious, biting flavour to it. It was as fragrant as a Sakura on a crisp September morning. It could not be matched with the underpowered and rather mellow Tedorigawa Gobyakumangoku – a Daiginjo. For eight quid, it was great fun (and perhaps good perceived value), with no expense spared in the visuals department. If a little impractical, as lifting the vials from the glass of dyed water became a bit of a nuisance what with the water dripping all over me.
"The Omakase"
You'll notice I've not spoken about the menu as yet, but that's only because you needn't bother with choice. The highlight of Yashin, is their omakase, or the Chef's menu, which allows the chef to channel his fine talent. Like Shiori, it is available by price points, starting at £30 for 8 pieces of nigiri plus a roll; £45 for 11 piece ensemble plus a roll and finally the complete waterworks and the kitchen sink, eponymously titled, 'The Yashin'. 15 pieces of – and I quote – exquisite sushi, painstakingly crafted for you, in front of your eyes, by the chef-owners.
But first, we started with a bevy of freebies to grease the tract.
Miso soup, in a tea cup?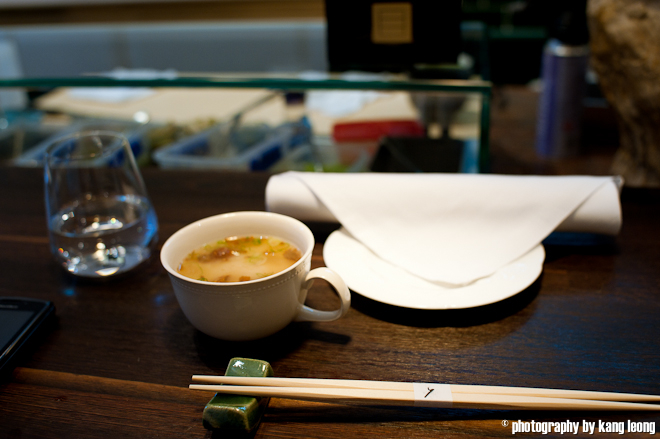 Note the careful attention to detail and branding. The chopsticks are not the snap it off disposable kind; these feel sturdy and wooden, about as as unbearably unbreakable as an on-key Wagner. Mmm… a comforting start.
Next, a salad spiked with a citrus-like dressing and garlic chips.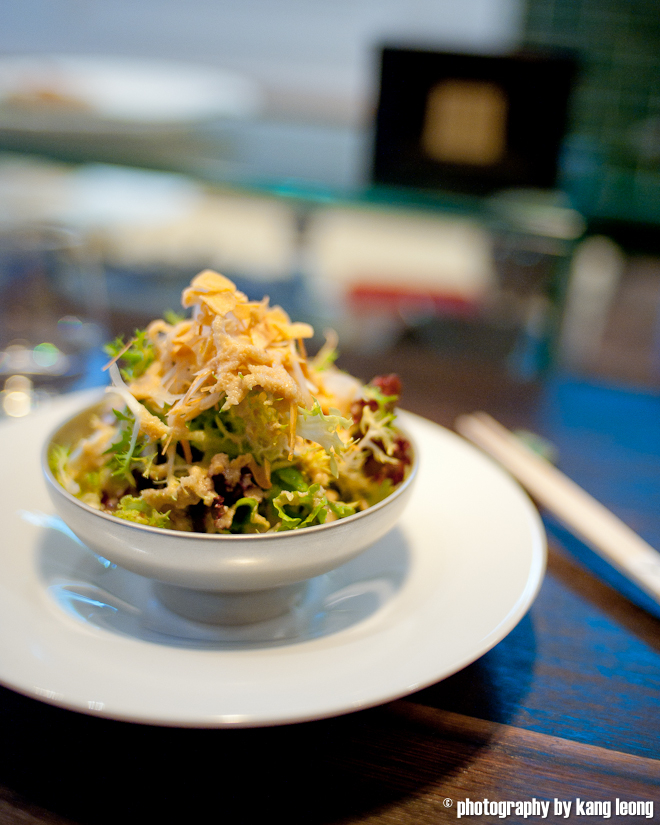 Crunchy, fresh – but a mere distraction…. where's my raw fish dammit!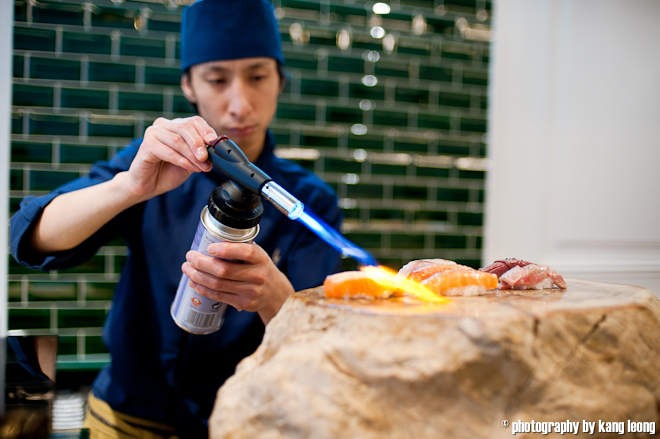 Here in London, we lack the likes of dedicated sushi bars such as Urusawa in LA (see Foodsnob and GT), where part of the charm – integral to the sushi experience – is the opportunity to watch the experienced Itamae personally putting together your plate of food. I have always seen this visual aspect of observing flair in action as part of the relatively high cost of sushi. Otherwise, if its just quality fish you're after, any of the Atari-yas would do for a quick fix. Like a chef's table at a GRH outlet, you pay the premium, but you also get to watch the head honcho ply their trade, first hand.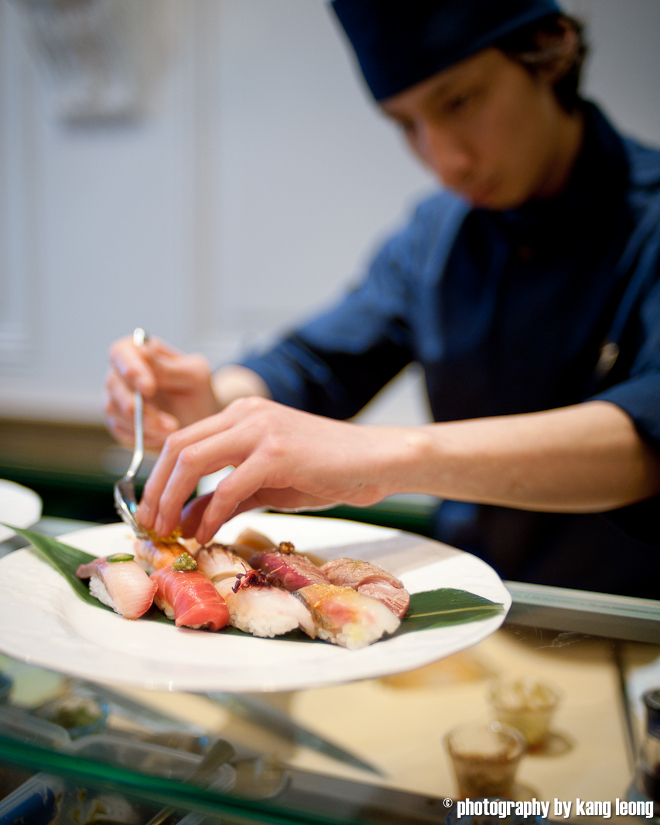 As you can imagine, this can turn out to be a rather mesmerising show and tell, especially with the diner being so close to the action. Here's the first of my Yashin sushi platters being finished by the Itamae.
Feast with your eyes on Plate Uno.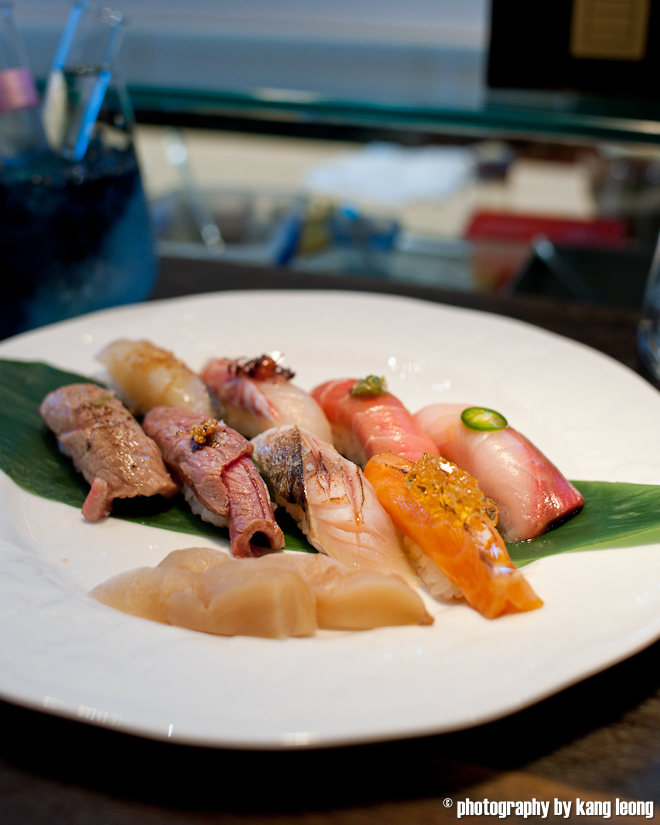 Isn't it just pretty? In addition to blow-torching (not all) , each nigiri was finished with something extra, either brushed with soy sauce, sprinklings of sea salt, and eye catching garnishing such as a radiantly crystalline orange ponzu jelly. I'll be honest, I didn't stop to take notes, when it landed, I led with my tongue.
Let's get the obvious out of the way first – the rice was fluff heaven, a neutral to sweet tickle on the palate, it was technically superb, warmish, cooler than body temperature, managing a sticky consistency enough to hold together, but soft enough to melt the moment you bite into it.
Fish on the whole was top of the line. If you are a frequent flyer with the Nobus, the Rokas (these are good) and Zuma (and to a certain extent Sake no Hana), then you'll be more than impressed with the sheer quality of produce. Lively, oily, crisp and odourless. Though excellent sourcing alone is not Yashin's major selling point. It's the finesse by which the Itamae has chosen to garnish his creations. Dinings have their ponzu-truffle wagyu sushi, Shiori boasts a in-house made truffle paste with their scallop; At Yashin, there are flavours of flames, piercing sea salt, the smell of – dare I say – bonito flakes, pepper and spice and the twang of a wicked ponzu jelly. To sum it up, sushi at Yashin is vibrant and it is current. Of the lot, I enjoyed the ponzu spiked salmon, the flamed otoro and the peppery wagyu the most.
Plate two.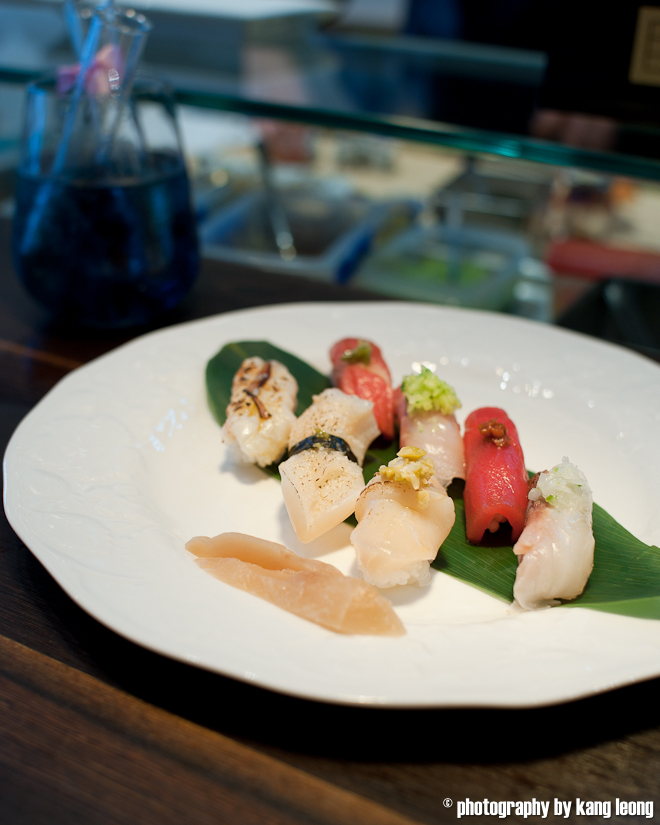 On the second plate, sweet scallop, torced razor clam and a fabulous fleshy botan prawn, also torched and rubbed with a foie gras paste that gave it alot of firepower in the flavour department.
This is just a superb showcase, a mastery of absolute elegance that epitomises contemporary sushi. Beautiful, sexy, distinctive, efficient, healthy (relatively), utterly delicious.
Salmon Lunch set, £12.50.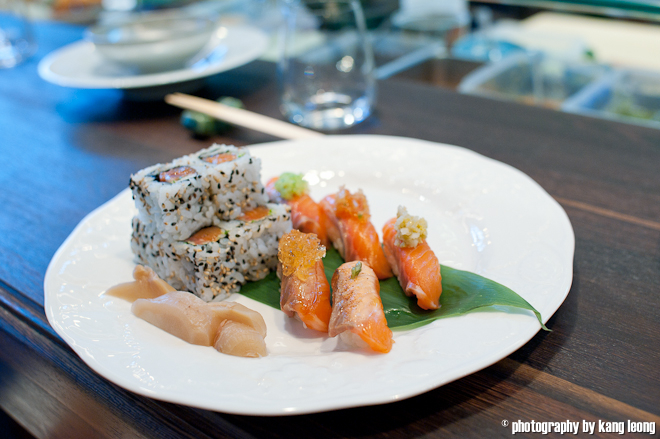 Oh and in case you wondered, we also tried the budget route with the salmon set, 5 pieces of the excellent salmon nigiri, a salmon roll, plus miso in a tea cup and garlic chipped salad. Yeah great value.
Shiso Sorbet, £4.90.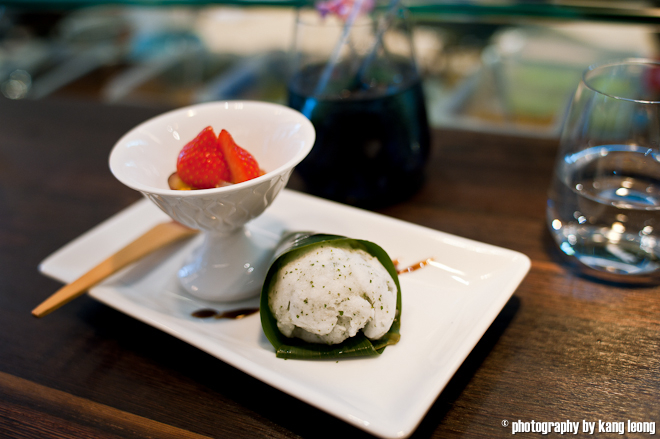 To finish, the shiso sorbet with a texture analogous to a kitchen sponge and a sweet touch of minty fragrance. A nice way to wipe the palate clean.
I paid £97.20 for lunch for 2… which is of course a considerable expense. Not the most filling lunch (we gorged a 16in take away pizza for dins), but my gosh, it was brilliant. I think there's a small army of fans already amassing on twitter, especially Gourmet Traveller who pointed me to this direction! Amazingly fabulous. If you love sushi, this is something you must try. I suggest dinner rather than lunch, as they have an expanded menu – in addition to the omakase – that allows you to compliment the meal with garnished oysters, selection of sashimi, handmade tofu, rolls and assorted carpaccio. Early indications suggest the oysters, the tofu and the carparccio are also mind shattering.
Now then, the burning question: Which is better? Hmmm… I think considering the sheer brilliance of the final product, the glitzy atmosphere, the showmanship, I might have to say Yashin. But only by a hair. Sushi of Shiori still holds its own, and for one, the missus prefers the more mature venue. It is just more personal, its concept is more romantic and the omakase is much more varied, plus you get more bang for the buck. That's my one reservation about Yashin, its pricing competes on the level of the glitterati of Japanese restaurants instead of independent sushi bars. In that regard, if people are going to be paying top dollar, I wonder if diners might just choose to stay with the stars. With Shiori, its decent pricing was always part of its appeal. Having said that, you do get what you pay for at Yashin, and the sushi really is something special.
For the moment, the crowds have not crashed the party as yet, so if you're looking for a sushi fix this week, I urge you to book a table now. This will make it to one of my drool-all-over-it list before the year is over. I highly recommend it.
In the end, I am just glad that London now boasts two exceptional sushi bars which deliver unique sushi in their own special way. Both are more than a cut above the old school Izakaya-types. With Sushi Hiro well and truly absorbed into the Atari-ya bubble, I feel this year is the changing of the guard, London sushi has now come of age.
The Gist.
Yashin Sushi
Sushi, £70pp
1A Argyll Road, off High St Ken W8 7DB
Tel 02079381536
Underground : High Street Kensington
For more photos, have a look at my flickr set.
We love Sushi: Mr Foodie, The Skinny Bib and GT … for now.
Did you enjoy reading this? You can subscribe to the Newsletter. Alternatively, you can subscribe to the RSS feed.