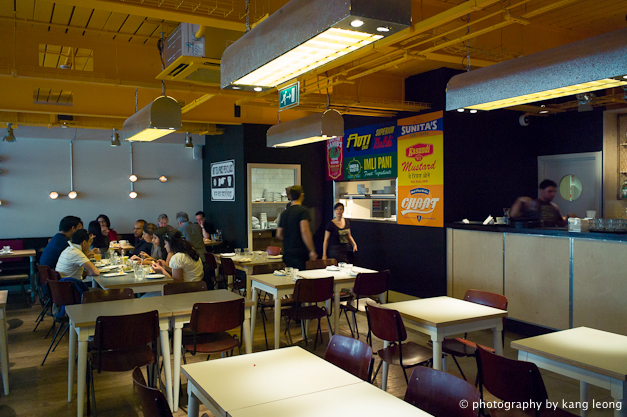 I have resisted Roti Chai for several months now, it's right opposite Selfridges, conveniently located, if you shop on Oxford Street often. I think the interior design does it no favours. The colourful theatre-land of over-sized repros of food brands (meant to evoke nostalgia I'm guessing) gives the impression that this a prototype for a upcoming franchise.
Then I had dinner with a few weeks earlier with the venerable former food blogger Helen WFG and her hubby the enigmatically blurry Garson Byer who both gushed about the fantastic happenings in the kitchens of Roti Chai. Fantastic and a little bombastic. Reviews and word of mouth suggest a thriving returning clientele because of its supposed authenticity and obvious quality cooking.
The restaurant is split into two discreet operations under the same roof: Upstairs aka The Street Kichen; a lighter, faster and presumably cheaper menu is available and open all day. Down in the basement dubbed The Dining Room, the interiors are somewhere in between a lounge bar and Bob Bob Ricard, with marble replaced by wooden floors. Less finger food, more elaborate sounding dishes from the regions and is only open for dinner. Two kitchens, two head chefs, two restaurants in one.
I visited for a Saturday lunch, and obviously ate upstairs. The missus opted for a virgin cocktail and I drank Mongoose lager for the very first time. Certainly extra smooth, but with more bite than a Cobra. For me, the setting is reminiscent of cafe-cum-eateries one would find in behemoth shopping malls across Asia. Looking up to the exposed gold painted ceilings reveals pipes, wooden panels, metal beams, air conditioning and industrial style aluminium encased lighting.
Interesting.
Every dish on the menu comes with subtitles – ain't it nice?
Bhel Puri, £3.90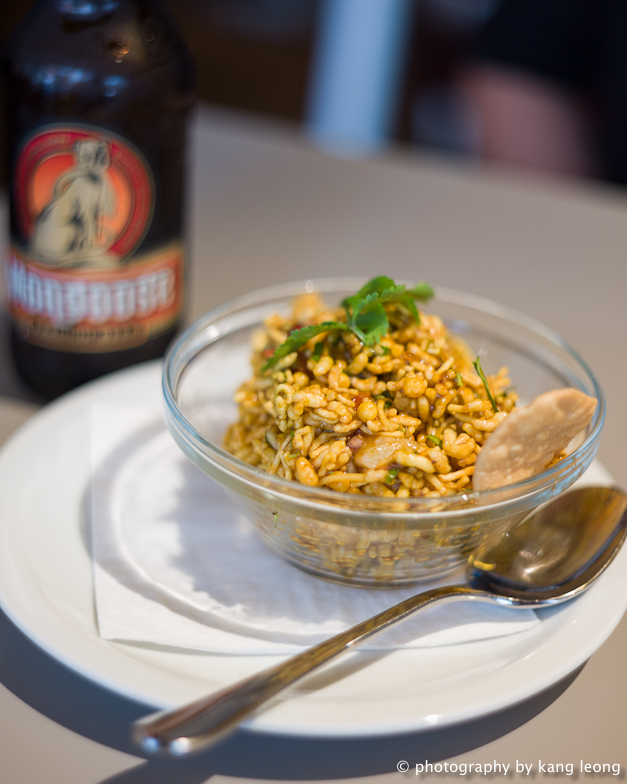 "Puffed rice with chopped onions and a tangy tamarind sauce"
Aka, Rice crispies with sweet chilli swauce! The crackle and pop was definitely a new experience for me, a fun way to start a meal. Delicious too.
Hakka Chilli Paneer, £5.20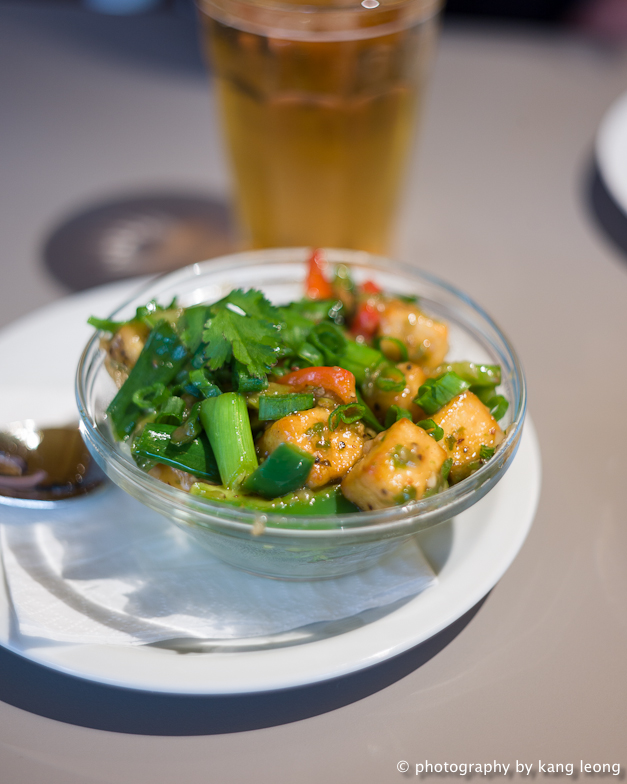 "Fiery Indo-Chinese speciality from Kolkata"
I had no idea Chinese cuisine had seeped into Indian culture. According to Wikilegends, this association originates from the Chinese community (and by extension Chinese restaurants (and takeaways, presumably)) in Kolkata, most of whom are of Hakka descent. Dude. I'm half Hakka, but I guess my Granddad got on the boat which stopped at Borneo instead of India.
Paneer coated in corn starch and stir-flied with peppers, spring onion, coriander and hot hot chilli. It's hot stuff, in fact almost too hot even for me. My dad would love the nasal clearing experience however. He still regularly indulges in this kind of torture once a month.
It could probably pass for nyonya, but it certainly is also very Chinese. Swap the paneer for egg tofu, and it's exactly like my mum's handywork. I liked.
Bun Kebab, £7.50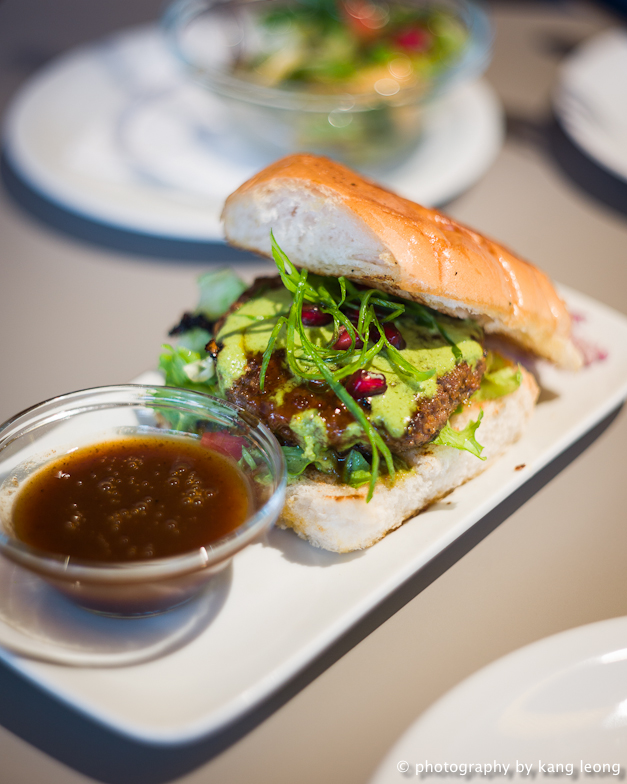 "Punjabi Tikki Wala Mini Burgers, spiced lamb kebab"
Aka – Indian lamb sliders, with pomegranate and green sauce.
…Mmm… a sharply seasoned minced lamb kebab serving as a patty, with a sweet and subtly tangy condiment, sandwiched in a toasty, soft and square bun with oiled insides. The patty was tremendously appetising, it fit in to my paws perfectly, increasingly greased as I finished it… this could be one of the top burger vintages of the year. Eating well now and for the next fifty years, requiring no cellaring. 95-99+ …
Hah. Crossing streams there. If you've been following my twitter feed, you'll know that I've recently started my wine investment plans …and I'm surprised how one man's opinion has such influence in wine prices. The million dollar nose now has a direct impact on the growth of my life savings. I'm speculating on Bordeauxs, in my cellar I have a 12-case of 2005 Lafites and a 6-case of 2009 Lynch Bages, a 1st growth and a 5th respectively, both from good years… Yup, that chinese stereotype flows in my veins after all. I suppose the name does make the difference.
Back in the real world – yes, fantastic Indian Lamb burger, the fairground fluffy toasted bun was brilliant, but the lamb kebab was better as a make-believe patty.
Macher Jhol, £8.50 with Aloo Gobi, £4.50 and a bread basket, £4.00.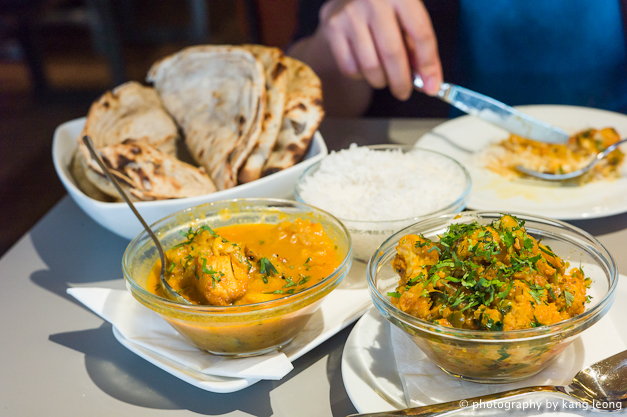 "Road & Rail – Rustic dishes from the roadside "Dhabha' cafes from bustling train stations of the sub-continent. Classic Bengali Fish curry with kasundi mustard and rice."
Punjabi Dhabha (literally for restaurant owned by a person originating from Punjab) were initially roadside cafes for truckers to drop in for some warm grub. So… that's like Punjabi style roadside diners yes? I don't know, I'm no expert on Indian food here, so feel free to correct me.
For what it's worth, I liked the curry, light, brothy (rather than creamy & rich) , it gave an impression of butter-free, yoghurt-free, lightly salted, lightly spiced home-cooked goodness. Delicious yes and rather subtle, but I felt it could do with just a few more cubes of fish.
The cauliflower & potatoes were also light in style. I thought the bread selection was fabulous valuea – naan, pratha and kulcha. No dosa or chapati however. Maybe it was because the breads went cold, but I thought they were a little dry & chewy. Could be moister and doughier.
Almond & Saffron Phirni, £5.50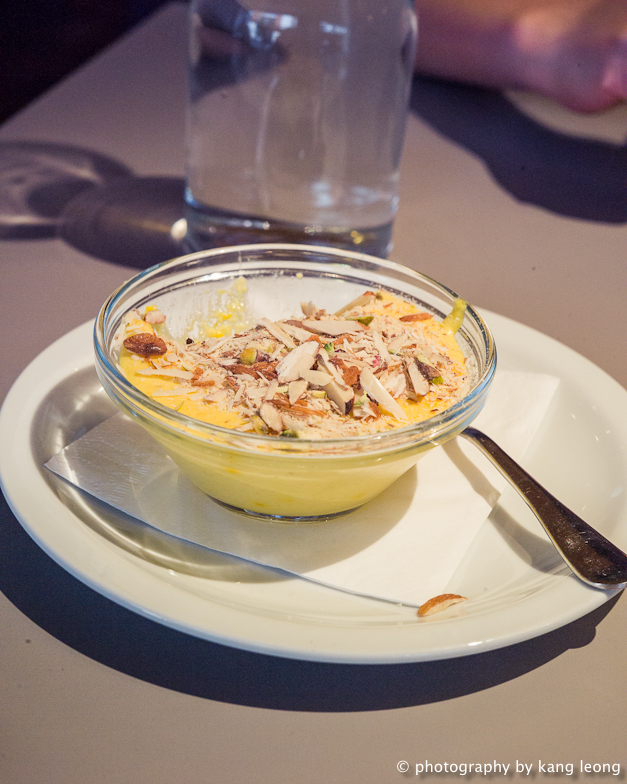 "Ground rice & milk pudding."
You know how I love a good rice pudding, the best recipes imho belong to the Norwegians.
The rice was so finely grounded, it was like a whippy mousse, smooth but with bits. Light, cool and the metallic flavour of saffron added an air of flair. Personally, I could do without the almond shavings, its inherent perfumed flavour does go hand in hand with the saffron, but I thought the rocky road got in the way of the smoothly blended rice. Still, it was a lovely pudding to finish the meal with.
In the end, I regret not ordering their dhal (as a bread dip) , the lollipop chicken and the house-made kulfi.
We paid £46.68 for two.
The meal was a refreshing change. It didn't feel one dimensional (as opposed to multi dimensional..?? Hyperbole kicking in there) , the spices were obviously present, but everything tasted surprisingly lightweight.
Roti Chai is unique in the familiar world of Indian restaurants in the city. I don't think it's quite perfect, but the food is generally good, well priced and easy going. The missus went back with her mates a few days after this visit, but downstairs to the dining room instead. Her verdict : Not necessarily better than upstairs, but food generally came across as being prepared with more thought and effort.
Thumbs up from me.
The Gist of It
Roti Chai
Indian £30pp.
3 Portman Mews South W1H 6HS
Tel : 020 7408 0101
Tube : Bond Street
Did you enjoy reading this? You can subscribe to the Newsletter. Alternatively, you can subscribe to the RSS feed.