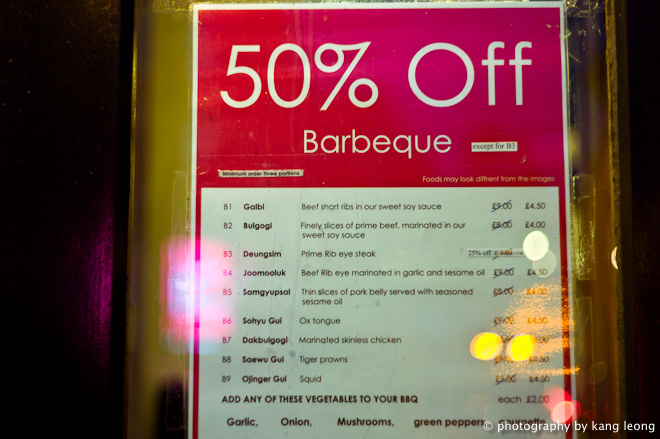 Newsflash. If you local to Finchley Road, you need to find this Korean restaurant. As far as I can tell, the 50% discount for their BBQ menu looks permanent. I've already been twice, and I think it's a great value for money. So this discount may be some sort of shrewd marketing to undercut glitzier counterparts in central London, and in those terms, it doesn't quite have the setting to match more expensive haunts. This place is modest budget stuff. Having said that, the 50% discount is incredibly generous. One shouldn't expect to be see dry aged beef or lobster, but for the money, the quality of the meats is adequate. Certainly not worse that Koba.
As a way of introduction, the Korean BBQ experience involves cooking sizzling meat over a hot pan dug out from a hole in the middle of the table, and if you've yet to try it, you should, it is one of life's greatest pleasures.
The rest of the menu is brief, in relation to Central London counterparts that is, but all the essentials are present. Like the kimchee, the seafood pancake, the soup, the glass noodles and amazingly, there are only three variants of the bibimbap : cooked beef, raw beef or vegetarian.
They spent little time worrying about , the décor is numbingly plain, like a shabby café, its lean, mean, it'll get the job done.
There were some freebie appetizers that came in the form of pickled vegetables and some sort of jelly which I suppose were made from mung beans. With the massive discounts, we ordered a prime rib eye (£6.80 down from £9.00) , a marinated rib eye (£4.50 from £9) , marinated chicken (£4 from £8) and thinly sliced pork belly (£4 from £8).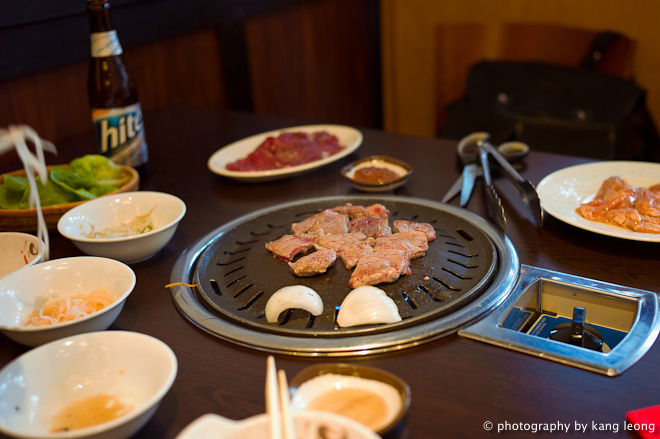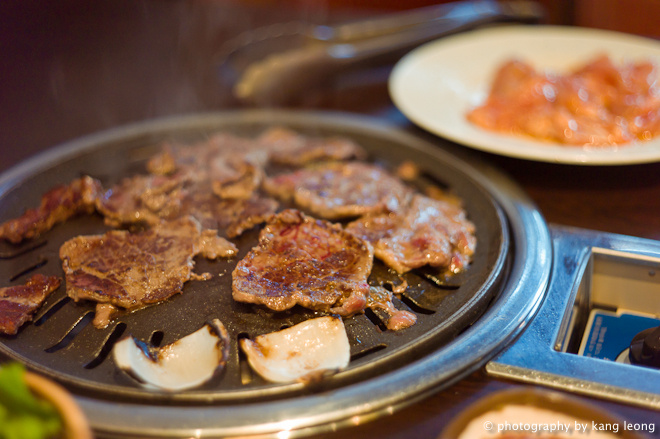 Can't say that cooking was poor, since it was yours truly controlling the timing and there's something strangely therapeutic about watching sizzling meat cook over a Korean BBQ. The marinated meats were nothing spectacular, carrying a sweet undertones to it, but it got the job done. Portions were incredibly generous. For an average of £4 per portion, it is mind-boggling how they are cutting a profit from this. I enjoyed the meat feast thoroughly.
As nice as Koba is, I'm quite glad to pay half the money for half price sizzle. Everybody should have a dependable Korean bbq in the neighbourhood. It goes a long way in wiping away those mid week blues.
I also ordered the Dolsot Bibimbap, with raw beef and raw egg, £9.50 and the kimchee hotpot, £7.50.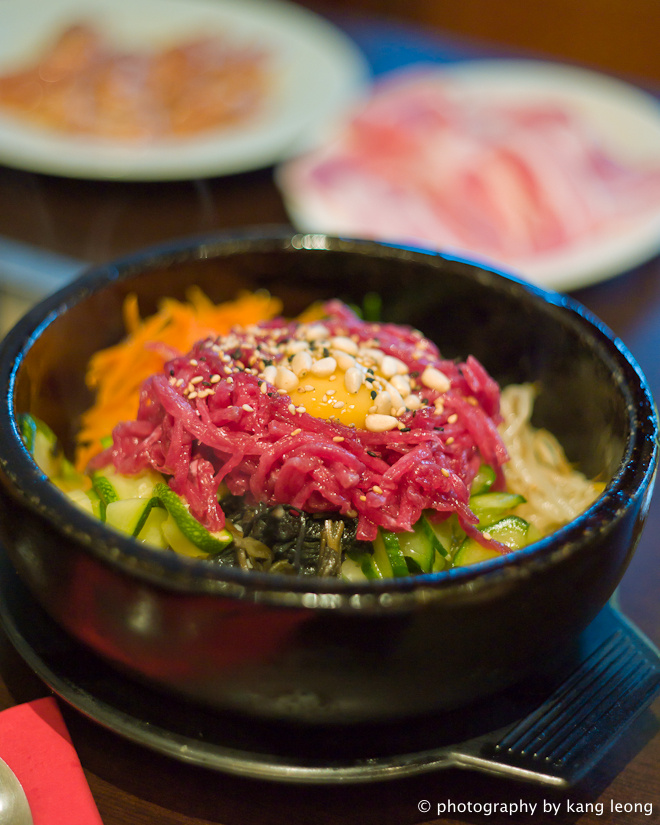 The pattern was beginning to emerge – the restaurant is incredibly generous with portions, so much so, they may as well be giving out food away for free. Look at that mountain of beef..! The dolsot was really hot, so as I stirred the mix (personally, I use very little gochujang) , the heat just about cooked the meat and egg. I waited for the rice round the corners to turned gold and crispy, and was glad that they did – think crispy rice like chips. There was so much beef, that I managed to pick up more beef than rice with every spoonful. It's almost too generous.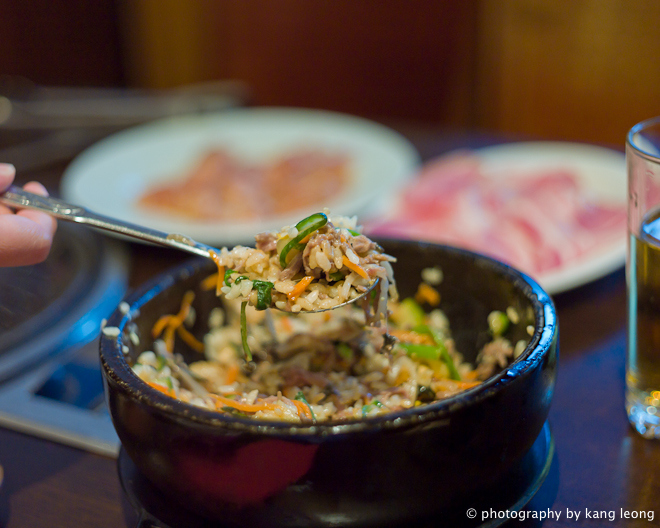 Bibimbaps are like the perfect companion dishes to a Korean BBQ. It's one of the great dishes, wickedly basic in composition, something anyone with a hot pot could whip up at home. And yet it is something that I'd happily order in a restaurant. They are like great bowl of chips to accompany a juicy porterhouse. Before I forget, the soup was satistfactory, too.
In the end, dinner for two came to £46.53, which includes £6 for two bottles of Korean beer.. Hite. The restaurant is amazing value for money, I'll be honest, food nor selection is stellar, but the essential items are more than adequate. All in all, I thought it was a decent meal that won't break any wallets, and I think it really is worth a visit if you so happen to wander into Swiss Cottage. For those of you local to the area, like me, make this your Friday night routine. I'm hoping the half off bbq deal is here to stay as it is simply stunning value. How they'll manage to stay profitable is beyond me, but perhaps that's reason alot to visit more often.
The Gist of It
Seoul
Korean, £20pp
289 Finchley Road NW3 6ND
Tel : (020) 7794 9099
Tube: Swiss Cottage
Did you enjoy reading this? You can subscribe to the Newsletter. Alternatively, you cansubscribe to the RSS feed.