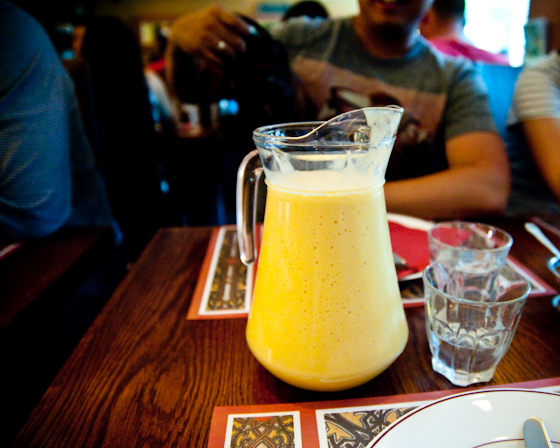 We had spent most of the afternoon strutting around Brick Lane with our digital canons, nikons and XA2s. Even though we didn't know it yet, it was the maiden meet-up which served to incubate the now infamous FM2 trio currently with plans of flickr domination, then google, before taking over the rest of the universe. We even have coordinated monochrome twitter icons – all three are black & white images. Muahaha. Now you know what I do when I'm not eating. Giant Mango Lassi, anybody?
Euwen had joined the FM2 trio (Me, SuperCharz and FbMark) arrived at 6.45pm to beat the Sunday queue, and it appears that Tayyabs is still very much the crowded favourite. Once we were at the hour mark, the meandering line of faces started to plug their way into any available gaps within the restaurant.
The busy restaurant was incredibly lively, and I couldn't help but notice the long faces of envy, staring at the sitting diners wolfing down prized gastrogems – the one tip for when you want to get a table at Tayyabs (whether you call to book or not) : get there by 6.30pm, to avoid waiting.
So let's get things kicked off with the spectacular Mixed Grill.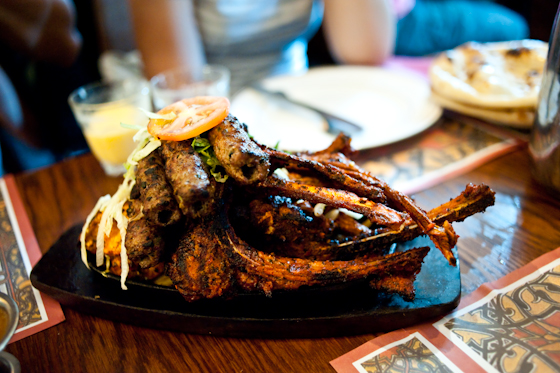 While you won't find the mixed grill listed on the menu, it is largely just a selection of starters. The bill shows that they've just basically charged the same price as if you've ordered multiple items from this section of the menu, namely, chicken tikka, seekh kebab, and lamb chops. The first time I had it, the dish was sizzling, this one was slightly lukewarm (note: no rising steam in the photograph). Taste-wise, it was still the same spicy supercharged tikka extravaganza, soaking in muscular flavours – especially the lamb chops – the mixed grill was still a formidable dish, however, congealing grease is no comparison to burn-your-mouth-off juiciness. Some will say 'send it back' to top up the heat, but we just gobbled it all up anyway.
We also ordered a smattering of main dishes; Karahi Bindi (Okra) , Dry Meat , Chicken Curry (can't remember which one) and the Sunday special Tinda (pumpkin) Masala.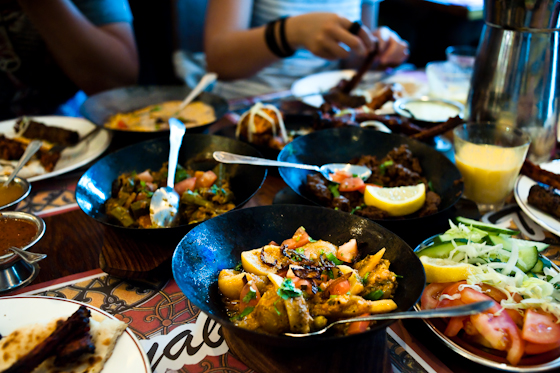 The tinda masala tasted like curry that had gone off as an uncharacteristic sourness took over the palette, and the chicken curry was largely tasty, though not special. We had already touched on the silky ladyfingers with the natural stickiness proving to be a hit in the first review, but my sampling of the dry meat was overwhelmingly positive. This dish was by far my favourite, the chunky tender cubes of meat was a well packed flavourbomb, very appetising and it raised eight satisfied eyebrows. It is not as parched as the name implies, being coated in a thick sauce.
Well, what more need I add to Tayyabs that the rest of the London food bloggers haven't already. Food is bloody amazing and surprisingly cheap in large groups (about £15 per person I reckon). Having said that, this place does have a couple of blemishes and I wonder about its consistency since it is almost always over subscribed. Also you will do well to avoid the torrid desserts; the gulabs were bread pudding balls swimming in a sugary cesspool, and the kulfis were pre-wrapped popsicles, which were quite frankly, distasteful and overpriced. Unnecessary surcharges that you need not add to the final bill. But don't let those last words of doom scare you, if you haven't been to this institution as yet, then it is about time you seriously consider it.
The Gist of It
Tayyabs official site
83-89 Fieldgate St. E1 1JU
Tel: 020 7247 6400
£15pp, BYO (!)
Tube: Whitechapel
Like this blog? Why not subscribe to the email newsletter ; alternatively you can subcribe to the RSS feed.