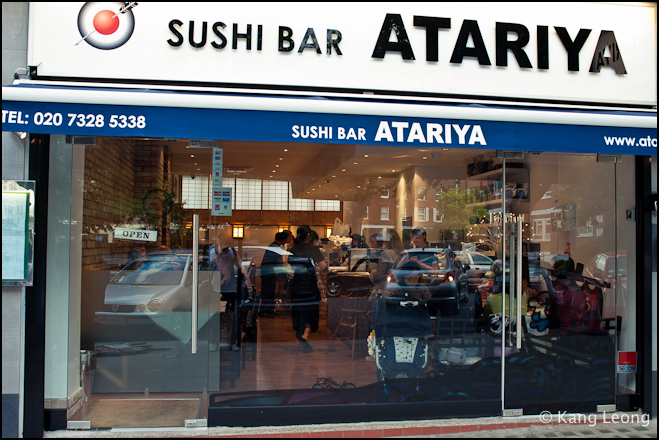 Atari-Ya are primarily fishmongers who specialise in importing sashimi-grade fish and are said to supply some of the highest profile Japanese restaurants in London, including Umu and Nobu. They also own sushi-bars. Do they keep the best for themselves? Let's find out.
Who doesn't love sushi. It's the perfect food isn't it? Low in fat, high in protein, delicious, dare I say it is the pinnacle of umami. The quintessential refined way of eating. Those who have been following my musings since the beginning days will know my pure and unadulterated love for Sushi Hiro – a modest sushi bar in Ealing Common whose fans include Heston Blumenthal – it is afterall my most visited sushi place in all of London. So much so that I've actually subconsciously stopped searching for 'better' alternatives in town (ok there's Dinings, but more for fanciness rather than traditional fare, not a patch on Hiro). Until now. There are reports[1. See Krista's latest visit to Sushi Hiro..] which suggests Sushi Hiro has changed hands for the worst (as of writing), and the quality of the end product has dwindled. I say end product since the same source praised the quality of fish, citing its 'freshness'. I'll be visiting Hiro soon to confirm this. It's only a fifteen minute journey after all, I am secretly hoping that the same Itamae will still be behind the bar to greet me….
It had jolted me into realising that maybe it's time to find alternatives, and it certainly helps to stumble across other sushi loving Londoners doing the same such as GT's Chirashi quest[2. Gourmet Traveller's hunt for Chirashi in London] and Charmaine's sushi recommendations[3. Time Out London's best sushi bars].
With sushi so dependent on produce, it seemed logical to start with one of the premier fish importers in town. We already know that Atari-ya supply some of the capital's priciest restaurants, they are self-professed 'tuna specialists'. It is also said that Sushi Hiro get their supplies from Atari-Ya. The company is seemingly expanding their London operations, there are already four retail shops dotted around town, and now three restaurants, one in Hendon, one behind Selfridges and this one located on Fairfax road in Swiss Cottage.
We arrived as they opened at 6pm on a Sunday night, the restaurant looking brand spanking new. I think it opened in late March[4. Atari-ya blog suggesting opening day of Swiss Cottage branch], staff perky, young and hardly able to speak English, which always lends an air of authenticity to the outfit.
As expected, the menu is about as utilitarian as they come, run-of-the-mill sushi and sashimi choices form one page, the next are a selection of grilled/pan-fried meat, vegetables and fish (including fried and breaded pork (tonkatsu) as well as oysters). There are no bento or meat-based donburi, although noodles are served with soba and udon as choices. I was with a table of four, the better half and her parents.
Black cod miso, £10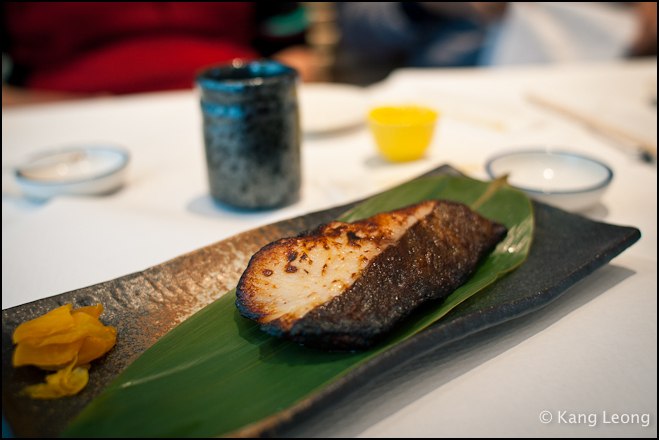 A good slither of the fish made famous (and probably inching closer to the endangered list..) by Chef Matsuhisa (Read Nobu), half the portion at a Nobu restaurant, but at third of the price…which makes it…cheaper. A recipe that has been rampantly adopted by many a Japanese-Peruvian imitator in London, but often fail to emulate the slimy, buttery, oily and just ever-so-undercooked texture the sablefish is best known for. I thought it was well-executed, the flesh was flaky, the skin was oily, well-seasoned, aromatic though it was not as fragrant nor as potent as the original Nobu recipe, a good imitation nonetheless. I almost always try the black cod miso whenever I visit Japanese restaurants, most never match the exactness of Nobu, and I still stand by that view, it is worth every bit the £29 asking price. But for £10, this is pretty good.
Sea Eel (Anago) Tempura, £6
There were a flurry of enticing daily specials on this visit, this being one of them. Sea eel tempura is a first for me, the crunchy, crispy and powder batter was light. Anago is more mellow, less oily and silkier compared to its fresh water cousin, meaning that went deep-fried, it is as crispy as they come. Though I enjoyed it, I much prefer it if it were served as a nigiri, but that's just a personal choice. I've yet to try anago sashimi which is what the light texture is said to be best for.
Sashimi Platter, £17.40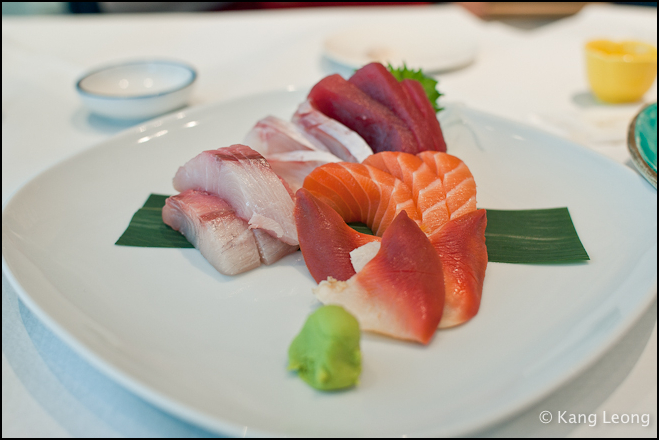 This should be a dish where Atari-Ya should shine. Boy was it blinding. Tuna, arctic surf clams (Hokkigai), salmon, sea bream and yellowtail. Simply exceptional. The quality of the fish was lively, oily, silky, melt-in-your-mouth, fragrant, everything you expect great sashimi to be. I couldn't confirm the whereabouts of the fish however, seeing as to how there is a global demand for sashimi grade fish, it could be sourced from anywhere really. I wonder if any of it had passed through Tsukiji fish market at all[13. Tsukiji Fish Market]. I had my niggling issues with it – though this will come across as being superfluous to many – as I thought the sashimi could have done with a bit more flair and deftness, the fish was cut a tad too thick for me. But I suppose this is down to the Itamae's training and technique, and I am convinced that technique makes up for the difference in premium (at say Umu) when visiting higher end restaurants, given that the quality of fish is equal.
These days, I refrain from using the word 'fresh' to define well-prepared and well-selected sashimi grade fish because most sashimi grade fish (except for Tuna) implies that it is pre-frozen (mainly to kill nasties) to -20C[5. Sushi FAQs' What is sushi grade fish?] either at source or in-house by the restaurant. Though freezing is merely a small step in a long chain of activities from boat to plate, to ensure 'the highest grade' of sashimi for the end customer. To make purely uneducated guesses, I would suppose location, method (eg: long-lining) and the experience of a successful fisherman all count toward ensuring the best catch.
Let's take tuna as an example being that toro or tuna belly is most prized in the sushi world. There are a plethora of strategies to consider. For example, there is the issue of preserving the carcass once fish is caught and killed, such as bleeding it rapidly to storing just above freezing (to slow the decaying process)[6. SPC guidelines for preparing tuna on-board for to be sashimi-grade]. And then there is also the skill of the middlemen, be it a sushi chef or a fish monger to meet with the fishermen and select quality cuts.
Not to labour a topic which deserves a separate discussion altogether, but for now, a NY Times piece on freezing fish inside sushi restaurants[7. NY Times article on freezing fish in sushi restaurants.].
Chirashi (Sushi Donburi), £10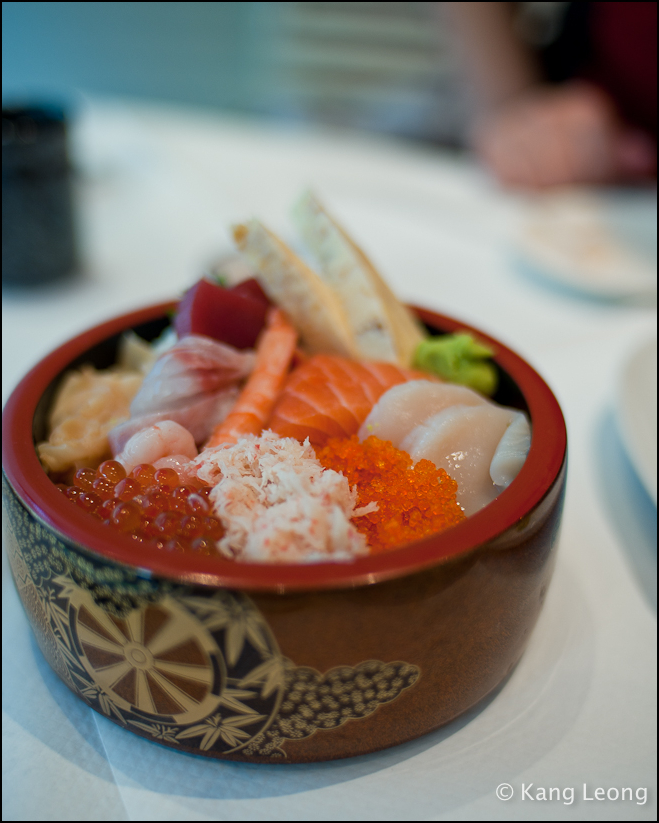 I think you'll agree that glancing at the prices versus the portions that Atari-ya is excellent value for money. Chirashi is basically a bowl of sushi rice with a selection of raw (and not so raw) seafood laid on top, it's a cheaper way to sample a sushi restaurant's offerings. I liken this dish to a sashimi salad, where the usually discarded bits are turned into a more than edible offering. Of course, this isn't the case with the chirashi. Anyway, for a tenner this was superb value. Two types of roe (Tobiko and Ikura), a sliced scallop, omelette (tamago), salmon, sweet prawns, tuna, sea bream (I believe) and boiled white crab meat (alot of it). Oh yeah baby. Need I say more?
A selection of Nigiri and Temaki.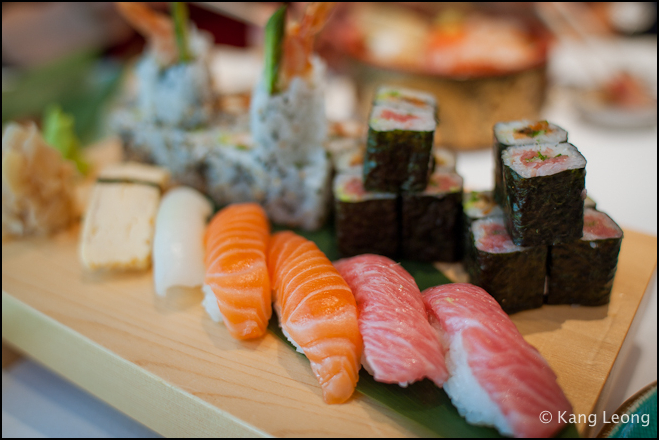 Finally then, the nigiri and maki, the acid test. There is no doubt that Atari-Ya are tuna specialist. Look at the 'marbling' of the o-toro. The off-pink porcelain-like appearance, it has flavours of fish oil, fatty, buttery, almost beefy and it is ever so fragrant. It melted slowly in the mouth, as it disintegrated I savoured all the flavours. Truly a great piece of fish indeed, and worthy of any Michelin-starred Japanese restaurant in London. £3 each. Affordable. The rest of the nigiri told the same story, turbot (£2.50), tamago (£1.50), Unagi (£1.60 ONLY!), salmon (£1.50) and squid (£1.50), all lively and all exhibited the melt-in-your-mouth sensations. Me being ever so picky, I had my doubts about the rice. It was just a tad too soft, too runny, it was verging on breaking though. It was above average but it wasn't fragrant enough and it certainly wasn't the best I'd ever had. The sting of vinegar and an a salty kick was missing from the sushi rice, too subtle, it also felt a little too cold to my tongue, there wasn't the warmth of a well-rehearsed 'nirigi te' of a seasoned Itamae, and the overall experience just did not flatter with starchiness. In my humble opinion, nigiri is one dish where 'melt-in-your-mouth' however cliché, best describes the measure of it.
We ordered the spider maki, the prawn tempura maki (with asparagus), the salmon skin maki and the negi toro (tuna belly) maki, they were all fine, only let down ever so slightly by the rice.
I could not confirm the where abouts of the rice used. The gold standard is of course Uonuma Koshihikari[12. Koshihikari Rice – The ultimate sushi rice] (meaning 'The Light of Koshi' and certified preferably) from Niigata Japan, though I'm not sure if Atari-Ya actually sells them. Myself, I use pretty standard stuff, American-grown Nishiki rice[7. Nishiki Rice], when I make sushi at home, though I know that Japan Centre does sell American-grown Koshihikari rice[8. Honda Premium American grown Koshihikari]. I'm not actually sure if any restaurants in London use Japanese Koshihikari, I suspect the higher end restaurants do, Umu or Zuma perhaps, since rice is such an integral part of great sushi.
Seared Turbot £6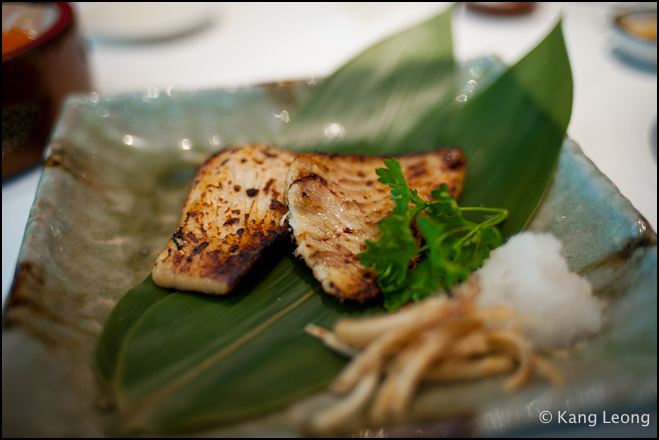 This was uncharacteristically tough, our chopsticks were on the verge of cracking trying to break into the fish. Inside, I noted that it was nicely cooked, only ever so slightly under and flaky as ever. We really didn't enjoy the tough hide though.
Abalone, £6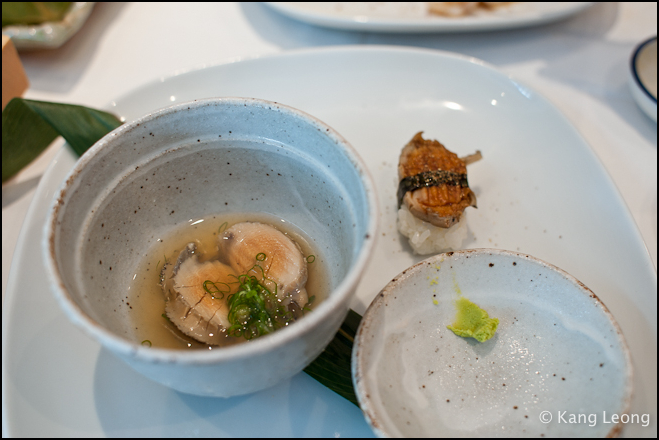 Yeah, I'm Chinese, and we love abalone, it is a delicacy after all, or what my mum would say is a 'big occasion' ingredient. Basically these deep sea creatures are a type of sea snail, they taste it too, what with the rubbery texture. Here, they have used what we call 'baby abalone' (I think the black-lip is the official name), being much more abundant and thus significantly more affordable than full-size white abalone, which can be as large as a fist and can command a sterling premium, up to a hundred quid each perhaps.
Yes it was ok. We were a little disappointed with the soup, it wasn't as aromatic or as intense as we'd like it to be, but it was good. The abalone was nicely cooked.
More abalone..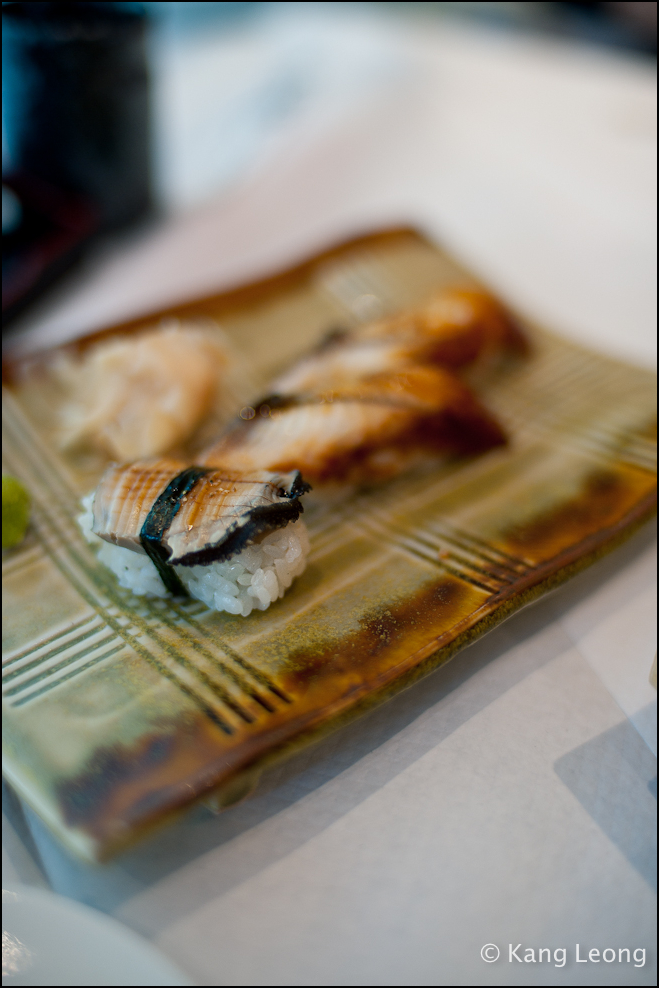 And this one basted with (what I believe) was teriyaki sauce. The texture of abalone is it's greatest trait, it needs to be carefully cooked to maintain a rubbery bounciness, yet still be chewable. If one overcooks this, then it becomes edible latex. Fortunately, it was not overcooked in this case.
Seared Razor Clam, Yuzu, £7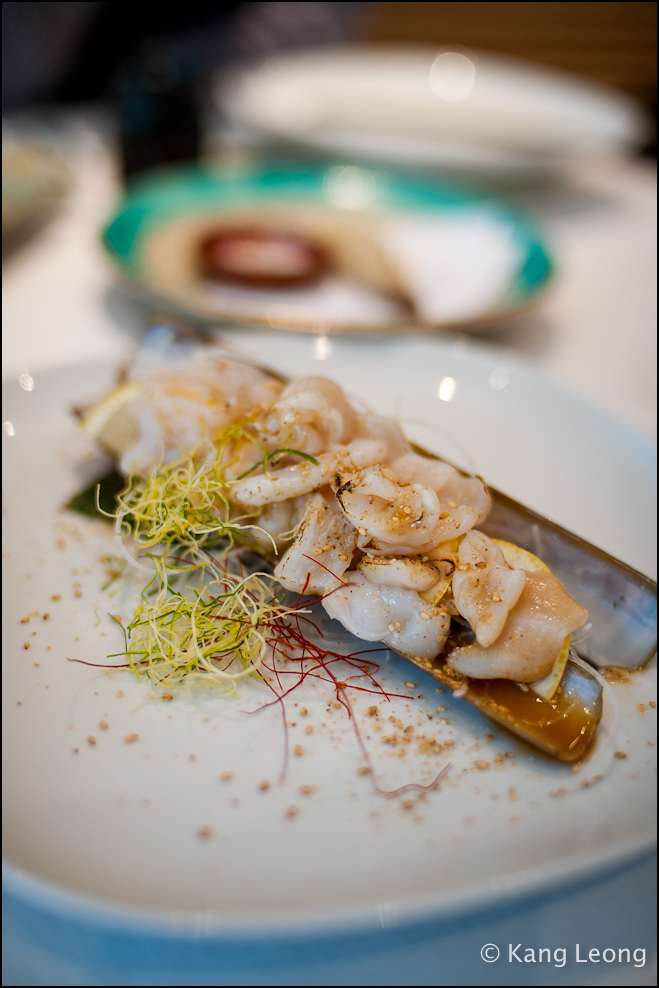 The good news never stopped coming. The last dish were gently seared razor clams with a dash of yuzu. It tasted of orange zest drizzled all across the elastic razor clams, apt for summer.
Nearly there….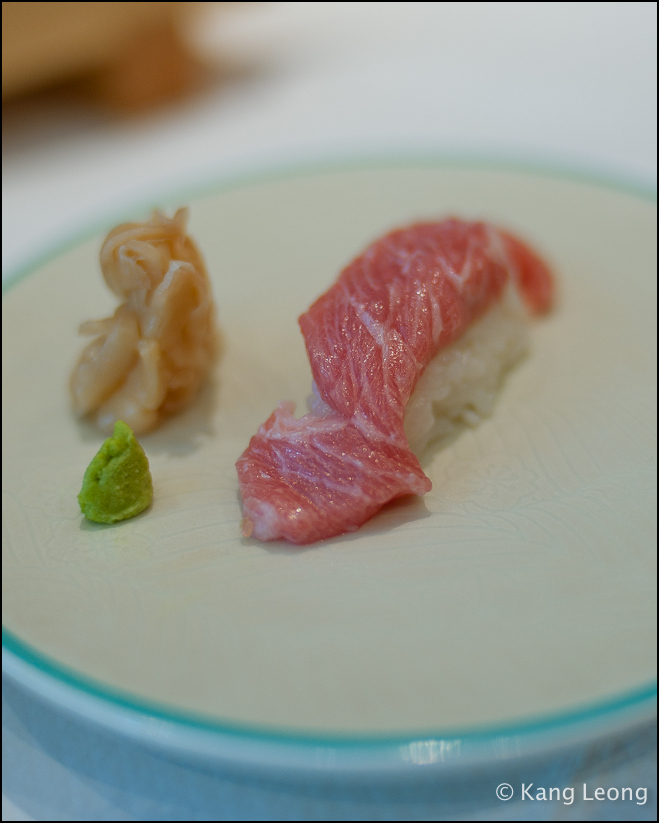 Hey guys, thanks for the emails and comments regarding the decision[8. Read my decision to change formats] to change formats last week. As you can tell, I've reverted. A word-limit is limiting at times, I write for the readership in any case, here is an excerpt that changed my mind:
"…stick to your "new media" guns – the whole point of a blog is to be rid of the the shackles of a sub editor who is driven by word count, and for the writer to deliver whatever they feel best expresses their point of view…… as Elvis said to President Nixon: "Sir, your've got your show to run and I've got mine".
Thanks Ian.
I ordered one last o-toro nigiri just to be sure. Indeed the fish was excellent. It rivalled my experiences both in London and elsewhere, including Singapore, Sydney and Taipei. Three cities which are sushi mad. The rice just wouldn't melt in the mouth. It stayed flabby and starchy, I could be spewing rubbish here because while I think it is good, it just wasn't clinically great. I'll better articulate it in future posts. In the end, our bill came to £95 or £25 for four, service was at our discretion. It was excellent value, the fish was brilliant, and I am convinced that Atari-Ya are quite possibly the bona-fide tuna specialists in London. There is life after Sushi Hiro afterall[11. My Sushi Hiro review]. I recommend it whole-heartedly.
The Gist of It
Atari-Ya
£25pp, Japanese.
75 Fairfax Road NW6 4EE
Tube: Swiss Cottage
Tel: 020 7328 5338
More thoughts on Atari-ya: Food Raker ; A girl has to eat ; Charmaine Mok
Did you enjoy reading this? You can subscribe to the Newsletter. Alternatively, you can subscribe to the RSS feed.