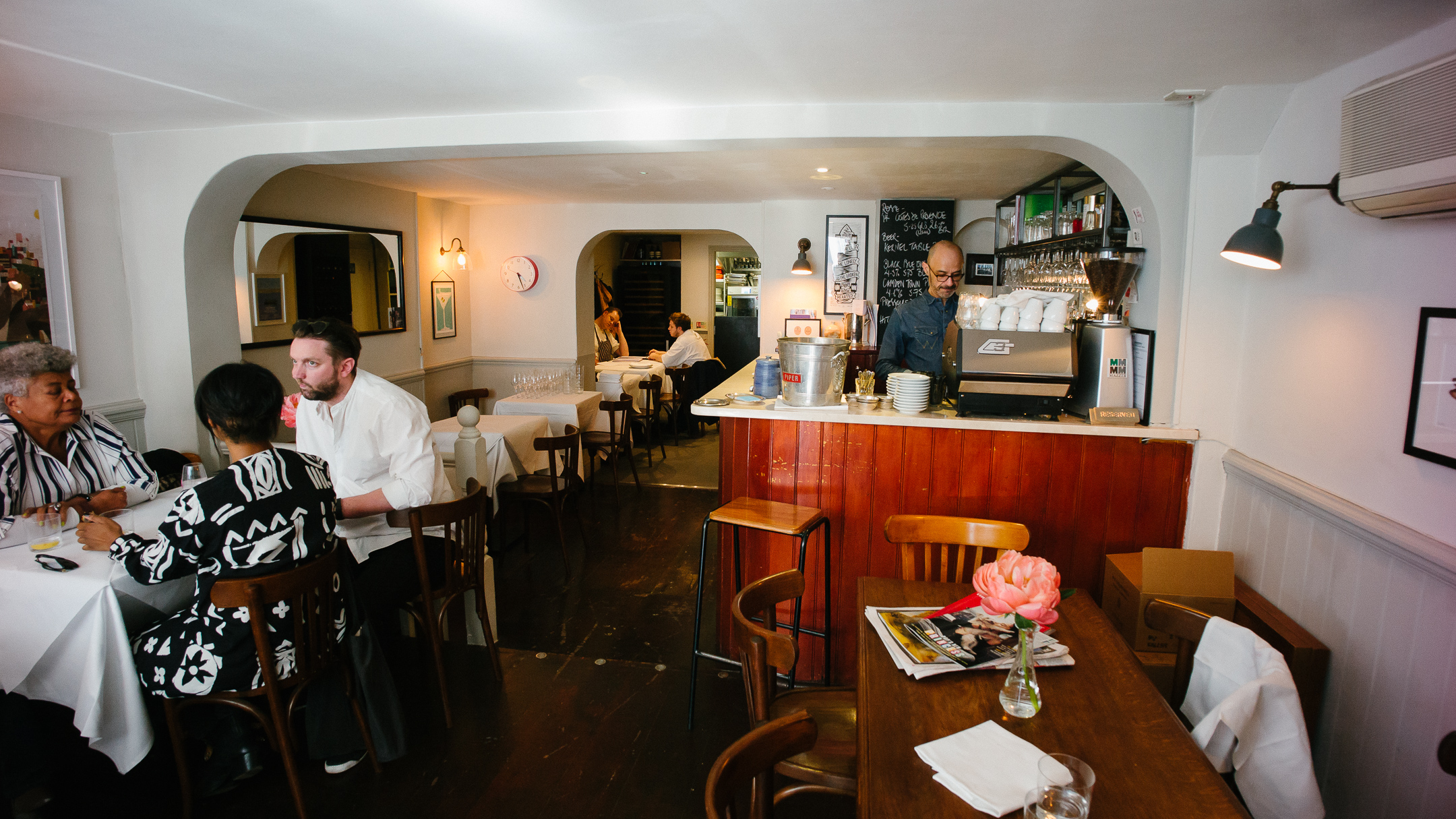 So it seems that the two original makers of Terroirs have stepped out on their own. Ed Wilson branched off to fully own Brawn outright and independently, so I can only assume that it leaves the Terroirs Group (itself backed by Narioo's Caves de Pyrene) with its original WIlliam IV location, Soif and Toast. I've never had a bad meal or swill by this bunch, over the years, they've always dished out quality produce and products that are prepared well and simply. I absolutely loved Greenman when it opened, business seemed good in those days and it has always puzzled me when it eventually closed its doors.
The other is Oli Barker who has recently opened this beautiful gem in the leafy suburbia of Holland Park. Pascal Weidemann joins as head chef, also Terroirs Group alumnus and so too are the many other hands who make up Six Portland Road.
I saw this on Zeren's IG and also had read Fay's piece on this restaurant – more than enough to convince me to go here. I live in West London and this is why I am doubly excited by small and beautiful restaurants such as this. It also reminds me of another nearby neighbourhood gem, Hereford Road at 3 Hereford Road by Tom Pemberton (ex-SJBW), a classic and timeless place to go for nourishment.
We were a table for four last Sunday when the weather was glorious, a herald of the summer to come. The ALC menu is well priced (ave £10/£18/£7), seasonal and brief, robust and classic, an easy read that will not be difficult to find something you like.
-Wines-
As with Terroirs' Les Caves supplied wines, Oli's list is an equal treat and an education for somebody who does not drink much natural wine. I spotted Alsatian Riesling by Mann and Binner, Jura Chard and Ploussard from Arbois, Dragonfly Savivgnon by Austrian producer Tscheppe, Brunello by Paradiso Manfredi, Autrement by Lamery, a claret. However, I do know the excellent 5th, Pontet Canet, a Pauillac estate owned by Alfred Tesseron and a shining example of what fully biodynamic (on excellent terroir) can do for your stock. The 2007 is priced at £150 on this list. It looks about a 1.5 to 2x mark-up on retail, the affordability of this label lessened with rising quality over the decade, especially after the 09 win. 2007 is not the greatest of vintages, but this basically means that it should be ripe for drinking right now (I have 2 bottles of the 2009 and 1 of 2008, still years away from ready).
I love wines from the Veneto region (ever since I visited Venice and found so much to love, Ripasso!) and so for this visit, I recommended three glasses of 2013 Soave Castelcerino by Filippo (£5.5 per gls) for the table. The white is energetic, the palate of clarified butter with caramel oak. On the nose it is not unlike a burgundy, buttered toast with a faint wiff of honey. People seem happy, I feel comforted that I did not mess it up.
I drank a 2014 Mauzac Noir by Plageoloes (almost exclusively?) from Gaillac (5.75 per gls) – a (rare) varietal I have never come across until now. The nose is like green peppers, but in an attractive manner, there is also something medicinal, with body not unlike a pinot noir or perhaps sangiovese. An interesting and delicious glass of red indeed.
-Starters-
Hansen & Lydersen smoked salmon, celeriac remoulade £10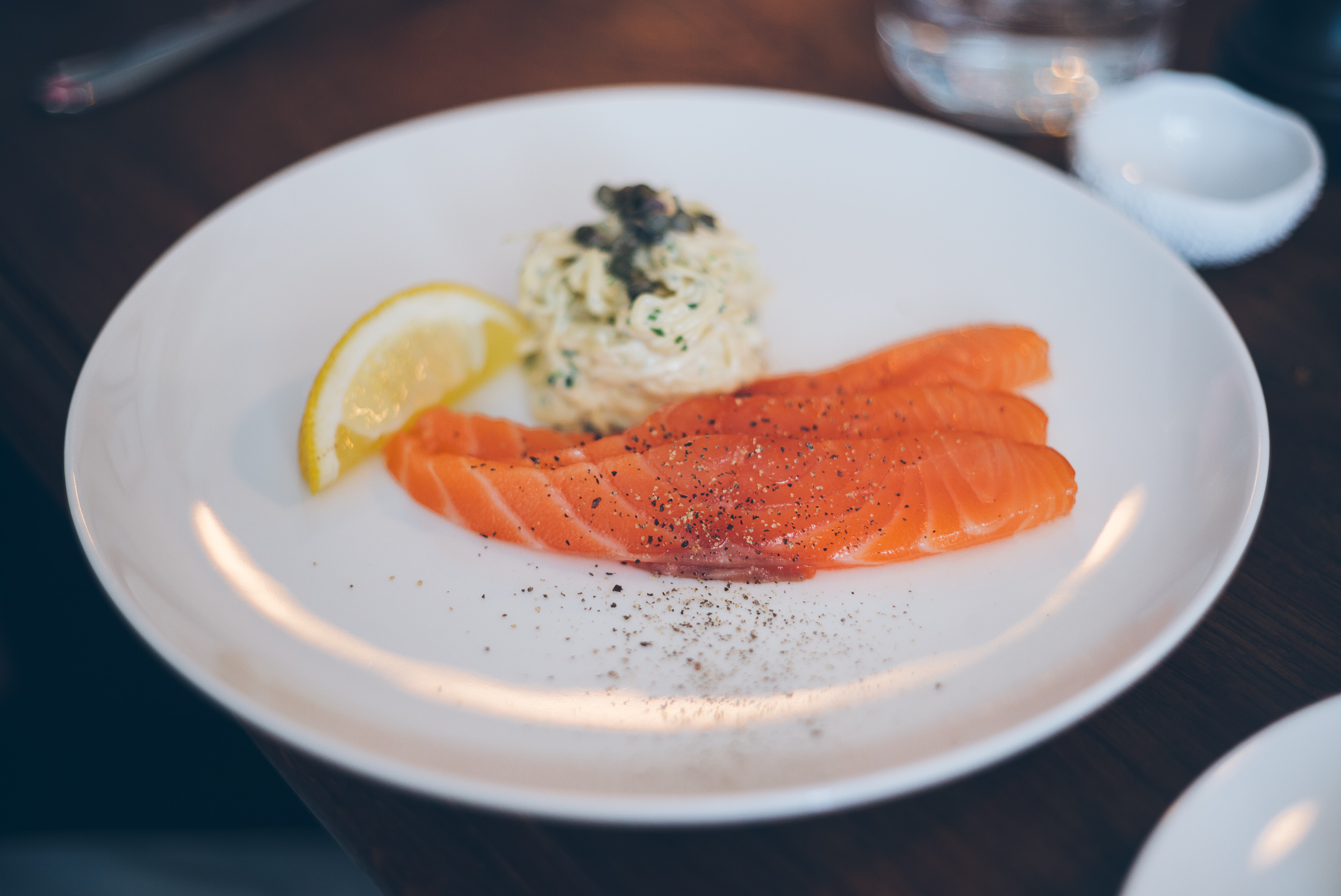 We start here with gorgeous smoked fish, cut as they should be thick and generous. This is just a stunning product. It is from Ole Hansen's smokehouse located in Stoke Newington. He has carried on his family's legacy of smoking fish, his great-grandfather's recipe that traces its inception to 1923. On his website, the source of fish is cited to be

 Bremmnes Norway, a product of Norway's incredible aquaculture industry. Pretty sure Heston uses them as well at Terminal 2.
Potted Cornish crab, spiced butter, toast £12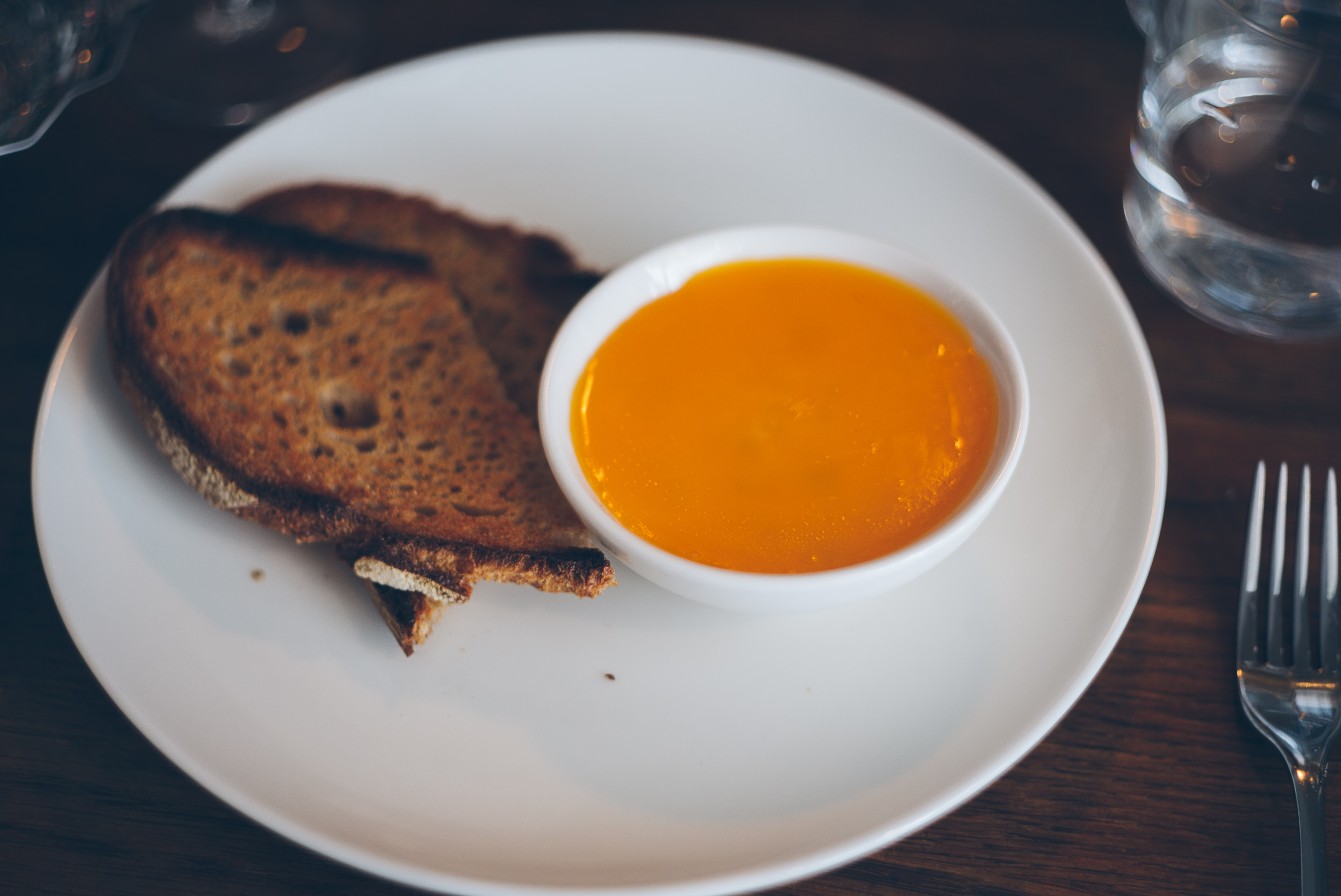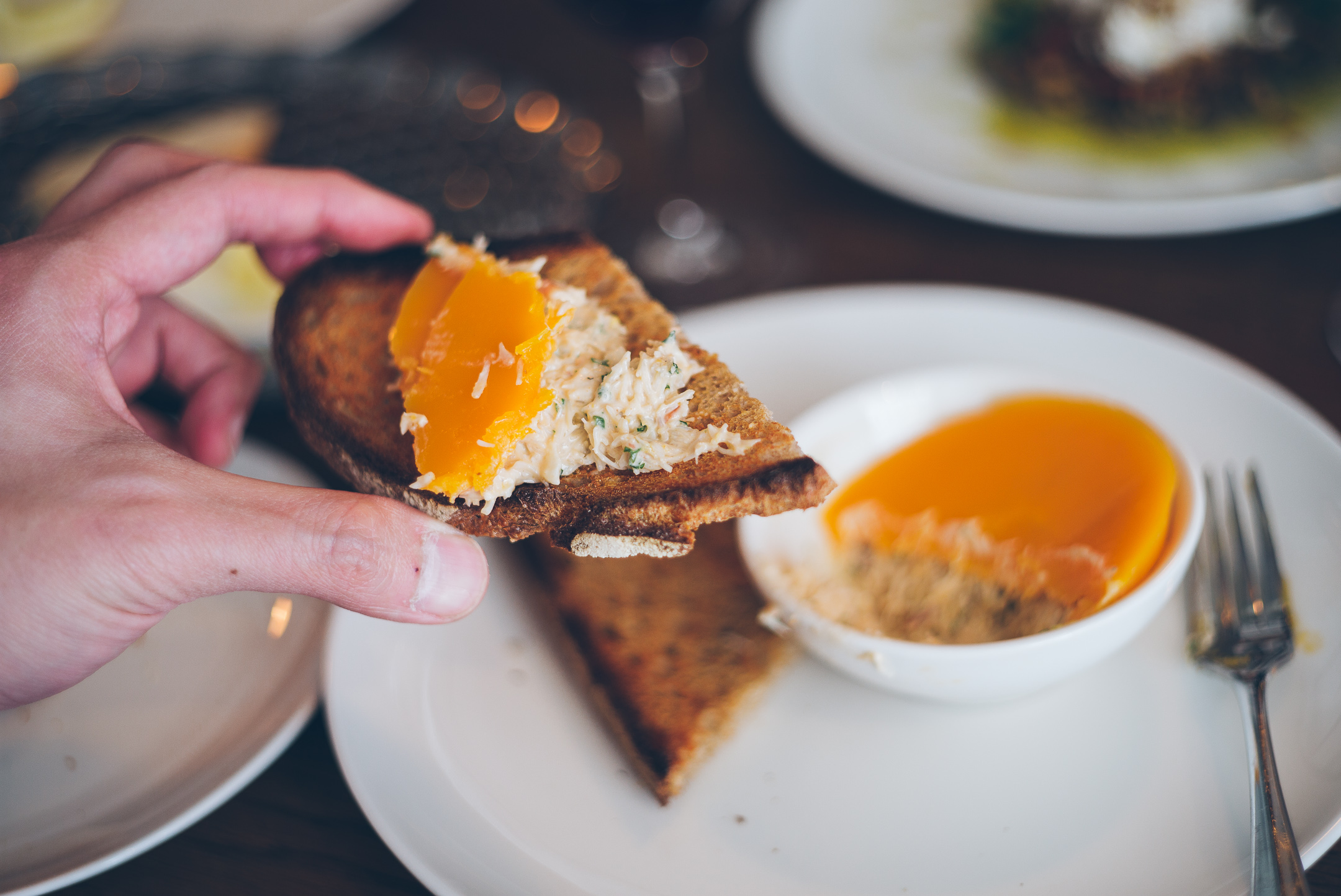 I hazard that there is also something zesty too, perhaps orange. Fresh, briny, creamy and well seasoned. Absolutely a joy.
Ricotta, aubergine, pinenuts & chili £8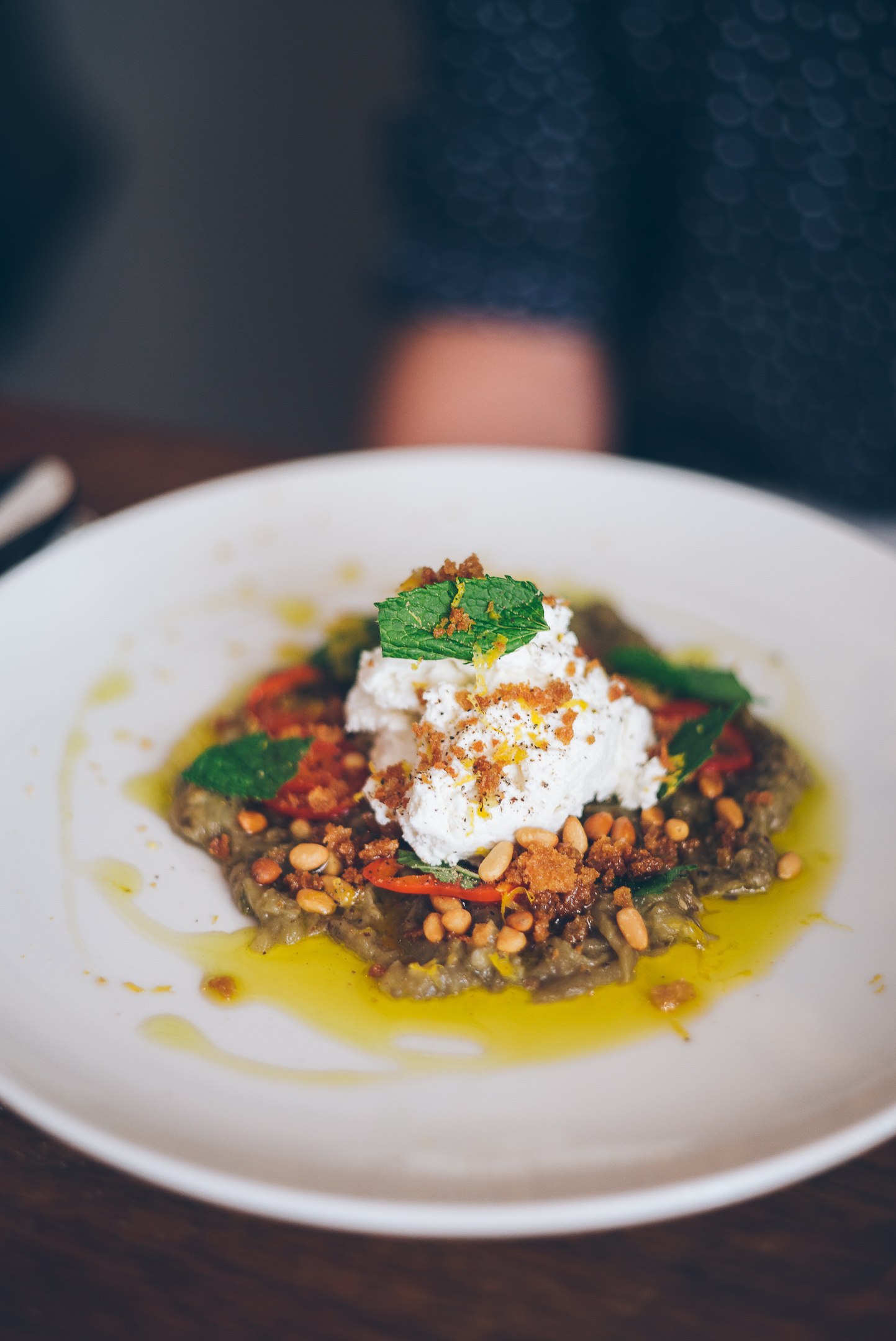 My favourite of the starters may well be this – freshness, perked up with sliced chilli, on a bed of cooling aubergine that has been grounded down to a paste. It's all so wonderfully simple.
-Mains-
Chicken leg, lentils, chorizo, alioli £18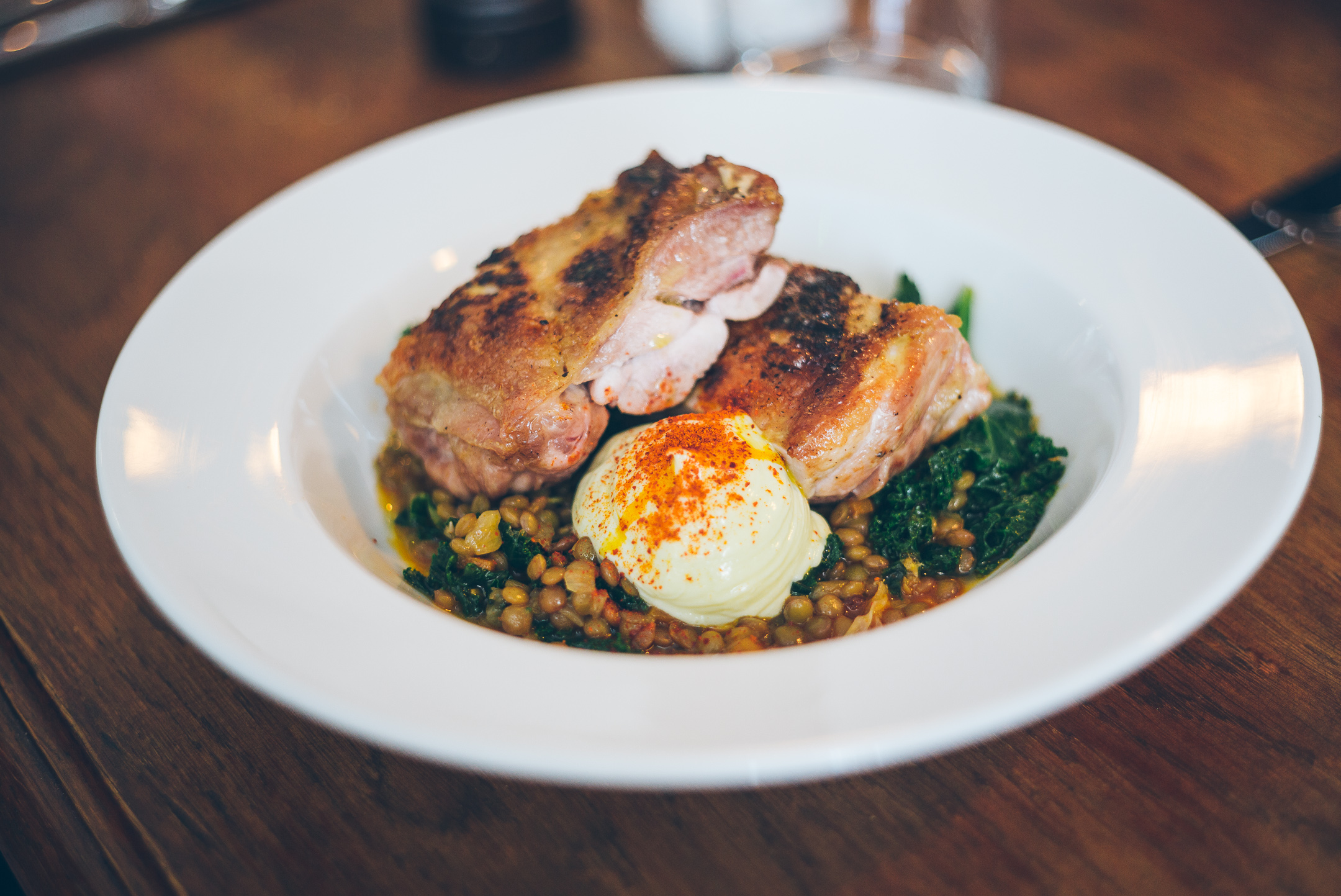 Andy had the chicken, but I wish I ordered it. Deboned and (presumably) pressed on the hot pan until juicily perfect. It is not overcooked, it is well-seasoned and it has excellent flavour. I did not confirm if these were indeed Landais (HG Walter does sell Label Rouge) but it sure had depth. Chicken plus creamy garlic. Life's simple pleasures.
Skate, brown shrimps, cucumber, lemon, dill £20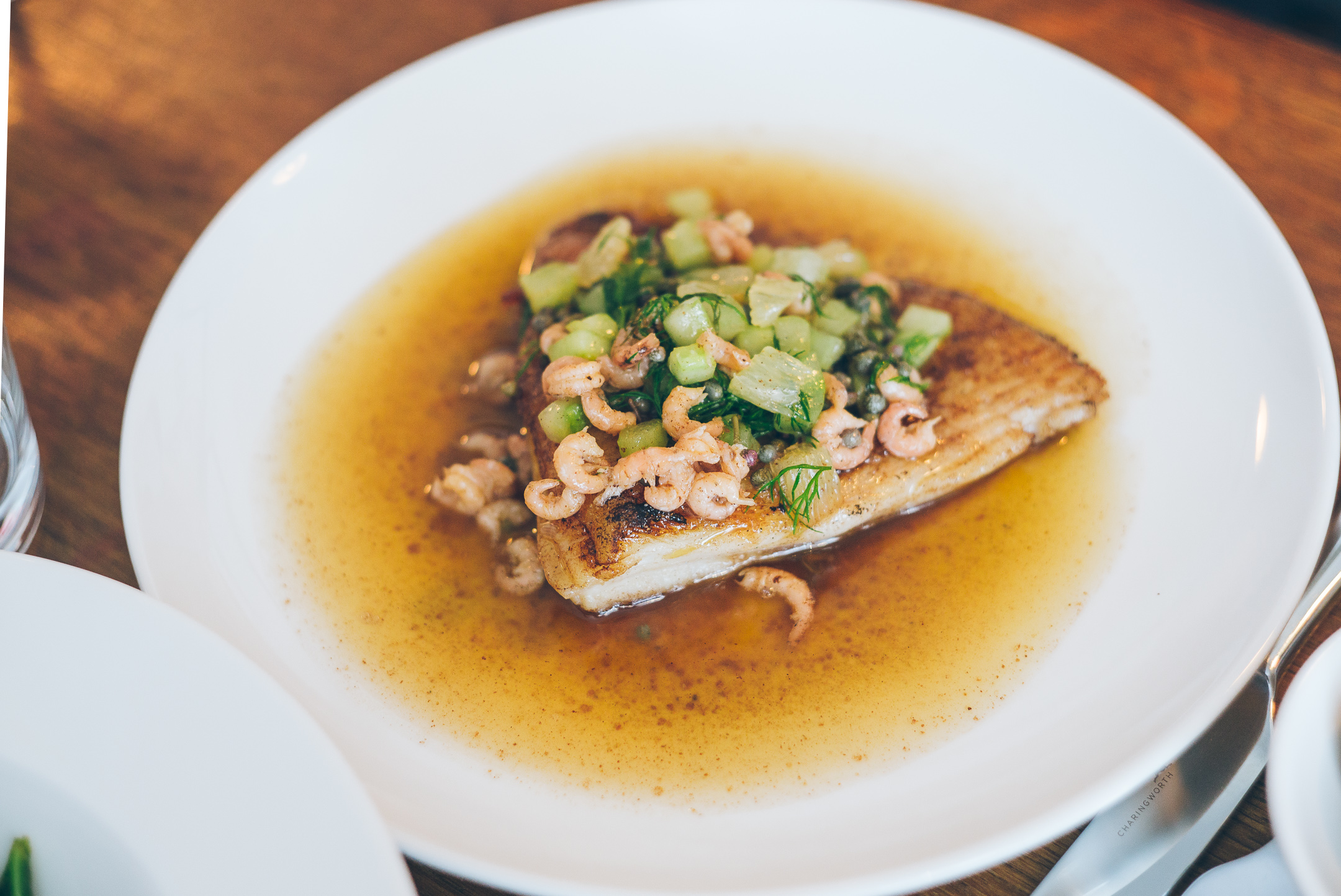 And brown butter, by the looks of it. Good side of fish, cooked well and served simply with ingredients for flavour and freshness.
Porchetta, radicchio, roast potatoes and salsa verde £20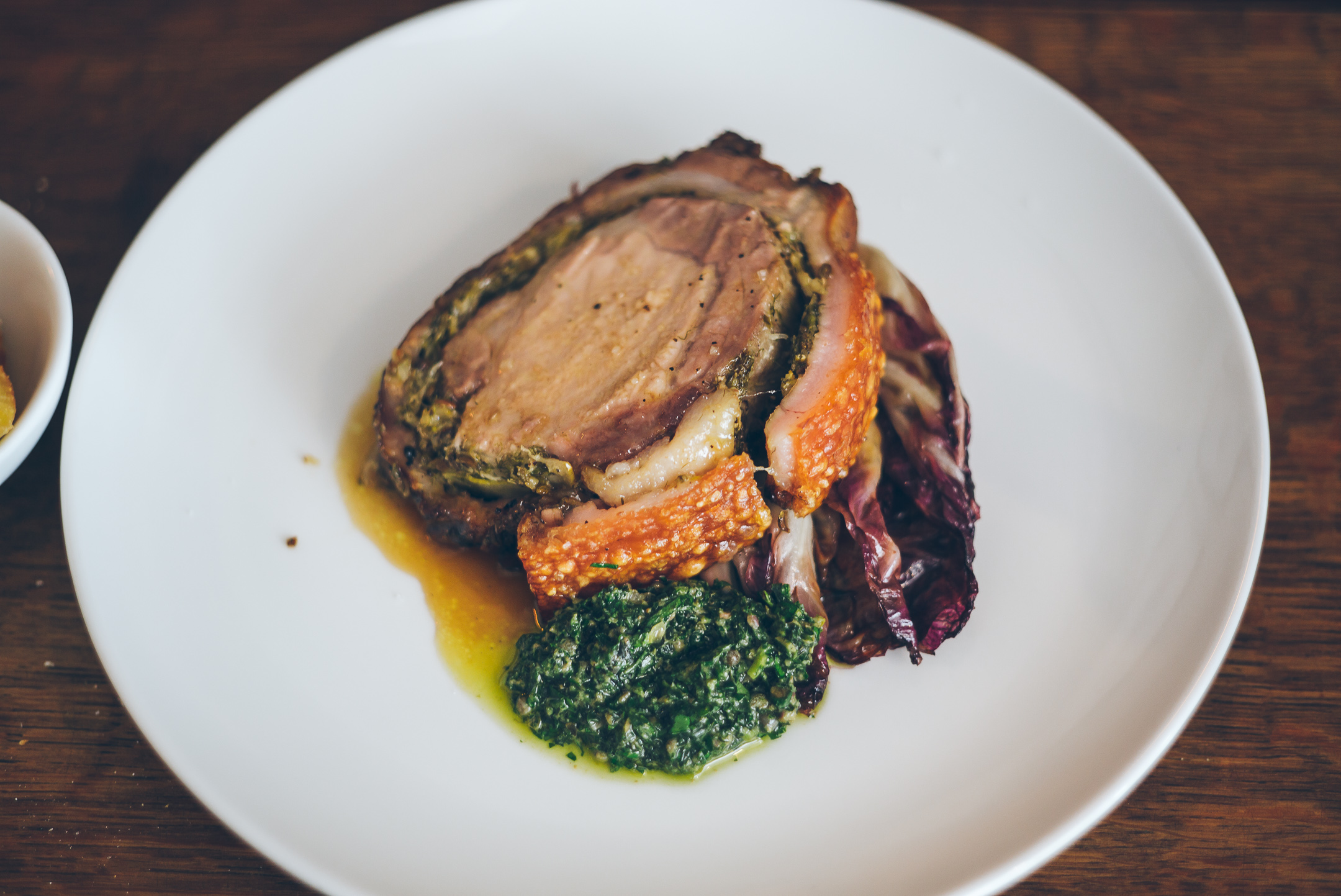 This would be the day's roast. The crackling is beautiful, the salsa verde something to behold and the meat, stuffed and rolled, is slowly coaxed until tender and ready. Straightforward, solid and just delicious. The missus cleaned her plate and left nothing behind for me. This is rare.
Christian Parra boudin noir, spring vegetables £18.5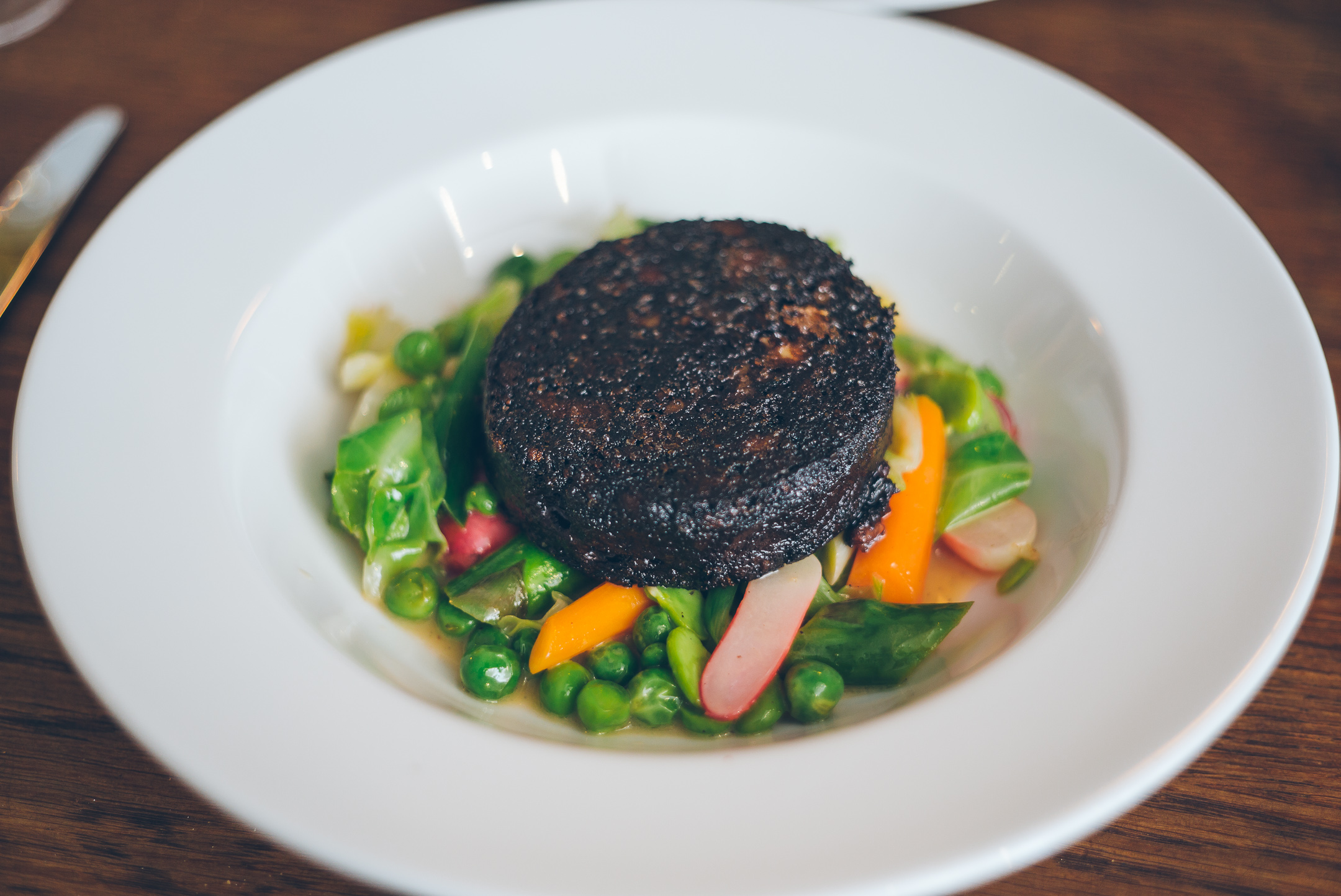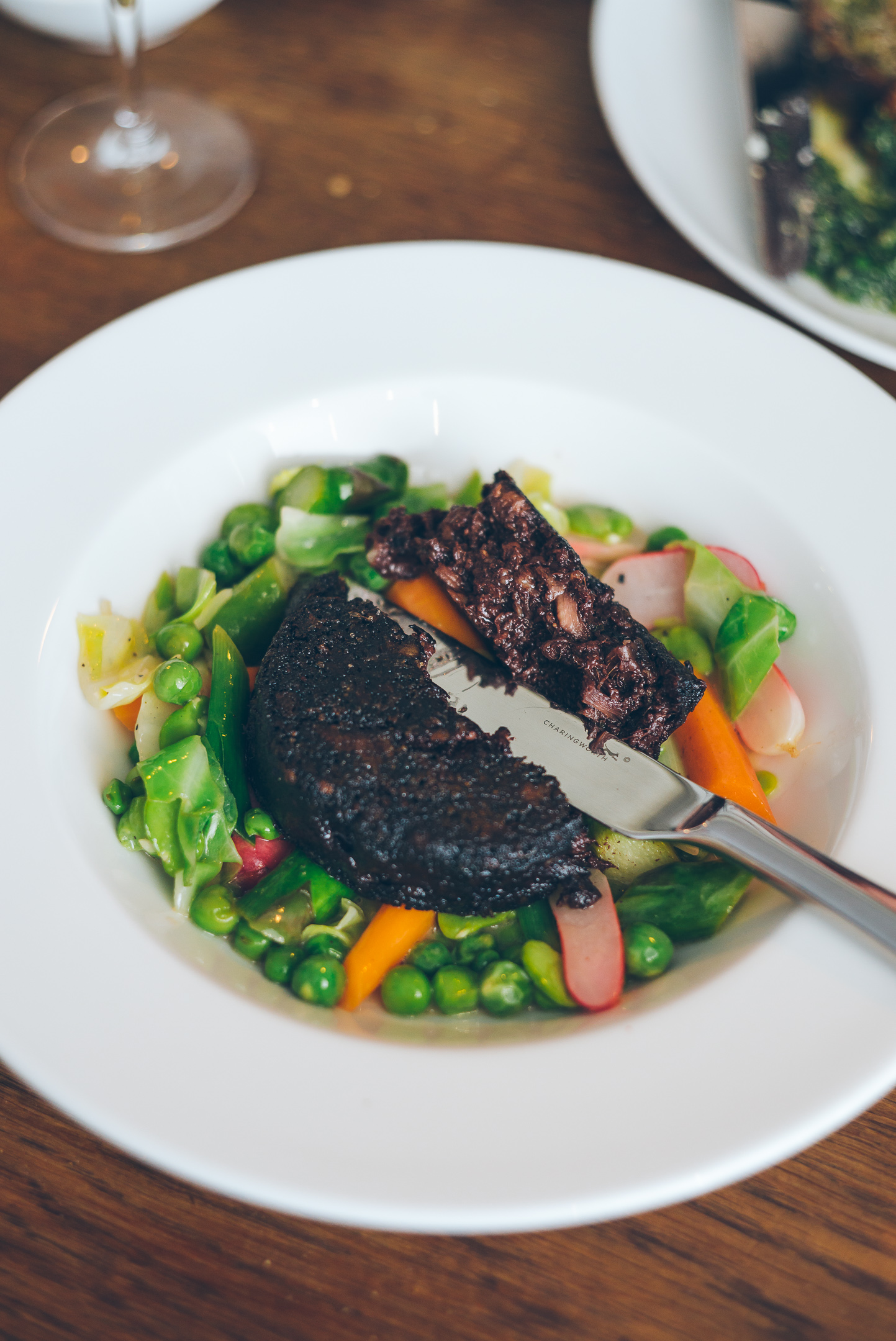 This must be the black pudding recipe of the late great chef made famous during his Galupe days and I am guessing these are the Anne Rozes cans, which also feature on Terroirs' menu. Blood, brawn, fat amongst other bits from pigs raised in French Basque country. Simply pan fried until a crispy and hot exterior. The insides are fluffy and fatty, full of flavour and is delicious. The revelation are those vegetables, just sweating from the pan. Asparagus, peas, broad beans, carrots, radishes; a harlequin's spring garden, to borrow another luminous Frenchman's term to describe this medley. Sweet, fresh and beautiful. There is nothing fanciful but is certainly one of the best things I've eaten this year.
-Pudding-
Panna cotta, gariguette strawberries, shortbread £6.5
Chocolate mousse, griottines, creme fraiche and almonds £7.5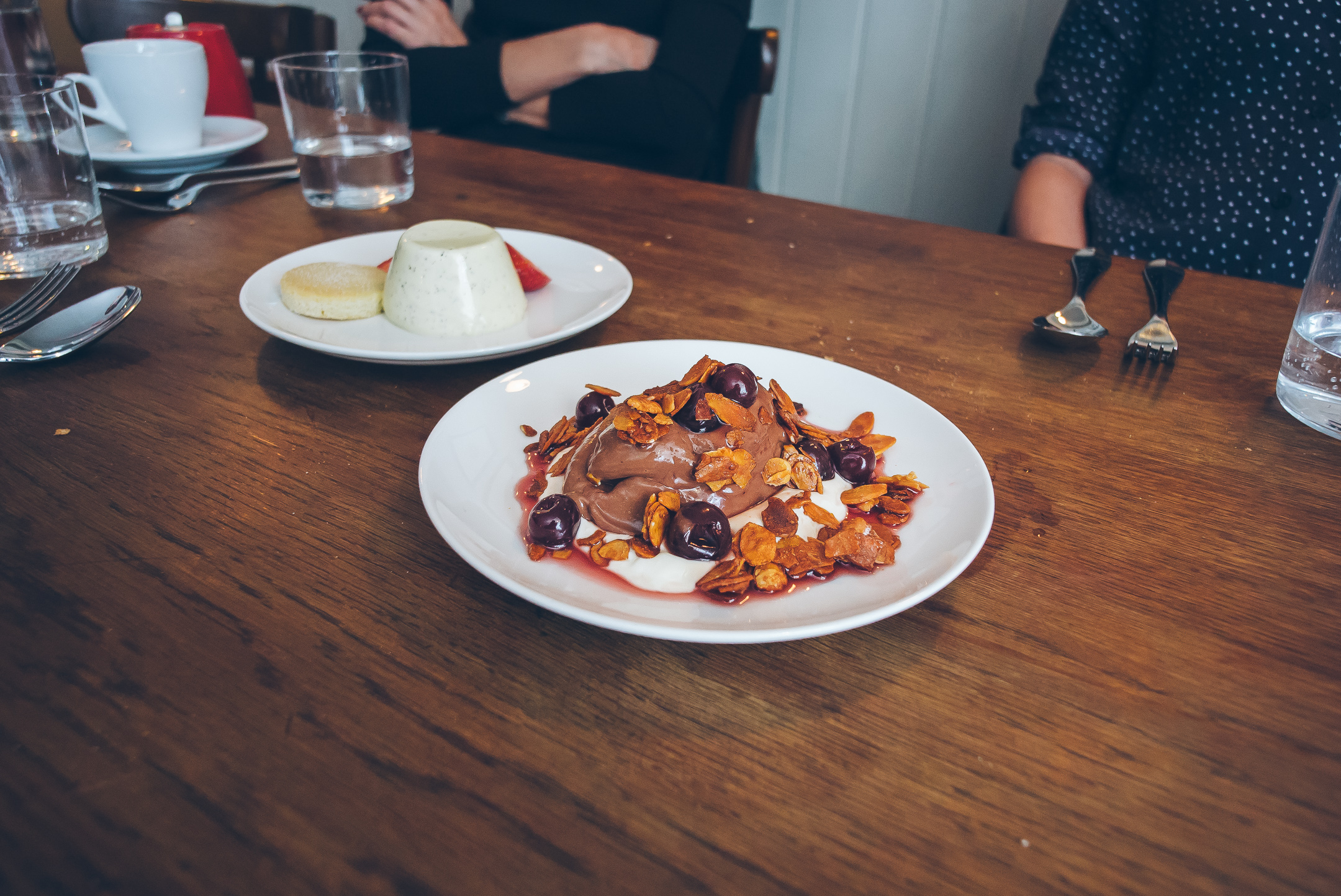 The panna cotta is wobbly and creamy, properly made and served with beautiful in season French strawberries. Though it is the chocolate mousse that has drawn the gasps. We all loved it, spoons go in and again, those beautiful griottines and its sweet juices, the acidity of the cool creme fraiche to temper the sugar rush. What a lovely pudding indeed.
We paid £168.47 for all food, 4 glasses, 1 mint tea (£2) and two coffees (£2.50ea). Totally stuffed too. Proper portions and good value for money indeed. There is nothing to dislike about Oli Barker's new digs, I already look forward to a return especially when summer properly arrives. This is simply a good restaurant.
When the sun shines and you eat lunch here, life will feel perfect. When it rains and you eat dinner here, your may become re-vitalised. When you are numb and want to rediscover what it is to feel something over nothing, you should consider No 6. It could do more than rekindle the fire in your soul and you may even stumble upon what it means to savour delicious food once again.
Details
Six Portland Road
Good Neighbourhood Cuisine
£45pp (ALC ave £10/£18/£7)
6 Portland Road
London
W11 4LA
Tel : 0207 229 3130
Tube : Holland Park / Shepherd's Bush