[UPDATED : I included my 2nd meal in this post. Scroll past the 1st meal to see it. The ham, oh gosh…]
Shh…! Don't tell anyone, this place is soooo good. What do you mean you're already a regular?! I finally found the time to stumble into this much celebrated wine bar, located under the Railway arches in Bermondsey. The street market pops up during the weekends to catch the discerning tourists, over spilling from Borough Market (not so) close by, but on a Friday afternoon, which is when I visited, Maltby street is the picture of serenity.
The owner of this wine bar is Raef Hodgson, which also smartly doubles as the facade to his wine importing warehouse, Gergovie Wines. I shan't mention his famous parents who you will know if you (still) read everything you can get your hands on or have an unusually savvy siri in yer pocket.
Raef was running the bar during this lunch hour, I recognise him from his various photos online, and so too the chefs in the kitchen, the virtouso Steve Williams (He was head chef at Harwood Arms when it went *) and his sous chef Sam Lowry (ex-Dock Kitchen, as Steve Parle pointed out to me).
Cheese, 4 starters, 1 main and a pud, that's the lunch menu scrawled on the chalkboard today, averaging £5, £16, £6. Somehow I totally forgot to scan the wine list, but my excuse was that I was by myself and therefore decided to drink by the glass. They keep a list of the producers they work with here, minimal interventionist kind – I hesitate to say natural – and as I remind you time and again, an entire chapter of wine(making) which still fascinates me, even as I continue my bedazzlement with conventional clarets and white burgundies.
A glass with each plate of food, I leave the choices to Raef, and the notes are done in reverse today : Wine followed by food.
2014 Garnier La Roche Bezigon £5.8
From the Loire, 100% Chenin Blanc. Nearly like a bubble-free cider. It's incredible, on the nose and palate is basically apples! I find out later on that the grapes are pressed with an old Calvados press that is slower and thus is to achieve greater skin contact. Slow sometimes means 3 days apparently and this also gives just a hint of oxidation, though I detected none in this glass.
Very nice plonk – it's like clarified apple juice!
Chicken, ham and pistachio terrine £8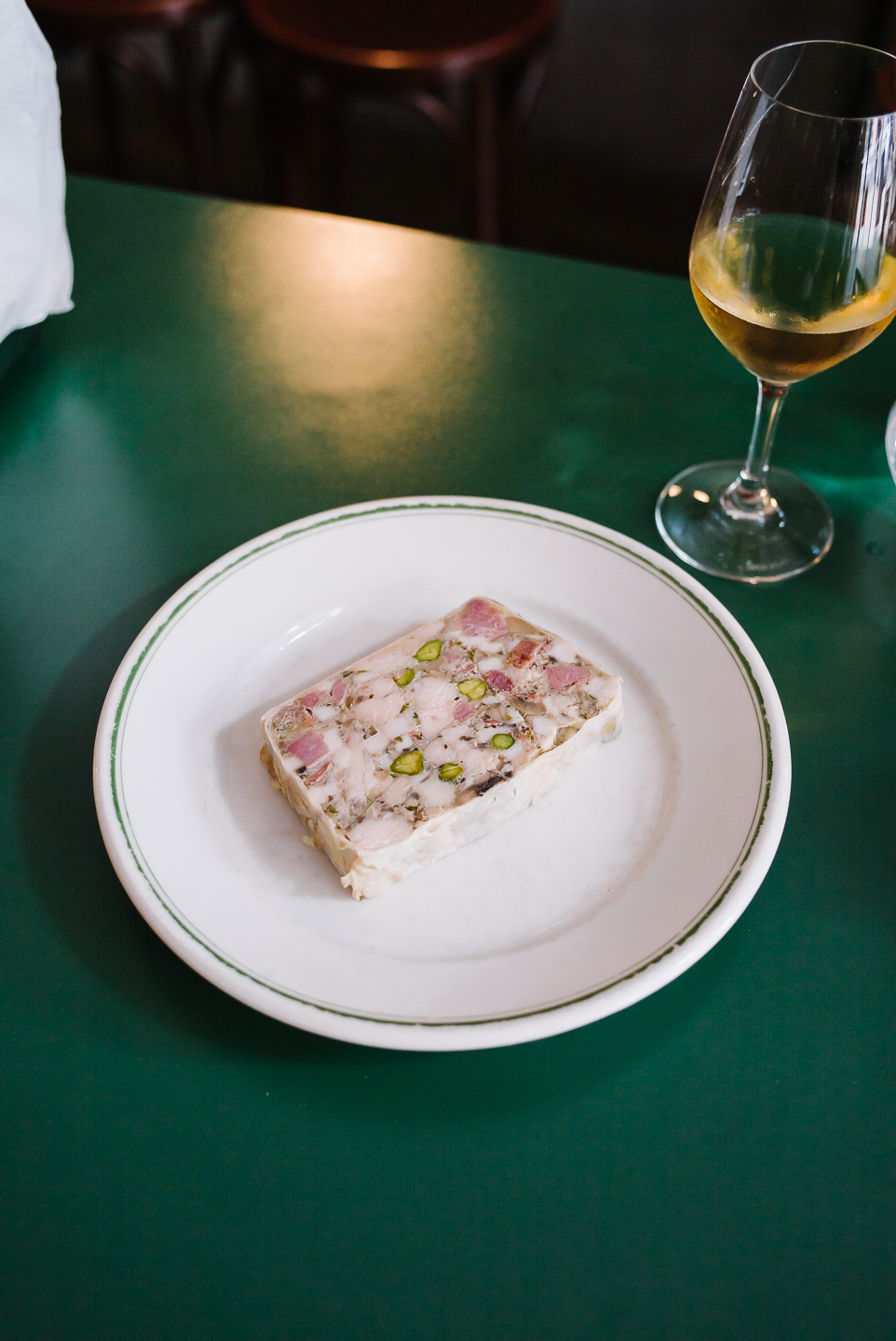 To go with this fresh wine is a beauty of a terrine. It's spot-on, salty, peppery, fragant pistachios. I guess the terrine is wrapped in lardo. Tasty and then some.
2013 Muenchberg Grand Cru, Julien Meyer £8.4
Next is 100% Riesling from Alsace. I love the whites from this region, the pinot blancs from here are under-valued IMHO. I only just had a 07 Clos Ste Hune the week before, which was surprisingly open right now, so my 'recent memory' is a little skewered. Anyway, this wine is fermented in large wood tanks and spends 14 months in them before bottling.
So first the colour, very interesting deep yellow, a bloody yellow I'd say. Nose is sweet white flowers and faint pepper, like sancho. But the palate is nothing like it, it is nearly oxidative, papery and almost like liquid green vegetable salad, grass even but pure and fresh. An interesting wine. It seems like something you might find in the Astrance wine pairing even.
Pea and spring onion fritters £5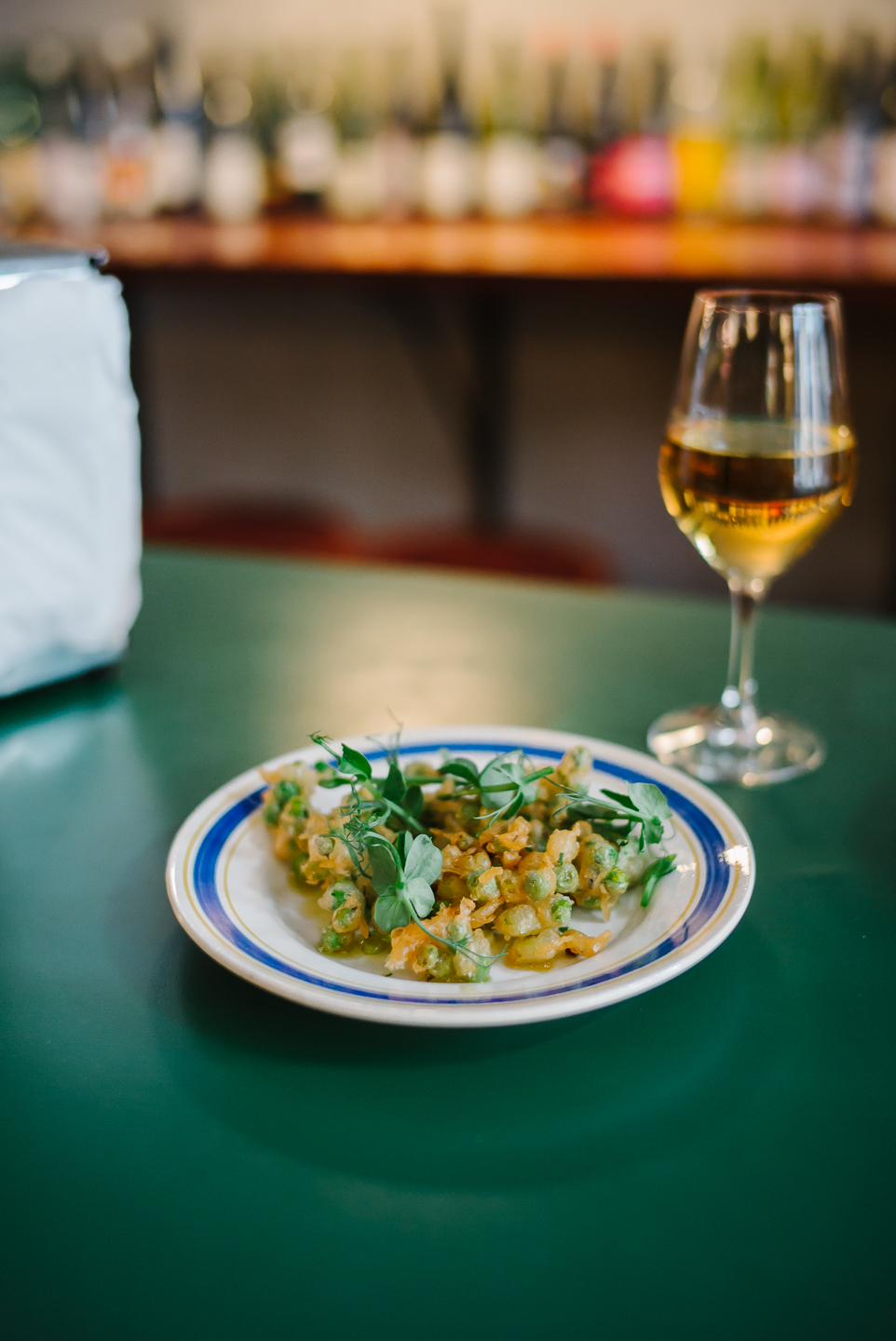 This was joyful, I ate this as finger food. Acidity and salt. I wondered if shirmp had been mixed into the batter. It smells so much like prawn crackers. Crispy pleasures.
2012 Moncailleux, Michel Guignier £7.7
I've long been a fan of Moulin-a-Vent, my favourites from Thibault Liger Belair. These really are the 'grand crus' of Beaujolais. You won't believe Gamay can be made with such class and breed – this ain't the typified beaujolais nouveau. This does help to keep the prices down.
And so the nose, sulfurous and all barnyard. On the palate, it sharp, piercing blackberries, full and sizzling with acidity and a touch of horse manure. Only 11% and dangerously quaffable. It will pair perfectly with the lamb…
Roast leg of lamb, Jansson's temptation and chard £16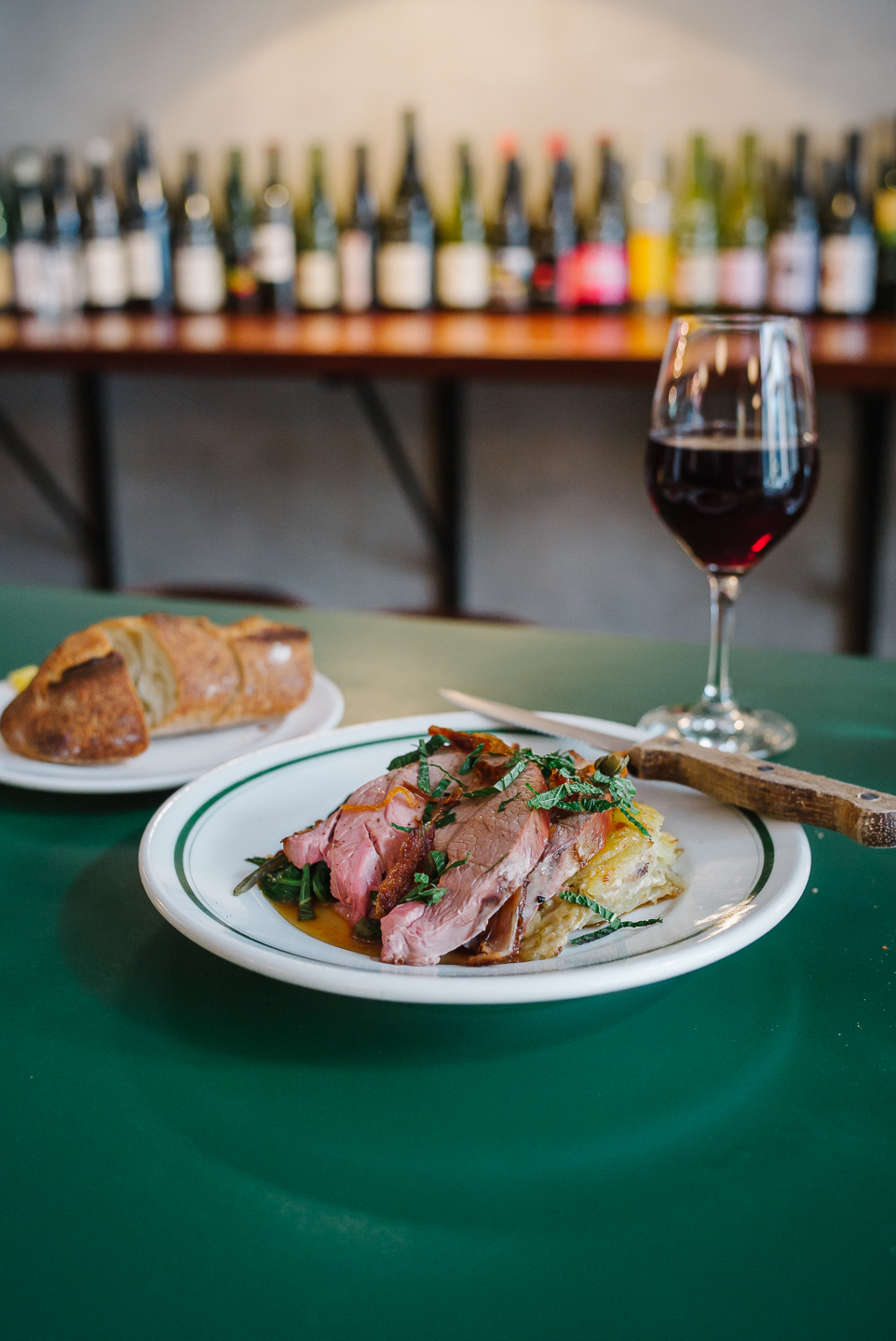 …and indeed it does! Trumpeting pairing, but this is a trinity not a duo, the third is that temptation. A potato gratin with layers of creamed anchovy (and not sprats) slotted in between accentuate the pungent 'lambness'. Unimpeachable cooking here – juicy, pink and just so.
Apricot and almond custard tart £6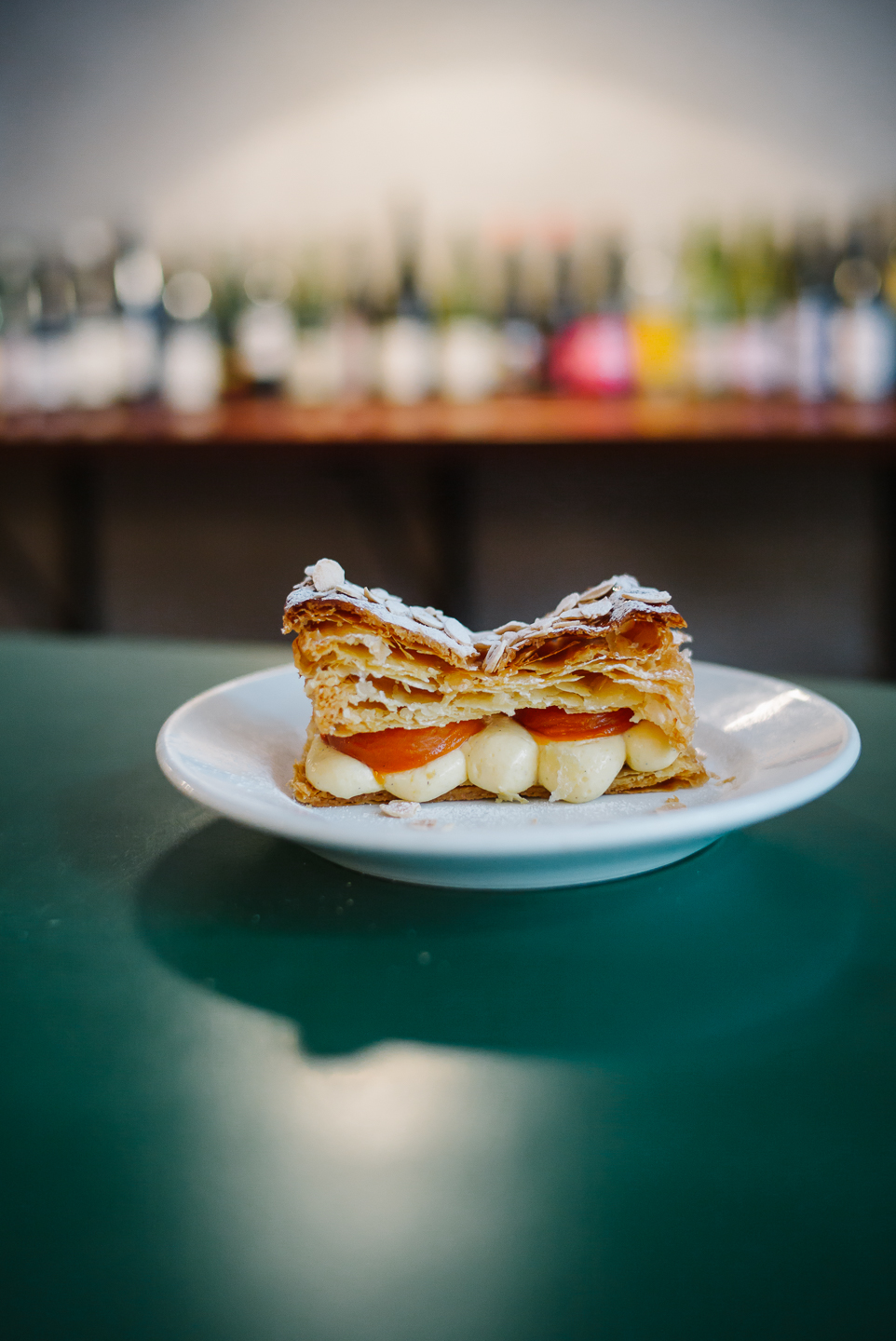 I was not prepared to receive this extra fine piece of pastry work. Layers, custard, acidity, it's superb. Wow..wow…wow!
I paid £63.90 for 4 plates, 3 glasses and service. For this quality? Unbeatable value for sure.
Darn it that was a nice meal. I'm amazed. Humble magic going on, but you already know that. This is a classy outfit, easily delicious food, eminently quaffable juice and undoubtedly one of London's gems. The ham rolls out at 11am on Saturdays, so…please keep the secret going, nothing to see here, keeping walking on by.
Details
40 Maltby Street
Wine Bar
Wed – Sat 1730 to 2200 (dinner)
Fri 1230 to 1430 (lunch)
Sat 1100 to 2200 (ham on)
£25pp + drinks + service
40 Maltby Street SE1 3PA
Tel : 020 7237 9247
Tube : Bermondsey or London Bridge
—
2nd meal from Saturday, 9th July 2016
Even better than the 1st meal, We got there at 12 sharp, and the room was already full up. We paid £67.90 for all food, 1 lemonade and 1 glass of wine. Pics and brief notes below.
Smoked Yorkshire Ham, £9 (x2!)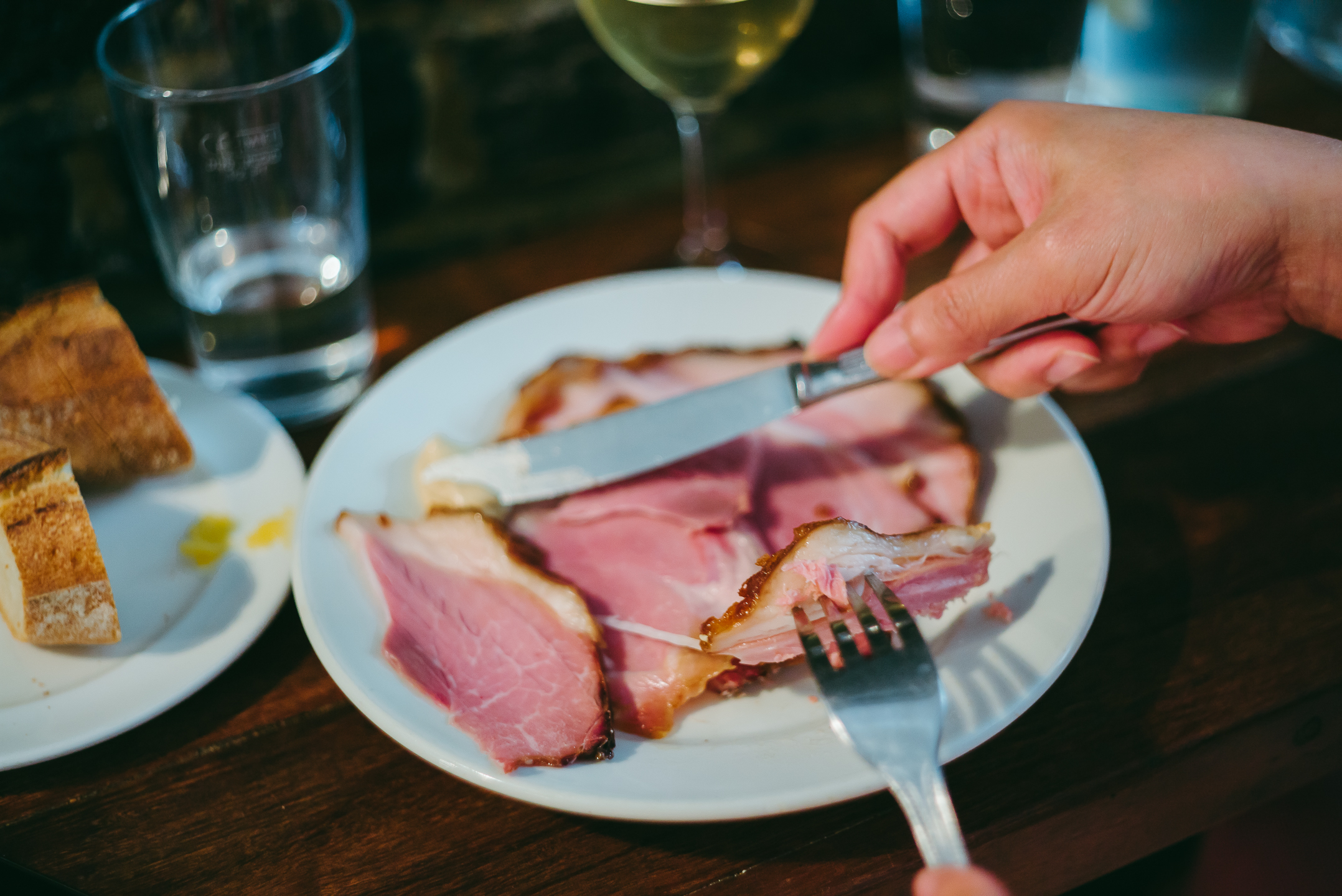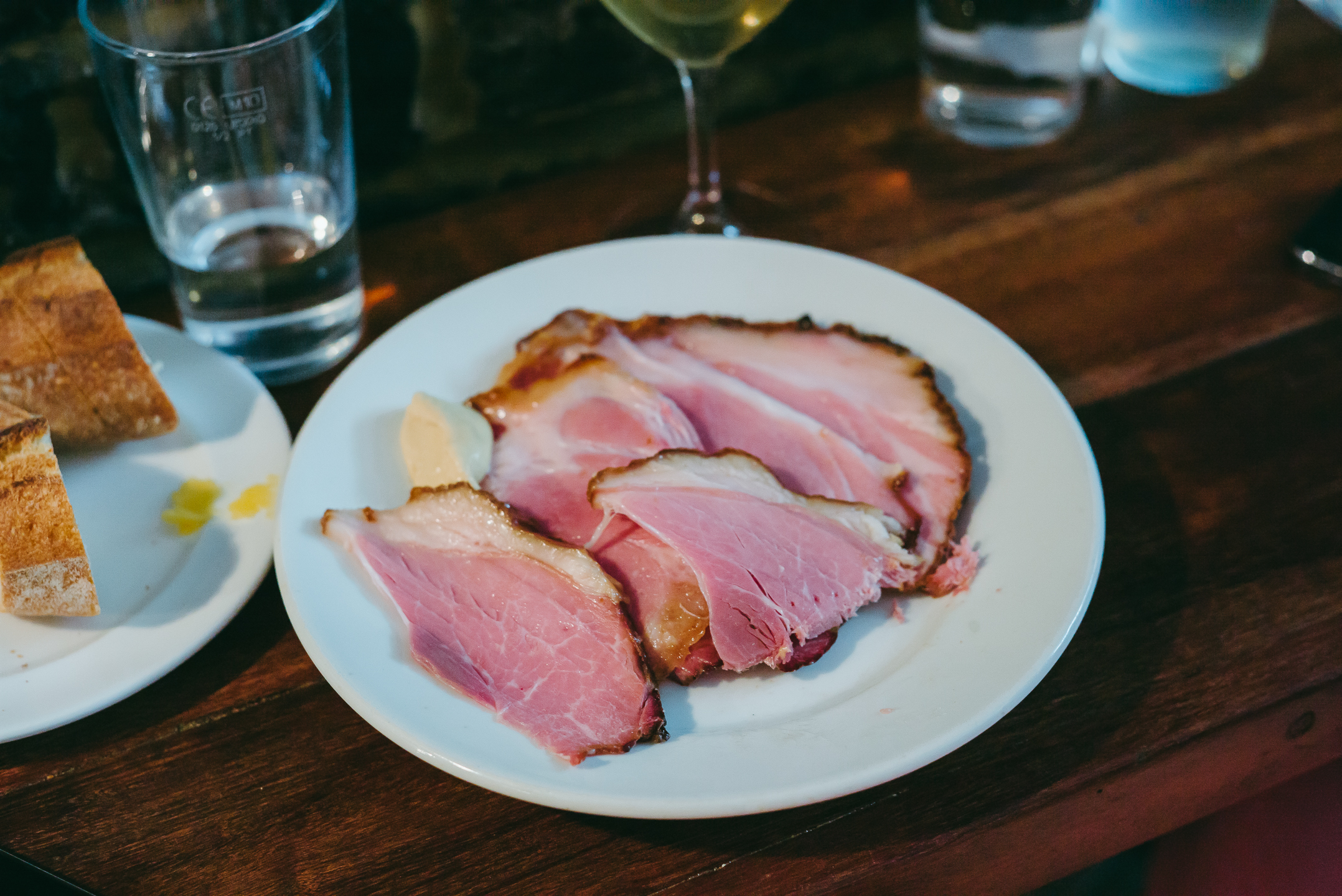 Specifically came here early to have this, and it absolutely did not disappoint. It is better than the hype. We ordered another plate after we finished the meal. The ham rolls out at 11am, but getting there at 12 seems a good time as they cut from the middle of the leg – the fat is so delicious and the glaze is caralimised and honey sweet.
Broad beans, fava, marjoram and garlic toast £5.50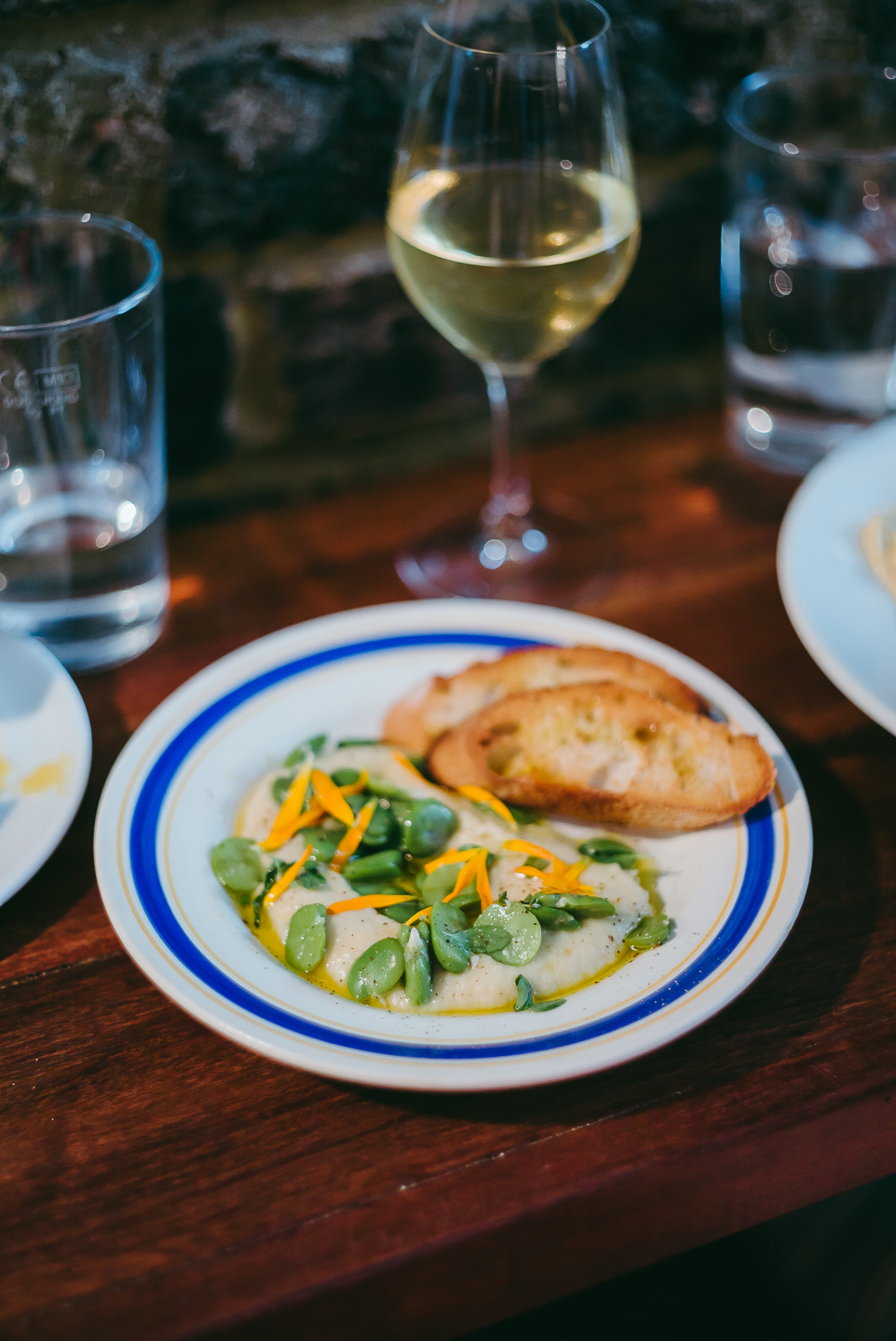 Oyster fritters, tartare sauce, gem £6 (for 2 oysters)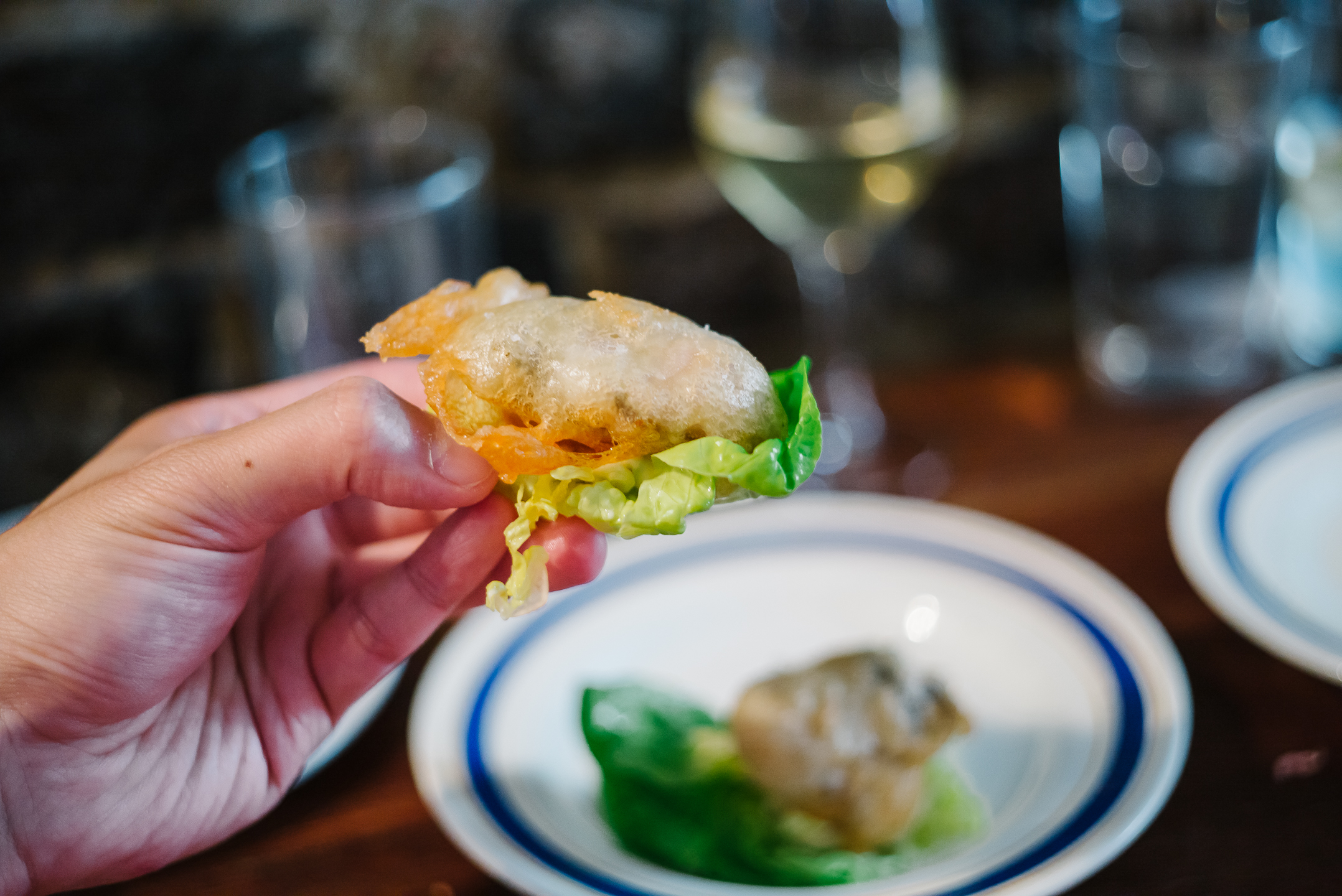 Chicken, pea and girolle pie £7.50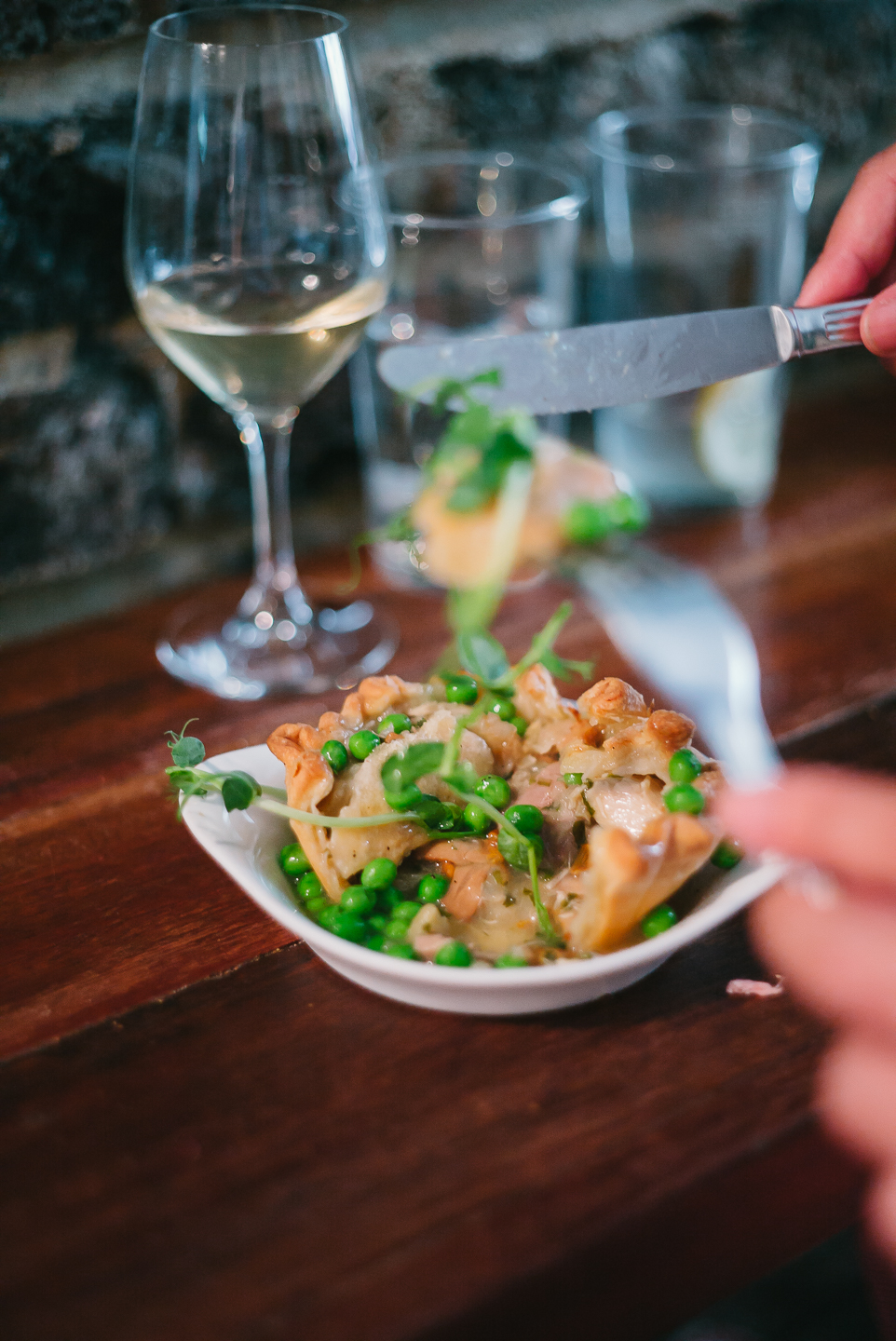 Just a beauty.
Sea trout, raw kohlrabi horseradish and samphire fritters £16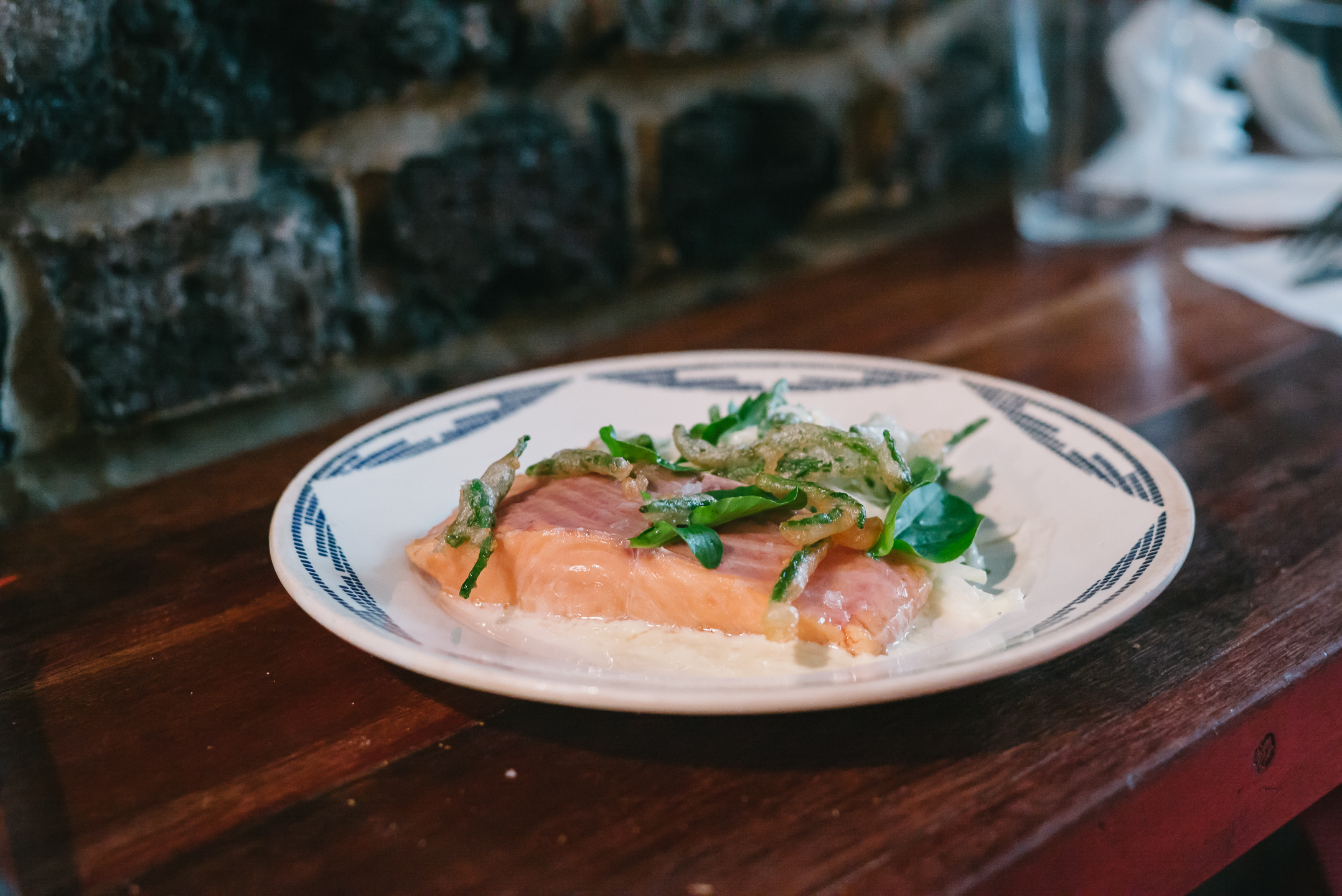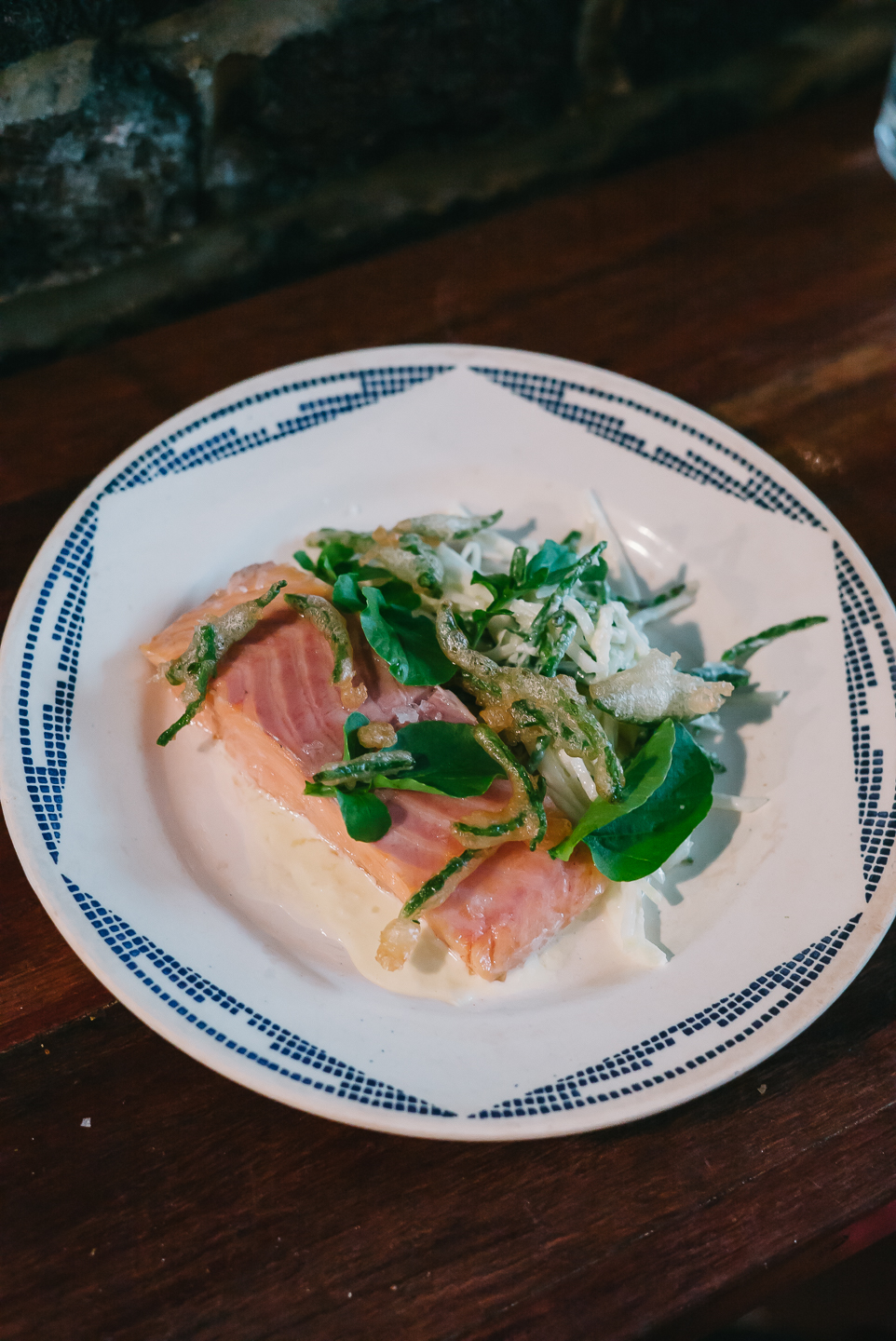 Slow cooked to unctuous perfection. Stevie, what a chef.
Blackcurrant, stem ginger and brown sugar meringue £6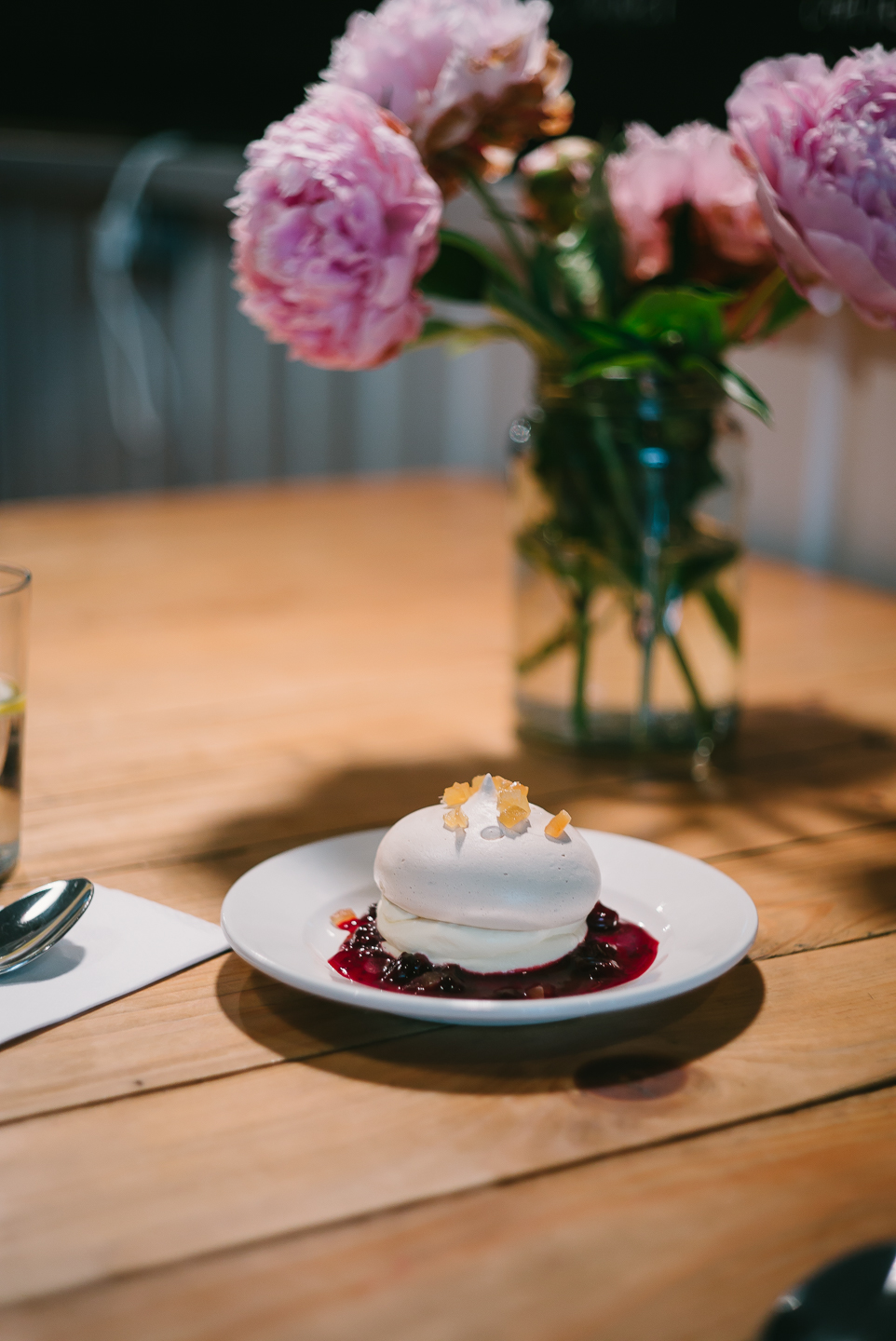 Also with cream and pretty sure vanilla ice cream in the middle. This is so so good, confit ginger the link in the chain of cream and acidity. The better half admires the Peony in the vase.