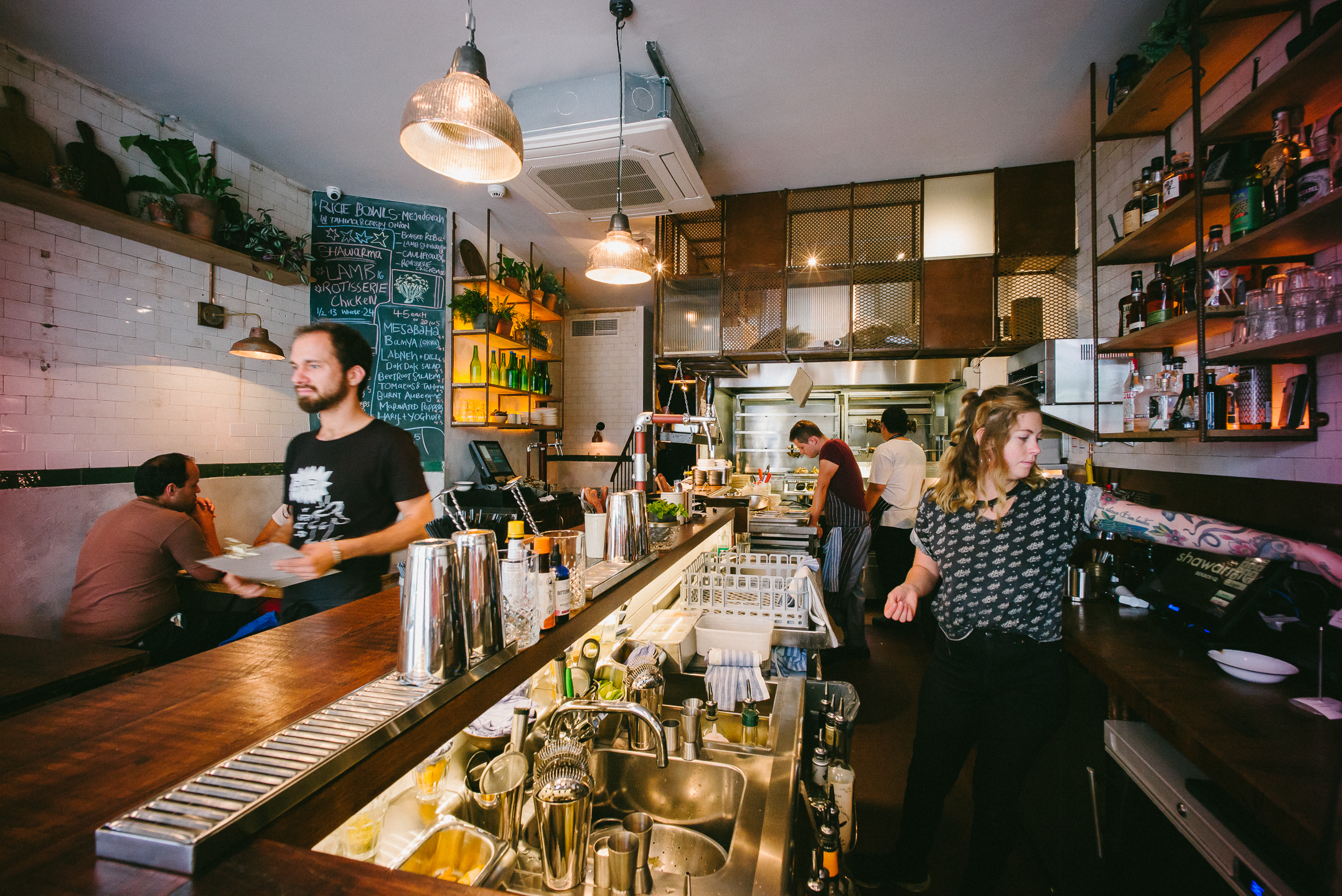 Josh Katz is a Londoner through and through, somebody who has taken the long road to fulfill his true passion of cooking good food. Not many chefs have a capacity for generosity like Josh, fella's got a big heart for sure, and his cooking reflects his personality. Bursting with colour and celebration, rounded off with freshness and zest. Josh Katz cooks happy food. Food that pumps colour into monochrome moods, food that makes battered souls vibrate with vigour anew.
Josh's alma mater is London's Le Cordon Bleu, from there he did his time with the Galvins at Bistro de Luxe, as well as in catering for punishing large-scale events, before establishing himself as sous in the kitchens of Ottolenghi, rubbing shoulders with Itamar and Sarit (Honey & co). He left Ottolenghi to run the cafe/eatery at the Roundhouse, his first stint as Head Chef. This is where I first came across his cooking. It was called Made in Camden, and it sure was, through and through. This was 2011, when I lived in North West London, where I soon became a regular. Over there, he was riffing on the Middle Eastern, sharon fruit and tabbuleh, with a play on global cuisines, including from time to time, inspirations from chefs he admired.
Before Bao became the mazy queue-fest it is today, there were two places in town to pick one up. One was to head to the Westminster Academy for the annual Taiwanese food fests put together by UK Taiwanese Association where you could savour nostalgia inducing gua baos; The other was at Made in Camden, where Josh did David Chang real justice to properly emulate that scheweeeet melt-in-your-mouth pork belly in steamed bun. Legit for sure. Most of all however, I will never forget brunch at MiC, his Shashuka has the power to lift the heaviest hang overs and turn a foul morning into a joyous afternoon – eggs which now make appearances as brunch at Berbers.
Aside from those obvious super famous guys now ascended into a higher plane (Mchale, Lowe), there are few London chefs who are my contemporaries, with whom I deeply respect and enthusiastically admire. You know about Tom Kemble and Joe Mercer Nairn, Josh belongs in this category for me. Chefs who cook with the power to move you.
I was bittersweet when he left MiC, but it was for the better as he was to pursue his own thing. After a short detour with Zest JW3, where I visited once, the North Londoner shipped out East to open Berber & Q in 2015. A grill house he has opened with business partner Mattia Bianchi, who does FOH.
I remember the AA Gill review on MiC and I recall how happy I was for Josh. He deserved the accolades then, as he does now with the success of Berber & Q.
You might be wondering about the high word count in the preamble and this is because I am making up for a lost post that I should have made last year. I totally missed Berber's opening as I focused most of my energy refurbishing my soon-to-be humble abode.
Then in March earlier this year, my mate Mark had bought some tickets to a one-off rotisserie night, which Josh and Berber crew were laying on at Le Coq, and there I reconnected with Josh again. It was an absolute blast to eat his cooking once more, rotisserie lamb shoulder with chermoula and rice, a smattering of mezze and a rose malabi for pud. It all makes sense now, that he was using the event as proving ground to launch Shawarma Bar, the subject of this post and his latest venture. As the name suggests, shawarma and rotisserie (chicken in this opening menu) is the name of the game, a contrast to the smoked meats over at Berbers. It's brand spanking, entering week 2 of operations as of writing. I visited with the better half last Saturday, where they take bookings for lunch.
Casablanca larger (£4.5) ; Soft Pomegranate spritzer with mint and cucumber (£3.5)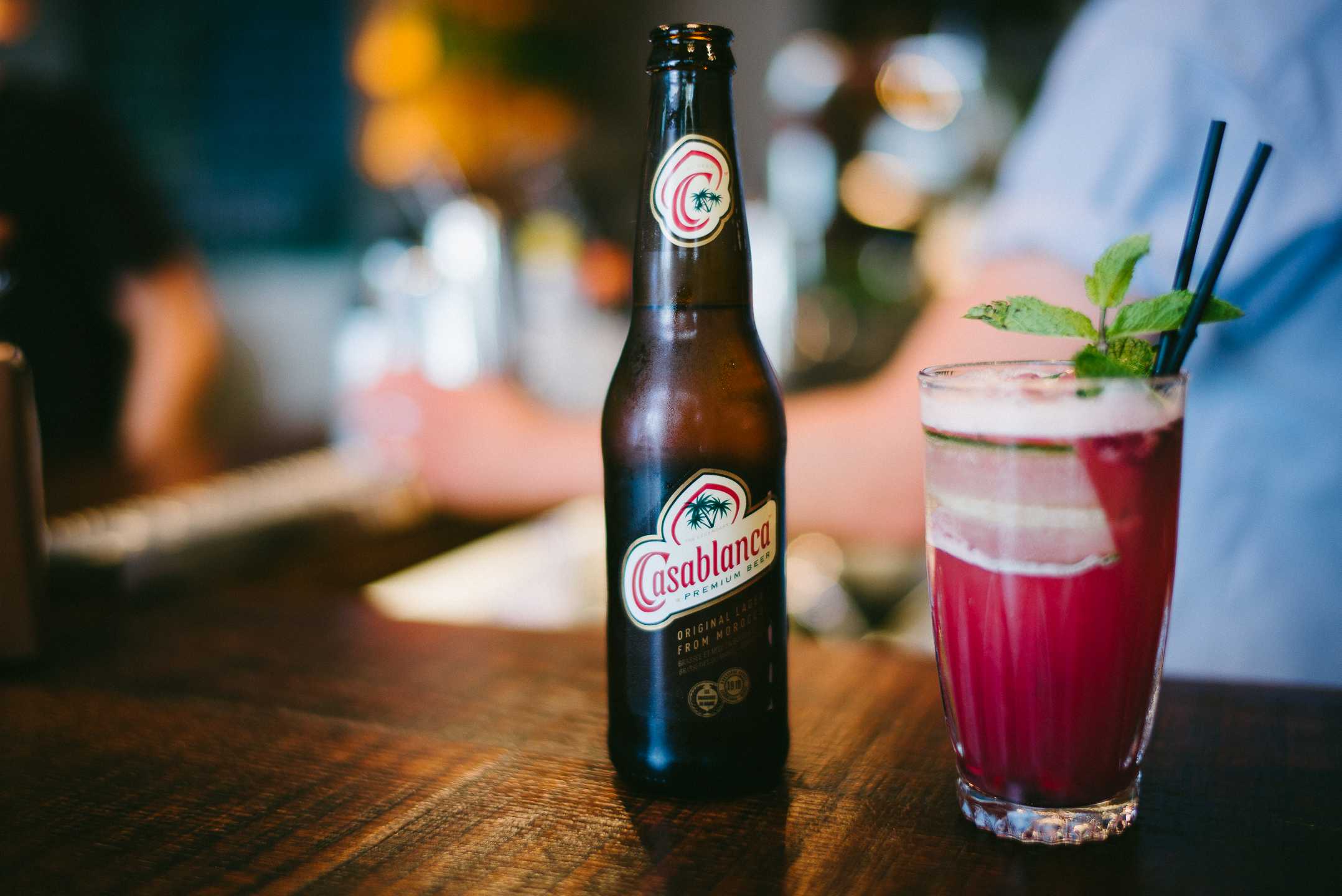 Obviously Moroccan beer, which I thought was very good. They also do Macabee and Beirut by the bottle. I feel it is necessary to draw your attention to the capable cocktails list, because you might find yourself having lunch at the bar (which you should) and knocking back dirty sultans and orientalis'.
The missus had one of their soft spritzers which were good enough to compel her to order another.
Mezzes with house chollah. Five plates for £20, or £4.5 each
L-R clockwise: Bamya and green beans; dak dak salad with feta; Beetroot salami, walnut & orange ; Chollah bread ; Blackened aubergine, chilli & anchovy; Mesabaha (chickpeas & tahini).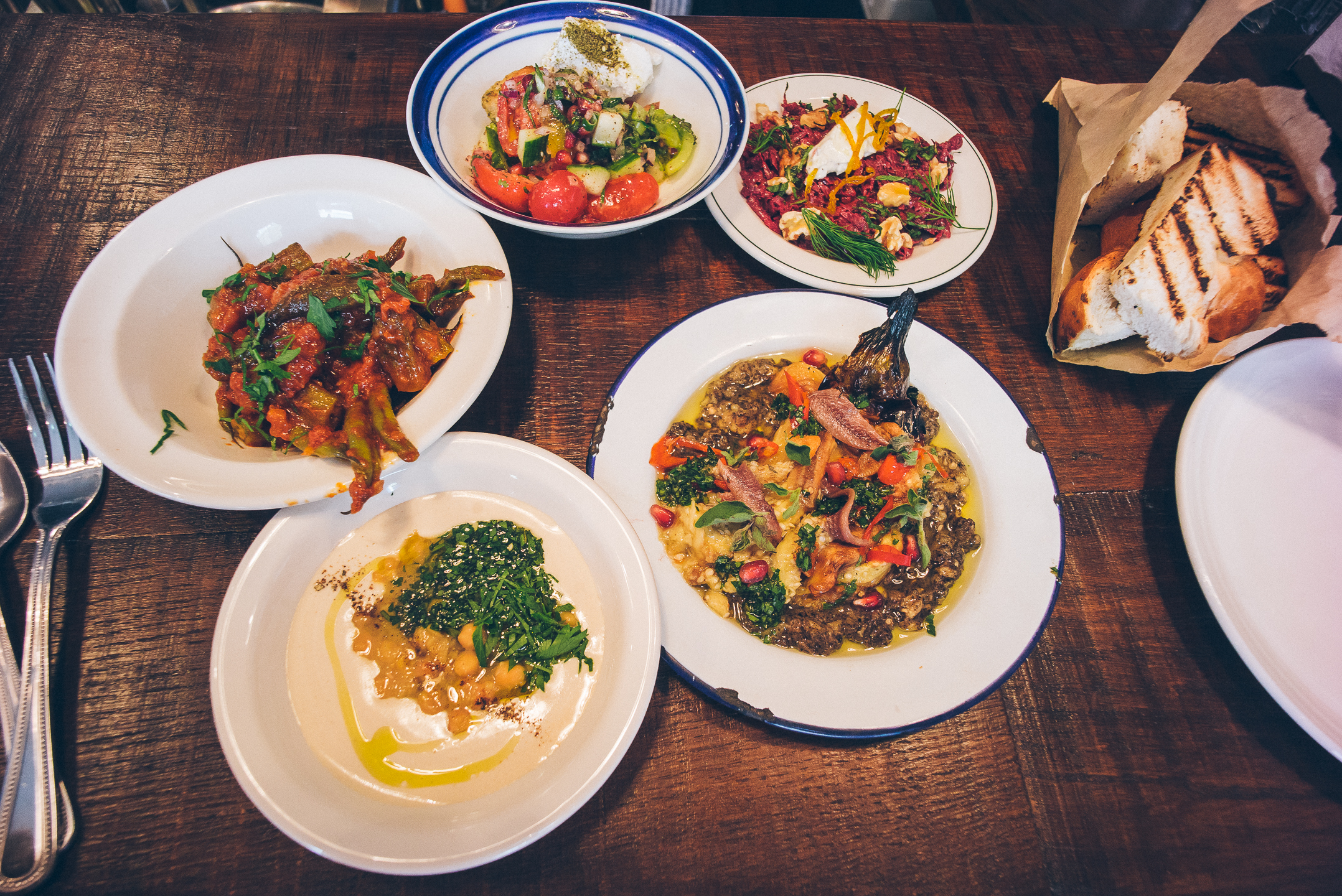 Generous portions from the get-go. This is nearly a meal all on its own. Everything made well, with certain vibrancy and generosity. My favourites were the burnt aubergine seasoned with anchovies, the mesabaha was also very good, so too the creamy beetroot with confit orange peel.
Pita with cauliflower shawarma, £6.5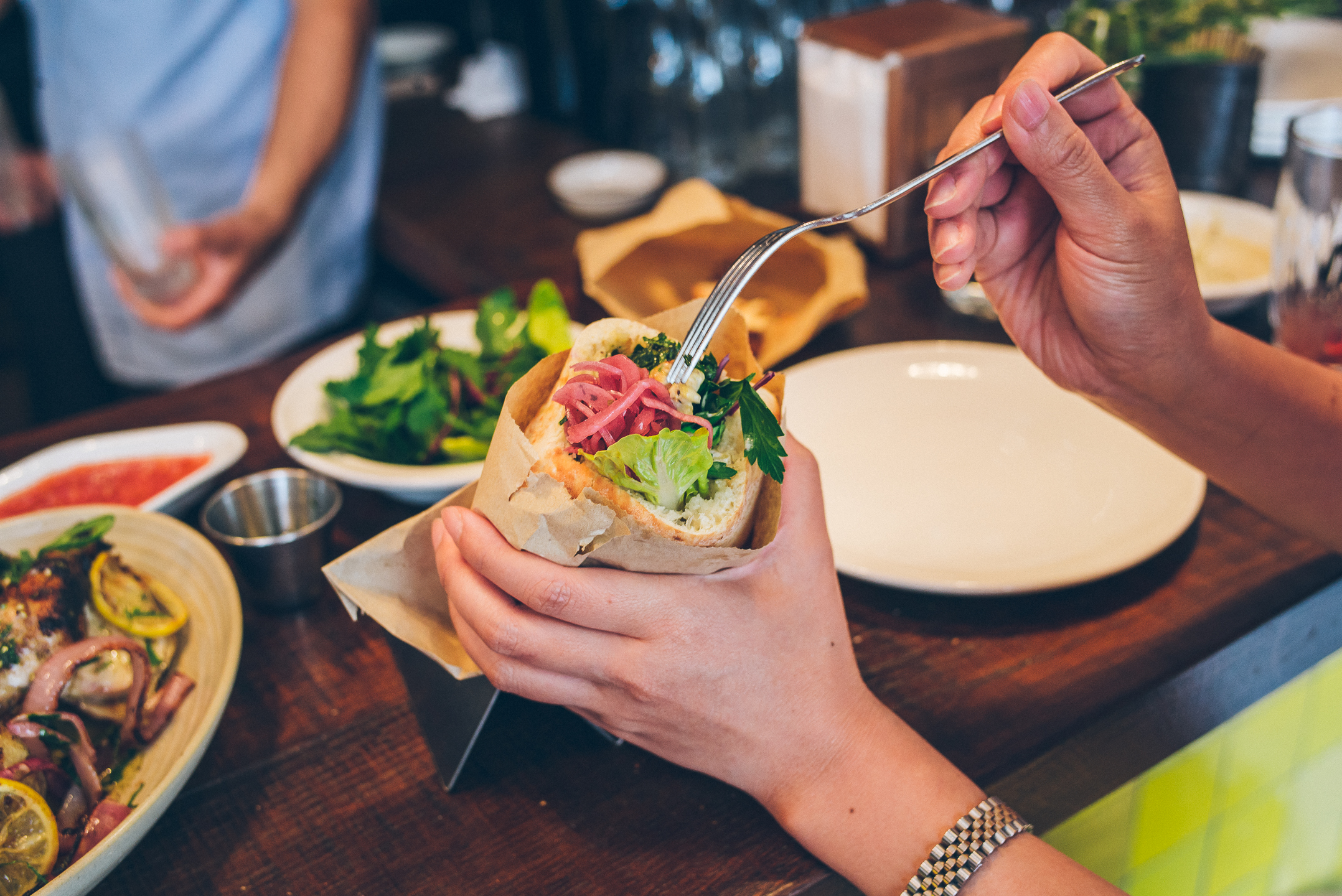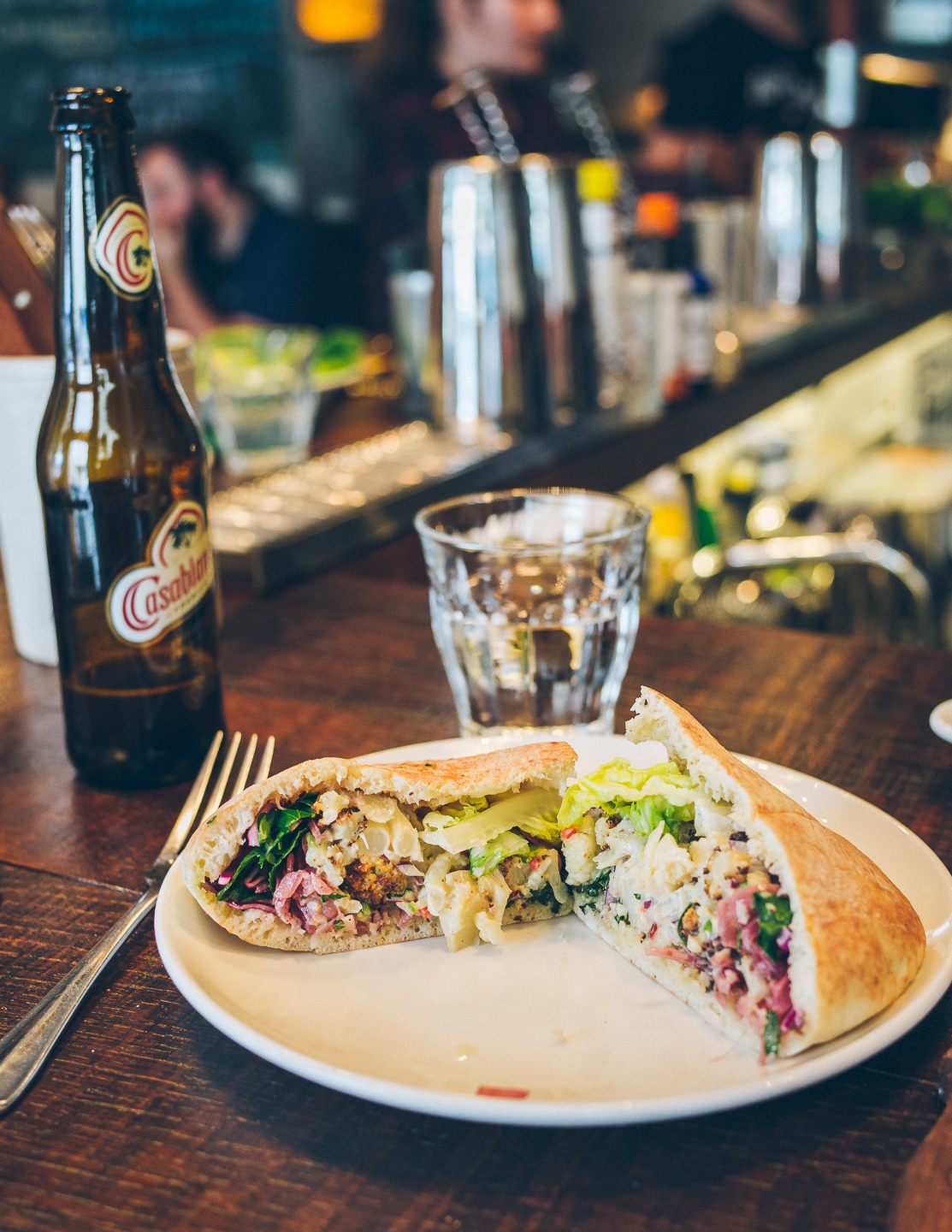 Stuffed with tahina, herb salad, pickles, red onion and green chilli. They also do a whole roasted one (for £4.5), a carryover from Berber, which you are likely well acquainted with.
This is of course a straight up shawarma bar afterall, and so the lamb shawarma is a beauty. But I loved their roasted cauliflower too, and I reckon it may even be better than the meat-filled pockets. From the rotisserie grill, it turns the humble vegetable smokey and juicy. Meaty too, like the way mushrooms can umami your buds when done right. Don't knock the vegetable, the Parisians already know this well, but I feel you London, slowly seduced by this too. If you are in doubt, this will change your mind about how good vegetables can really taste.
Rotisserie chicken, half (£13)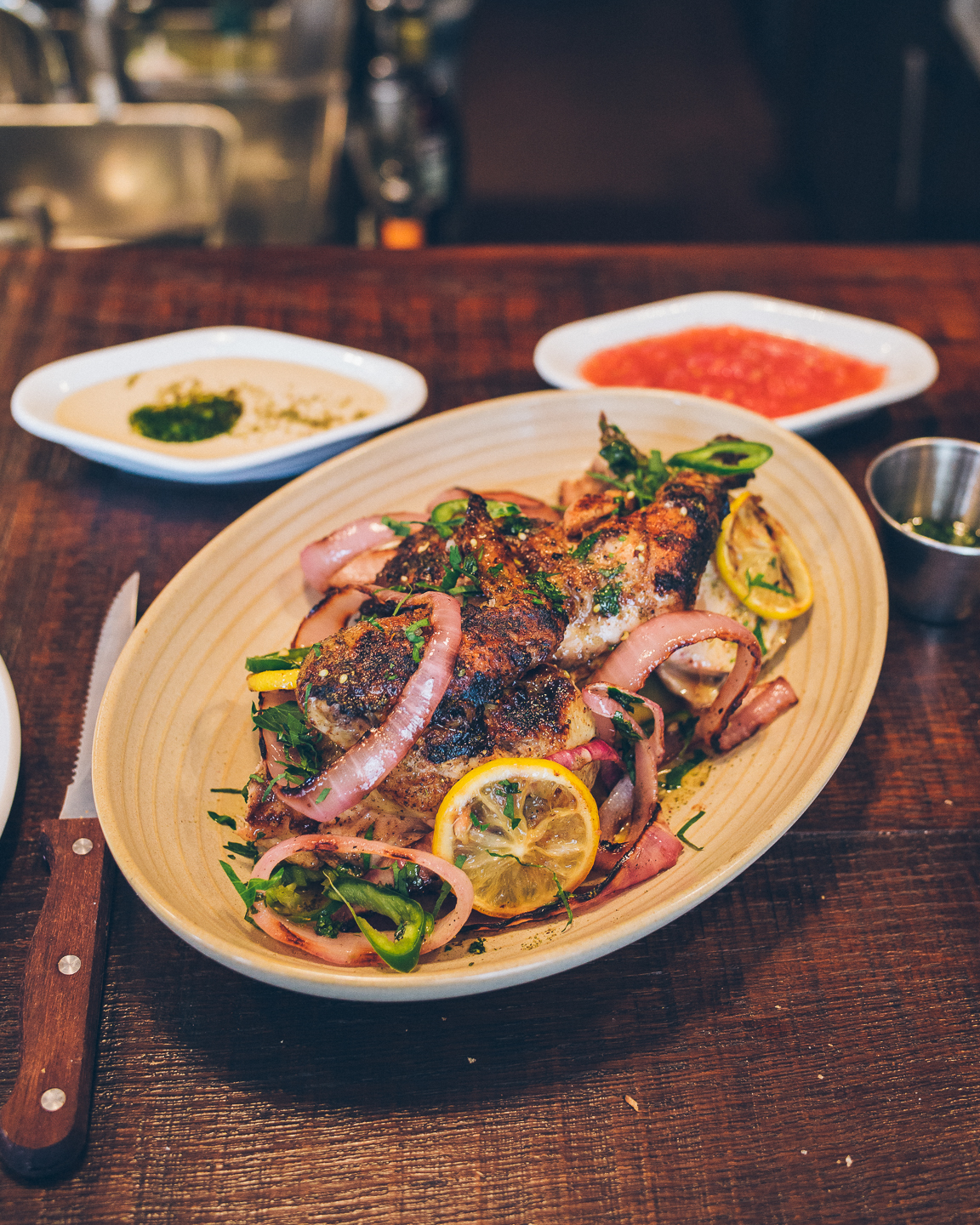 With tahina and grated red tomatoes (& a small herb salad out of frame).
Juicy as you like, and these sweet pickled onions that I seem to recall from MIC days. This is too much food for two people, even for someone as greedy as me.
Rice bowl with braised short rib, £12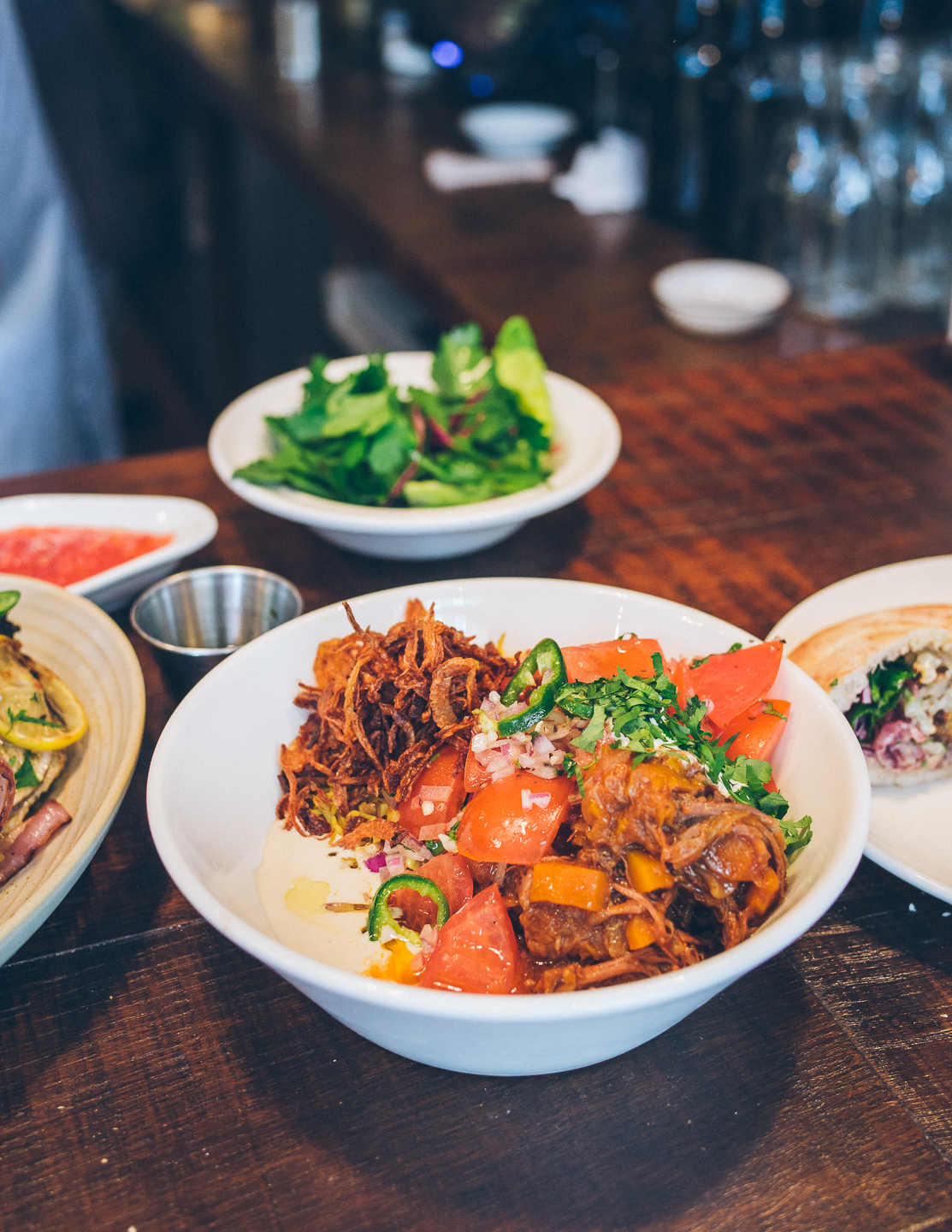 With creme fraiche, carrot, green chilli, tomatoes, mejaderah, crispy fried and raw onions and tahina.
Boom. This. Yet another generous portion. This is comfort food done well. Sauce cooked to a stew, addictive with the fluffy rice, the long cooked beef falling off the bone, everything is delicious. I love fried onions, it just reminds me of many a breakfast back home. Fantastic one-bowl meal. The real deal. Do not miss the rice bowls when you visit.
Ice cream sandwich, £5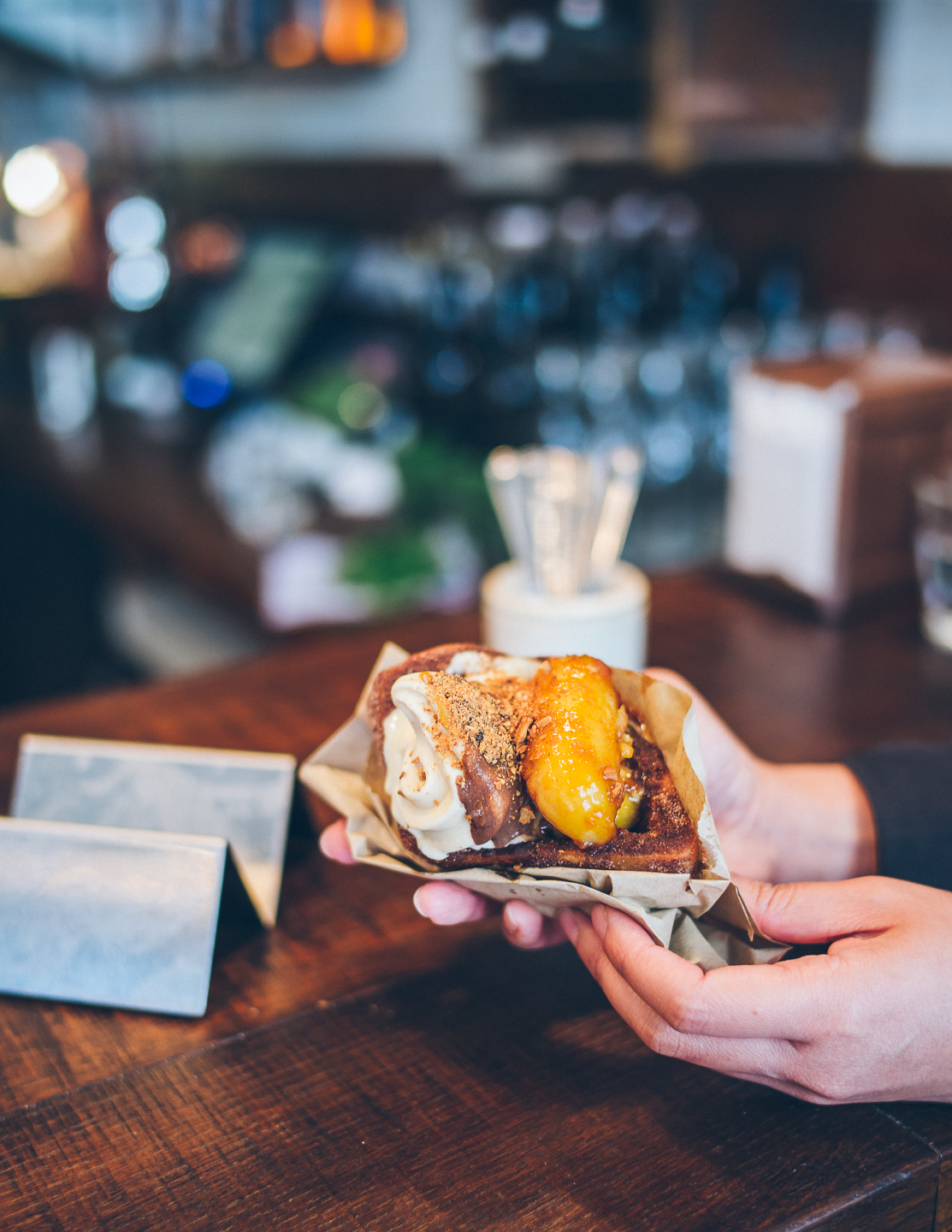 With halva soft serve & banana, and better half's hands. The ice cream is sesame and rather good; A caramelized banana split, inside a fried pitta pocket, made like this, it reminds me of churros. I did my best, ate all the filling but could not hack the rest of the pitta.
Lunch for two and totally satisfied afterwards. We paid £78.75 for all food, 1 beer, 2 soft cocktails, 1 tea and service.
We left bursting at the seams, I took a half of the half home in a doggy bag. The next morning for breakfast, the reheated charcoal infused bird tasted even better. Chef rolls around in a baseball cap these days, so you'll recognise him if you see him. I imagine he will spend more time here in the initial days, before settling his schedule to a happy medium between the two sites. Take your mates, order the whole menu and celebrate the joy of eating. There is beautiful rotisserie, solid shawarma and gorgeous rice bowls. Real food. You will love it, I'm sure.
Details
Shawarma Bar (by Berber&Q)
Middle Eastern
Menus : Food / Drink
£25pp + drinks + service
Mon – Sat
46 Exmouth Market EC1R 4QE
Tel : 020 7837 1726 (lunch bookings only)
Tube : Farringdon