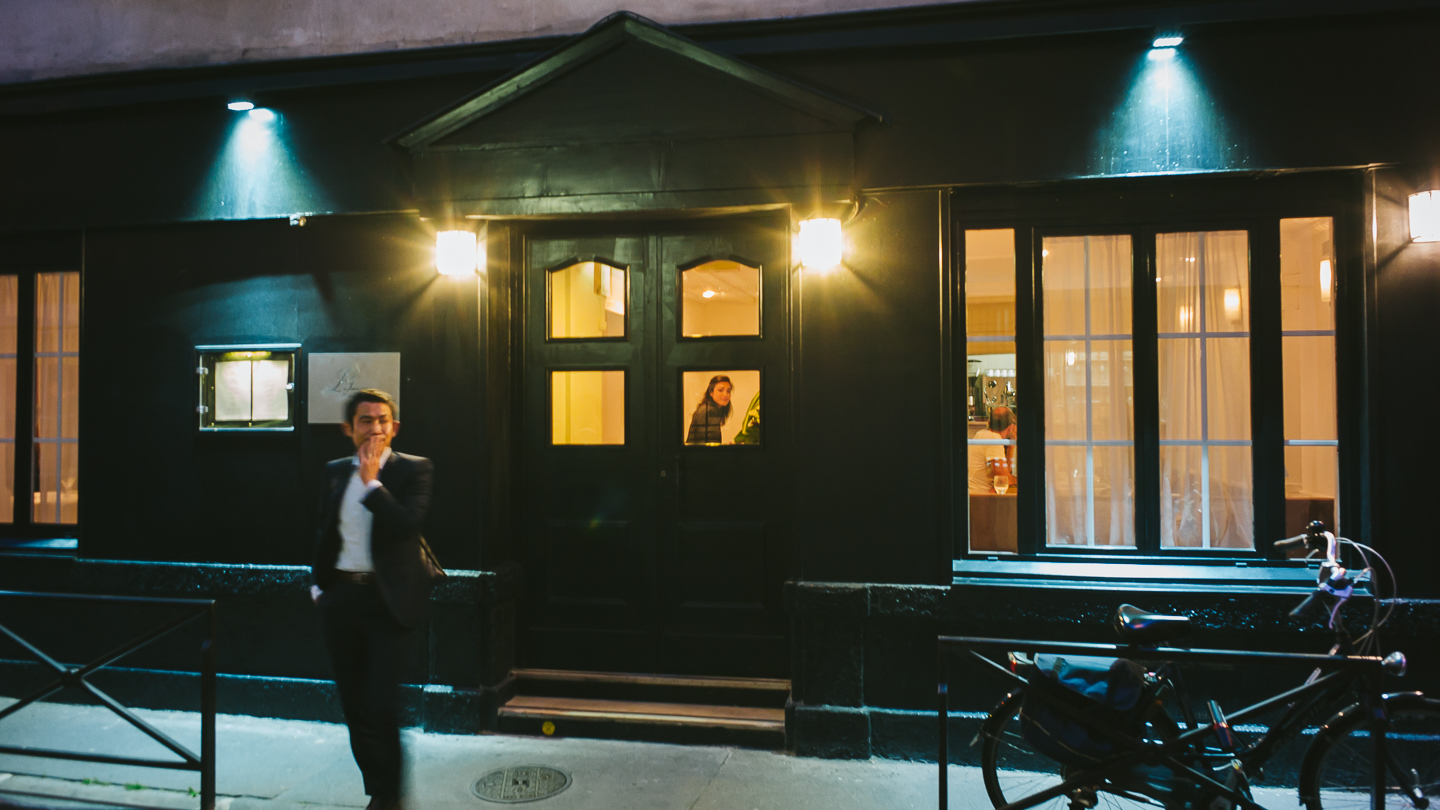 [ Pictures of the menus: Dinner, Drinks ]
This rather mysterious outfit in the 7th arrondissement in the left bank has left me completely enchanted. After I returned to London, I felt a jot of pride as if I'd uncovered something over there. Of course I had not. I read it on Chihiro Matsui's exemplary blog and thought it would be a nice wildcard to play whilst I went over there to tick Astrance off the bucket list.
It is located directly opposite Aida, the esteemable teppanyakki which holds a macaron, amongst other accolades. I mention this because Inconnu's Chef-patron Koji Higaki is Japanese and happens to be one of the current crop of Paris based chefs lately achieving their dreams owning their own. His Unknown restaurant remains relatively so (at least to the tourist such as I), opening shop in November last year.
His proposition is something a little different. The cuisine is Italian, the terroir obviously French, the craft (most probably) a blend and a reflection of his heritage and training, not unlike say Angela Hartnett and her reflection that is Murano. Higaki san spent 5 years as sous to Shin Sato, Chef of two stars Passage 53 prior to Inconnu and further back in time, he cooked in Venice as well as Canoviano in Tokyo (and subsequently their Osaka outfit) – an Italian restaurant. I am always intrigued by the un-pigeon holeable, a delicious indistinction, not quite the typical of contemporaries.
Dinner is 4 for €45 and tops out at 7 courses for €65. We went 7. No expectations, oh this is exciting, here we go…
Canapes : Petite pois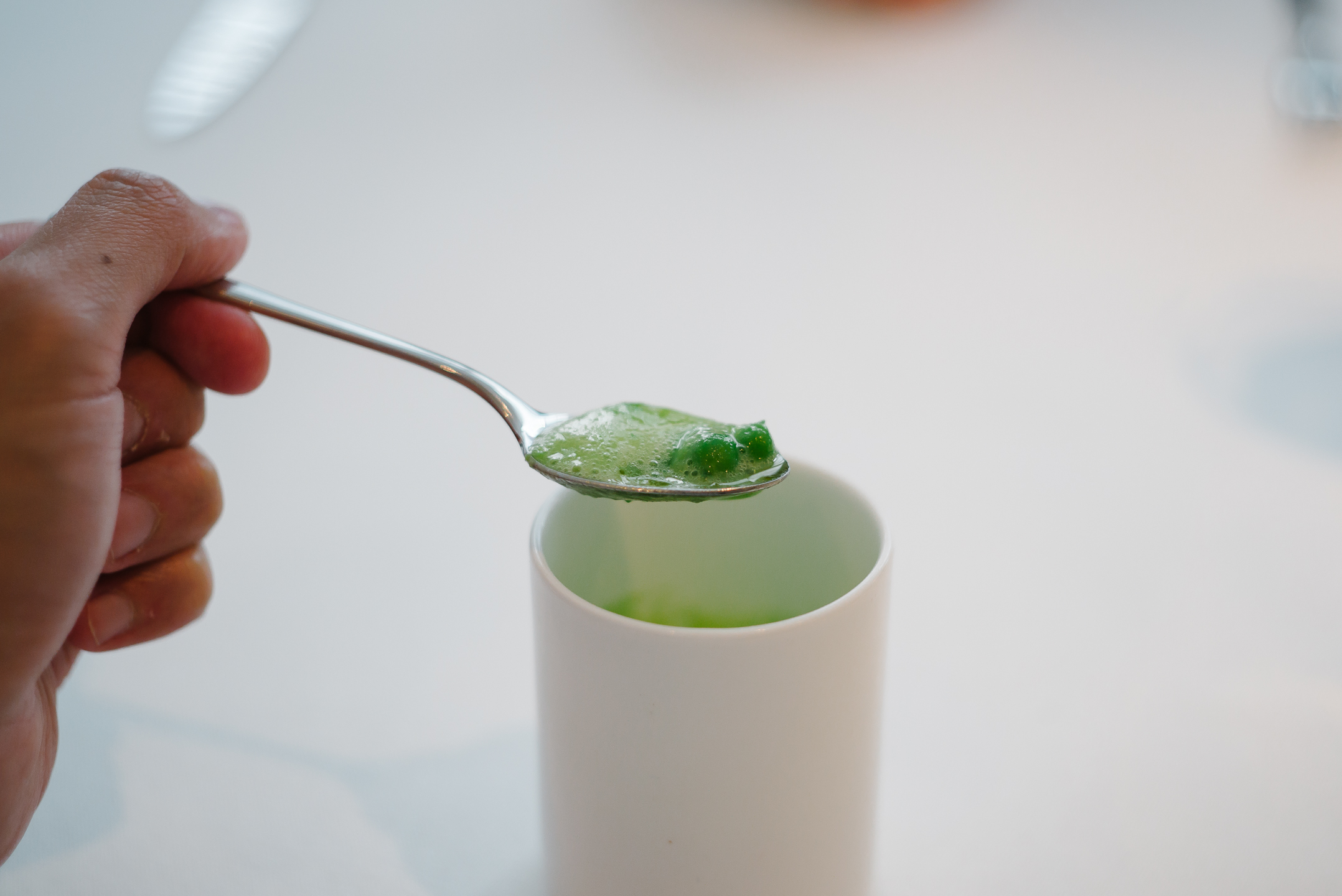 A three way blend, served cold as veloute, a granita and raw. A refreshing sweet and salty, an exercise of cold textures.
Canapes L-R : Radish cracker, broad beans, quail eggs with bread crumbs, paprika and red pepper tartelletes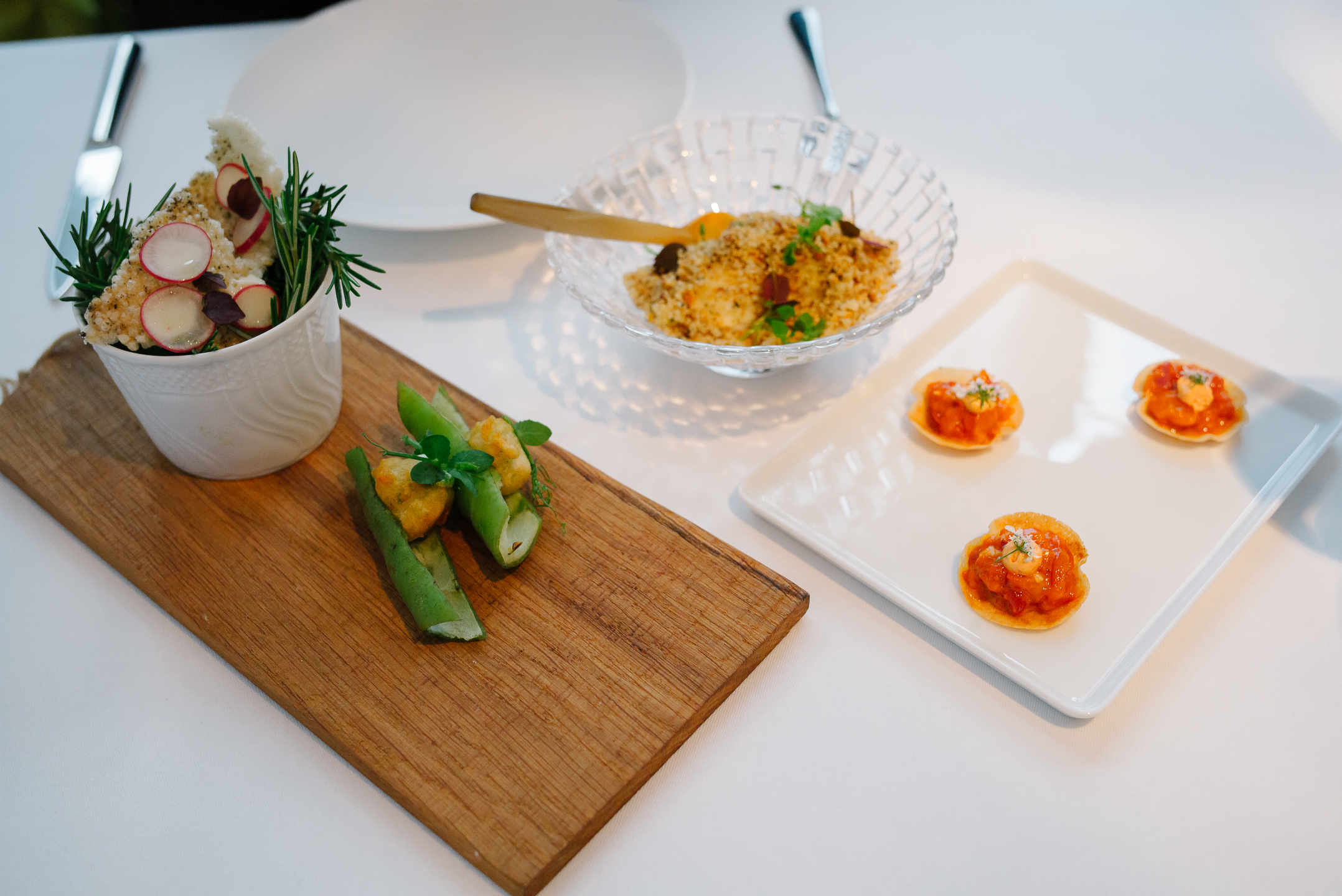 To the warm canapes, and all were surprising and a delight to continually wash and wake your palate.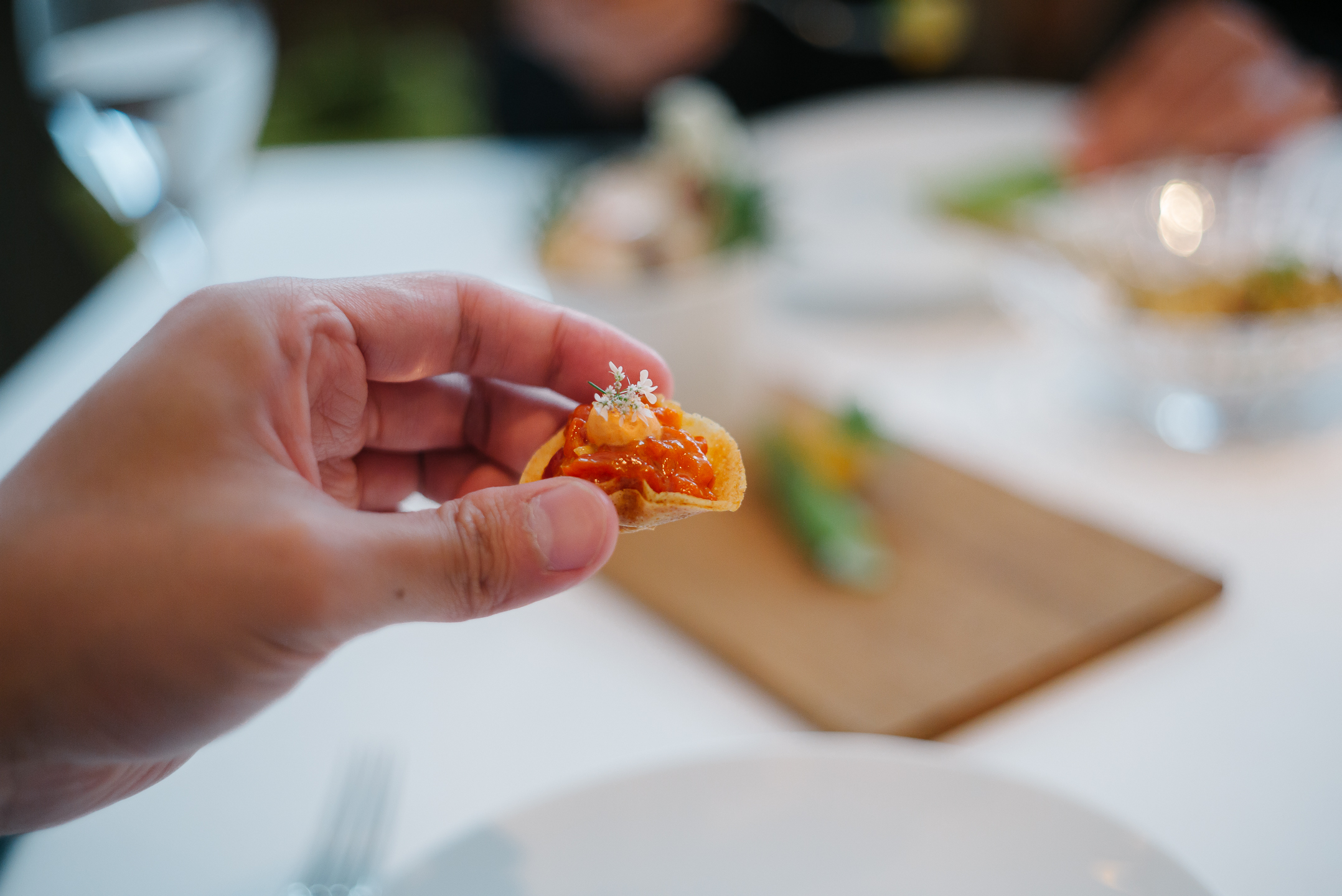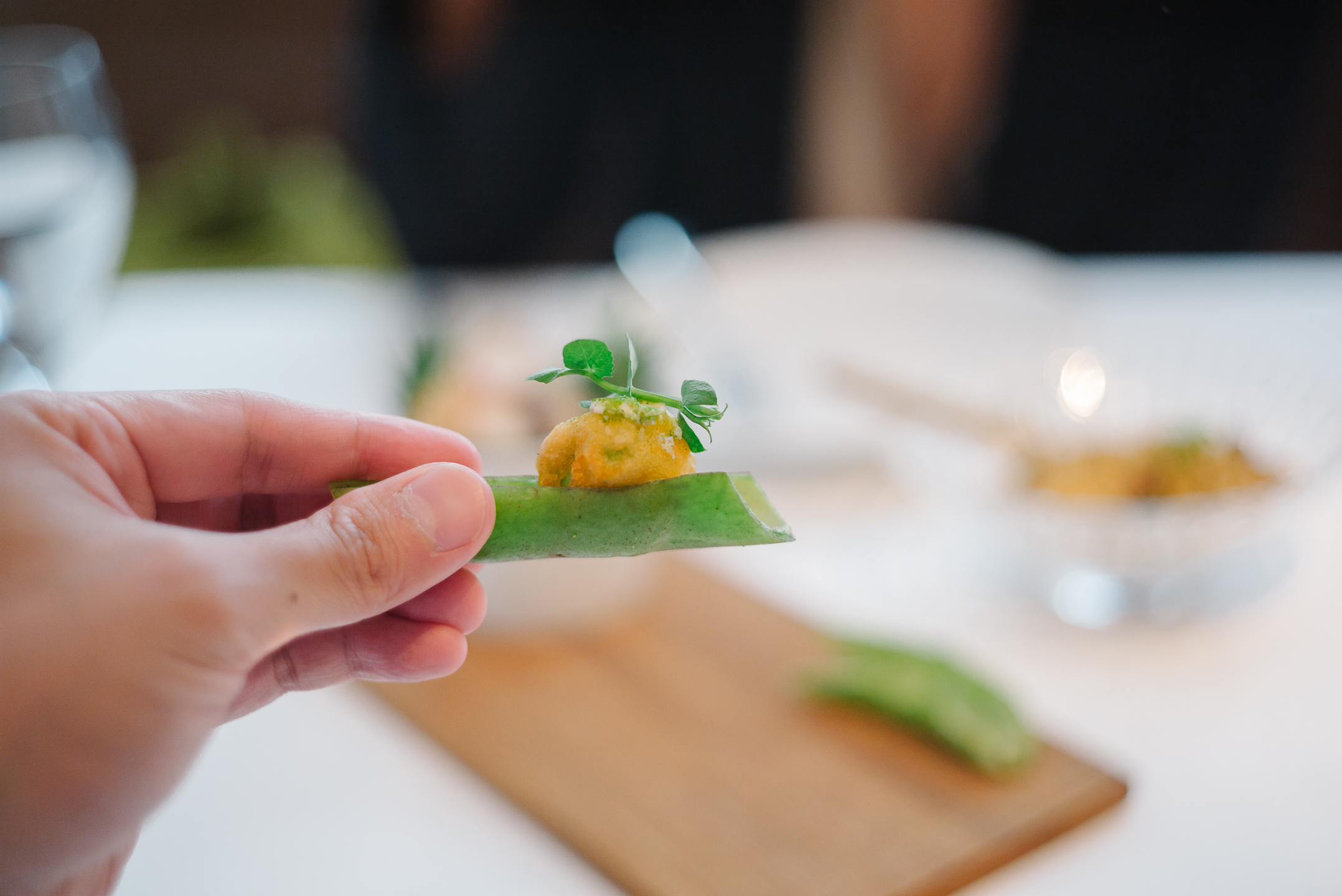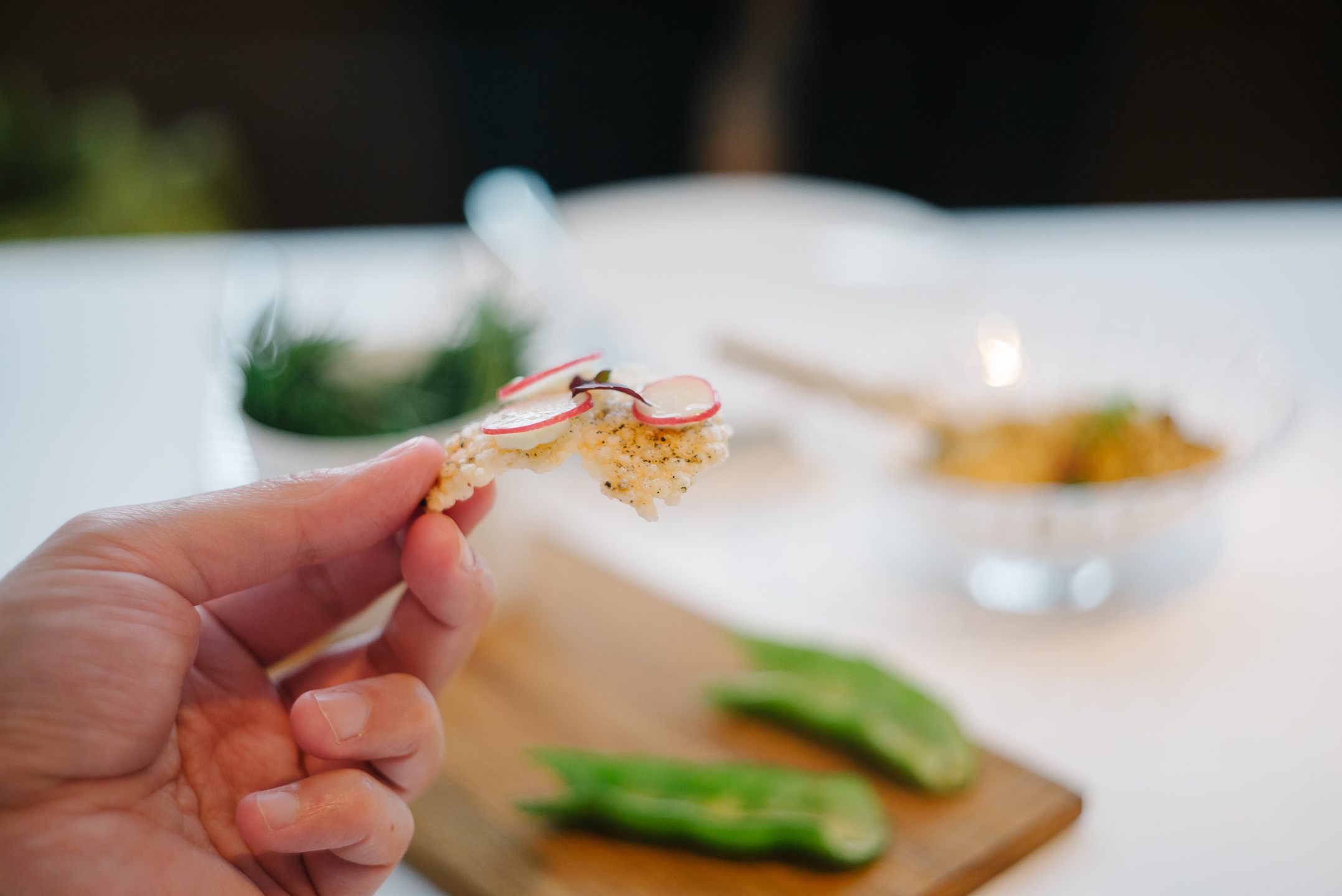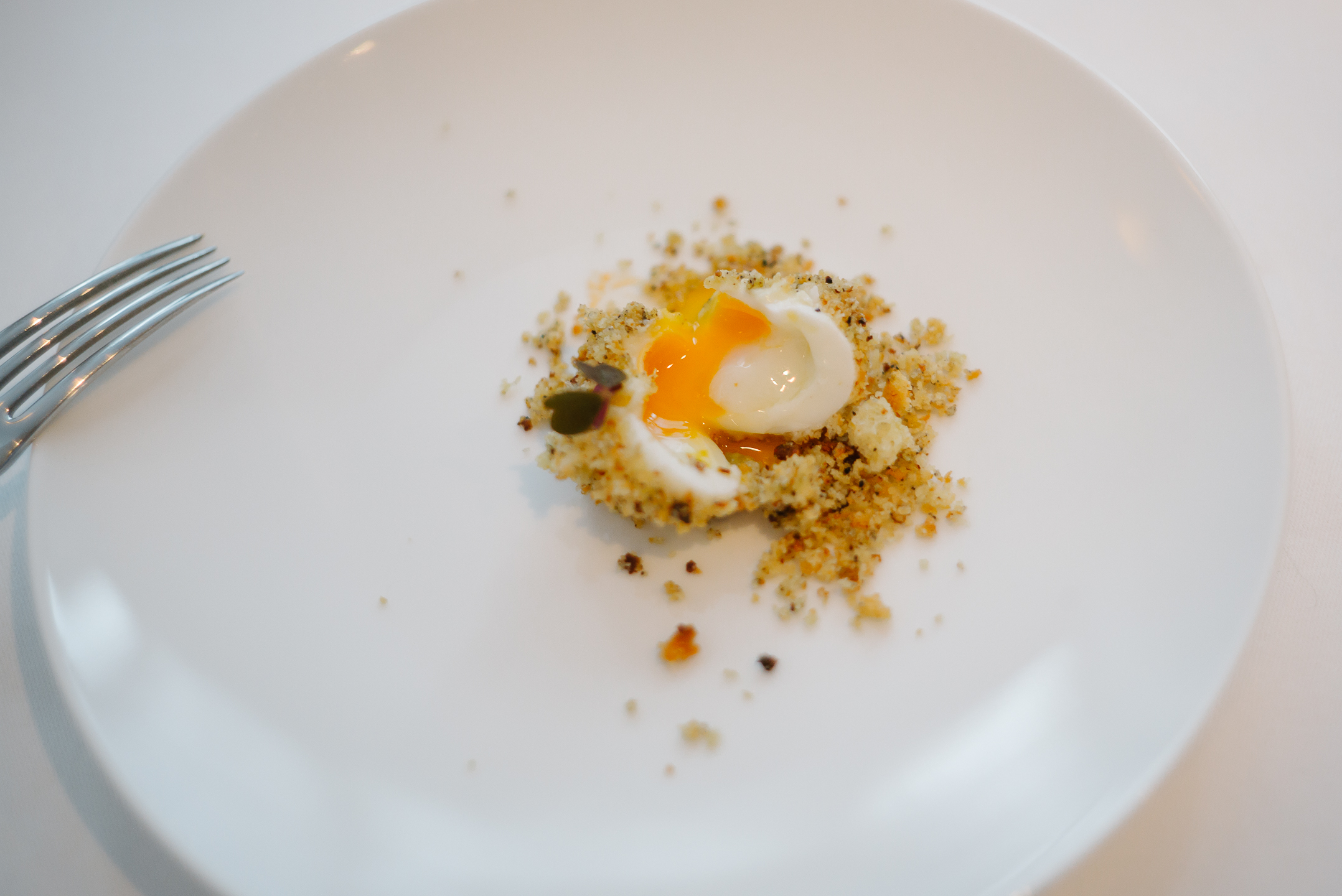 The seasoned breadcrumbs were the best, like a reverse scotch, quail egg, runny yolk. A prelude of the quality to come.
1. Caprese. Mozarella, tomato, basil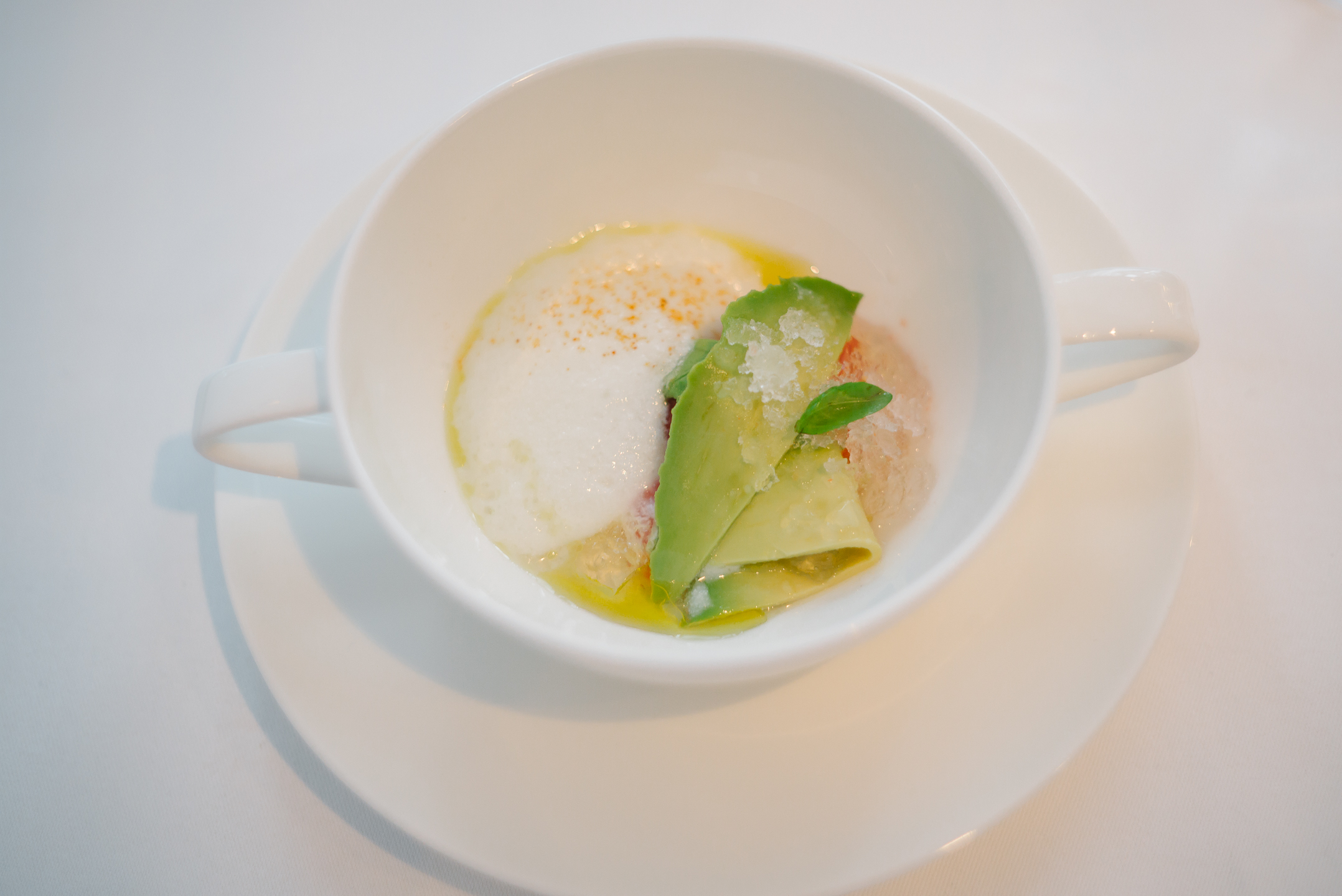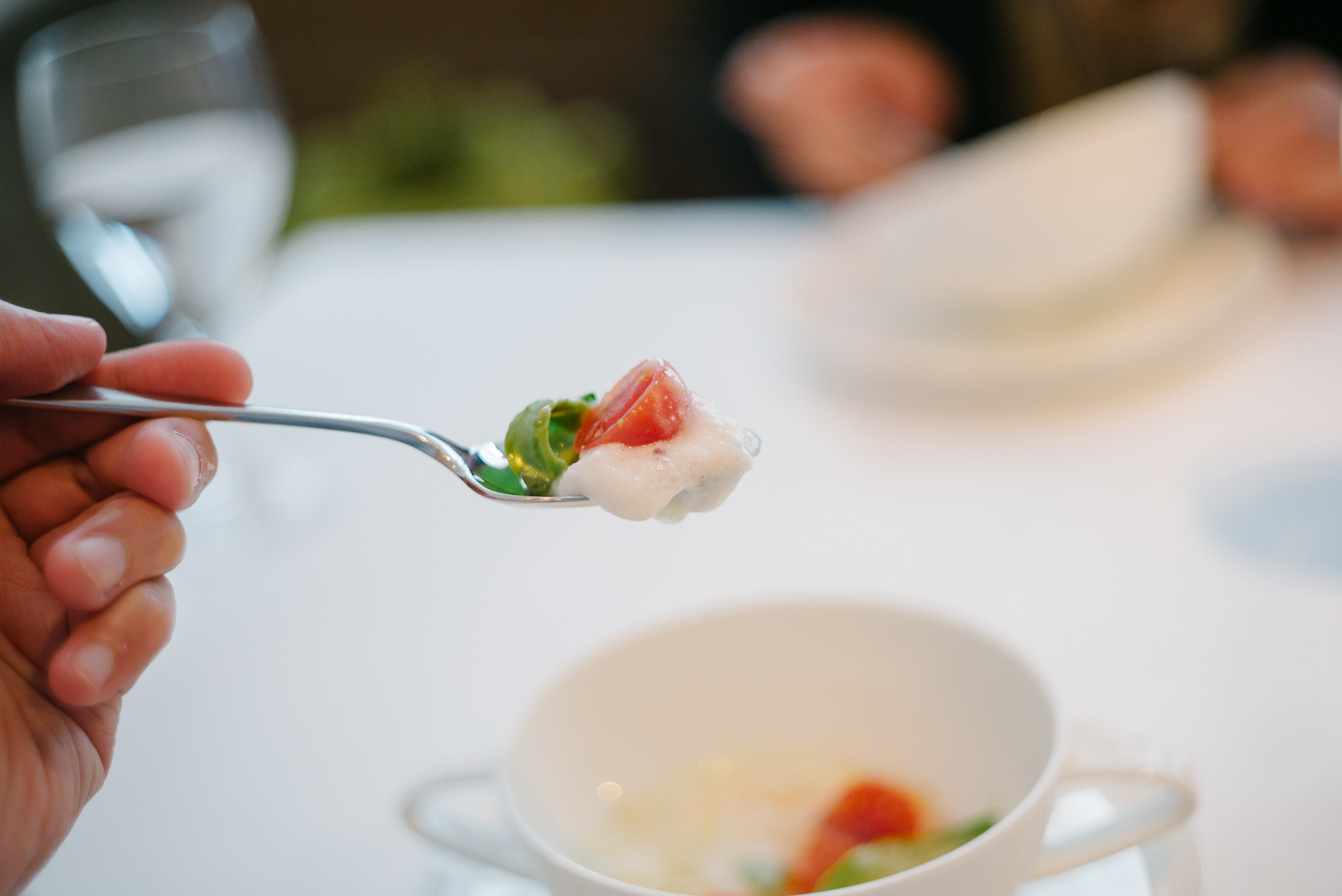 The tricolours are there and appearances are that of a classic caprese salad. But, there is a chef's tinkering with texture and temperature. Mozzarella is whipped to a foam, basil crushed into a granita, tomatoes and avocado however appear untouched and freshly cut. Everything is ice cold and is again refreshing.
Bread: Sweet corn focaccia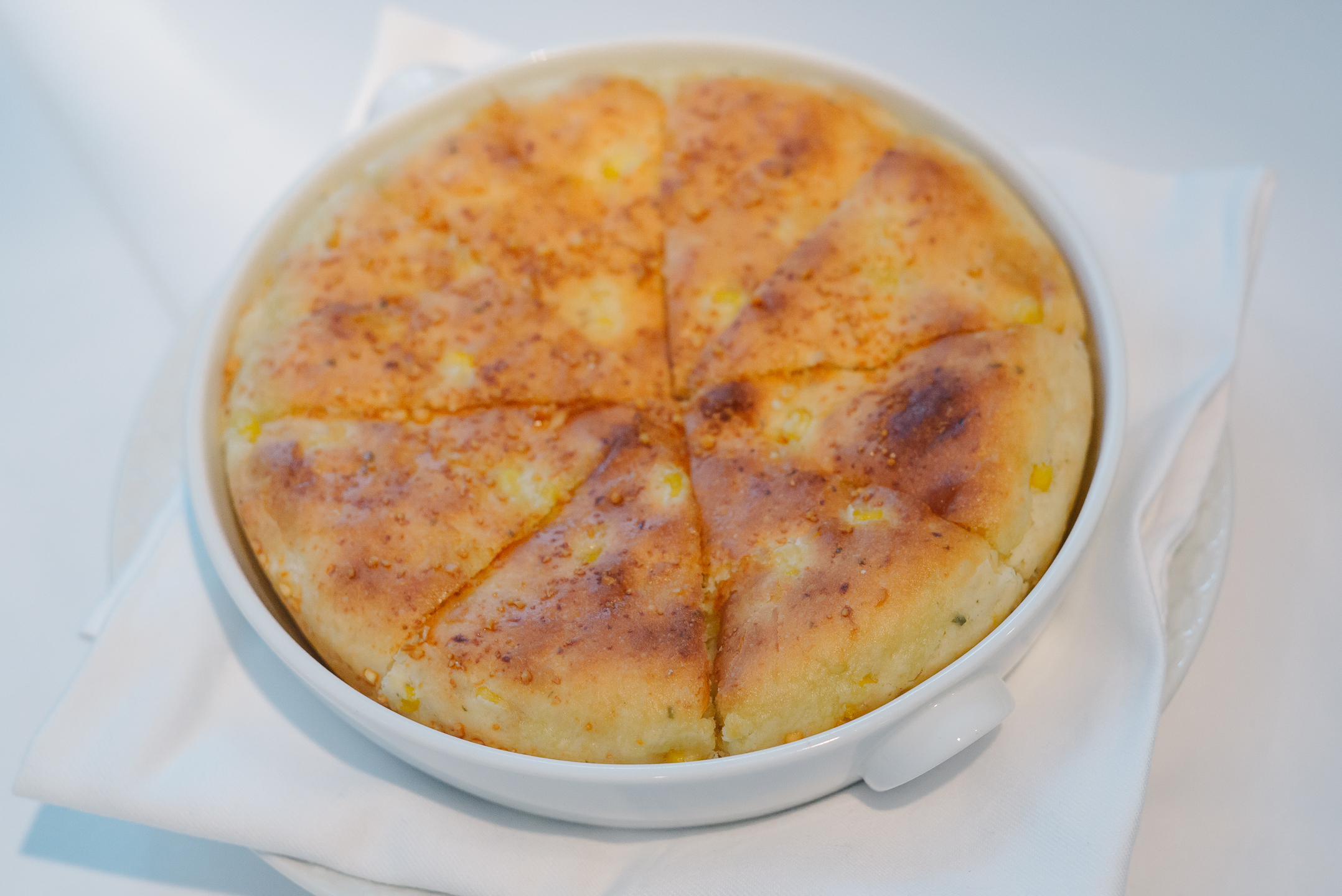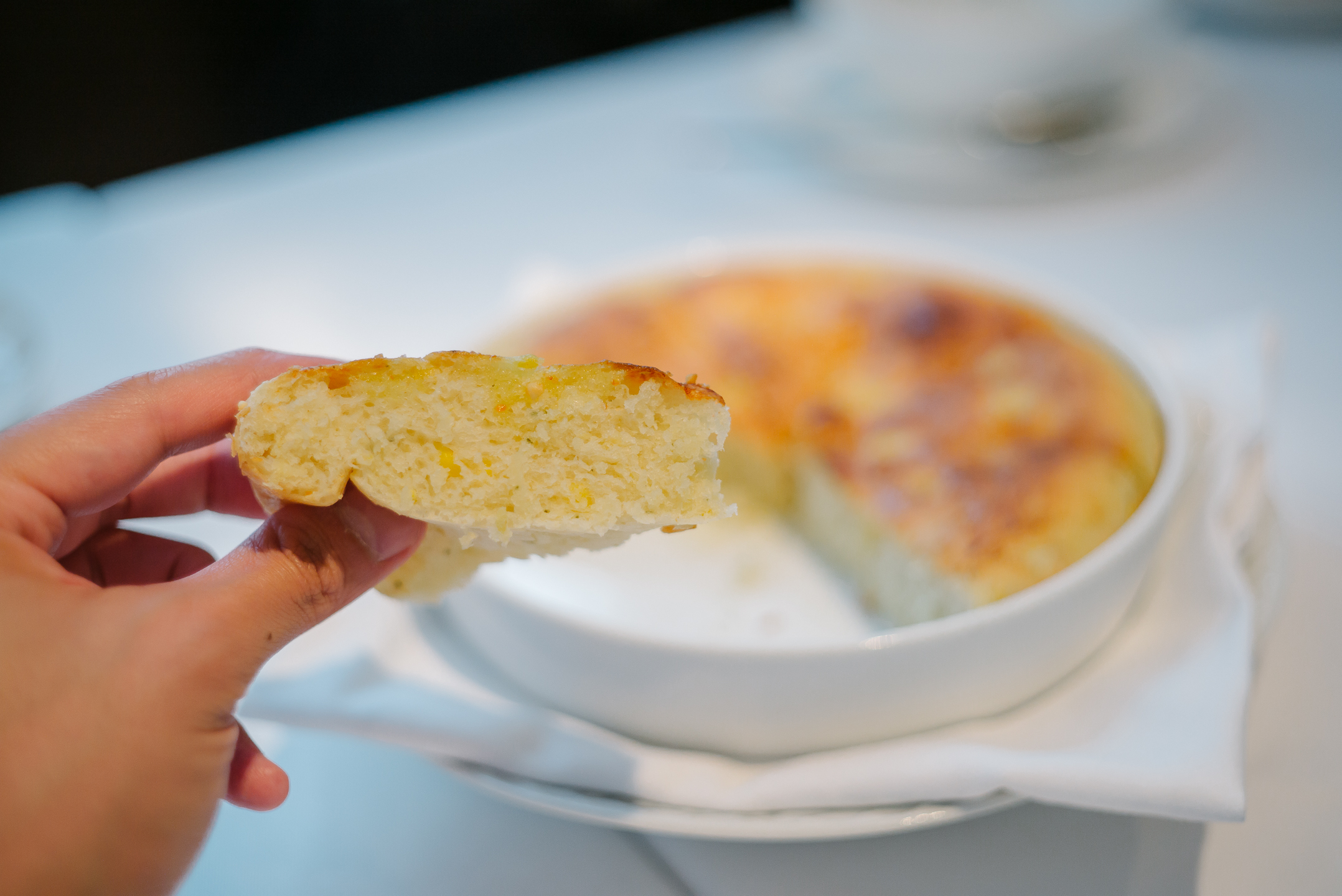 Freshly baked and served piping hot in a warm plate. Sweet corn today. Amazingly airy and soft, it's nearly like savoury kasutera. I don't think I've come across focaccia made in this manner before. Finessed into a cloud of flour, seeded with grains of corn. Unexpectedly good and a refreshing change from sourdough or even standard focaccia. One the best bread encountered in a restaurant this year for sure.
2. Mackerel carpaccio with cucumber and granny smith jelly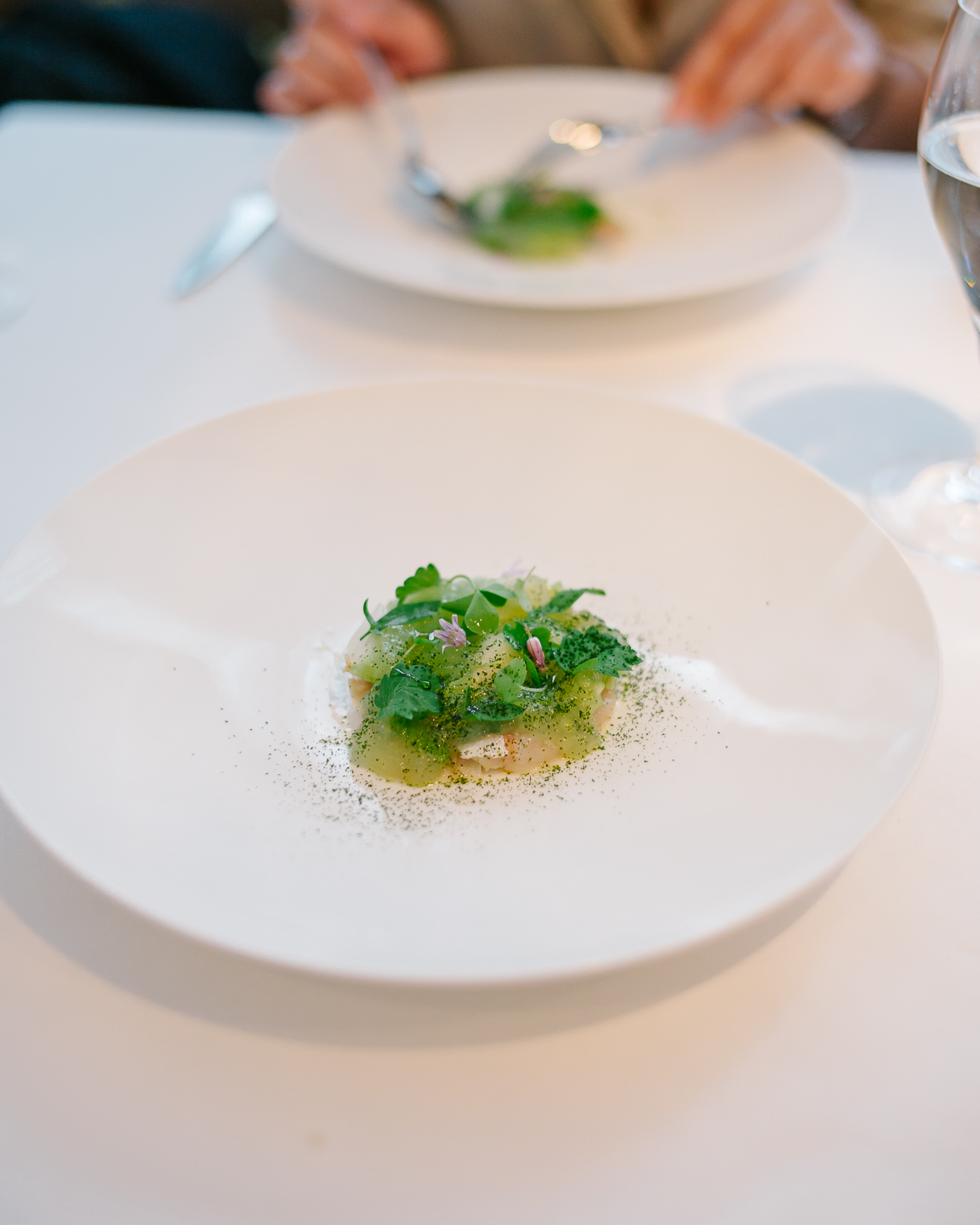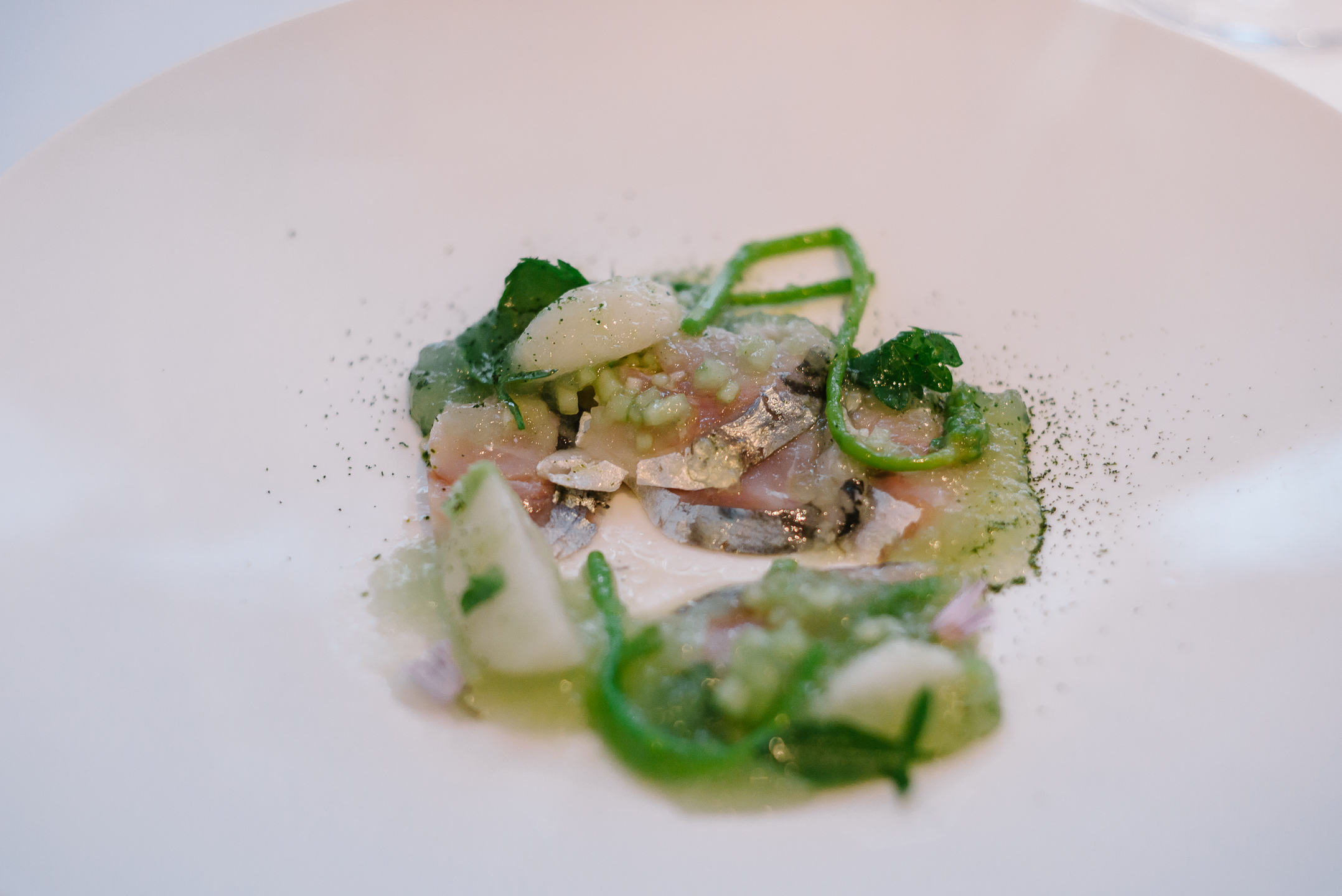 I loved this dish. The layers, the apple, the pickled tokyo turnips, the fish, and especially the colours.
This I think is a variation of shime saba. A light pickle, an impression of Kyoto, I like the sweet, sweet jelly. It serves to enhance the fish's natural textures, as well as to freshen up the palate with acidity, whilst retaining all the un-denatured qualities of protein. I love food like this when it is done right. My favourite of the meal.
3. Pan-fried cod with shrimp consomme and courgette flower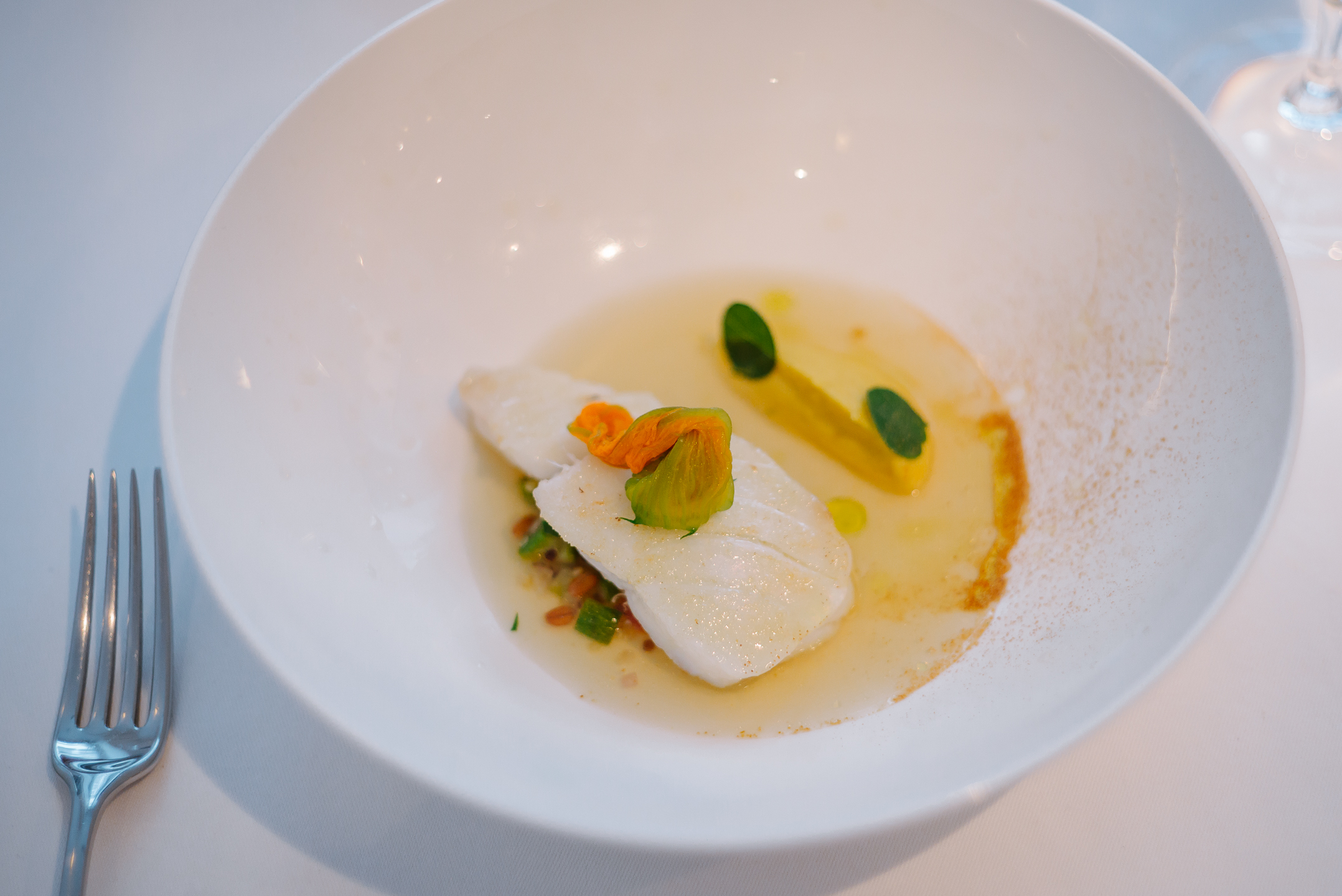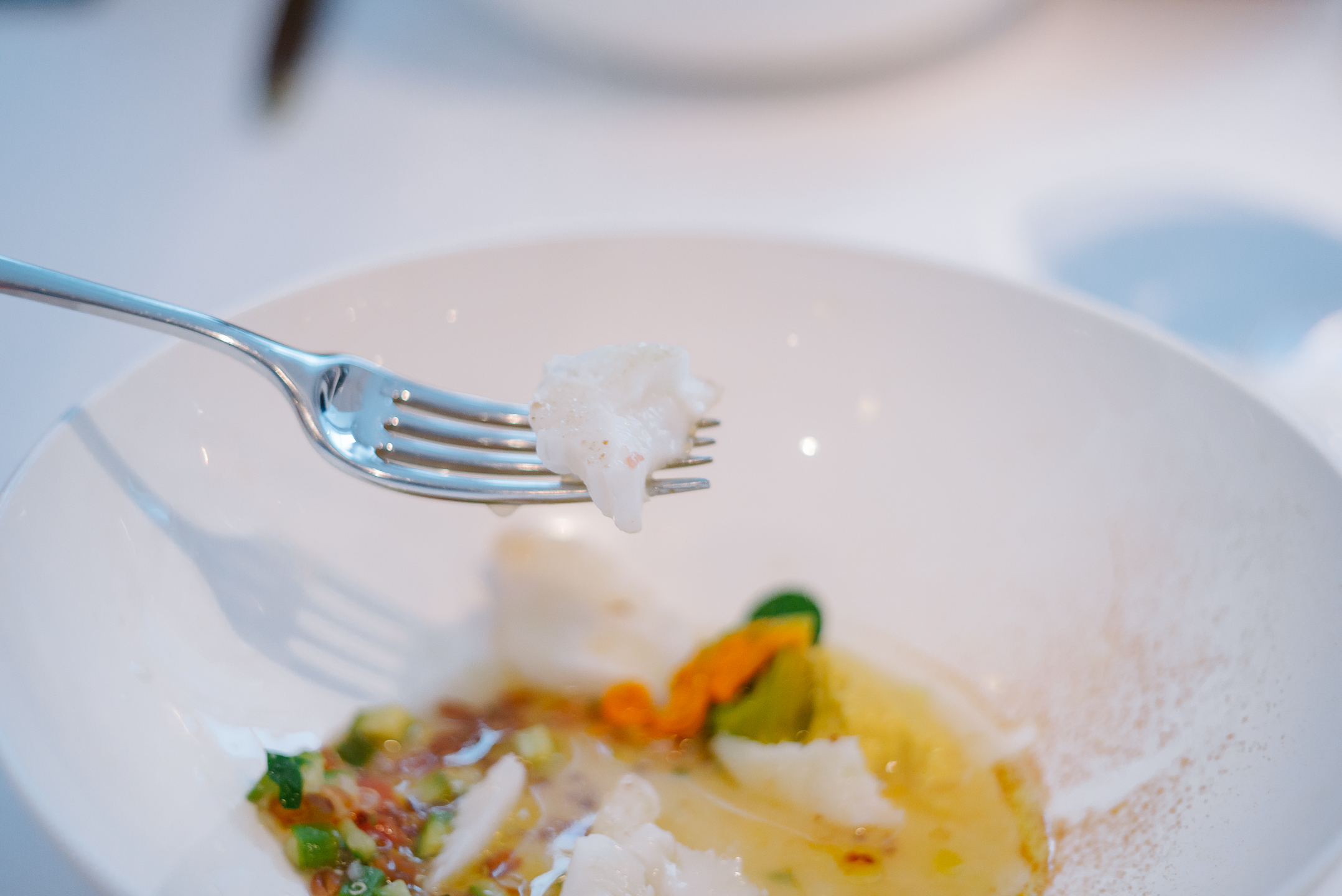 Careful handling of the cod, a suggestion of shimmering pearlescent and utter translucent flaky brilliance. This is a showcase of Higaki san's skill with the pan. The textures naturally silkened, tender, it is gliding on the palate. Nearly beyond reproach. The star is of course the shrimp consomme, a fine sieve, with a delicate fragrance of citrus, pepper and a suggestion of spring onion. I hazard that he's also dehydrated the shells and made into a powder to season and to reinforce the shrimp flavour. The puree is turnip, a sandiness in texture to complement the liquid essence. Chopped cucumber and roasted grain (oat?) add to the gently does it palate. Pure. I loved this.
4. Roast Challans duck with pencil carrots and apricot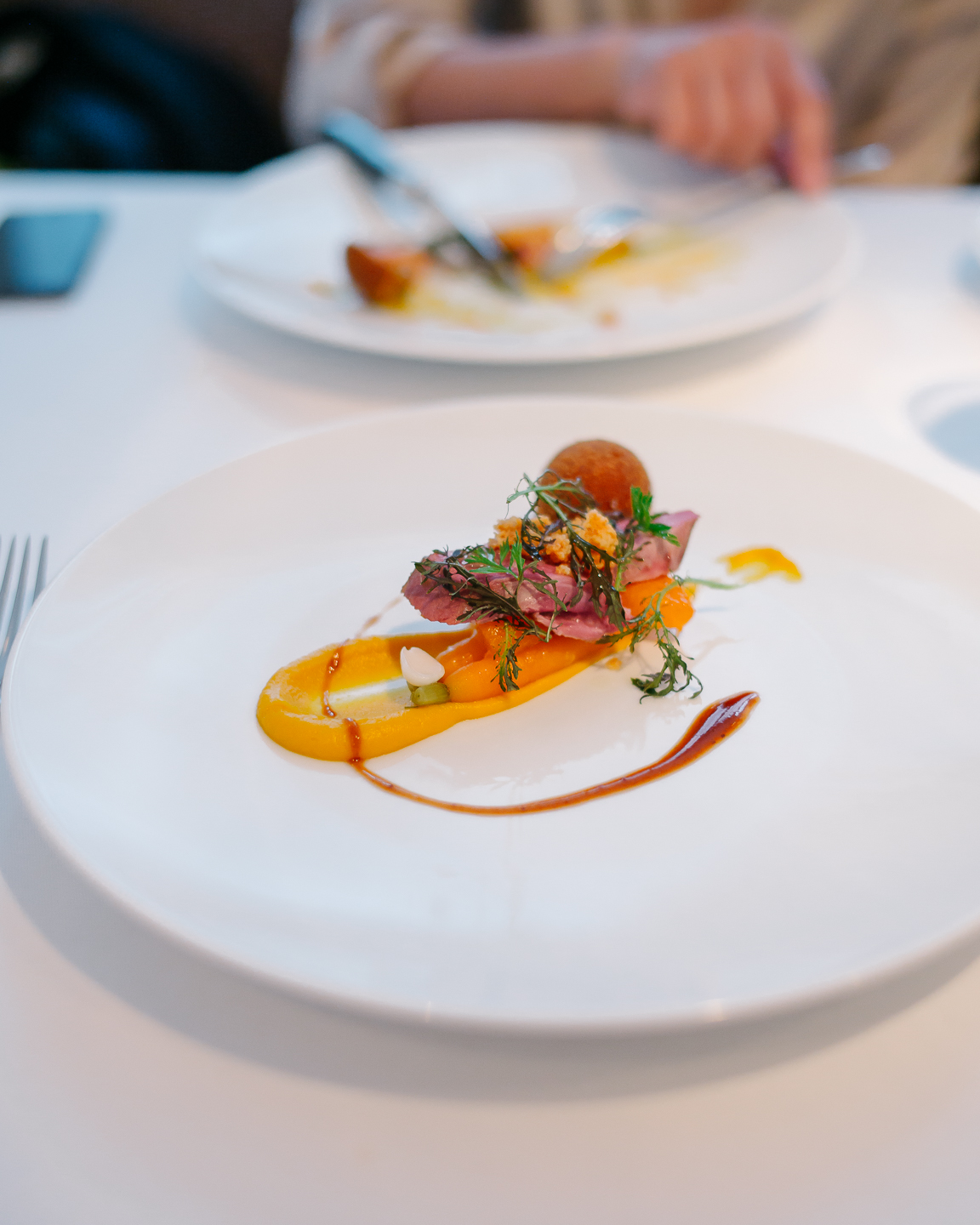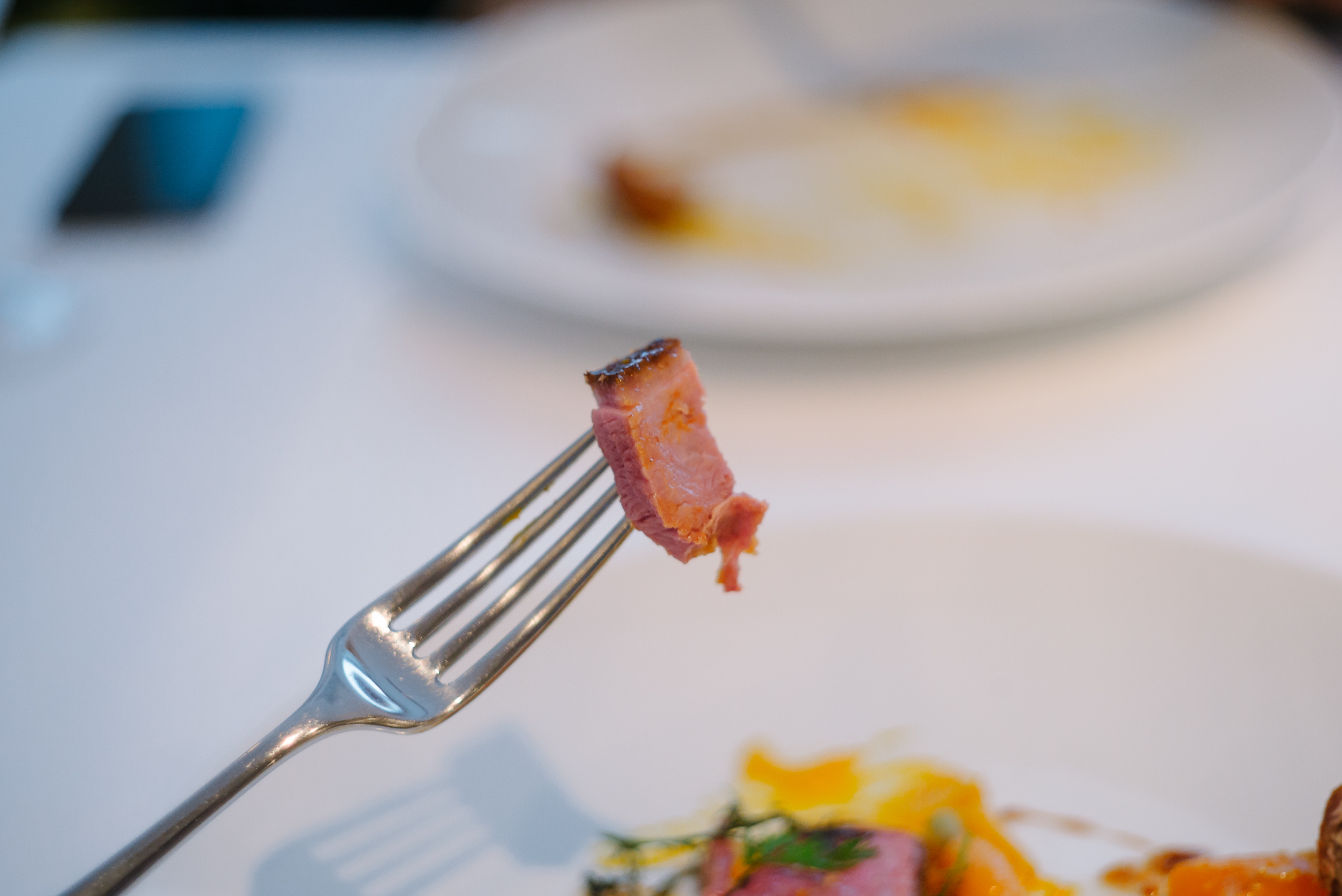 And fresh almonds – the texture of oily crunchy is such a joy dont you think? The roast breast is a pointe and accurately paired with a sweet theme of sandy carrot puree (and as blanched) as well as beautifully confit apricot. There is a croquette of what I assume is config leg, the flavour bomb to counterbalance with the fruit.
My only grip is the millimeter slice, he's too precious about his protein here, he needs to loosen up and be free. When the cooking is good like this, it deserves a generous showing on the plate.
5. Tagliatelle with lamb ragout and artichoke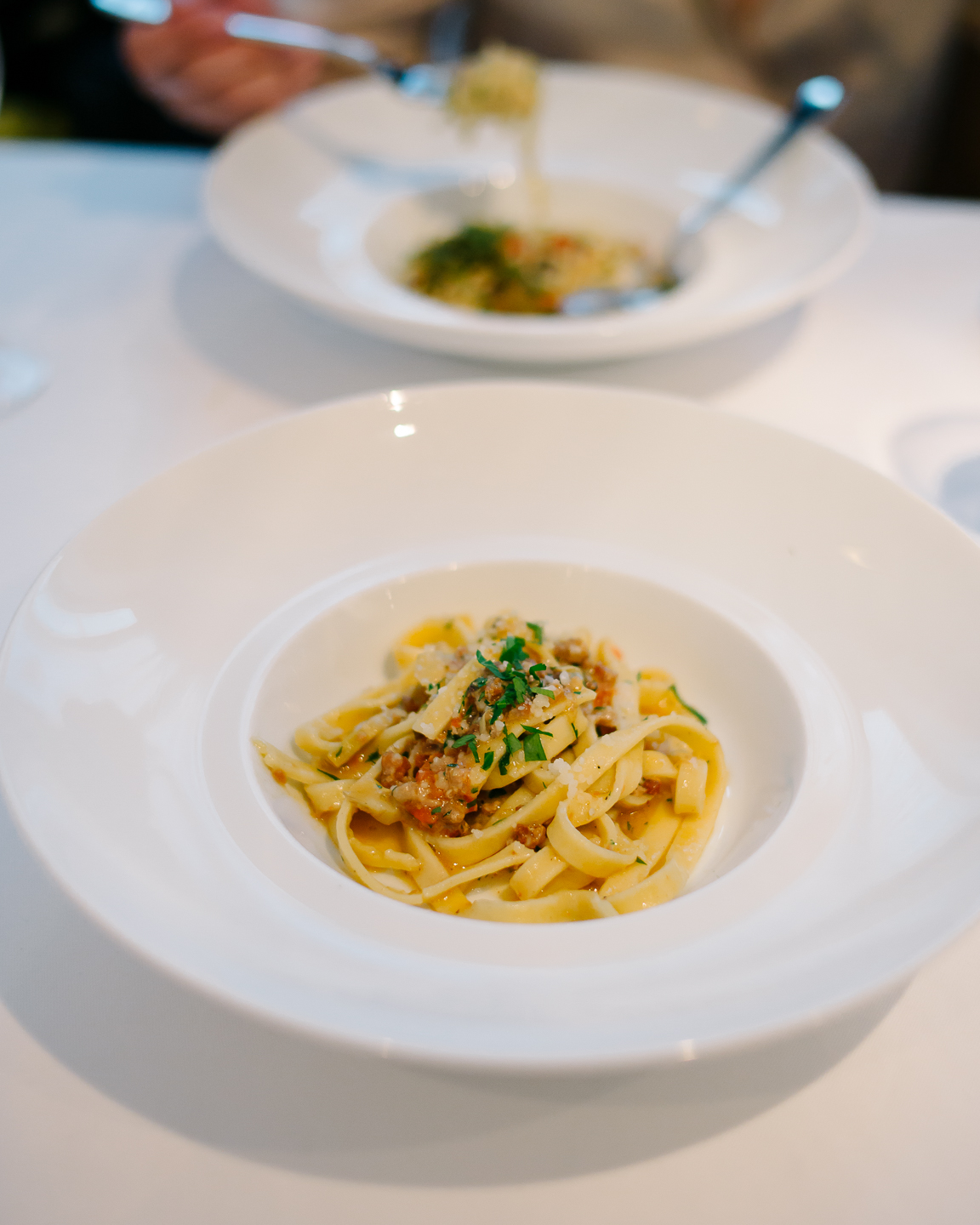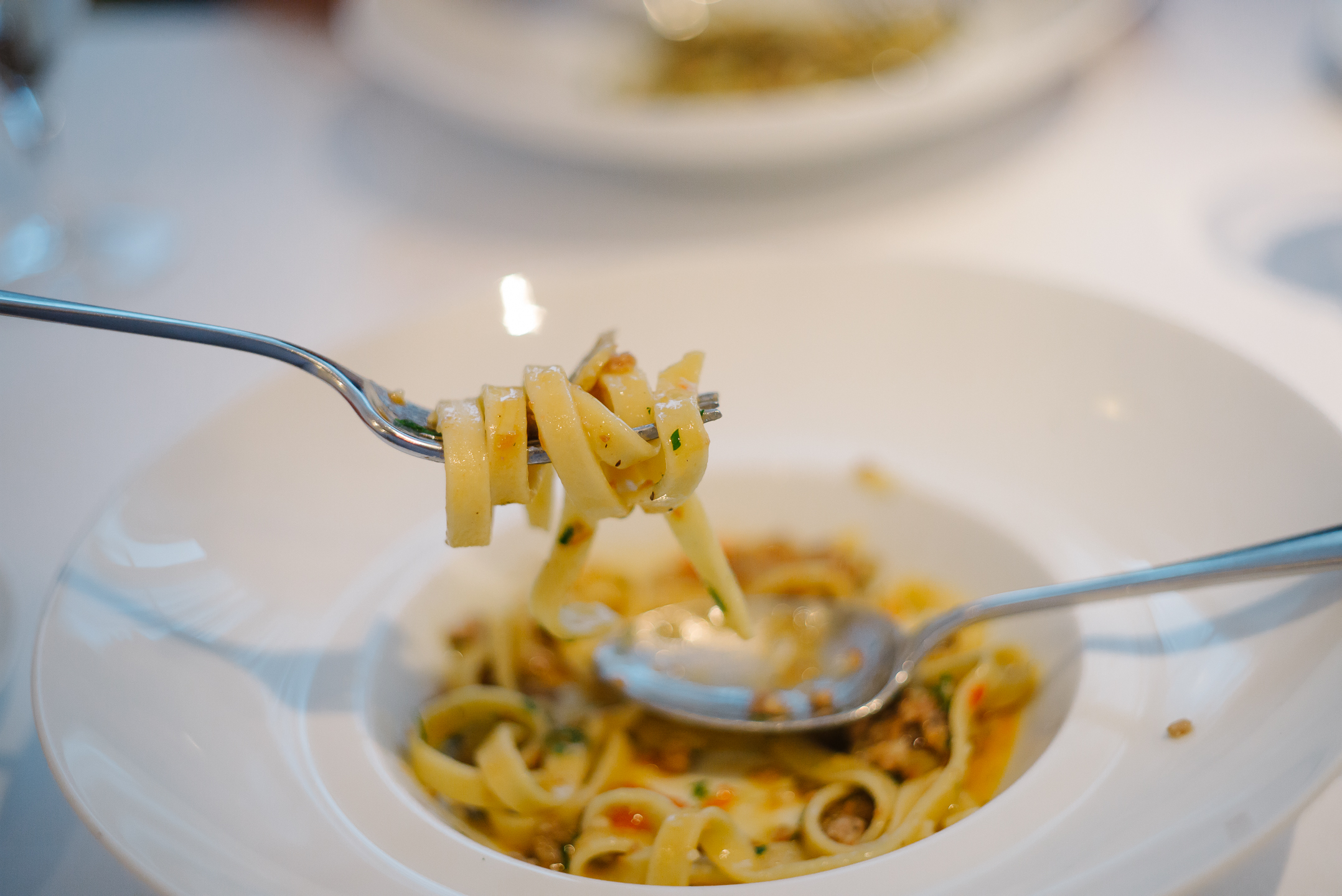 "Medium or Large?" – a choice of serving size for pasta, at no extra cost. Well this is nice, this is like a ramen shop. I like choice like this. You can guess my choice which must be obvious if you read me. The better half and mum went medium.
This is Inconnu's true acid test. To qualify for Italian and for soul. Firstly to the craft – and yes pasta rolled in-house and cooked to an al dente core. Thick, silkened and bouncing beautifully. The ragout is a mince, as it should be, a meat sauce rather than sauce and it is what you'd expect of Bologna.
Yes. This has it. This soul is singular and transports you to a familiar memory. Think of your favourite bolognese sauce. Who did you have it with? Who made it? Special somebody? Your grandmother? Your brother? This is how food should be. Feels.
6. NY Cheese cake, strawberries and bourbon whisky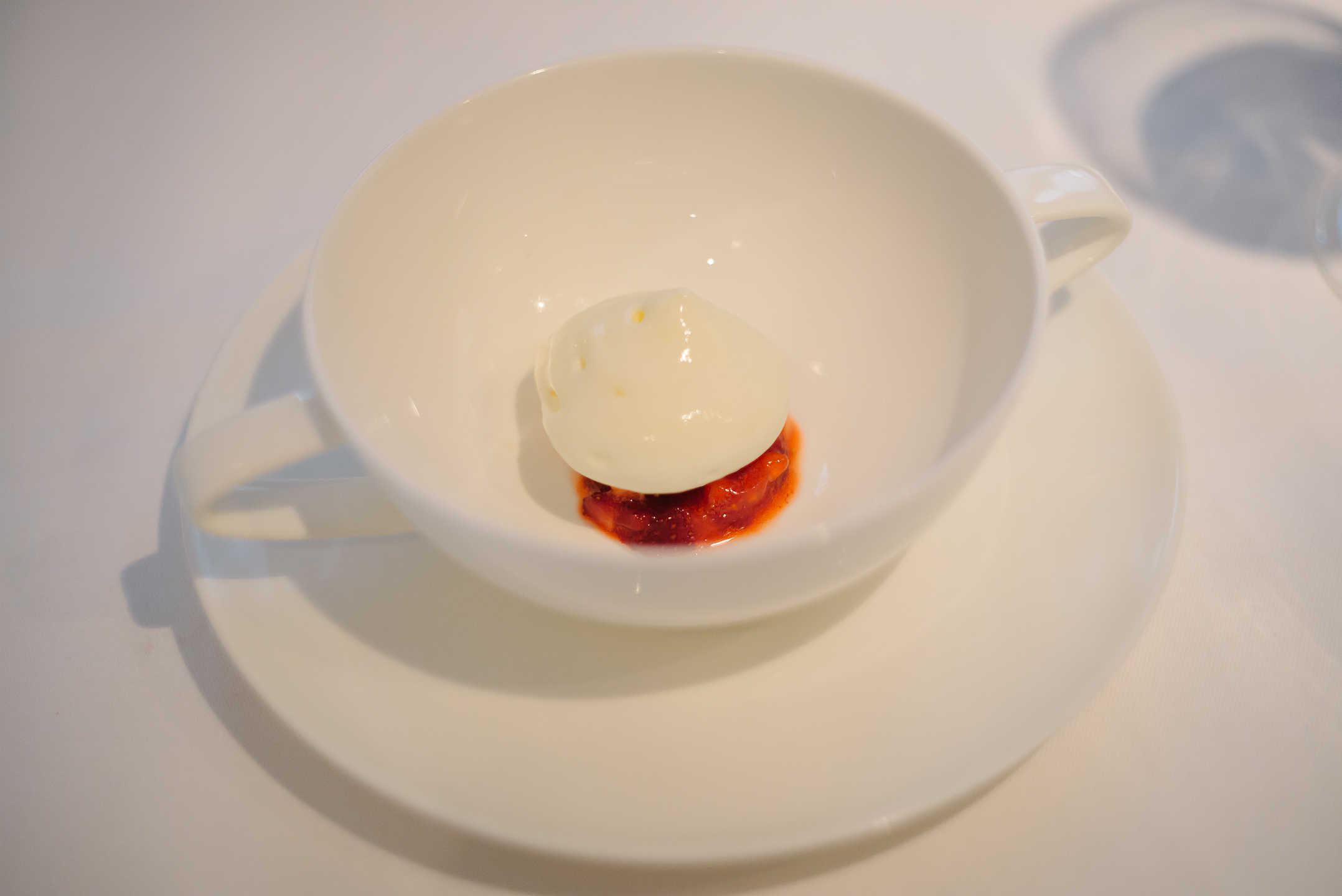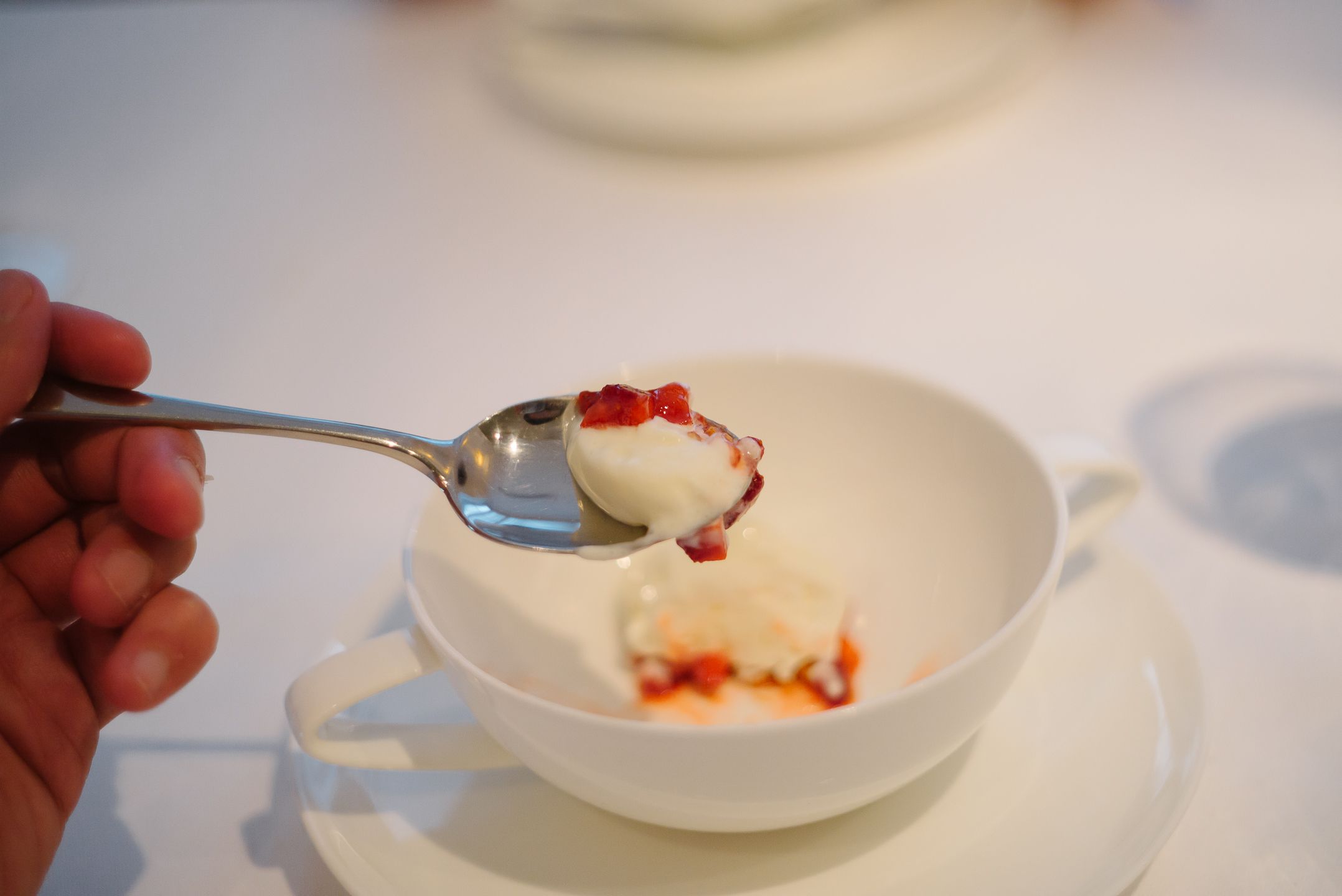 A 'fresh' one, without crumble. Cheese whipped into a creamy blob, served with vanilla ice cream and confit strawberries, presumably in whisky.
7. Citrus pavlova, meringue, pink grapefruit, orange and creme chantilly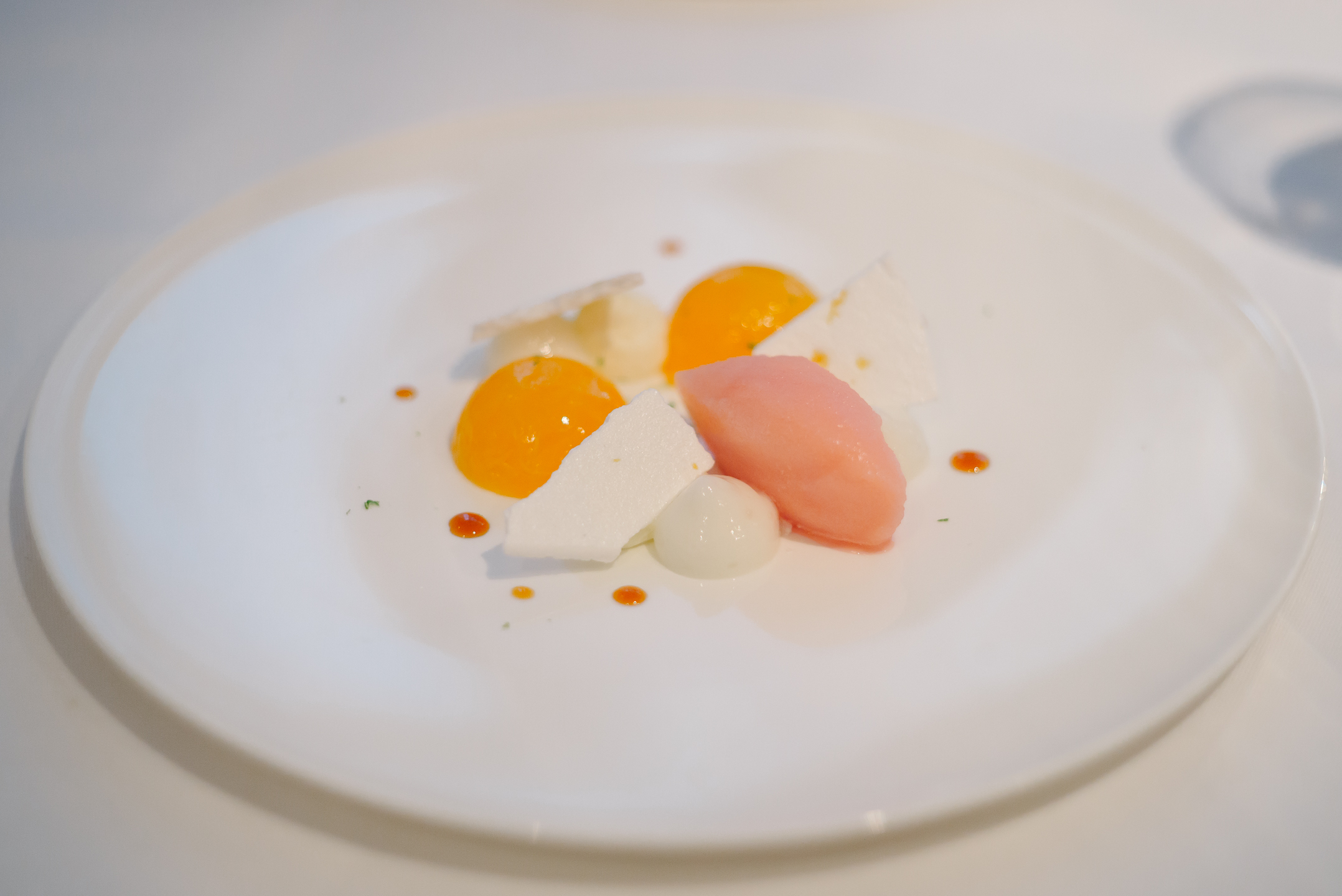 Pink grapefruit in French is pamplemousse rose, it's so beautiful isn't it? The name you would give to a noble ingredient in place of humble fruit. And though a simple construction, the pudding I though was both noble and redolent of simple pleasures, of ice lollies. Especially the orange, fresh slices pressed with gelatin. The meringue has a very raw taste of albumen, a little too lively for me, that being the only criticism.
Petit fours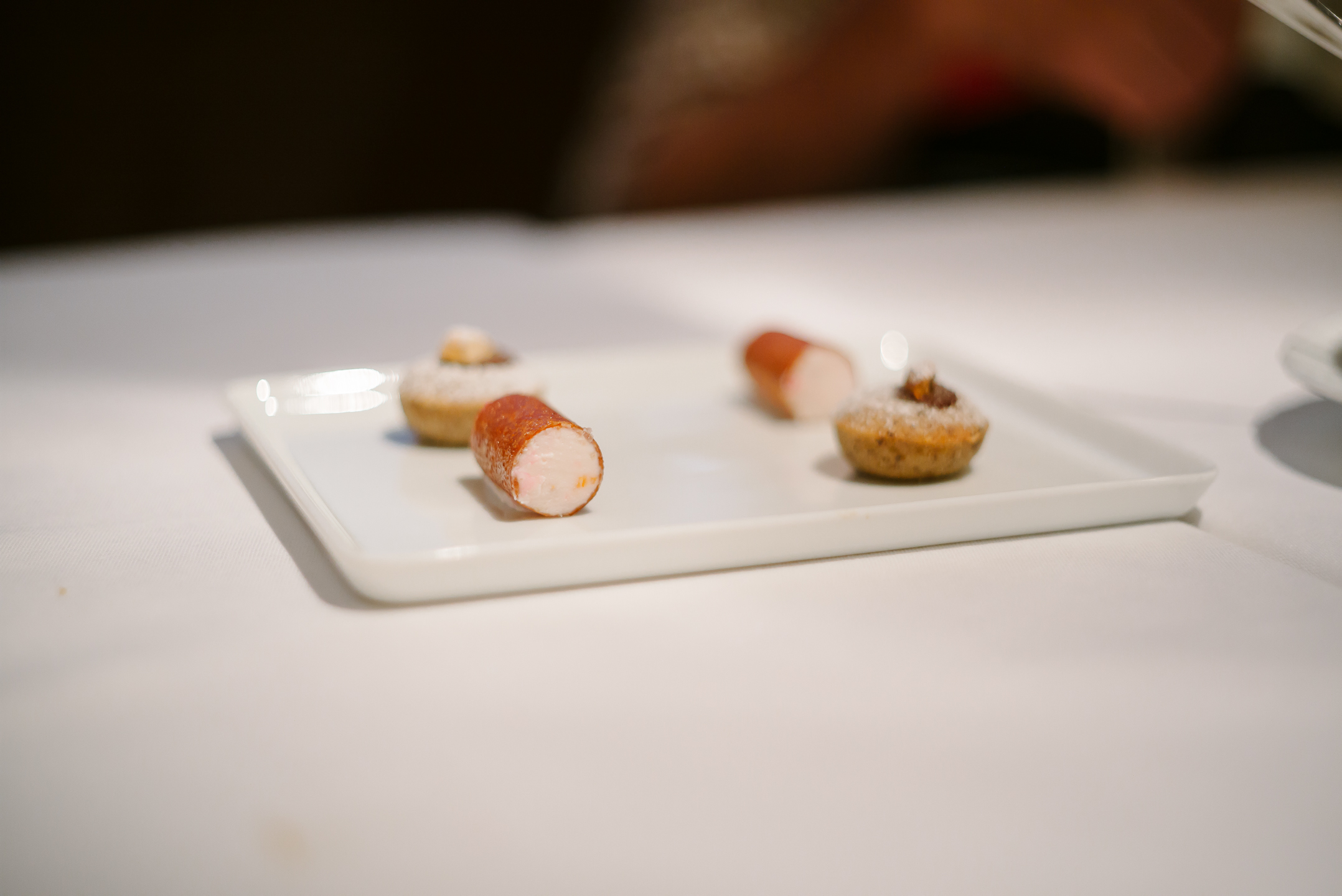 We paid €234 (£184) for 3 dinner menus, 2 glasses of wine, 1 bottle of water and 3 coffees.
What struck us as a little out of place or plainly speaking under-invested is the decor. Reconditioned furniture without the addition of smart upcycling touches. However I think this is mainly because his attention is elsewhere at the sharp end of his labour of love. Higaki san's heart is in the food, you can taste it. You feel it. I wonder if it is trying times for Higaki san still, but I really hope he succeeds. This meal sure won us over, and it ended up truly unexpected and absolutely delicious. After the meal, I wandered up the road and looked into the window of Akihiro Horikoshi's restaurant. I'd run out of time it appears. Till the next Paris, adieu for now.
Details
L'Inconnu
Italian-ish
£40 – 60pp + drinks
Menus: Dinner, Drinks
Lunch Tue – Sun
Dinner Tue – Sat
4 Rue Pierre Leroux 75007 Paris, France
Metro : Vaneau (line 10), Duroc (lines 10,13)