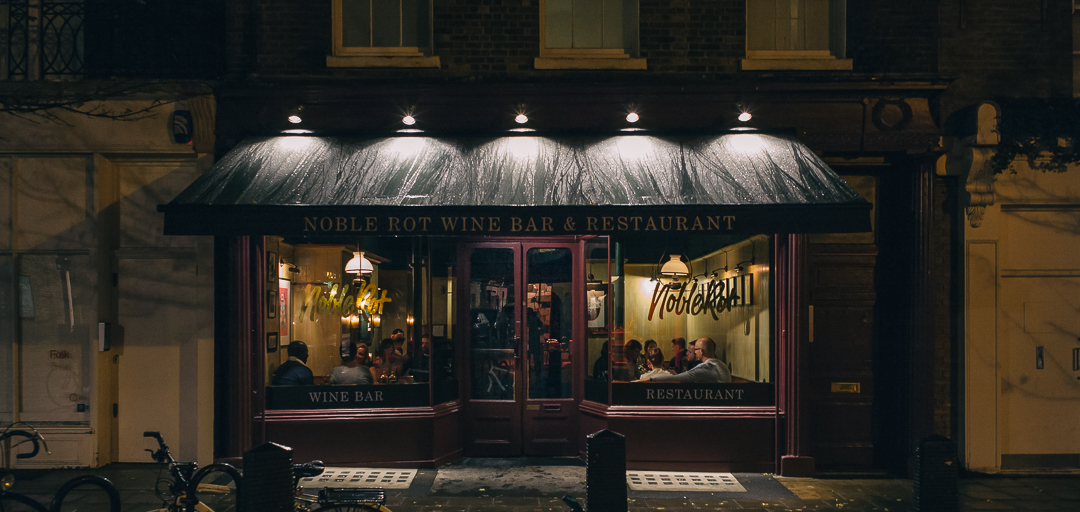 This is utterly surreal. I've been buying wine from Robersons (same guys behind London Cru) for years now and it was there that I 'discovered' Noble Rot, displayed at the shop till. It was instant love with the mini-format wine magazine, with the early ones being smaller and monochrome. Just the smell of the dense paper was gorgeous. The magazine is started by Mark Andrew and Dan Keeling – through a kickstarter campaign – whilst they were still at their previous jobs as head buyer at Robersons, and MD of Island Records. Their work places just so happened to be right next to each other (Robersons has gone online-only in August 2015).
I'm totally into Tyler's The Stack (the new Kioskafe (opposite Frontline Club!) is a revelation), a devout fan of Jeremy's MagCulture and I'm a firm believer in Print's second life. Swiping a screen is never going to replace the tactile feel and the smell of paper, and there is nothing quite like discovering something new on a magazine rack. I collect as much as I can; Mid Century, Delayed Gratification, Premium, Kennedy, New Humanist and Noble Rot all fall into that special love category. Cultural gems. I also loved Tim's vaunted Fire & Knives – a joy and is missed. Noble Rot is like a spiritual cousin filled with personal musings that recount grail moments and lost memories in wine, food, music and things in between.
(Where i can pick up a NYTimes subscription in London? Have you seen the NYT Magazines lately? The VR issue, the 2015 Voyages issue and that awesome Soth cover.)
Noble Rot is completely about love, every piece captures the spirit of discovering decent swill, decent food, decent restaurants, decent life moments. It strikes all the right emotional chords for the hobby wine collector in me – that moment you savour delicious wine, those feelings of joy & pleasure – so blessed to be alive. This isn't about influential MWs passing judgement on whole vintages, this magazine is so much more, there's humanity and civility about it which makes it distinct and special. Personal heroes pen many of the pieces such as Jamie Hutchinson (who owns the Sampler) extolling the lost virtues of old Rioja. I mentioned to him once that he'd make an excellent columnist, after all his weekly newsletter, covering latest stock and Ivy the shop dog's adventures in chasing corks, is a great read, which I enjoy religiously on fridays.
My favourite piece however, is Mark & Dan's love letter to the Jura in issue 4, printed in full technicolor. I ran out to Robersons to pick up a bottle of Bornard Trousseau, the Ginglet was as utterly drinkable as they described it. Each issue was genius and each successive issue was even better than the one before.
Mark Andrew and Dan Keeling are my heroes and recently they've taken the spirit of their creation to the physical world through wine dinners and other meet-ups, and today they've launched a wine bar. I got on twitter & email the moment they opened the bookings, and was over the moon when I managed to book a table.
Stephen Harris has been involved with the magazine since the 1st issue in which he wrote a recipe on Gypsy Tart. Dan and Stephen are family, and yes, the same Mr Harris of that lovely Whitstable pub. To have his 'London debut' in the form of Noble Rot's food is a fanboy's wet dream, Harris giving guidance, inspiration to the very capable head chef Paul Weaver who had spent 5 years with the Sportsman before joining up with the other British legend Fergus Henderson's Bread & Wine in 2012. You don't need to read reviews to confirm that the food is in excellent hands.
The Wines of Noble Rot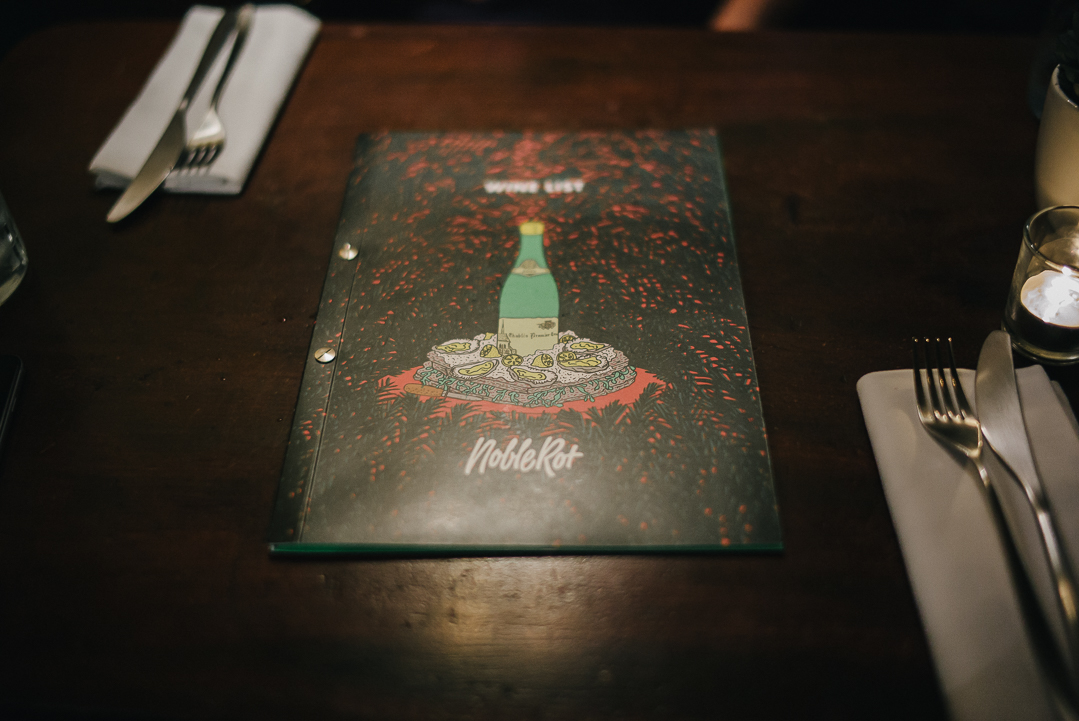 I subscribe to the Roberson Wine Club – a 6 bottle case every couple of months – and have discovered loads of fantastic wines this way, in addition to picking up an occasional bottle from their stock of fine labels (VCC 2000 and still the cheapest way to get La Chappelle La Mish in London). Mark had written the wine club brochures (till now) and naturally I expected Noble Rot's wine list to feature some of familiar bottles.
You know how much I revere Will's fabulous wine list at Portland, along with The Square and BBR, I feel that Noble Rot's lists are amongst the most exciting in London.
For this debut list, they've included excellent juice. There's Savart champagne, Lafon and Chavy-Chouet Mearsaults, Sauzet 1er Cru Pug-Monts, the aforementioned Jura Trousseaus by J.Puffeney, Chave Hermitage, Rayas CdP (what!), Windgap, Broc Cellars, Sandhi, Kutch (Not McDougall but Bohan Dillon), Mortet, S.Cathiard, Dujac and Armand Rousseaus (double what!).
I don't know about you, but my heart never left the Gironde, so I'm encouraged by the claret prices here, especially their 1982s. That's right, that crazy legend vintage that made Bob Parker. I'm quite sure that Hedonism & Roberson retail the '82 Cos for over £400. It's £383 on this wine list. That's crazy, it's a steal! Even better is '82 Palmer for £298. And perhaps even better yet '82 La Fleur Petrus for £341. A Latour for under £450 in a restaurant is (almost) unheard of. Really nuts. These gems would easily be priced at £800 in a Michelin list.
(I'm one of those who actually enjoy Cos's atypical 09, but I did have the '82 once and it really is the model of purity which this super second is known for.)
Prices. Generally, it looks like about 2x to 2.5x mark-up, but some of the legend bottles really are underpriced. Don't just come by yourself, bring a crew and persuade them to open something special. There's a chance you might even 'save' money doing it.
By the Glass & Coravin. This is where you want to be looking, Noble Rot starts with 75ml measures at £3. Drink variety with abandon, which you should. For Coravin, only 2 whites and 2 reds on debut menu. Quality over quantity which is cool with me.
Bread, £3.50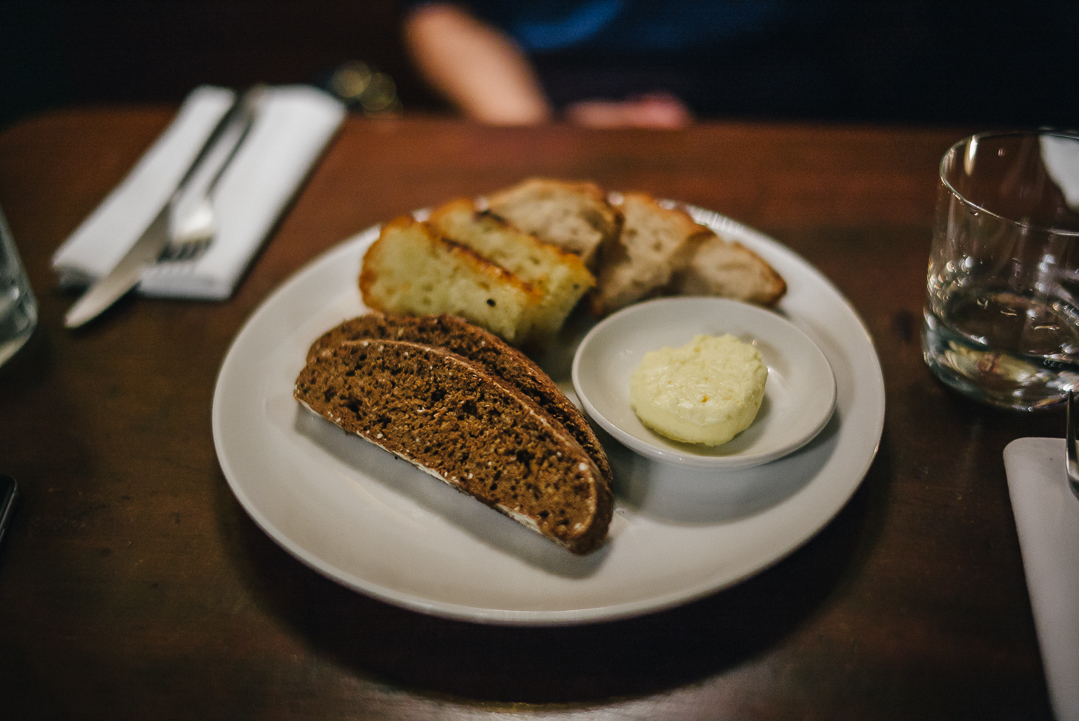 Just like the Sportsman, the bread & butter are made in house. A sweet moist and fluffy soda bread, a divine focaccia dripping in olive oil. The sourdough is bought in from Hedone – only the best bread in London. Although very good, it would have been better if it were on the house. So be mindful not to gobble it all up as you need it to mop up all those wonderful sauces yet to come.
Rock Oyster Raveneau, £3.00 each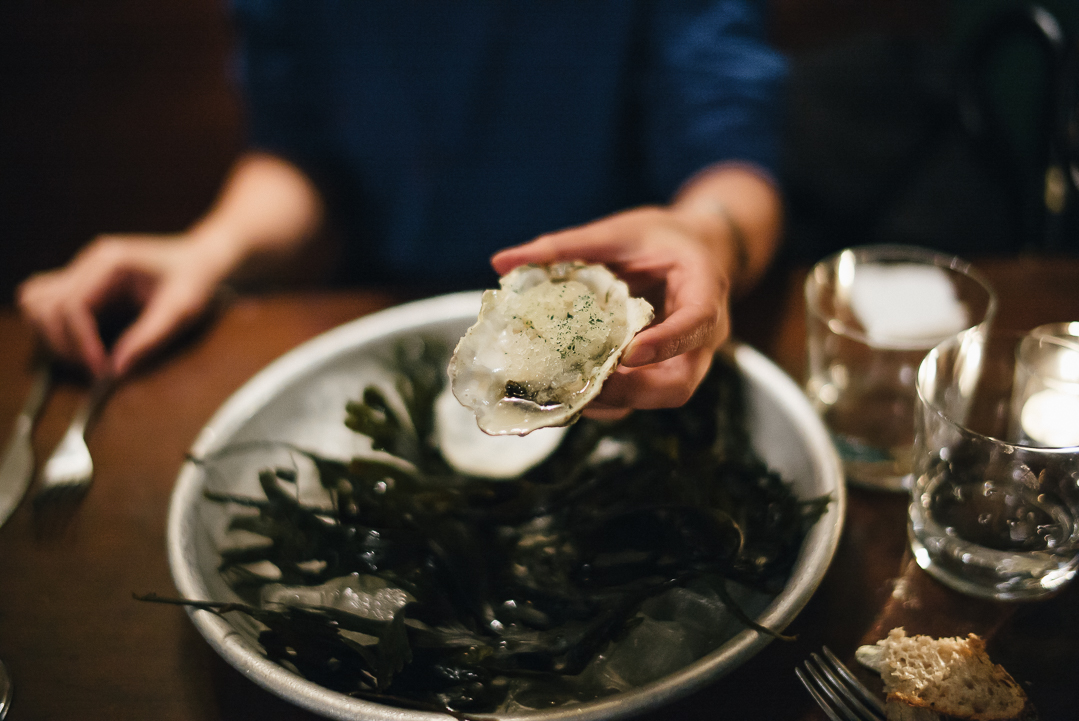 The pride of Whitstable. We are in an R month, but I didn't do the natives. These are rocks with ice cold apple granita, lemon, brown butter, seaweed… this is so nice. It totally recreates the buttery minerality of necking a cold glass of Chablis. Domaine Raveneau is probably Chablis' most celebrated producer and this oyster dish completely deserves to share the name. About the only thing missing is a glass of it. Beautiful oysters, you must try this.
Salt Cold Brandade & Radishes, £8
with 2011 Cab Sav, Viano Vineyards £4 for 75ml (by the glass)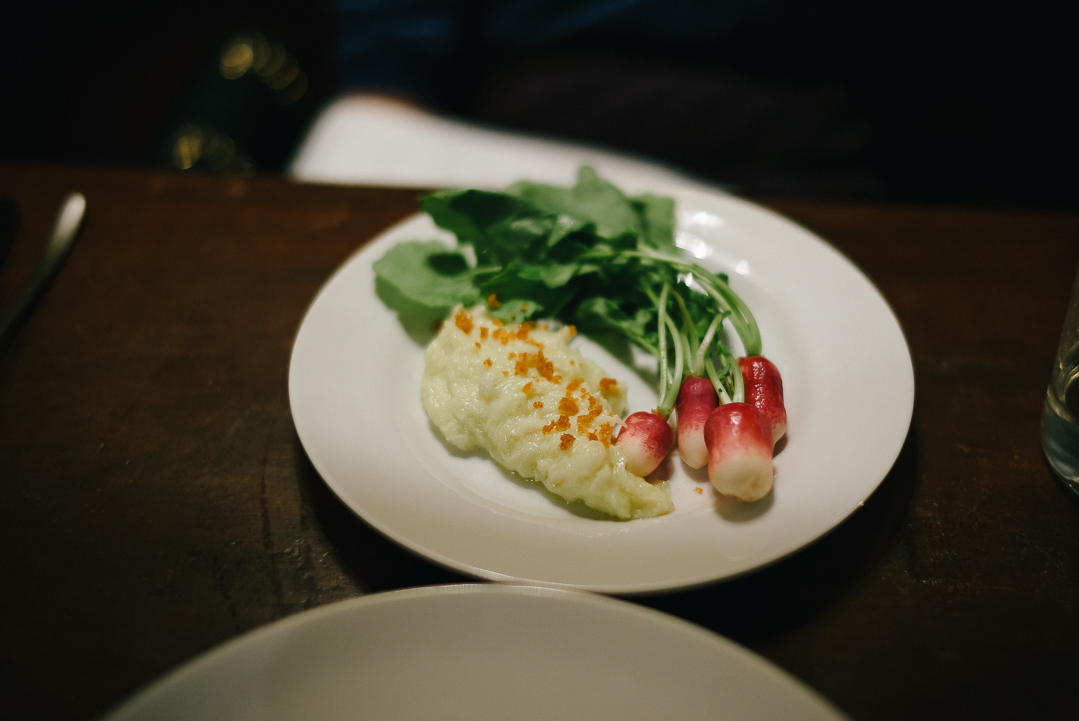 The brandade is properly made, moist, briny with small chunks of fish, without being overpower. It's got this freshly prepared feel.
The better half drank this beautiful atypical cab say which are a total contrast to the fruit bomb reputation that California is thankfully (and finally) getting away from. I've read that Napa actually started out like this in the beginning days – Earthy and natural – and this wine harks back to the old school from an old winemaker. The nose was peppery red fruits with this funky smoked ham undertones & cedar, like a CdP. Palate was an extension of the nose and just total smoothness. (Here's Mark talking about the 2010 vintage).
Slipsole & smoked butter, £9
with 2009 Pugliny-Montrachet 1er Cru 'Champ Canet', L.Carillon, £15 for 75ml (from Coravin)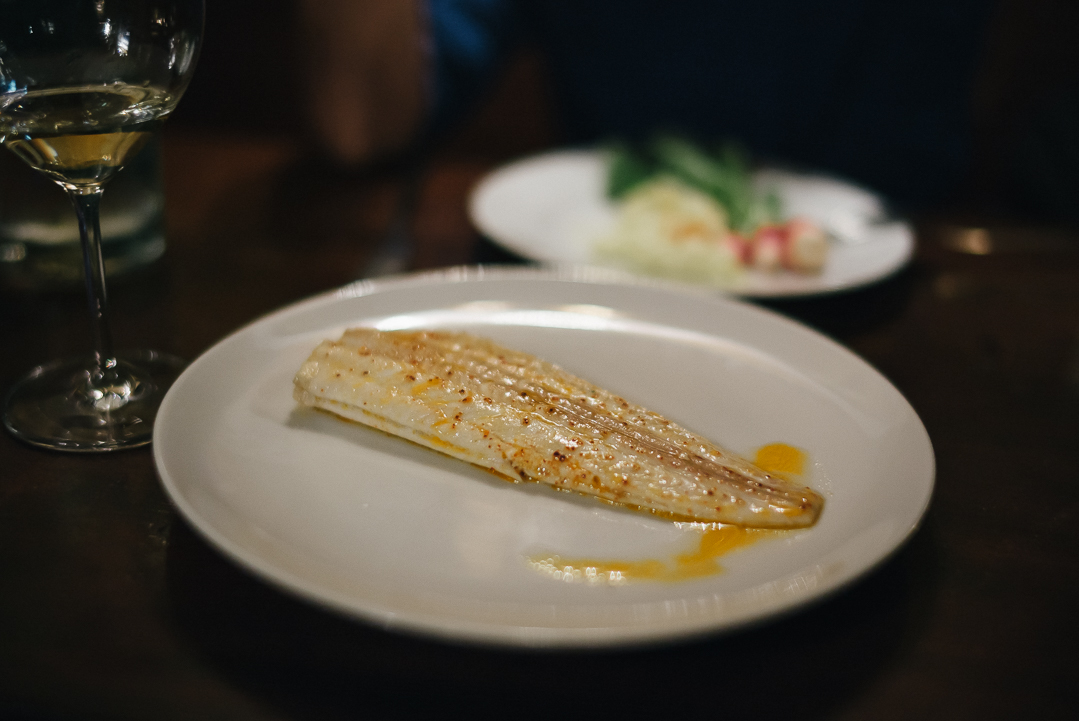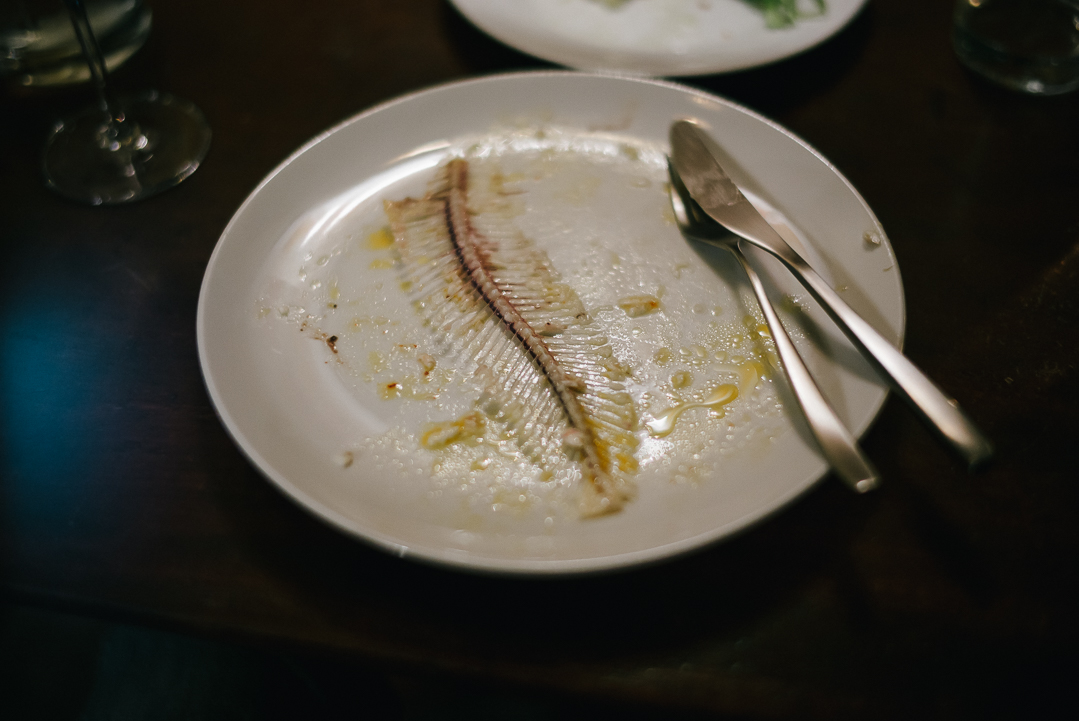 Well what more can I add? Not seaweed? The classic Sportsman dish. It tastes just as good in Bloomsbury.
Pearlescent, creamy and meaty fish that leaves you with a lingering finish of butter. Just pure. It could do with pinch of salt or a slice of the focaccia.
What better way to drink this, than with a proper Chardonnay. I believe this was the last vintage bottled under the Louis Carillon label? The two sons, Jacques and Francois have since split off and this Champs Canet has gone with Jacques. Old vines I believe, 40 years.
Coravin and straight from the fridge, it was cold and initially the nose was shy. When it warmed up and started breathing, I was greeted with these classic pug-monty oak, honey buttered toast aromas with a slight nuttiness, like sherry notes, but definitely not premox, just beginnings of age and because masses of fruit remained apparent. On the palate, an acidic backbone, ridiculously rounded, balanced and totally smooth which I attribute to the strength of the vintage. Fantastic juice, it just kept getting more aromatic with air.
Turbot braised in Oxidised 1998 Batard-Montrachet, £22
with 2012 Auxey-Duresses, Agnes Pacquet, £7 for 75ml (by the glass)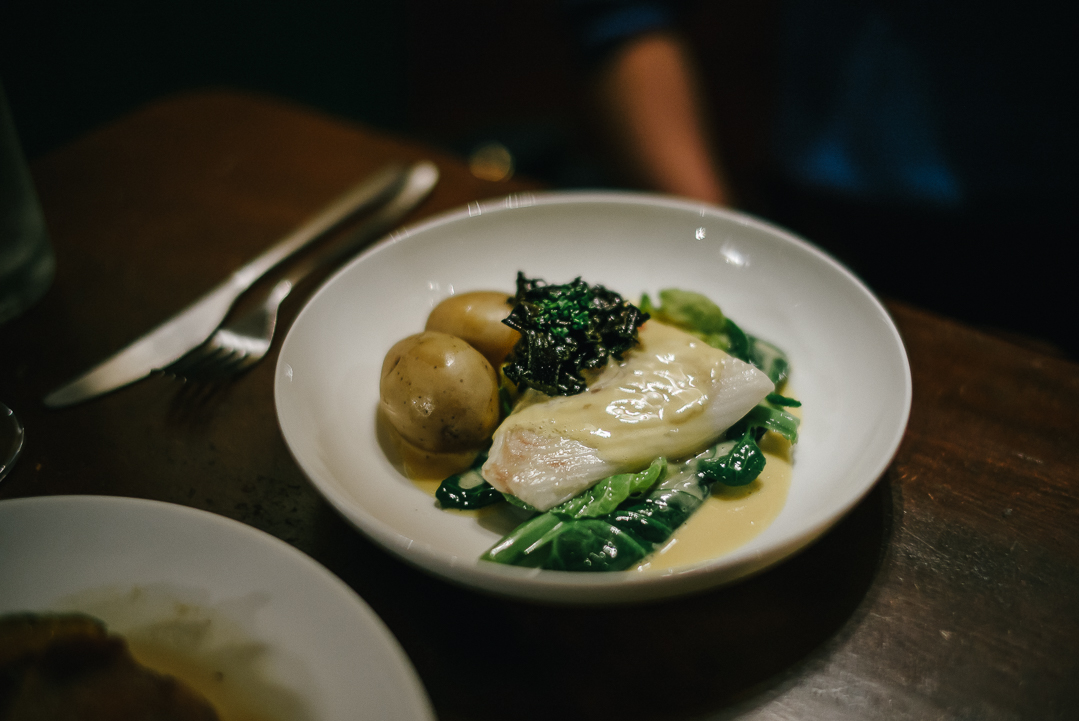 Well this is ironic. Oxidised white burgundy is horrible as it goes flat and sherry like, loosing its original vigour and acidity that defines it. What's worse is premature oxidation has several stages, affected wines can still retain some semblance of its character but robbed of its important zest and fruit. Premox has put a generation of white burgundy lovers in total paranoia. It's only happened to me once – a 1999 Louis Latour Montrachet GC – and it was dissapointing.
(I'm one of those who believe the greatest white wines are made in Pugliny-Montrachet. I love Leflaive wines, and my grail whites are their Chevalier Montrachets. I prefer Chevalier because it is the graceful twin to the brutish of Batard. Aside from Montrachet itself, both are the very best Grand Crus of this village. I've been fortunate enough to have had the 2004 and 2009. Both taste better the next day, like inhaling liquid gold.)
Noble Rot have somehow turned paranoia (a scandal even) into a brilliant sauce. The dishes are all very aromatic. Wines in edible form, or food that drinks well with aromatic wines. The turbot is cooked a pointe as expected, but it's the sauce – I hazard a beurre blanc – that you can just stick your nose into and smell. Lemon butter creaminess, smooth and layered. Deep even.
I'm not sure if the oxed burgundy is really quite the difference ( I checked and there's just a splash of it in each plate) because burg or not, this is a beautiful sauce and redolent of key lime pie. As soon as the missus finished it, I smelled and licked the plate clean. You could smell it forever. Not to take away from the superb Agnes Pacquet, this dish should be paired with the Carrilon Pugligy-Montrachet for obvious reasons. With so much aroma going on, the food here is definitely to pair the wines.
There's not a lot of batard-montrachet made, let alone premox ones, even so it would be expensive to explore this route, so you must try this while it lasts.
Mallard, pumpkin and hispi, £18
with 1989 La Dame Montrose, £12 for 75ml (from Coravin)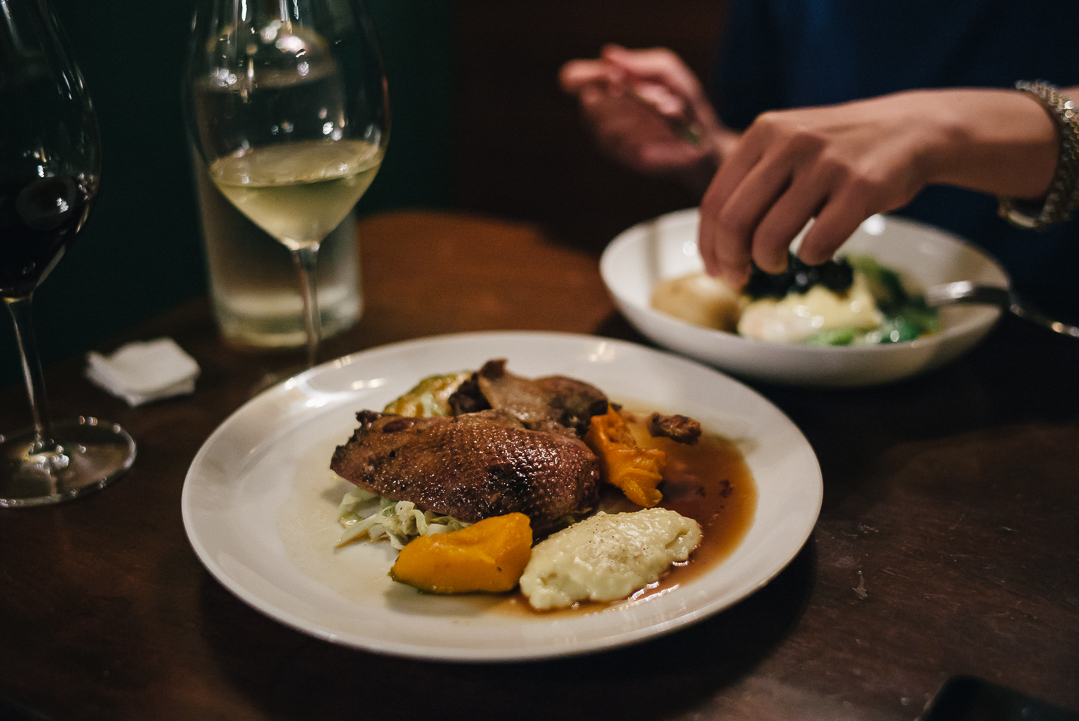 1989. The original sexy vintage before 2009 (and Taylor Swift) rolled around. I'm fortunate enough to have had Duhart , Lynch Bages and Haut Brion (aka greatest claret ever, beats 82 lafite to a pulp). This hot vintage has produced wines that have taken all this time to come around, and I think today they are fully open for business and still with masses of fruit. If ever you've doubted the doomsayers, one glass of this will rekindle your faith in Bordeaux.
Like its neighbour Cos D'estournel, Montrose is a super second, known for its long lived wines which are impenetrable when young, hiding behind an armour of tannins that hits your palate like nails. You need to leave Montrose for at least two decades and after that, it's like flood lights blinding the senses. The Dame is the Chateau's 2nd wine, but you wouldn't guess it. It's sensationnal.
The nose is pencil lead, cedar and waffs of fresh plums and blackberries which is now unlocked after a 26 year slumber – gorgeous aromatics. It builds with air, like a liquid potpourri – you can smell this all day long. The palate is still full body, all tannins are gone, smoky black fruit, dark chocolate core, more pencil lead and a long finish. Like blueberry juice flowing across stones (whatever that means). There really is nothing quite like mature claret, you crave for more of it. I've never lost faith in claret. I've been stocking up my fridge (not cellar) for the past couple of years in light of the plummeting bordeaux prices. I still don't know why its a problem, we can afford to drink these 'investment' labels now!
The aromatic breast & leg – cooked medium rare – is a fine pairing to the tremendous wine. The naturally rich flavour of the bird creating this wonderful tension, and then those sweet pumpkins – a total revelation. I had fabulous cannette at Chavot just the week before, but this takes the cake.
Warm Chocolate Mousse, £8
with 2013 Quady 'Elysium', £5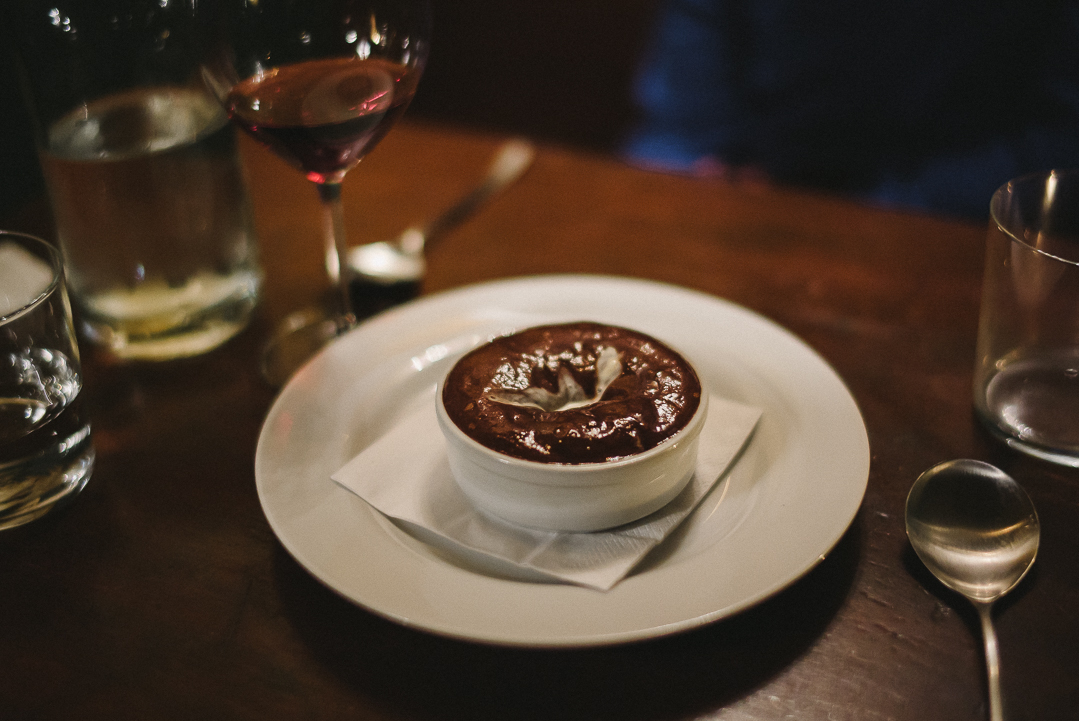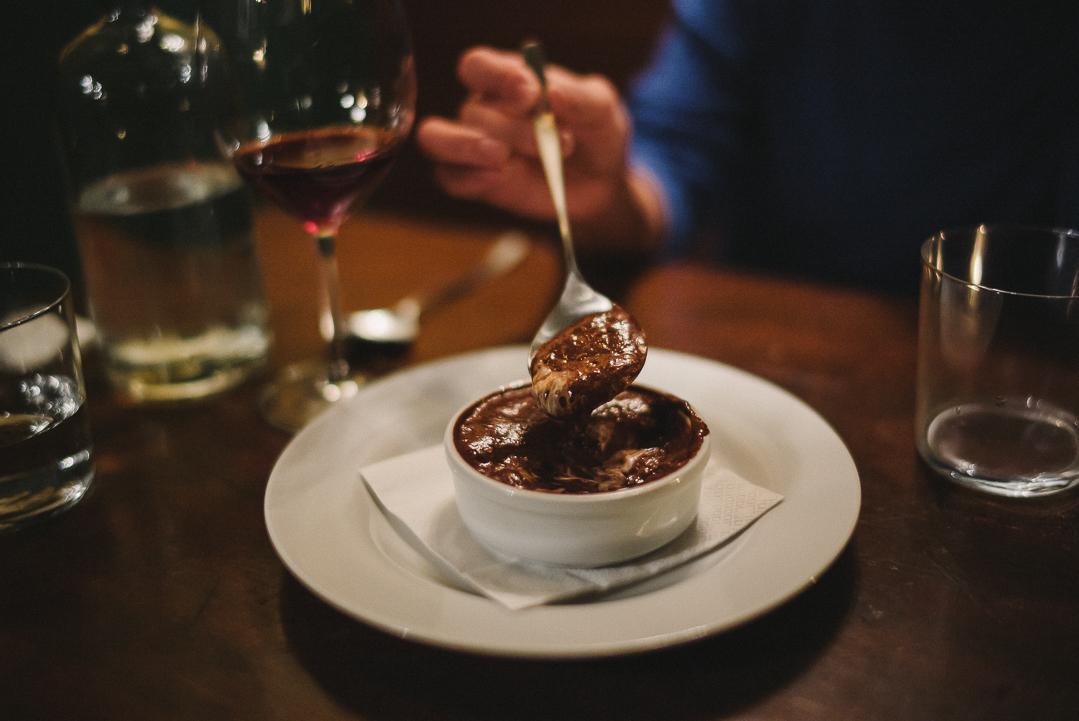 Runny chocolate with salt sprinkles and creme fraiche. It was closer to room temperature, so could have done with more heat. This reminds me of the pudding at fabulous (but sadly defunct) Mayfields. But also it's rather like the Sportsman's custard tart. Oh my god. Will we see the custard tart in London? I live in hope.
Finally, we finish with noble rot, Elysium is by Andrew Quady from California, a sweet red wine made from black muscat. Served cold, it's like gummy glycerin, dried raisins and a thick viscous texture. Port-like with acidity and a short finish which isn't overly cloying. Good.
We paid £114.19 for two. Not cheap. Mark kindly offer the glass of Montrose & Pacquet on the house.
I'm not going to convince you to spend hundreds on wine because it's not everybody's poison. Some of you just want something to wash the food down. For me, wine is a hobby and this kind of food & wine synergy is the stuff of dreams. I don't know what it is about wine, ask any wine lover and they'll pinpoint the exact moment they fell in love with it. It doesn't even have to be from hallowed ground. My grail bottle was a 1996 Figeac. I decanted that and handled properly, candles etc and drank with a nice rib of beef throughout the night. It was a glorious bottle. After all there is no such thing as a great wine.
I was totally hyped up for this visit and it met all my expectations. The next time I go there, I'm sitting at the bar. The dining room in the back still looks like a work in progress. Noble Rot reminds me of another fabulous wine bar that has recently taken shape in Stavanger, Norway. Completely unrelated though both share similarities. Egget opened by sommelier Roy Klausen, it's his mancave where he projects his love for good wine and good food. I drank Fabien Coche & Tschida whilst tucking into green egg smoked pork belly and dehydrated tomatoes. Gorgeous wine, delicious food, wonderful company.
Noble Rot is also very much an extension of Mark & Dan – a physical manifestation of their shared passion. There's just something distinctly human and civil about it. Oh wait I said that already right? If you haven't noticed, I'm not just a fan, I worship Mark and Dan. Heroes. This is the first visit, I look forward to many more to come. Cheers.
The Details
Noble Rot
Wine bar, Restaurant and Magazine
£70pp (depends on what you drink)
51 Lamb's Conduit Street, London, WC1N 3NB
Tel : 0207 242 8963
Tube : Holborn or Russell Square