Looks like they oiled the parquet floors, got rid of the patterned wallpaper and brought in crispy marble table tops. Otherwise, the room is much the same, the theatre of the open kitchen is still impressive and I love the calming majesty in here. A little surreal as it wasn't so long ago that this was Nuno's temple in East London. Now it is quite something else. "Hello sir" I was greeted on my way in. A hint of old fashioned class, there is something 007 about the restaurant manager, this works well with the serene ambiance. "Welcome sir" Oh, that's him, Lee Wescott, Chef. I recognise him. This lad is the real deal.
Lee may not remember me, but I certainly will not forget my meal at then re-opened Tom Aikens over 4 years ago now. He was head chef at the pass and had cooked an incredible lobster dish, its claw sous-vide with its own brine in the bag, until a glacial and glimmering translucency, enlivened with icy yoghurt pounded into a granita that provided spikes of acidity. This was followed by an equally transcendent dish of short rib, intense beefiness rippling away on the palate after a 40 hour slow braise and served with melting tendons, cut thick, like see-through yellow gelatin casing piped with fat.
Eventually Tom Aikens shut its doors and Lee would move to Hong Kong to head up Jason Atherton's tapas outfit, 22 Ships (and Ham & Sherry). It enjoyed a successful launch, going by the instagram overflow from that time. After that, backed by Jason Atherton, Lee opened Typing Room, now just passing their 2 year anniversary.
I've always struggled to identify Tom Aiken's style, who may be classically trained but there is nothing classical about his cooking if not altogether modern. Few can deny that Tom is a wizard with (and without!) a pan, he can pull together visually visceral complex dishes and achieve delicious clarity at the same time. I certainly see a lot of Tom's cooking rubbing off on Lee. His stints at Noma, Per Se, Claridge's also inform Lee's style, traditional training yet also thoroughly modern(ist?), dehydrations, granites, sous-vide and fermentation. His menu also suggests an appreciation of humble ingredients, naturalistic not unlike New Nordic, perhaps some Japanese influence as well, so yes well-traveled and of the times.
I met Christian for lunch where there are 3 options and are all different. 3 course prix fixe for £29, 5 course taster for £60 and 7 for £75. I had seen the crab dish on IG recently come of season and so we chose the 7 course menu because of it.
1. Snacks
You immediately taste the skill of the kitchen at the very beginning of the meal, dare I say, some of the best canapes in London. This is confident work.
Onion bhaji, yoghurt & mango chutney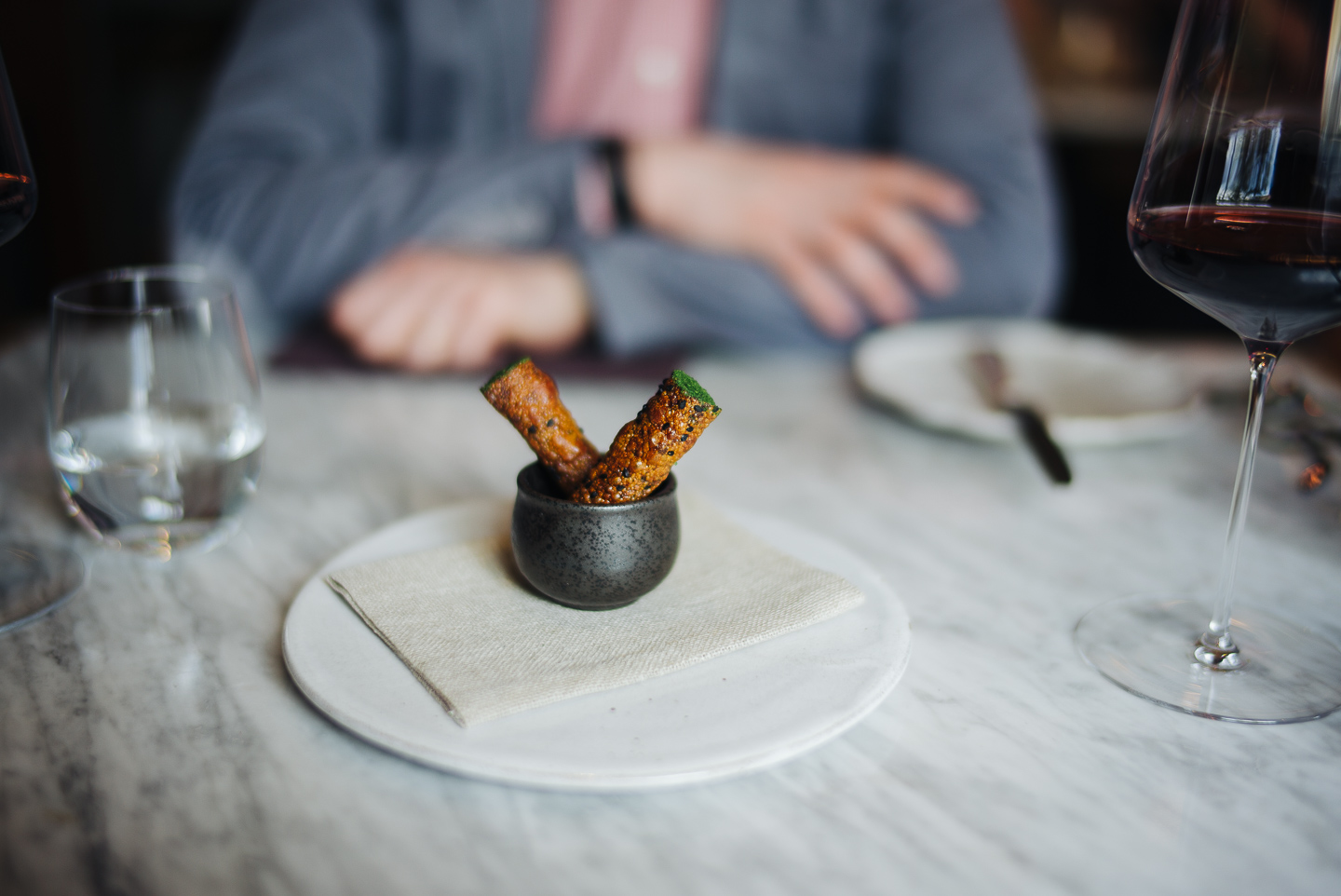 The humble fritter reformed and rolled, with a swipe of mango chutney totally freshens up the palate.
Oyster leaf, fish roe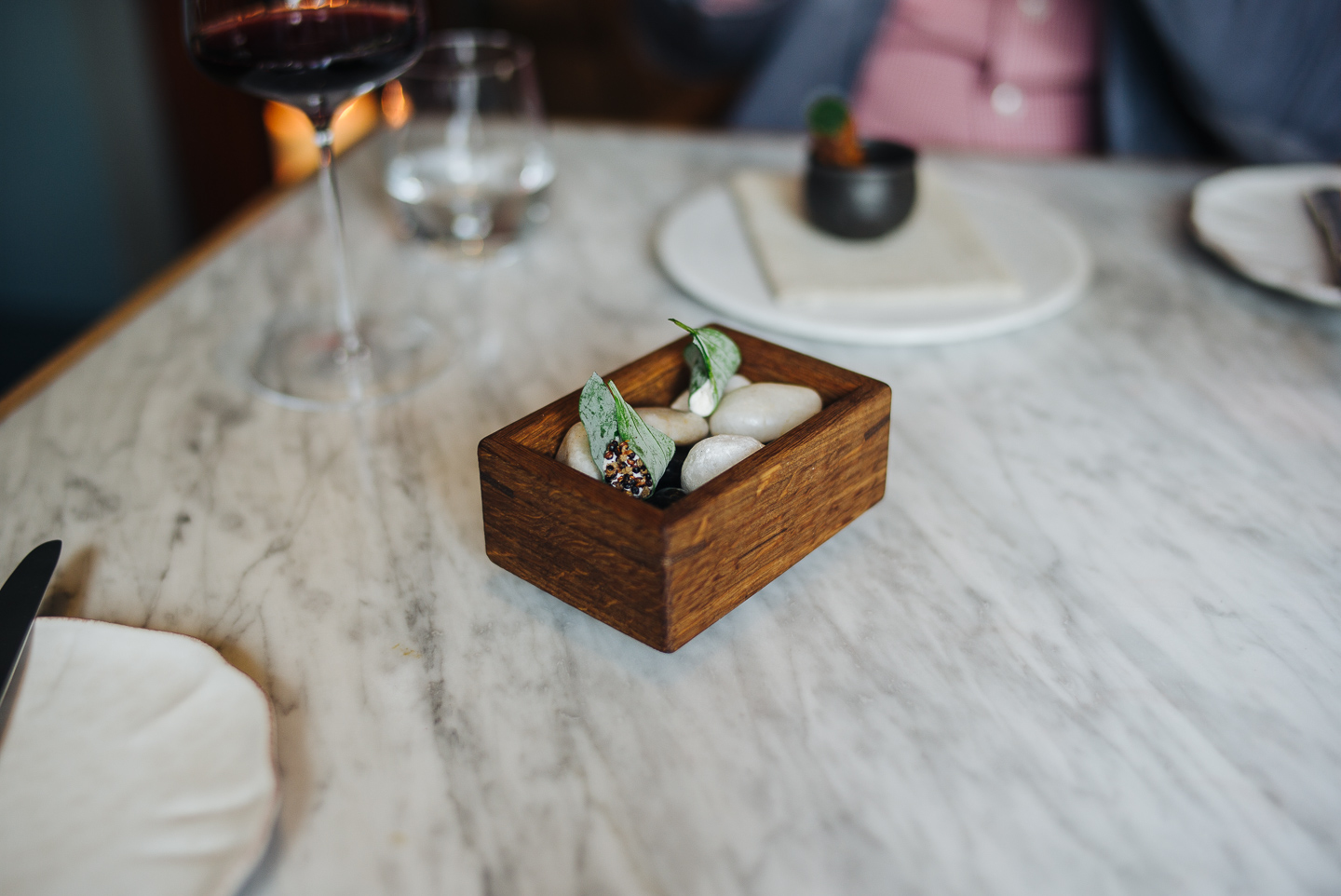 The leaf has the same stony, minerality of savouring a good rock oyster. A minor jedi mind trick and a pleasant surprise.
Crispy fish skin, smoked cod, oyster & dill
And it was precisely that – crispy, this is well made with delicious and the smoothest fish puree for added flavour and seasoning.
Pig's head & smoked apple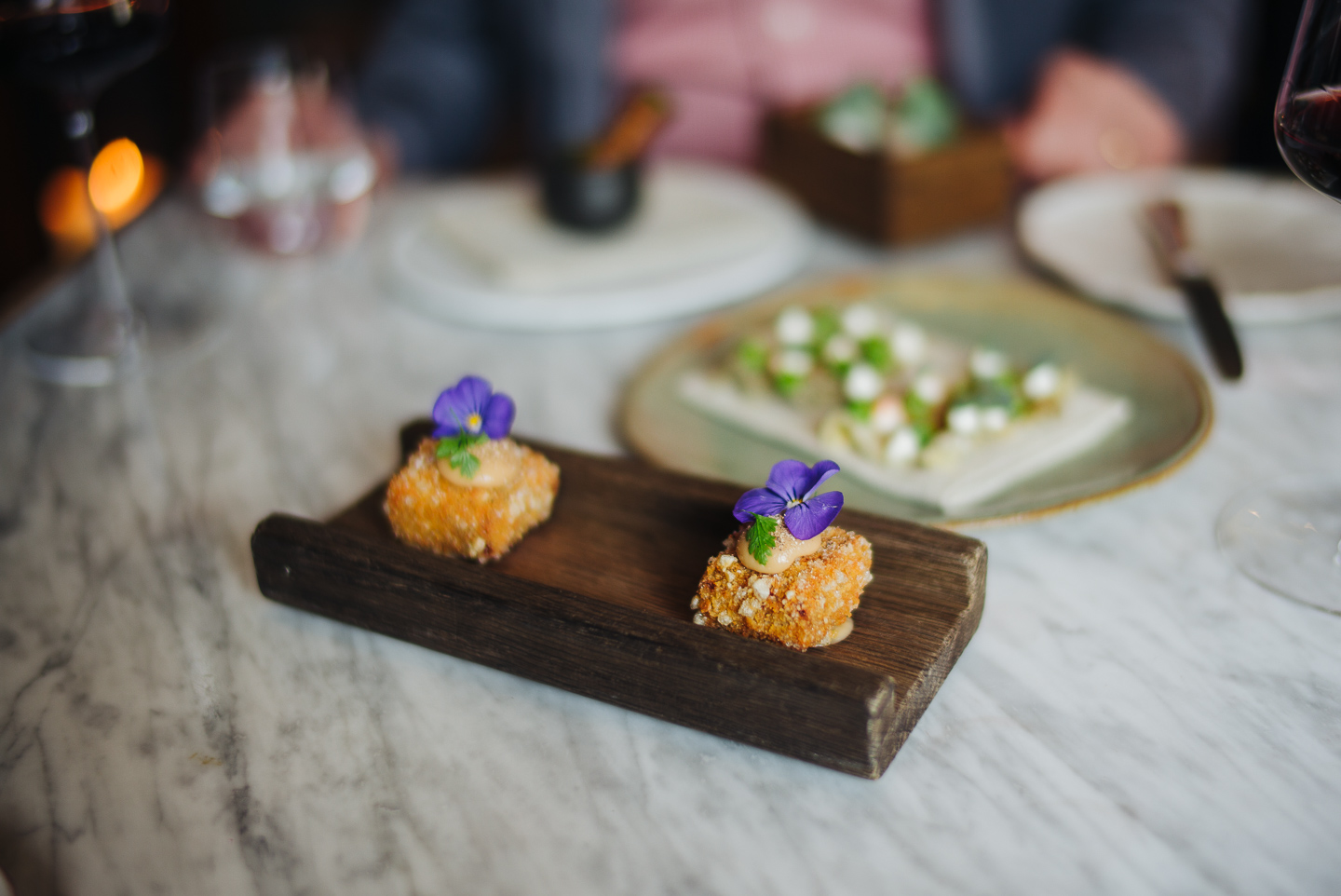 The casing is thicker than you expect, holding a piping hot centre of molten braised brawn that has been sweetened with apple sauce for balance. There is nothing complex here, but I thought it was well-made and delicious.
Bread : IPA Sourdough & marmite butter, popped barley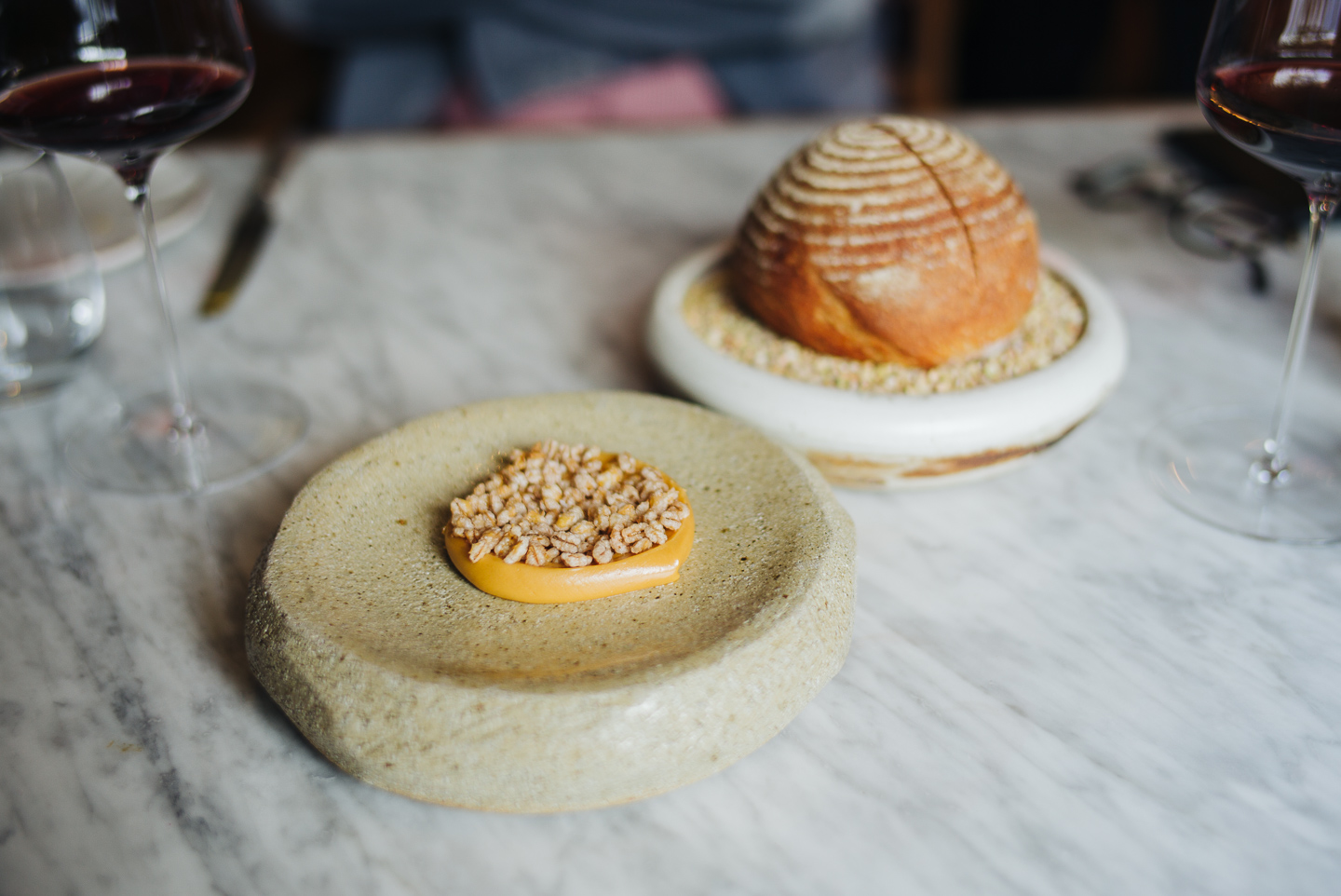 Piping hot from the oven, rip it open in half and let the gorgeously drunken steam rush at your pores. A crusty crunch with a cloud-like fluffiness inside. This is lovely bread indeed, second only to Hedone's capital leading effort.
Best of all was the marmite butter, this you must refer to the photograph above. Unbroken, smooth textures, it is soft and spreadable, like piped icing. A small detail, but for me, it illustrates Lee's precision work. There is cheesiness and yeastiness (and marmite), spreading over hot bread pulls up memories of simple pleasures. A lot of good restaurants make good bread and butter in-house today, and this is very close to the top. It certainly is the best I've savoured this year.
Wine : 2003 Bourgogne Rouge, Maison Leroy; 2011 Aloxe-Corton, Xavier Durand (from Magnum)
Both are £14 for 125ml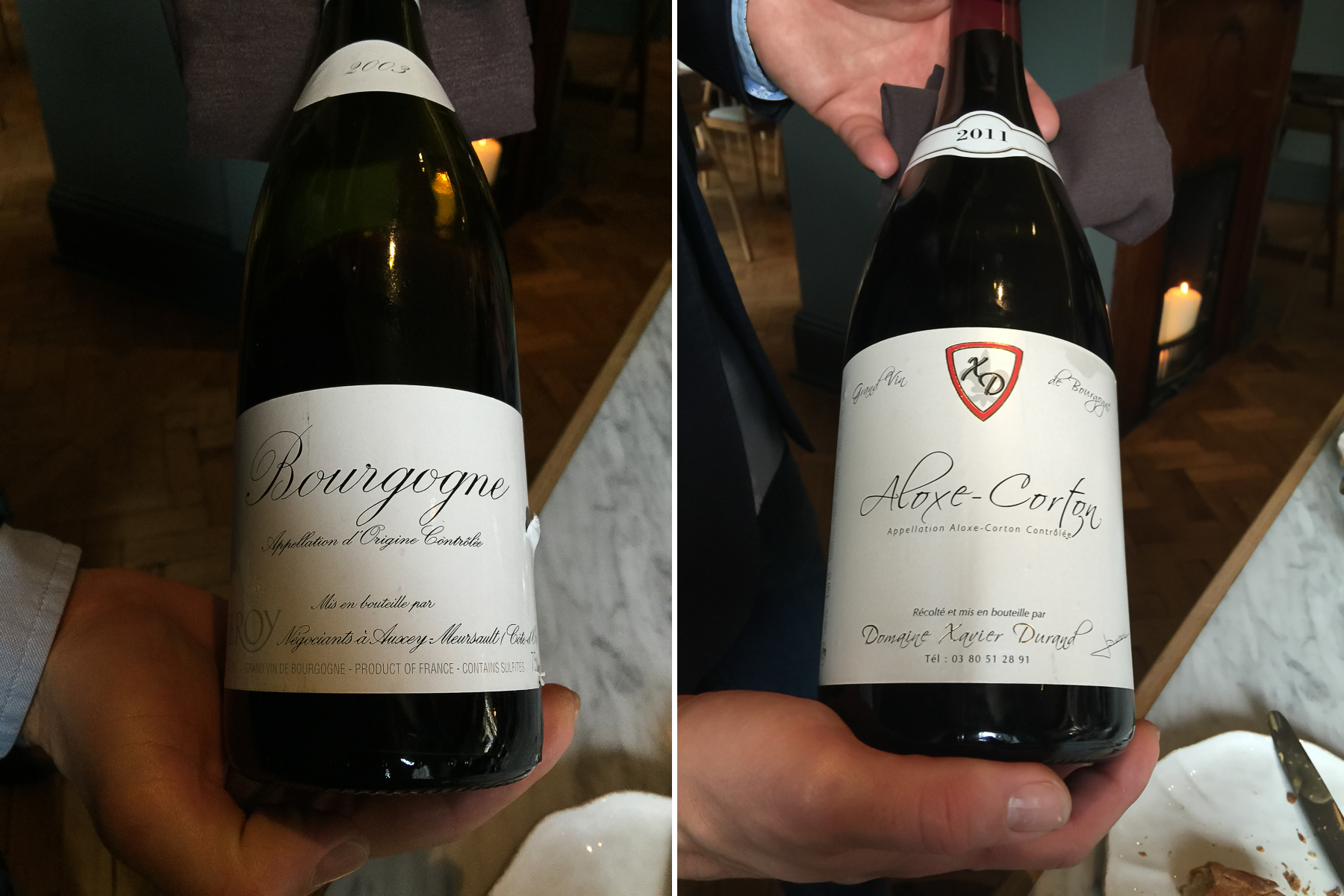 We drink burgundy for this lunch, and I think quite very well.
I can never turn down Leroy on any list. This is Maison rather than Domaine (Negociants on label) and Ms Lalou is a miracle worker of course, the village drinks nearly like a premier cru. Incredible density and colour, black cherries, pepper, quite a bit of body and rather ripe which I attribute to the hot year. There is elegance but a little angular, though no Leroy is ever a bad drink.
Better was the Xavier Durand, a recommendation from our sommelier. This is quite a discovery for me, the wine is showing very well now and this is a winemaker I will now follow. Nose is light and freshness like a cold cream with strawberries. On palate, it has a sheen, a gloss, sooo smooth, a jammy purity almost verging spatburgunder (but, in a good way), yet retaining Burgundian earthiness. I think there is more black fruit, perhaps even black cherries on palate and a peppery finish that sizzles all the way… beauty.
2. Celeriac, pear, fermented mushrooms & hazelnut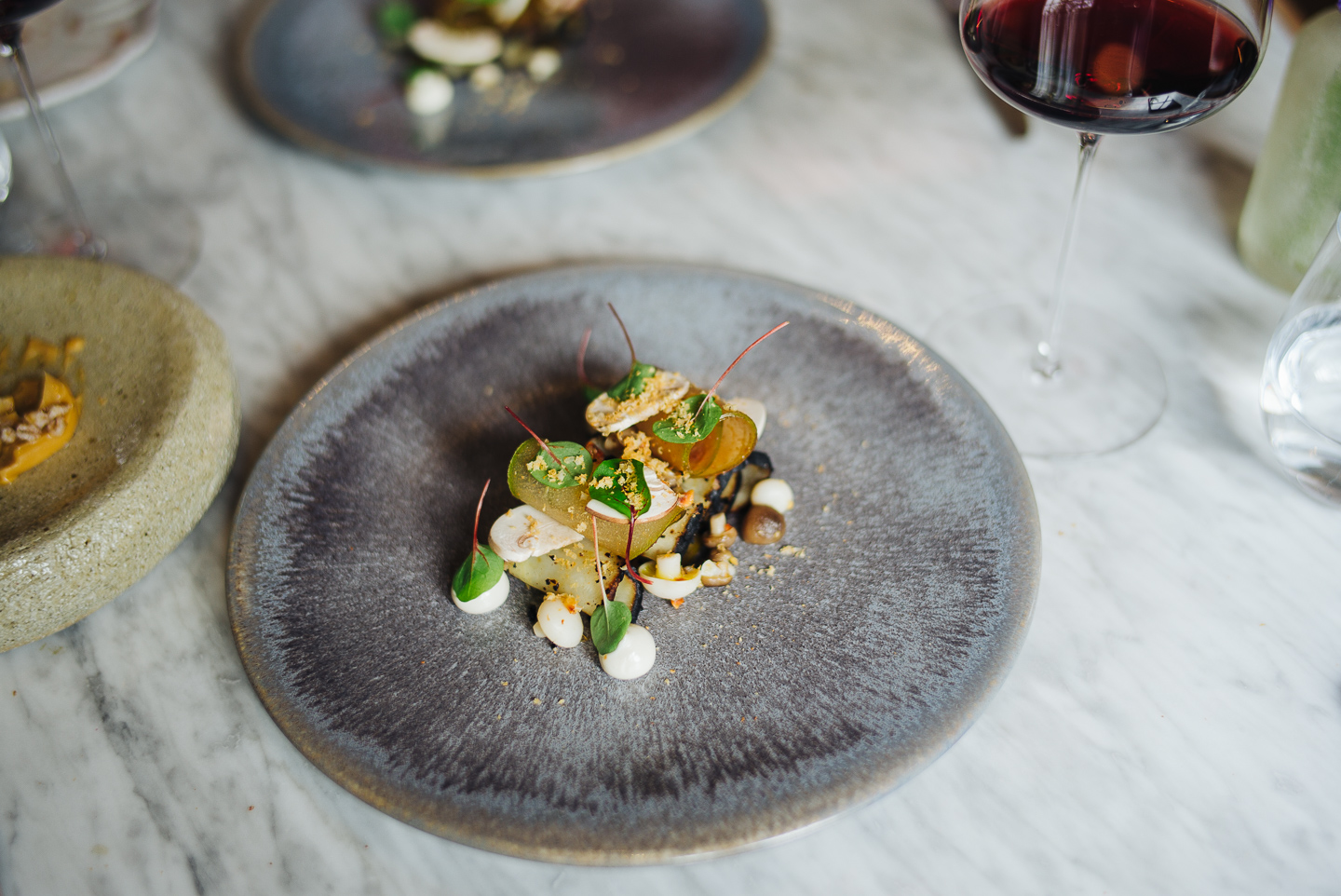 It is almost too beautiful to eat. The pickled mushrooms perk up first, then the sweetness of the pear, tempered somewhat, perhaps from pickling as well, I hazard a guess. Nuts for aroma and texture, charred celeraic as a platform for the controlled mess to balance itself out. It works, light and delicious start.
3. Crab, white asparagus, green tomato and coriander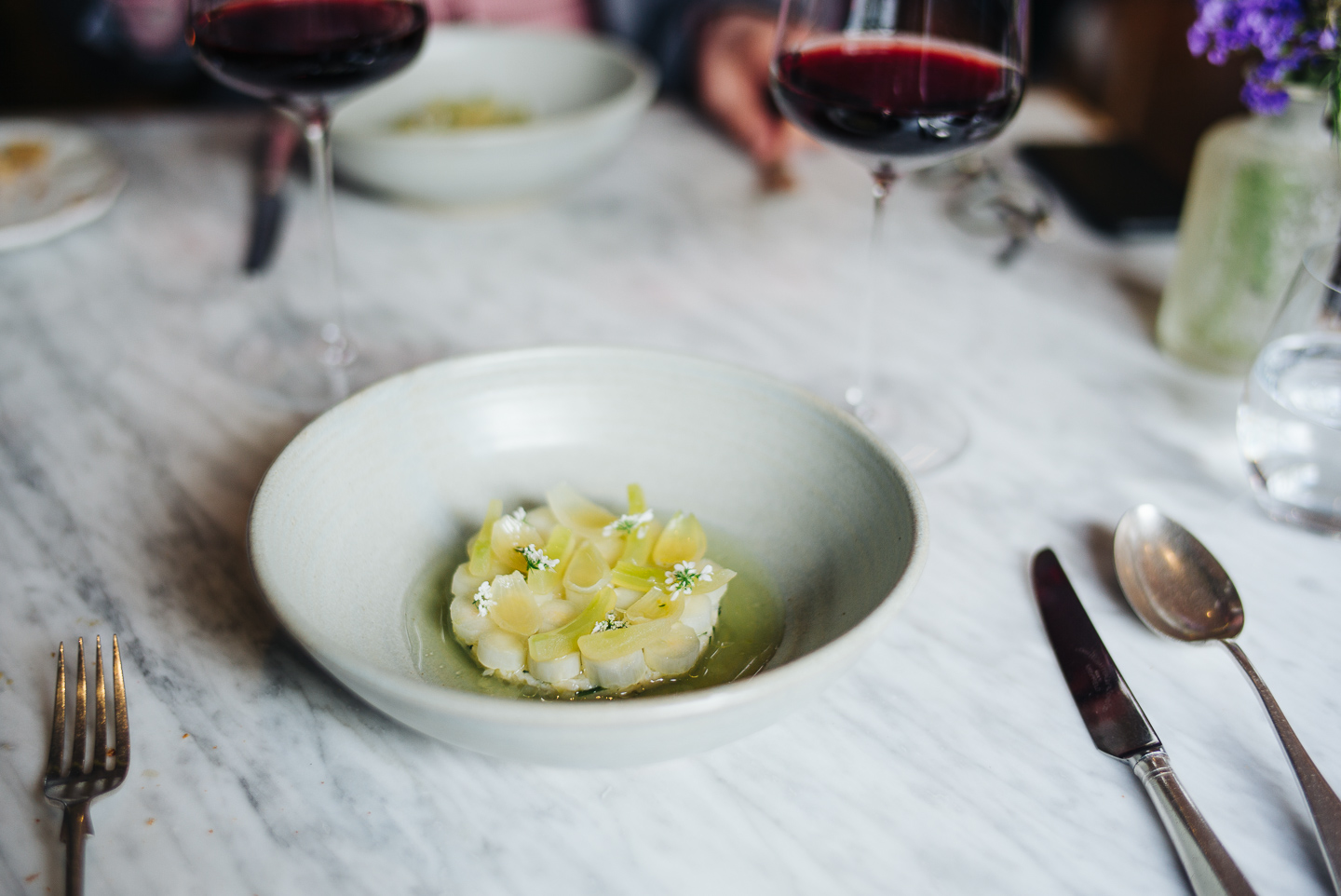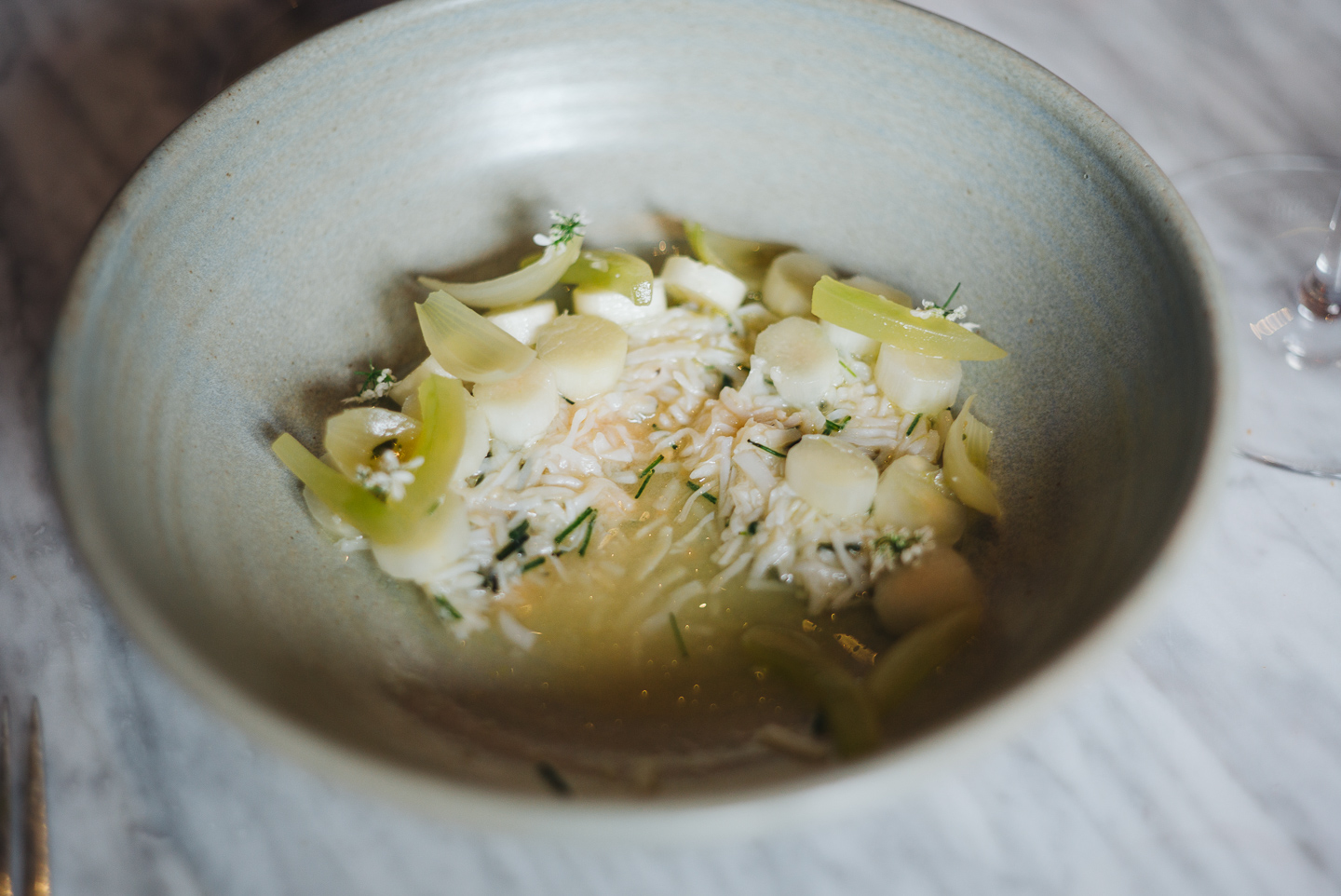 Magic, the purity of flavour, the juices, the consomme almost a kind of runny 'gel' of green tomato (like New Basque), all these layers, the fragile texture of the white asparagus, sliced to almost resemble a bouquet of white roses. Then the sweet white flesh, just a thin layer of brown crab and what must be the natural brine from the crab. All these natural flavours, married in the right proportions they explode onto your olfactory. The green tomato consomme really is a textural triumph, weaving flavour directly into the crab. Bewitching. Finesse and delicacy.
This is beautiful work indeed. Pictures and words do not do this dish justice, it is enlightening and quite incredible, when it hits your palate, the angels sing. When you find out Lee hasn't yet got his michelin star, it is incredulous. A great dish, if you haven't then you should. Do not miss it.
4. Yeasted cauliflower, raisins, capers & mint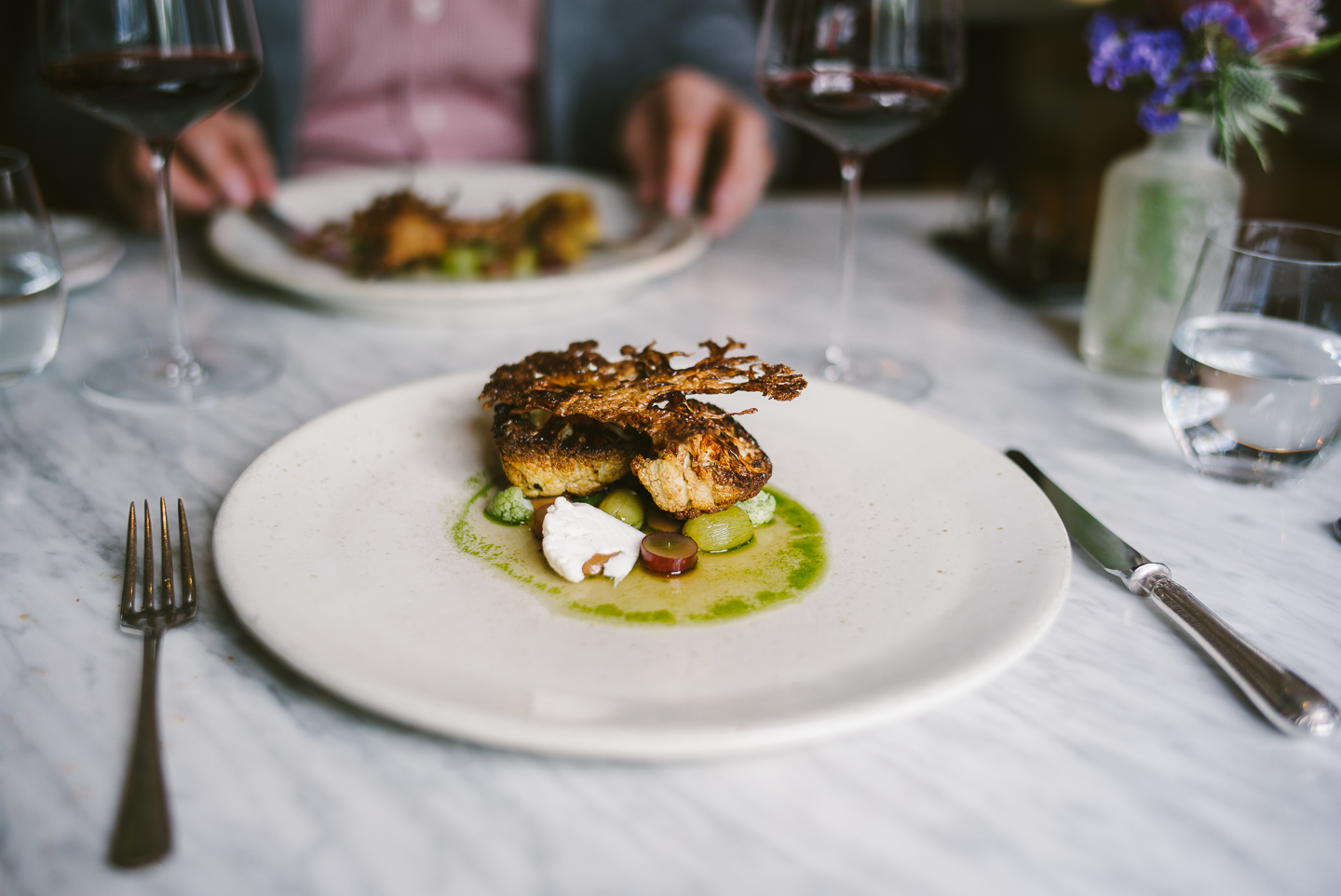 Christian has few dislikes, but he does not like cauliflower very much if at all. So it is a total credit to the kitchen that he enjoyed this dish and quite a lot by the looks of it.
I certainly thought the same, of what is now becoming the restaurant's signature dish of sorts. Cauliflower many ways, capers and grapes for salty and sweet, then just a touch of mint. For me the best of the cauliflower were the thinly mandolin slices, charred until the rootiness has turned to burnished smokiness. Aromas and balance, it's all here. It really is quite something to turn out a dish of such apparent complexity from an ingredient as ordinary as cauliflower.
5. Halibut, turnip, miso & bread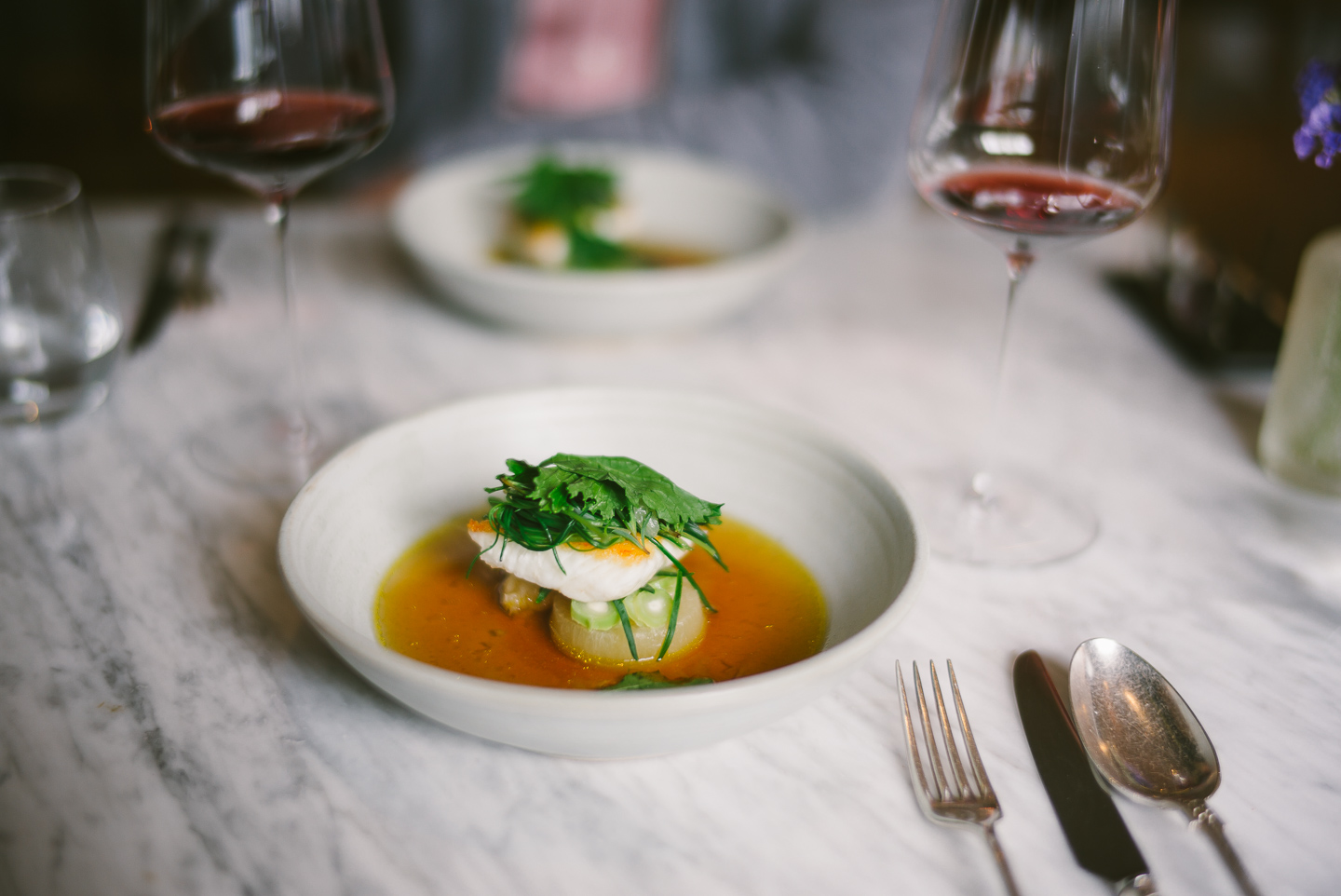 Warm consomme poured by the table, it steams up and pulls up hazy aromas of my mother's double boiled soups, except it smells of…bread! It says turnip on the menu, but it reminds me very much of daikon that's been slowly soaking until it is wet and falling apart in soup. The soup is a beauty, but I felt it did not play well with the fish. A perfect golden crust, but for my tastes it has spent just a few seconds too long in the pan. The flesh is dry and opaque, the soup poured over it further cooking and erasing all remnant of flakiness. In fact, I feel the dish works better without the fish, or maybe even fish and soup served separately. The fish screams freshness, whilst the soup longed for comfort, it felt chaotic smashed together like this.
6. Iberico presa, swede, heritage carrot and sorrel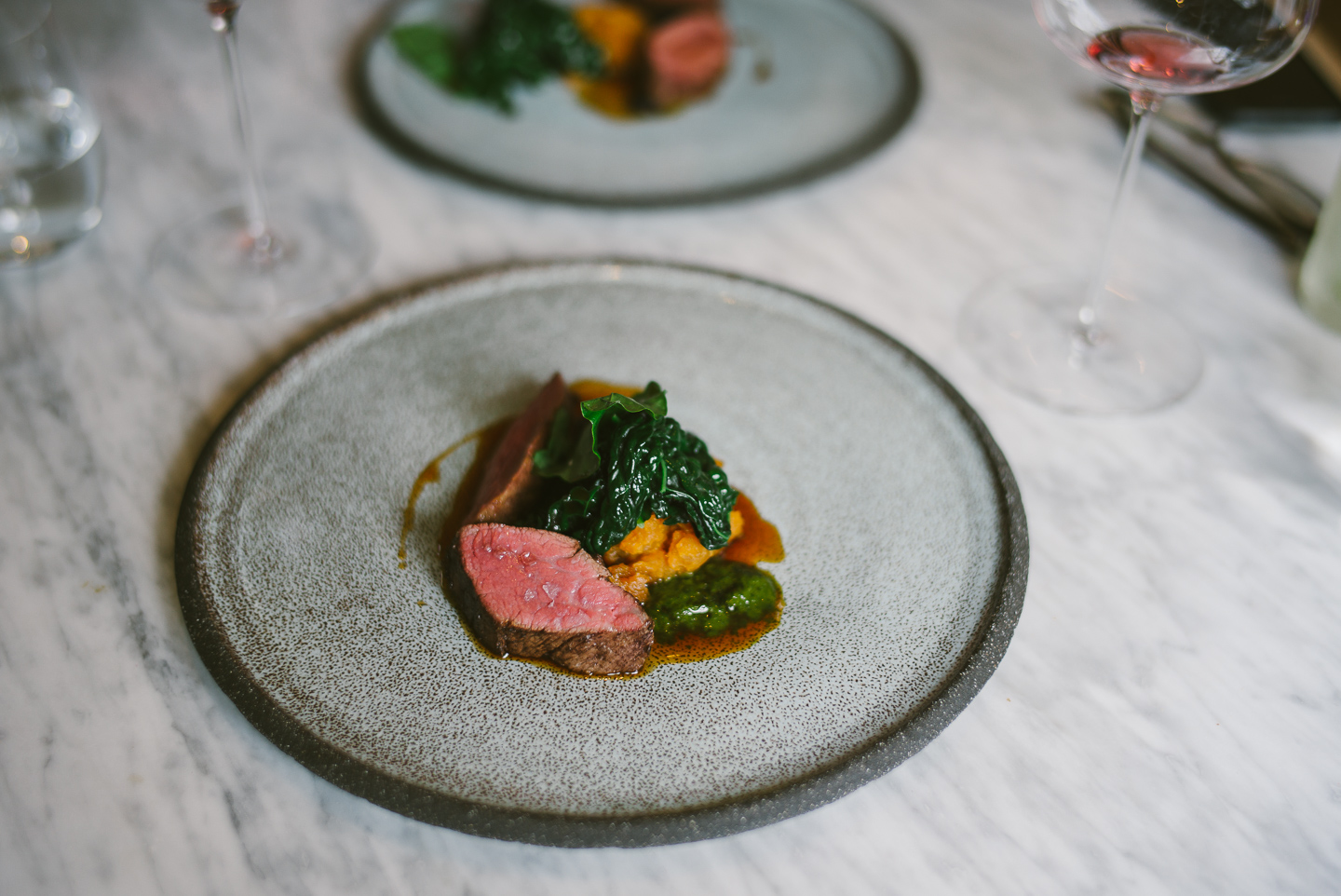 I asked for the swap out from Herdwick Lamb because I love iberico. This was perfectly pink. Uniformly to the edges with the thinnest crust, consistently juicy and tender throughout, either sous-vide or just carefully slow-cooked. Bursts of natural oil and flavour, a pure pleasure. The sauce, sweet and well-seasoned, is viscous and thick, with a faint taste of albumen which I found entirely appetising.
Palate cleanser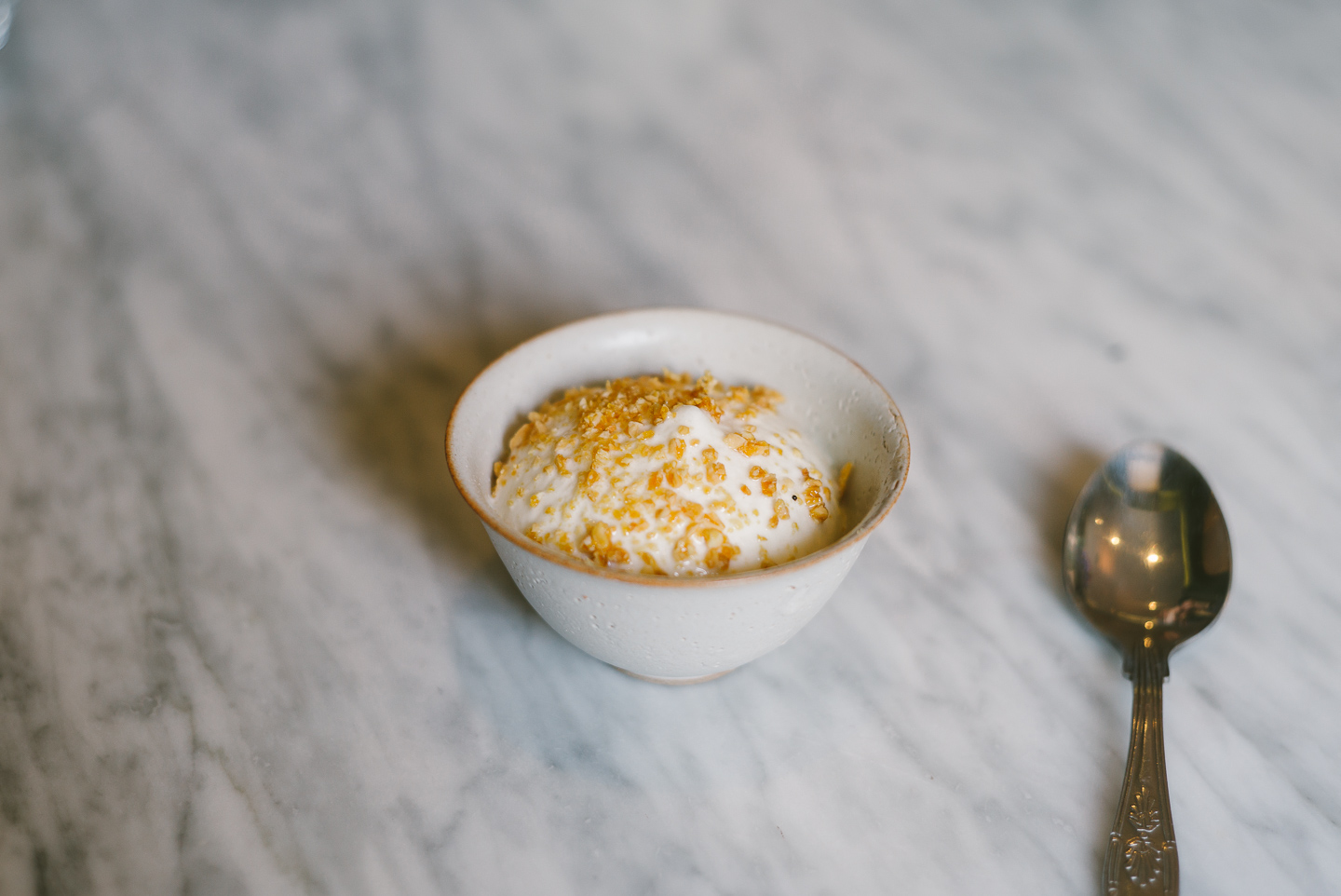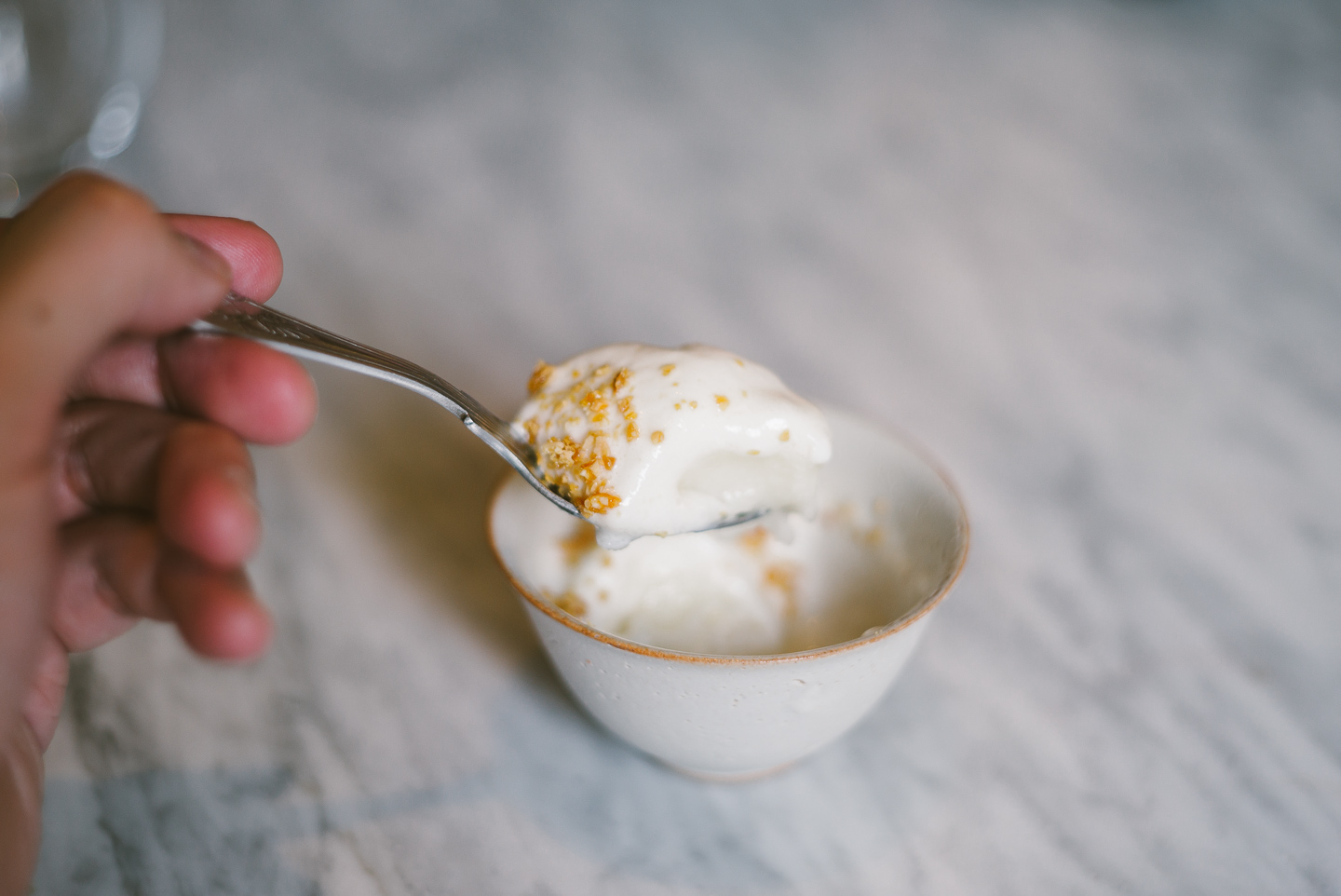 Creamy and sorbet, lemon I suppose but with a crackle of salted caramel to round the acidity out. Clean.
7. Sheep's yoghurt, apple & dill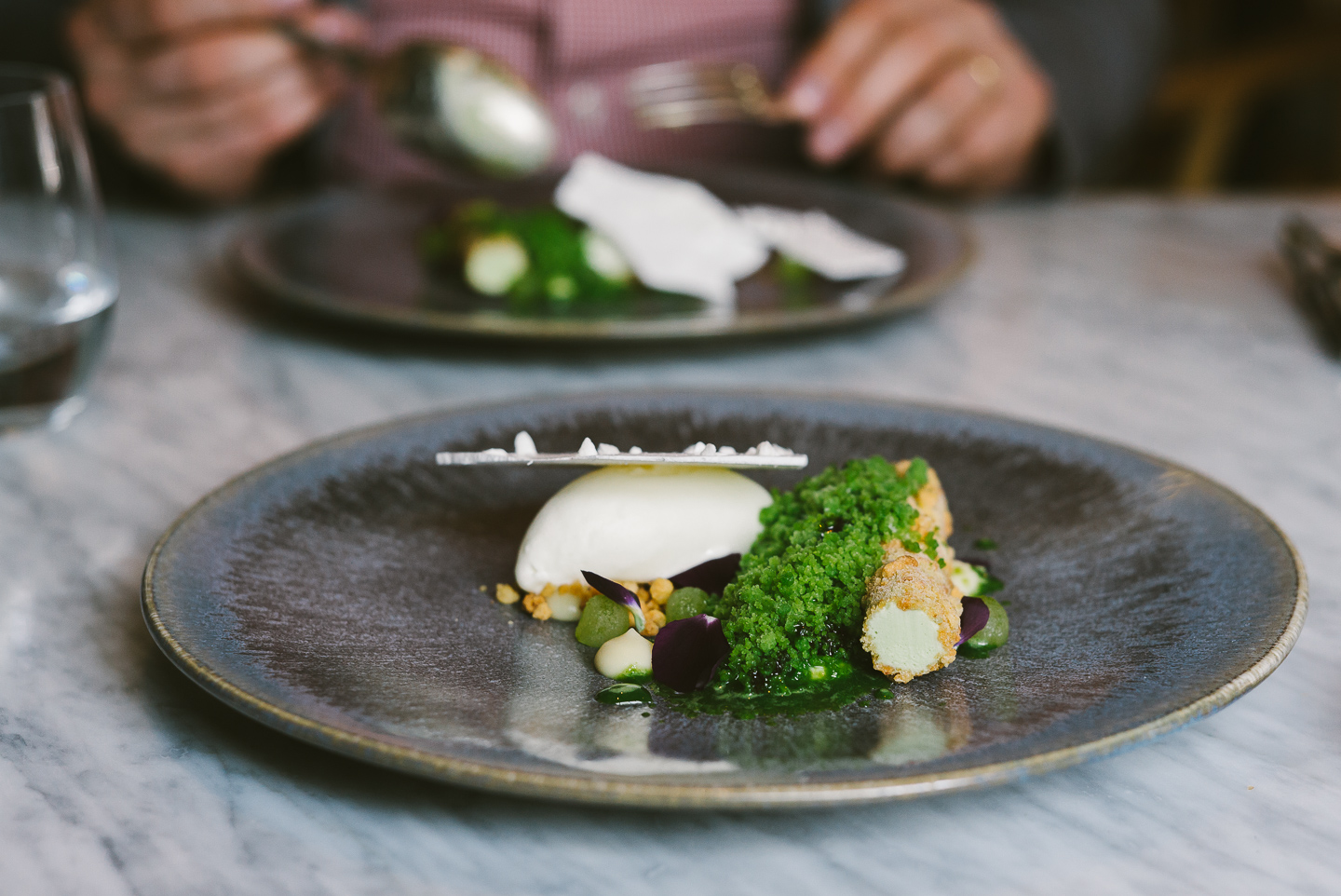 My notes say 'white wine, winegum, melon, like powdered rose milk', but it is much more than that. Attempts are made by many, but none are as successful as this. There is singular roundness and balance. Elemental and pure. Equal measures of cold, tart, sweet and milk. This is a great pudding. The best pudding. What a way to finish.
Petit Fours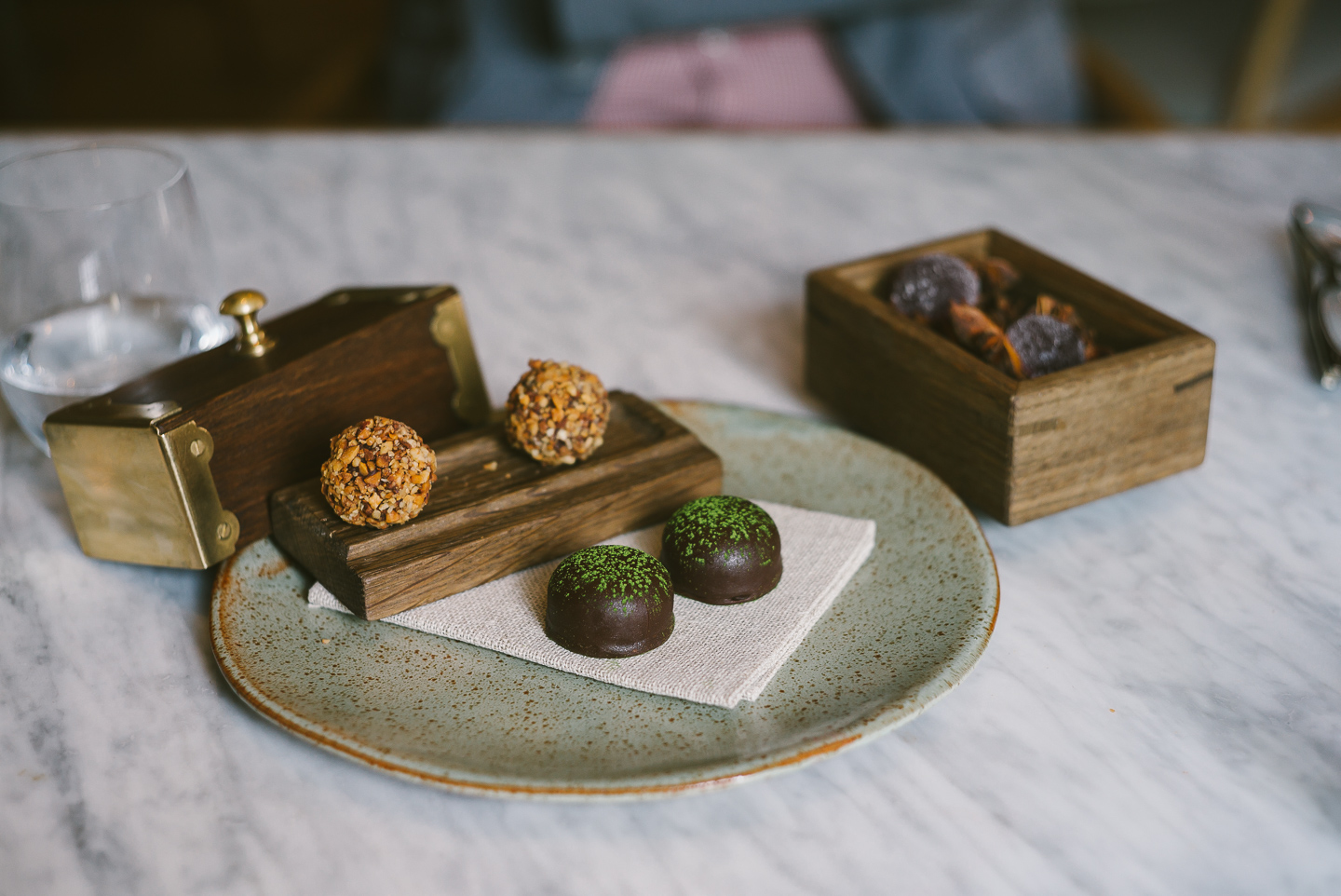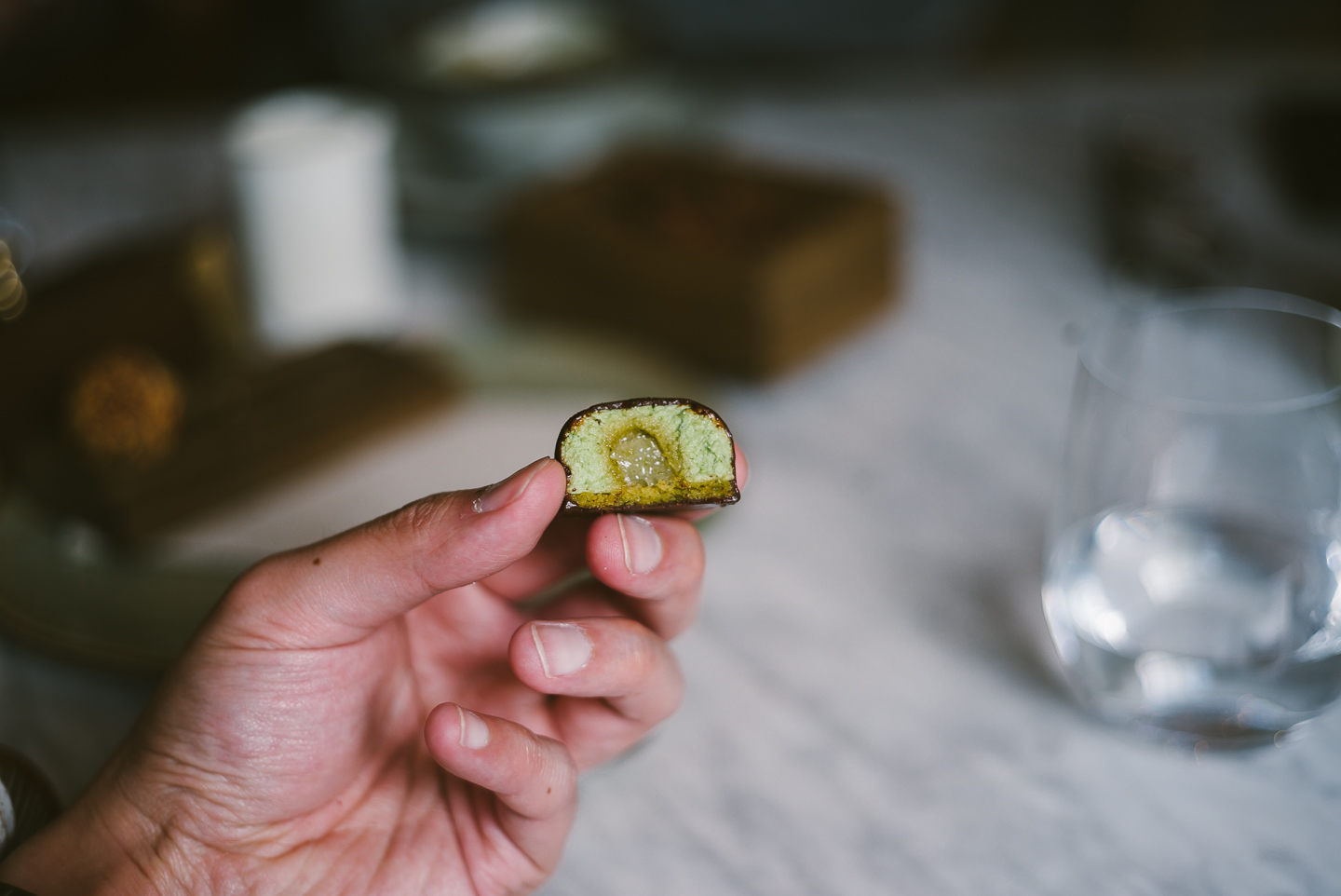 We paid £231.75 in total for 2 menus, 2 coffees, 4 glasses of wine and service.
Of the current crop of young and dangerously talented, I feel that Lee is the most technically gifted. There is undeniable precision in his kitchen, he has an appreciation for natural flavours and knows how to pair them together. To me, this is innovation to enhance flavour rather than for sake. When this works like the crab dish, cauliflower and the sheep's yoghurt, it's fireworks abound. The marmite butter is inspired stuff, it is just so delicious, I remember it as I write, testament to how good it was.
Beyond that, there is true technique on display and you really marvel at the kitchen's proficiency. There's a lot going on, but you wouldn't guess it from the calmness, this is a kitchen that produces some of London's most original things. I did not catch the names of everybody who served us but Front of House deserve a big pat on the back, as I think they are putting on the best version of understated refined casual in London today. They serve with manners and pour superb wines deserving of Zalto glass.
His contemporaries are already blessed by the bib, from James Lowe to James Knappett, Isaac Mchale to Tom Kemble. Lee is flying at their level, if not higher and it is now an obvious and glaring omission. Perhaps the bib is saving the best for last. It will come in September I'm sure. For now, this is a blessing in disguise as a meal here will likely exceed expectations. Dishes will come to your table as wave after wave of pleasurable surprise.
Details
Typing Room
£40-£120pp
Modern
LUNCH Wed – Sat ; DINNER Tue – Sat
Town Hall Hotel, Patriot Square, London E2 9NF
Tel : +44 (0)20 7871 0461
Tube : Bethnal Green