Joe and David, Happy 5 years. Sorry it took me a while to raise a glass to you, but here it is. Cheers fellas!
You know I've been a huge Medlar fan since day one, although there is an even bigger fan and that's Kian. A fellow restaurant admirer who knows his beans and well worth the read. Only guy I know whose had more meals here, likely tried every dish Joe has cooked and the reason for the return business is simple: Medlar is a great restaurant.
I recall my first visit, June 2011 and it was simply the best of 2011. I've return since as an irregular-regular, averaging 3 visits per year. Every meal since has been absolutely as consistent as ever. It remains the best £30 you will spend for lunch anywhere in London. The Bib makes strange decisions every year (because their politics are opaque to joe bloggs), but I've included Medlar every time I update my much more modest list of favourites. This is one for all-times.
As a re-introduction, Medlar is co-owned by Chef Joe Mercer Nairn and David O'Connor who manages the Front of House. Prior to starting their own, Joe and David had worked together at Chez Bruce, the venerable institution by Nigel Platts-Martin and Bruce Poole. Late last year, Christopher Delalonde, ex-Square as David, joined up as Head Sommelier to replace Clement Robert who has gone over to 28-50 after Xavier left to focus on his own. The no.2, young Mathias Camilleri has taken up a head somm role with Five Fields.
The menu is a seasonal 3 course ALC prix-fixe. £28 for weekday lunch, £46 for dinner and a flat £35 on Sundays.
To aggregate my thoughts and pics on Medlar, I have added #kang_medlar to my IG pictures, stretching to 2012 when I first joined that ecosystem. I have eaten so many wonderful things here, including this potato and quail egg ravioli (pics before & after), which I hope to see it creep back during truffle season.
If it's your first time, then you must try their signatures, which have remained since opening day. Starters are the duck egg tart and the crab raviolo. For mains, the underblade fillet with snails is always fab, served with London's best kept secret, their near peerless triple cooked chips and bearnaise. I usually order a side of it (except for this meal).
Coming back to this neighbhourhood restaurant always feels like coming home. Casual but grown up, with a disarming ambiance – this is a proper crew who understands that hospitality is all about making sure your customers feel that. The space is small, simply decorated and with neutral colours. Outlines of medlars, the fruit, in pale green to match the leather banquettes, adorn the walls and are pleasing to my eye. There really isn't a bad seat in the house, up front, when the weather is good, they open the doors out so it's breezy. The restaurant becomes more precious as you move deeper in, past the booth tables.
In the rear, you'll find a smart bit of space with a skylight.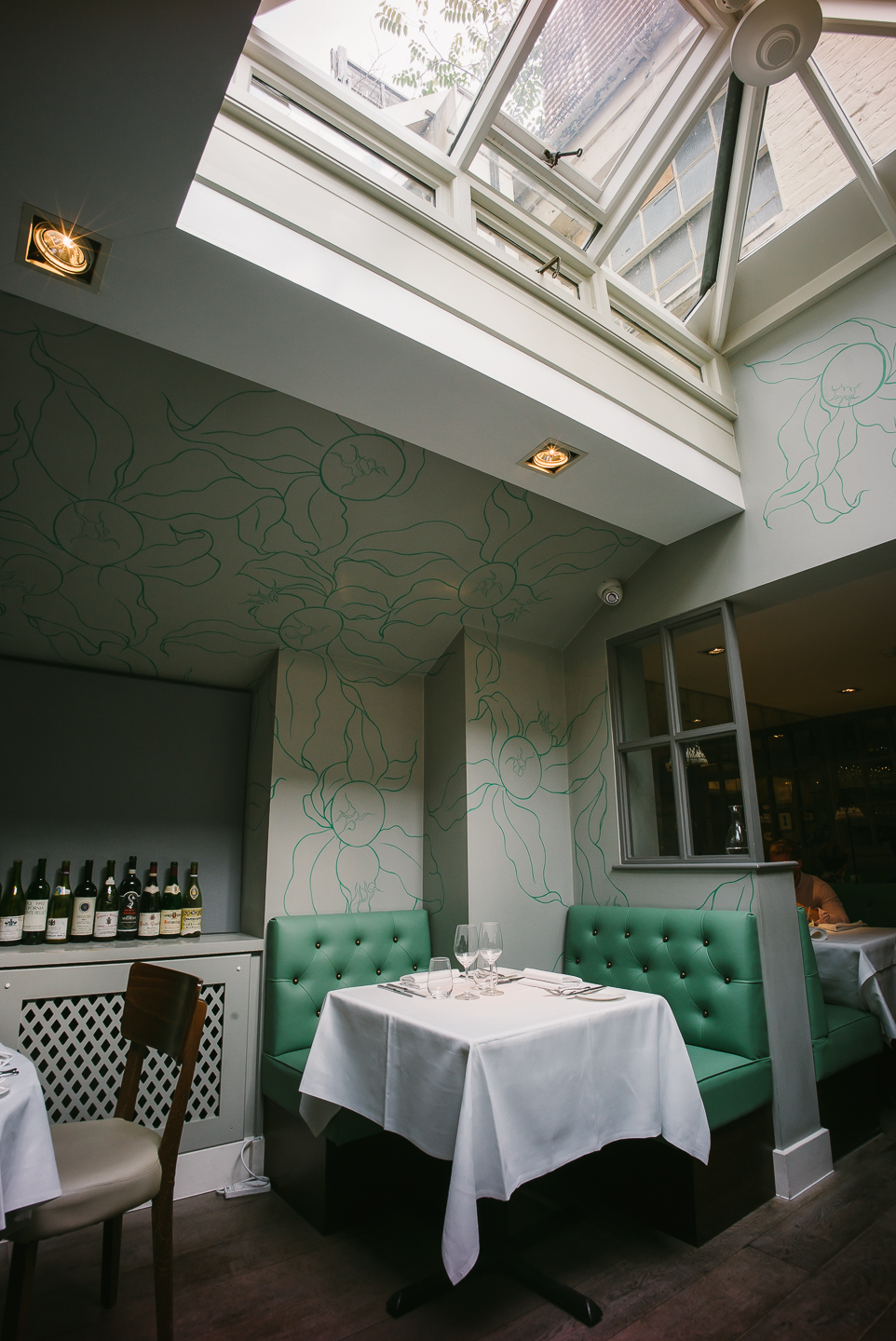 I like it back here. Cosy, private and comfortable.
Starters
Chargrilled squid with tomato and courgette tart, aubergine puree, fennel, chilli and gremolata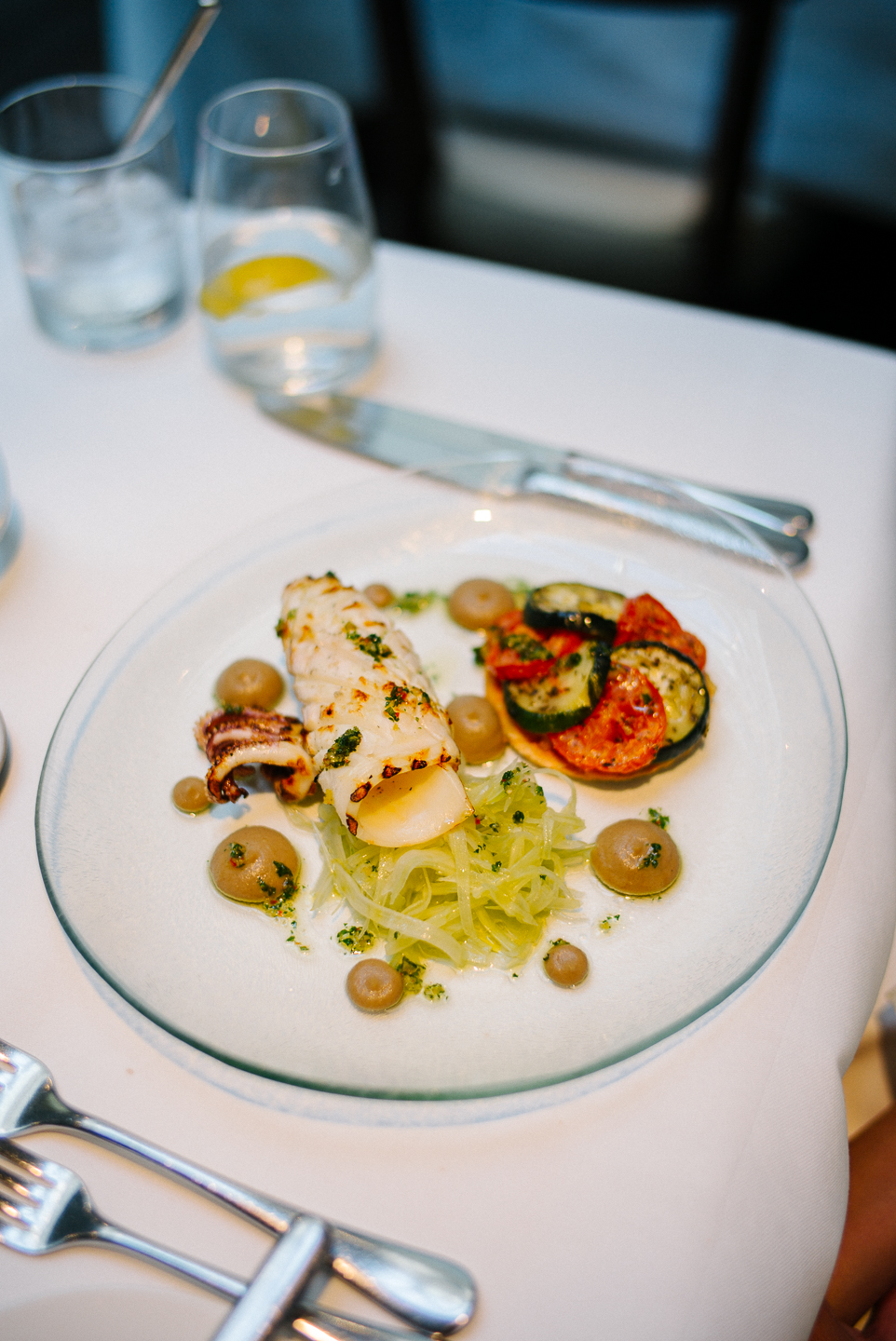 It must be the result of a searing hot pan – the smokiness is deep and penetrating, yet the insides has retained its juiciness. It appears as if an invisible ratatouille is paired with the squid, smokiness also penetrating the beautiful aubergine puree.
The best part however is the work on that pastry base – crispy and light, yet also buttery and strong. Abit of everything on the tart equals magic. This is the thing about Joe's cuisine, his fundamentals are so strong.
(Also the reason why Joe's duck egg tart is such a hit!)
The winter variant of this tart becomes something of true decadence. With wild mushrooms, vacherin, artichokes, quail eggs and truffles. You must look!
Roast veal with salsa verde, girolles, baby fondant potatoes and rocket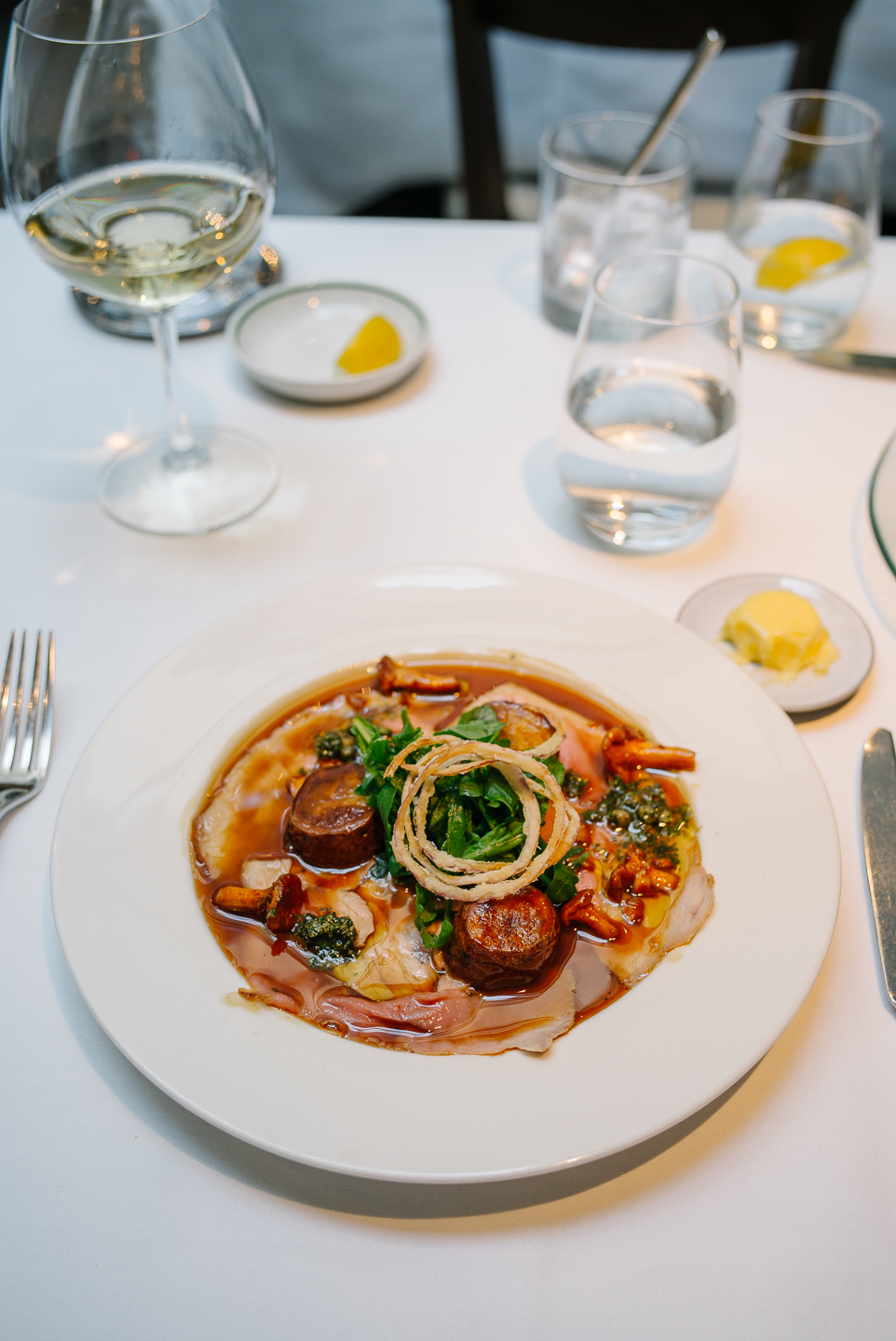 Medium rare, thin slices, a wonderful roast. With thin rings of fried onion, buttery soft fondant potatoes executed to a tee, finished with an absolutely stunning gravy. You know it when it is fantastic. Incredibly satisfying. Rich and sweet, but light at same time. So good you want to drink a jug of it. And this is a starter on a £28/3course lunch menu!
This roast veal and roasting juices, in all its variations through the years, if anything, has only gotten better with time. You will resist and fail the temptation to mop it all up with the excellent house bread (soudough and focaccia). The gravy oh…
2013 Pouilly-Loche En Chantone, Dom Clos des Rocs, £14.5 for 175ml
There are no half measures at Medlar, wines are poured by the 175ml. So I start with white burgundy, a relatively unknown to me from Maconnais, which I tend to think Pouilly-Fuissé. This has an attractive nose of flowers, lemon. The palate is full yet dry, with a mineral core, reservedly flexing its young muscles. What is the terroir I wonder, as the finish is brine and bitter grapefruits.

Mains
Roast monkfish with sauce vierge, runner beans, cobnuts and tapenade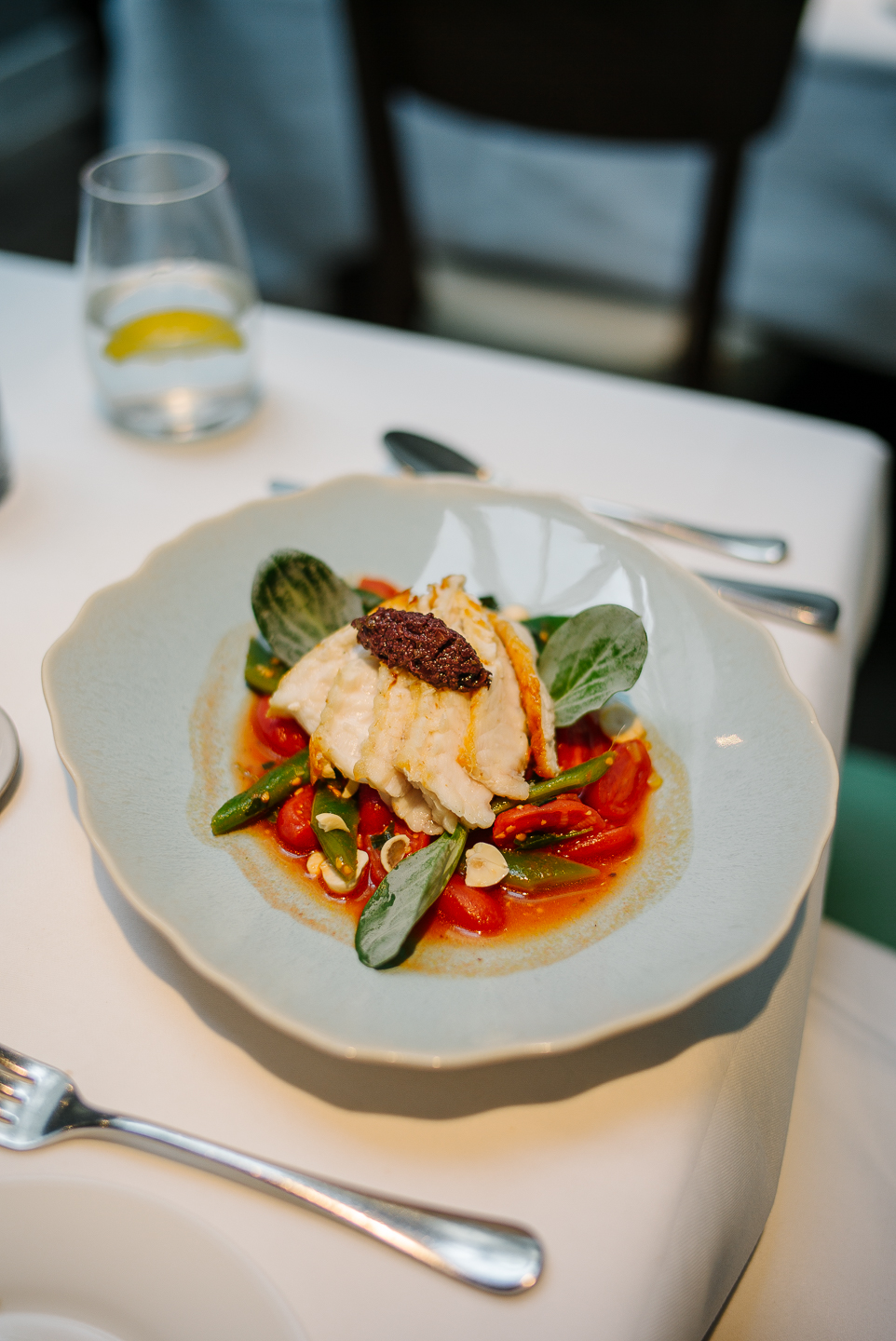 The missus' mains. And oyster leaves! A classic sauce vierge, sweetened with these beautiful cherry tomatoes, with a perky black olive tapenade to balance. Monkfish cooked beautifully, runner beans to match the texture of the fish. A dish for the last of Summer days.
Roast grouse with game chips, bread sauce, pate and damsons (+£5 supplement)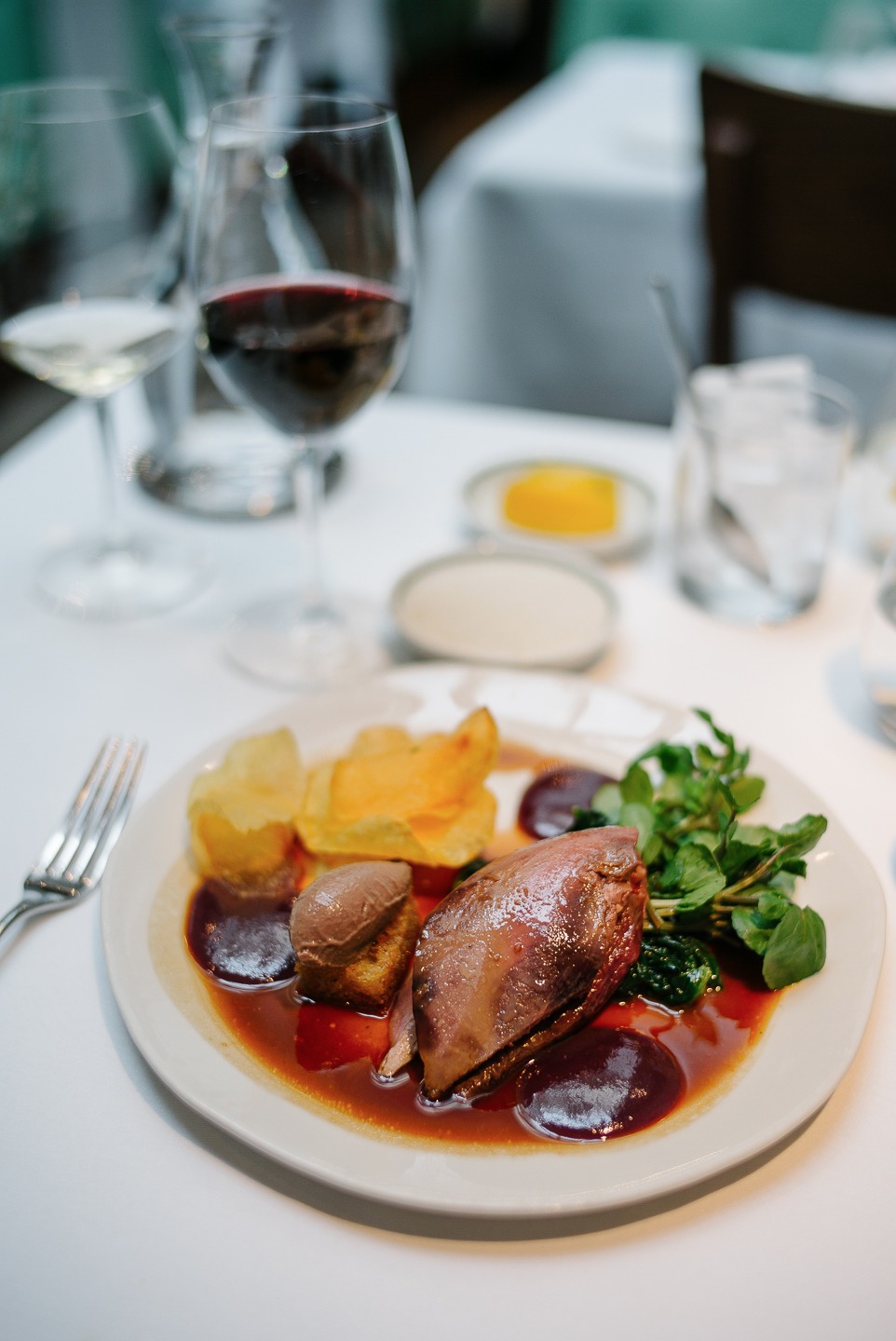 To the main event. Joe's been doing grouse and damsons for a few years, and this being one of London's best examples.
A gentlemen's portion as David says, and is nearly too generous – Both breasts from a single bird stacked on this plate. The bird is still young, two weeks on from the Glorious 12th, and so it is tender, still a little sweet but the game is definitely switched on. A rare pleasure to glimpse before the flavours totally bulk up next month. Roasted to a perfect pink, supreme supremes as it were. Sharp damson puree and a full bodied sauce which I assume is reduced from the juices, carcass and legs from the pan.
Just a beauty …but it doesn't stop there!
Liver and legs go into a deliciously rich pate, on a oiled bit of toast then thin mandolin potato crisps (ie game chips), spinach & cress (I think) and a wholesome bread sauce served on the side to complete the classic composition …food coma.
How they are doing this for a mere £5 supplement, for August grouse no less, is beyond me. That's an entire bird on a plate. Absolutely stunning value for money. What are you waiting for? Just get down there.
2009 Chapelle de Potesac, £12.5 for 175ml
Christopher kept the bottle in cold water with a few ice cubes and therefore served this at a nice temperature (hot bank holiday Monday). I was a little bummed that the 09 3rd wine by Margaux has run out, although this is a decent BTG too. Nose is already fully open with classic claret pencil shavings and some bloodiness. Palate still a little sticky, but tannins are elegant since it is a 09. Cherry sweet as you drink with a smoke-filled finish. Not very complex, but all the bones are there. More than capable match to the sterling game bird.

Pudding
Blood peach sorbet with freshly baked madeleines and sorrel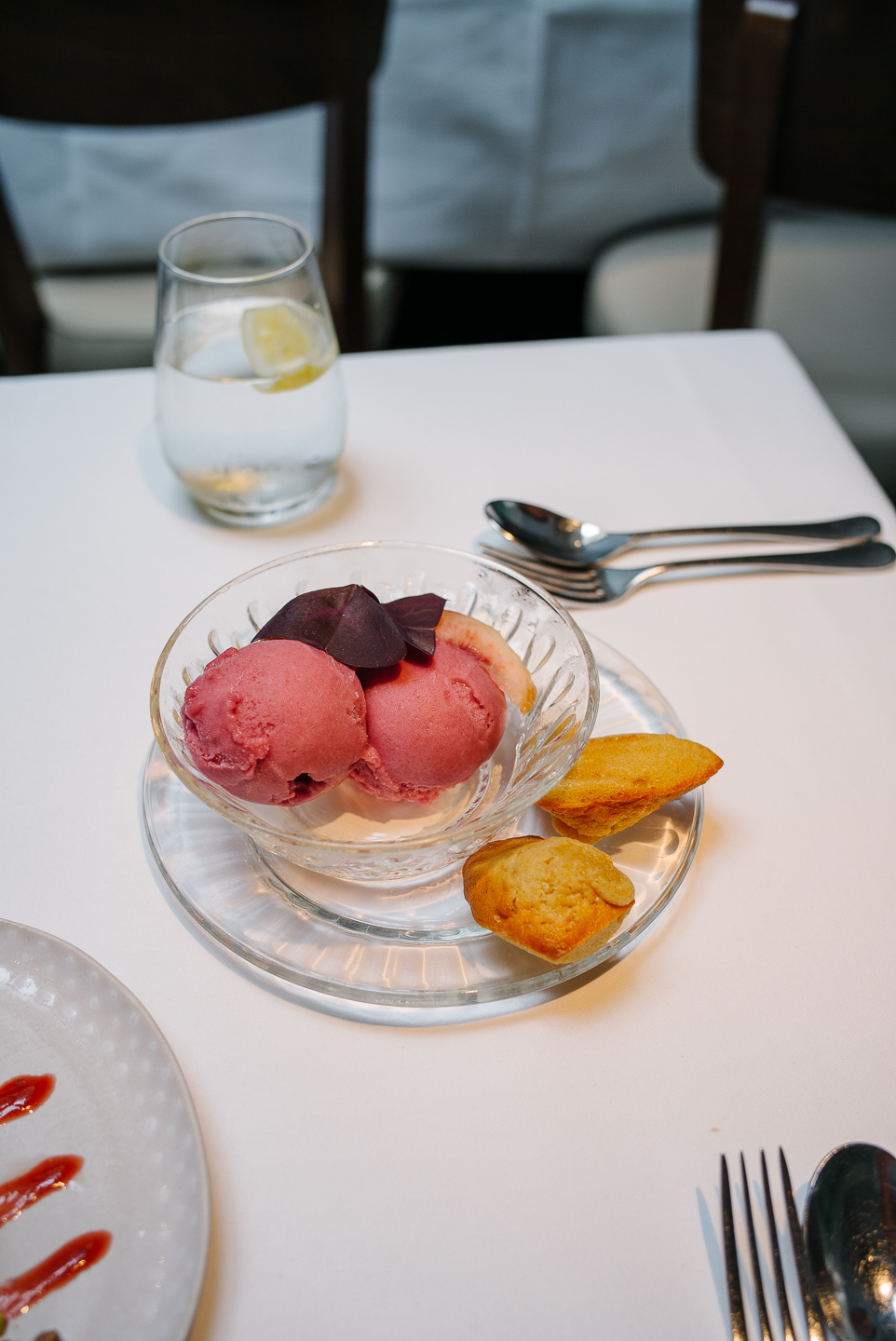 Warm and fresh madeleines are always a joy, with in season blood peaches. Fundamentals and care.
English strawberries with strawberry parfait, candied lemon zest, basil and pistachios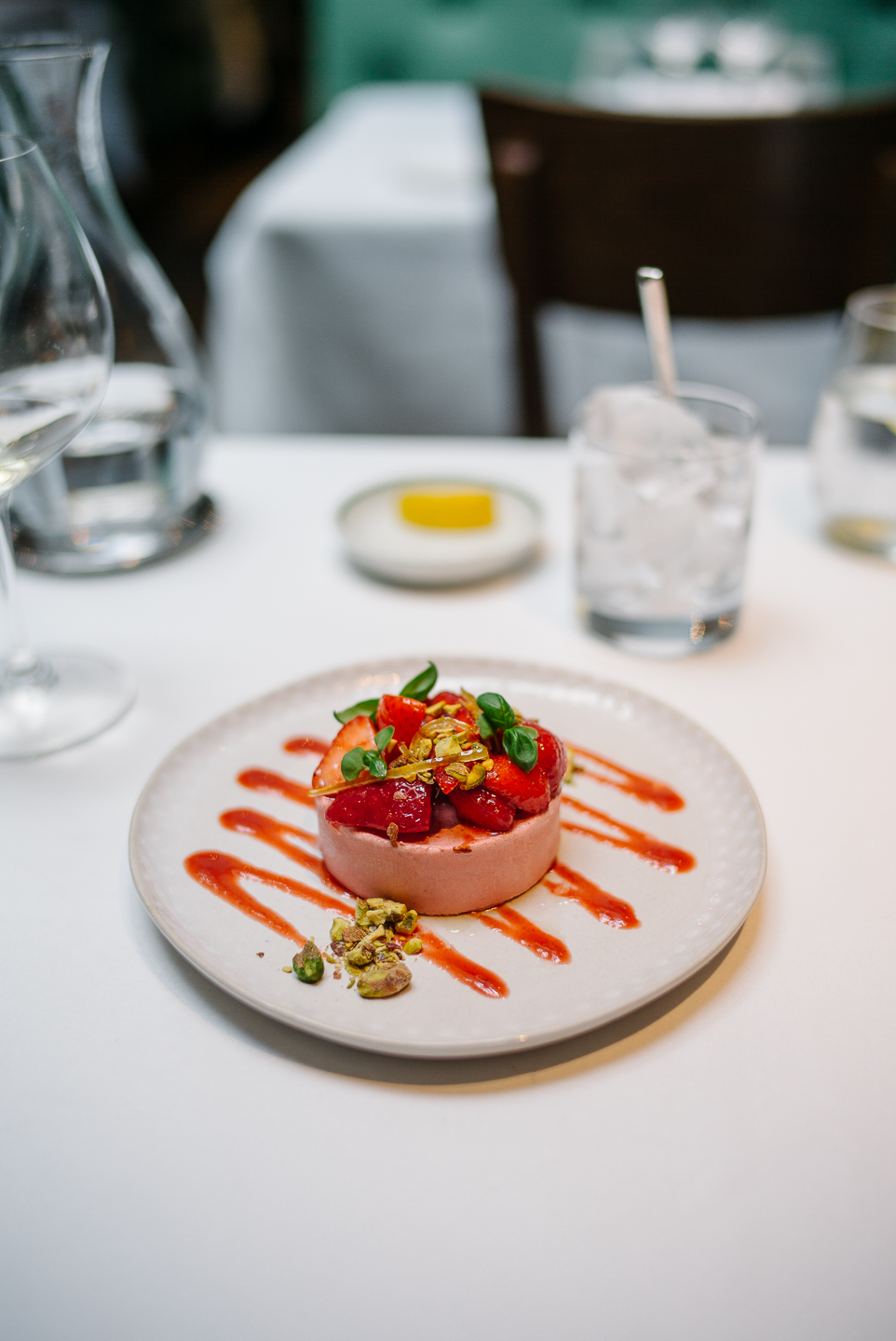 As for this, I found to be refreshing. The iced parfait is perfect, with glazed strawberries, a simple pleasure.
Coffee with petit fours, passion fruit marshmallows and chocolate truffles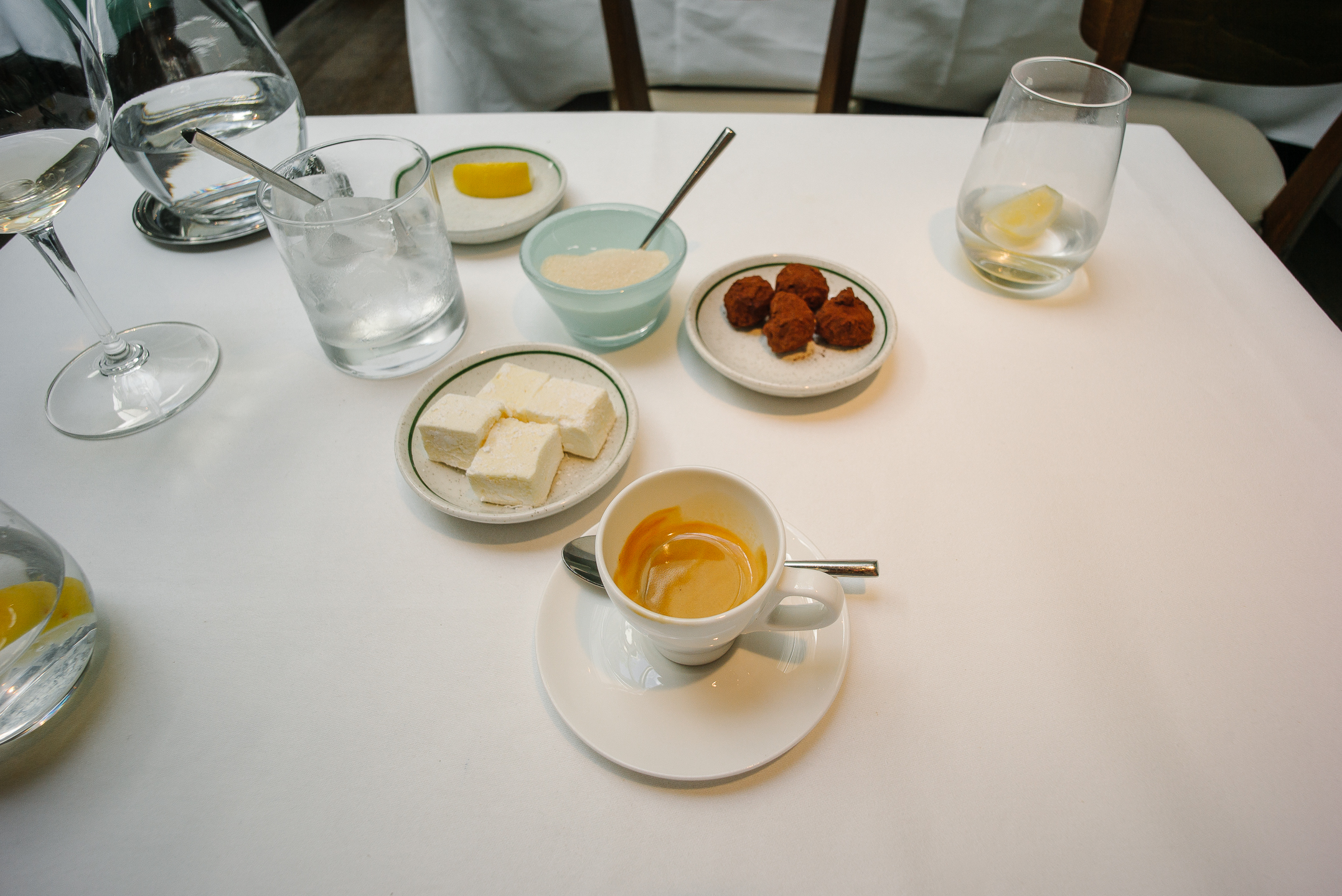 We paid £103.44 in total. Lunch for 2, 2 glasses of wine, 1 coffee and service. All this glorious food and 2 glasses of wine for about £50pp for lunch. This is value for money.
Joe isn't just a gifted chef, he cooks with proper fundamentals and his execution is always spot-on. This is all classic stuff in appearance, with lots of subtle developments, fantastic ingredient pairings running through all the recipes and above all, a generosity in all the dishes he sends out. Real food. Proper. I hardly ever see this guy outside of the kitchen because that's how hard he works. I love his food. For me, Joe is one of the best chefs in London.
As for David, well, he is the consummate professional when it comes to service. He knows what it means to take care of guests, he whispers gently, and is always proud to wheel over his 3 year comte. Something you must try when you visit.
And if you haven't yet, don't wait, book it now. They open everyday, pick from the details below.
Still such a beautiful restaurant. I'm glad that some of you love it as much as I do. Here's to the next five years.
Details
Medlar
French
Lunch Mon – Fri £28 / 3 courses (See Menu)
Dinner Mon – Sat £46 / 3 courses (20% off on Mondays)
Saturday Lunch £30 / 3 courses
Sunday Lunch and Dinner £35 / 3 courses
438 Kings Road SW10 0LJ
Tel : 020 7349 1900
Tube : Fulham Broadway + Bus11