I was left in a mini state of shock when I heard that he decided to sell The Square this year. Whilst I cannot claim to have eaten enough meals there to be a regular, I remain quite a fan of the great chef. Half of me understood it as a man who deserved a rewarding break after 25 years at the top of his game. The other half regretted not having eaten there more frequently. Ownership has transferred to relatively safe hands whose shiny collection includes Umu and Greenhouse, with Mr. Abela recruiting Yu Sugimoto (ex Meurice under Alleno) to continue the show at The Square. This is very exciting and in some ways, reflects the rise of classically trained Japanese chefs over in Paris. But that's another story for another day. Today, we are in South Kensington to follow Phil Howard's resurrection after leaving Bruton Street.
When The Square first opened in St James' in 1991, it was supposed to have been the second restaurant of Nigel Platts-Martin and his enigmatic Chef/Patron (you know who), both co-owning Harveys at that time. A young 24 year-old Howard was earmarked to run the stoves. During this period, Phil had returned to Marco's fold for his 2nd stint at Harveys. For reasons not explained in his cookbook, Nigel went in alone with Phil as Chef and partner. The pair quickly found success with a Michelin star in 1994.
The Square would move to its current Bruton Street site in 1997, gaining its second a year later. Many exceptional talents would come through its doors in its time, Rob Weston now with La Trompette (another fine Platts-Martin establishment), Gary Foulkes (now at Angler, and Phil's last head chef at Bruton), David O'Connor, the FOH extraordinaire who now celebrates 5 happy years at Medlar (alongside somm Christian Delalonde) and the crowd favourite, Mr Brett Graham, sous at The Square in the early 2000s. A significant restaurant to say the least, dear diner, and you may also have shared the same mini shock.
London in its illustrious past, has notoriously never paid more than lip service to cooking seasonal and quality ingredients, save for a few luminaries such as The Square and River Cafe which have had it in their bones since day one. In today's foraged post-Modernist scene, there is a renewed appetite for seasonal daily changing menus, not new as that was what Phil did in the beginning days at the Square. I'm far too young to know his cooking in those days as my first meal at Bruton Street only took place in 2009. Lasagne of Crab with champagne foam, lango parmesan gnocchi with truffle, Ayreshire beef with croustillants – by this time, Phil and his right hand man Rob Weston had perfected The Square's cuisine of refined yet decidedly comforting food. Not to mention the terribly reasonable prices on their wine list – some nearly a steal, especially after amassing a wealth of gems in quarter a century. My last visit there was in 2014, when Gary Foulkes had put his stamp on the food, further refining The Square's dishes to a more delicate but no less delicious style.
Delicious and generous is where I think the narrative should go when reflecting on Phil Howard cuisine. He has always been 100% diner focused and it is only recently that he's upped his screen time. He is one of the rare super chefs whose mammoth reputation is built up based on the hours spent in his kitchen, rather than in front of a camera.
Perhaps this is the reason why Phil has decided to dive back into the fold, rather than enjoy his retirement honing his skiing (Phil is barely 50). You don't know what you've got till you've said goodbye to what you truly love (For me, the sixth film is the Stallion's best, you remember No. 45's schweet come back don't you and for a directly relatable comeback king: Pierre Koffman).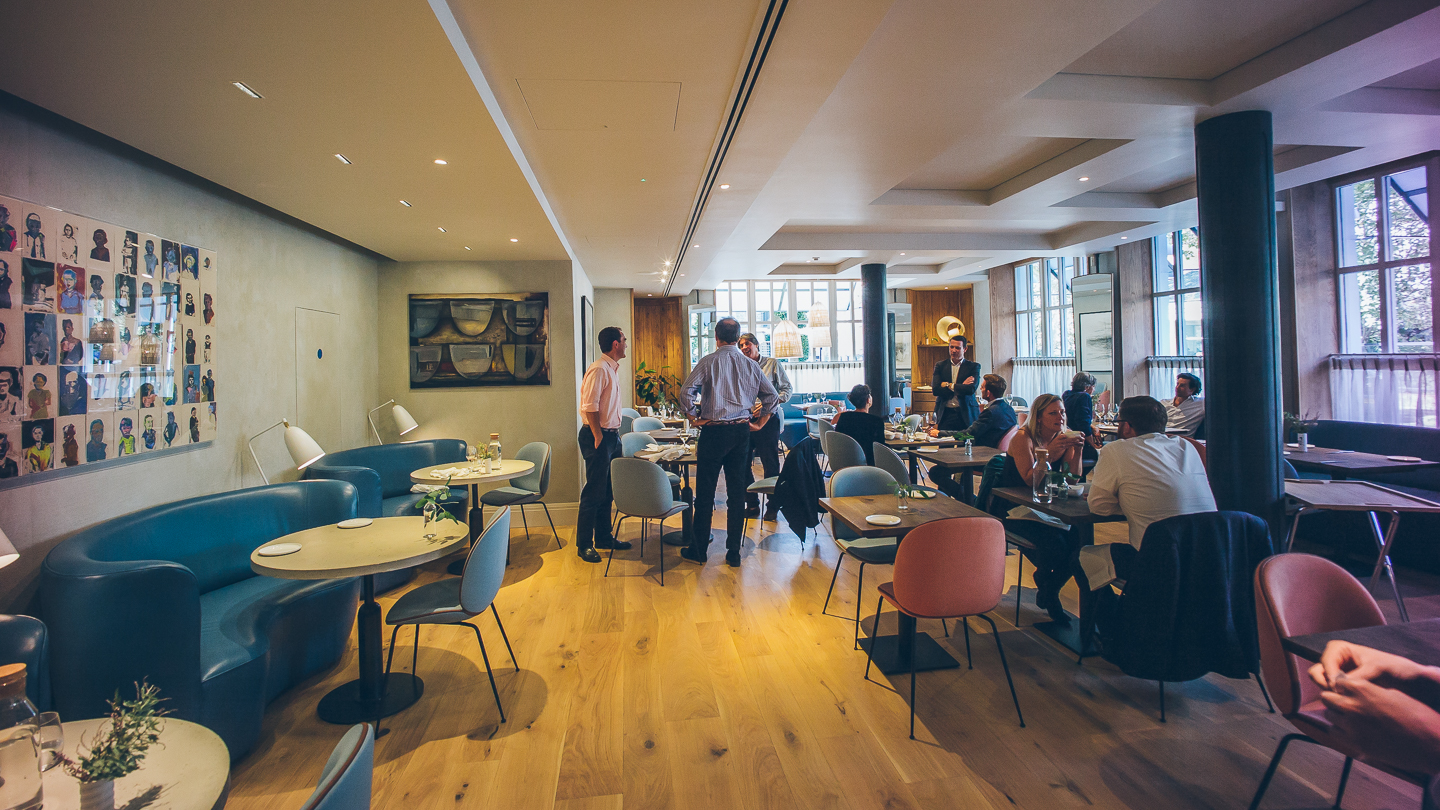 And so here we are in Eylstan Street. No.43. Phil has opened this with Rebecca Mascarenhas, who is also his business partner at Kitchen W8 and Sonny's kitchen. Phil has taken 25 year old Toby Burrowes (from The Square) and made him Elystan's head chef, with Scott McCaig as manager and Yann Pringent as somm.
The first week of service took place last week where Phil was (publicly) soft launching (food at 50% discount) to prepare this team for full opening day (Tuesday, 27th Sept 2016).
Yes, you are indeed precisely correct that this address once was Tom Aikens and you might even recall how drab the decor was, even after the re-open – a darkly lit, cellar-like Alpine lodge. I think the oak floors are the same, but the interior designer has very smartly freshened things up with splashes of colour, sky blue and pink chairs, concrete table tops, half curtains and these very comfortable rounded blue leather banquettes. The room now drinks in the sunlight during the day and it is a joy to sit in here.
Elystan Street is not The Square redux, to me this is Phil going back to his roots to make comfort food in a humbler setting. Obviously he brings with him all those years of developing his cuisine to this new venture so it is inevitable that you will find familiarity, especially with his cooking methods.
The menu is ALC 3 courses. Prix-fixe at £42.5 for lunch, ave£60-75 for dinner and £50 for Sundays. And it is open every day of the week. I visited last Friday with Kian – a loyal fan and regular of The Square.
We make no decisions, Kian asked the kitchen to make us lunch and they brought out 8 plates, all exactly half portions (I counted 5 slices of artichoke hearts instead of 10) off the ALC menu. Thus everything pictured here is half the size of what you'll receive when you visit.
There is no taster menu (yet) but perhaps this is what it may look like, if intended in the future.
Smoked mackerel velouté with Porthilly oysters, leek hearts and smoked eel toast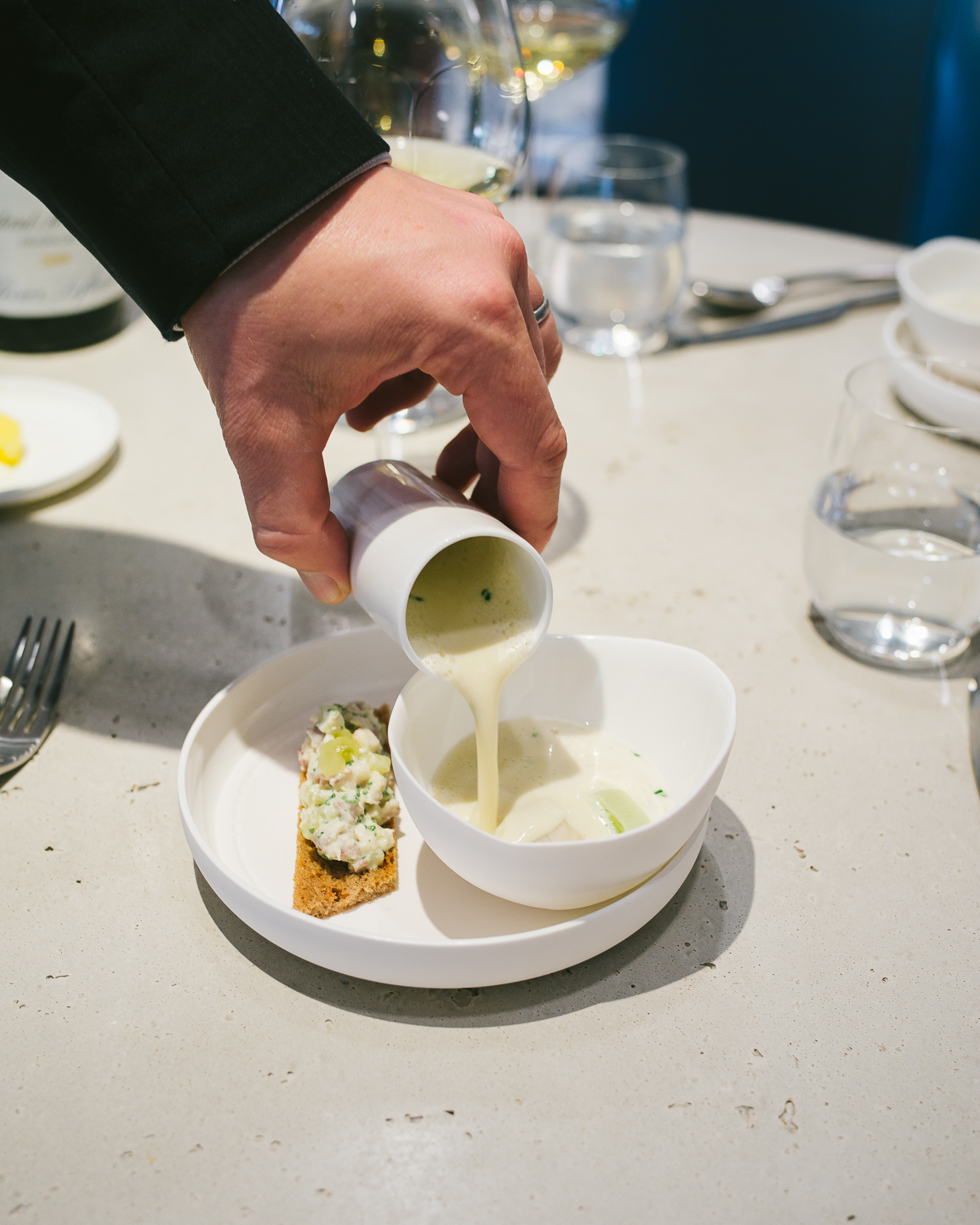 This looks a variant of the GBM2012 mackerel many ways, except here it is simplified & knocked down to core umami components. A milky quality, a foamy undertone of root veg and is beautifully laced with the flavour of smoked mackerel. Oyster appears to also be smoked slightly and slightly set. Chopped eel on wafer toast completes the soup & bread feels. Suddenly I'm transported back at The Square again; Food with the power to knock you back into your chair. I am speechless right at the start of the meal. An exceptionally fine soup, it's so well made and it is ?% deliciousness.
Marinated ceps and king oyster mushrooms with grilled cauliflower, chestnut hummus and nut milk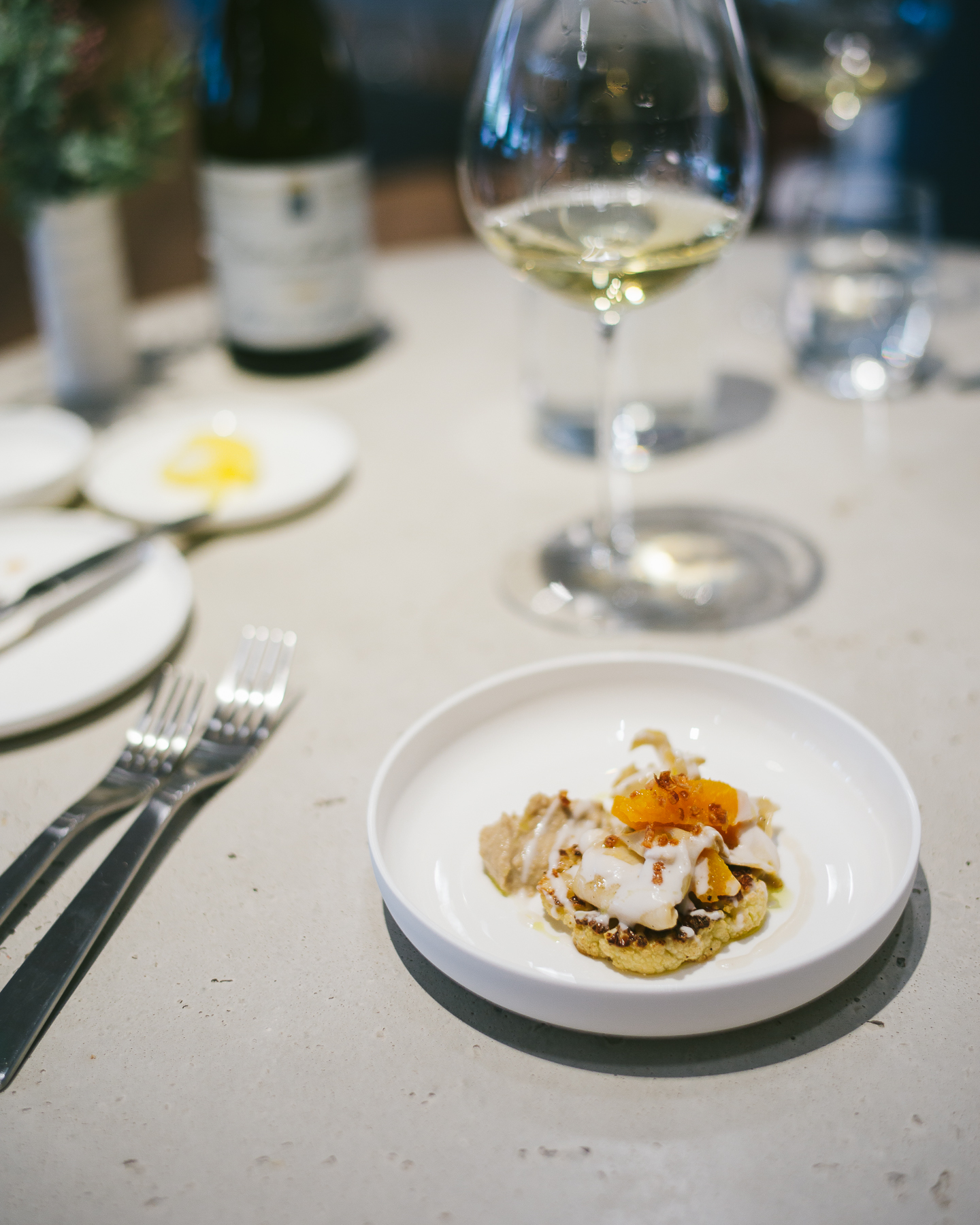 Then we move on to a vegetable masterclass, the natural umami of the mushrooms dripping in a sweet and pickled marinade paired with the gutsy and almost meaty quality which charred cauliflower possesses. Chestnut hummus a light jumper that elects to wrap your palate up in preparation for the Fall to come. Invigorating.
Tartare of aged beef with artichoke heart, truffle, Berkswell, beetroot and radish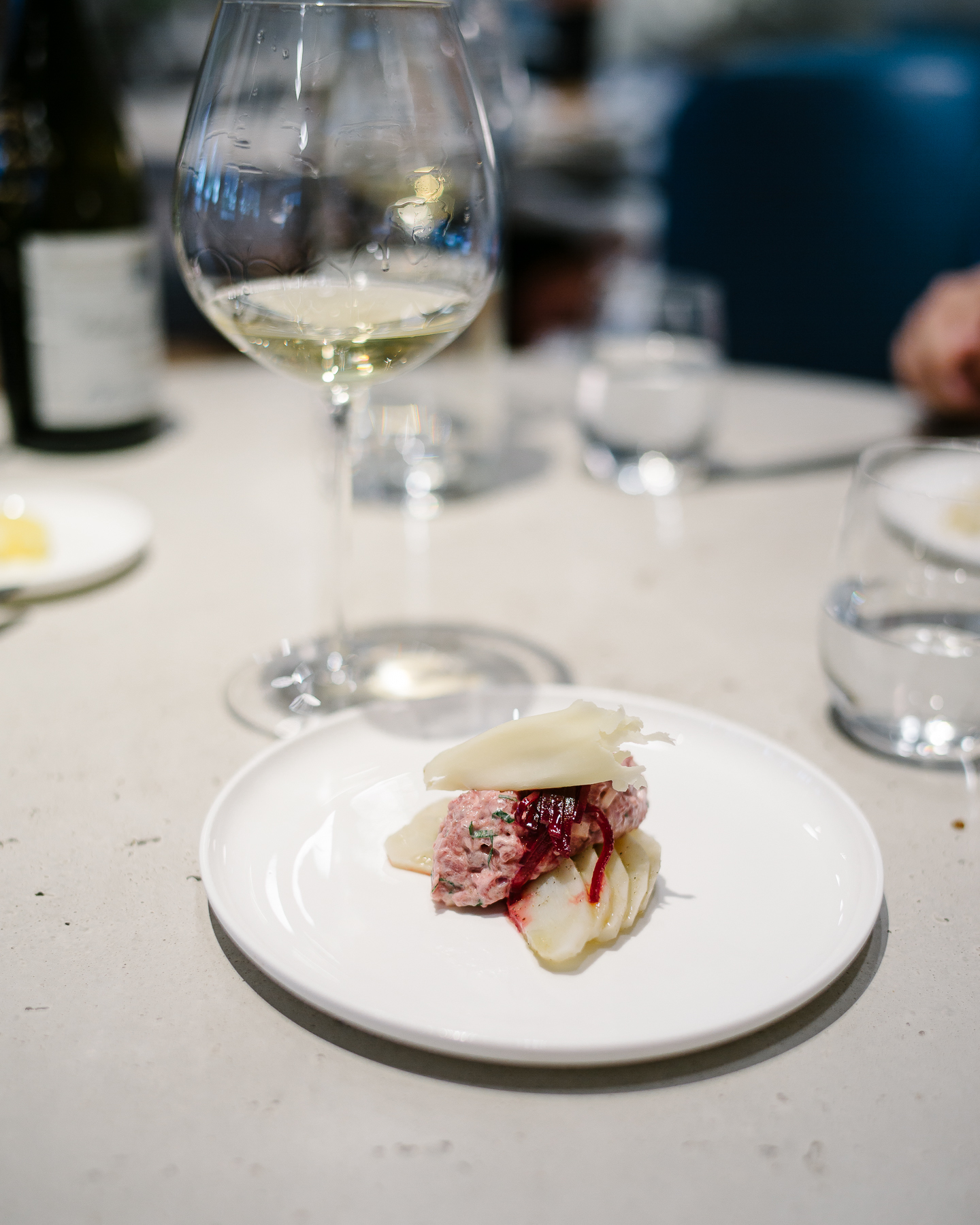 Another vegetable lands, but this is deeper than the previous dish. The natural texture and deeper root flavour of the artichoke is the star here, the beef seems to be playing the supporting cast, and as you Passardians know, beetroot itself can more than match/substitute the flavour of beef. Cheese for seasoning. Dare I say this eats like a cold version of a cottage pie, with a fresh bite. It is deceptively simple, but is anything but. This shows Phil's mastery of his craft. A very tasty thing – don't miss !
Roast cod with lightly curried cauliflower purée, golden raisins, coriander and lime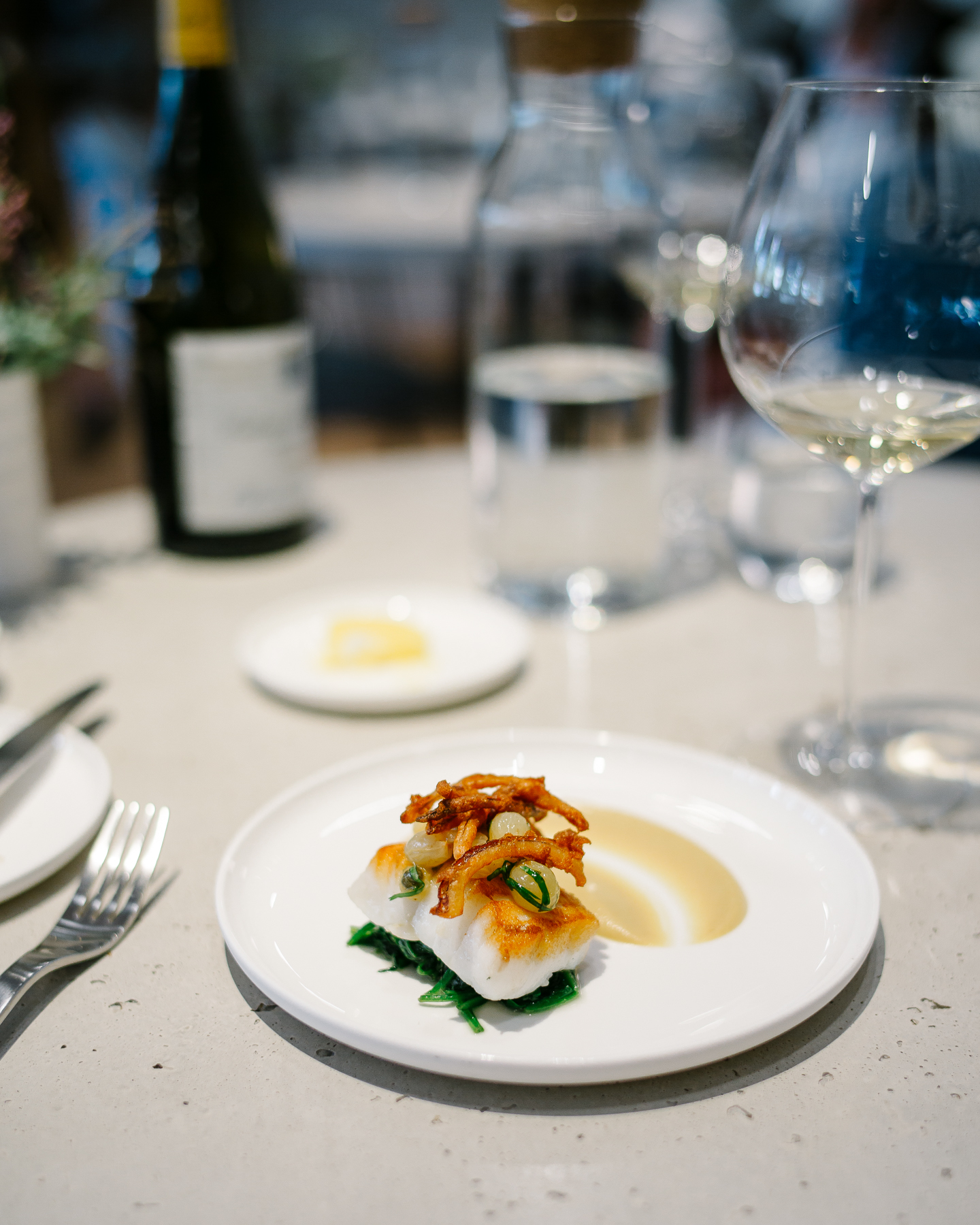 Pan-fried on the underside (on v high heat) till it is a regal golden crust, prior to finishing in the oven. The execution here is one of sheer class. Spot-spot on to retain the pearly feathering flakes. Shimmering nacre is so rare to see, even rarer from high heat method and it is utterly precious (I took a snap on IG, here).
We wondered if perhaps Chef was cooking the fish himself. It would be even more impressive if he did not as it demonstrates the capability of this kitchen, (already) tuned-up and raring to go. Served with curried cauliflower puree, golden raisins. Celebratory coronation cod, to perfection.
Rump of lamb with pesto roasted aubergine, garlic, green olives and balsamic vinegar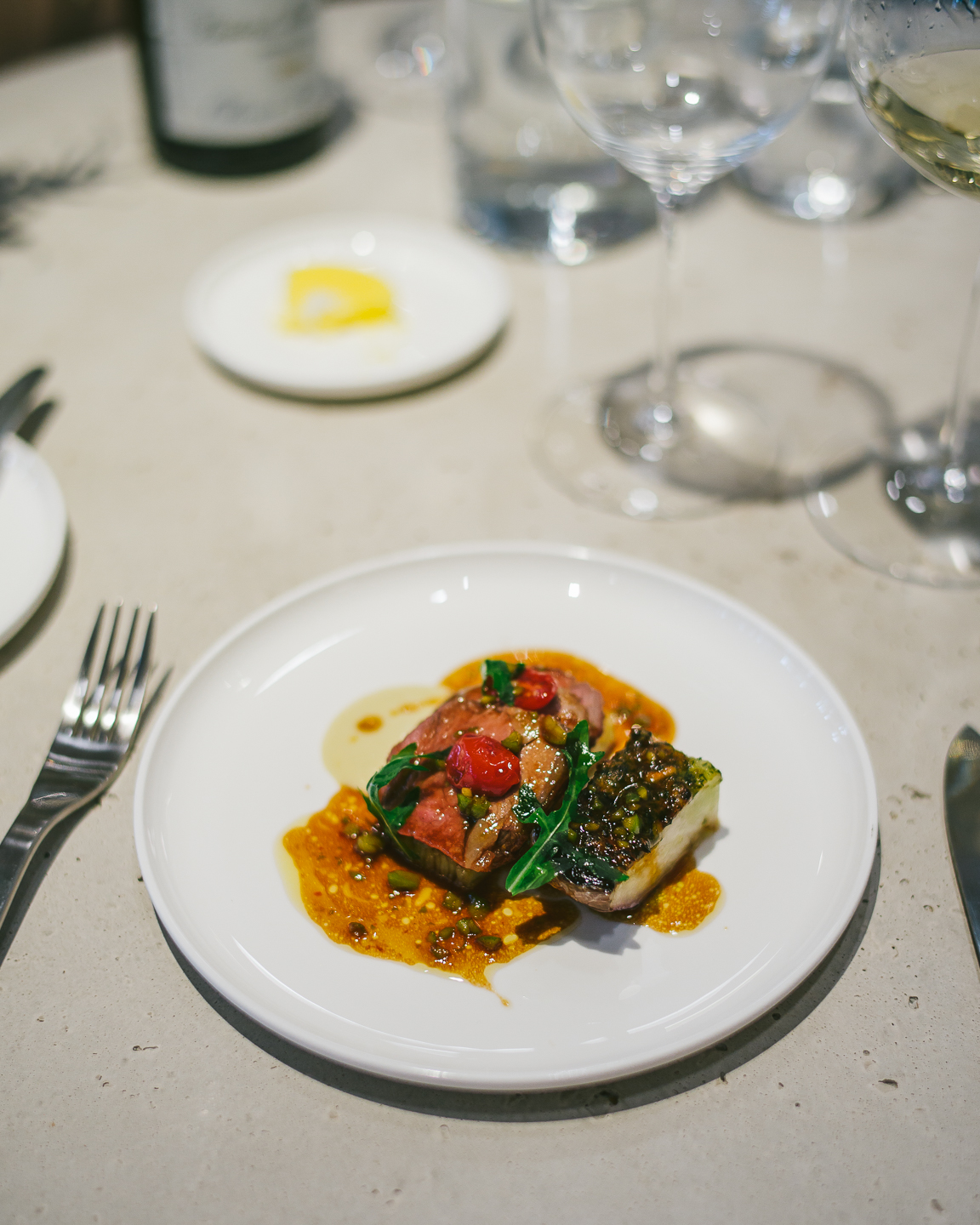 Here we are with late season lamb that is absolutely brimming with deep(er) flavour from the summer of grassy excess. Roasted (likely in butter and bone-in) at low temp until it is succulent and pink. Thin slices lay on top of a perfect potato terrine, fanning out to show the many layers of fine mandolin slices. The aubergine seems roasted quickly, as the natural texture and juiciness is still there and adds this freshness, alongside the cherry tomatoes. Finally that absolutely flavour punch sauce – a jus gras it must be, with those globules of oily fatty flavour – bones, stock and butter. Delicious! Top class lamb roast, goodness Sundays here may be a highlight then.
Roast grouse with celeriac and pear purée, autumn spring roll and elderberries (£10 supplement)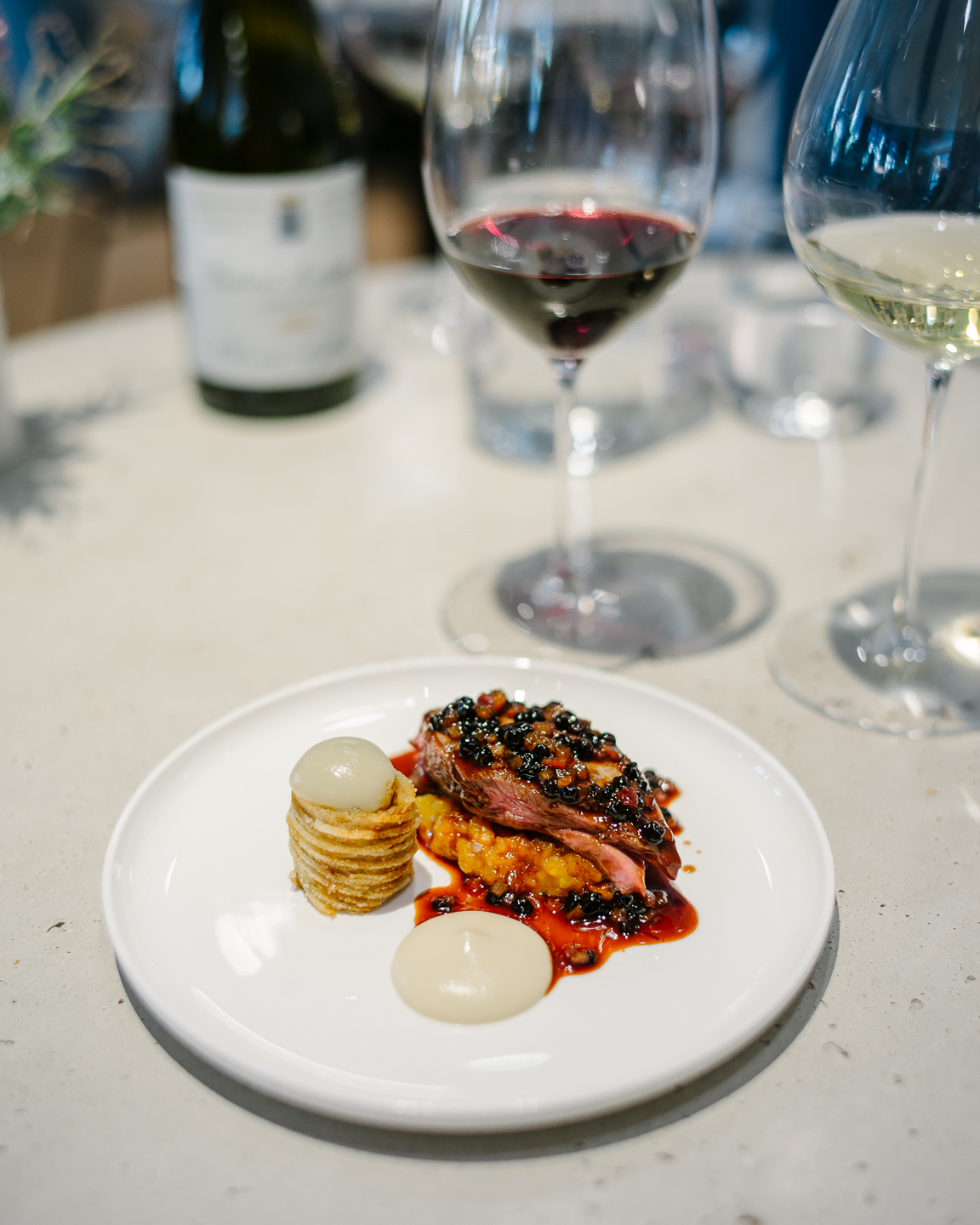 A delicious take on precious British terroir.
Loyal Square fans will recognise this dish, though according to Kian, there is a twist in the sauce, an acidity almost ketchup-like or perhaps like a BBQ sauce. I was a little tipsy at this point, so I hope my memory does not lie in that Phil did let on that he's pickled the elderberries. Zero ketchup obviously, everything made in the kitchen.
Bright sweet acidity to more than match the richness (as you can see from the colour), the richness derived from the leg reduced into this jus. Phil's croustillants are such absolute joys, he has called them autumn spring roll on this menu, rich filling ( I assume more of the leg meat goes in here) is rolled in feuilles de brick and then 'strings' of potato wrap around and deep fried.
Finally, to this season's grouse – this bird's from Yorkshire. The cooking itself is a showcase of Phil's total grasp of classic technique. One of the few bastions of butter-basted roasting, undoubtedly on the crown at mild temperatures, followed by the crucial extended resting. What this leads to is maximum flavour of metallic heather and mind-boggling plump moistness. We'll start counting the days of young grouse soon, so don't miss this while it lasts.
Phil's meat dishes are always superb, if you know him, then you'll know he's gone through the various cooking methods over the years, and finally come full circle to settle on Classic being the most effective in ultimately delivering the tastiest ends of meat. You shouldn't miss his meats, it's gorgeous, all of it…
Burnt lemon cream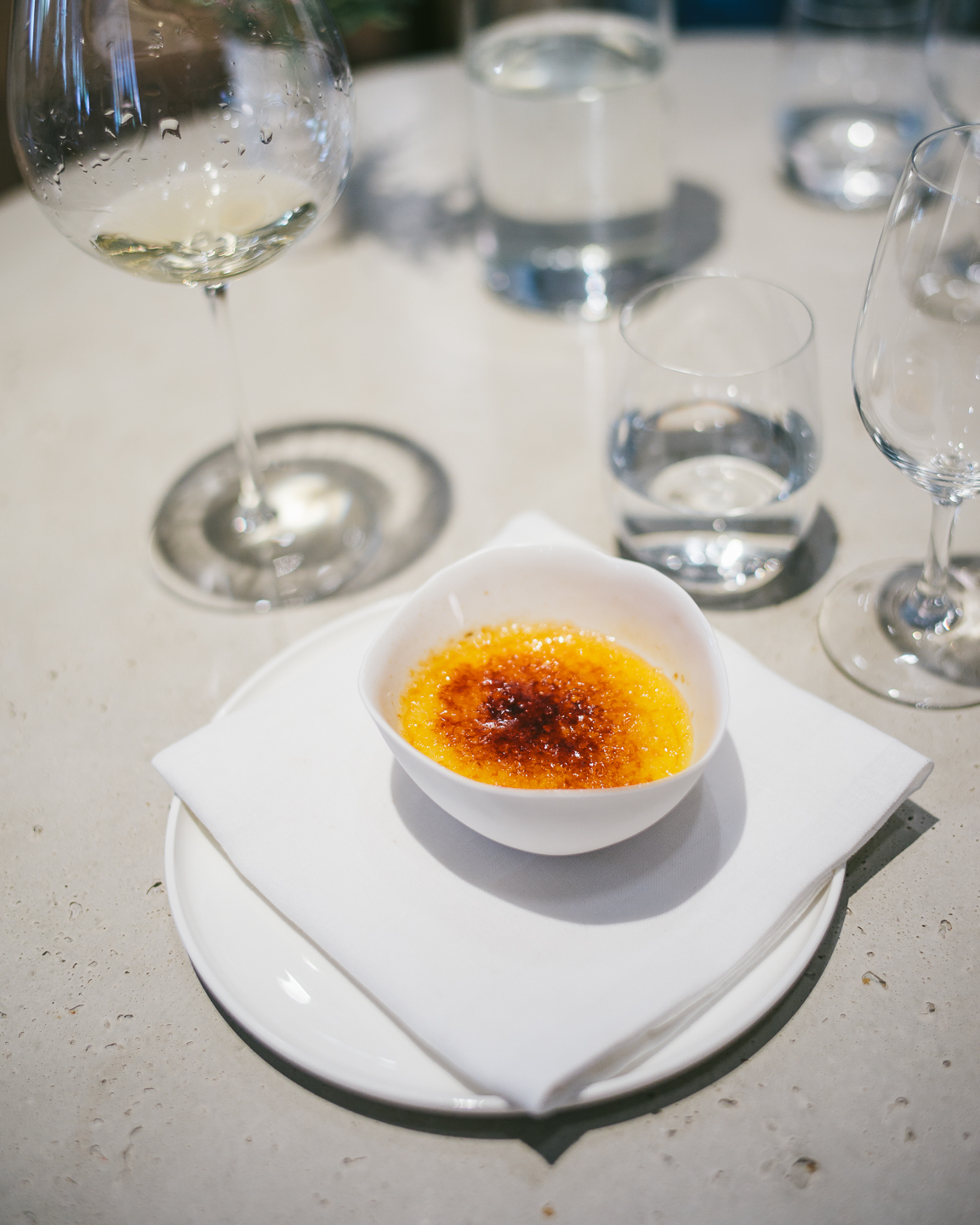 We are on the home stretch now, and we start the descend with a simply perfect lemon brulee. Effectively the lemon tart sans shortcrust.
The custard barely set, tasting fresh, smooth and utterly decadent. I'm a weekend warrior of creme pats and of my limited knowledge of yolks and caster sugar, the secret is simply to make them fresh with fresh ingredients, generously so, whipped with passion and time the baking to perfection. Everything a la minute. To some this looks like nothing, to me however this is analogous to honey souffle at L'Arpege. This is a perfect pudding.
Hazelnut affogato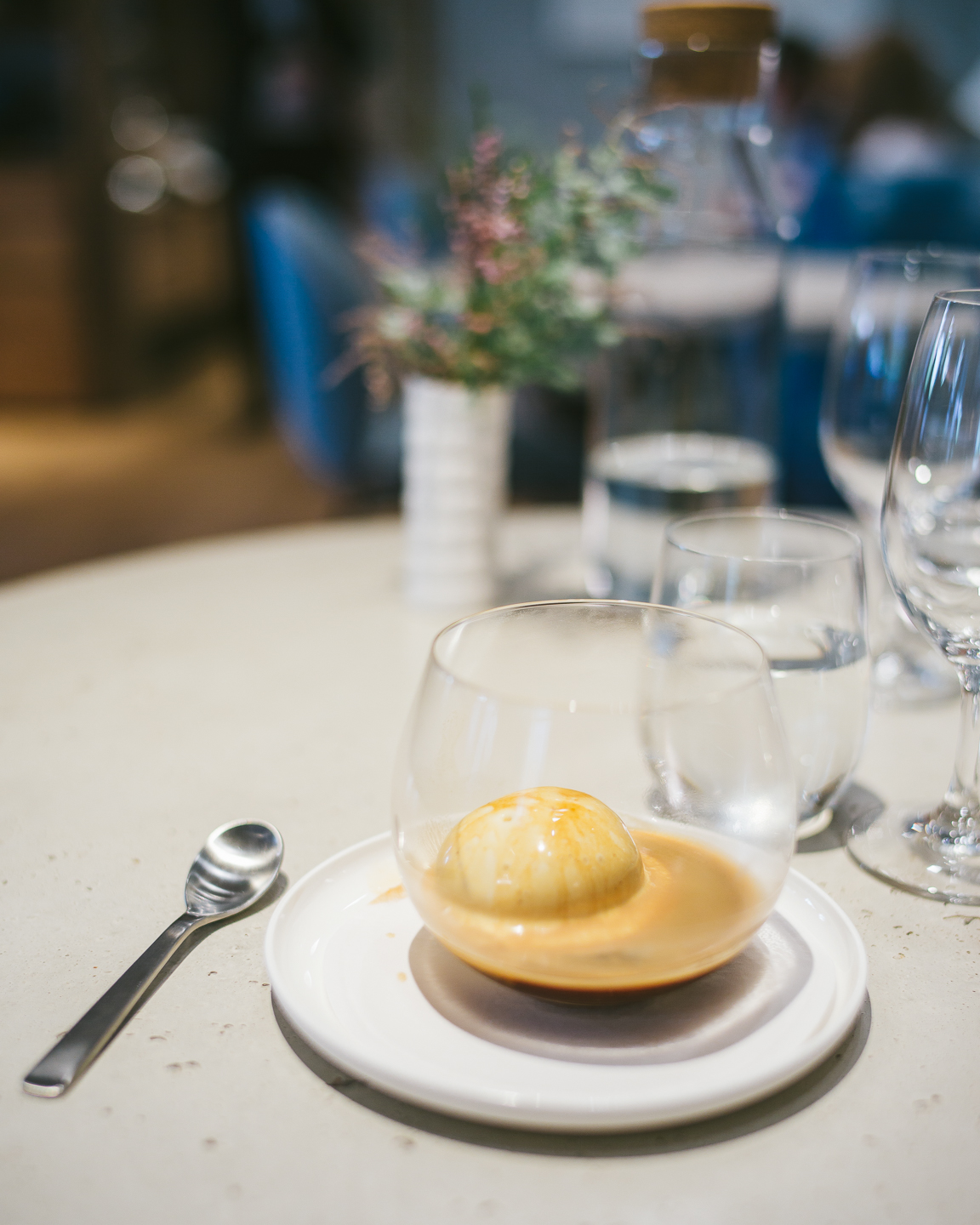 Finally we finish with a jet-smooth hazlenut ice cream doused with espresso to wake us up for the ride home.
I chose not to cover the wines today, as I will save for another post. For sake of completion, we drank a bottle of 2008 Batard-Montrachet, Olivier Leflaive (BYO); a glass each of 2012 Roc D'Anglade (£17), 2015 Mount Horrocks Cordon Cut (£14) and a 2013 Maury Rouge (£6).
With 50% off the food component, we paid £151.31 in total, lunch for two.
—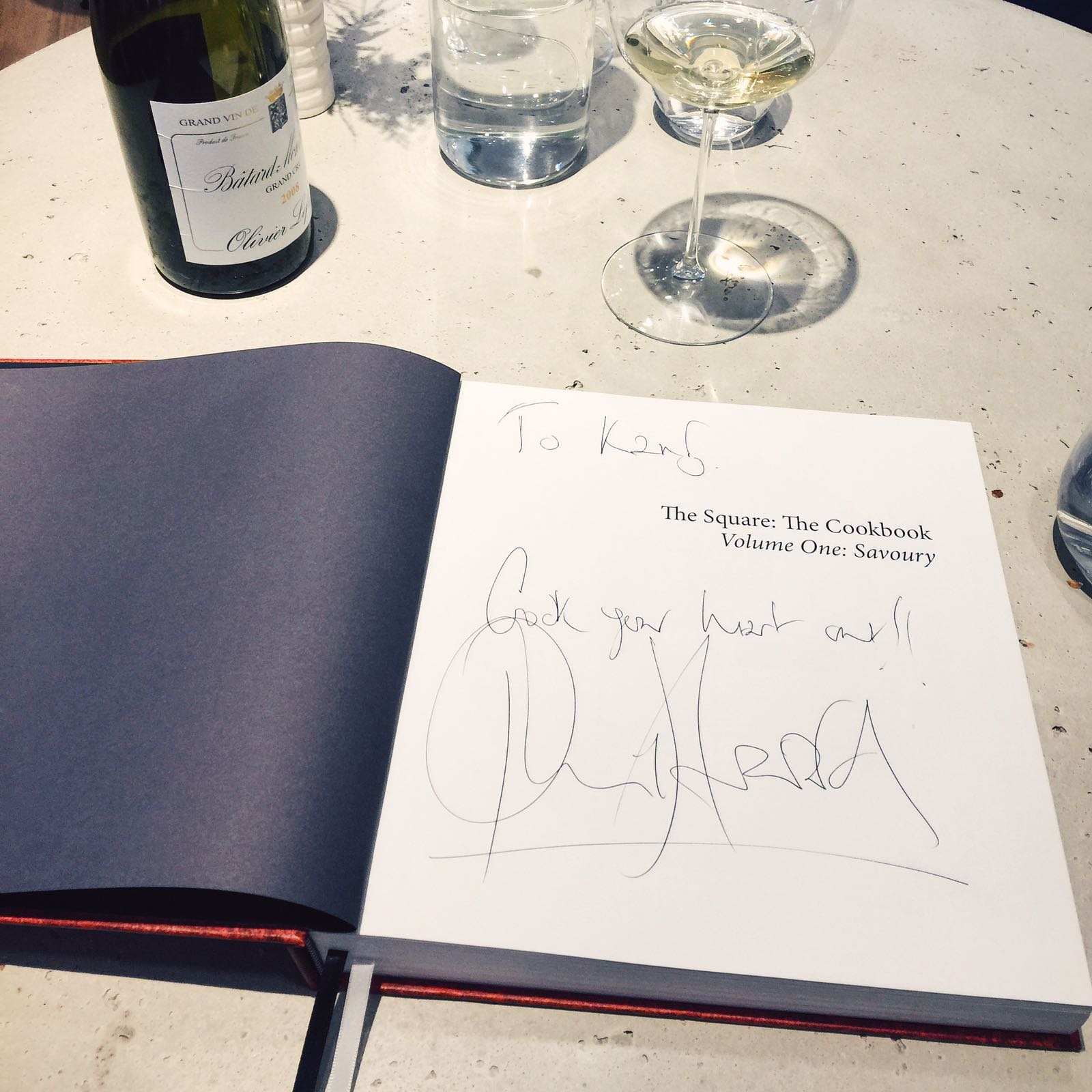 I was not sure if it was appropriate to present Phil with my copy of his cookbook (and I apologise if it was crass on my part, Chef ), but I was very glad he decided to autograph it. It's a fabulous book for this restaurant geek and it has provided me with great inspiration in my own endeavours as an amateur cook (I'm hesitant to bring vol.2 on 2nd visit..).
I doubt Phil has ever not cooked his heart out though now starting up his new digs 25 years older, it seems he has rediscovered his passion all over again. The food is as his intends, it is simple, dare I say even rather a little rustic, but not without the skill and technique involved to raise them to this level. He has lost none of his ability, if anything he is sharper than ever and you can surely taste his renewed vitality and joy for cooking.
We left feeling totally satisfied, with deep belly laughters. At certain points, the food was so good, I was nearly moved to happy tears. This is what love tastes like. Is it a coincidence that the plating is vaguely heart shaped?
Think of your favourite meals, doesn't have to be temple, simply someone who makes a decent meal. Soul nourishing. You want more. You're smiling. This is the essence of Phil Howard cuisine, and here all of his powers are cut loose and running free. British soul food rooted in classic technique. Elystan Street is just hardly bloomed but already it is an unadulterated pleasure of pure deliciousness. Bravo Chef, beautiful food, beautiful restaurant. I love it, already locked in 2nd visit, and I think you might like this one too.
Here's to many many more years at No.43.
Details
Elystan Street
Phil Howard Cuisine
Open everyday
Lunch 2 for £35 / 3 for £42.5 + drinks + service
Dinner 3 for £60 – 75 + drinks + service
Sunday £50 + drinks + service
43 Elystan Street SW3 3NT
Tel : 020 7628 5005
Tube : South Kensington