UPDATED 22AUG2016 : I made a 2nd visit a week after I wrote this. Pictures of the 2nd meal is appended at the end of this original post.
1st Meal, 12th August 2016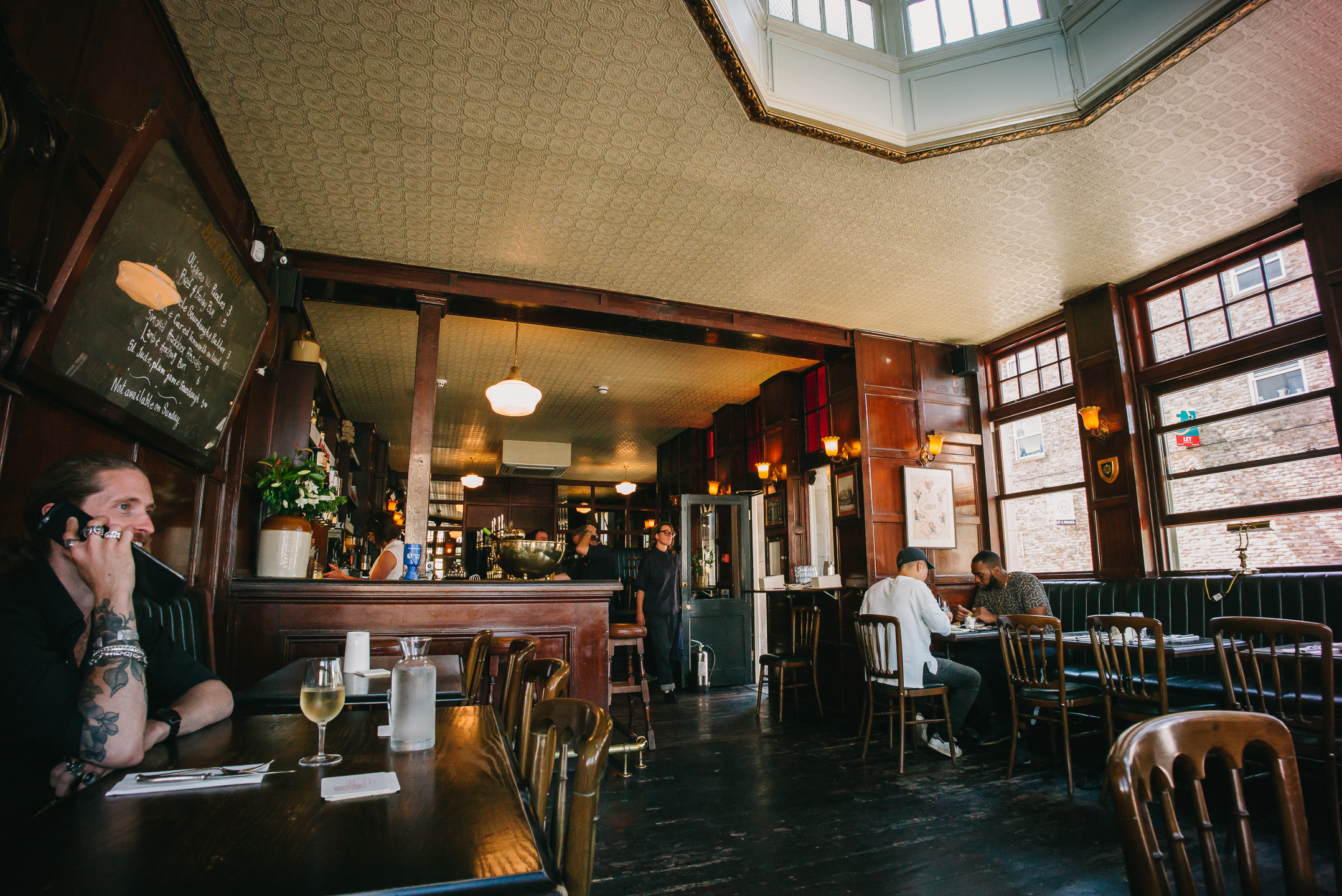 Here I am showing some love for Tom Harris and Jon Rotherham's joint effort as chef-owners. It has already been wholeheartedly welcomed by you savvy restaurant admirers, and this I hope is also bearing financial fruit for them and their backers. Simply delicious British cooking is on offer and it is very, very good.
The pair last worked together at St John Hotel, the quirk of a hotel – inside a narrow building of porthole windows and stark white walls – existing as a manifestation of Fergus and Trevor's nostalgia, rather than a sound business case. I've always thought the food was absolutely great and totally deserving of their star. Somehow I also made it to the David Chang one-off in 2012, but missed out when the hotel changed hands. Tom stayed on during One Leicester Street days, while Jon went on to run the kitchen at Jamie Oliver's Fifteen, before both converged again at this pub early last year.
And it does remain a proper one, as I arrived to a couple of fellas camping at the bar on an atypically balmy Friday afternoon in the middle of August. I was the token Chinese guy comfortably tucked into the corner pocket seat (upstairs not open for lunch) among you lucky East Londoners.
Beef and barley bun, horseradish cream £5
We start here with this humble bun, with shavings of horseradish. They make a lot in-house, and they do it very well. A glazed milk bun, perfectly formed and absolutely soft like a pillow. The bake is of such quality that it makes me wonder if they'd been gifted a closely guarded secret recipe from a good bakery in Mong Kok. You could fill these with nearly anything and they would sell like hot cakes. As I am sure they do, with bacon on Sundays.
Steam waffs out when you cut down the middle, revealing an aromatic beef mince reduced and oiling the insides. This is the best mince and tatties I've ever eaten, the barley acts like a flavour sponge holding in all the juices and then releasing when you bite in. The horseradish is only a gentle punch on the nostrils which translates to a mild cooling effect when you spread it across the mince. The cream has an airy density, as good as the best chantilly you've come across.
Jay (and the rest of the webz) is spot-on with the char siu bun parallels and this is likely the best you will find anywhere in London (and probably Britain but I don't know that). I dare say this is better than the best baked buns in Chinatown and beats a trip out to Cricklewood.
Peas and cured Tamworth on toast, £8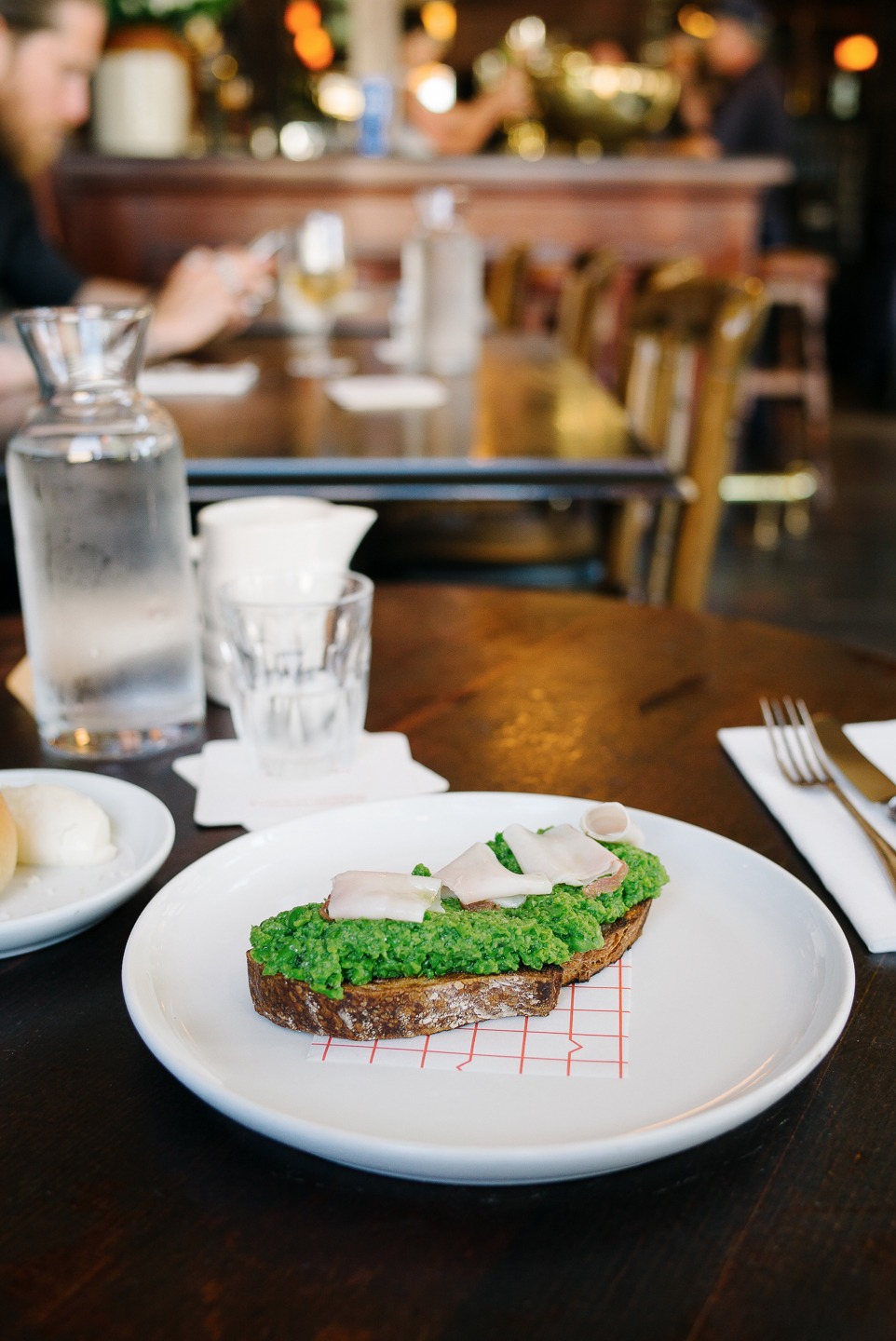 After that I moved onto Summer on toast, a fresh mash, anything but mushy. Bursting sweetness with just the right touch of salt. The salt from the lardo a perfect contrast to the sweet peas, presumably cured in-house. No fussing about here, freshness, well-made and simply delicious.
Swaledale Lamb, Beetroot and Pickled Walnut, £19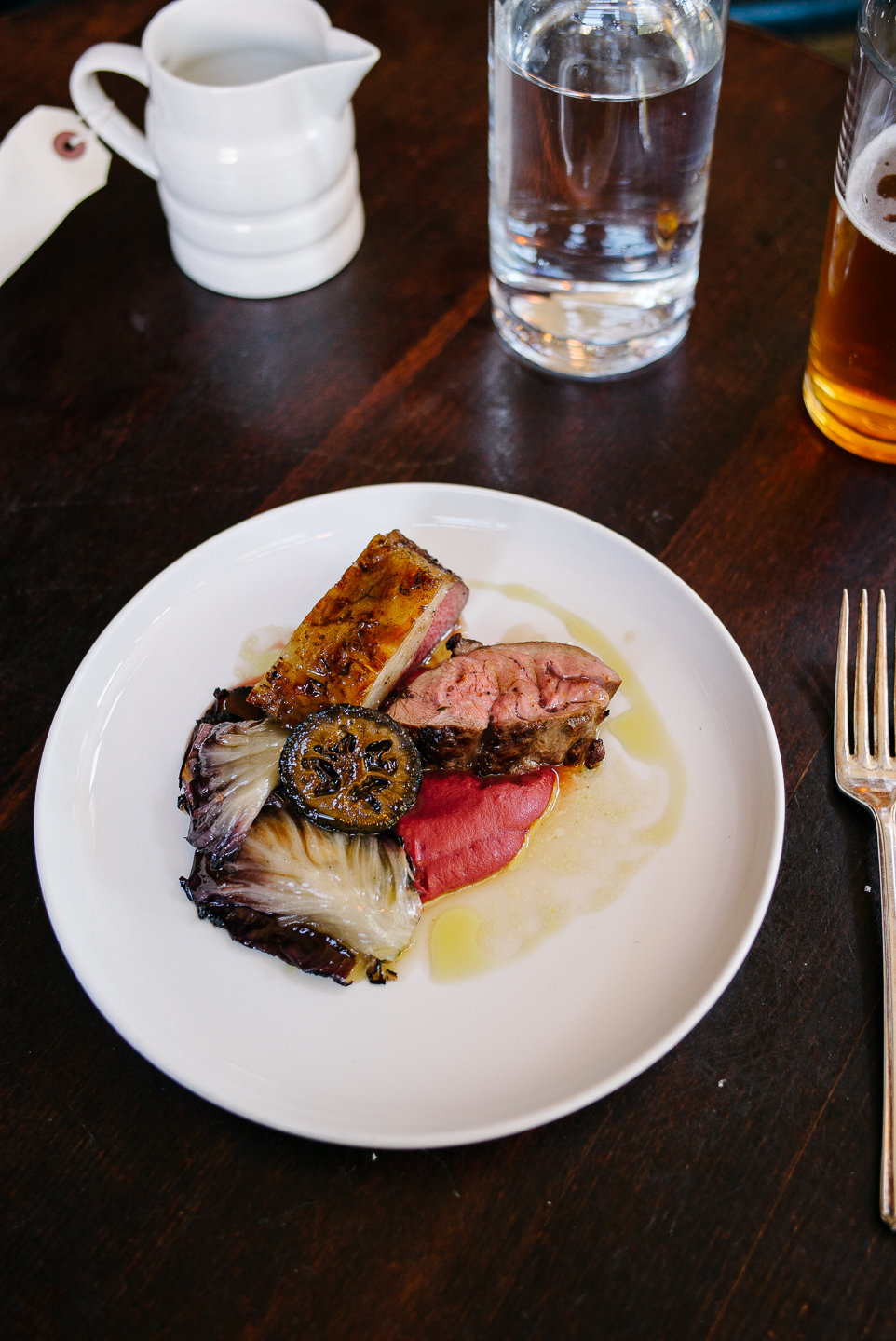 For mains, we have a side of beautiful Yorkshire lamb, what appears to be two different cuts. (My best guesses are rack (off the bone) and fillet. Of course I could be wrong…!)
Roasted to a perfect pink, from the aromas, I suspect with a honey glaze. A very high toned pickle totally lifts the protein. This beetroot blitzed into a buoyant cream sharing the consistency as the beef bun's excellent horseradish. Such sweet fat in gorgeous juices. Delicious lamb. I make sure to leave nothing on the plate.
Brown butter & honey tart, £7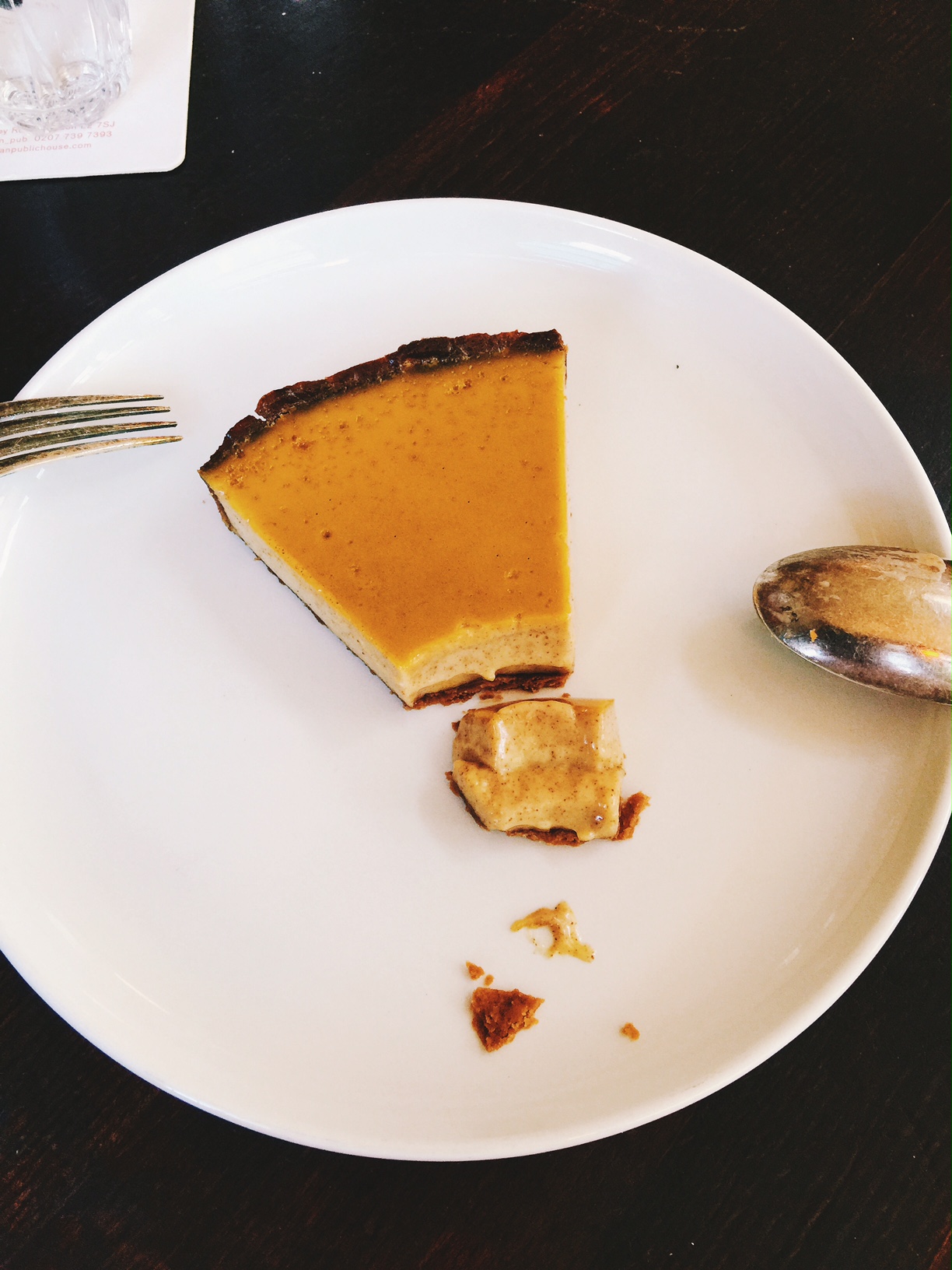 I end the lunch with this fabled creation that traces to One Leicester Street days. The top layer a film of shiny glaze, the filling looks just set and yet the texture also seems to defy the laws that govern basic forces of attraction. It wobbles like pannacotta, yet also velvety like creme brulee. Skills!
This has all the hallmarks of great custard, egg rich, but the sweetness is pure and clearly you taste the honey. Browned butter has added certain complexity to the mix, a burnt nuttiness. There's added grit to the texture, a 'dirty' custard nearly, and it is very good. The timing on the pastry crust is tip-toeing around crispy-burnt, not unlike the crispy edges of St John's freshly baked madeleines. This I think is also what makes it so good. The best bits. Every part of this tart is a joy, it is better than perfect, it will impress and may even annoy cooks who come here to sample it. Undoubtedly the best custard tart I've had all year. Winner!
—
I paid £48.38 for this solo lunch, a pint of 5 Points (£4) and service.
Believe everything you've read and seen because the food here is obscenely glorious. There was another solo diner next to me and he attempted the duck curry (£39) for two, all on his own. I certainly inhaled that curry from where I sat, and it smelled incredible. The kind that made me wished I did the same. It looked a proper plate of food, half a duck with its leg sticking out from the plate with sourdough roti. He hoovered it all up – respect for the effort – , so it must have been bloody delicious. I've never seen someone eat so much, so fast and happily so. I need to come back for that.
My brother lives between Swindon and Aberdeen, so he thinks prices like this in a pub is the London premium. That may be, but with so much quality to be found on every plate, it is absolutely worth every penny. Marksman is up there with the best pubs with dining rooms in London. I wonder why I took so long to come here. You really shouldn't wait. Pull the trigger soon, I'm 99% sure you won't regret it.
Details
Marksman
British
£35pp + drinks + service
254 Hackney Road E2 7SJ
Tel : 0207 739 7393
Train : Hoxton or Bethnal Green
—
2nd Meal, 20th August 2016
I took the missus on this second meal and we ate at the upstairs dining room. The room itself is clean lines, airy and spacy, St John-esque with a splash of colour, designed by Martino Gamper. This time round, I also started noticing the smart design details, it's all a swish consistent look, so I started googling and this yield the result of design studio, A Practice for Everyday Life.
As for a slice of history, the original pub is over 150 years old, and was so named for the French marksman who killed Lord Nelson during the Battle of Trafalgar in 1805.
Rather famously, he fired from about 50 feet on board the French ship, the Redoubtable, at the Admiral who was on the HMS Victory. It is probably no coincidence that Marksman is right on the corner of Horatio street and where at some point in time, another Victorian era pub called Nelson's Head resided just across it. It's now a co-op.
Eating more of the food has only reinforced the initial good feelings about Marksman. This really is a fabulous pub. This kitchen's cooking is so assured, it's almost unusual! Perhaps this indicates the level of skill here. They use in-season ingredients and I do think that they are working with water-tight recipes. All this leads to dishes that are right on the money. Tom and Jon, the joint chef-owners are in excellent form, they tag team to run this kitchen so I hear, and if you've yet to visit, the time is now.
Lunch for two. We paid £107.16 for all food, 1 cider, 1 soft, 1 coffee and service.
Upstairs dining room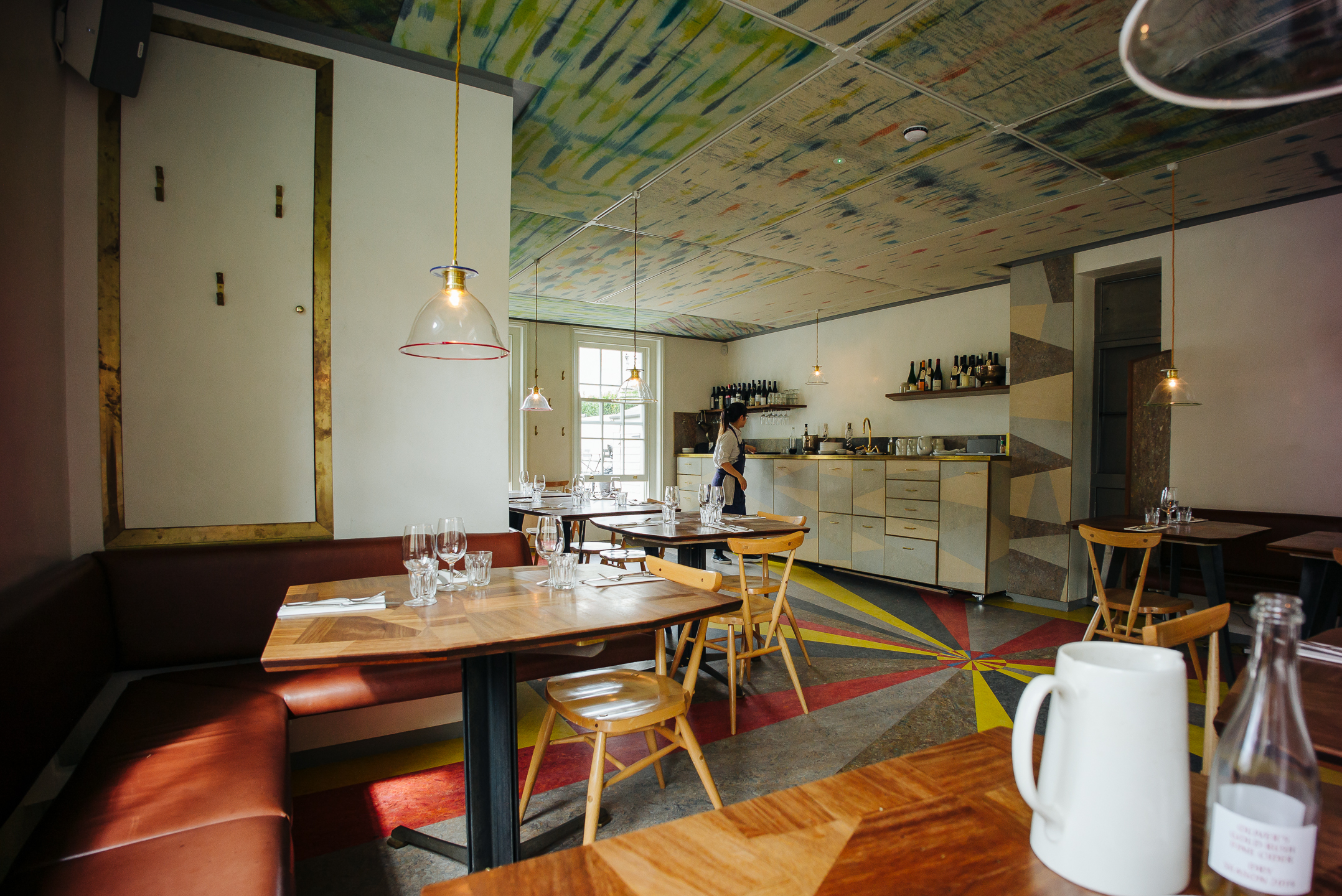 Cured mackerel, Kohlrabi and Gooseberry, £8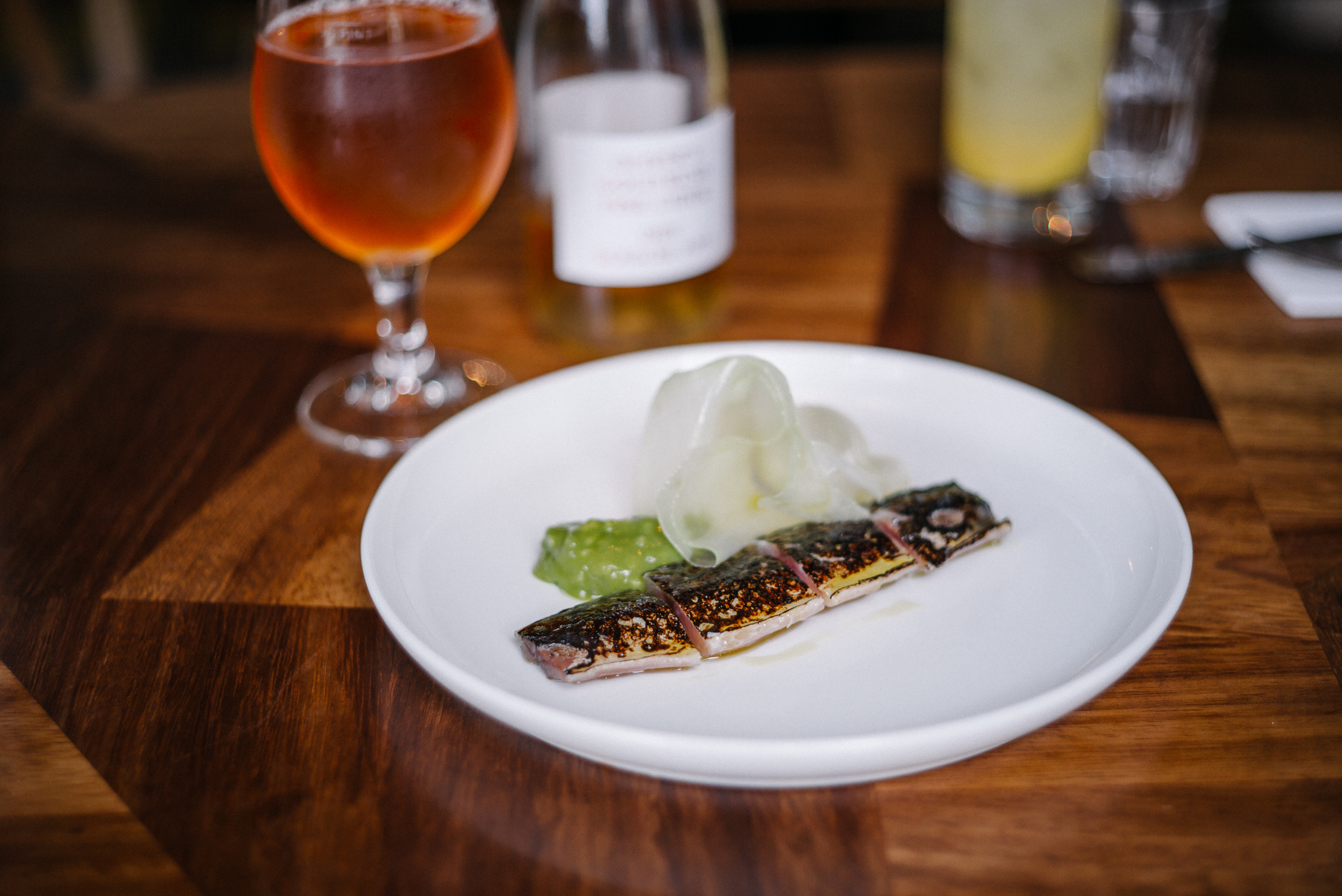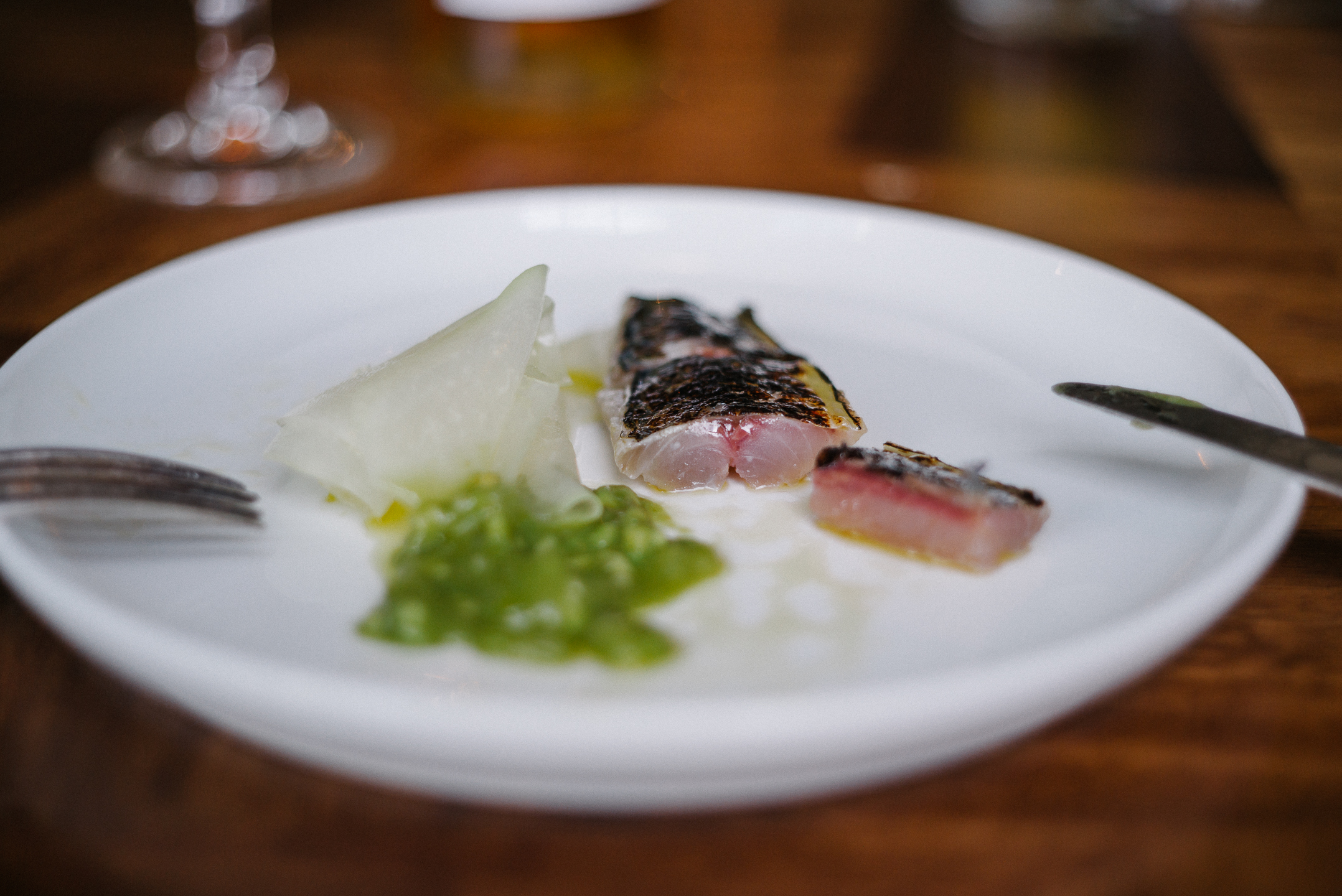 Pitch perfect cure, rather aggressive in fact and is salty like a brine, but it becomes clear why it is so when you take a deeper look. The skin is torched until a crispy shine, but I love that they have left the flesh 'rare' (and thus the cure). This retains its natural oily succulence, in the same way smoked salmon retains its natural texture. This is the way to do it. Fantastic take on shime saba.
Lots of chefs in London have a flamed mackerel dish in their back pocket, and I think this is up there with Brett G, Tom K and Isaac M's. If you like flamed mackerel, you shouldn't miss this.
Beef and Barley buns, £5 each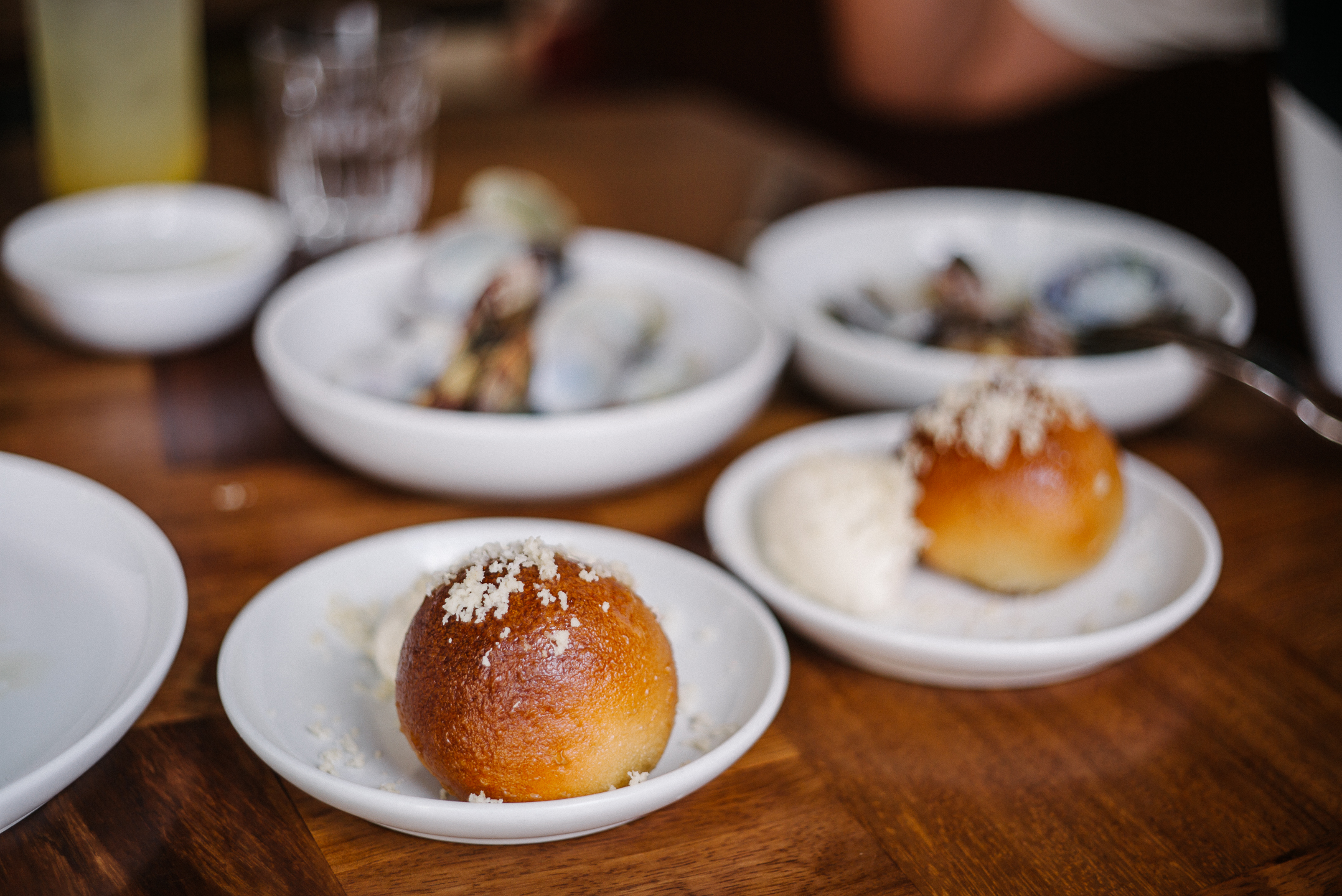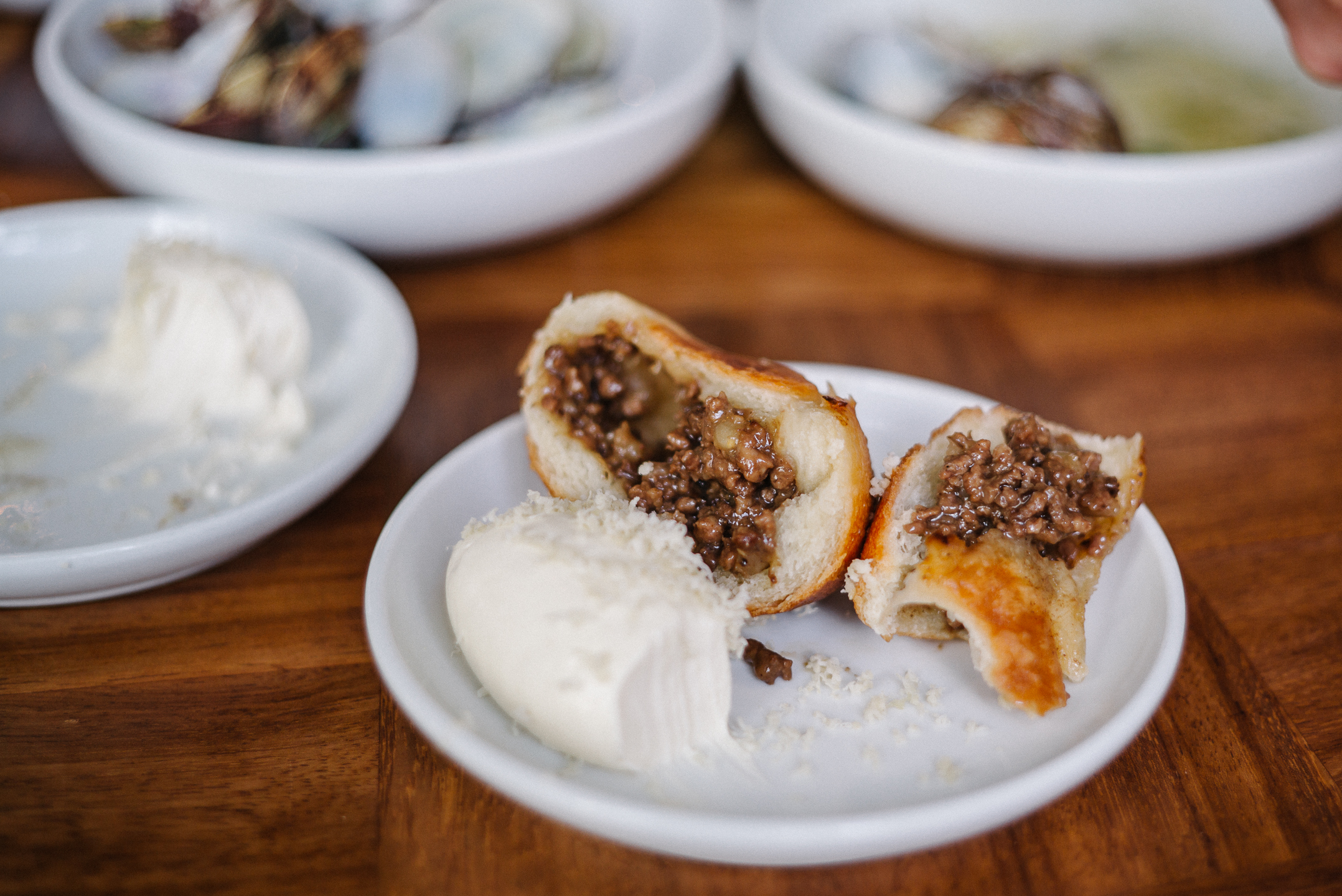 As first visit. Steaming as you break into these. Simply some of London's best buns. Don't miss.
Clams, wild fennel and salt lemon, £9
No messing about here, just fresh clams, acidity and salt.
Brill, courgette and capers, £19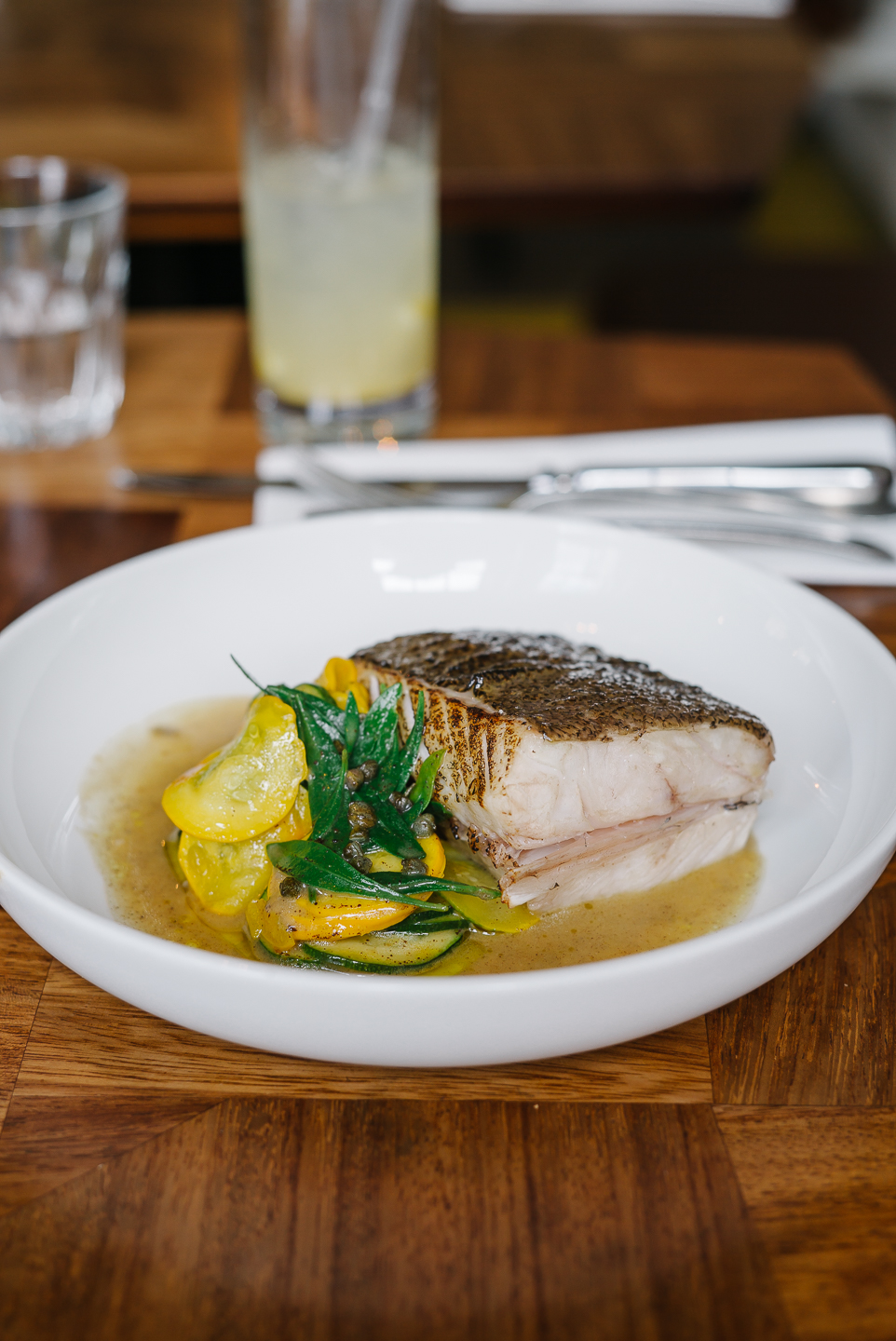 A piece of stunning cooking here, brilliant brill (forgive the pun), cooked on the bone to a perfectly pearly translucent centre. Really nice work.
Pot roast Tamworth Belly, carrots and beer mustard, £18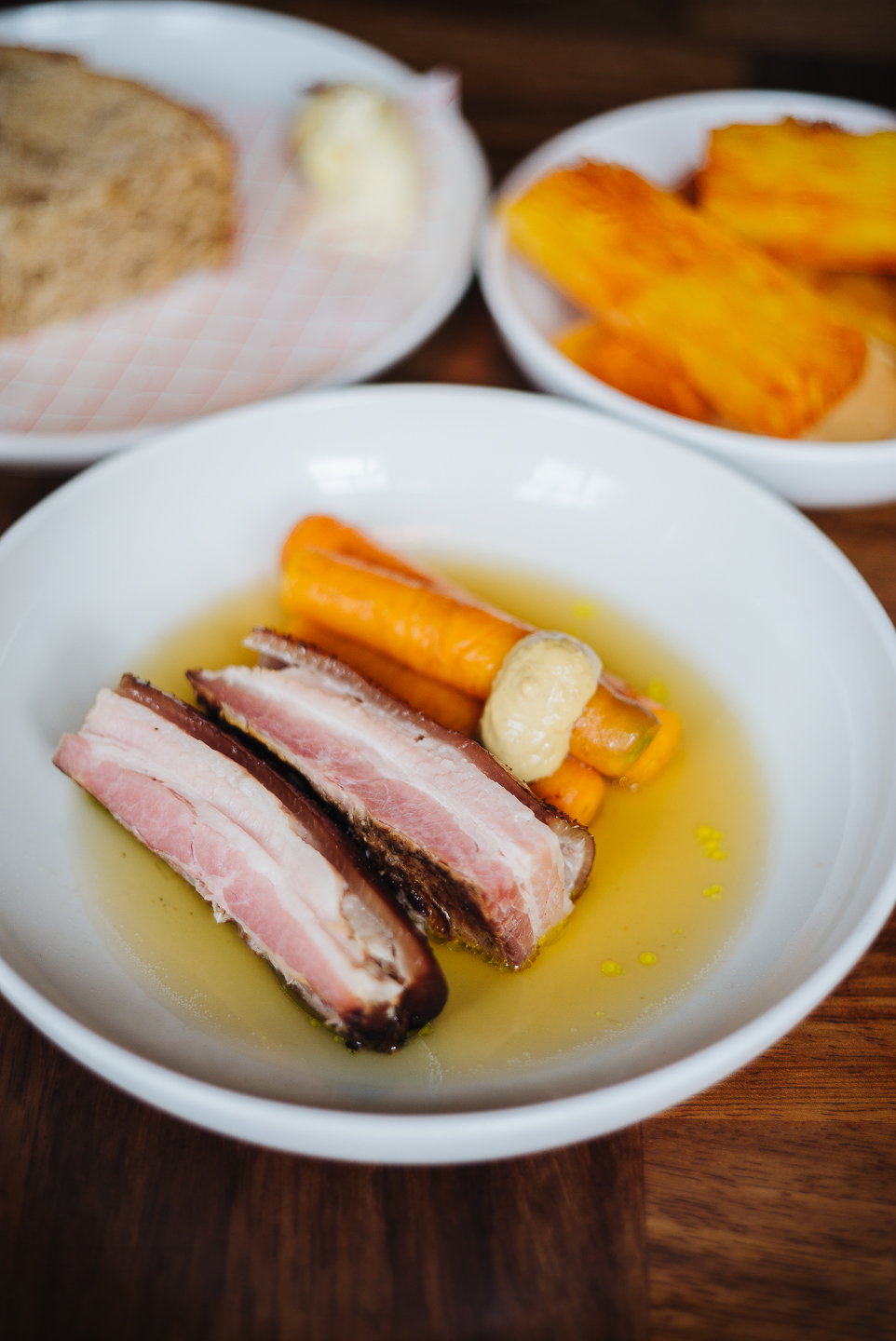 Slow roasted until fully soaking with flavour and so tender it easily falls away under the fork. The broth, I assume is the 'pork water' from the roast. Simple but well-cooked. St John heritage showing up here.
Fried potatoes, burnt onion mayo, £4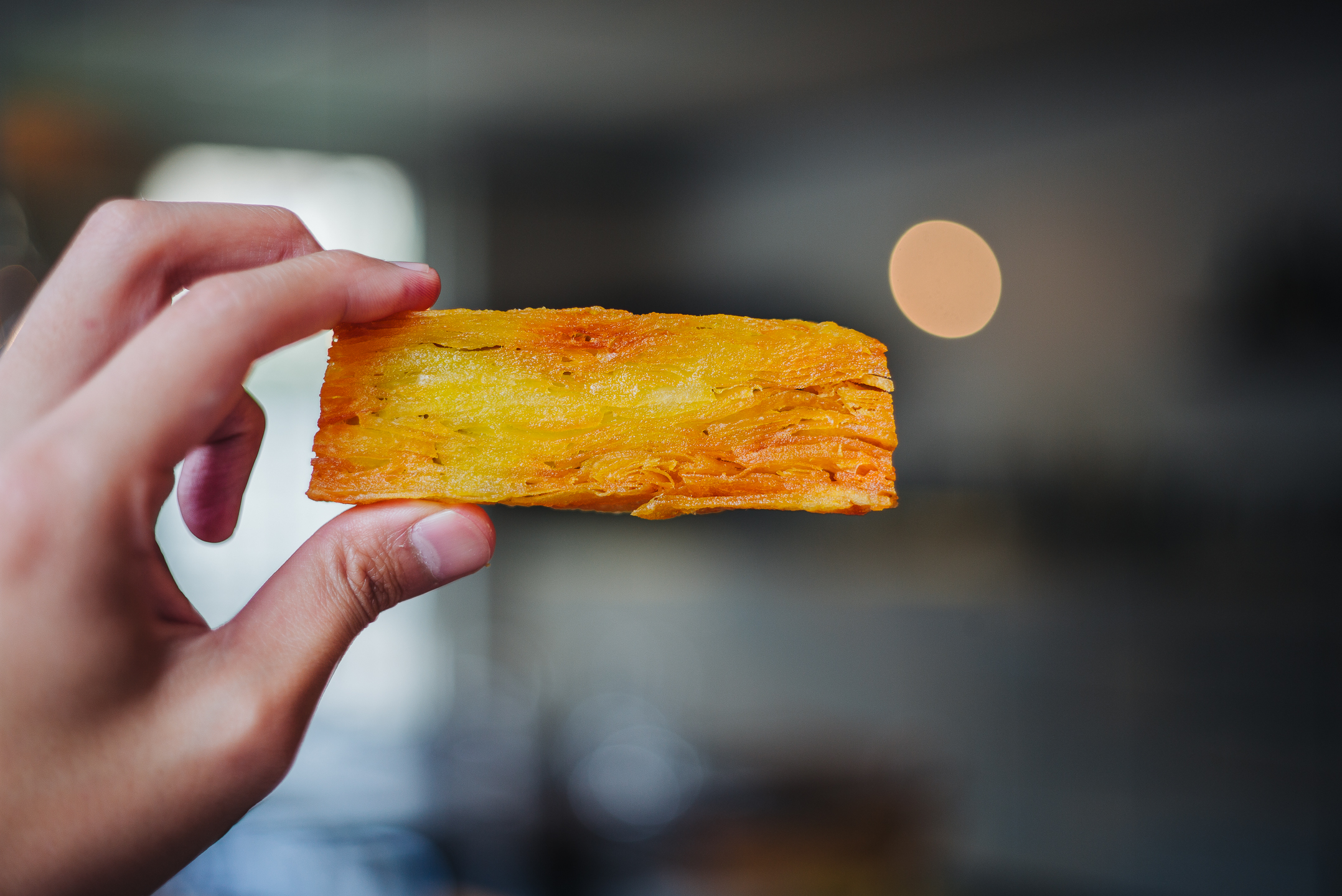 The burnt onion mayo is exactly that and tastes fab when you dab the potatoes in it. But just take a moment to admire the potatoes. Pressed mandolin slices, its so crispy, yet also retains fluffiness right in the centre. Don't know what they fried it in, but it sure is good.
This or Quality Chop's confit potatoes? Well these are cut longer, where as Quality Chop's are a shorter stack. This may just be a touch crispier. Both are good. Aren't we lucky to have them both in town?
Cherry shaved ice, £4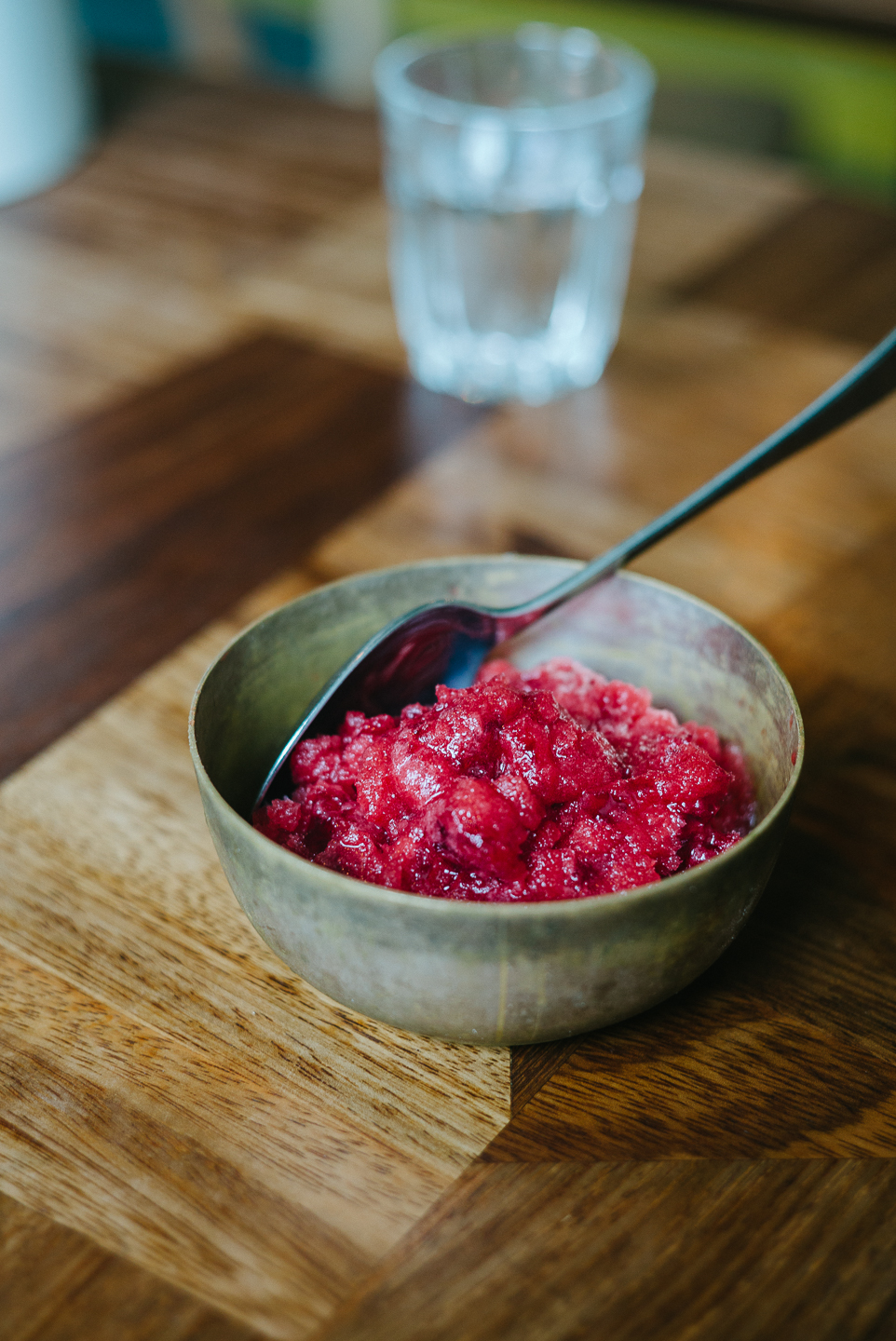 AKA English Kakigori innit. Using peak season cherries, it's nearly too sweet, but no doubt will not last long. Couple of weeks left, if that. A refreshing finish.