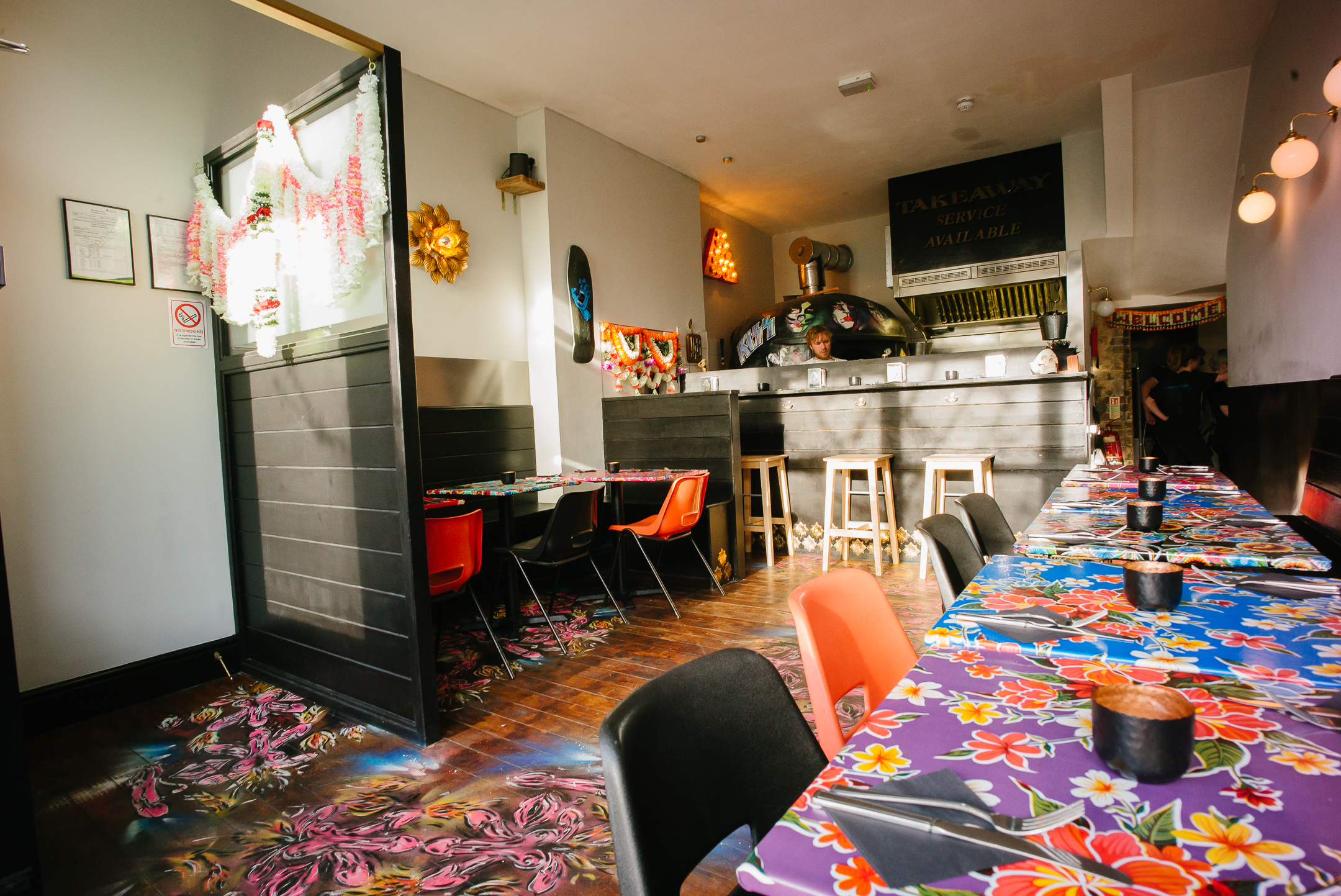 Black Axe Mangal doesn't really do kebabs in the way Mission Chinese Food doesn't actually do Chinese food. Danny Bowien's phantasmal not-quite-a-restaurant moved into swish new digs in the Lower East Side (NYC) last year and really has come a long way from its Mission Street beginnings in San Francisco. There's no doubt that BAM's owner/chef Lee Tiernan shares more than a mutual love for music with his pal, he keeps a homage to Mission Chinese as a constant fixture on the BAM menu.
I only mention it because Danny's been so omnipresent in American food writing for the past few years. I cannot say it hasn't intrigued me and it's apparent that Lee has much love for MCF. I love Pete Well's reviews (His Arpege review is soooo slick) and remember his penmanship of Orchard Street well. Aside from MCF, there may be nothing like BAM on either side of the Atlantic.
The music is too loud when you first come through the door, you won't bother talking, just nod and gesture to the FOH, who are keen and friendly. Heavy metal you say? You mean this isn't Dolly Parton and Carly Simon? Oh yeah those guys who cover themselves in face-paint, whose murals are found on the black exterior of BAM's wood-fired oven, also came on the speakers. It's baby friendly for sure. Crazy, crazy nights.
I cannot tell you how much I love the decor and how it oddly reminds me of home. This kind of pvc laminate table top is quite beautiful. Really it is like many Malay restaurants in Brunei – honest food, no point in messing about with designers, and make good with what you love. I also think of those Thai restaurants behind Centerpoint in Orchard Road (Singapore) and specifically what they were like in the 90s. I can't say I've ever seen colourful genitalia graffiti as restaurant floor print, but this is basically flowers and is just incredible don't you think?
Mint, Cardamom and passiflora, £3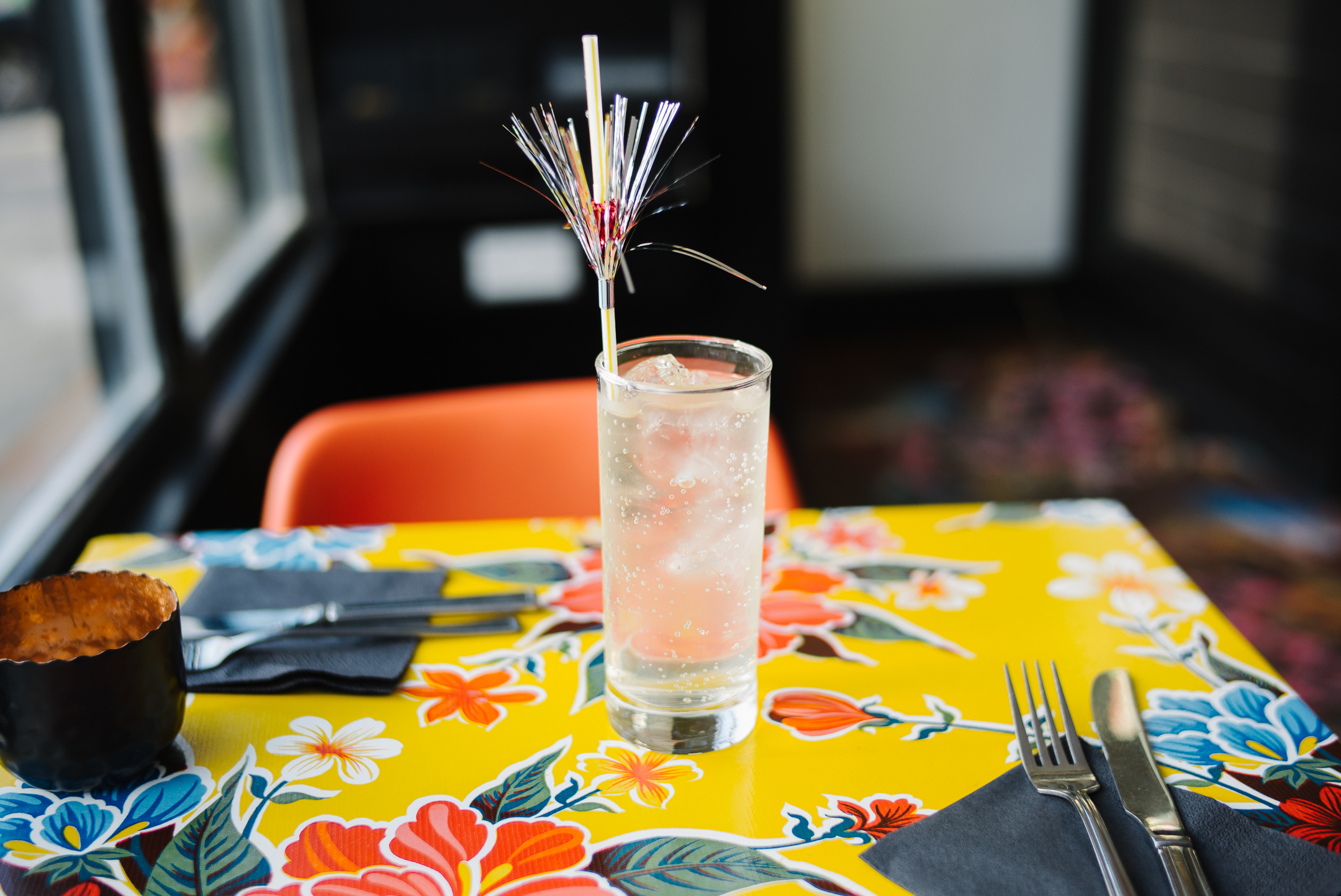 I went to BAM because I wanted to line my stomach prior to a tasting at The Sampler down the road, where the indomitable Abe Schoener was pouring his serendipitous wines. His Blowout is crazy fun, it is the most decent force carbonated white wine you will ever drink. (He does alot himself, including making up his own labels)
Anyway, that's why I drank virgin juice on this visit. Happy straw.
Squid ink, smoked cod's roe, egg yolk flatbread, £6.50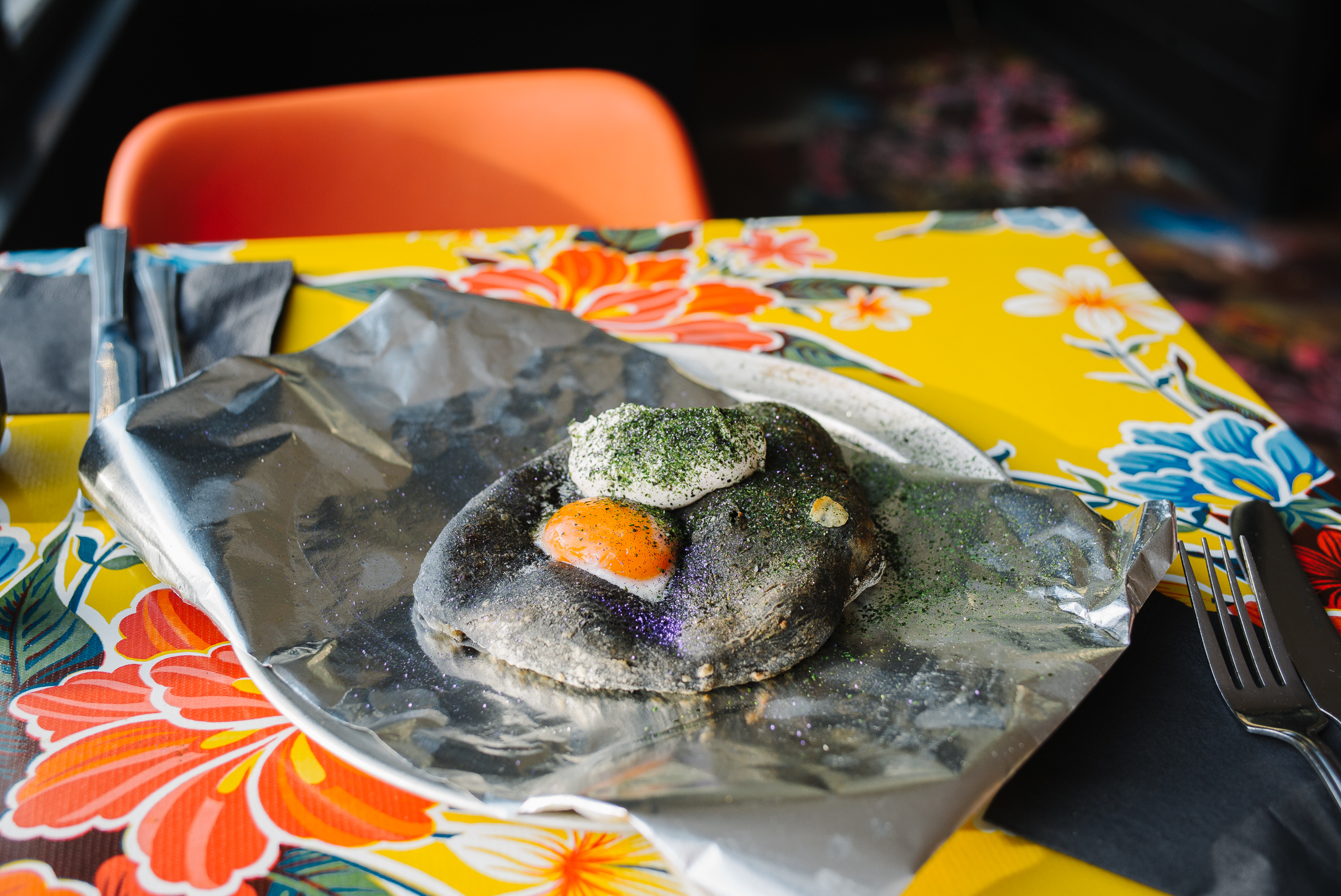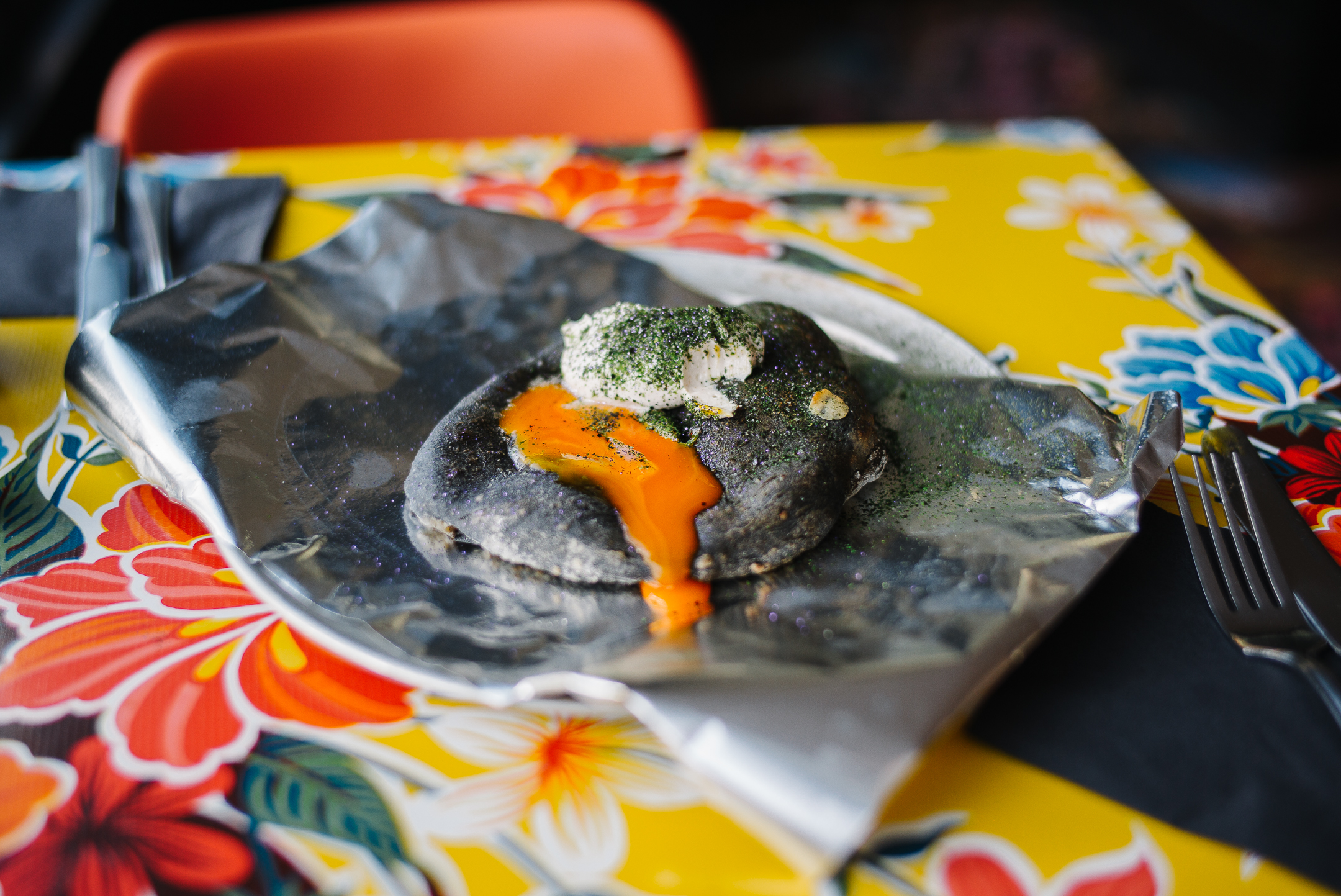 I do not know flatbreads, pide or pizzas all that well, so for what its worth, there is very legitimate baking in this oven.
This dough is so lively, oxygenated, yeasty, stretchy, it's got the springs and the crisped exterior is millimeter thick and crackles as you eat it. It's lovely and gorgeous and this is proper bread making. As I understand it, Lee has spent considerable effort in this department (naturally given the kebab aspirations), precious time with the good people of Tartine bakery in San Francisco to hone his flatbread technique.
Then there's the surprise of the recipe, it's clearly thought-out and works well. That smoked cod's roe is something you expect from Adam Byatt, but here it's magnificently paired with the runny yolk. Whipped egg with raw egg, alongside the squid ink that imparts extra squidginess with the dough. I gobbled it up before the rest of the dishes appeared. One of the best things I've ever eaten. With purple sprinkles.
Pig's cheek, scallop and chilli, £9.50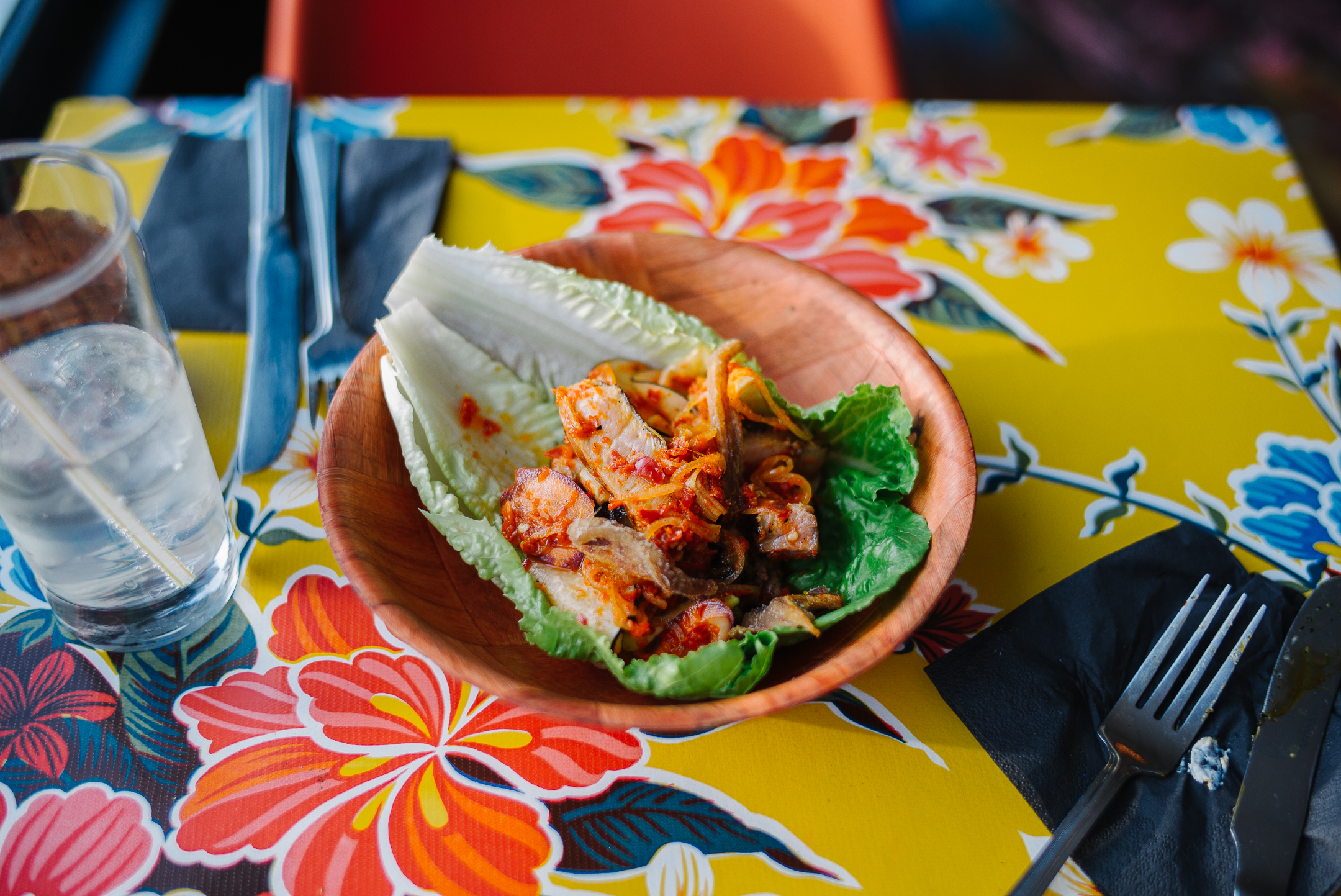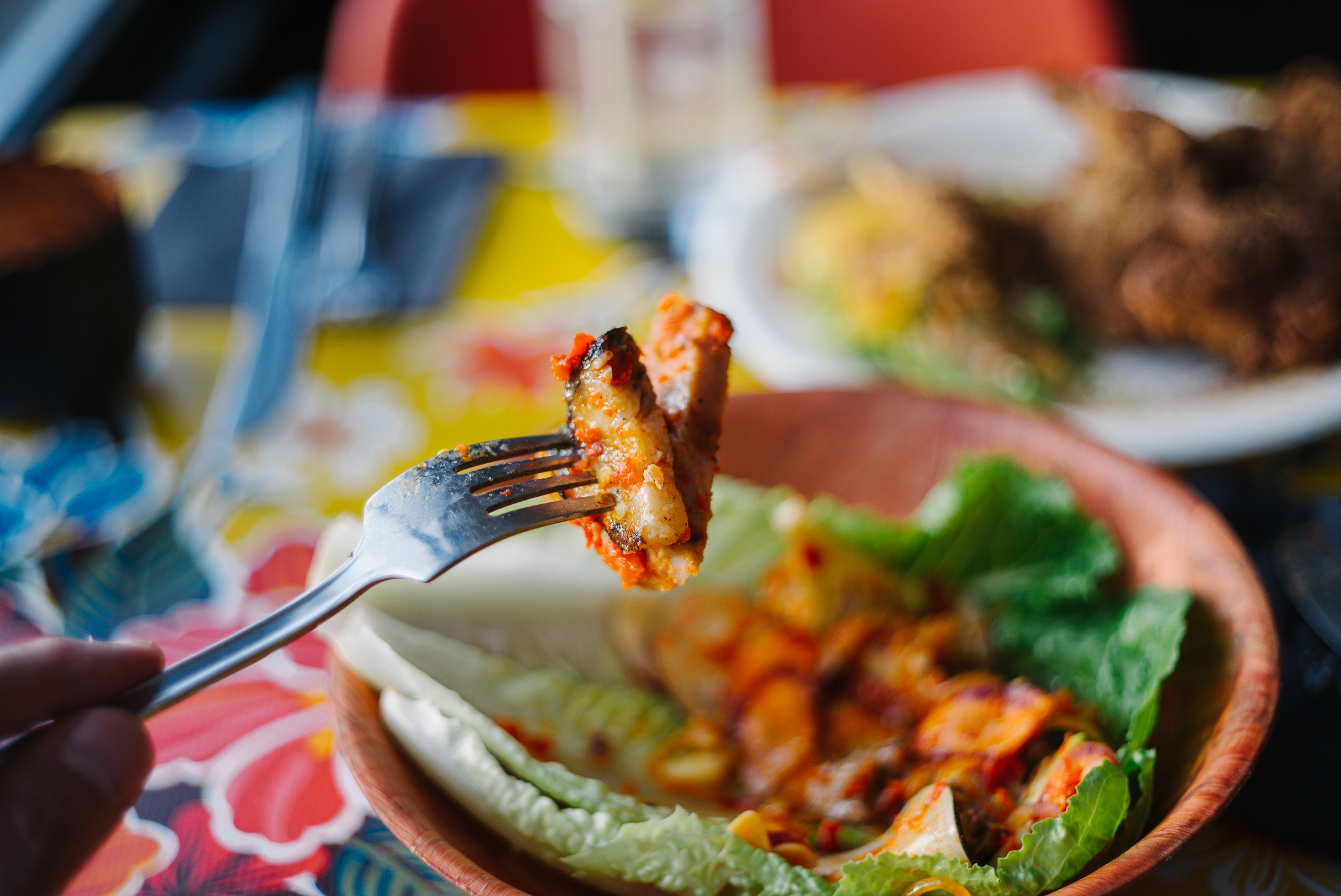 It's all the same orange-colour, you discern the scallop from the pork by way of the texture difference. I love how the scallop works like marrow/fat to the cheeks and those pork rinds like crackling. To my palate, there isn't much heat, instead it's like a pickled chilli marinade with a lick of smoke, akin to a kimchi pork stir-fry. I prefer the sweetness. 18 years of bud-burning mee rebus is more than enough. Very good cooking indeed.
Buttermilk fried quail and mission spice, £9.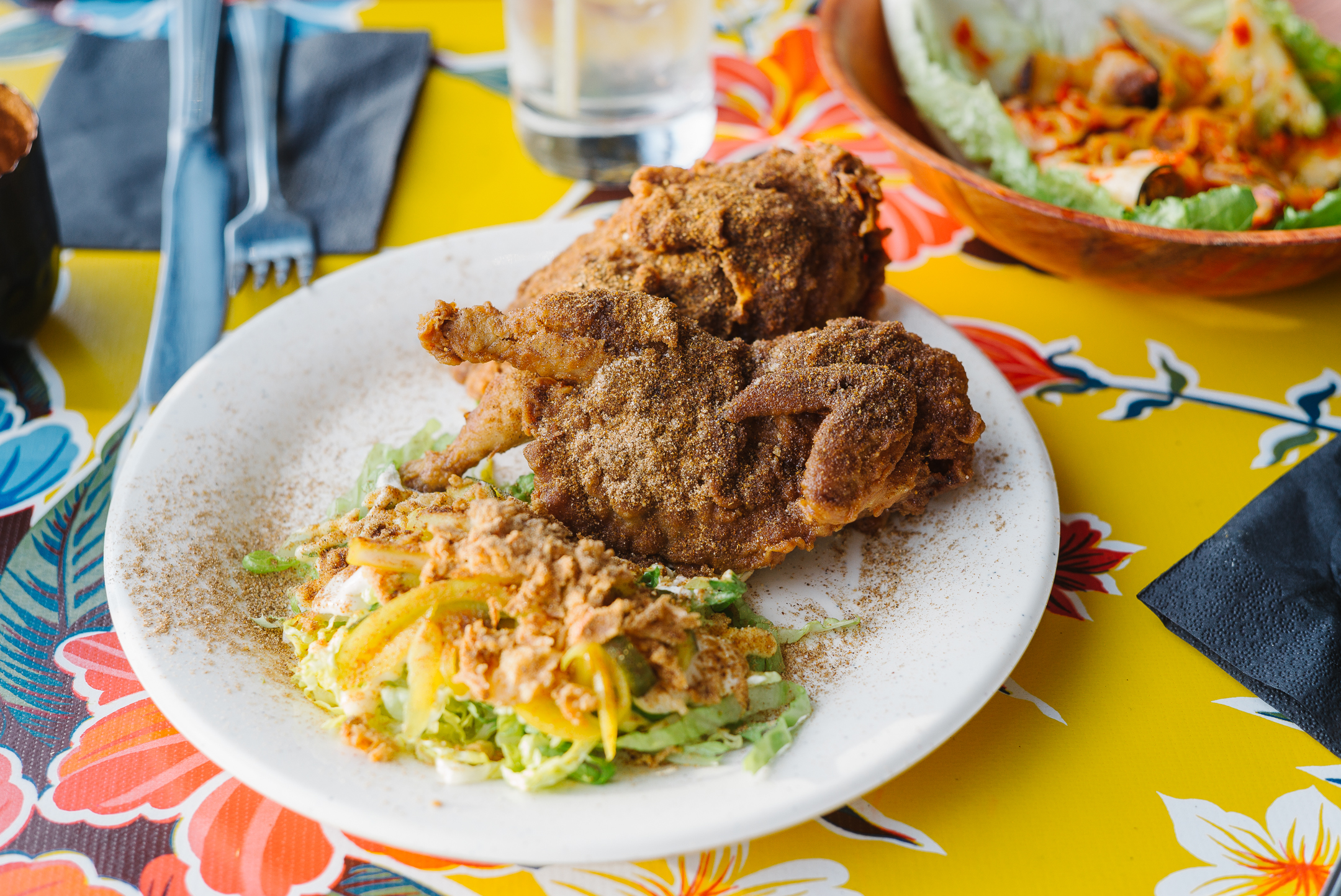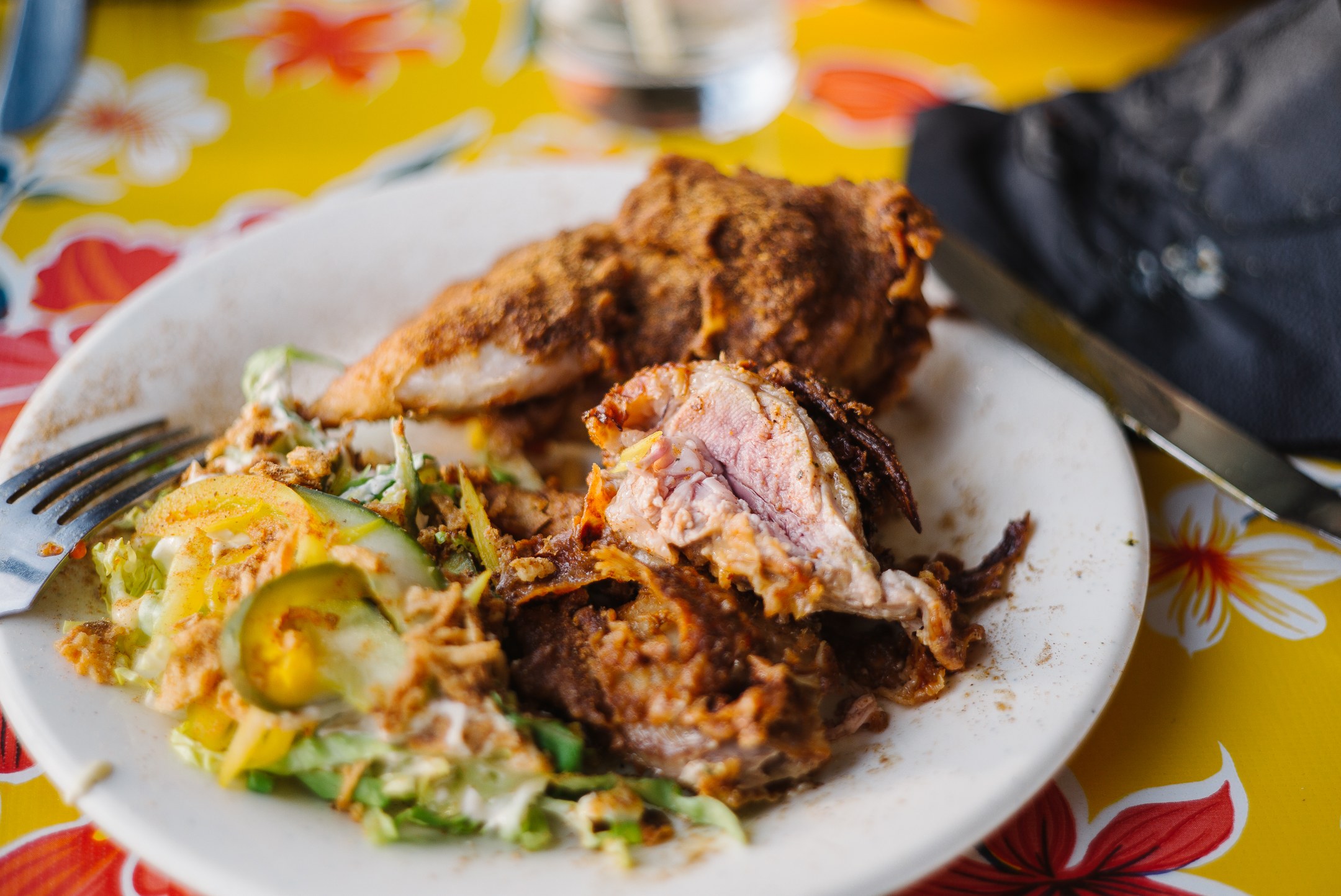 Phew, that sichuan pepper sure does numb the tongue. Mala and then some! I love how the quail is pink and juicy inside, this place respects the craft for sure. The batter has a powdery feel, it goes everywhere. Fried to a crisp, its so good you could eat this all on its own (or with rice). It reminds me so much of that giant fried butterfly chicken chop at Taipei's Shilin night market. It'd be incredible if BAM did this too.
I paid £30.38 for everything above plus service. I popped in at 5.55pm on a Wednesday, no queue yet, found Tristram behind the counter.
It would be a disservice to shoehorn BAM into a particular category because there is freedom and confidence in the cooking. This is London cuisine and is the beauty of Lee's food. Much, much more than a kebab shop, there is true substance here. Take a look at BAM's IG, this dexter forerib dish, those mutton chops and their take on Rueben. No doubt there will be new recipes in the future. This is exciting.
The man did spend the good part of a decade cooking at St John (I've always loved Bread & Wine) and he has proper experience and obvious talent in respecting the art of zero animal wastage. Instead of doing something conventional like his ex-colleagues at Lyle's, Lee and his wife Kate have opened up something completely personal in this tiny 22 cover spot and in my view are honest about cooking good food.
None of this is news to you and it is no longer the reason I keep this blog anyway. I am a fan of Delayed Gratification and I quite enjoy going to the party after everybody has left. After all, when restaurants survive the initial hump is when the cooking truly begins to sharpen up.
I read this interview of Lee with great enthusiasm. He just comes across as a humble fella. I would love to eat with him someday. His food definitely has soul and this is why I can't wait to go back and claim even stronger feelings for it. They play the music a bit too loud but only because they love it. See past it and you will be rewarded with some of London's most delicious things.
Details
Black Axe Mangal
Flatbreads and more
£25pp
6 to 1030pm, Tue – Sat
156 CANONBURY ROAD N1 2UP
Tube : Highbury & Islington
(PS: I don't know Green Lanes, but I do like Charcoal Grill in Kilburn. Grilled baby chicken and cous-cous all the way)