Other meals at Bonhams : Oct 16 , Sept 16 , June 16 , May16 , Mar16 , Dec15 , Oct15
The guys are fresh from their summer break, fully recharged to tackle the new season. Becky (you are missed!) left earlier this year to tend to family and so Amy Boden (ex-Bibo, Pollen St, Square) steps in as Bonhams' new restaurant manager. Amy's great and will take great care of you when you visit.
This is either my 11 or 12th visit, I aggregate on IG, but not every visit finds its way on the blog. This is a good one to show you because Tom and Theo are transitioning to their Autumn menu, fuller flavours in contrast to the light summer, five or so elements on each plate.
Obviously, grouse is on the menu, and likely will be on it throughout the month, gaining flavour from all that running away for dear life. Tom's version is a sure fire beauty. Just like his handling of squab pigeon, his young grouse is very pure in flavour; without the heavy gaminess and I surmise is partly to do with his cooking method, in addition to one that's not been hung for too long. The other guy in town who cooks game with such finesse is Brett Graham. I do prefer one that's not too high.
Tom & Theo continue to sharpen their skills and it's been an exciting year following these princes of the a la minute. Truly this is one of London's best restaurants today.
From Charlotte's coravin warchest, she poured a glass of 2014 Condrieu by Faury (£16.50) and a 1999 Gevrey-Chambertin, En Champs by Denis Mortet (£32, great with the grouse).
As usual, I went for a long play, but not carte blanche as I ordered a bunch of the new dishes. I paid £153.56, for 7 courses (£85), 2 glasses of wine (£48.50), coffee (£3) and service.
Photos and notes below.
Details
Bonhams Restaurant
Modern Euro
Lunch : Mon – Fri, ALC £48pp (3 courses) + drinks + service Lunch Menu
Dinner : Wed – Fri 5 courses for £60pp + drinks + service
On Request : Carte blanche £90 for 8 courses + drinks + service
0. Canapes : Smoked trout on nori cracker; Anchovy + mushroom (?) foam on potato crisp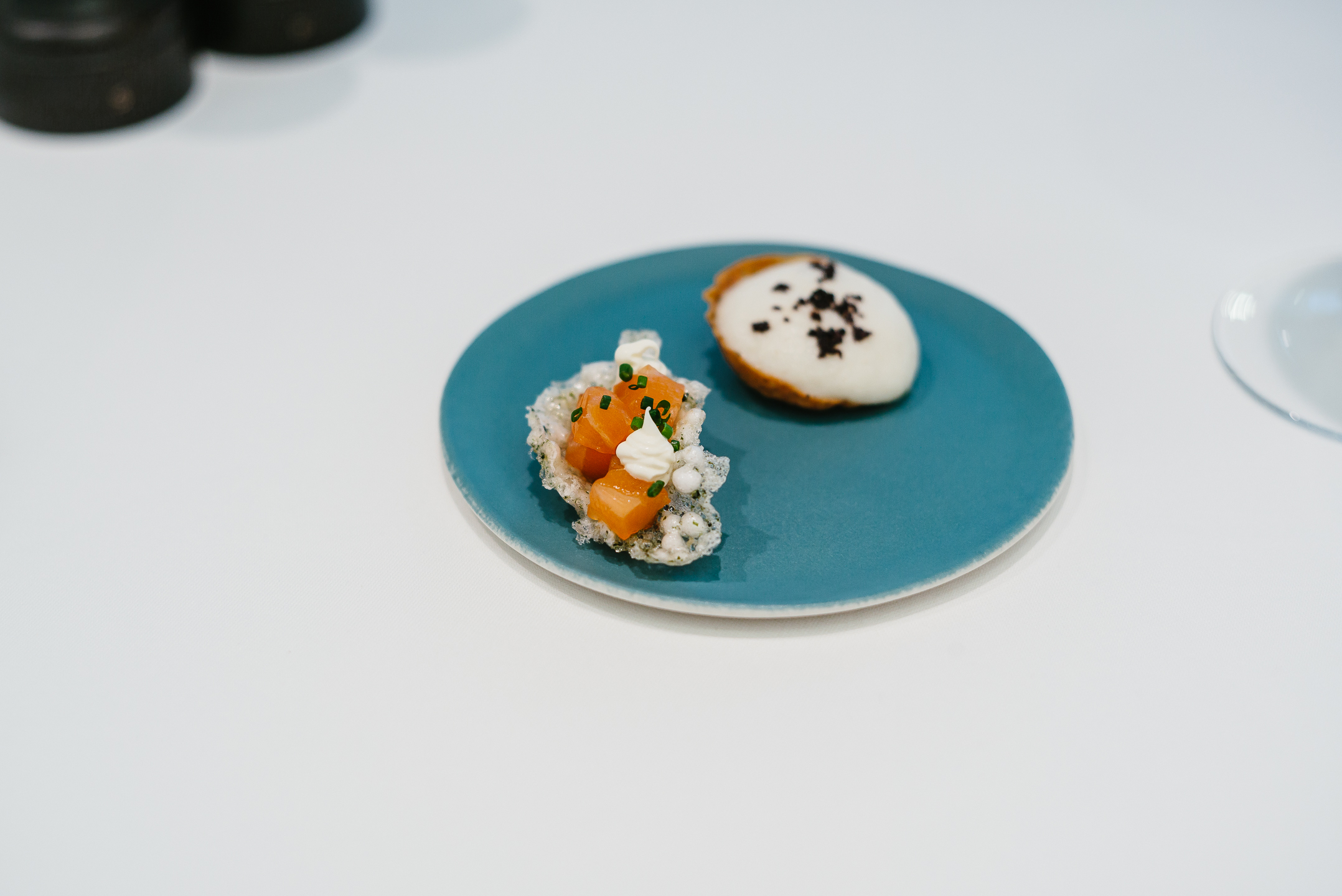 1. Flamed Mackerel with plums, shiso, dashi consommé and confit ginger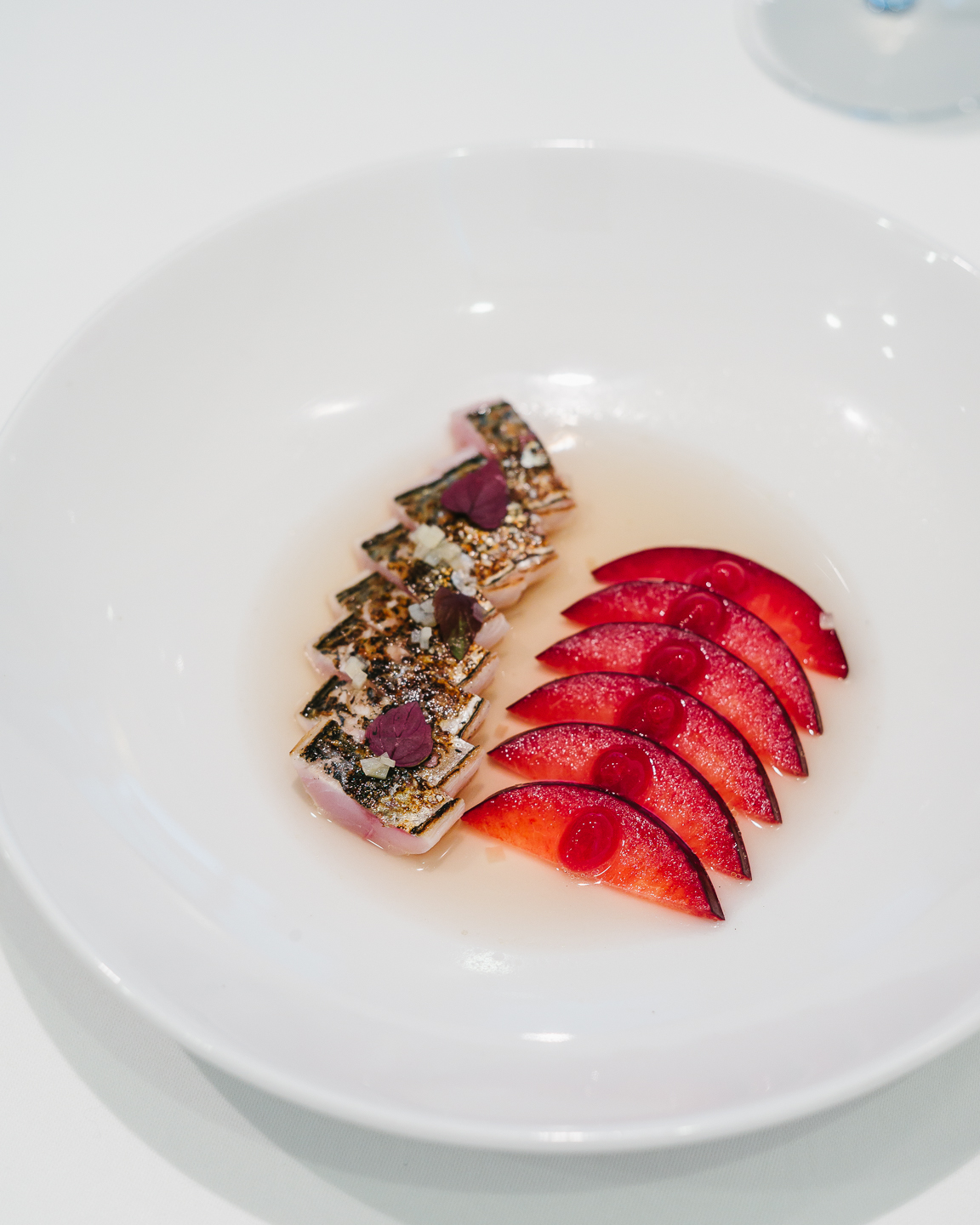 A new variation of their shime saba, although this I think is uncured before seeing the torch gun. Smart pairing of the mid-season stone fruit which equalises the mackerel's inherent oily and fishy quality. The real finesse is however is the consommé, so much work and yet it is invisible. It is perfectly clarified as you can see, with a subtly smoky quality that I initially thought to be smoked eel. I asked Theo and this is the result of a mackerel stock in the mix, as well as some tempering with other things that I'll keep elusive on here. Cornish mackerel skinny dipping in Rishiri kelp forests and hanging out with a smoking katsuo.
I loved the summer version with oyster foam & cucumber, and this takes it a step further for the Fall. Fine work.
2. Devon Crab with heirloom tomatoes, king crab jelly and fennel pollen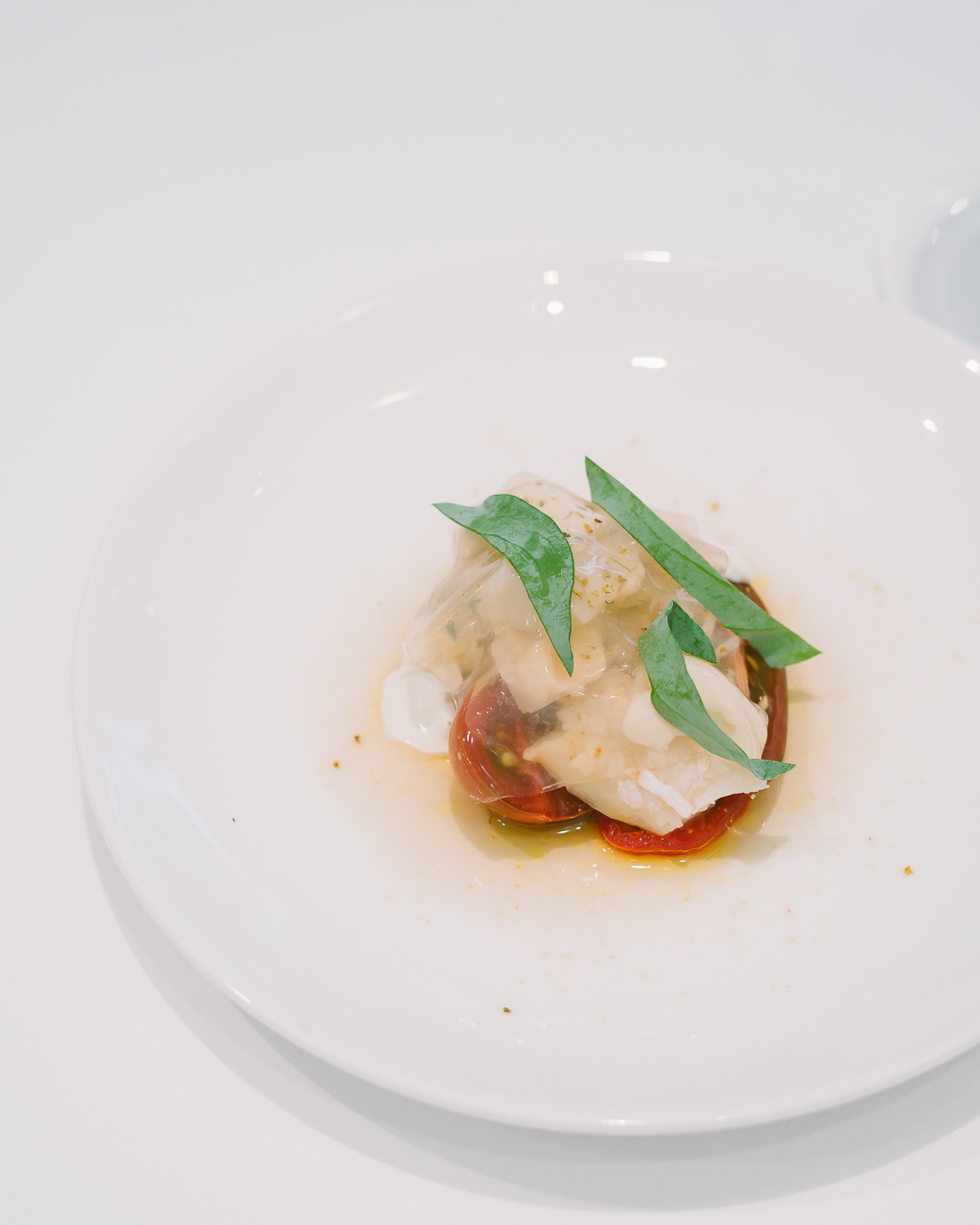 In the summer, Tom came up with a lango version with I absolutely adore. Firstly with a quenelles of shellfish gelee and then evolved into a flat sheet with gelatin in the mix.
And here we have a further development with Devon (Cock?) crab. The jelly seems to have received further tune-up as it is very fragile and breaks as fork goes in – fine work ?. This then reveals claw, leg, white meat from main shell and rainbow colours of heirloom tomatoes. It tastes a la minute and I think the smooth creme crue has cooled it so it hides this well. Oyster leaf (which I always misidentify) gives the finish a stony mineral edge. Clean flavours. This is a pure dish, the essential crab flavour and like the mackerel, the true genius is in this slick, this "water" of crab.
3. Native lobster tail, coral, sweetcorn, endive and preserved lemon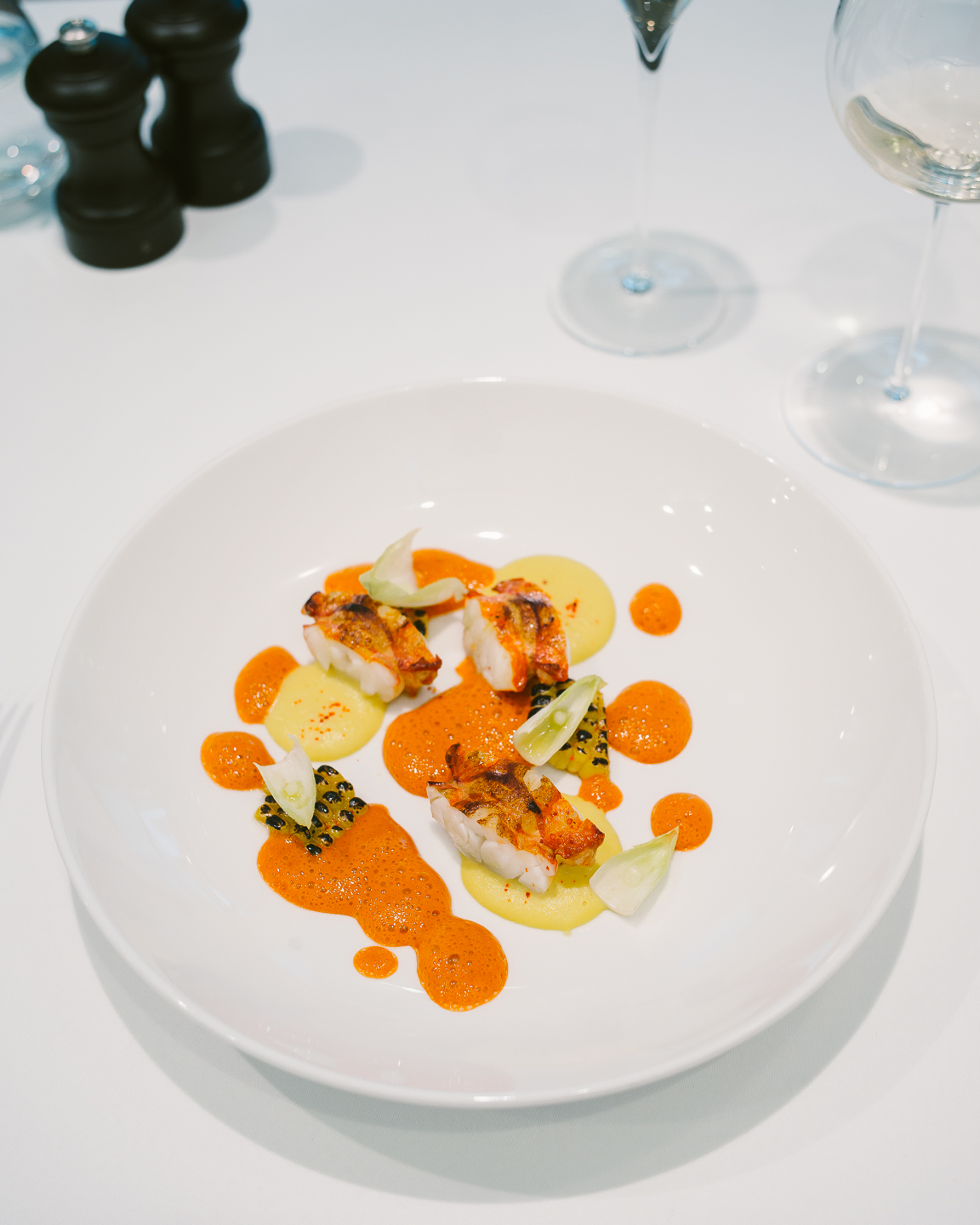 I make a request for Tom's native lobsters at every visit, of course it's not always possible to source (because coral), but when he manages, my god it's good. The last time I had it, he paired with blood peach and pistachio mayo, which I thought to be quite the revelation. The mayo is quite special as I believe it is done with only egg whites and as you can imagine, this means a texture that is both seamless and quite light. Something which Tom had developed from his time with Mikael.
Today's blues have yielded a beautiful & full coral sauce. This variation features sweetcorn puree and charred for smokiness. I noticed the roasted tail also match the char of sweetcorn, so you have rich shellfish sweetness all around, butteriness, then smoky. Hiding in the endive, are dots of preserved lemon, injecting a jolt of acidity and a touch of zest bitterness to freshen up the palate. The proportions of each is correctly chosen and make for jolly good balance. Lobster is always fantastic here, if you like it, pre-request, and ask Tom what he does with the claws.
4. Slow cooked Cornish turbot with Coco de Paimpol, preserved lemon, parsley and red pepper dashi foam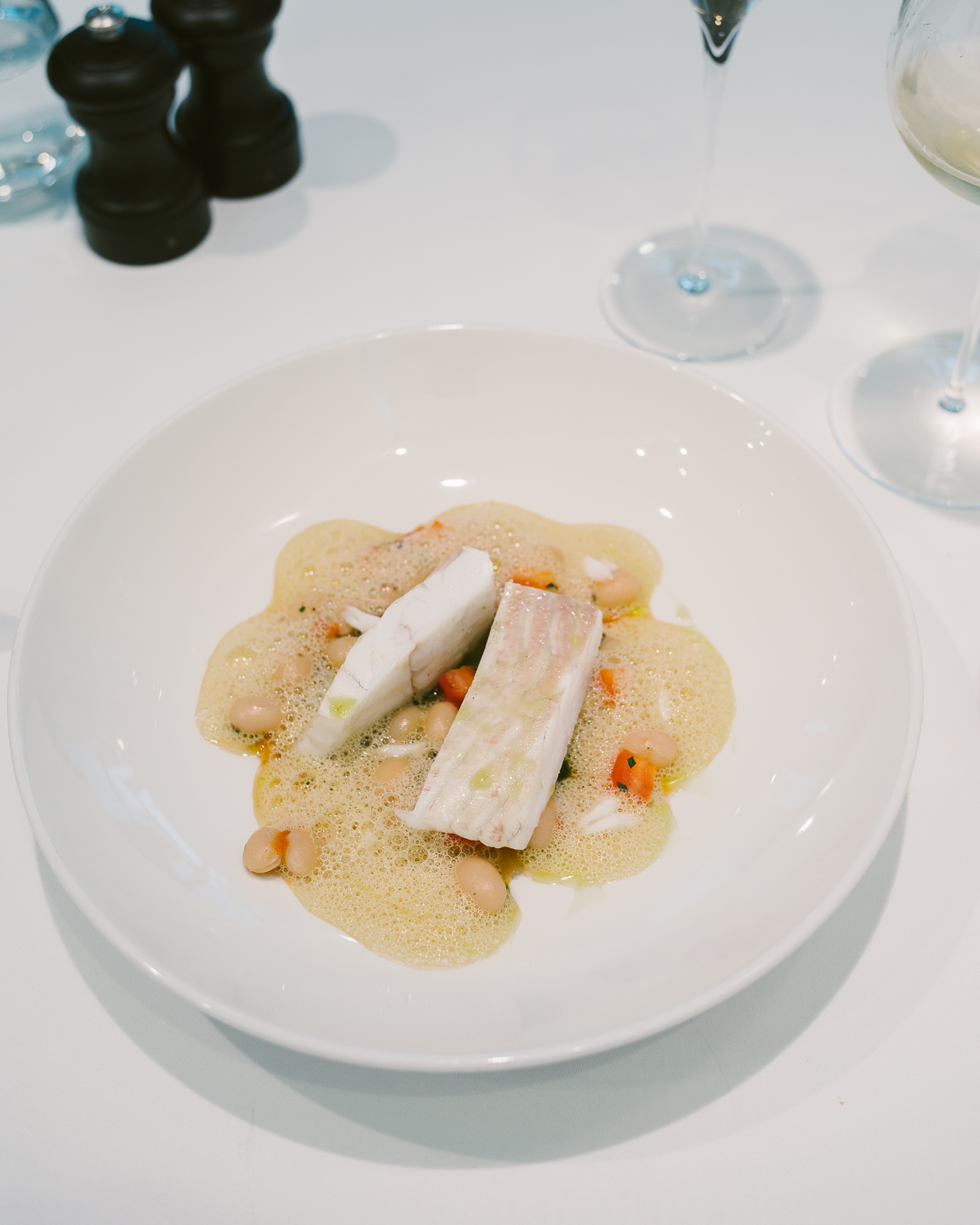 Getting the a la nacre effect on camera isn't so easy, need to turn the exposure down a little to. I did get it in a close-up here. In the steam oven, tight control of temperature and of course you need decent fish (prefarably a big one ) to achieve this. There are kings amongst the king of fish. Not just produce-led, but technique and respect. You steam fish heads know what I mean.
The foam has the sweet and barely spicy kick of red peppers cooked down with a lick of kombu umami. Underneath it, it looks like parsley been made into a green sauce. Warming, autumnal dish that is like a spectre of a bouillabaisse.
5. Highland Grouse with chard, damson coulis, quinoa and wild rice crumb and an offal and foie toast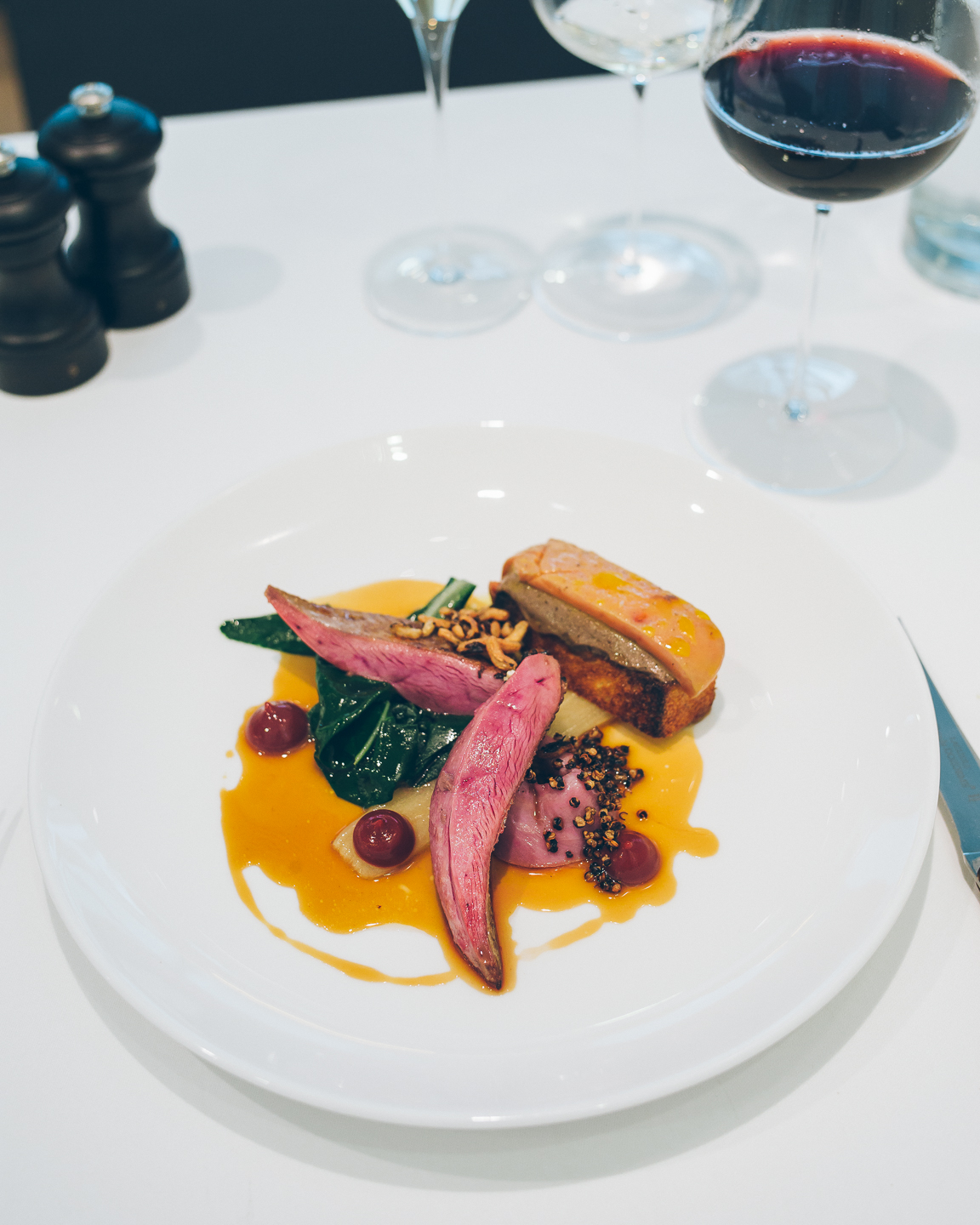 Beautiful blush of pink, so moist that it had me wondering how they did it. These guys always magicians with game birds, somehow managing to turn grouse five weeks on from twelfth into delicate clean flavour without the baggage. The quality of the bird reminded me very much of Ledbury's poach & roasted grouse. Indeed here, Tom has confit before finishing the crown in the pan to crisp the skin. Top class execution. I wonder if the legs has gone into the offal toast or the tasty jus?
Finally that toast, phew, delicious log right here. Check that pure slice of foie off the lobe melting over the offal. Bags of flavour and just something of simple pleasures about it. In some ways it is redolent of savoury durian, in its XO olfactory but yet also sweet, unctuous, buttery. The texture of the offal parfait (puree?) is entirely seamless. I'm thinking Monthong. King of fruit innit.
6. Pre-dessert : Elderflower sorbet, confit ginger with crumble
7. Soleil figs, fromage blanc sorbet and wild flower honey ice cream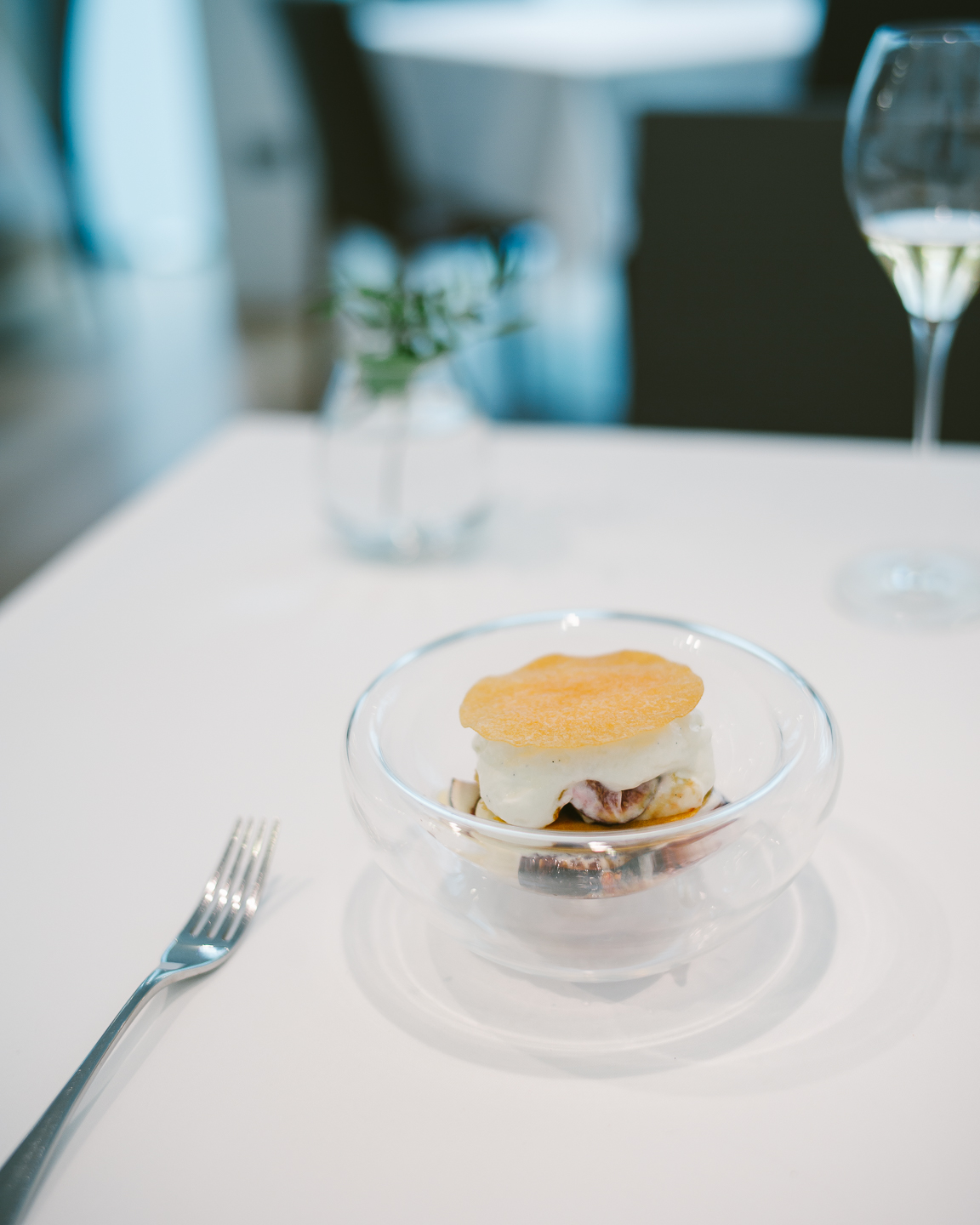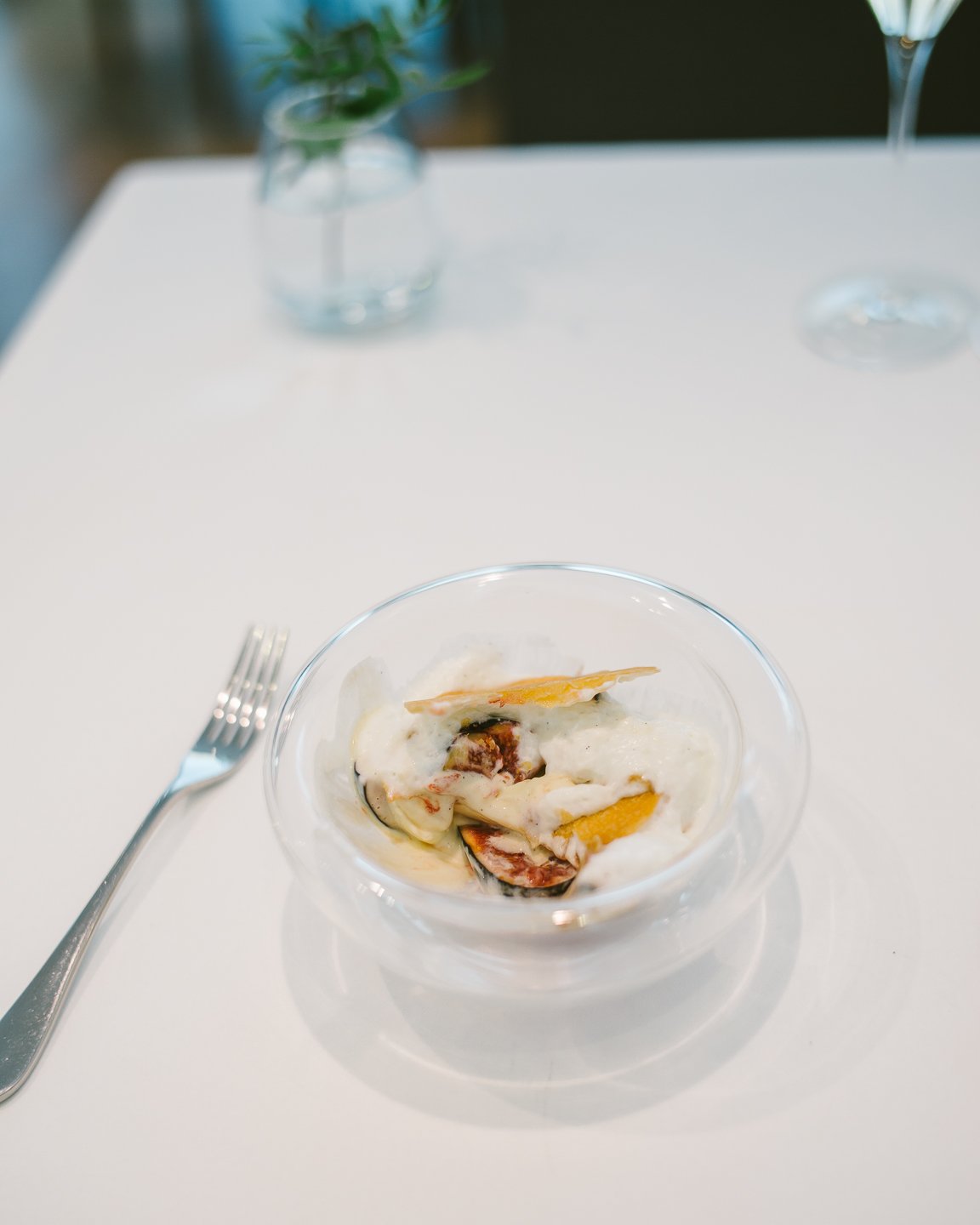 In between the thin pastry feuilles.
Classic pairing of honey + figs is excellent. This pudding serves to confirm the quality of their ice creams – a folded and seamless pacojet smooth quality, which eats like a zero degC version of their creme diplomat. The fromage blanc lightens up the load, with clear and clean acidity, together with the ice cream, it plays textural tricks on the palate.
My winter crystal ball predicts a return of the chocolate sabayon tart perhaps even that mythic egg custard tart from earlier days. October is only 2 weeks away….
Coffee and petit fours