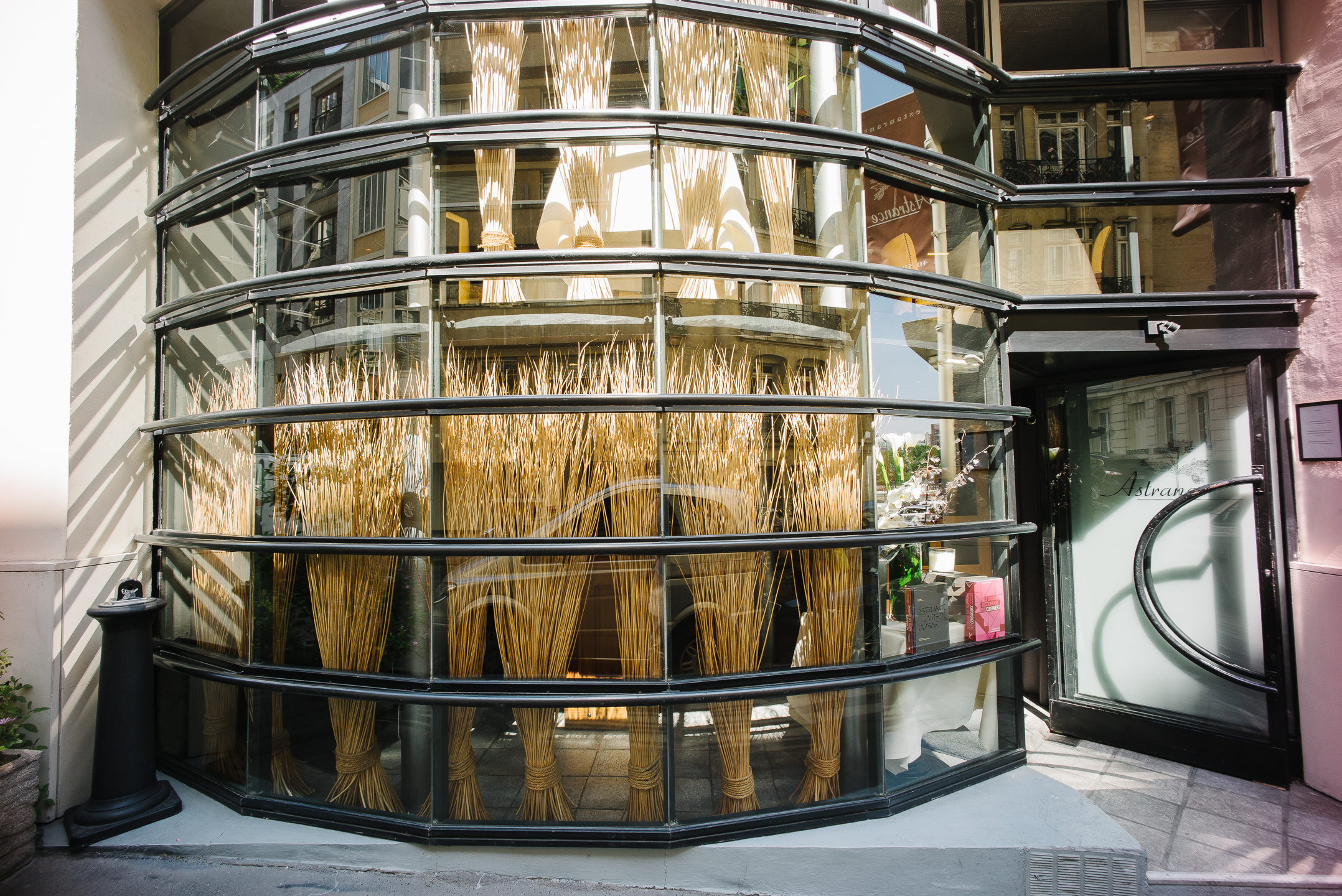 I gave it exactly 2 months and rang the moment the lines opened at 9am (over here). Table for 3, 1st Thursday of June, the year 2016. It is a tiny, tiny restaurant, 25 covers and nothing of the incredulous luxury of stereotypical three star temples. In fact there are many things about Astrance that is curiously dissimilar to its peers, it may even be viewed as the epitome of a modern Paris bistro. One that retains starched linen, with a genius running the pass (inside a crammed kitchen) whose cuisine is a reflection of the chef's heritage and roving past where he picked up a love for other cuisines.
Pascal Barbot is probably the most famous of Alain Passard's 'graduates', his fast climb up the bib ladder, a well documented bit of gastronomic history, with his reputation as one of France's finest chefs firmly cemented. Vichy's favourite son still has decades ahead of him, he celebrated only his 44th birthday earlier this month. Just like his mentor, his 15 year old kitchen (and FOH) has incubated a new generation of serious talent include Shinichi Sato, Tatiana Lehva, Shuzo Kishida, Magnus Nilsson and Adeline Grattard.
The year was 1995, Pascal already year 3 at Arpege when Christophe Rohat came on board as Chef de Rang. The following year Arpege rose to *** status (with young Claude Bosi in the same kitchen) as Pascal worked his way up to sous-chef and Christophe was entrusted with the front of house as Responsable de Salle. In 1999, Pascal went off to Ampersand in Sydney, while Christophe stayed in Arpege and then shortly at Pierre Gagnaire before the pair would cross paths again at Laperouse in 2000. A year later, Astrance (after a white flower which Christophe saw during a mountain hike) received its first star, five months after opening its doors. The rest is history and the present as we know it. Two month waiting lists and another luminous restaurant with an 'A' in the first pages of directories.
If Alain Passard is the impressionist painter then Pascal Barbot is the jazz pianist, a total practitioner of improvisation with mastery of his craft. I have his cook's book which he and Christophe co-wrote with Chihiro Matsui, and even though he is modest and asserts his skill set being a humble one, to me, I find that he is a great technician who invents, re-invents recipes based on a respect for ingredients of quality and a deep understanding of how to cook them.
There are no menus at Astrance (there used to be in the beginning days), it is all a surprise, you have to trust the chef's carte blanche will produce a pleasant meal. You tell them your dislikes and allergies and choose the length of the meal. The top menu, Astrance Menu is €230 for 7 courses. 5 for the €150 Menu Saison and a 3 course Lunch Menu is €70. For Paris, these certainly are the 'cheapest' of the three stars. We opted for the Astrance menu and I added the wine pairing (+€120 for 10 glasses) as many have noted the equally unique and hard work the restaurant puts in to lay on interesting swill.
I provide notes for food and the paired wines FWIW.
If you prefer to scroll past the pics to the thoughts, then click here.
And so to bubbles and canapes.
Les Vignes de Montgueux, Jacques Lassaigne
100% Chardonnay, from vines in chalky soil.
The nose is hedonistic here, effervescent, the bread jumping into the nostrils. On the palate, it comes with a zest rush, a bubbling buttery yeast and a saline and sweet finish. Quite forward and light, easy drinking.
0. Almond biscuit with apple and praline ; Tartelette of feta and rocket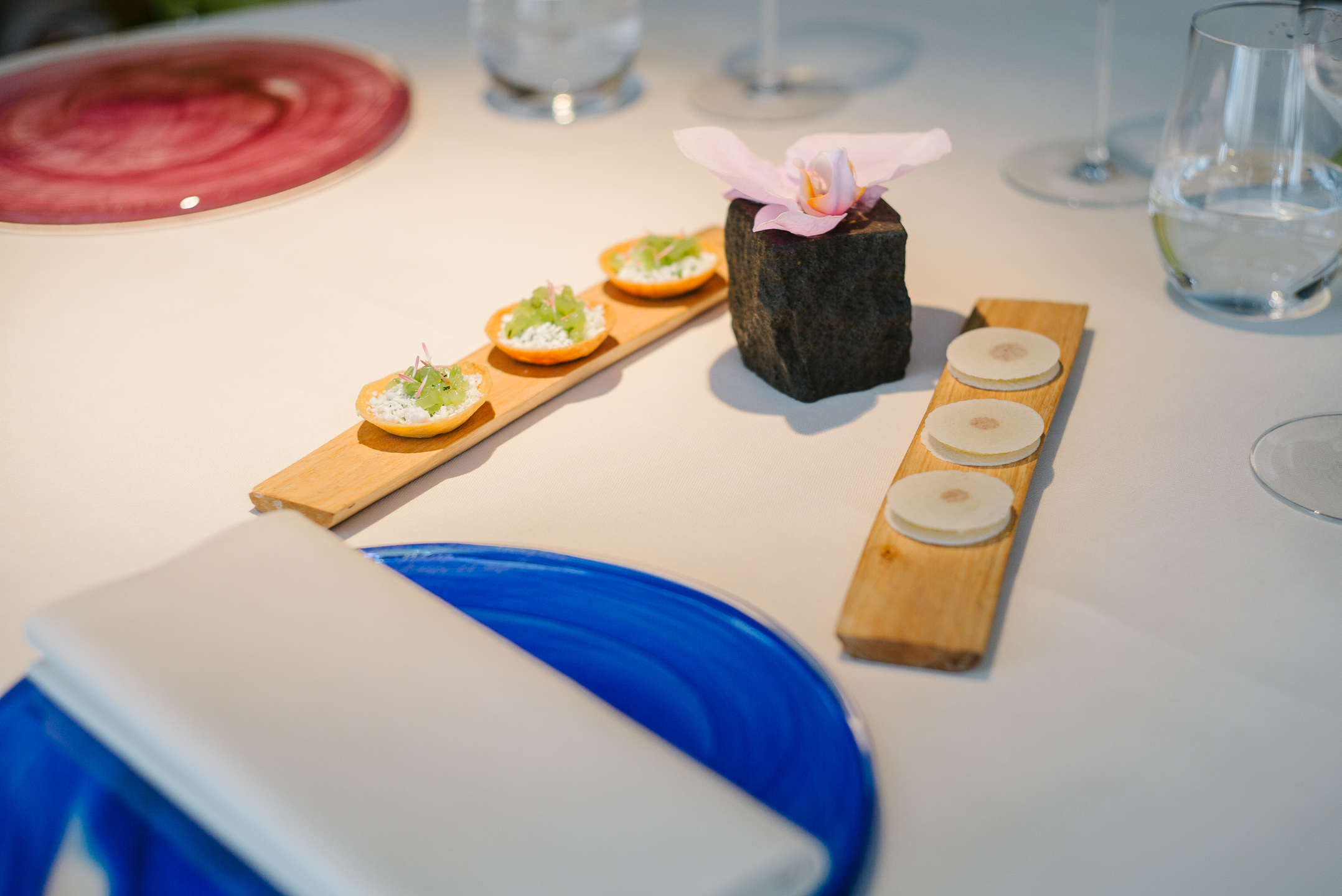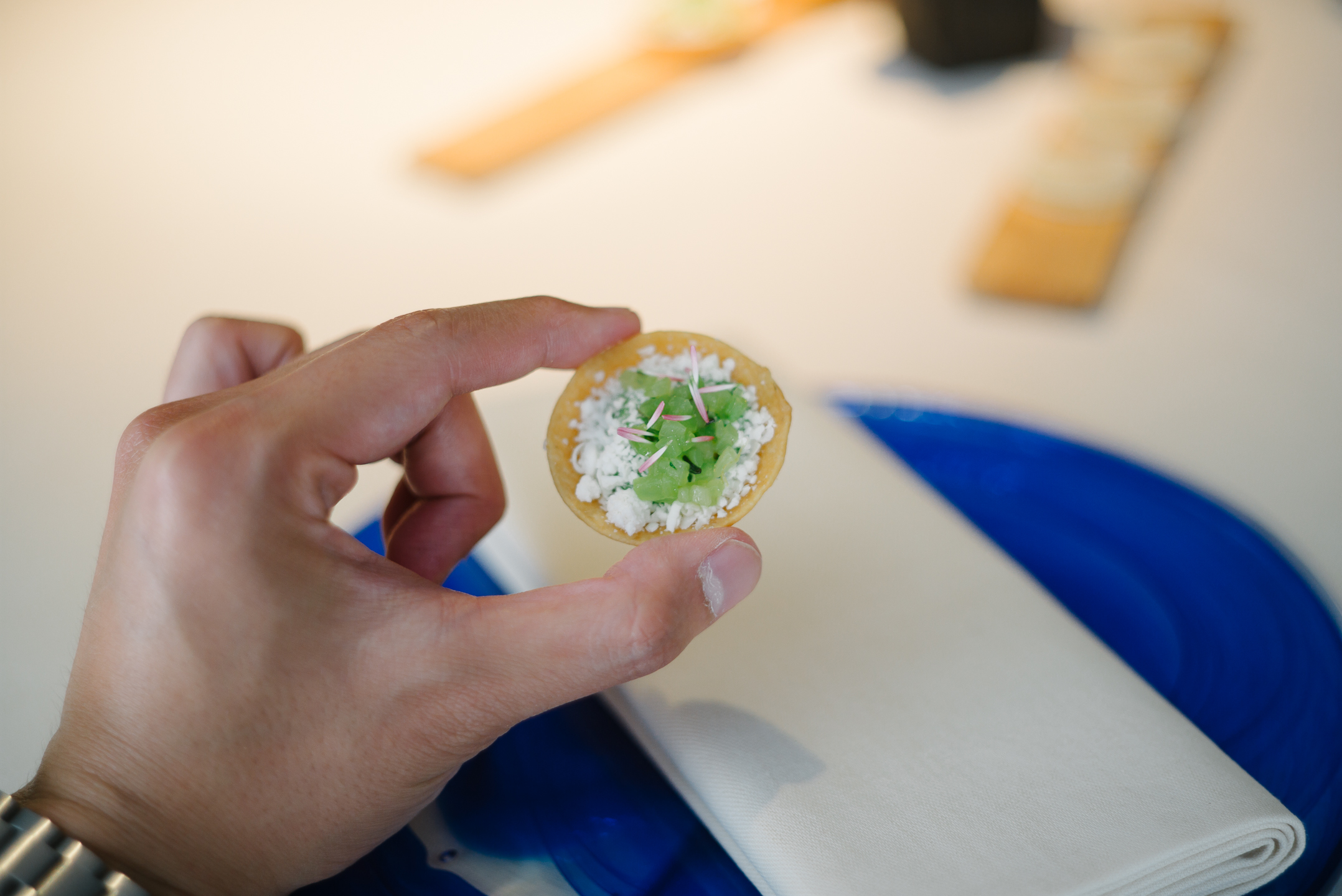 Chef Barbot is an idea factory and things evolve so quickly that by the time his book was published, many recipes had already shifted in service of further perfection. Except for two things.
The first is Pascal's love for citrus. The one thing he hides and sometimes overtly displays in his cooking. Acidity perks up in nearly all his dishes. The techniques are French but Pascal borrows from a sleuth of Asian cuisines, Japanese (kombu, katsuo, dashi, knives), Indian (tamarind, cumin), Indonesian (satay, peanuts), Taiwanese (peanuts again) and Thai (lemongrass, galangal, shrimp paste)… and probably more as he continues to travel and experience, the judgement to absorb and to discard, to adapt in order to polish and re-invent his delicate cuisine rather than for shock value. And this is probably why Barbot is viewed as a genius of his craft. You can smell it in the air when they seat you. The fragrance of flowers, spices, the effervescent and perfumed. They even hand out scented hot towels at the start of the meal. This is a nod to Asia.
The second is that tarte. The galette. The dish that has come to embody Pascal Barbot cuisine, one that every Astrance meal begins with, and one that will likely remain for the duration of Astrance's existence.
1. Tarte of button mushroom and verjus marinated foie gras, hazelnut oil and roasted lemon paste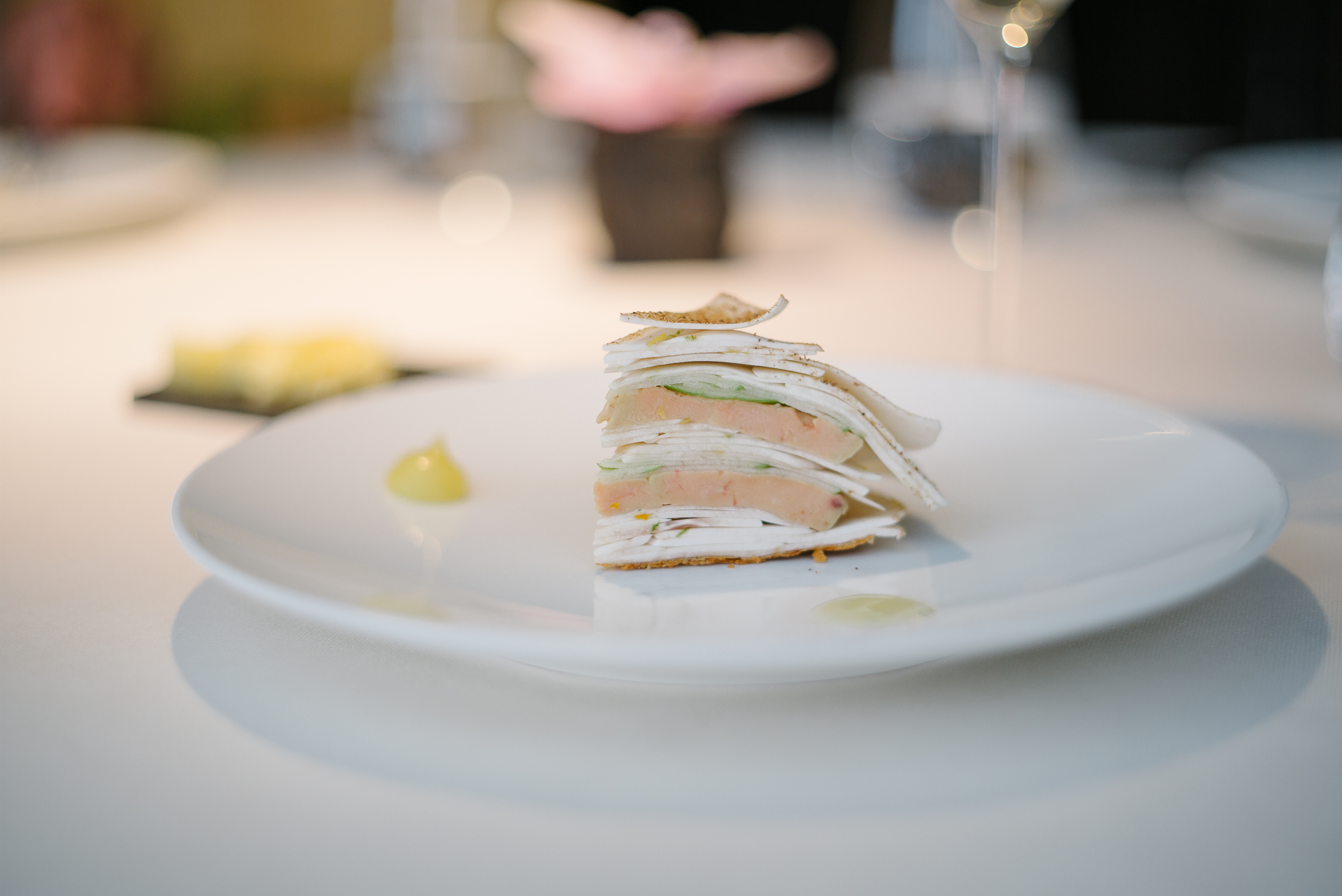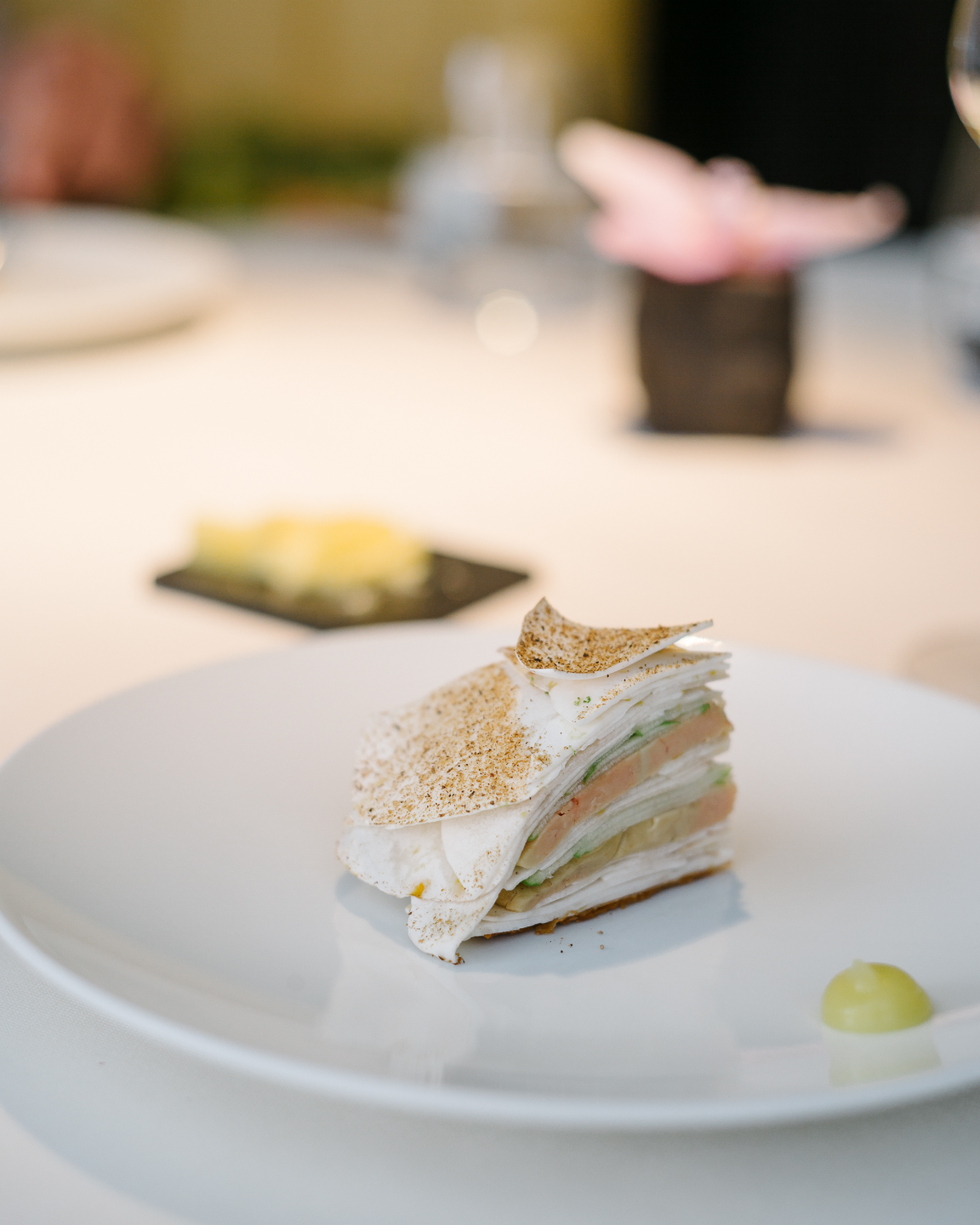 The enduring Pascal Barbot dish. A millefiuelle, as Matsui san calls it. It is perfect.
Built on a base of thin brik pastry, then alternating layers, a millefiuelle, of mandolined button mushroom seasoned with zest of lemon, lime and orange, fleur de sel and pepper. Thick cuts of foie gras are sandwiched in between the mushrooms, pressed flat after the lobe is lifted from a 3 hour marinade in verjus, also slices of granny smith apple. It is finally dusted with porcini powder and cut into 8 portions before being served with hazlenut oil and roasted lemon paste.
This is clarity. I am in awe as it eases onto the palate, the texture of the mushroom, waxy and porous, it seems miraculous how delicate the taste is, like its construction, of ethereal balance. The fat of the foie tempered by the acidity and earthiness of the seasoned mushrooms with apple as a sweet accent. None of the ingredients' natural savouriness are lost, in fact, its all here, a choir in unison.
Amazingly, the tart is entirely raw and served at room temperature, which I believe has contributed to this dish's unique delicacy. Perhaps the success is to do with roots and memories, culture and the way people eat, eventually leading to this slice of perfection. Raw slices of good foie on toast with salt and ground pepper is tradition in the Southwest and hence the very seeds of the idea.
This is the best of the meal. Easily one of the best things I've ever eaten. Should have asked for more.
2014 Lune Blanche, Le Conte des Floris
A white carignan from the Languedoc. Never had a white from this varietal before. Organic from winemaker Daniel Le Conte des Floris, formerly a professor of computational science and latterly a journo at La Revue du Vin de France.
Nose is shy but the palate incredible. It opens with paper and butter. A little oxidative, just a hint of nuts. An interesting wine.
2. Hare ravioli, smoked eel and anchovy bouillon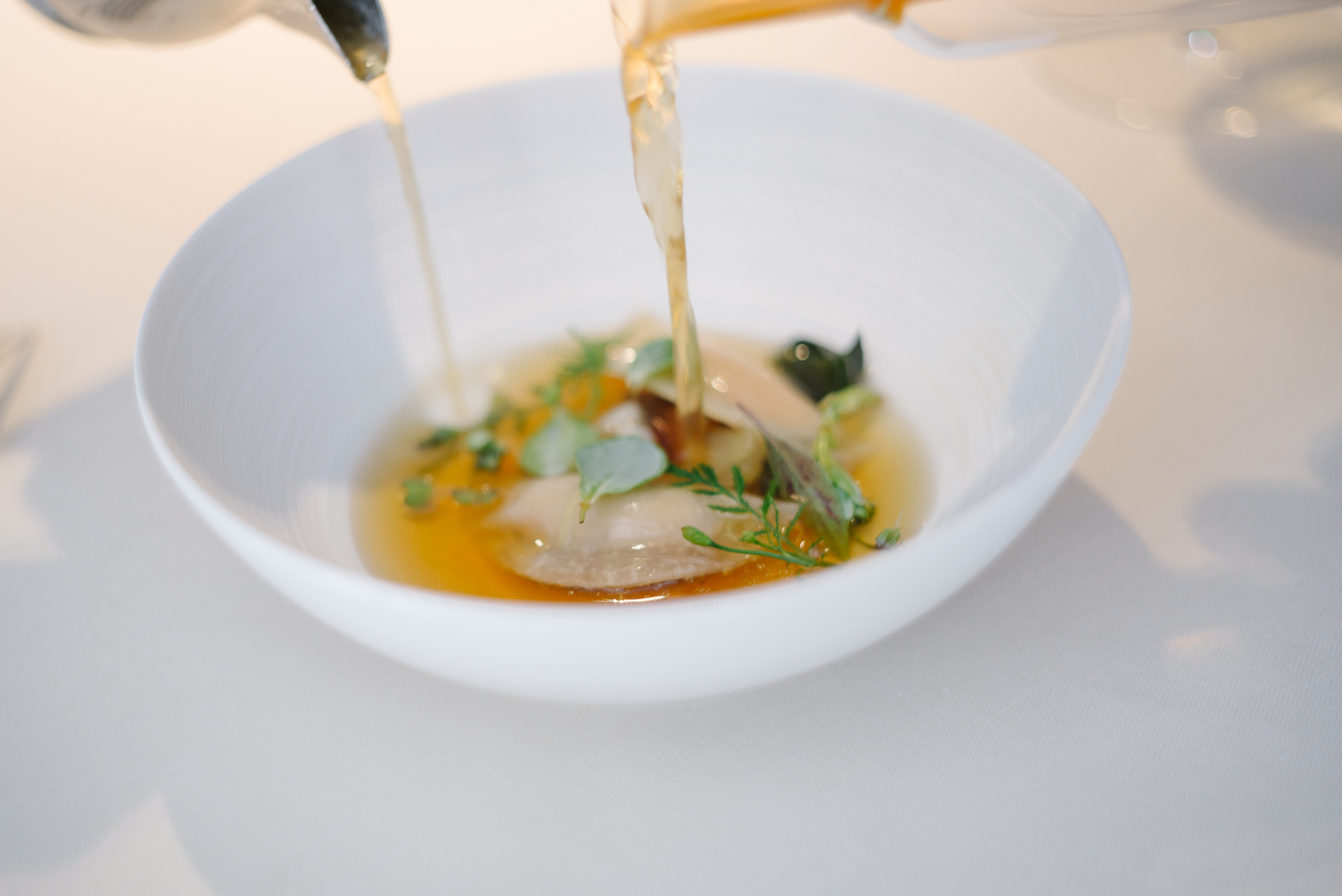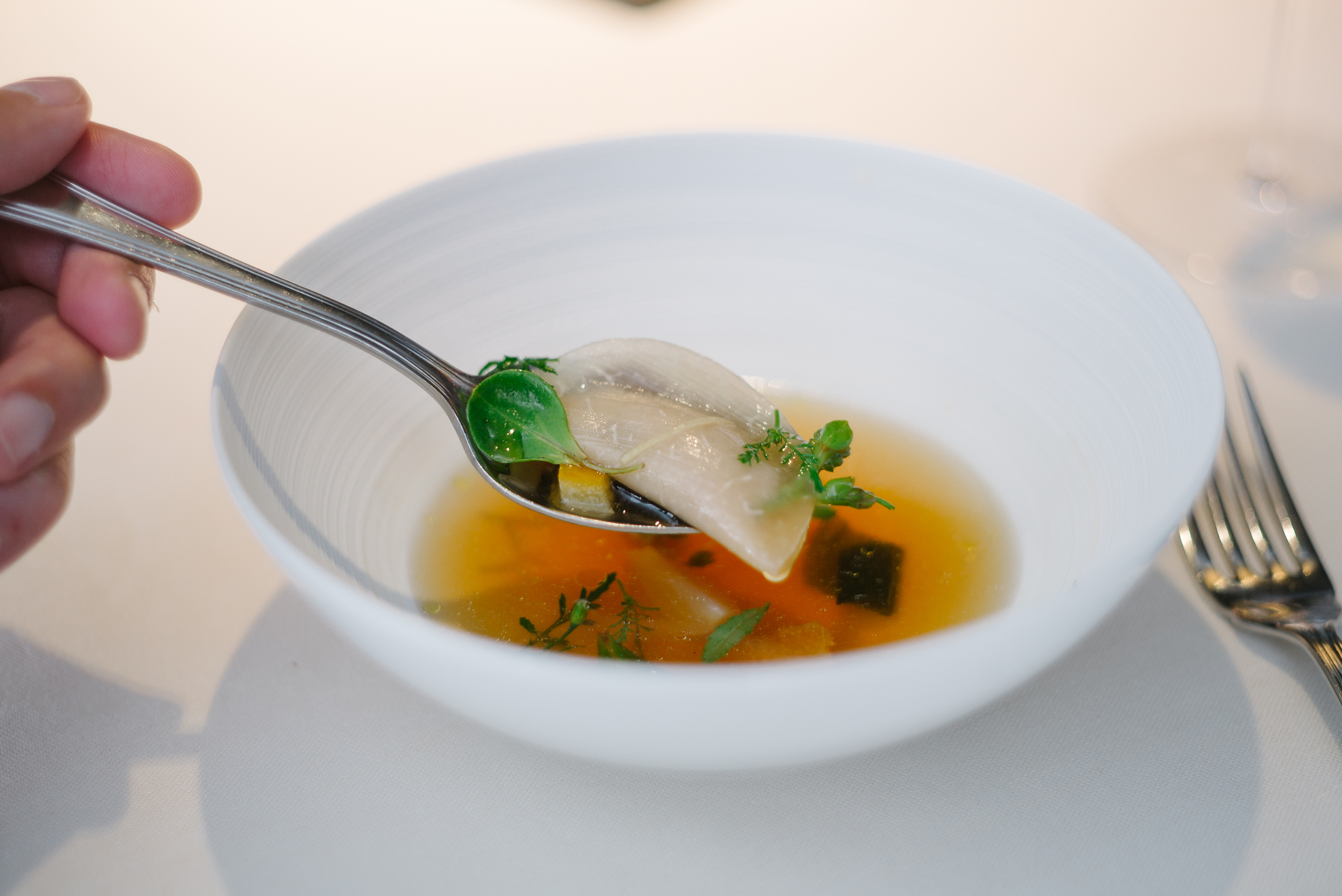 I also see sliced kombu, (pickled?) onion and Barbot's something acidic makes a grander entrance here. Confit of lemon is my guess, though we also thought it tasted of kumquat.
The broth is a gloriously rich stock, incredibly aromatic, fragrance of herbs, smoky, salty with acidity to keep it fresh and light. The balance of flavours is spot-on. This is the one dish where I thought acidity worked well. The ravioli were incredibly delicate, a fine rival to his mentor's famous surprises. It is so easy on the palate and a demonstration of Barbot's skill.
2010 Gruenspiel 'Le Jeu des Verts', Marcel Deiss
Another biodynamic wine. To pair with this umami tour de force is something sweet, made from a blend of gewurztraminer, pinot noir and riesling. 28g of sugar. Sweet but also fresh, like a light sauternes. The nose is beauty, almost like muscat, the gewurztraminer and riesling dominating. Also, it smells of elderflower when the glass is empty.

3. Scotch langoustine, satay, peanut with crispy roll of apple, ginger and mint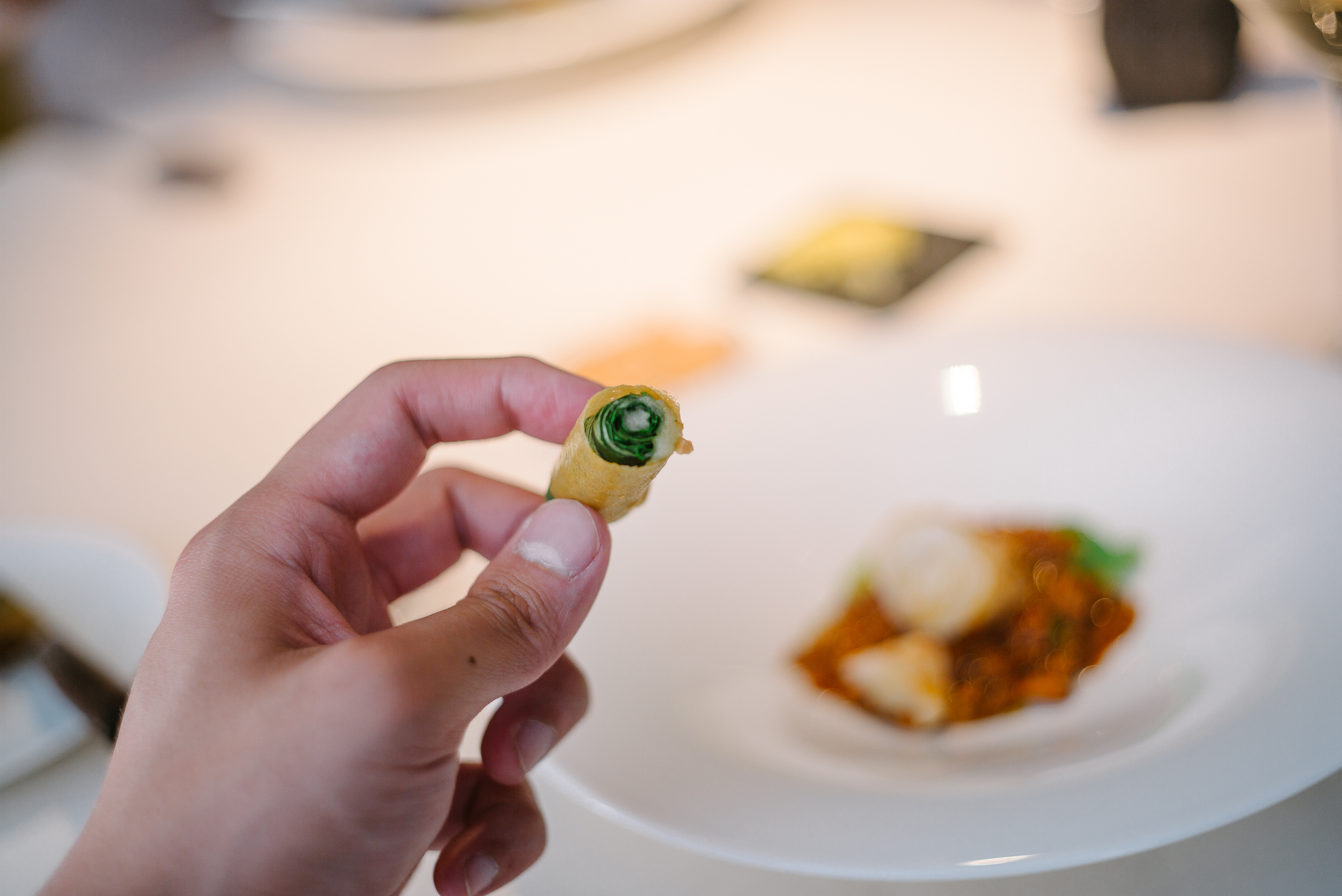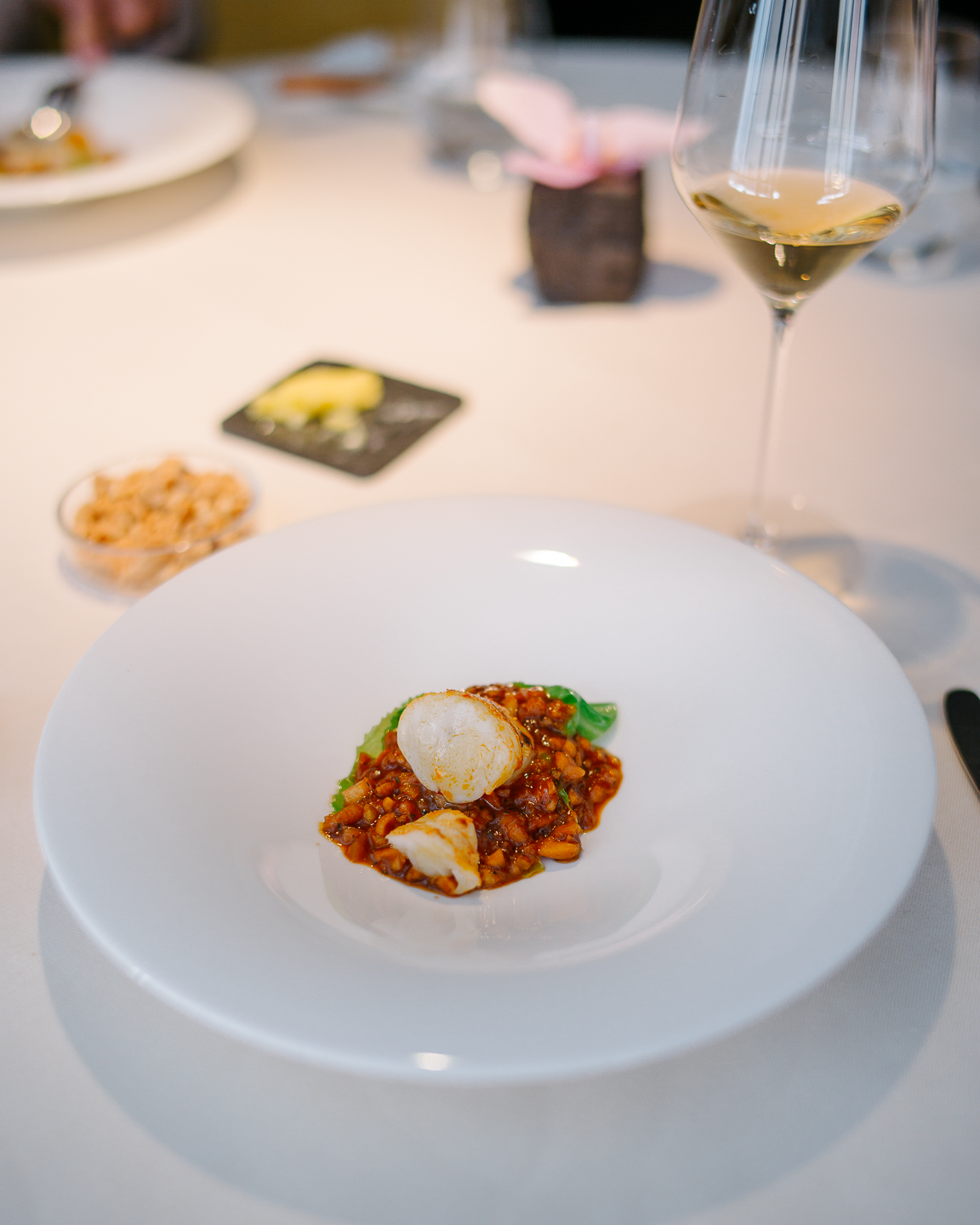 This dish troubled me. On one hand as with all the dishes, execution, technique and ingredient quality were incredible. On the other, I have very defied memories of what satay is and the acidity in Barbot's just messes it up in a very fundamental way.
The smell is undeniably satay, it's well made and a credit to Barbot as my mind shoots straight back home for memories. The coconut and shrimp, it smells wonderful and fragrant, as it should. Then with the crispy roll, boom, freshness, a spring roll of mint, ginger, the tart of apple. Right, palate prepped.
The langoustine tail was unnaturally meaty, a la minute in a hot pan, minutes perhaps even seconds, turning out a sweet and juicy crustacean. I could hardly believe it was Scotch, but it is! Perfect langoustine.
The roasted peanuts nearly whole, provided texture and oil, you can taste the chilli but the satay sauce feels like it is enveloped within a immiscible layer of liquid citrus. In his book, he mentions lemon juice, lime juice, kaffir lime juice and it certainly tastes like that – the acidity is screeching on the palate. It keeps the heat from the chilli in check, and there is a very violent balance being created. This is a unique combo, it is a strange thing but it is polished.
But that acidity, it takes it too far, a tidal wave of shooting citrus, watering down the potency of the sauce, the peanuts unable to play its conventional role in providing smooth texture, rather the roughness grind it all to a halt.
In a way, this is more like sambal prawns rather than satay, and in this form, it is missing starch to absorb richness. I also think that charcoal is sorely missed, the taste of satay and burnt embers is perfect together, langoustine on a skewer, finished on a grill would have added to the dish.
2012 Bourgogne Hautes-Cotes de Beaune, Bellis Perennis, Claire Naudin
One of those minimal/little interventionist wines. Whole stems, gravity, no filtration, minimal SO2. Claire taking over the family business Dom Naudin-Ferrand in 1994, overseeing 22 hectares of vineyard with a team of 7.
Resulting in this beautiful white burg. Burnt toast and honey all over, a good pair to the spicy and pickled seafood of the satay. I take note of the label. This is precious, precious wine.
4. Caramelised cod, tamarind, raisin, burnt ginger, leek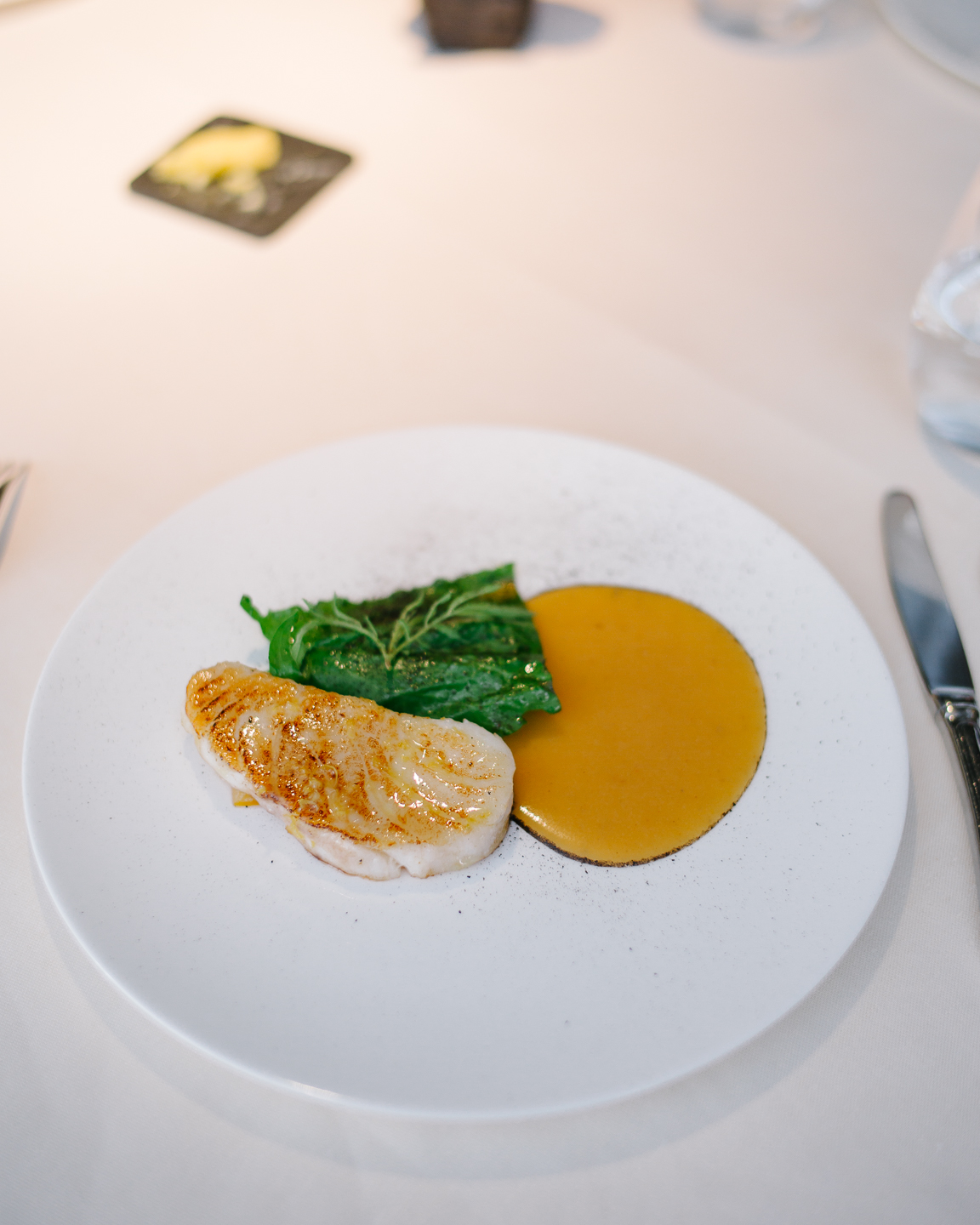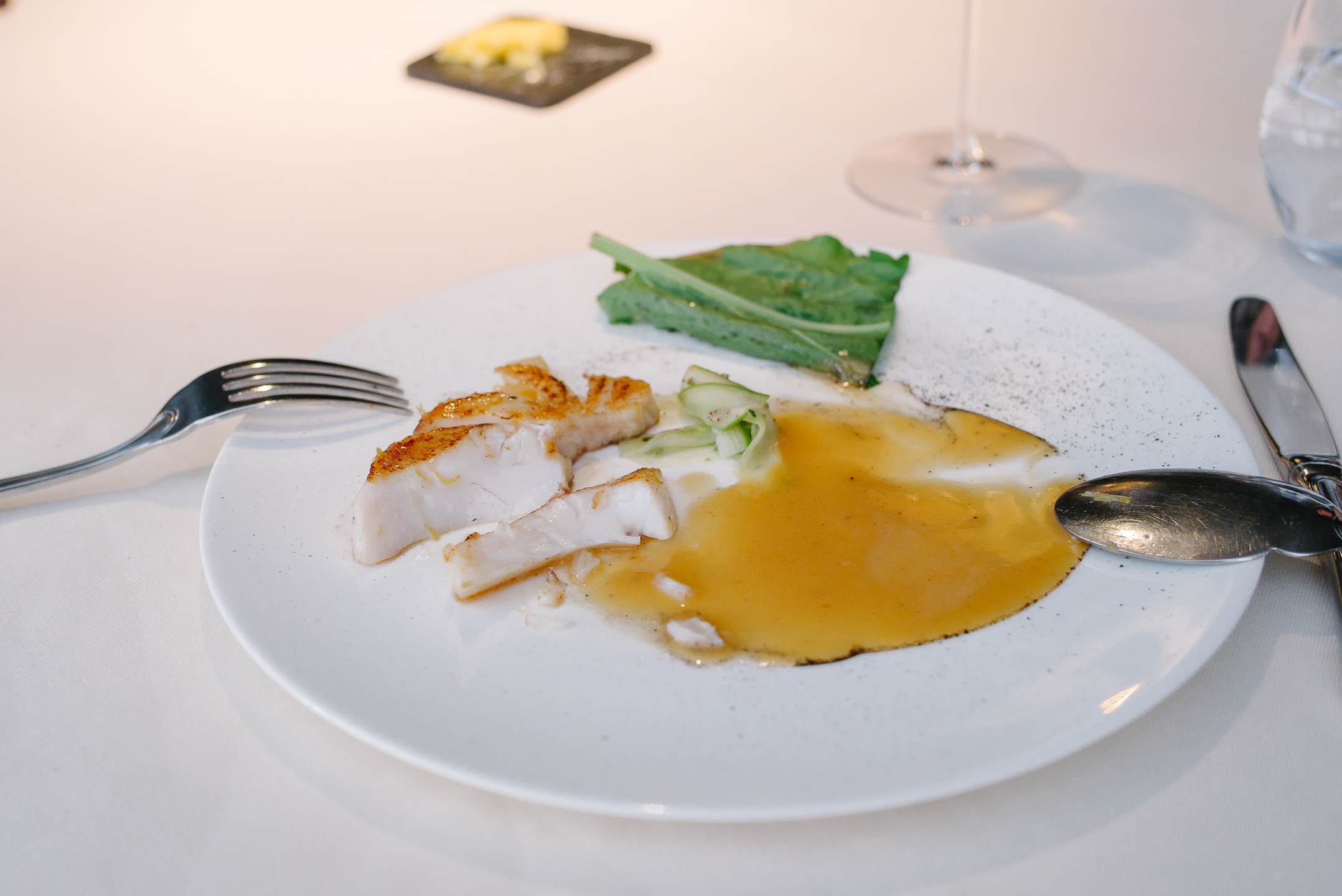 Morocco meets India, effectively this is sweet and sour fish. Yet again, the cod is perfectly cooked, it glistens, it is oily, flaky, semi translucent and totally delicious. The sauce is yet another of high acid, another violent one, like intensely sour oranges and nearly a chutney. But here is the genius – the surprise of the burnt ginger. It's like gunpowder, it gives this numbing sensation, not unlike mala without the spice. Sweet, sour and numbing.
I liked this one. Rubbing this powder on my fingers produced this fizzling effervescence. Intriguing sauce.
5. Pork belly, vin jaune, morels, meat sauce and curry parmesan fondue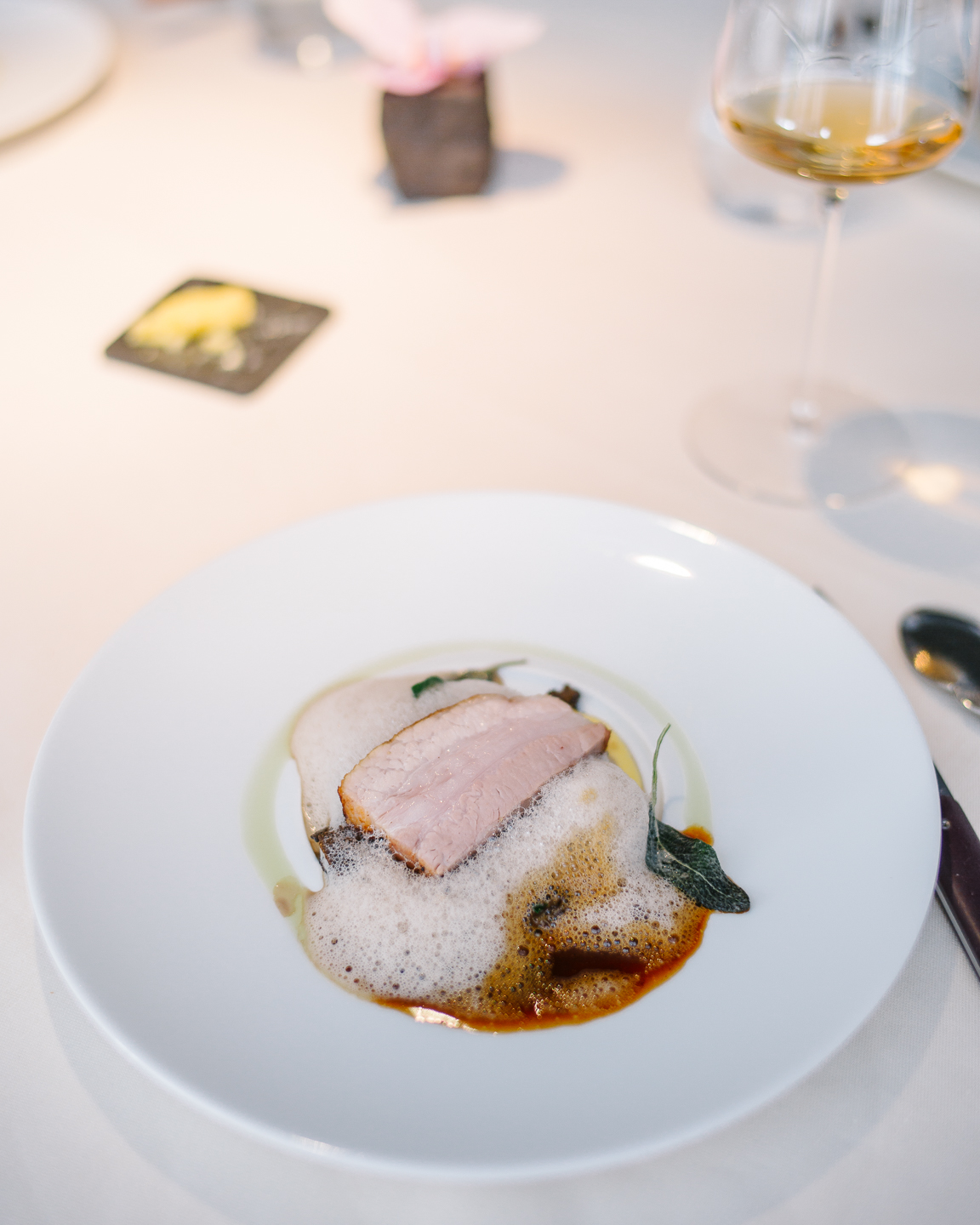 Warm and earthy. There's so much flavour, it's like truffles yet there are none. There is a shadow of acid, a papery bitterness, spice and then the rest is just meaty umami. The parmesan curry is a beauty, and the belly fat, sous-vide by looks, is slow cooked until melting perfection. Desyoner it must be right? Bigorre or something else? Who knows.
I thought this dish was the last, as I was full at the point, but our waitress placed another piece of the perfect Poujauron sourdough on the table, and so more to come.
2003 Pouilly-Fuisse Clos de Monsieur Noly, Domaine Valette
Another totally naturally made wine, all gravity and zero SO2. Interestingly, this domaine believes in extra long elévage, in the case of this wine, a period of 6 years in oak piéces and 1 in stainless steel.
Something of a signature Astrance offering. The long elevage has given way to a somewhat oxidative style. But definitely not vin jaune, as it retains the burst of acidity, with mild sherry notes. Complex. Interesting yeastiness on nose.
6. Challans duck breast, stuffed cherries, dates, tamarind, peas, piquillo pepper, confit duck leg and duck liver toast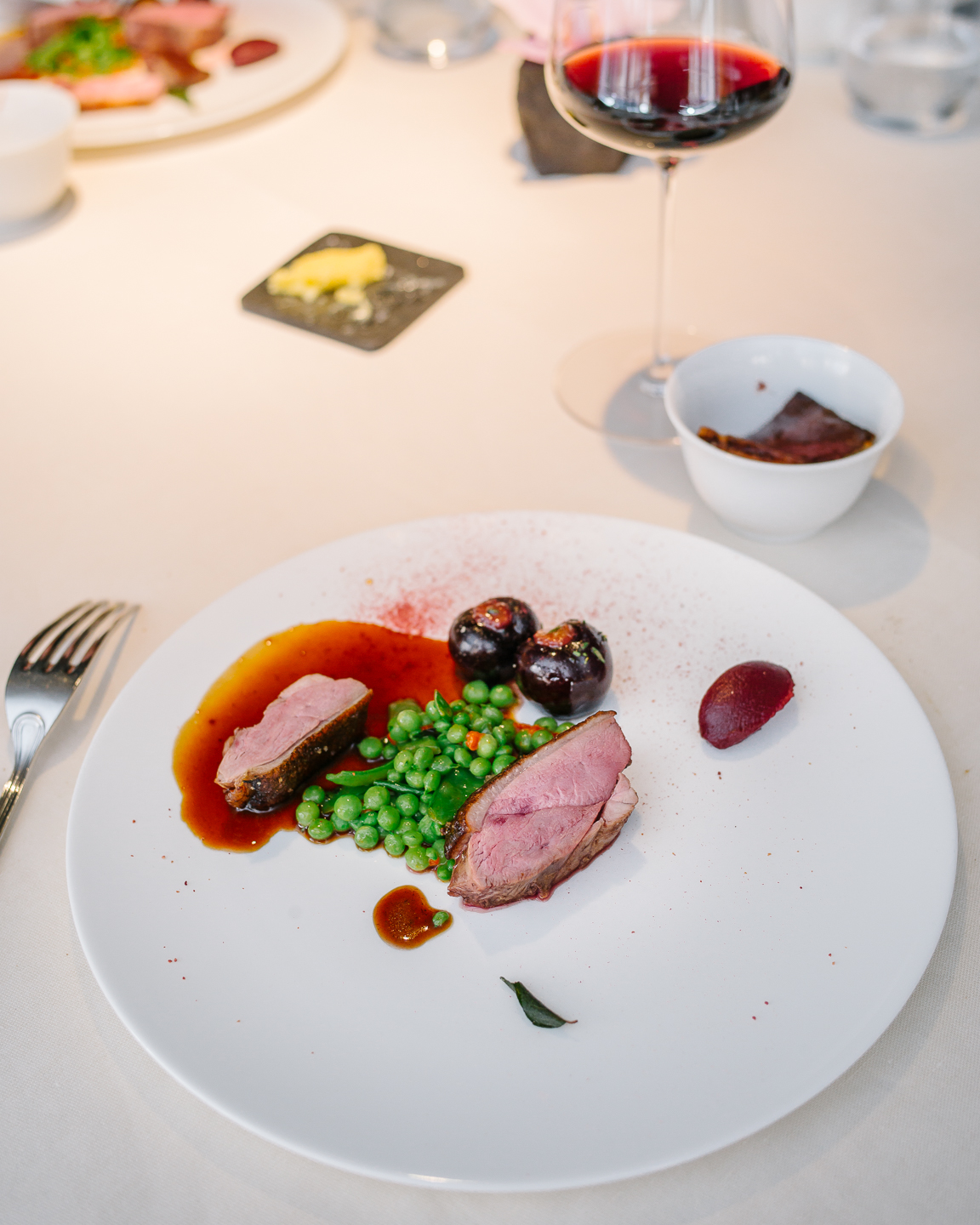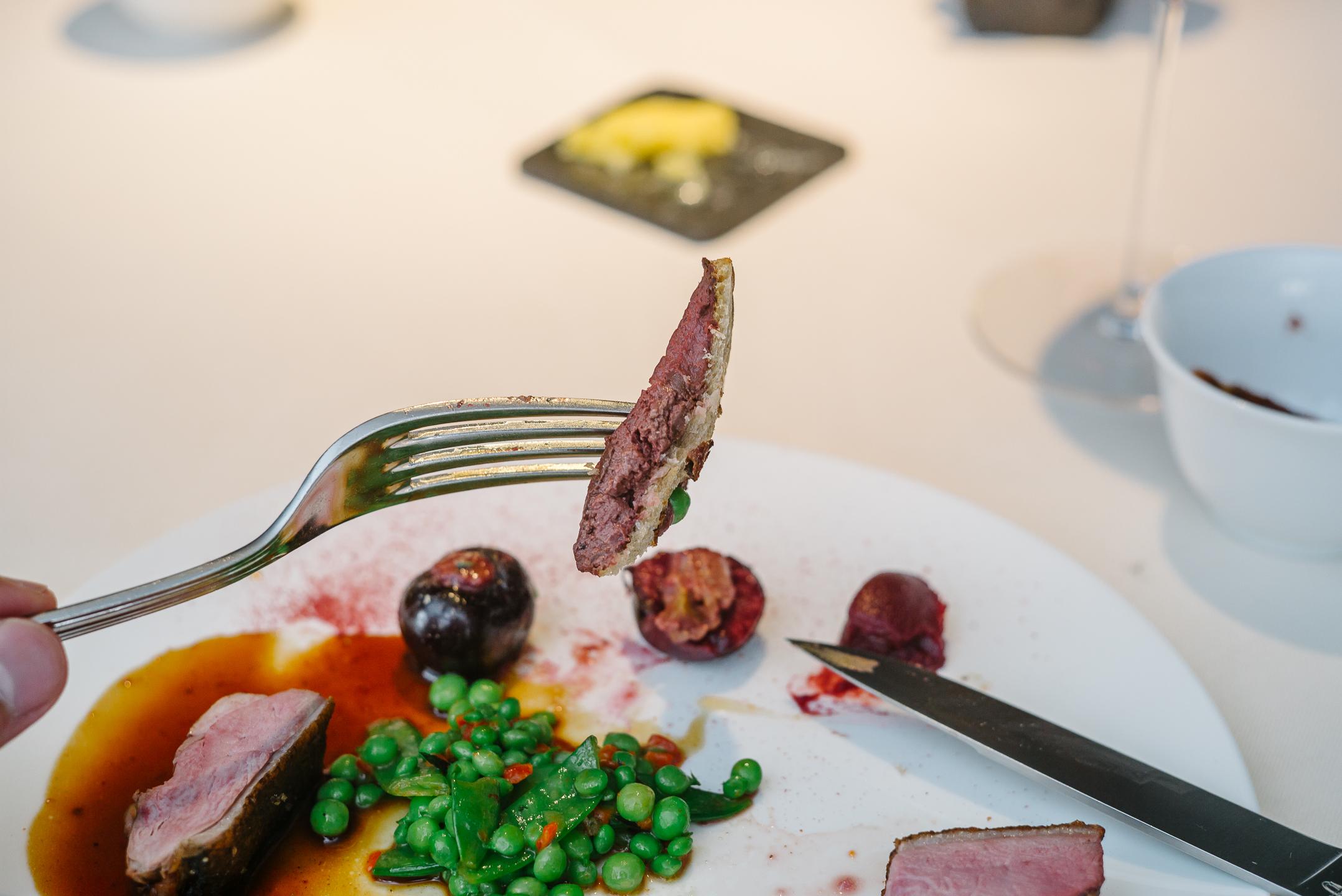 Beautiful lean bird, whole roasted, here all the flashes of France and Asia, which we saw previously, are harmoniously melding on this plate of food. I actually took no notes because I didn't stop eating. This was such a joy to eat. Even the knife work is deft.
There is shape and form, all in perfect proportions. Acidity, nuttiness, sweetness, savouriness all beautifully balanced. In a bowl on the side, Pascal affords a tiny burst of decadence, confit leg, a beauty and liver on toast that eats like black pudding. The triumph are the cherries, a perfect pair to duck.
I loved the foie gras tart for its clean perfection, but I enjoyed this dish the most. There are no gimmicks here, just incredible cooking. I savour every drop and every bite.
2010 L'Aphyllante Coteaux du Languedoc, Domaine Vaïsse
The only red of the flight, mourvèdre grapes, another from Languedoc. To match, we have a wine that is totally black. Well-paired as it also features the richness of cherry but with a contrasting body that is light and rather fresh.
7.Potato and fromage blanc mousseline, vanilla ice cream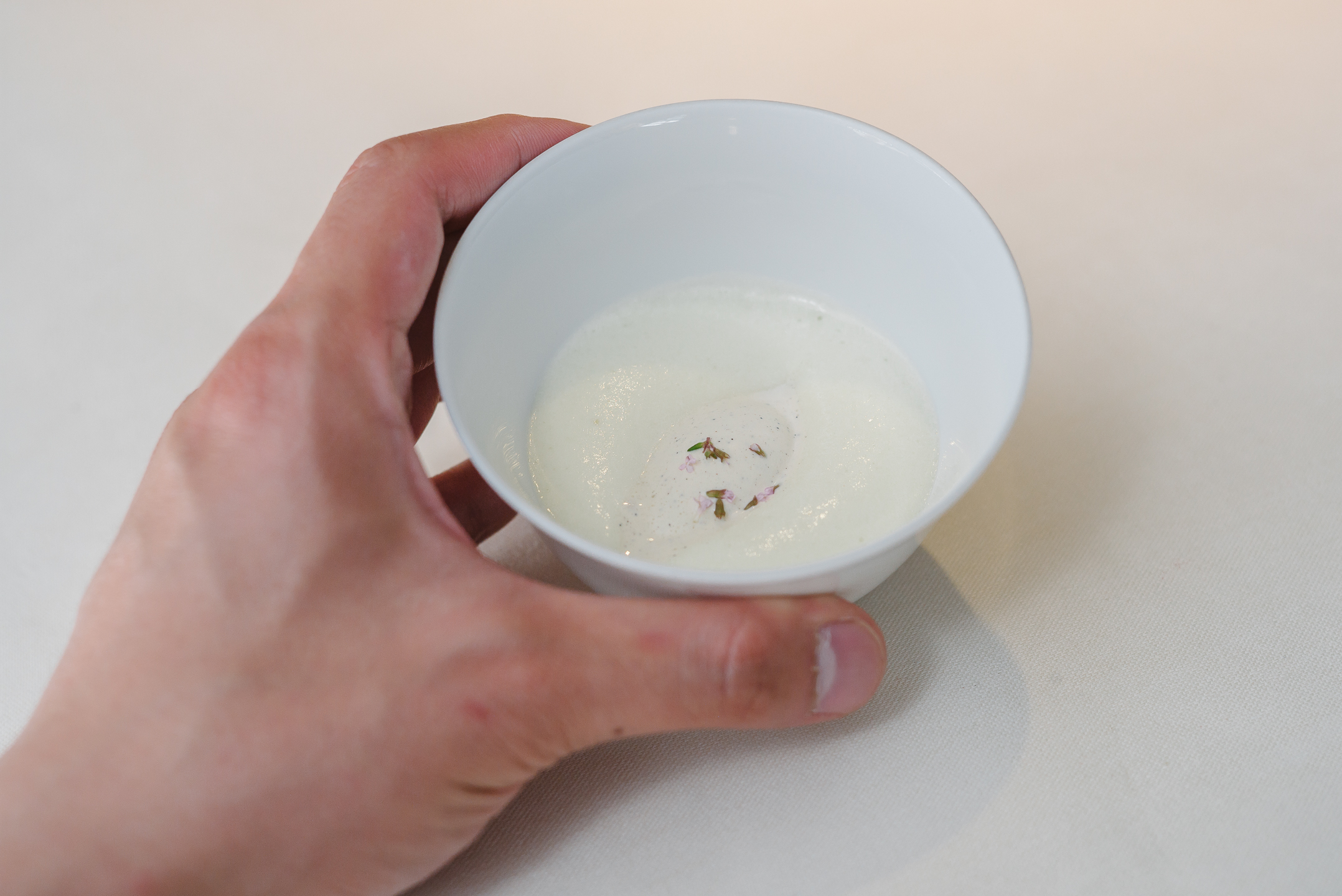 This was the mystery pudding. Milk and vanilla flavour with the fragrance of thyme. You definitely taste the sour of the cheese. Love the texture which the potato brings to the mousse.
8. Chilli pepper, lemongrass and ginger sorbet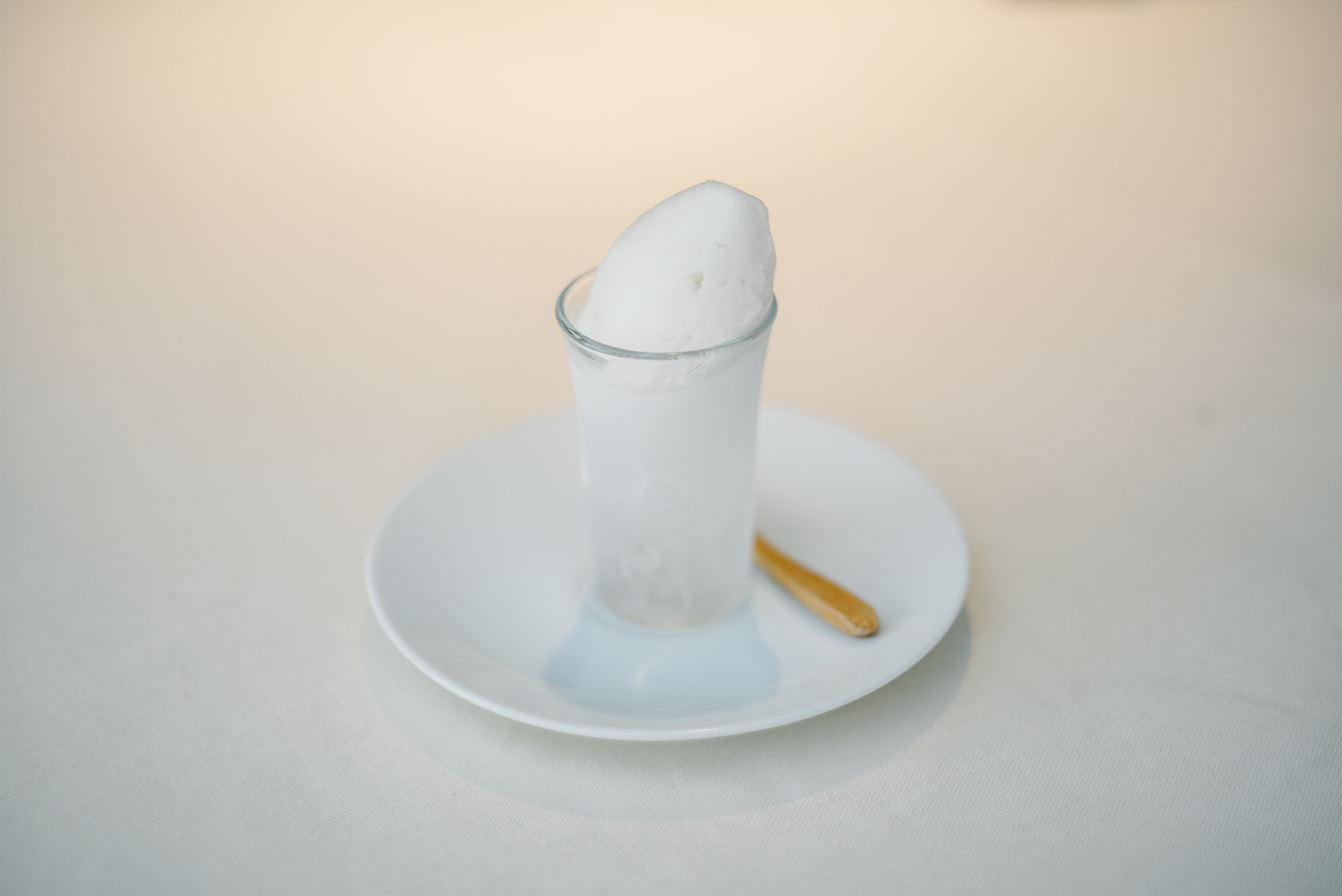 Palate cleanser with a sting. Freshness.
9. Strawberry, raspberry, rhubarb, jasmine mousse.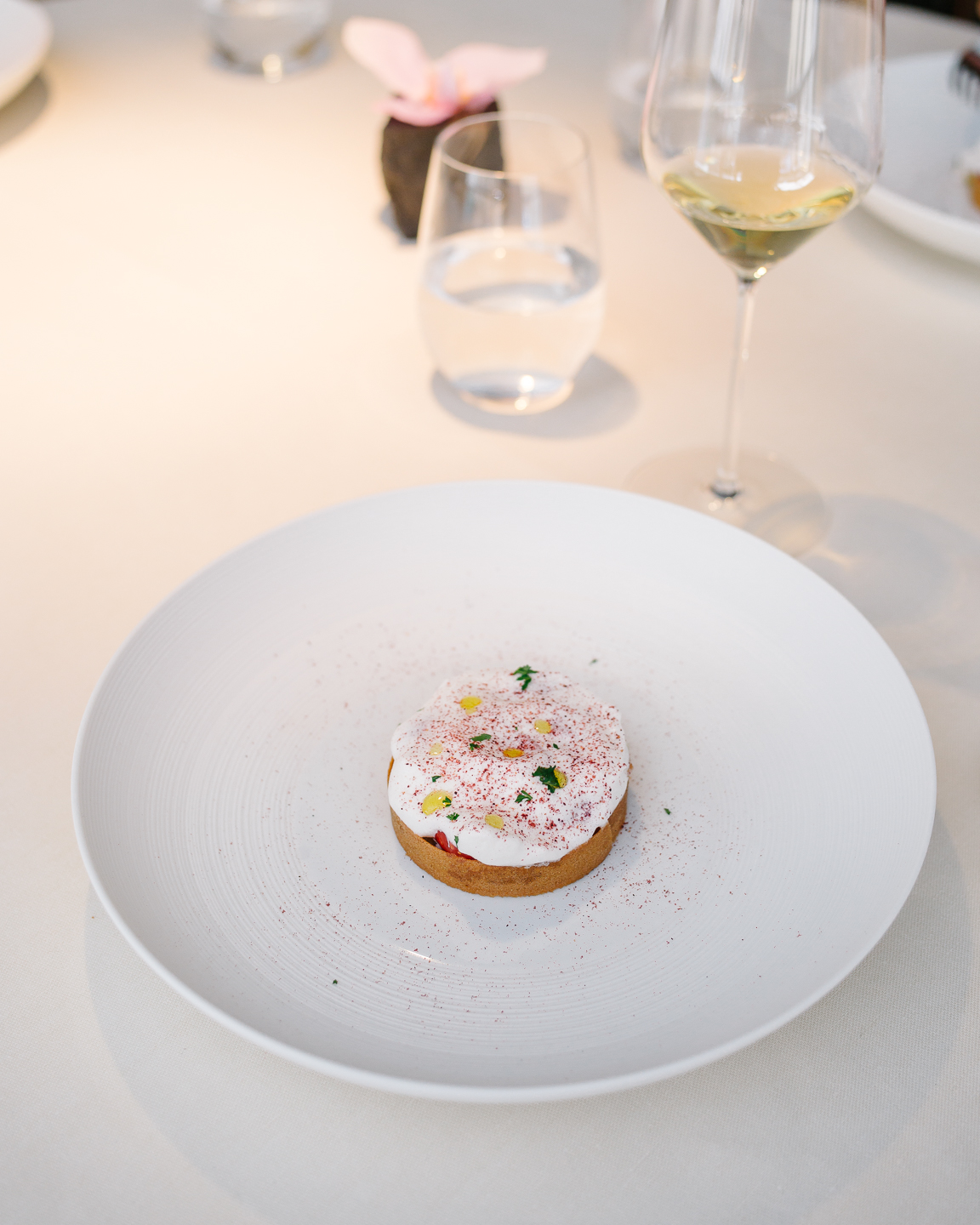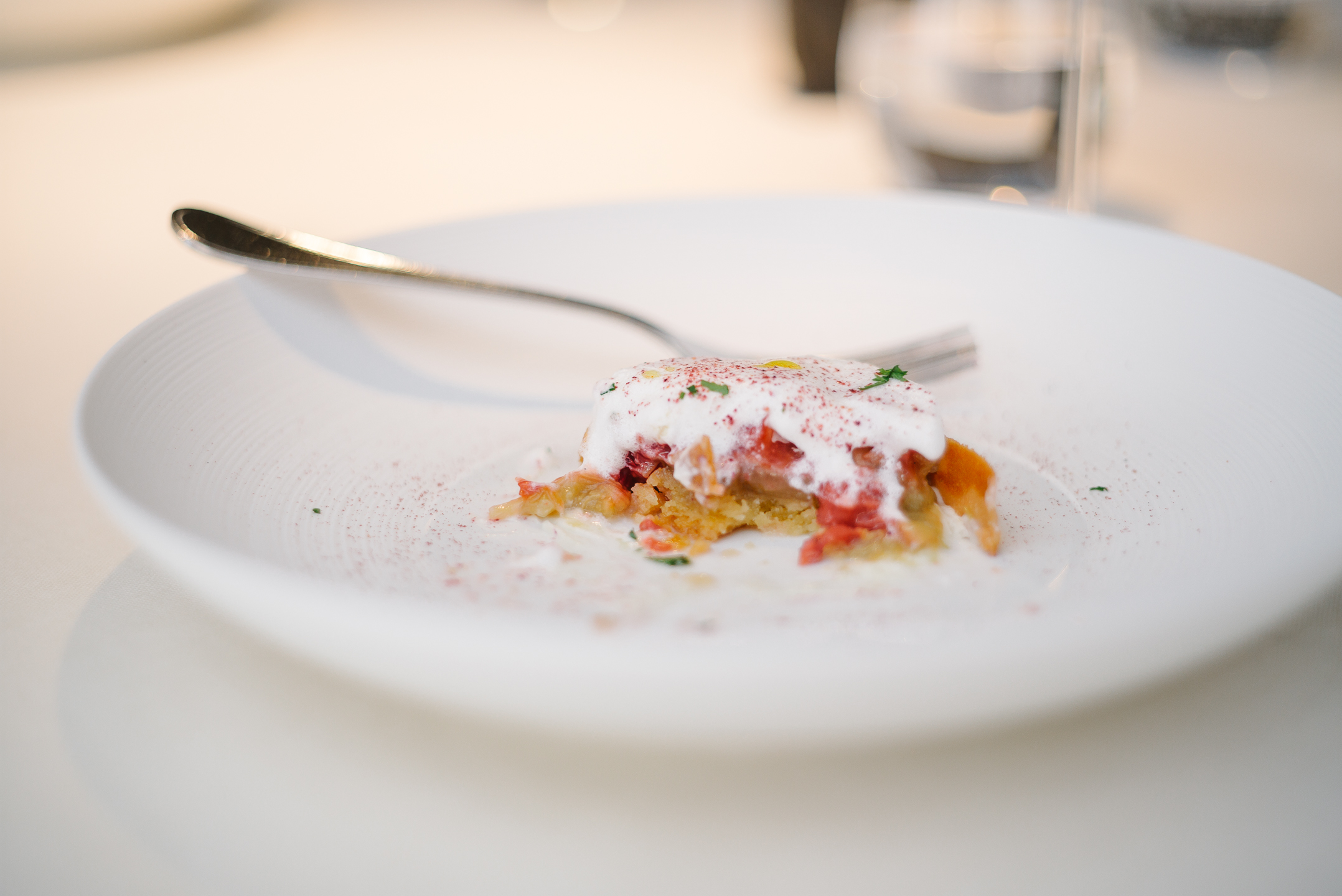 Beautiful to look at, dots of olive oil hanging on the mousse. I can't say I enjoyed it as there's too much acidity, everything is too sour, you need the wine here to tone it down.
2011 Gewurztraminer Mambourg Grand Cru, Marc Tempe
From an Alsatian winemaker who practices biodynamic farming. This is made inold foudres and has vines that were planted anywhere between 1930 and 1977. I suppose this is a dry white that is incidentally sweet. Rich and sweet but with a burst of freshness. 35g of sugar if my notes are to be trusted at this point of the meal. I can still taste ginger in my throat.
10. Jasmine eggnog, honey madeleines, fresh strawberries and cherries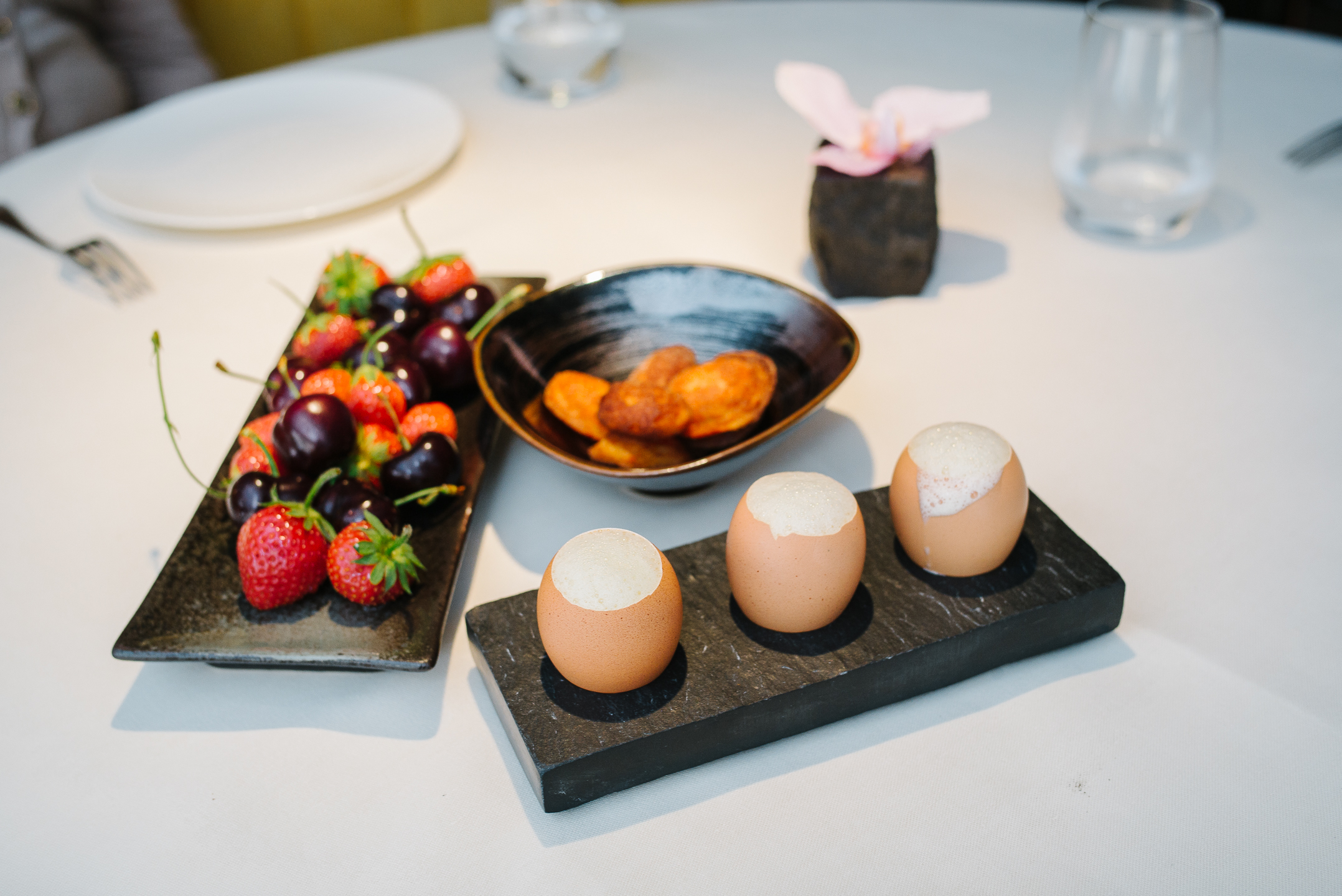 Nice eggs, a milk tea finish. The cherries and strawberries are sour and a little unripe. The madeleines are good, rather than great, they are not better than the warm and fluffy ones from say St John.
We paid €816 in total. 3 Astrance menus and 1 wine pairing.
The wine pairing is the best I've had in recent memory. Mostly natural wines from small producers. Educational for me. I thought every bottle was well chosen and stand on their own, even more delicious when paired with the aromatic food. No classic clarets and burgs, well worth doing the pairing for sure, in fact it was a highlight of the meal.
The casual service is great, they manage the fine line of stylish blasé with effort.
To the food. 11 different bites in all and as a meal I did not find it totally enjoyable. Acidity by itself was not the problem but 2-3 dishes in a row assaulting the palate wore me down. For this reason, IMHO Barbot's cuisine does not work well in a long play format as the taste of sour dominates. Pascal could be more brave to wick up the spiciness to better balance the sour. Your tongue is already throbbing anyway.
Portions are generous, not something I usually tire of, but somehow I found monotony in that there was one plate too many of protein + strong sauce repeating itself. By the half way mark, this too pummeled my palate into submission. I felt like I was being served two separate 4 course meals concurrently.
The menu could be cut as follows:
Menu A : Tarte + Cod + Belly + Puds
Menu B : Ravioli + Lango + Duck + Puds
Either would have produced a more pleasurable meal. Together is just overwhelming, for this array of flavours and tastes.
I don't mind eating surprise menus and I wished they had given away some deets up front. The risk/reward of the improvised menu, on this occasion, this blank card failed me. I do enjoy Challans duck (who doesn't), but I was also keen on Breton turbot and lobster since it is the season, and so I thought high probability it is in his mise en place. They never asked what I liked, and I didn't get a chance to say. "Surprise. Everything is a surprise. No choice." said our server as they handed out the menus. No closure in the decision making before and after the meal.
These suggestions regarding the restaurant's ability to improvise a tailored menu to punter likes based on FOH feeling you out are completely unfounded. Everyone in the restaurant eats the same thing, allergies and dislikes aside. The improvisation is Pascal deciding what to do with available daily ingredients. To see Barbot's a la nacre would have been incredible. Alas this was not to be. This makes the process of parting with €230 a hard pill to swallow, when the dice does not roll your way.
I would still return because if you take each dish in isolation, the cooking is simply incredible. Though, I would stick to the short menus. €70 lunch is at the limit of an 'affordable gamble' and I'd love to be a regular of this if I was Parisian. I think that's the point of the lunch as you know that you're in for unique flavour pairings and seasonal produce here. It also allows Barbot to fully flex his creative muscles. The €230 menu is the tourist attraction, atypically, best taken in halves.
As an education, it was a wow. Technique and execution could not be more perfect. The cooking and the way each ingredient was handled and cut on the plate was a masterclass. This is a showcase of pure cooking. The very personal nature of Barbot's recipes are largely successful, some may (still) be ahead of its time. Sitting here thinking about his food, my mind still processing the flavours, the ingredient pairings, the sauces, execution etc. Incredible. His cuisine is a representation of modern French cooking.
In a strange way, the michelin stars work against Astrance. Not to say that they don't, because they do deserve it, but the point is Astrance is a small restaurant, a humble family restaurant even, operating a 4 day week so the team can keep a work-life balance. Three stars doesn't seem the primary goal. Which makes it all the more admirable. Pascal Barbot sure makes a mean meal without gimmicks. When it comes together, you get meat, veg and sauce cooked to the highest standards. Come expecting that and you will be surprised.
Details
L'Astrance
Modern French + Asian
Tue – Fri
Carte Blanche only
Lunch Menu €70 + €50 wine pairing
Seasonal Menu €150 + €80 wine pairing
Astrance Menu €230 + €120 wine pairing
Australian summer truffle +€60 supplemental course
4 rue Beethoven, 75016 Paris
Tel : + 33 (0)1 40 50 84 40