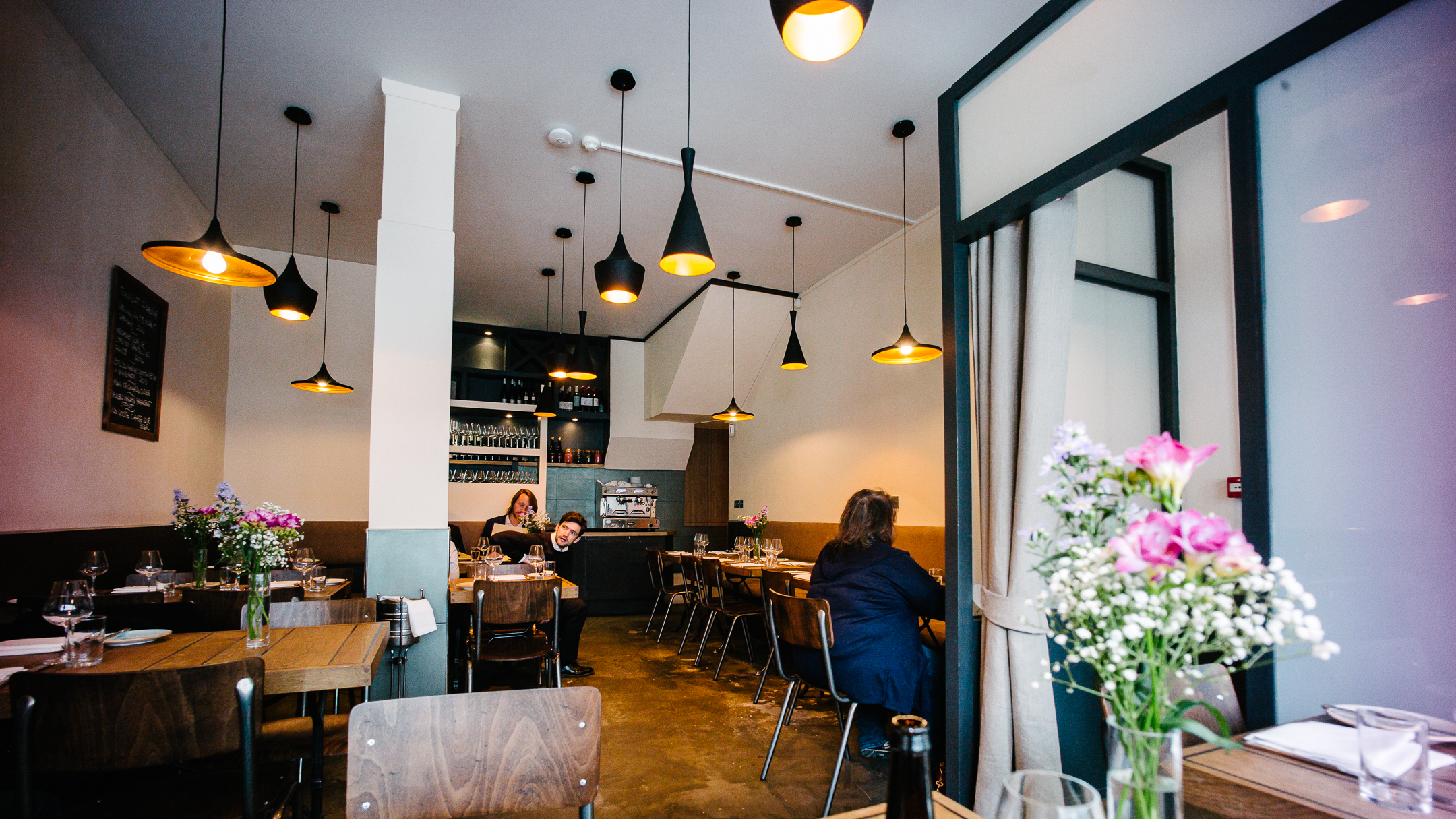 2nd Visit – November 2016 (scroll down for 1st visit)
I really enjoyed my second visit here, things have moved up and up. Nick Gilkinson tuned his FOH team like clockwork, meanwhile Mark Jarvis and Jack Cashmore are delivering their clean cooking with more precision, confidence and more complexity -fantastic ingredient pairings- whilst maintaining the simplicity. All this at an incredible price point too.
Pictures and some notes from Lunch Taster Menu (£39 for 5 courses) in November 2016. We paid £133.88 for 2, including 2 glasses of wine. Bread and whipped butter remains awesome.
—
1. Girolles, duck egg + ceps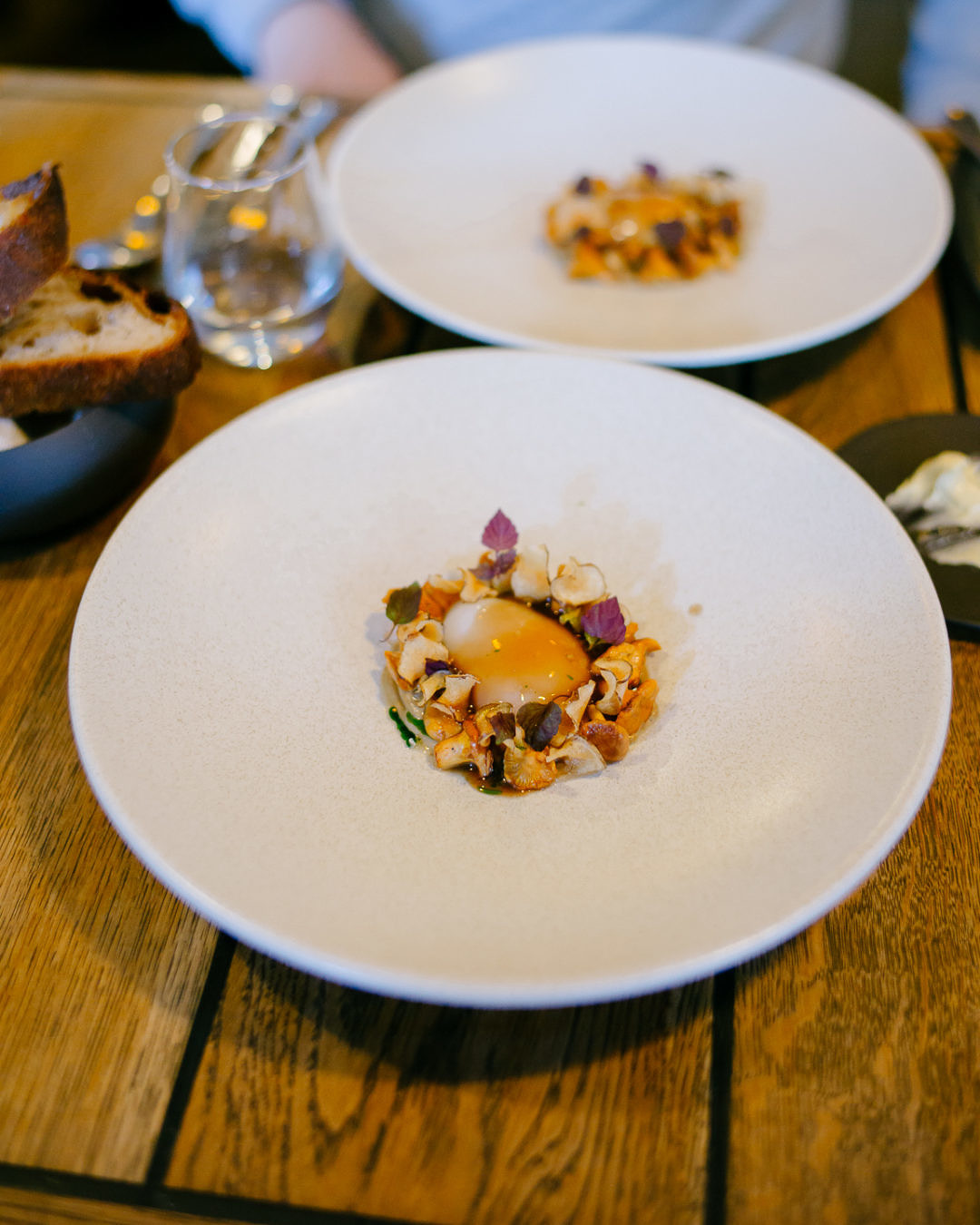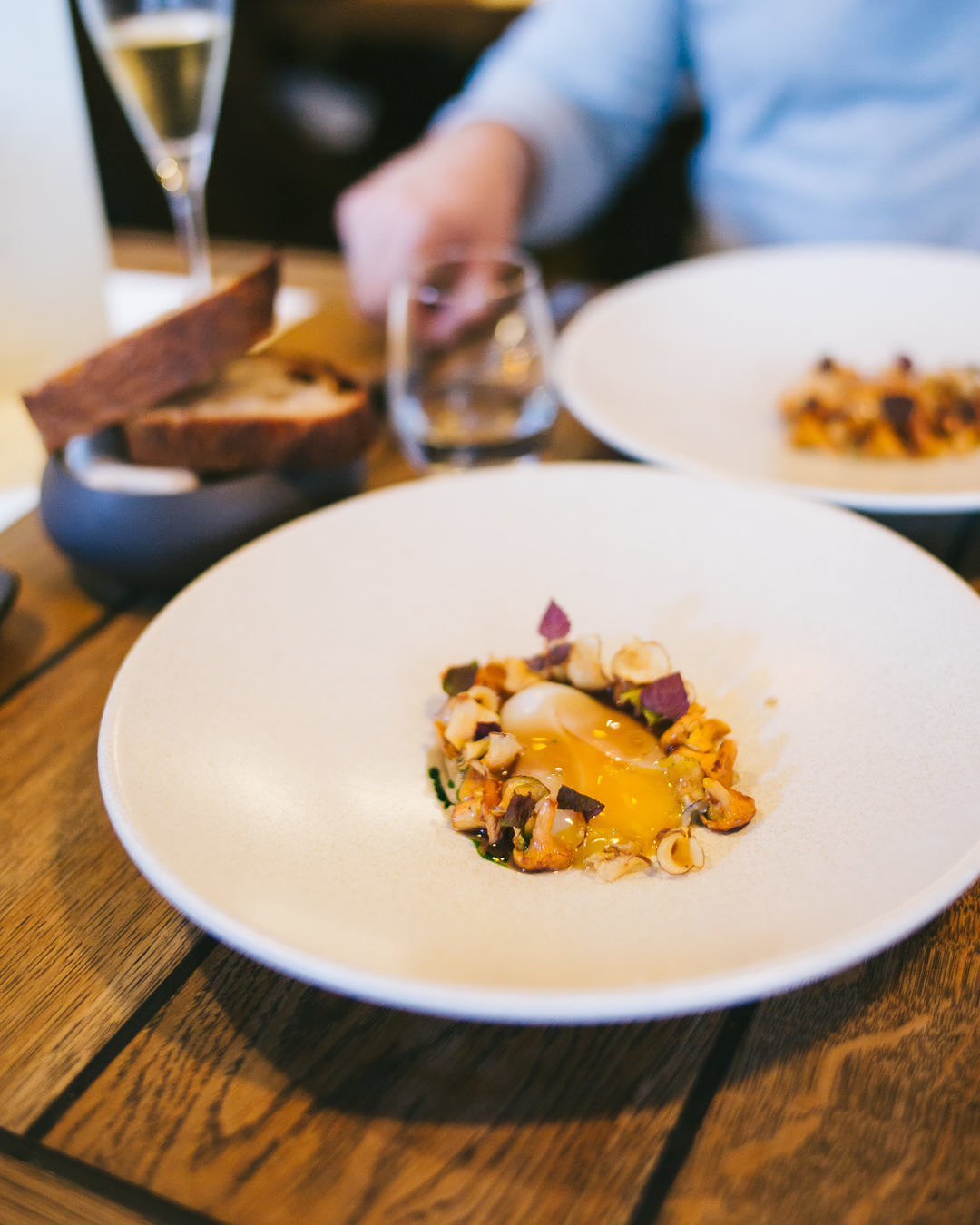 💯% umami right here. I'll take a punt and say 64degC egg, as the whites are translucent-set and yolk is runny-set. Perfect. Served by Mark, he spooned over a mystery (chicken? veal?) jus that brought out the full flavours of the rich duck egg.
Crispy artichokes (also for texture), with girolles, I hazard ceps turned into a purée hiding under the egg – so much flavour.
2. Cod, cavelo nero + smoked mussels.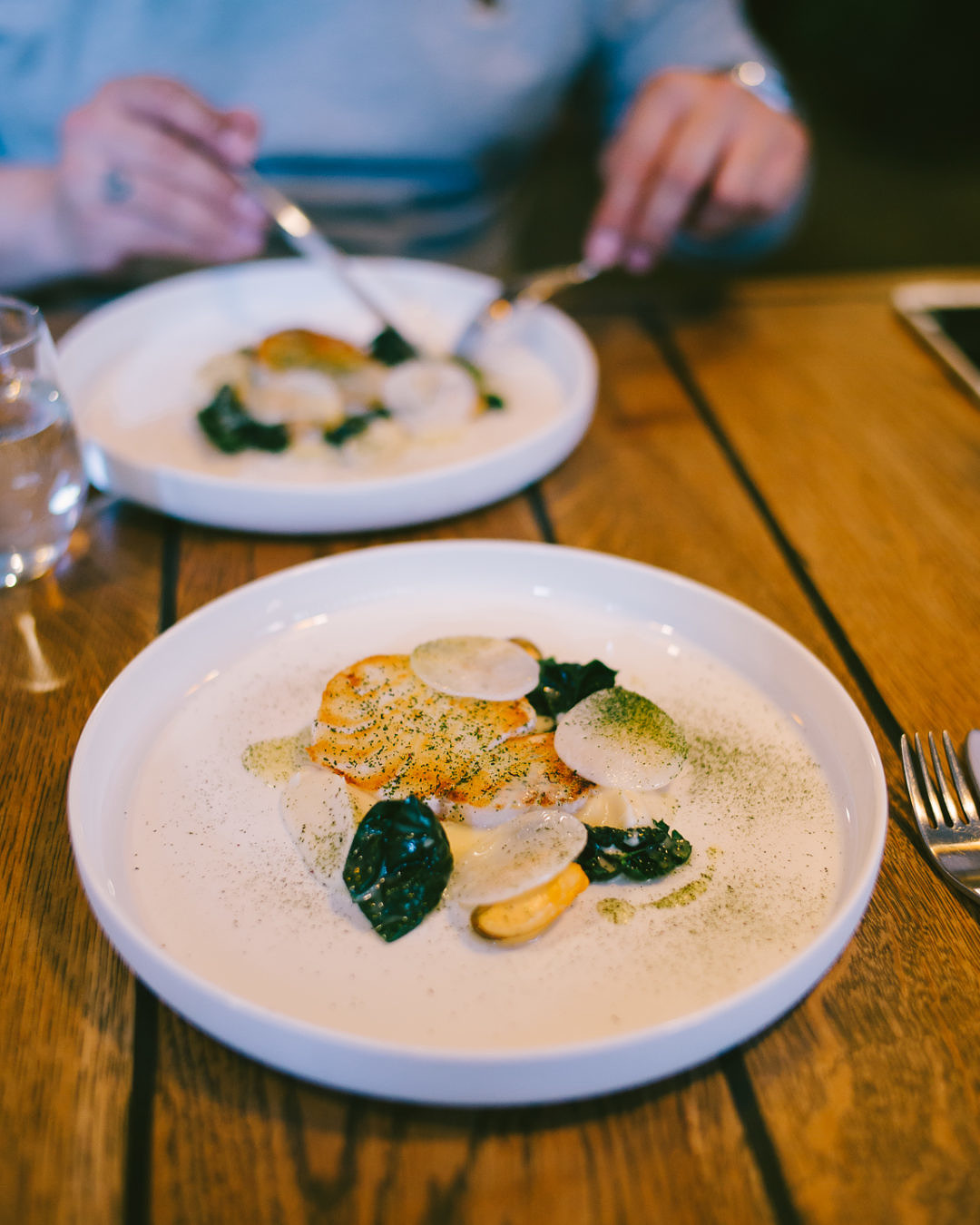 Properly caramelised on one side, underside just v.slightly over as it was a thin slice. Close but no nacre. Don't get me wrong though as it is still very solid work.
Also served with celeriac, sliced and purée I think. Smoked mussels were brilliant, ingredient combos are classic and work well together.
3. Yorkshire Red deer, red cabbage + juniper.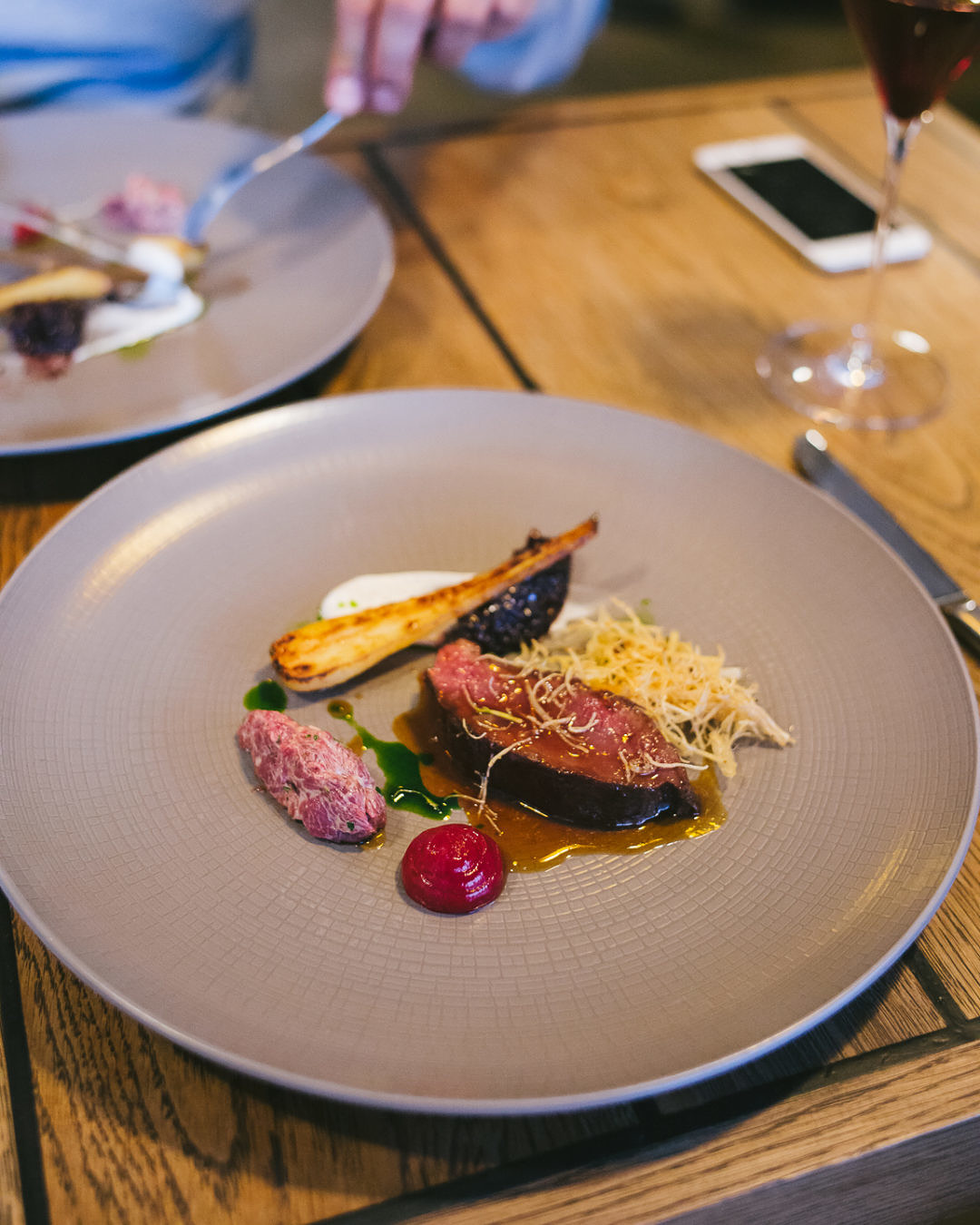 Wintry feels with the parsnip, pickled cabbage and cranberry sauce (👌sweet with a perky acidity). I suppose juniper is in the oil, rather than berries? At first I thought crispy onions, but they are sweet which leads me to guess parsnips. They r great. I really love the well seasoned tartare and perfect pink haunch (I think?) on the same plate – textural play and best of both worlds. Everything chosen, seasoned and cooked well
4. Cheese and onion on malt (£7 supplement)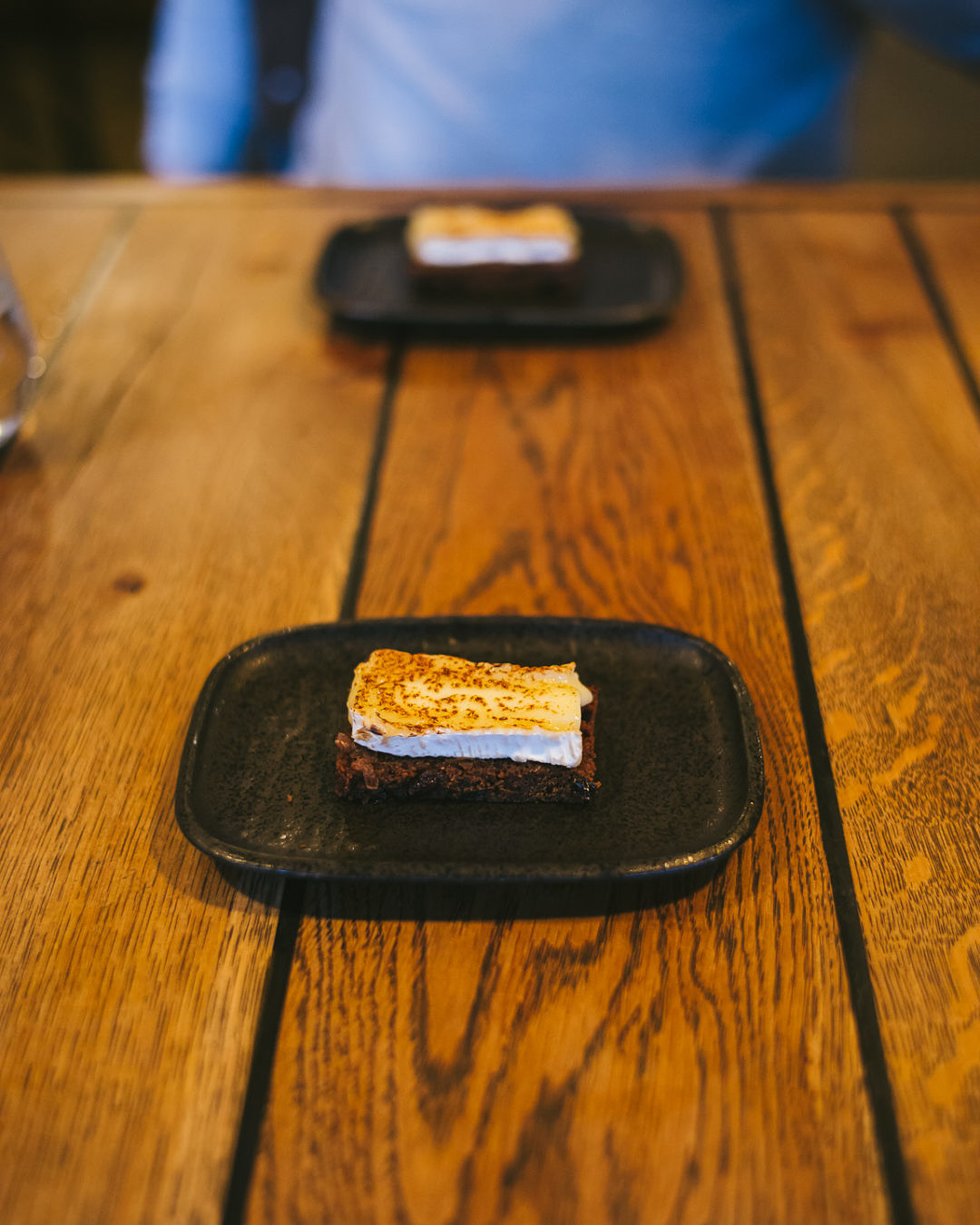 From under the salamander, but centre didn't get hot enough, still cold and not gooey. Not so good for £7 supplement.
5. Beer + Chocolate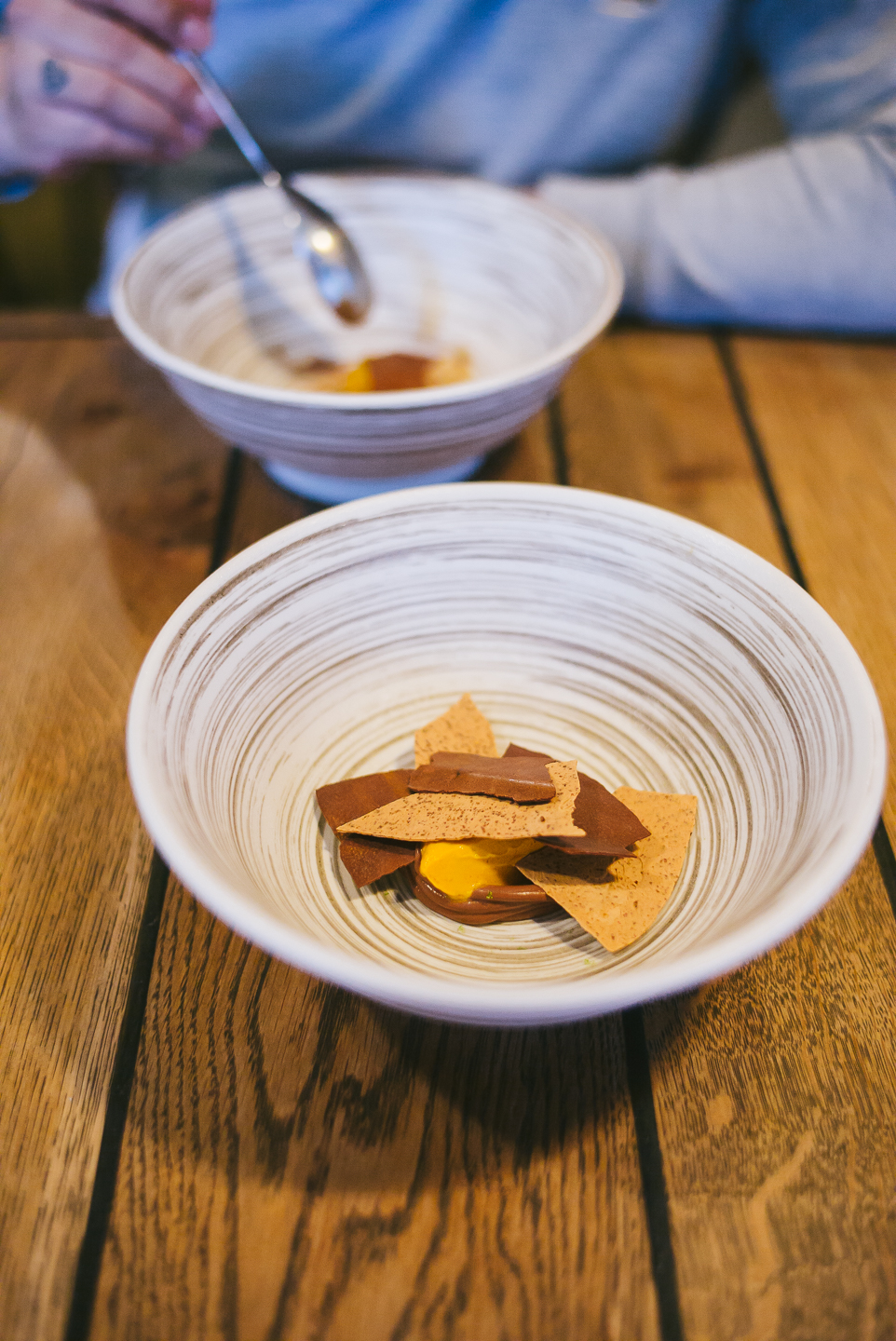 Interesting twist-up here. Chocolate, beer and pumpkin (tuiles, ganache and ice cream) and are all well made, and surprisingly work really well together. Unsure what sort of white and milk chocolate used here, but they come across very strongly and taste good.
6. Apples, caramelised ricotta.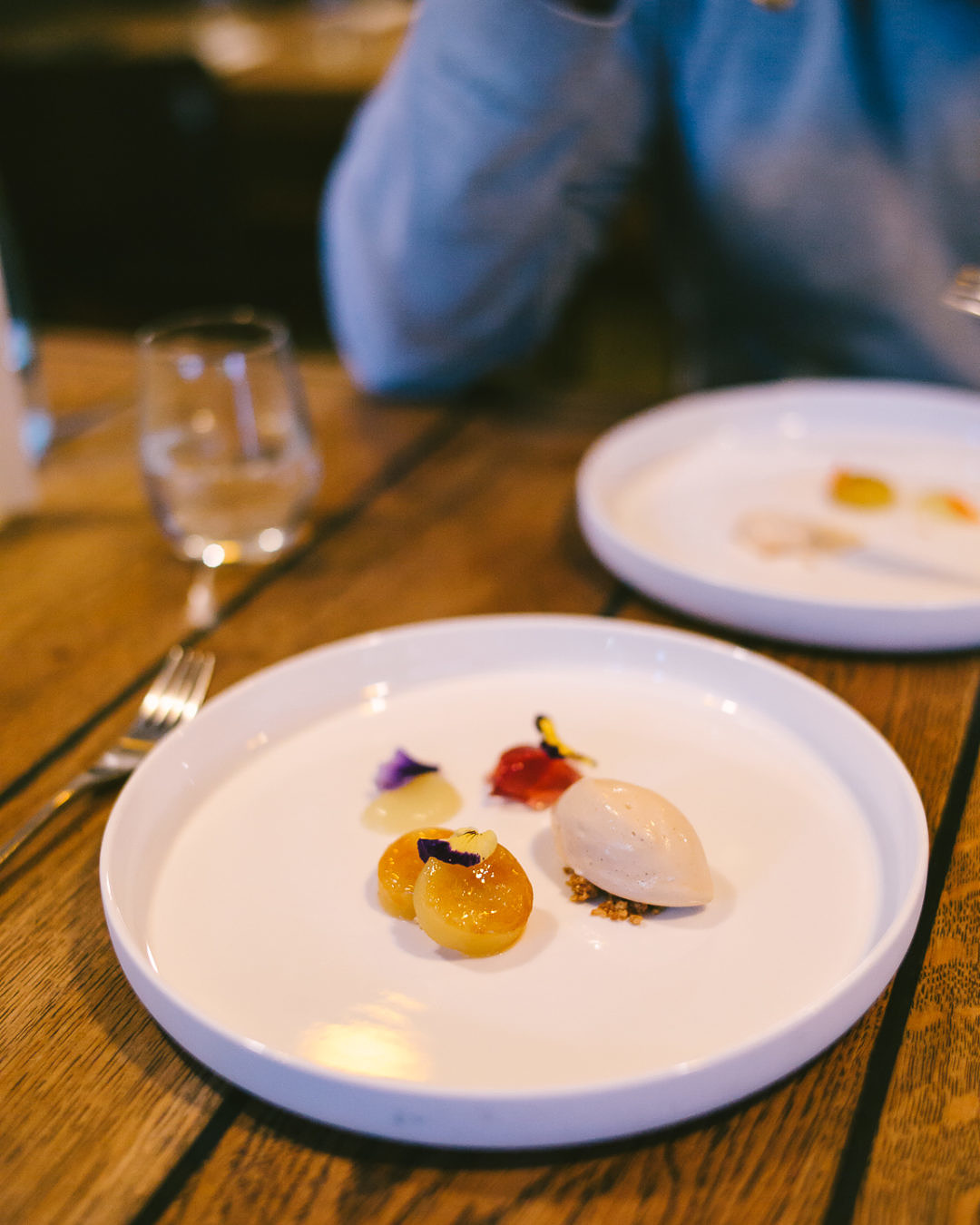 Subversive Apple crumble-tarte tatin cross here. Looks simple, but it tastes AAA. What a dish!
Apples are ribbon sliced, rolled up – a little flash of Passard bouquet of roses – roasted and then sugar goes over it. I love that the centre retains some of its natural crunch, juicier and mellowed by the cooking.
The creamy ricotta ice cream sits on top of a decadent crumble made from brown butter. Best of all this verjus jelly brings acidity, almost like a slight sting of alcohol.
—
1st Visit April 2016
Bistronomy leads a very healthy life in the Here and Now of 2016. I add more to my Paris list every year (dying to try Le Servan, Abri) and I continue to marvel at all the wonderful new output of Portland, Lyle's, Typing Room and Clove Club. I know you like this kind of thing too and so will be excited by this 30ish cover restaurant which opened in Farringdon last month.
Like many of the leading lights in this age of modern casuals, Chef/Owner Mark Jarvis has had big time exposure with Le Manoir, Texture, Zuma/Roka, Blueprint (after JLee), The Bingham on his resume. Mark was attached to The Woodstock Kushiyaki Bar last year prior to opening up Anglo, his first solo venture. Also in the kitchen is Jack Cashmore installed as Anglo's head chef who has come here after spending time in the kitchens of Sat Bains and Kobe Desramaults.
Aside from the lovely Tom Dixon pendant lights, there isn't much to write about the decor. Not to say it isn't cosy, because it is efficient, relaxed, airy with big front windows for natural light to flood it. Spring flowers dress the clothless wooden tables. It will be a decent spot to dine when summer arrives.
I had Friday lunch with my brother, where the menu is 3 course ALC averages out to £9/£18/£7. The real draw however, as you have sussed out from Instagram, is the £45pp taster menu which buys you 3 intro/snacks and 7 courses.
Bread and yeast butter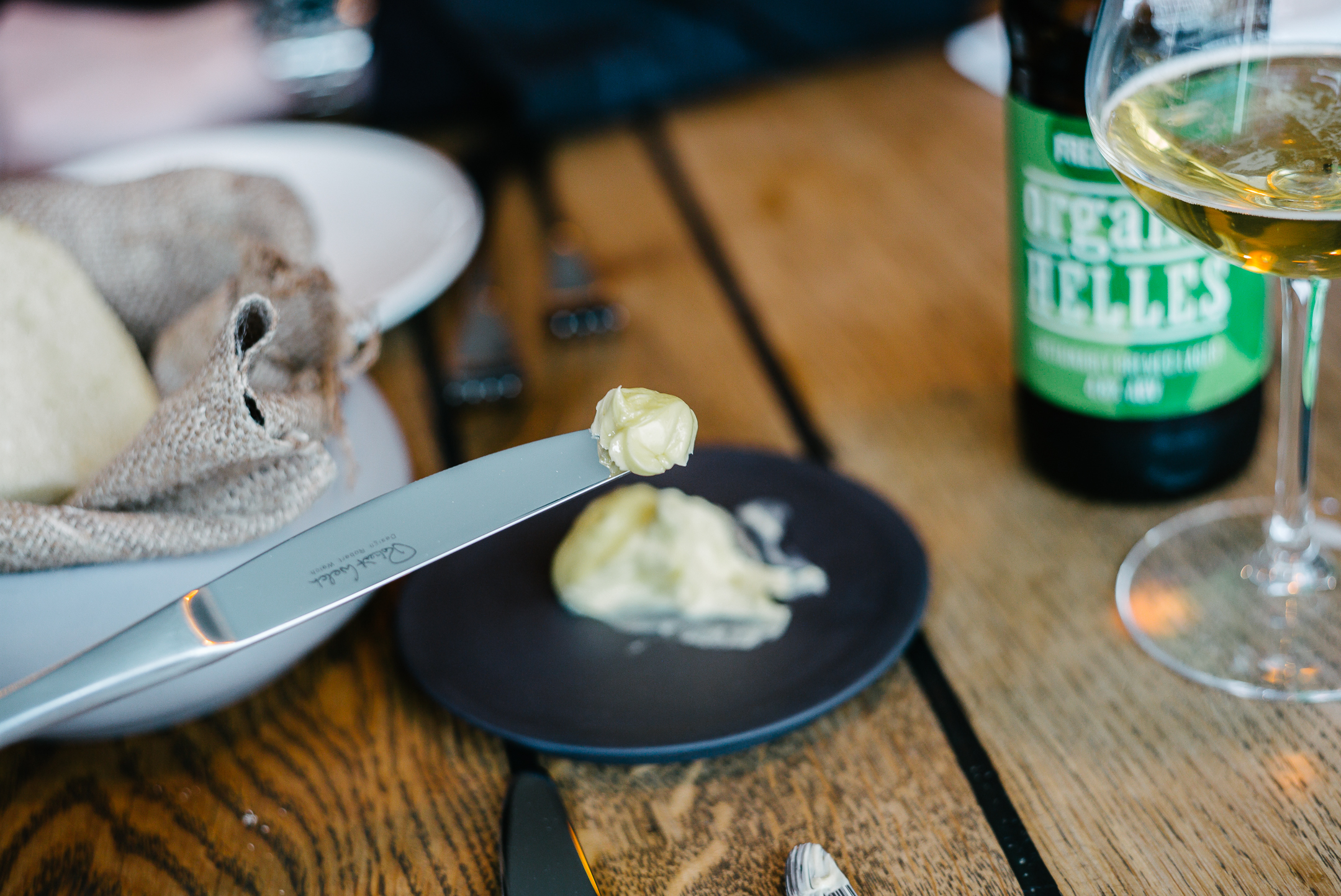 Both made in-house, the bread is light and full of bubbles, and the yeast butter is a star in the making. Textured like whipped Chantilly, well-salted and has an intense cheesy funk that is incredibly appealing. We spread generously on the bread and savour it.
Hand-dived scallop, dashi (£4 each)

At night, this be would one of the 3 'intros' as part of the taster menu. I had seen pictures of this beautiful reflective scallop encased in dashi (gelatin by looks of it) and so I was delighted that Chef could make this for us. Mark brought this out himself (something both he and Jack does for the dinner taster) and explained layers – sliced (raw) scallop, chives, shallots, truffle oil, the dashi and flowers. Sweet scallops, herbs for balance, dashi for umami, everything is balance. As delicious as it looks, lovely snack this is.
– Starters –
Smoked pork neck, broad beans + black garlic £9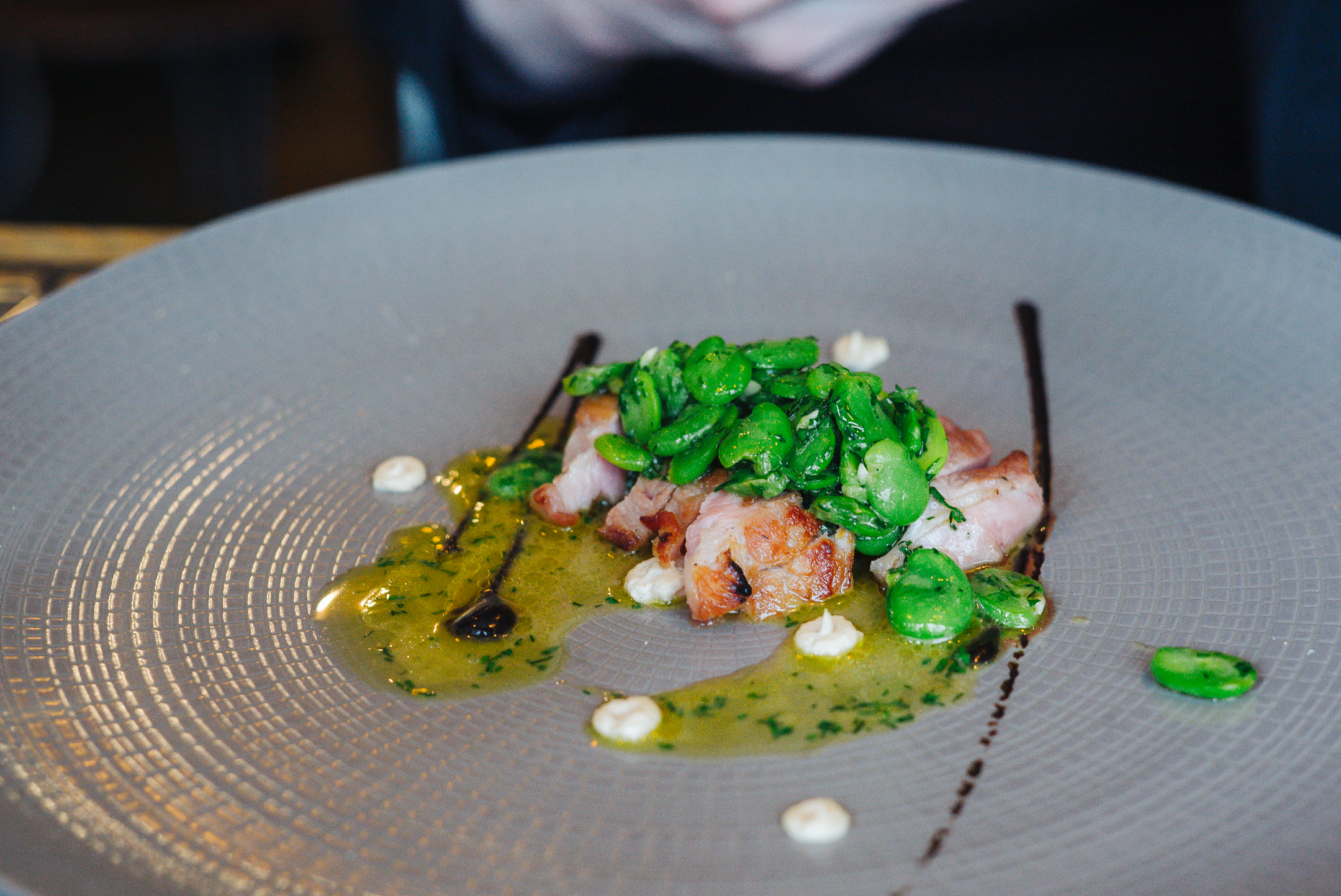 Well-seasoned, good juices, the pork smoked to a perfect pink in the middle. My brother thought it was a touch under, though I thought it was fine. There's this nuts and balsamic thing going on. The recipe is kept simple, flavours are subtle and in good balance.
Skate with salsify, sea beet + lemon verbena £9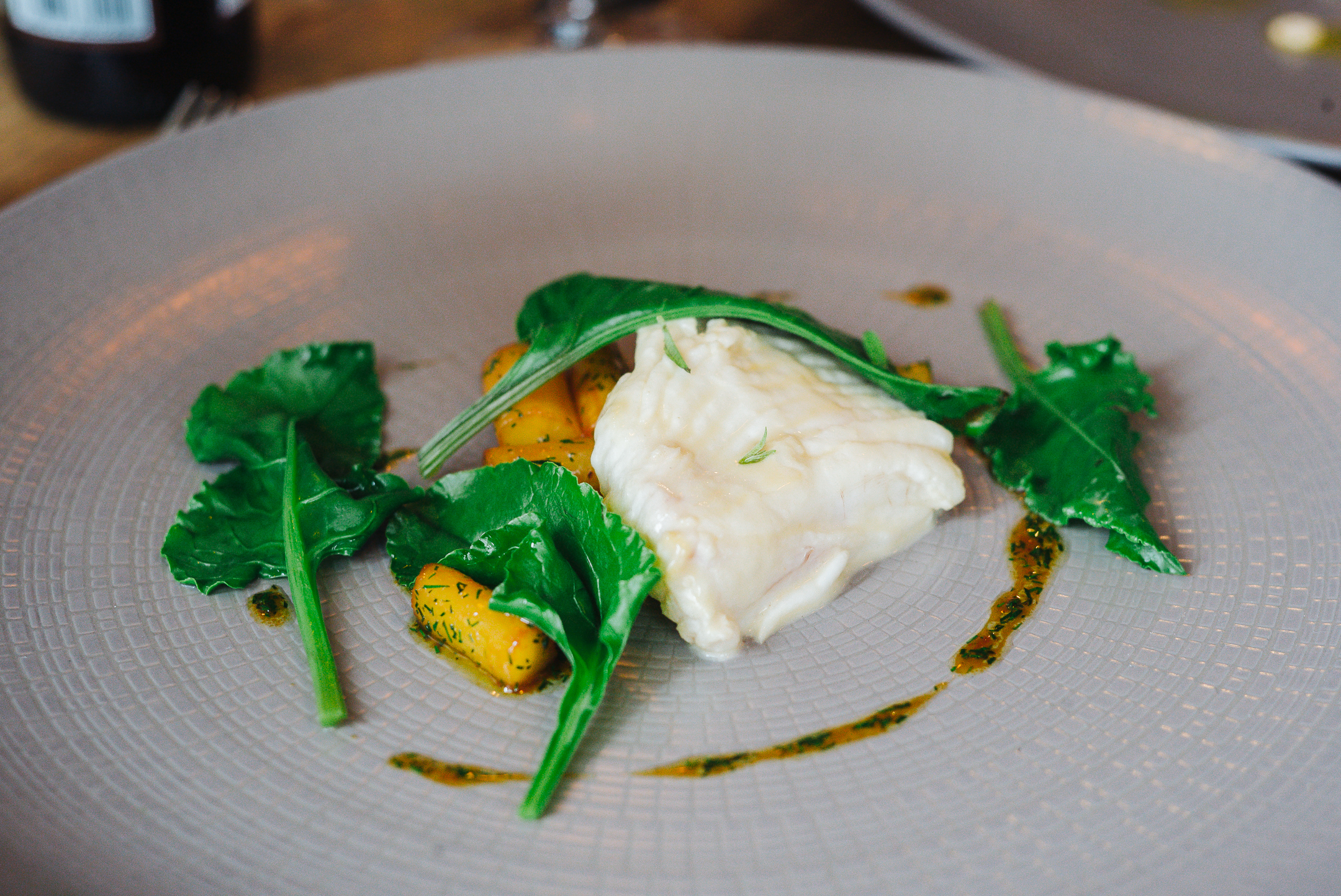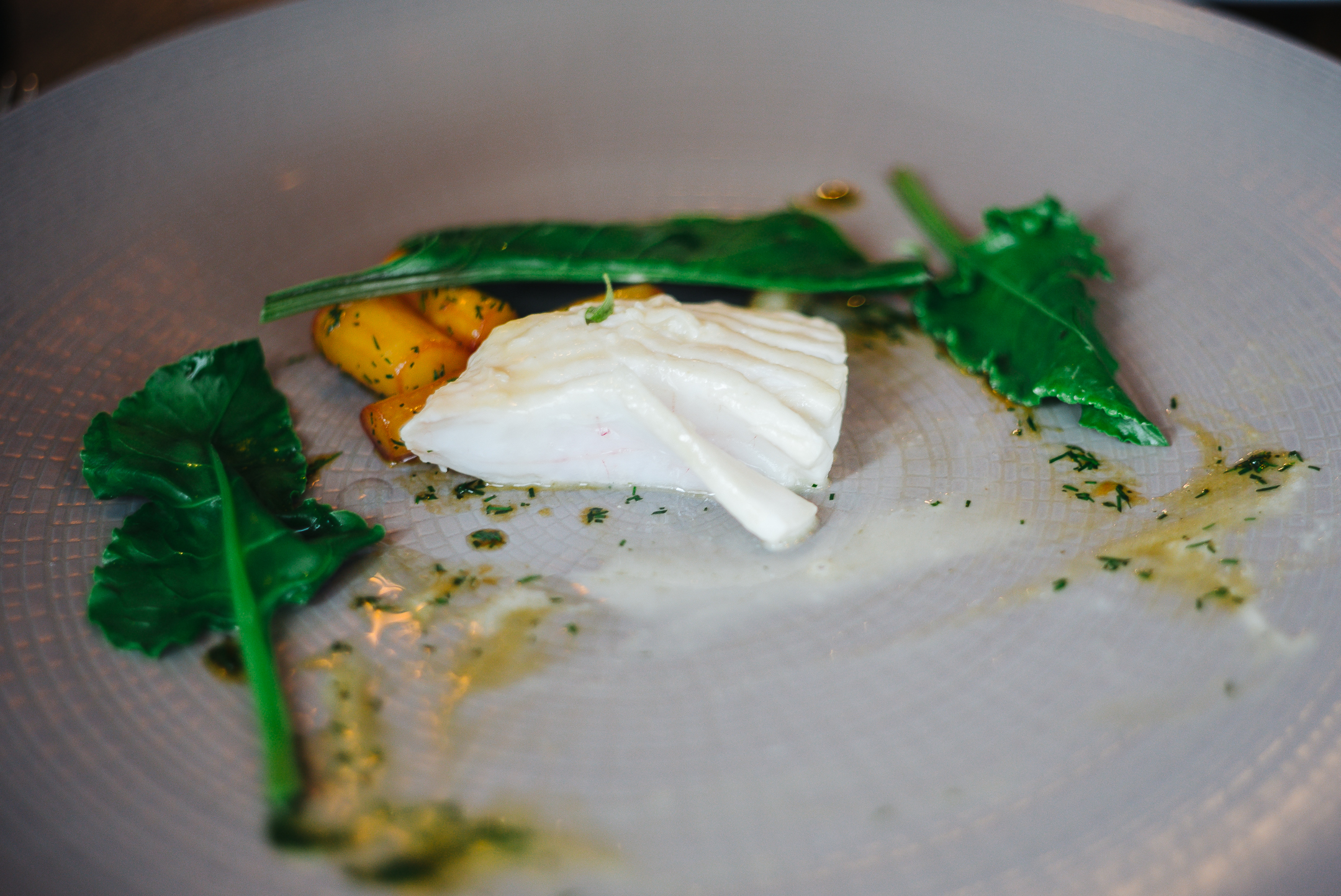 Nice work with the fish here. At first I thought sous-vide, maybe even poach, but the colour didn't suggest it. I asked about it later and was pleasantly surprised this was all done in the oven. I hazard a steam oven as the texture is consistent and cooked throughout. Just sweating and delicate.
The sauce is herbs and fruits, to my nose, like parsley and peaches, perhaps just a touch too sweet and could benefit from a touch more salt. Still this is impressive.
– Mains –
Rump of Aged Red Devon with wild garlic + glazed shallots £18.5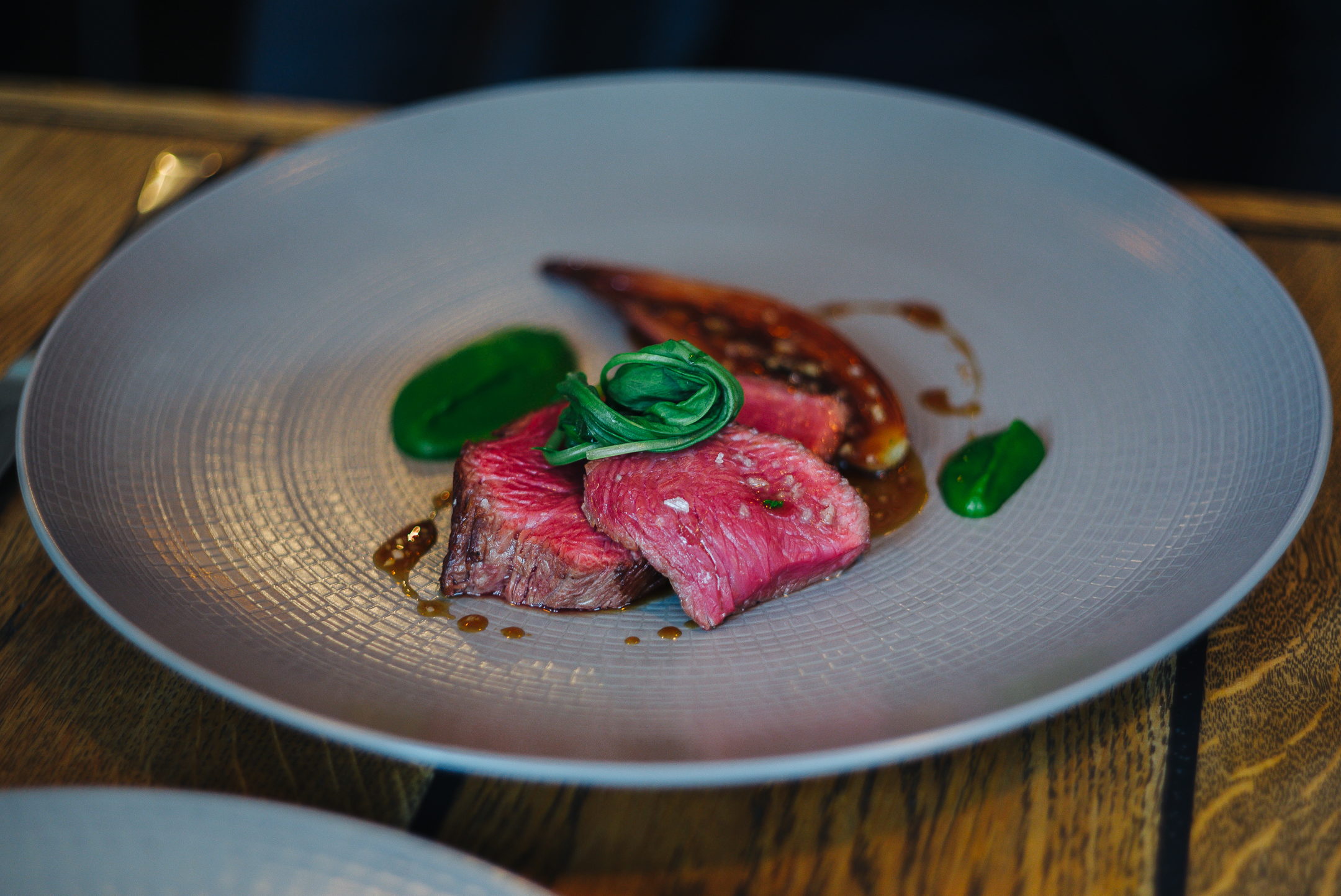 Also roasted. Check the colour – the pink is consistent and goes all the way to the edge. Classic combos here, sweet shallot, a puree of wild garlic (chlorophyll fully retained) and carefully handled rump with all its gorgeous natural flavour and texture intact. Simplicity yet again. Really quite delicious.
Hake with radishes, seaweed butter + globe artichoke £17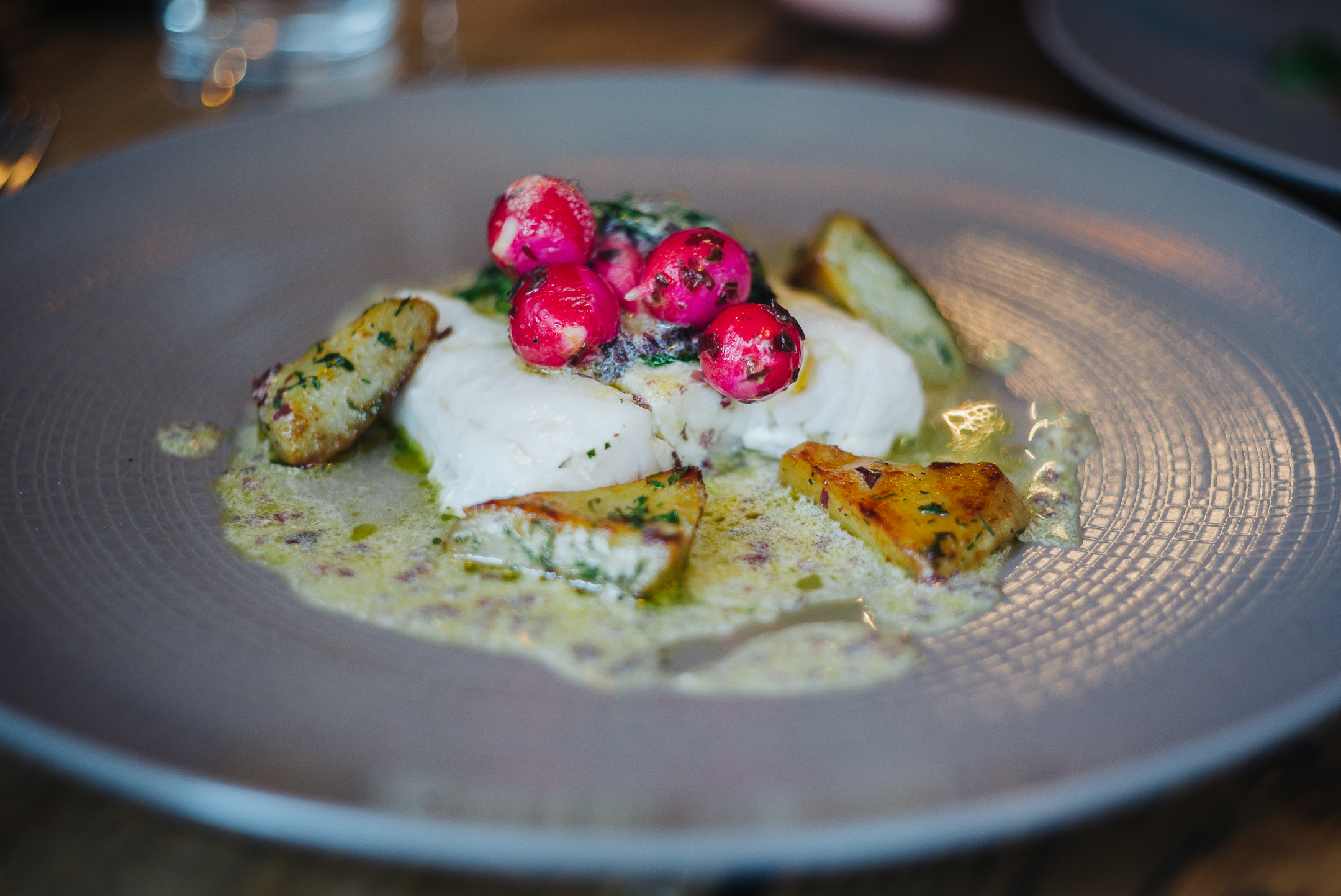 The clarified butter smells absolutely gorgeous. It's like the seaside and also a little like nori and unagi over bincho tan. It just imbues the fish with such beautiful oiliness. A nice parallel to that famous Stephen Harris dish. Best of all were these globe artichokes, which must have been finished in the pan, all fluffy, sweet and nutty inside. It was a challenge to slice oily whole radishes, as they threatened to slip off the knife and jump off the plate. Other than that, nice cooking, good dish.
– Pudding –
Chocolate, yoghurt, blood orange £8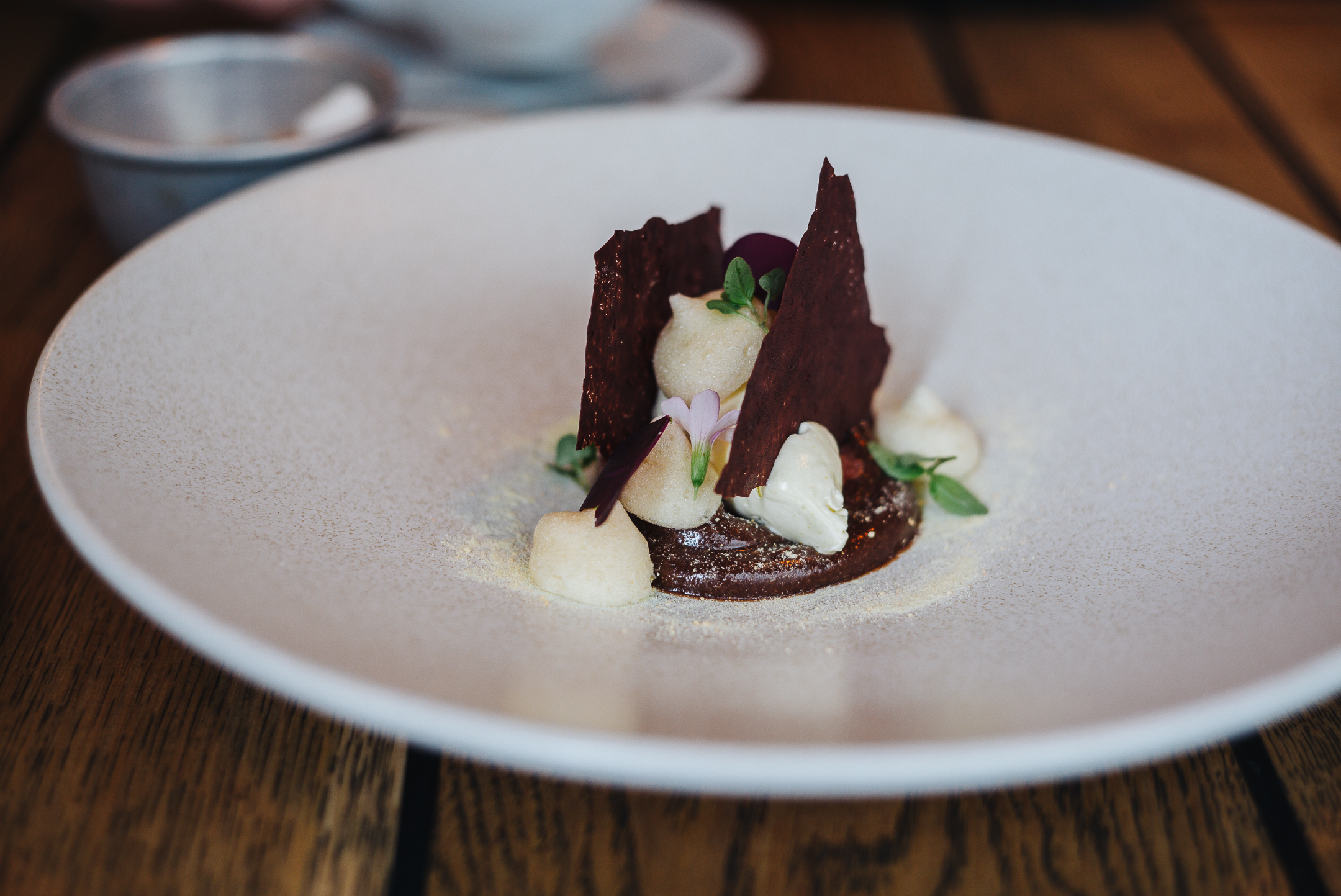 This pudding, like the savouries, has logical layering of flavours, a bite of everything leading to a balanced palate. If not mistaken, blood orange is confit. It's good. Though, this particular yoghurt pairing with chocolate is not my preference as I found it too acidic. Maybe crème crue is a better fit, but hey I'm no pastry chef.
We paid £91.85 in total for two, which includes 2x snacks, starters, mains, coffees, beers and 1 pudding. Would just like a bit more food on the plate for mains, otherwise it was as an enjoyable lunch.
Rather uniquely, this may be a restaurant which offers more value at dinner. Perhaps for this reason, I was not as comprehensively bowled over as Grace was. The £45 dinner taster buys you 10 different bites of food and for an extra £25, you can add pairing wines to it. Humble ingredients of decent quality keep the bottomline respectable. That's great value and is no wonder tables for dinner are already hard to come by. I was also told that they are starting slow by limiting dinner to 22 covers, till they get to full tune-up.
I love that there is also a selection of beers to match the food, the last time I had something like this in London was Odette's. A lot of decent craft beer out there. The drinks front is still being tinkered, so you may see some changes by the time you visit. I think of how much I enjoyed Upstairs at Ten Bells (and Clove Club) as well as Johns/Jonsson's 2014 Antidote days and Anglo is a reminder in many ways.
Mark and Jack have KISSed their opening menus and is not difficult to see why they have found early success. The recipes are spot-on, everything on the plate is presented with good balance of flavour. There is much potential yet to be unlocked as the kitchen gains confidence and these are good bones to build on. I spoke briefly with Mark each time he brought out a dish for us (something of a feature during dinner) , and thought that he is one of the nicest fellas to cook in this town. Three or so ingredients per plate, cook it well, season it well, serve it with a smile.
If you can swing it, go for dinner or may be ring up and ask if they would lay on the taster during lunch. The restaurant appears to be entering their final state of flux, as they settle down over the months, you will likely notice even more improvement. I'm looking forward to a return visit.
Details
Anglo
Modern British
Lunch £35pp for 3courses / Dinner £45 for Intros+7courses +drinks,service
Tue – Fri Lunch
Tue – Sat Dinner
30 St Cross Street EC1N 8UH
Tel : 02074301503
Tube : Farringdon