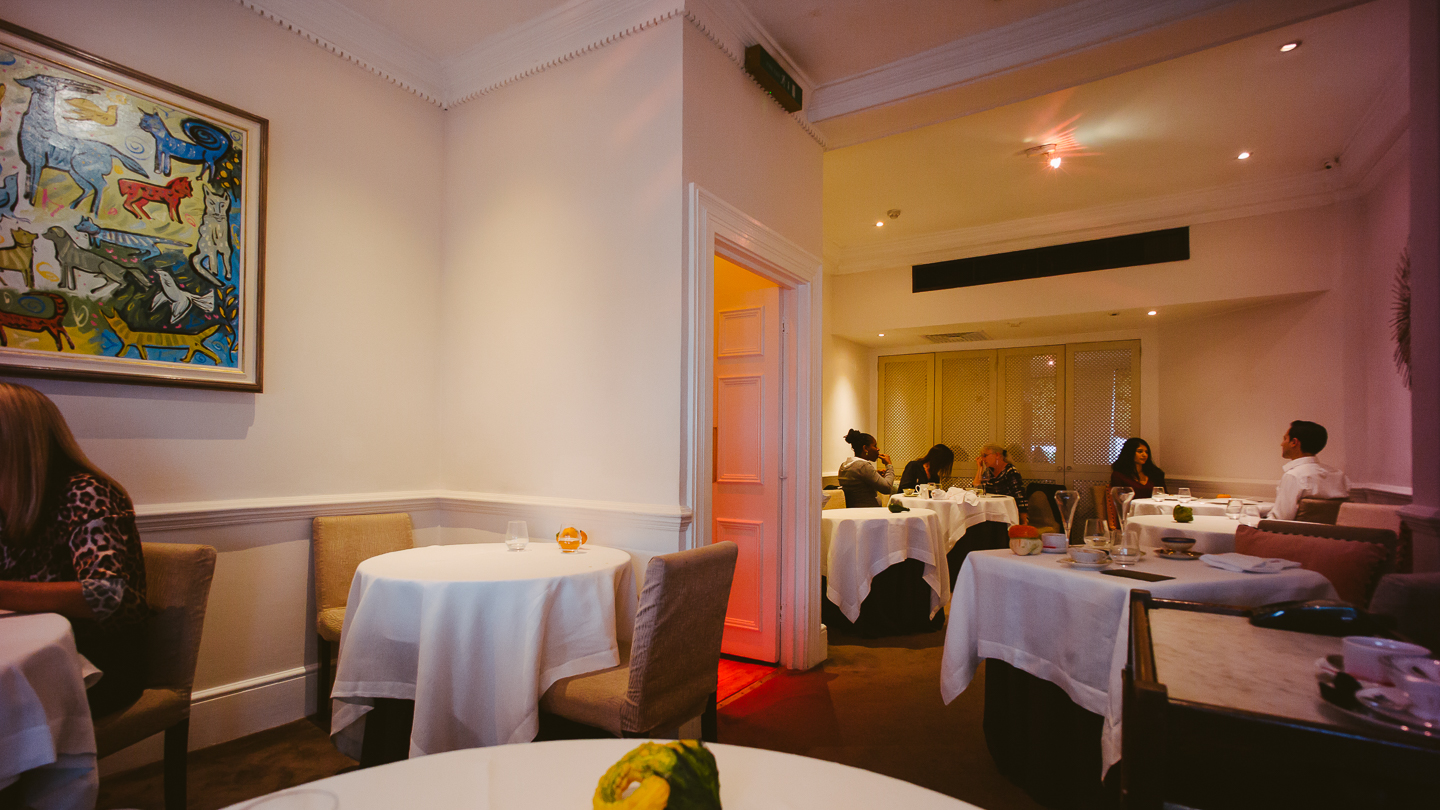 The civility starts right at the door after you buzz in, the closed door means that someone will give you a warm welcome, much like guests into their own homes. I used to frequent here a lot, have had wonderful meals and it has a special place in my heart. I haven't been back in a couple of years, the reason most likely because I go to Tartufo instead. That's the other restaurant in London which Chef-owner Alexis Gauthier has a hand in, and there to top up my fill of Alexis' magic touch with truffles.
As the scent of those earthy gems continue to bulk up with the season, I remind myself of the need to taste Alexis' truffle risotto again. The colour of the seasons drive Alexis' cuisine, especially vegetables, after all he is in the minority of Chefs in London who has been doing full vegetairan taster for years, and now proudly offers it as a 100% vegan. No need to drop cool grand at Plaza Athenee or Rue Varanne when you have a vegetable champion right here in town.
I'm glad to see that Gerard Virolle is still Alexis' head chef, these two have been together since Roussilon days and actually trace their partnership back to Louis XV days. Senior sous now is young Tom Brown.
Gauthier is known for value, but I had to double take when I saw the list of ingredients for their Autumn lunch taster which had recently been posted online. Lobster, autumn truffles, venison loin, Louis XV, five courses in all for £40. 2010 prices in 2016, a steal, so we booked in for a Saturday.
The decor has always been glamourously vintage (including some of the china), and it is no wonder that the timeless ambiance has aged well in its six years on Romilly Street. As trends dictate the retreat of table cloths, the art of service (and whole chunks of hospitality altogether) does a dissappearing act along with it. Thankfully this is not the case at Gauthier, since service remains a cornerstone and the reason why this restaurant endures. It is one thing to smile and nod, quite something to give your diners (and importantly to know your regulars) undivided attention and absolutely applause worthy when they handle your dietary needs with discretion.
We threw them a few curve balls with this meal, as I gave them a list of the better half's dietary needs over the phone. Meanwhile at the table, the Maître d' handled it like a pro when he took our order. Keeping everything low profile, sussed the missus' affinity toward seafood and very quickly suggested the swap out from game to fish as her main course. It took seconds and a whisper. I probably made it sound less exciting than it was, but that then is precisely the point. Discretion, flair, pre-planning and assurance when taking the order. They do the hard work, so you feel at ease.
This is in total contrast to a meal we had a few weeks ago at a small restaurant which shall remain unnamed where the distance between the pass and dining room is only 3 steps. That particular FOH strangely decided to announce – in his booming voice – to the kitchen and therefore the dining room, her list of dietary concerns. Three times. Back and forth. Minutes past. And they still struggled to come up with a swap. It was abundantly clear that neither Chef nor FOH looked at our requests with the booking. Come on fella, you only have 14 covers at capacity. It was embarassing even for me, and the problem was that's the first impression. It makes the rest of the meal difficult to enjoy.
I digress only to illustrate what a pro he is. And so step forth, (new) Restaurant Manager Pierre Dumoulin. I had developed a fondness for Gauthier's previous manager Damian Sanchez Perez (now with Helene Darozze), Pierre is a more than capable successor. As I mentioned in my Petrus post last week, it doesn't cost anything , but putting the effort in for a good first impression is absolutely vital in hospitality.
Canapes: Fried sage, squash puree tartelette, fish skin with bechamel, cheese gougeres
Canapes: Parmesan tuiles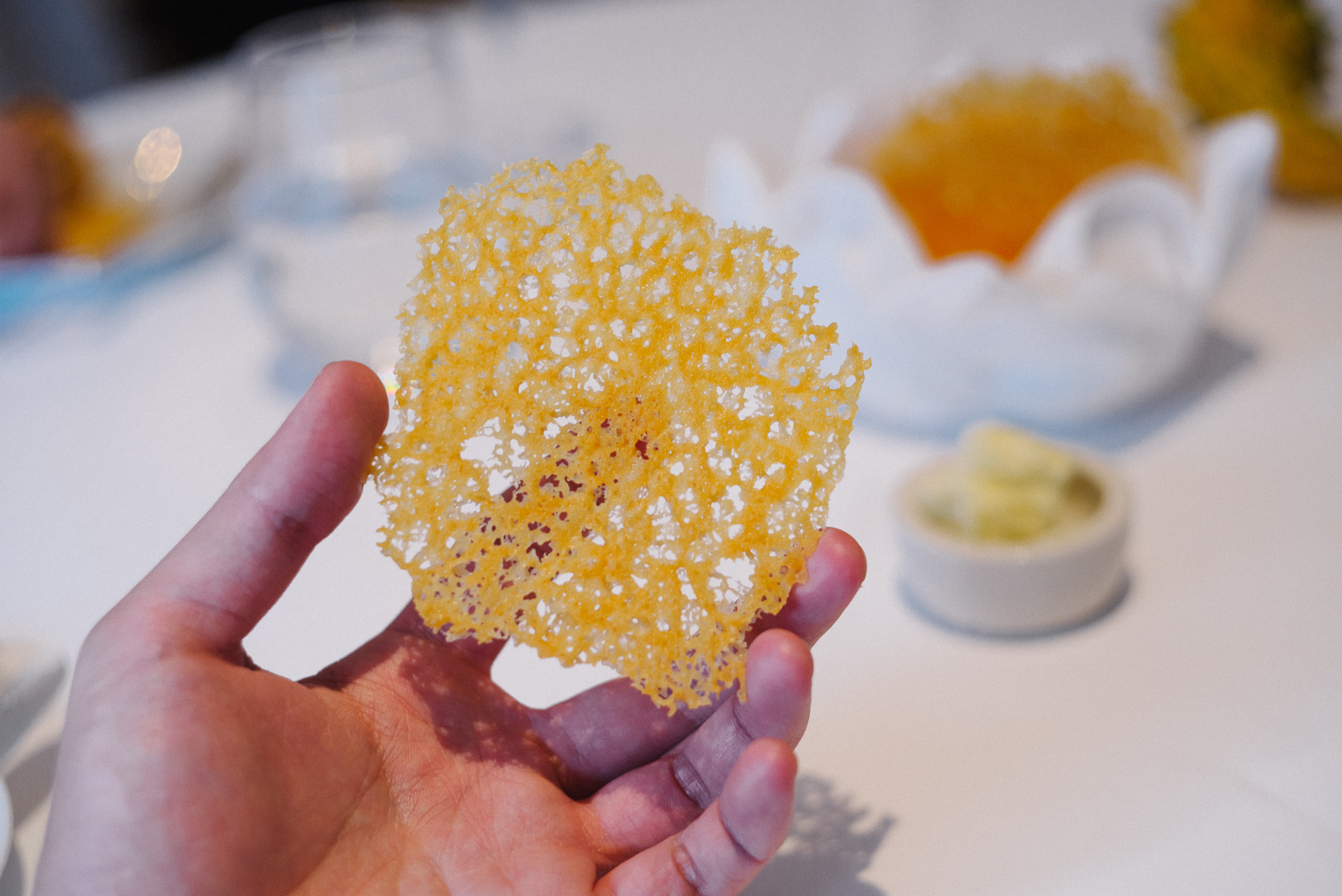 It is nice to see Alexis and Gerard still putting in so much effort to welcome guests to the restaurant with their house canapes. A nice spread here, smart move on the tuiles as something you can nibble on through the meal. I forgot to snap the bread basket, all made in house by their baker, Hannah Warren.
1. Scotch blue lobster. Crunchy cauliflower, lobster ravioli, grapefruit and coral jus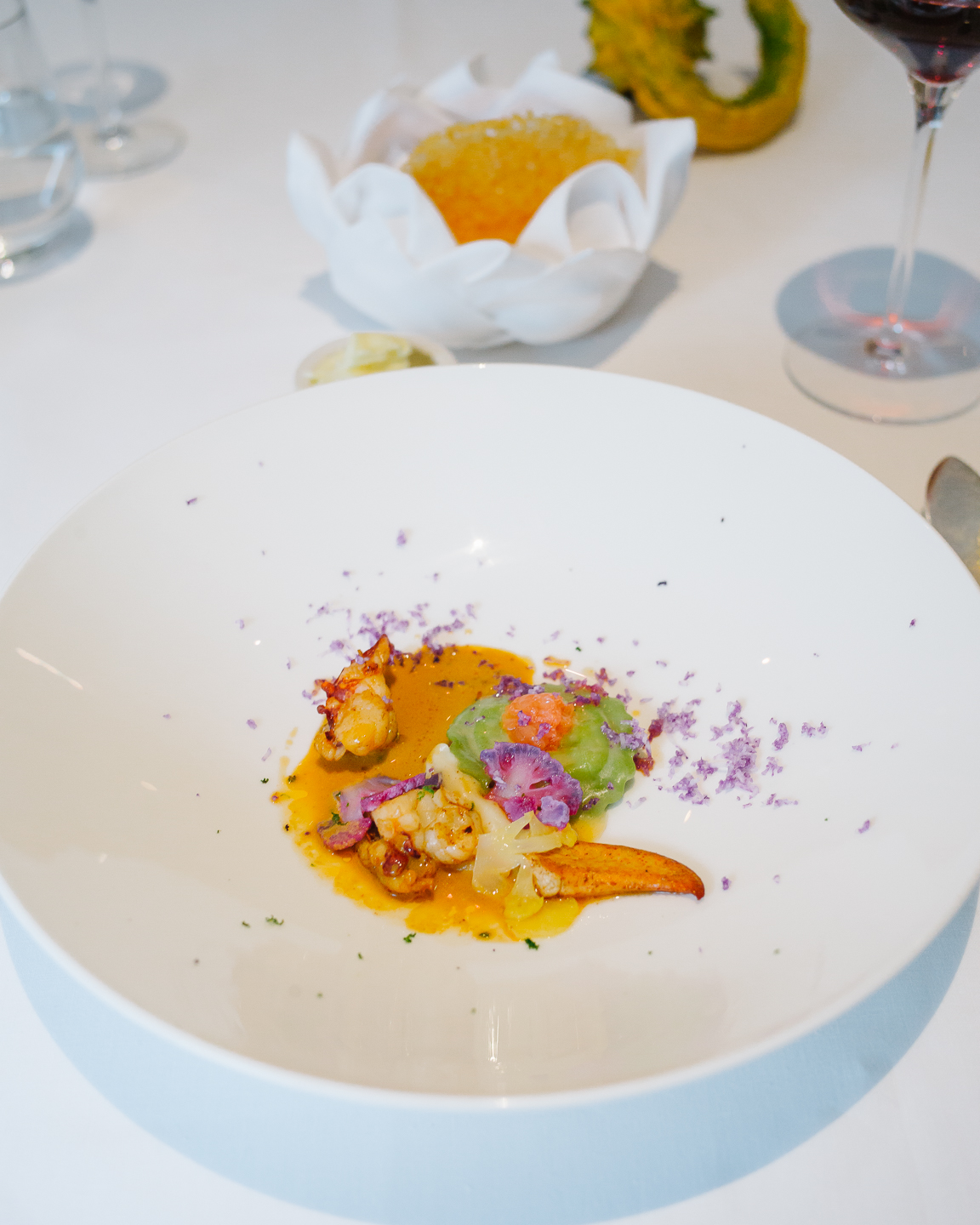 A third of a tail roasted, a quarter of a claw, with the rest loosely hand picked to a floss in a parcel of (parsley?) ravioli.
The depth of flavour of the root vegetables coupled with the warm (steamed?) ravioli bursting with natural sweet brine was a beauty. Grapefruit served to lift the aromas and provided much acidity and freshness. I guess the firm Scotch tails were butter basted out of shell as they had the sexy buttery flavours more than a match to the rich, sweet coral sauce. An excellent piece of cooking, it opens the menu in a big way and is total value for money.
2. Autumn black truffle risotto. Acqurello riso, parmesan, jus de roti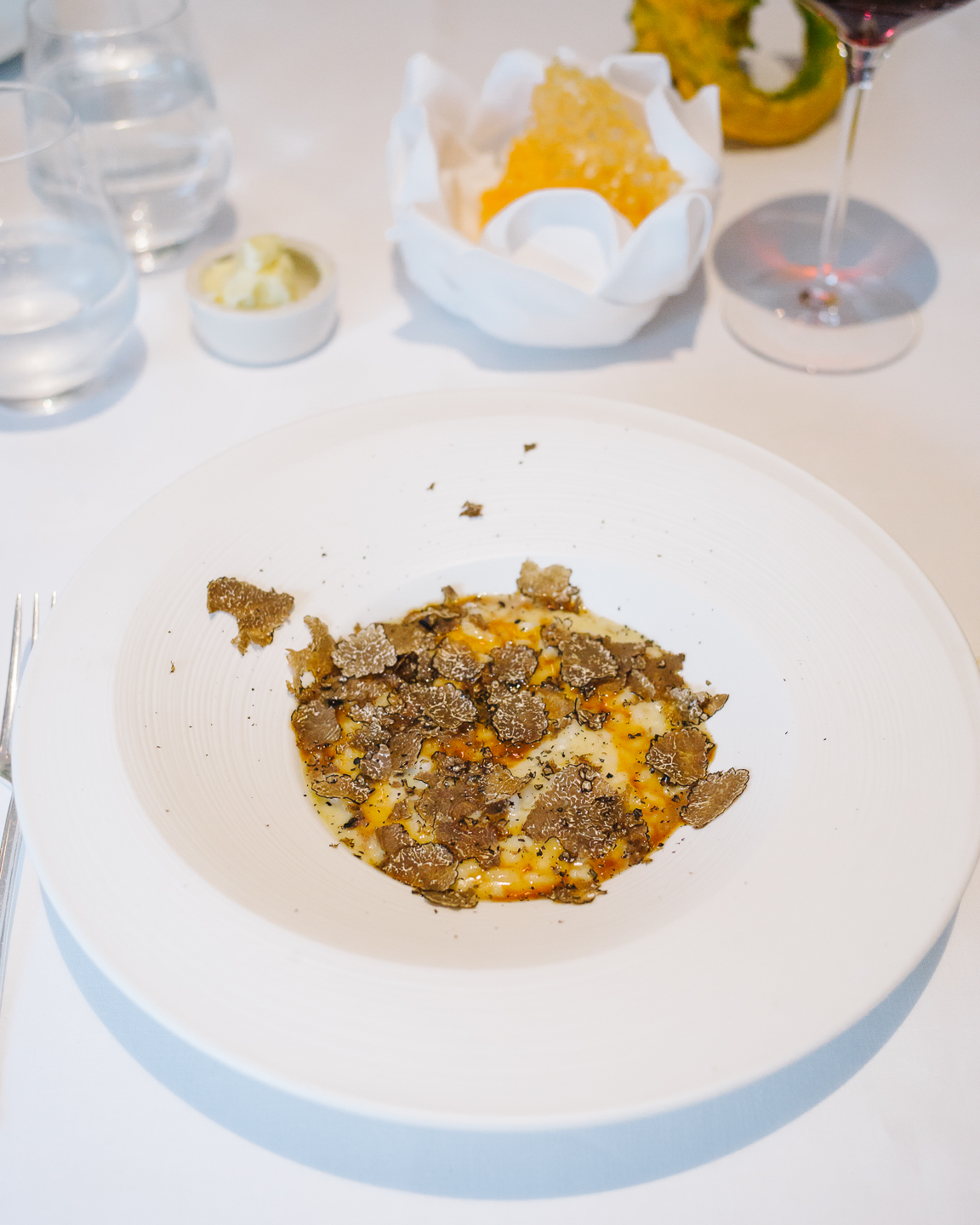 One of two reasons why Gauthier is a must.
No clotch this time round and shaving done in the kitchen. Never gets old, always looks a winner.
With Italian autumn blacks, the burgundy, and it is pretty aromatic considering. Served steaming hot, it helps to float the truffle aromas to your faculties. The jus is made from veal stock, rich but not not overly reduced, so it moistens the al dente rice, made with generous shavings of parmesan.
Oh, just so good. It is but a humble dish with classic combos but it is always done so well here and always makes me smile. Simple pleasures are always the most delicious.
I need to mark my calendar in January for those perigords…
3. Atlantic cod. Early season salsify, sauteed girolles and enoki salad, dashi fish veloute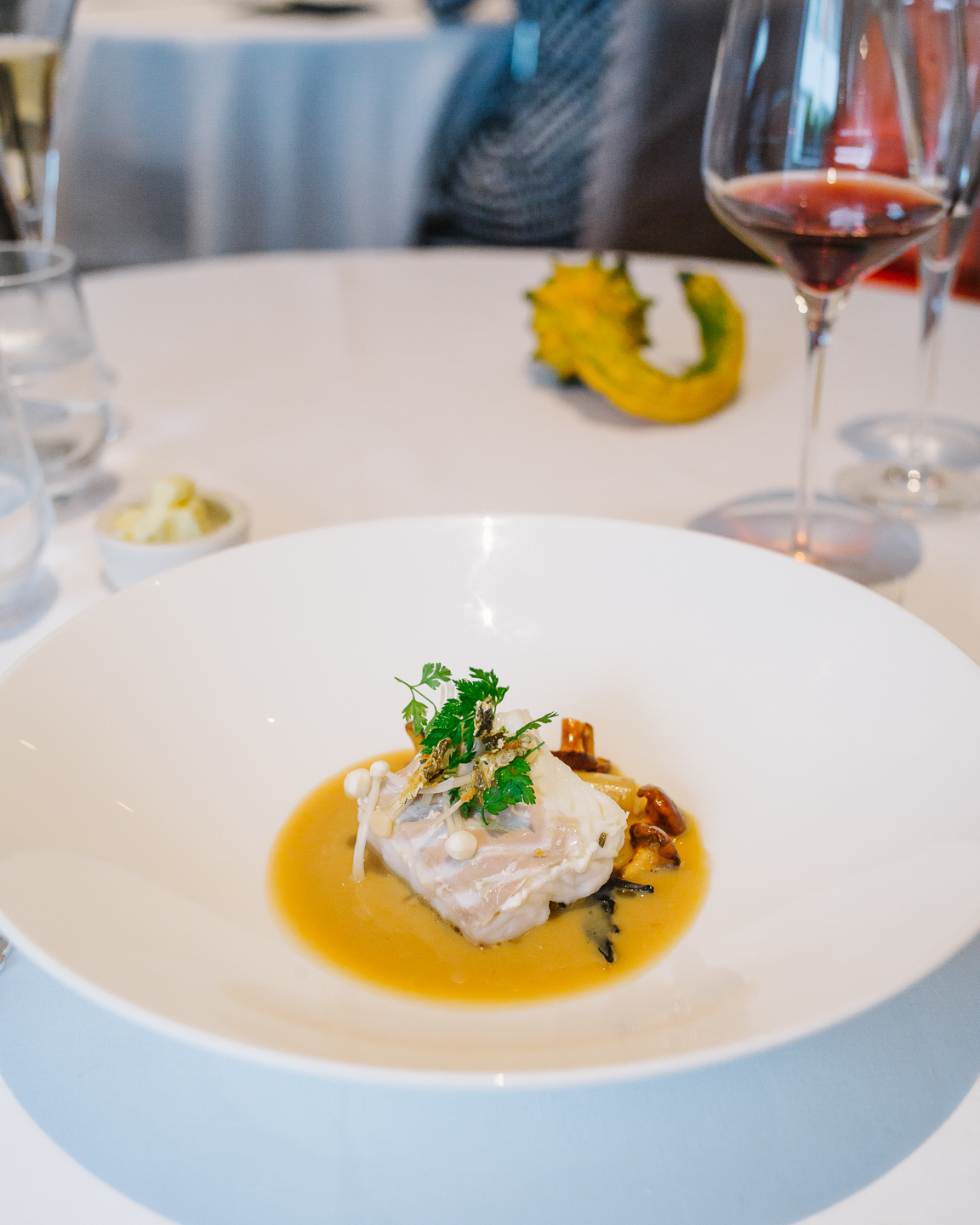 Skin-off and crisped up like crackling. The flesh is a moist tenderly texture, that leads me to assume steam oven. The temperature is a little higher than I would have preferred, but otherwise, it is good with a veloute sauce that is the very herald of the season we are in.
4. Highland venison loin. Celeriac and truffle puree, caralamised pumpkin, poached pear, venison jus, and autumn truffle shavings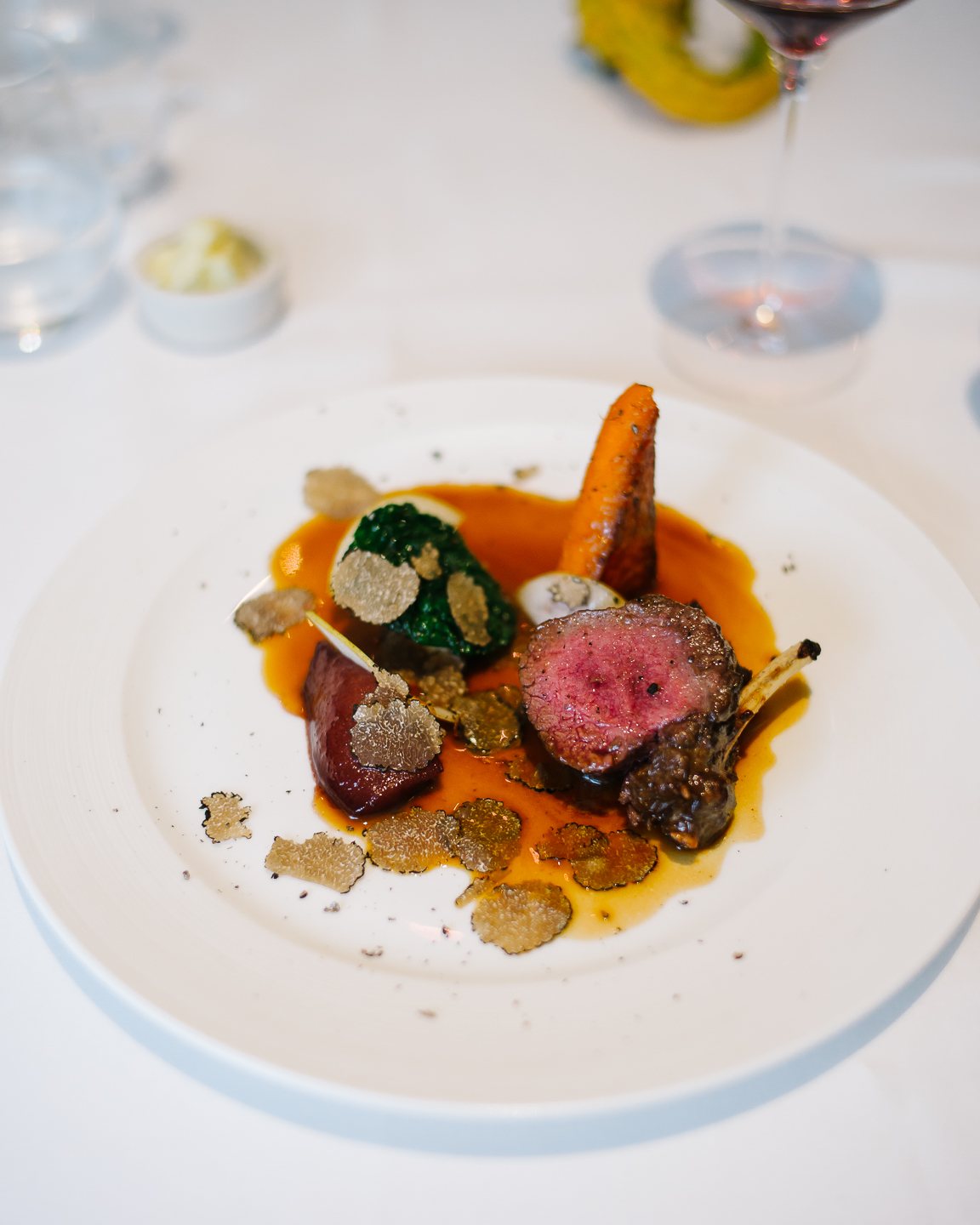 For my mains, it is Autumn on a plate!
(FYI: The missus had seabass with fondant Jerusalem Artichoke and fish jus)
I didn't ask what sort of deer it was, though I have to applaud the nice move roasting and serving the tasty loin on the bone. It is roasted to the right temperature for the lean meat, a perfect pink and therefore total succulence. The best bits were of course all around the bone, so juicy, so tender, so much flavour.
The pear a classic combo to the venison, the sweetness bringing out all the right attributes of the meat. Celeraic and truffle brings the earth to the plate and most importantly, the well-made sauce reduced from the carcasses tied it all together. A restaurant that still believes in the magic which a saucier to enliven a plate of food. A celebratration of the riches of the Fall. This delievered feelings of pure satisfaction.
5. Golden Louis XV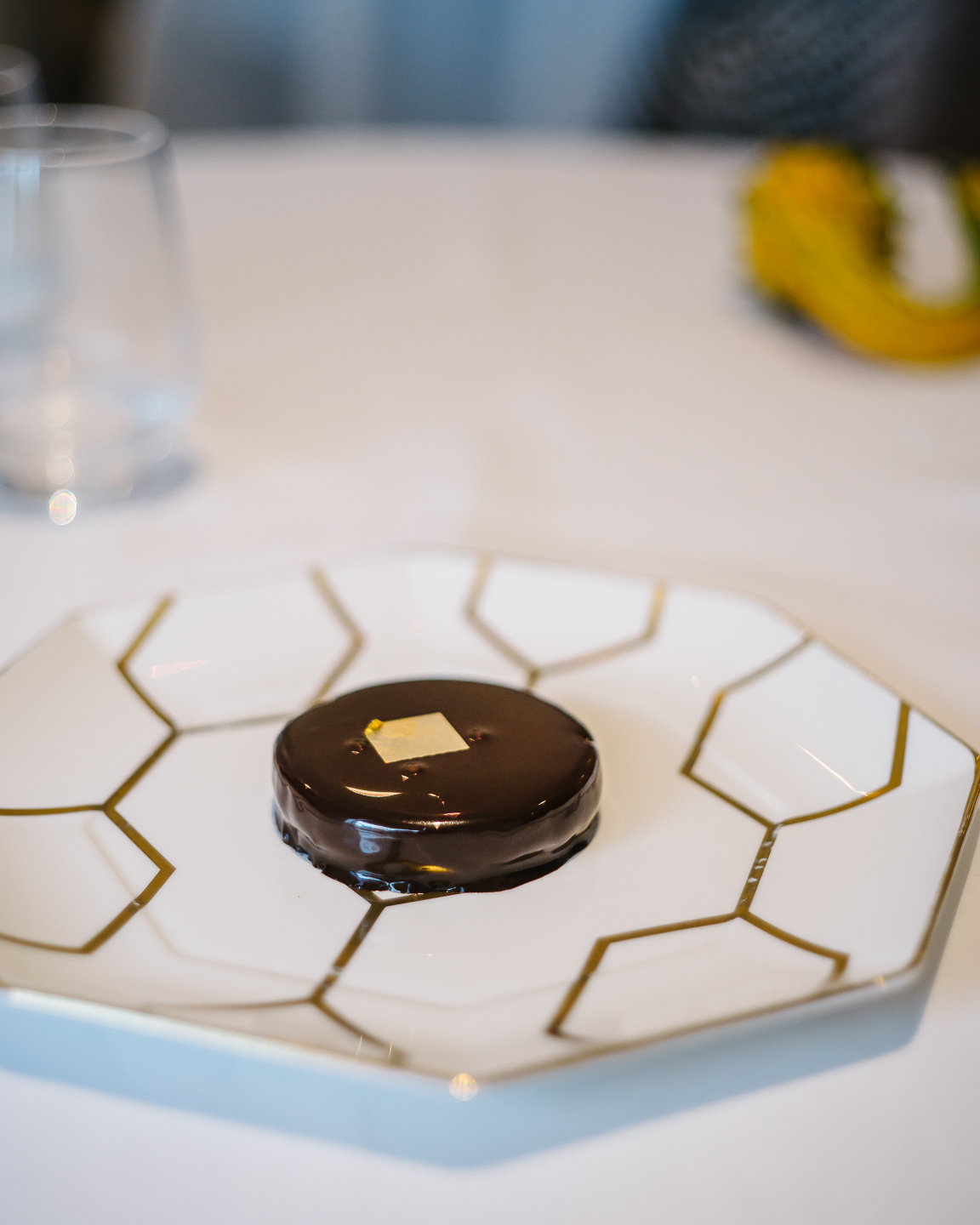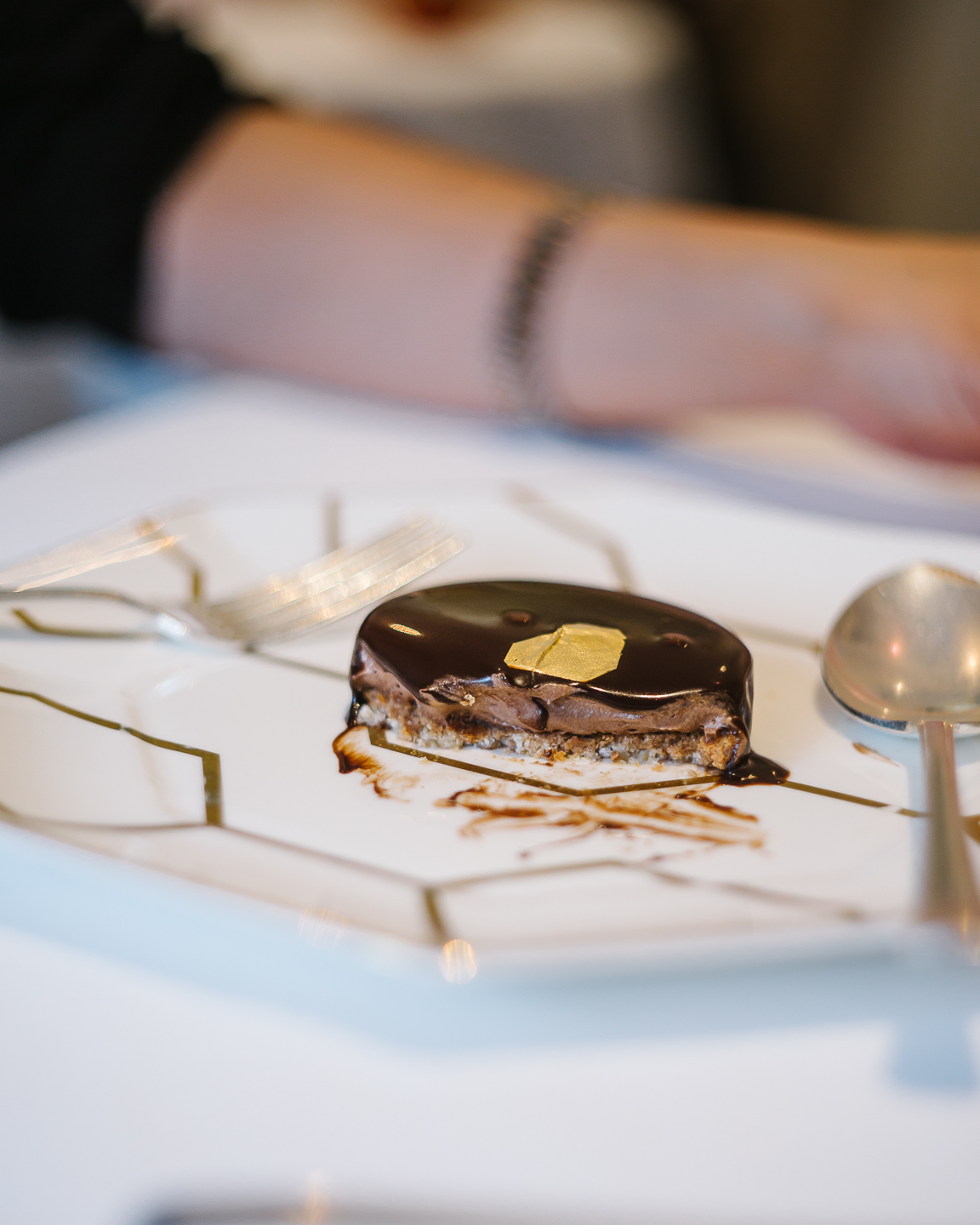 Ah, but of course. The second reason. This alone is worth the price of entry.
It remains one of my favourite puddings in town. For the unitiated, this is Alexis and Gerard's recreation of the perennial classic, the Louis XV Croustillant. As you know, it traces to their time at the pastry section of that famous restaurant in Monaco, led by the great Franck Cerutti (for Ducasse).
There are four layers, all of which combine, in the right proportions to make a perfect dessert. The base is a dacquise, a little sticky because it is effectively meringue with hazelnuts. Then a crunchy praline feuillantine, followed by the luxurious dark chocolate mousse. It is not too airy as it is cream undoubtedly whipped to soft peaks, rather than meringue. Finally the dark chocolate ganache paradis, no doubt poured to order as it retains its near-liquid texture and mirror shine. Timeless deliciousness ?
Petit fours and coffee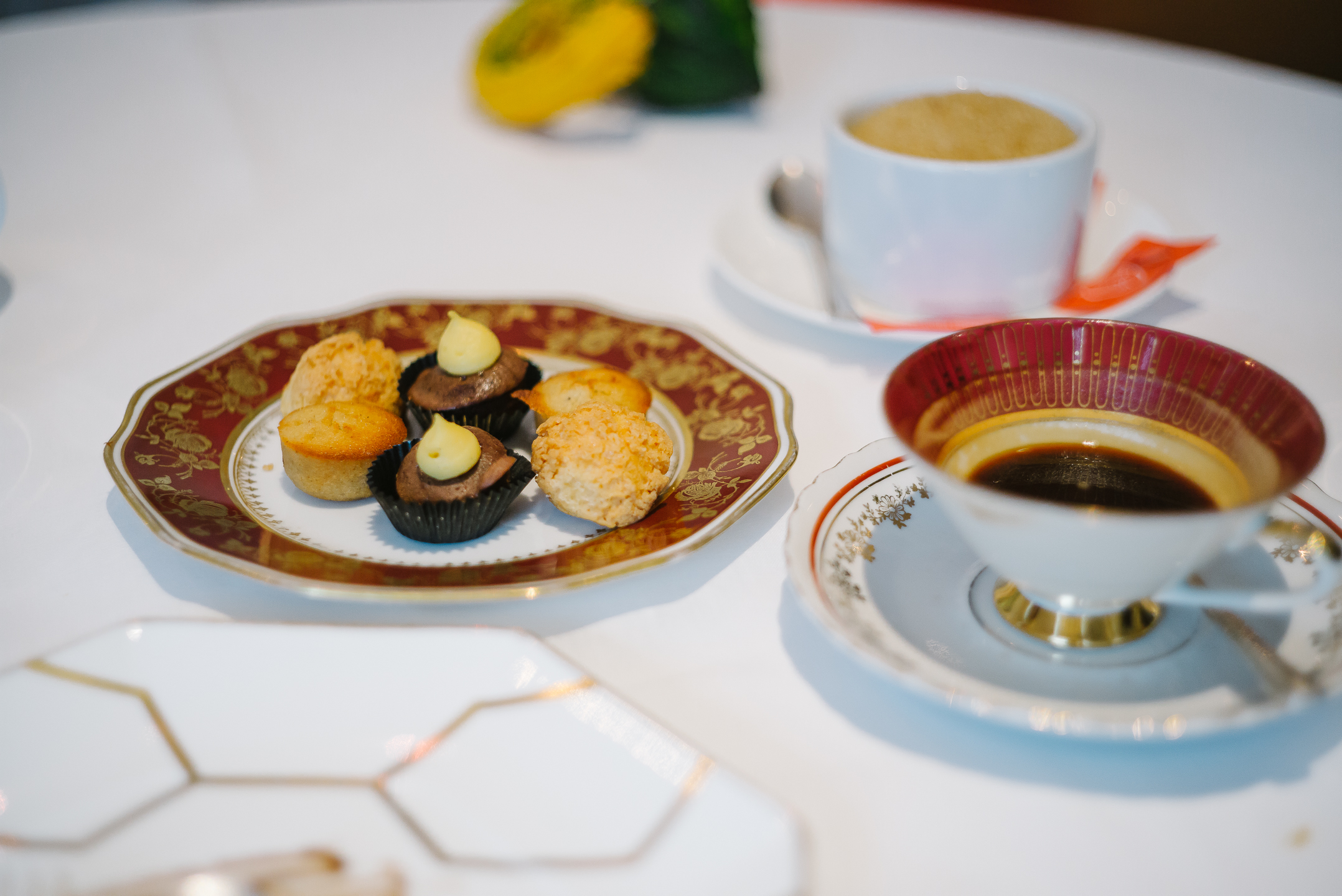 We paid £90 in total for two lunch tasters, a glass of wine and service. It appears Chef had given us a welcome glass of fizz on the house.
Today's prices really haven't changed much since it opened 6 years ago (for reference, my first visit Oct 2010) and I find this admirable, impressive and most of all, the meal was very enjoyable. On this form and price, I can find little to fault and I wonder why Ive been MIA in the last couple of years. So glad to be back and so glad to see Gauthier Soho still ever so spirited about the joy of hospitality.
If you've never been to Gauthier, now is a good time to go. Or January for the Winter mise en place, chiefly for perigord truffles. Start with this lunch taster, at £40 it is a compelling proposition, more than a match to its sleeker share-it-all peers that dominate the scene today. Filter (sparkling and still) water, canapes, petit fours and the excellent service all thrown in as part of the deal. If you stalk the online booking sites, you might even score a few 2 for 1 deals too. There's not much more you can ask for.
Details
Gauthier Soho
French
Set 2 £18 / 3 £25
Lunch Taster 5 for £40
Vegan Taster 8 for £65
Full Taster 8 for £75
ALC 3 £45 / 4 £55 / 5 £65
21 Romilly Street W1D 5AF
Tel : 020 7494 3111
Tube : Leicester Square