Other meals at Bonhams : Oct 16 , Sept 16 , June 16 , May16 , Mar16 , Dec15 , Oct15
I head back to Bonhams on a monthly basis now and this being my 12th visit. Bonhams is my firm favourite in London. One of the things I love about this place is the seasonality. Flip back to my old posts, and you can see the seasons change on the plate. Bonhams lays on serious gastronomy, but it is also a place that I can return to for seasonal change and just a jolly good meal. As a diner, this is what I want from my favourite haunt. I count myself a regular here.
I have never asked Tom how many 'seasons' he divides his menu into. I know some Chefs have as many as 24 season(al menu transitions so to speak), so far I count about 6 major menu shifts in a year since my first visit here. The two transitions around August-September (game) and then March-April (asparagus black truffle) are very interesting.
Of all the seasons, I reckon Autumn is when Tom's mise en place starts to open up. In addition to the riches of the British game season (perking up in flavour as the days get shorter), there are truffles, an abundance of wild mushrooms and beautiful catch landed at the Cornish coast.
And so I opted for yet another long carte blanche with requests for red mullet, white alba truffle, scallops, deer and wild mushrooms, chiefly ceps.
Oh, and the chocolate sabayon tart is now back on the menu (!).
Most of the dishes are available during the lunch ALC, and for dinner, Tom does a 5 course menu for £60, in effect a shorterned version of this carte blanche.
You can also always request for a big long taster as I now normally do when I visit. He usually charges £90 for 8 courses + amuse, but this particular meal was £115 and the hike up was because of 9 courses, white alba and 2 game birds. For the quality of produce (especially the seafood) and considering the high level of technique and consistent execution, it is totally worth every penny. I love the cuisine, the 'hidden gem' ambiance, the tight FOH team led by Amy and Charlotte, it's all good. This is why I visit so often.
Plus 3 glasses of wine (£56.50) and service (£21.44), I paid a total of £192.94 for this meal for one.
Details
Bonhams Restaurant
Modern Euro
Lunch : Mon – Fri, ALC £52pp (3 courses) + drinks + service Lunch Menu Oct 2016
Dinner : Wed – Fri 5 courses for £60pp + drinks + service
On Request : Carte blanche £90 for 8 courses + drinks + service
—-
Notes and photos of the meal below.
—-
0. Canapés. Foie gras parfait with Apple. Eel with yuzu Mayo on nori crisp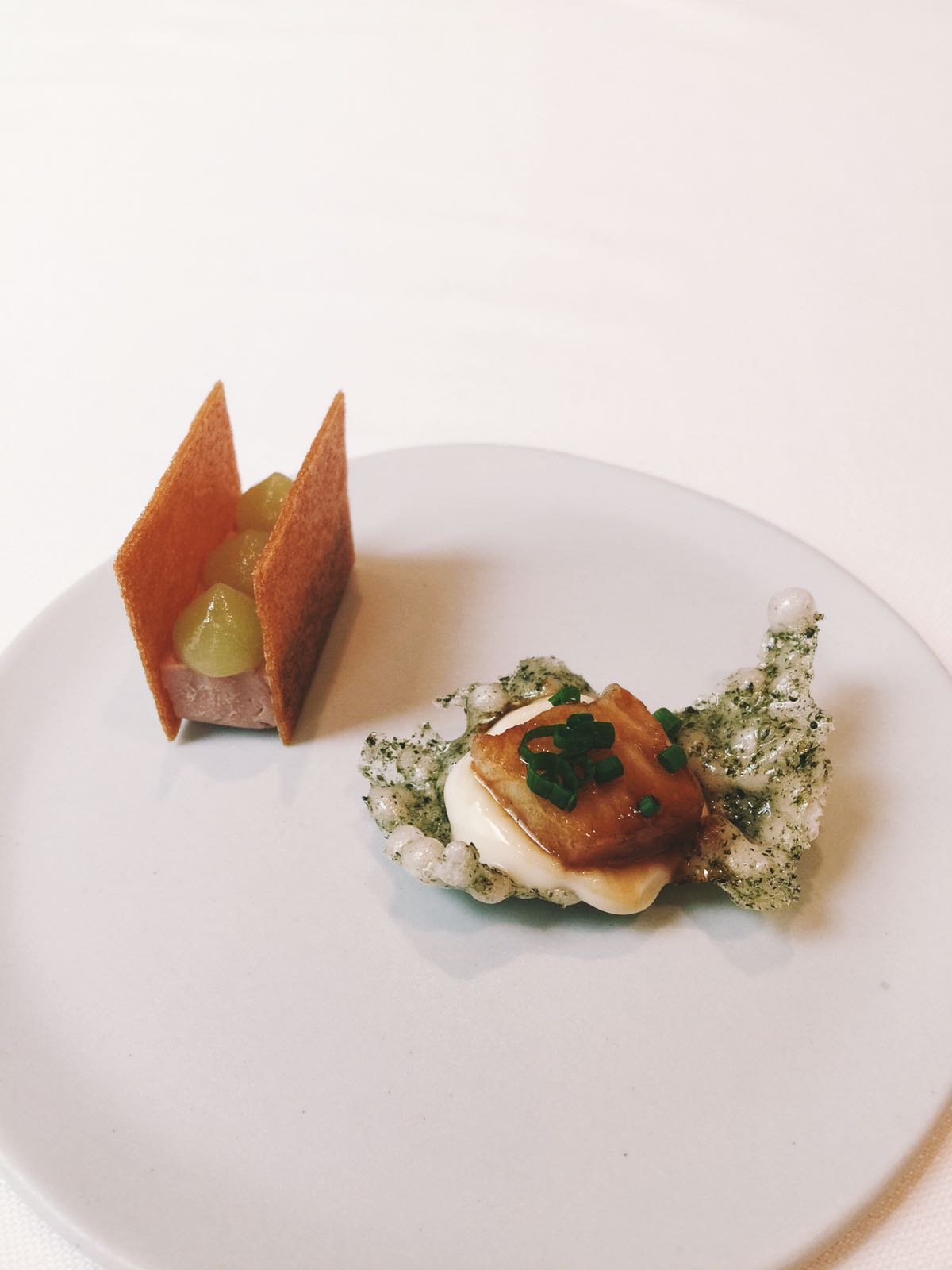 Pretty, and also pretty edible.
1. Mylor prawn tartare with crab jelly and oyster leaf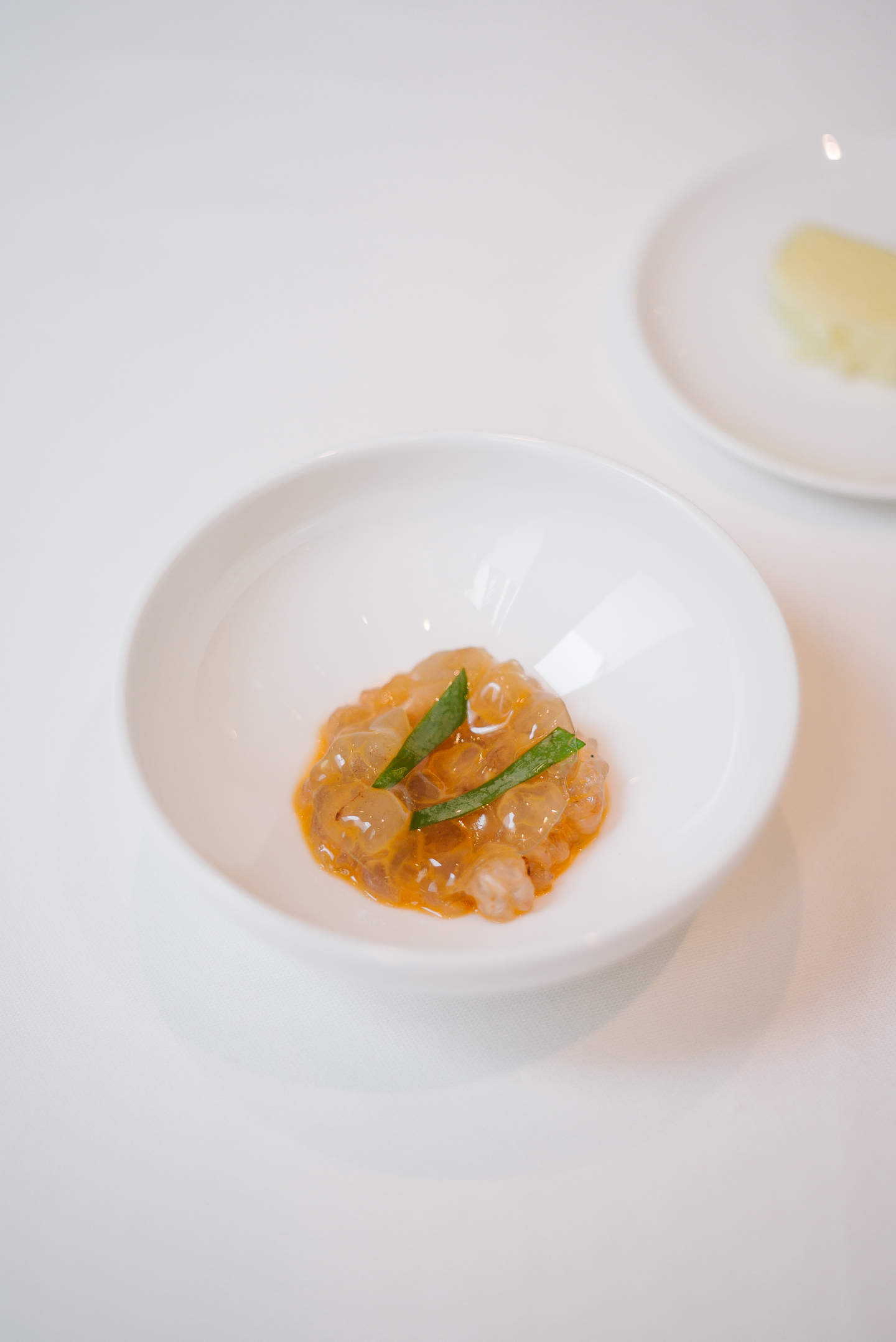 I now recognise this amuse as Tom's personality on the menu. He has a love of seafood as well as sushi (He loves Harutaka), in the past he has served bonito sashimi, other times it had been tails of langoustine, and of course the ultimate XL sweet Scotch scallop sashimi. Britain does have lovely seafood and this simple course is a sweet, fresh and practical manner to highlight it.
Today he has served up freeeeshhh seasonal catch, simply so and it is ridiculously delicious. This is nature's gift, now that the waters are colder. Shelled to order so it's ultra sweet with plump, crystal-clear flesh. Oyster leaf for a mineral finish. Guns blazing at the start of the meal.
2. Soft burford brown egg with wild mushrooms and a brown butter and vin jaune sabayon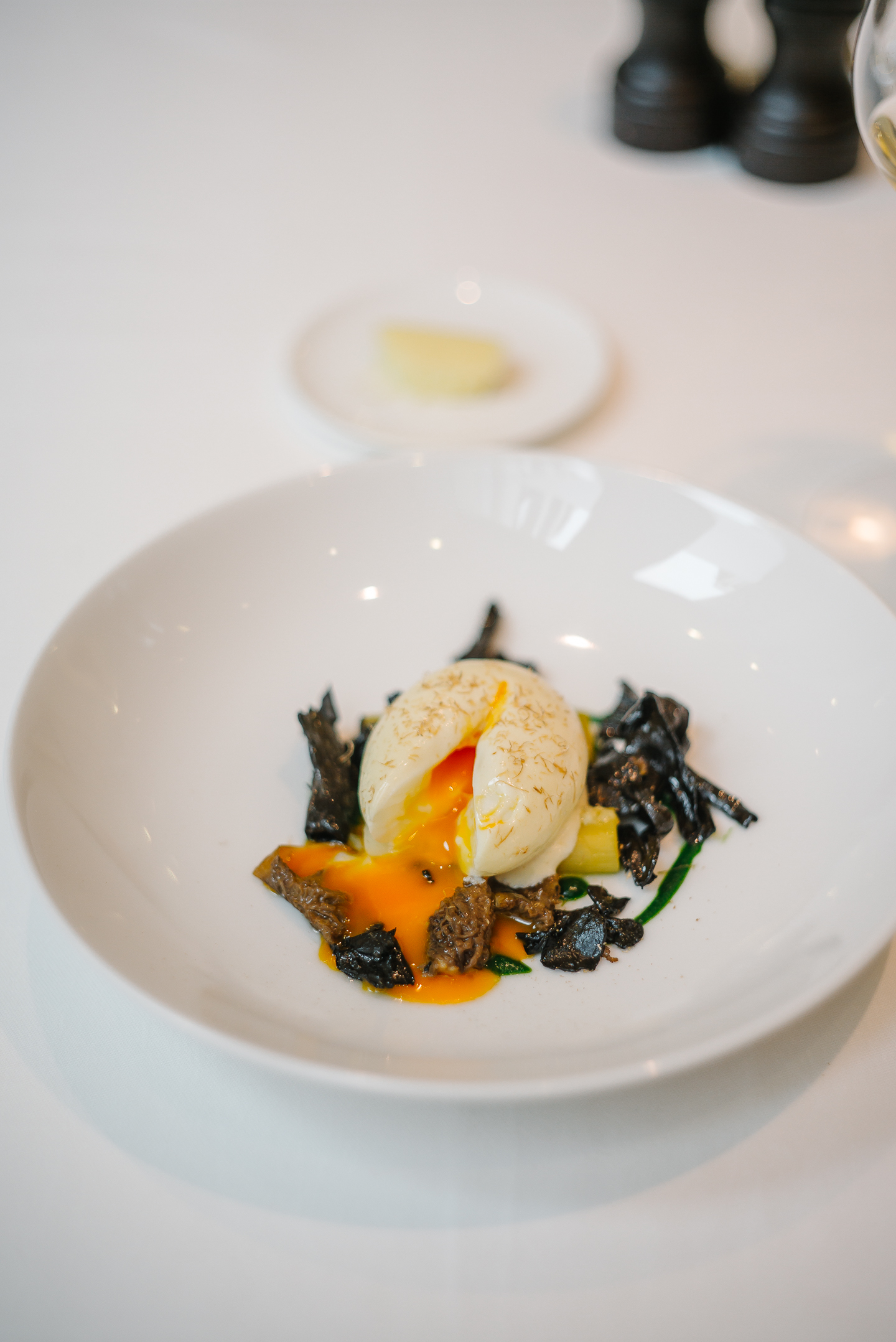 Also with what looks like tiny thin shavings of white truffle, parsley sauce, leeks and there was some grilled cheese too (raclette?).
I love those burford browns, just are so rich in flavour as is evident from deep yolk colour. I can see trompette de la mort, chanterelles, warm, the aromas of the shrooms just fab.
It some ways, this was my favourite of the meal. A dish of simple pleasures, autumn on a plate, I can easily have another again.
3. Isle of Mull scallop with Jerusalem artichoke puree, granny smith apple and white alba truffle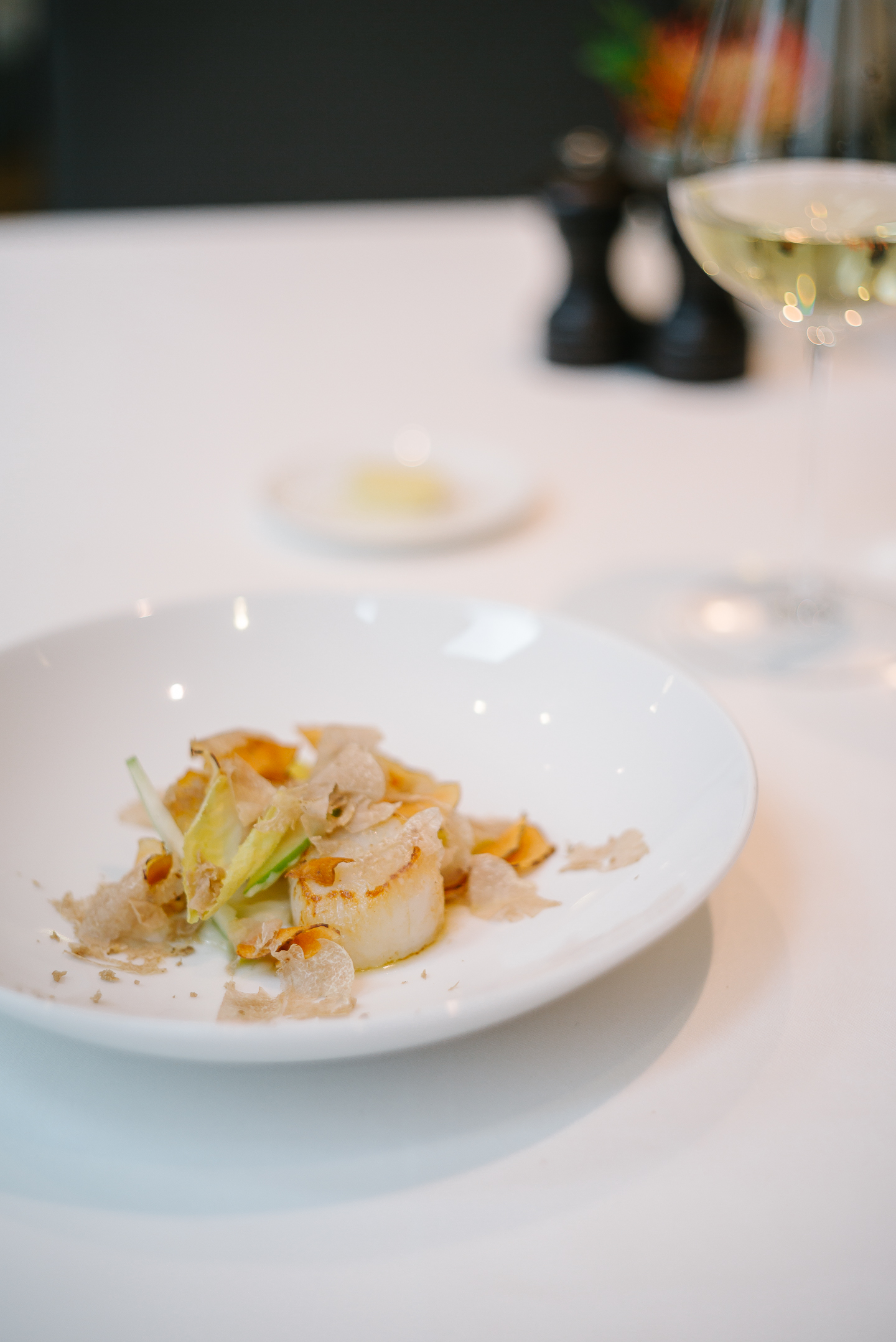 First whiff of Piedmont this year for me. Served in a warm plate, it aids the initial steaming rush of white truffle. Pure intoxication. the umami levels of the artichoke puree and crisps were fully amped by the truffle. Endive for a little crunch, bitter and raw apple for also crunch, acidity and therefore freshness.
Mostly however, the quality of the scallops were incredible. Finished in pan, they made sure to leave the centre juicy and rare. They were achingly sweet, it too amped by the smell of those beautiful truffles.
A warm salad so to speak that engages all the five tastes, and sends your olfactories into overdrive. What a dish this was, as it delivered tidal waves of pleasure.
I drank this with a glass of 2011 Lafon Meursault, equal aroma monster, and purely expresses the snap and crackle which Meursault possesses.
4. Red mullet bouillabaisse with coco de paimpol, preserved lemon and black olive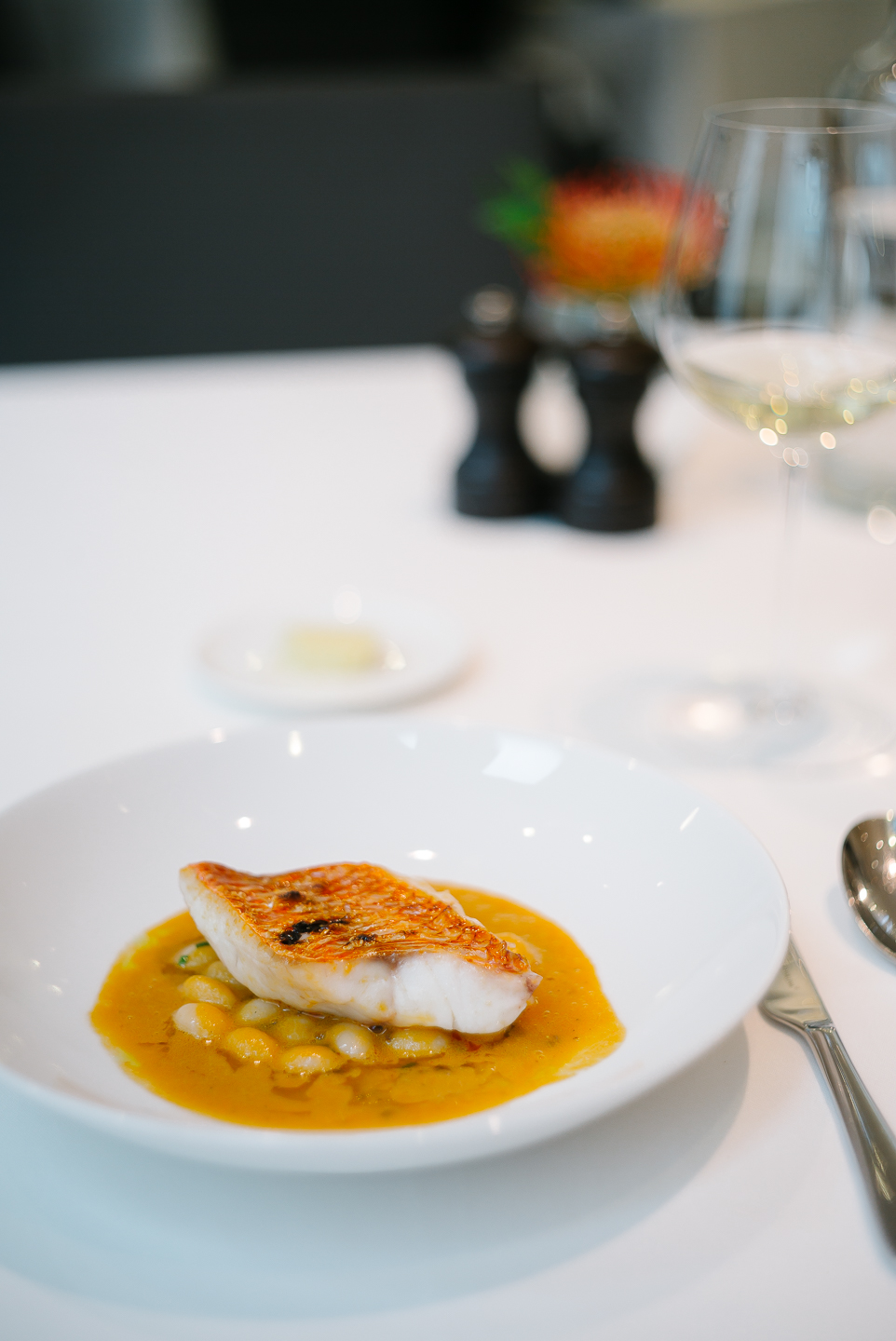 Served steaming. The noble fish is very much in season now, simply flamed, the flesh is taut, juicy and full of meatiness. Now this is a proper fish stew, it smells wholesome and full, you can clearly taste all the bones and bits that's gone in – the fish stock knocks you back, as it should.
Then there is also the heat of the pepper but best of all, it has wonderful tension with the lemon drizzled in, an effervescence redolent of mango peel and also that feeling of gorgeous hot&sour soup. Such a good stew, it's lively, rich but also has such freshness. In addition to a classic bouillabaisse vege mix, lobster figures in the stock, and is no wonder why it's so tasty.
This is why I love the cooking here, it treats British terroir with respect, it's elegant and careful balanced but it is also generous. The seafood lover in me rejoices.
5. Roast snipe with crushed artichoke and pickled elderberries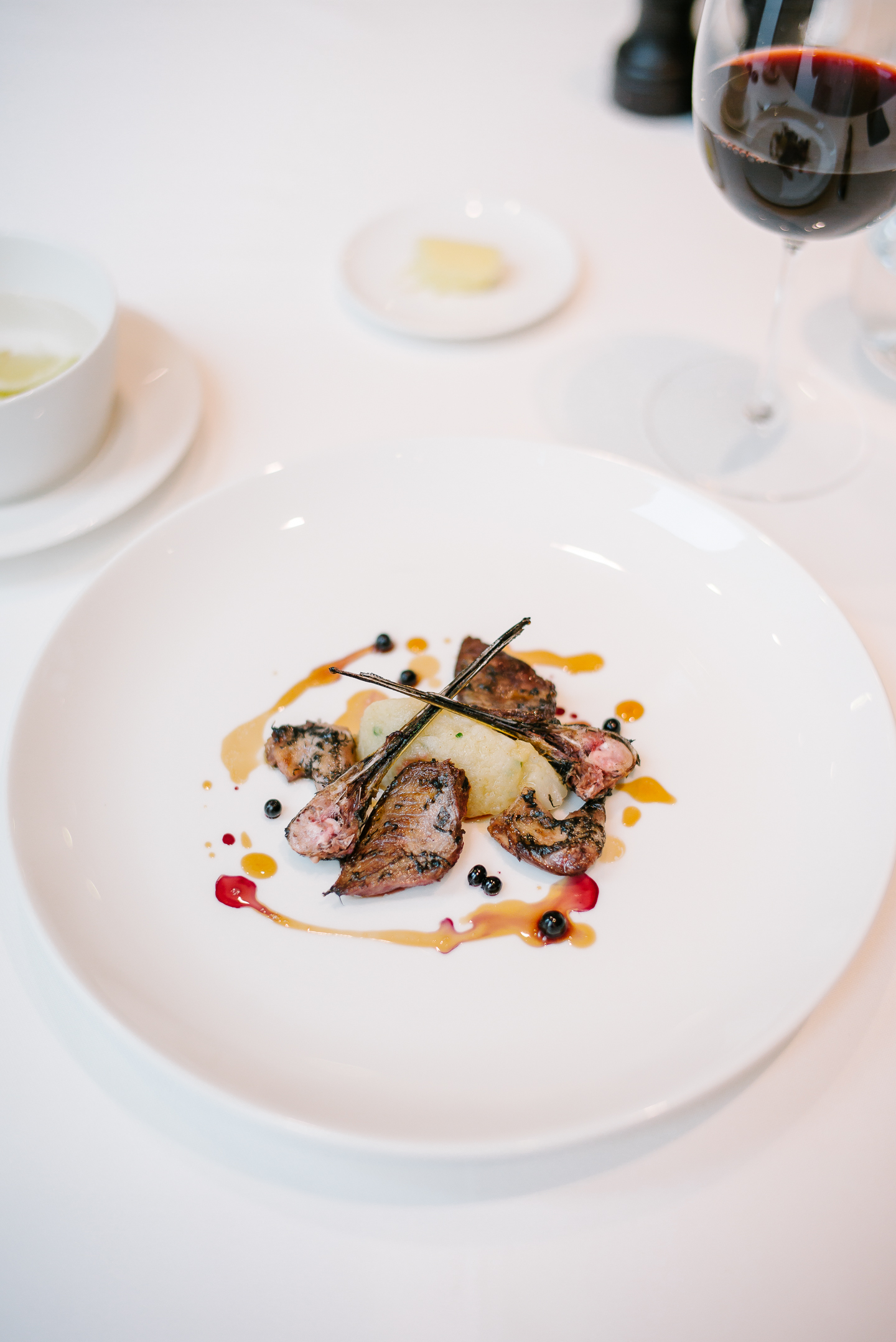 A rare treat, a glimpse of precious British terroir and a first for me. Utmost care is taken to confit then roast the wee bird in its entirety and to then present on the plate with an eye for beauty. Breasts to perfect pink, legs juicy and sumptuous, a light jus i assume reduced from remnant of the carcass. This bird has but a delicate gaminess, lean with a unique woody, mossy flavour, especially on the crisped skin of the dark meat – like gunpowder and herbs.
It must be a reflection of its diet of "proteins" as well as its habitat. The artichoke is salt baked first, and so has deep root flavour, gorgeously melding with the rich dairy of the binding mixture. Lightly pickled elderberry for acidity to clean up the palate. No mucking about here, clear minimalism tuned to highlight terroir, and it is here that this kitchen demonstrates its precise execution. A carte blanche that has embraced the season, and produced a rewarding experience for this avid diner.
6. Roast teal with caramalised endive, quince puree and game jus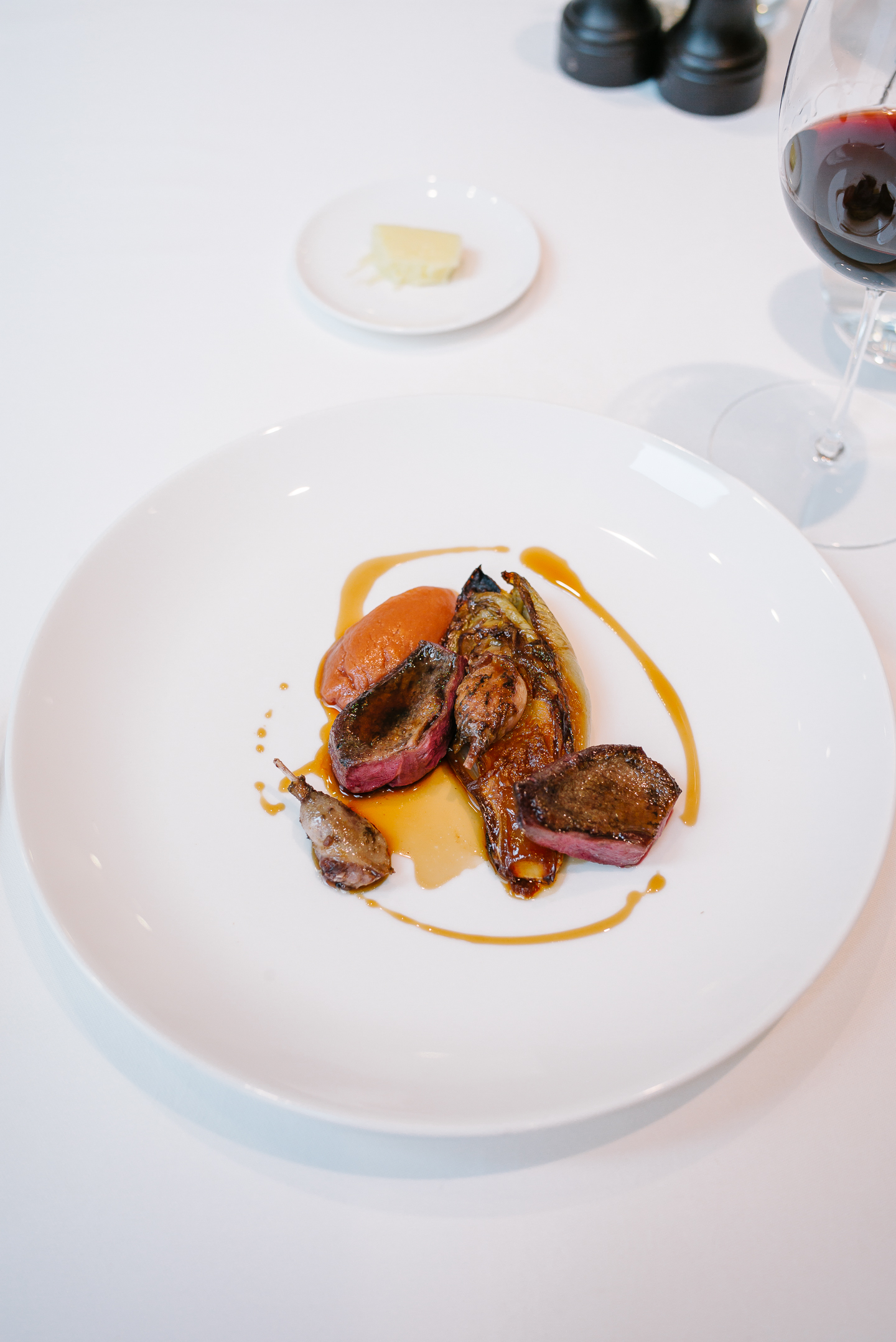 I asked to have this slotted in, as I think this particular wild duck is rather unique. Early season. As is evident, it a tiny duck. Very lean meat, but also tender being such a small thing. It has such a delicate flavour, it's less "duck-like" than farmed varieties (perhaps the most of all wild duck?).
Care is taken to cook to a nice pink, and then paired with classic combos of a sweet purée that is honey scented and endive to provide smoky charred bitterness. As usual, the flavour for me is in the juicy legs. Whole bird is confit then roasted, as is the way they are handling most game this year. Will give the widgeon (mallard also on the menu) a go next, those guys go diving for fish, fishy duck meat.
7. Loin of Fallow Deer with smoked pomme puree, whey glazed carrots, ceps and chestnut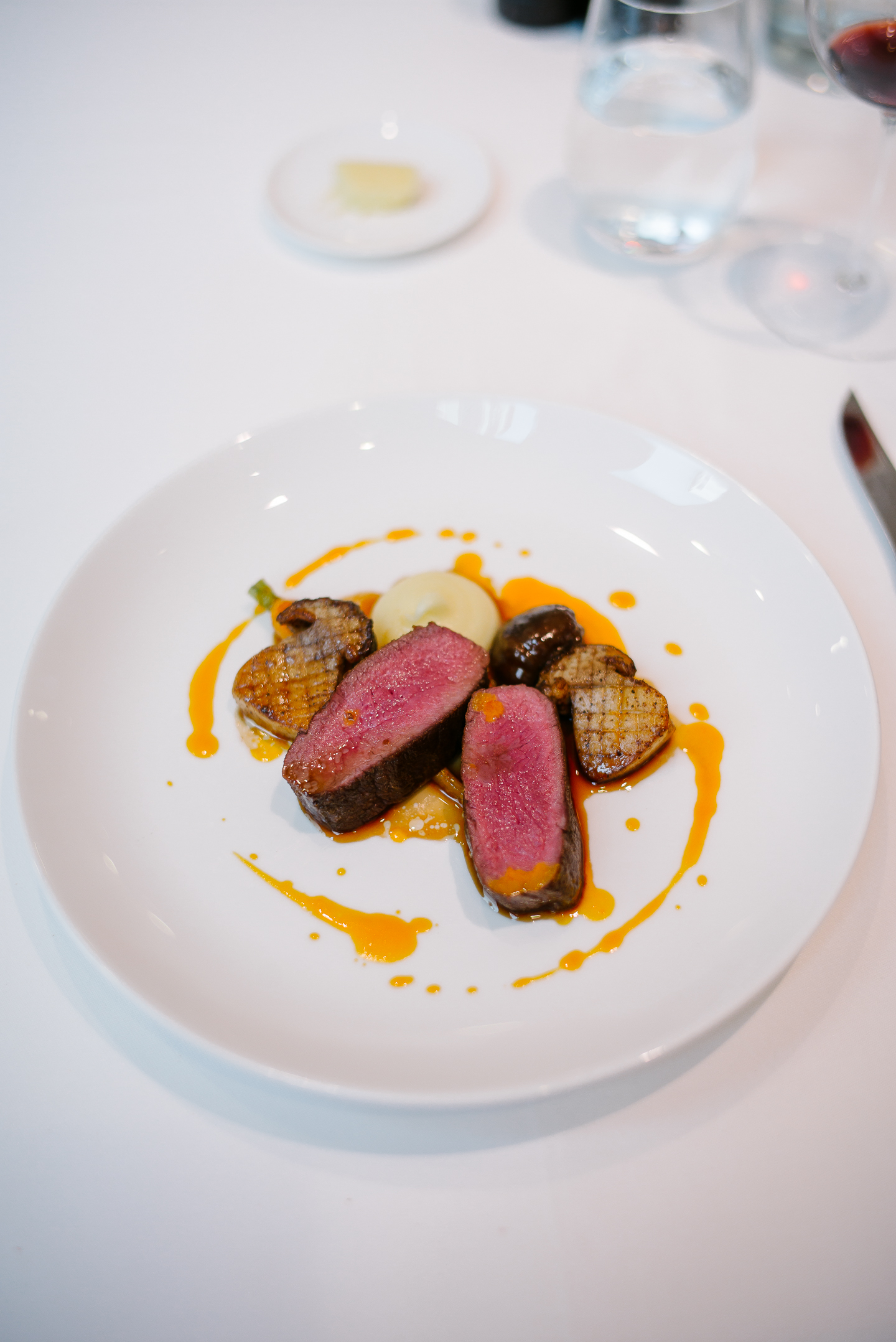 Been exactly a year since I first tried Tom's wonderful ceps and today these were again a real pleasure to repeat. When its good, it has such depth of flavour. Venison roasted to a perfect pink, taste the butter baste, and the strength of this dish are the side ingredients and how they pair to the protein to complete it. The smoked potato purée was off the charts, a little cheesy even and just so gorgeous.
8. Pre-desert of Raw pear sorbet with meringue and plum powder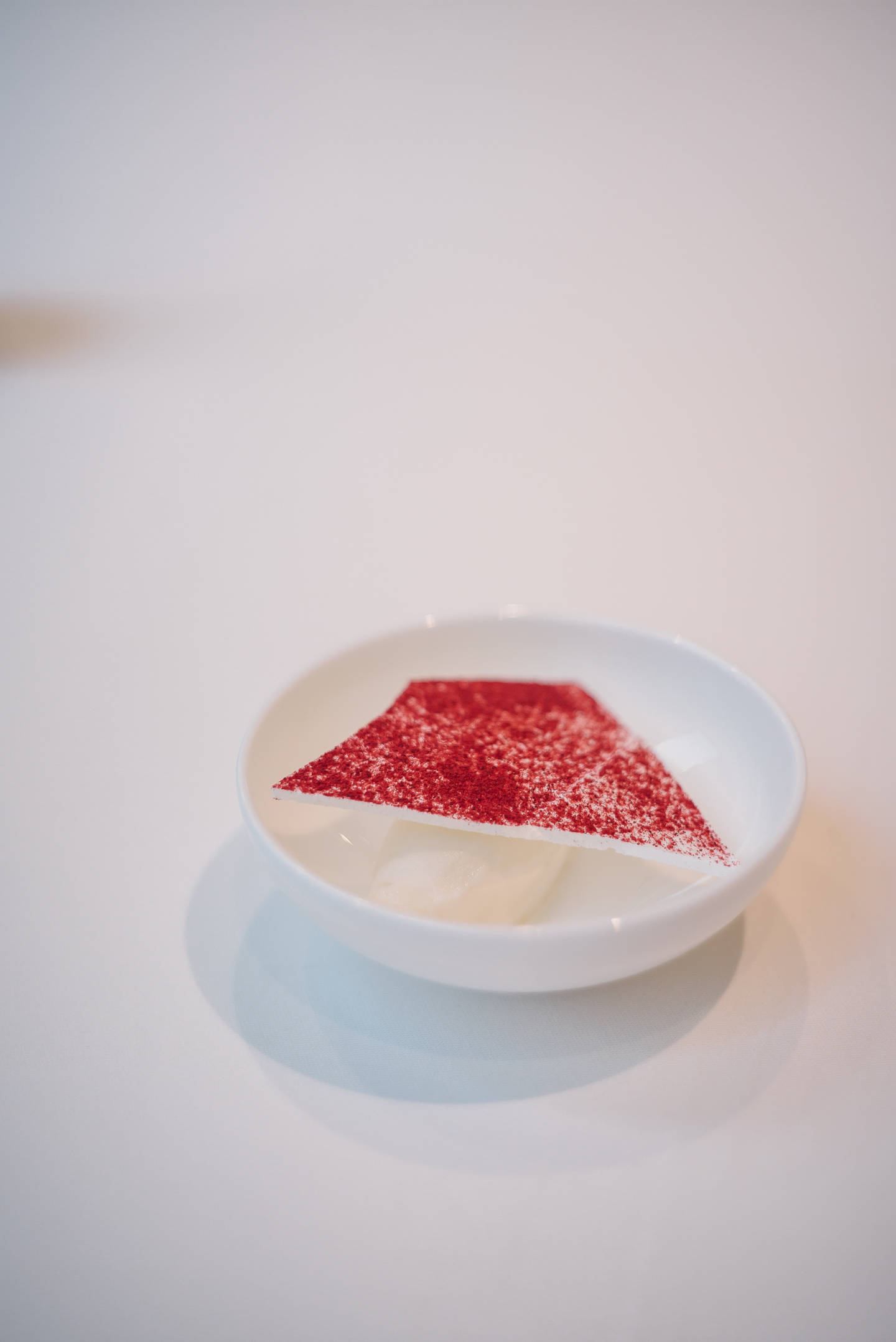 Ripe in-season pears and it is like a cold 'grainy' granita that is pure in its natural sweetness. It's only a simple thing, but very delicious. You should ask for this if you are visiting during Autumn months. The plum powder has high acidity, so really does serve to wipe the palate clean.
9. Chocolate sabayon tart with Tahitian Vanilla ice cream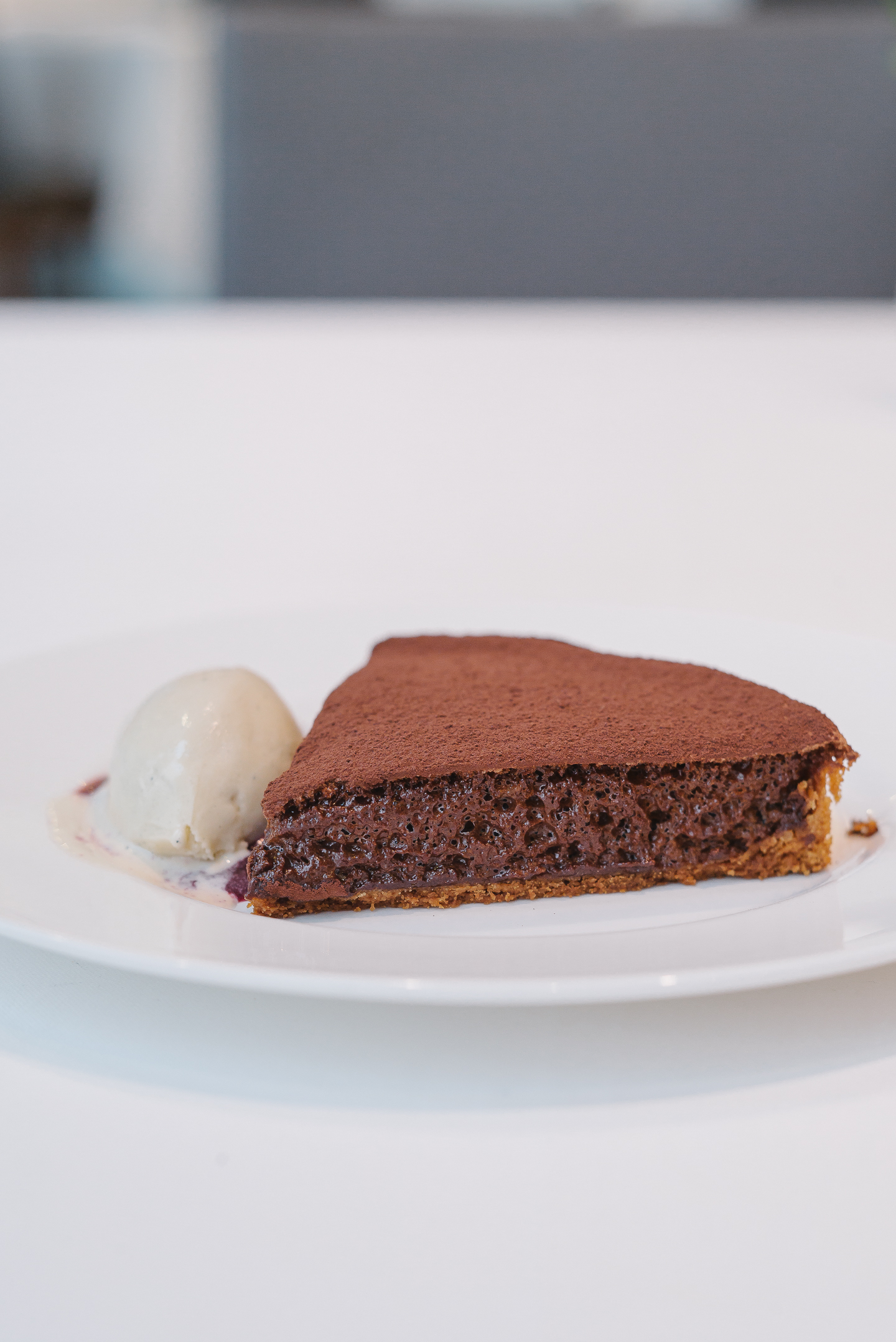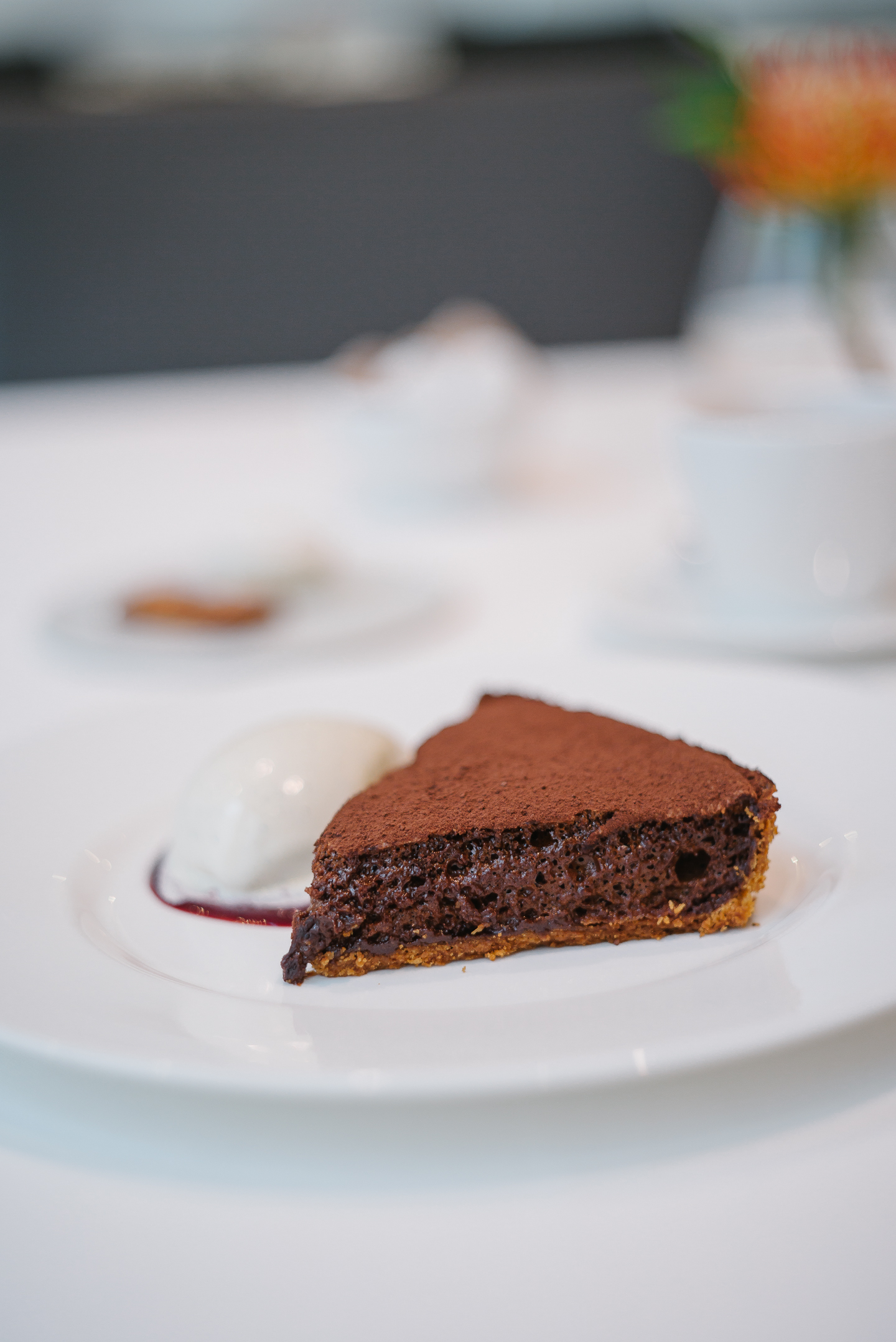 (And sour cherry purée if i remember correctly from last year for extra acidity)
After a summer hiding in a bar, this is finally back on the menu. The ultimate homage to L'Ambroisie. Check the thin shortcrust base and the dusted over thin film of baked sabayon top ?. And it is ?% (cooked) sabayon, flourless and therefore some clever additions and copious whisking to aerate yolks like this, which shall remain a mystery in my feed. The timing of the bake is absolutely crucial as margin of error is within a minute either way, it's under or totally over.
I tried at home (as you might have seen elsewhere) but no chance I can replicate. The result is a light as air texture, and it's like eating clouds of chocolate. I asked for two. Second one is "research". Such a nice pudding, just this is worth the price of entry alone. Don't miss it this year guys.