The next chapter in my quest for wagyu takes me back to Tokyo in the Fall of 2016, where colours are just beginning to show. This time round, I am in search of precision shimofuri and I am convinced I will find it between an Island 島 and a Mountain 山. From Nihombashi to Ginza.
The Kevin Bacon that links Manabu Oshima and young Yayori Hirayama (平山也裕) is the Yutaka steakhouse based in Kyoto. Though Hirayama san – in his mid thirties – is not directly Yutaka trained as he is a generation younger and a former student of the mythical Kawamura (Oshima san's peer and is not to be confused with Teppan style Bifteck Kawamura, also in swish Ginza) generally accepted as the Grail wagyu steakhouse in Japan .
Of course you already know all this, and that the elite Tokyo steakhouses include the trio of Yutaka lineage and the freakishly expensive Aragawa in Shimbashi (and also honten in Kobe, as well as its cheaper sister Gorio in Ginza). Though I am still intrigued by Dons de la Nature, and also members-only Wagyu Mafia crew that's recently surfaced on IG.
The style of (perhaps model is a better way to describe the) cuisine offered at both is a form of Yoshoku (Japanese interpreted Western Cuisine), that is as stuck in time as it is a genre unto itself. Complete with Chef's whites, hats, a regimented brigade, stations, rules and a hark back to the golden years.
These restaurants are nostalgic to me, as 'Western' steak houses of the mold were a feature growing up in Brunei. Albeit with imported Australia chew monsters, as opposed to fresh Black Japanese cattle.
The core offerings are steaks grilled over charcoal, ie, sumiyaki, analogous to what we are used to in London, with one clear difference. Temperature. A Josper means much higher heat and much shorter cooking times (better for Maillard). Sumi is one style of savouring fatty wagyu beef in Japan, there are others such as the aforementioned Bifteck Kawamura and Ukatei, which cooks beef on a teppan/plancha.
Frankly I would love to try Kawamura in this lifetime, evidently after all these years, I either do not fraternize enough with like minds, or plainly have not tried hard enough to get into the invite-only restaurant. Oh well. I guess Hirayama will have to do.
HIRAYAMA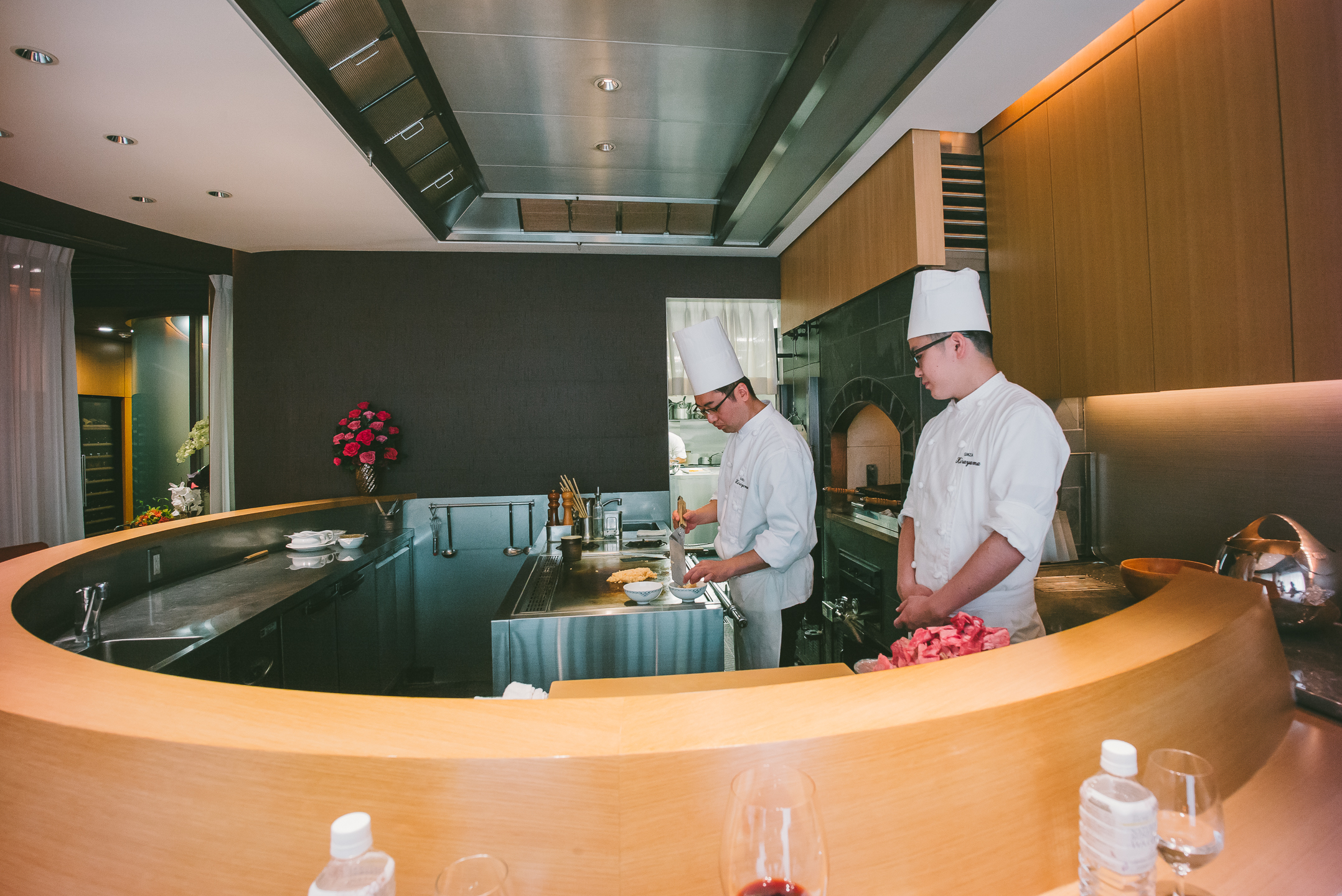 Wow, everything is spanking new in here. It's clearly a young restaurant, a decor that strikes me as height of free-market economics in mid-90s, the good bits. A quick peek behind the 8 seater open counter reveals an inner kitchen that looks larger than the dining space. 3 or 4 busy hands support young Mr. Hirayama, who does all the heavy lifting personally such as the trimmin' and grillin'. In the same way itamaes in luxe sushi joints do the slicing and hand forming themselves. His brigade are limited to pure support functions, pouring wines, stirring soup, cutting cake.
Menu
Hirayama san speaks good basic English, and he took the time to personally explain his Japanese-only menu to us. We were in the room with another (Japanese) couple, but we noticed that there is a private room in the back, where staff were ferrying food to a mob of five.
At lunch, a ¥15000 set is offered, 100g of fillet with soup, salad, rice and pudding. Additionally, you can ALC everything or do the full shebang set for a cool ¥30000, of which I believe the difference is in the size of meat plus an extra seafood starter with premium ingredients such as abalone or caviar or both.
Before you make up your mind on your lunch visit, you should flip to the next page. Doing so, reveals a second, cheaper lunch set for ¥8000. Same deal as the ¥15000, except with 80g of fillet (served as 2 x 40g fillets), with AN EXTRA plate of seafood carpaccio in addition to the 4 supporting dishes.
He reluctantly offered this when asked, and so we ordered one of each set.
What we ate
1. Salmon, hirame, scallop, crab, avocado, capers. < – Part of ¥8k set only (!)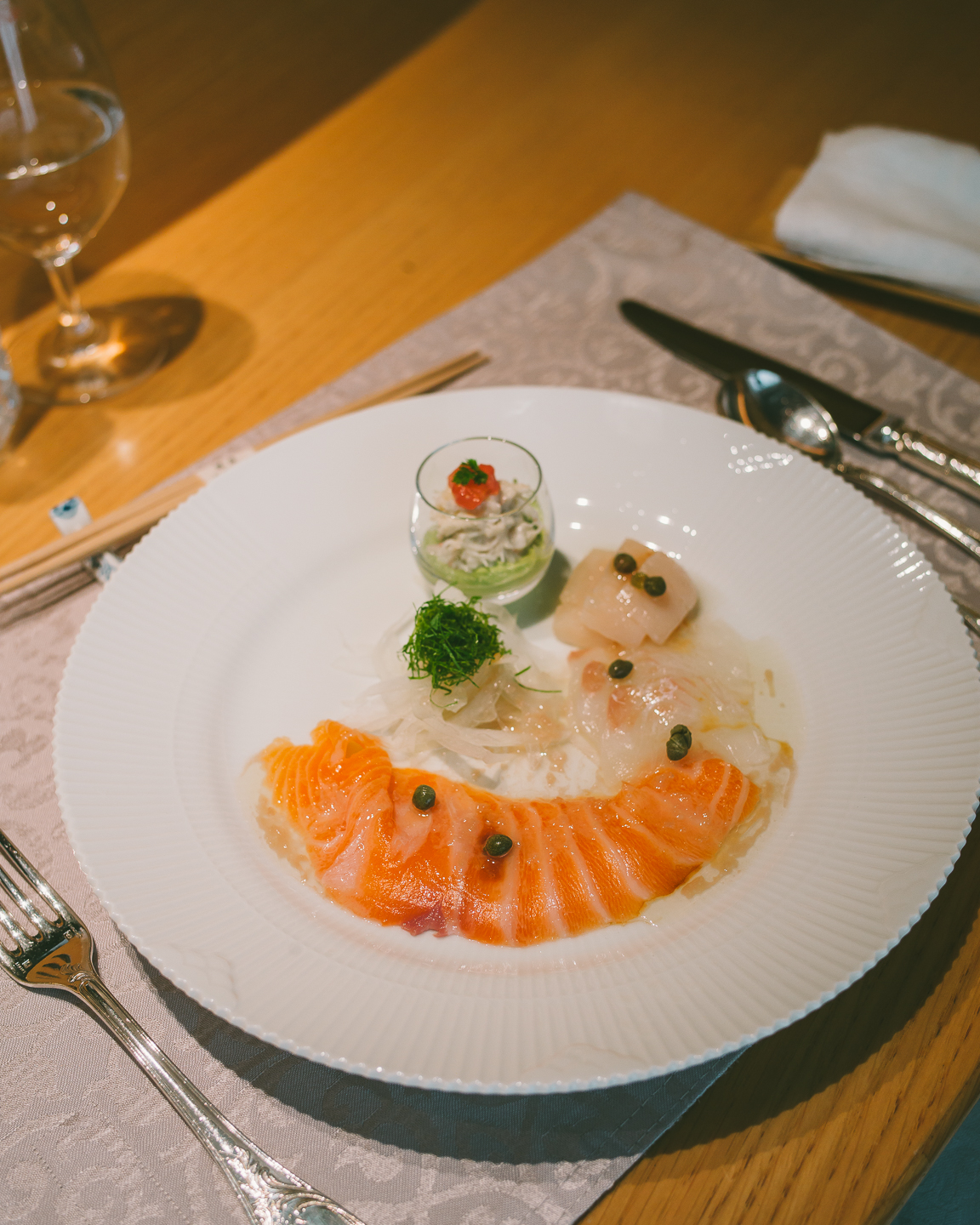 The missus enjoyed this wonderful plate of fresh seafood, whilst I sat and watched, drooling all over my napkin. This befuddled me endlessly. Evidently paying double the money buys you less food. Go figure.
2. Pumpkin soup (both ¥8k + ¥15k set)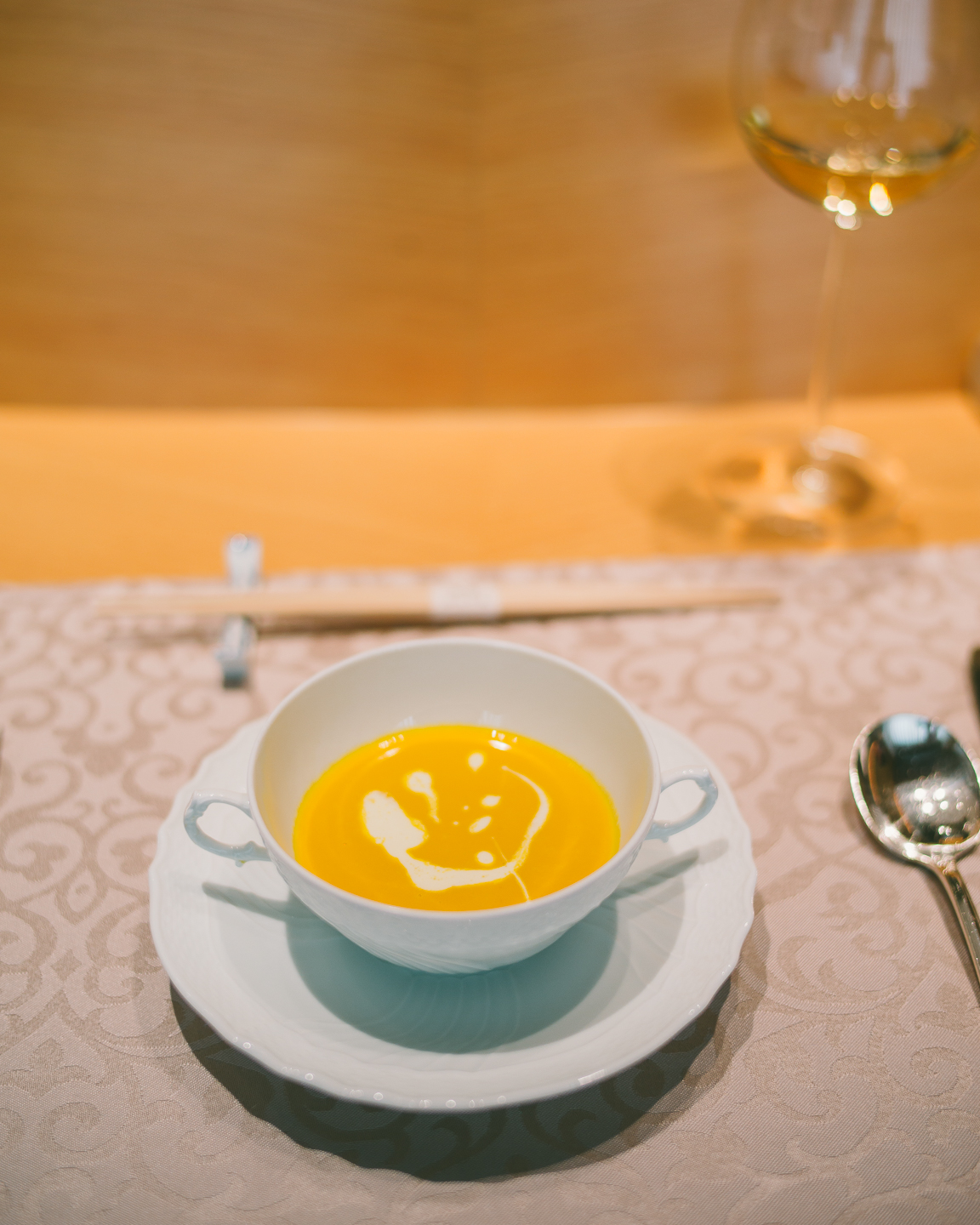 Seasons. Incredibly sweet, milky and puréed to a smooth sheen. Old school luxury here, very good soup.
3. Salad. (both ¥8k + ¥15k set)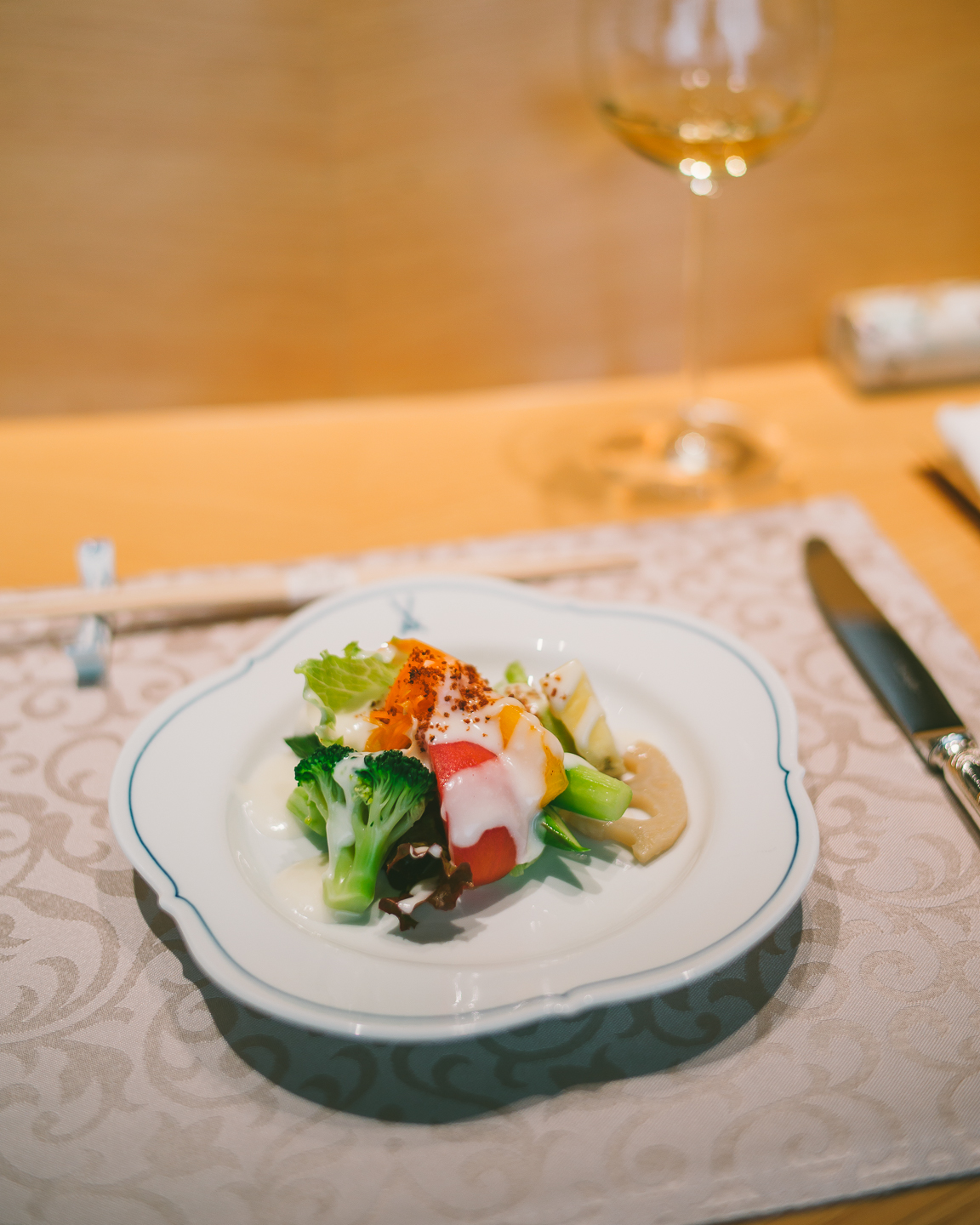 Broccoli, persimmon, tomato, lotus root, fresh ginkgo, sweet potatoes and gobo (burdock root). All a reflection of the season and really a nice plate of salad… except for the rather confusing addition of asparagus. These must be Peruvian during this time of year and it just seems silly to offer it, given the country's culture of seasonal eating (for balance, Shima also offered it). I suppose aspagarus are import-only items, so perhaps Chefs over there do not view this as a seasonal vegetable, but still. Luberon spears in Spring please.
4. 100g Fillet steak, medium rare (¥15k set)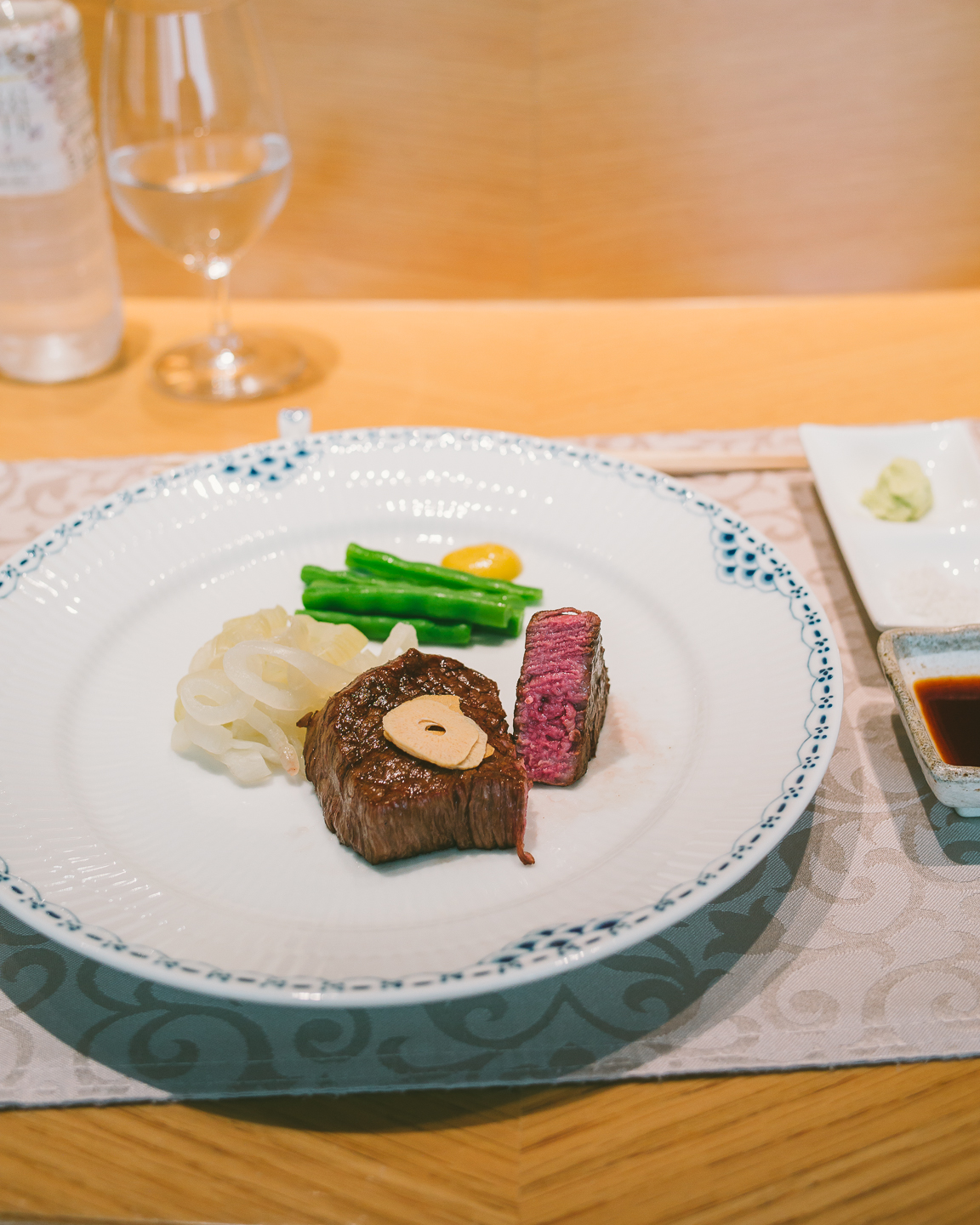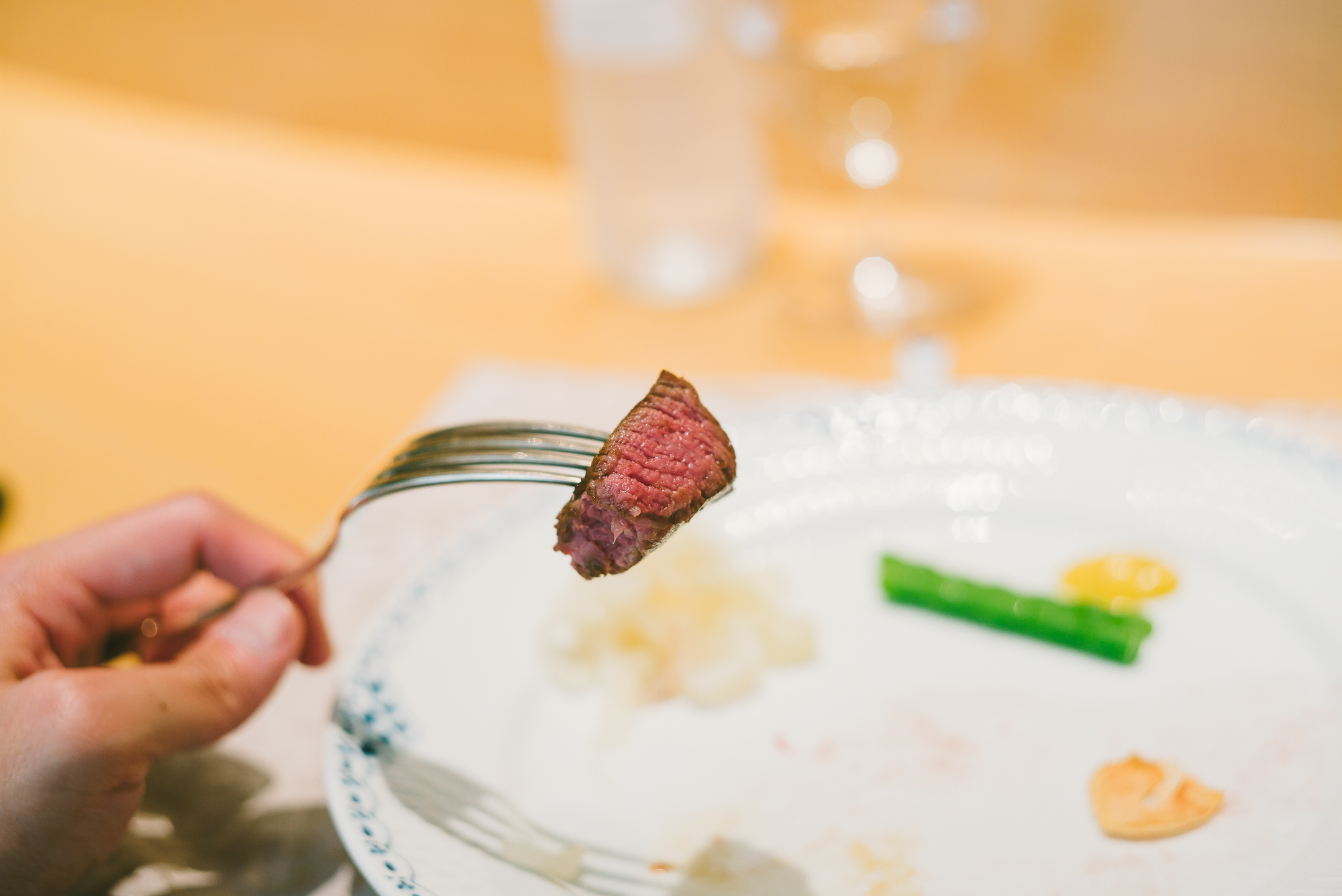 And perfectly so. Medium rare it is. Served with green beans and Japanese onions (Tamanegi) which are characteristically subtly sweet (very good for French onion soup I reckon).
Today's carcasses are Kobe Tajimas, fridge aged for up to 2 weeks and of A511 grade. Choice of beef is not fixed and will change depending on whatever he can get his hands on at the time. If you ask me what I prize, then I would say Matsusaka, but Kobe works too.
High quality though not max shimofuri, which Hirayama san explained that he prefers wagyu with less fat. On this point, it is sensible as while A512 makes for pretty striking Instagram pictures, you really can't stomach more than a couple of bites of it.
Anyway, as I've mentioned in the past, I think the key characteristic which the marbling distribution affords isn't just quantity of fat, rather it is what it does for natural tenderness. Wagyu fat melts at relatively low temperatures, which is what gives the beef its butter-like sensation. I feel this is the main reason why Wagyu isn't dry-aged in Japan because it doesn't need it (which in turn is the same reason why prime USDA, so graded because of its marbling, does not require long dry aging). Australian, Galicians and old Simmenthals otoh are a tough chew and they need significant hang time to tenderise.
This piece of steak was so tender that it wobbled like pannacotta, a flaccid quality and easily ripped apart when my fork went in. For seasoning, soya sauce, freshly grated wasabi, rock salt and a smooth (american?) mustard were provided. In my experience, Kobe beef's differentiating factor is its subtly floral sweetness. A touch of salt or soya sauce is all you need to unleash the beef's natural flavour. This is beef of great quality indeed.
You will note that there is absolutely zero leakage on the plate, an indication of the way it has been cooked. I did take notice of how stunningly clean this steak restaurant is, i.e., you smell no charcoal, no smoke and nothing of the bovine. In fact, I hardly believed his grill used charcoal at all.
Our steaks (unseasoned) were slowly grilled over the time it took to eat our starters. Continually flipped every 3 or 4 minutes, so let's say a total of half an hour of roasting. That's an eternity for a tiny wedge of fillet. In a 800degC Josper, you blitz 1kg hulking porterhouses in 2 minutes and let rest for ten times the length.
Whilst the beef itself was of great quality, I felt the slow grilling method produced a tepid experience altogether. There is a practical reason for the fragile temperatures as higher heat leads to huge run out of the precious oil, leaving a kind of greasy, hollow protein shell behind. The lack of maillard reaction or carbonisation gives a 'pure' flavour of beef, akin to steamed beef with almost no smokiness at all. In this regard, you really do need beef with intense natural flavour to eat in this way. How much of wagyu is finished on grass anyway? I'm curious.
The lack of crust unfortunately also means less 'sealing effect' than I am used to from charbroiled steaks. This seemed quite underwhelming. This meal did not change my mind as I still believe that eating wagyu as 'Western' steak is far from ideal.
5. Garlic fried rice, pickles and soup (both ¥8k + ¥15k set)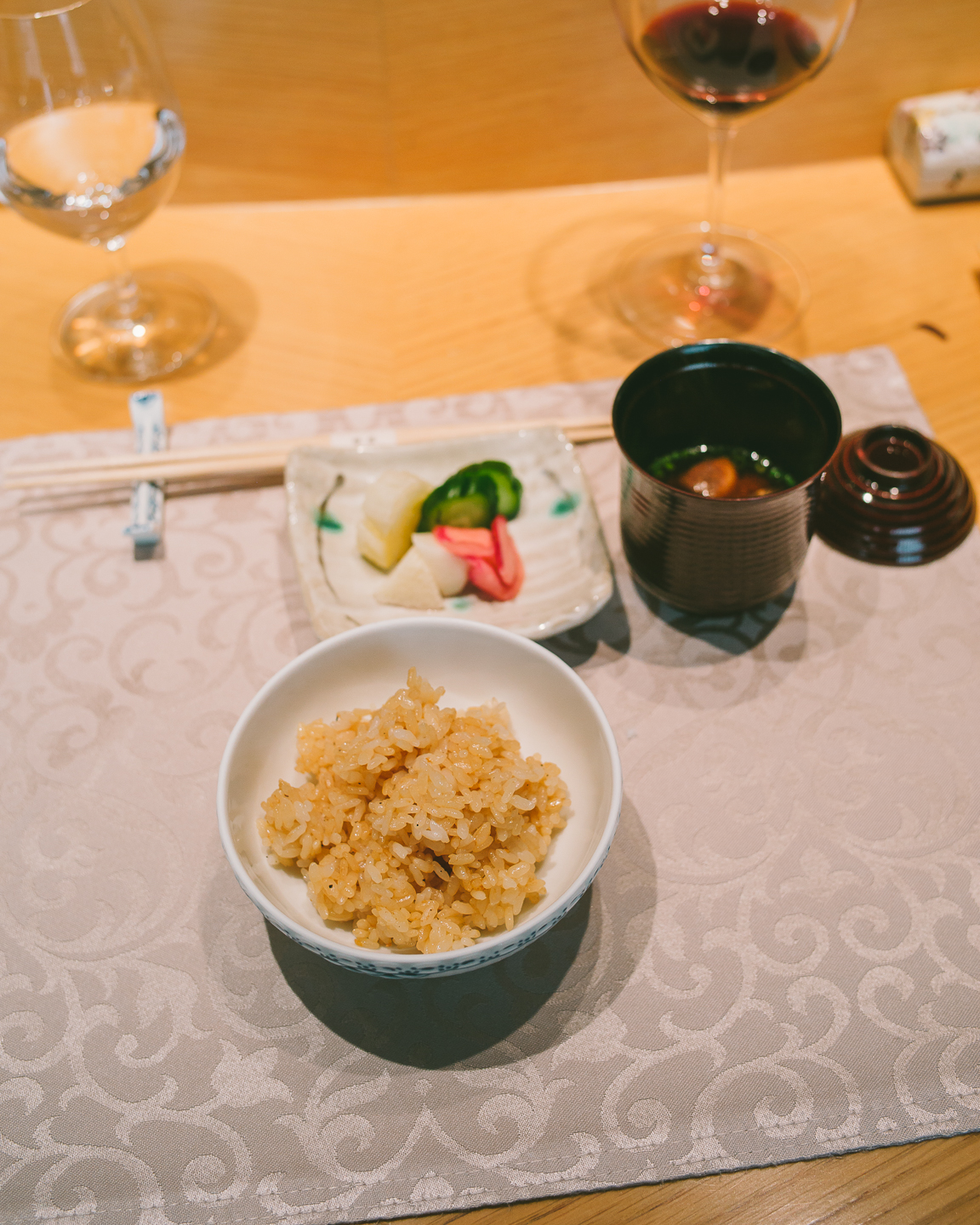 He misheard me as I actually wanted to try his beef curry rice too. Instead he fried up two bowls of garlic rice on the plancha. No regrets though, as the rice was incredibly delicious. Perfect bite and moistness. Al dente. I'm not sure if it is rice of certain provenance, or if it is the oil (I noted a bottle of a white oil) used as it imbued the rice with an incredible buttery fragrance. It's wagyu fat right? This was really quite a surprise. With excellent tsukemono. You shouldn't miss the garlic fried rice when you visit. Utter simplicity but 100% umami. 2nd best thing from the meal (you'll see why, keep scrolling).
6. Puddings. Creme caramel and Mont Blanc cake (one each)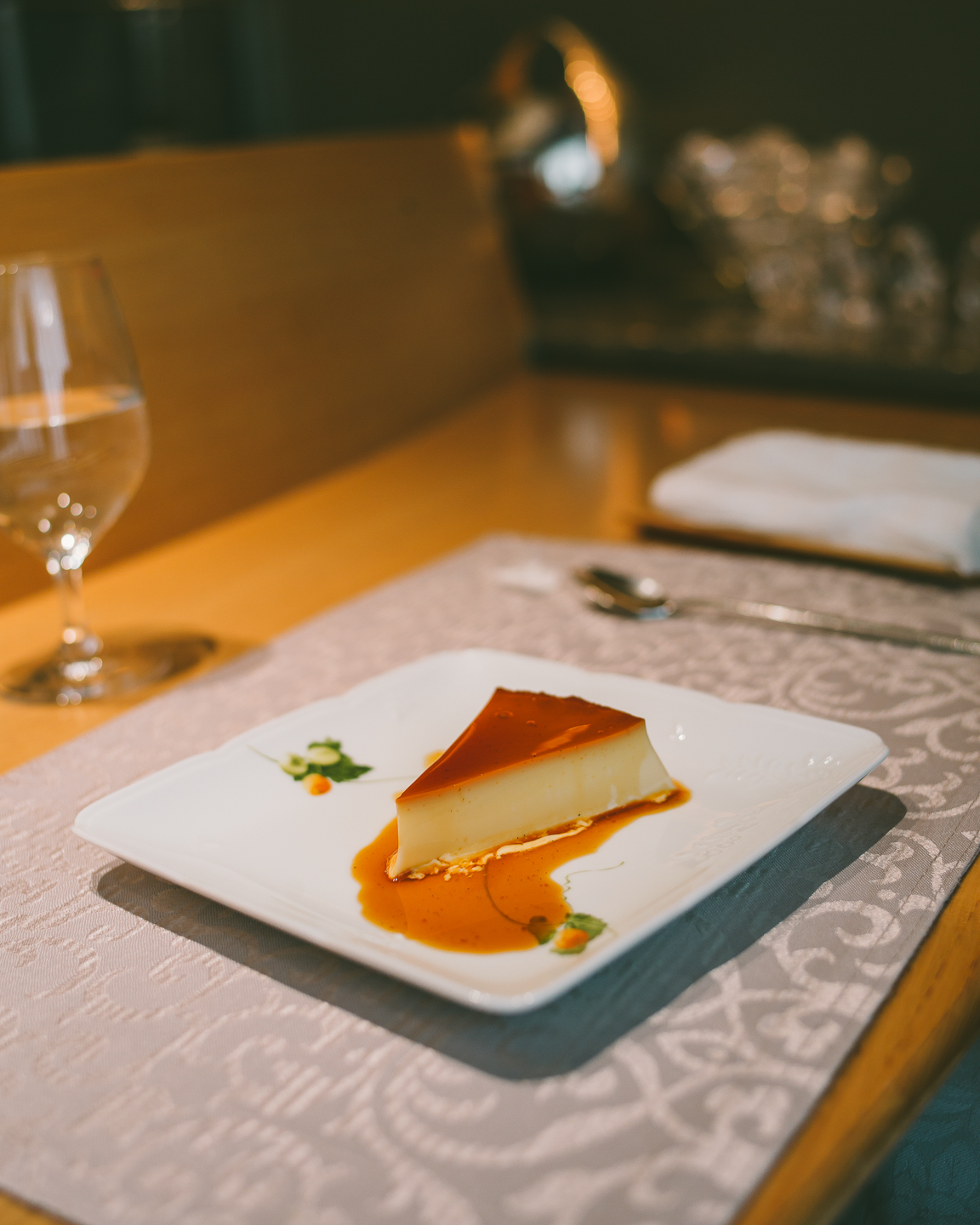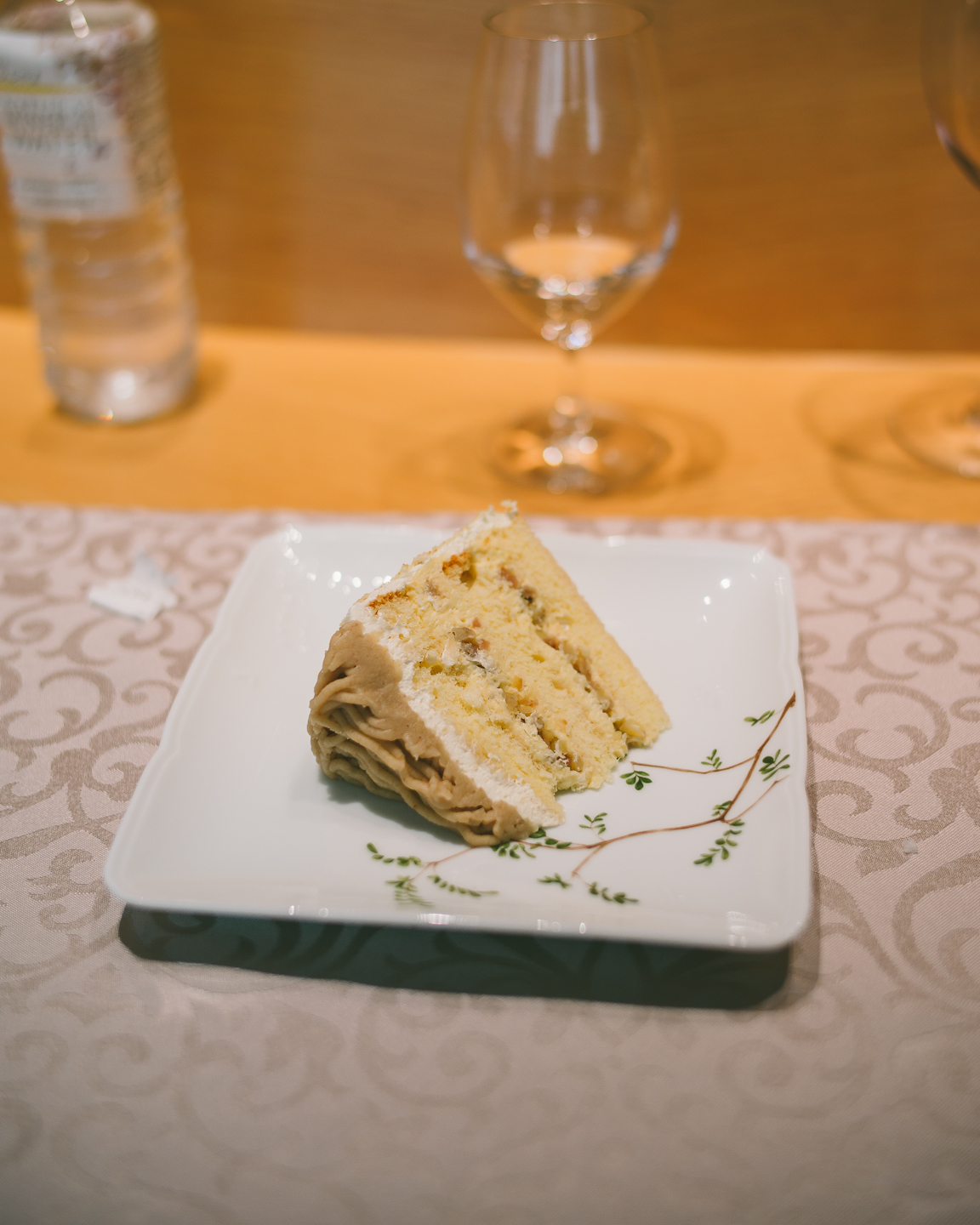 Perfectly made, bubble-free, silken creme caramel, with in-season marron creme that just tasted fantastic. I found the classic techniques here alive and very healthy – A good brigade with true fundamentals.
7. Fillet steak sandwich (ALC ¥8000)
Yes… a £65 sandwich. Also with a 100g Fillet, Kobe, A511 with the same charcoal treatment. I ordered after pudding for takeaway. The 'rosu' version, a 130g sirloin sandwich costs a little more, 13k if I remember right (or was it 15k?).
(Rostang perigord sandwiches in Janaury cost just as much so..)
Up to this point of the meal, it 'met' expectations but didn't really change my perception… until this.
A la minute by Hirayama san if not already obvious. The restaurant is a five minute walk form Tsukiji, so I thought to eat this as I walked to the fish market. I took my first bite…BOOM. I had to find a place to sit down. Outrageous tenderness, in this instance, it really did melt like butter. Knife not required. This spicy tomato spread was full of umami, completely opening up the natural flavours of the beef. As it turns out, sandwich is the perfect vehicle to experience wagyu's best features.
I can still remember it as I write this; about as perfect a food memory as I have ever experienced. For this sandwich alone, Hirayama was eye opening.
Costs
Using the sandwich as guide price, it means we paid ¥80k (£576) per kg. That's …a lot of fucking money, but not out of step compared to the market over there.
Plus two glasses of house wine, the meal for two came to ¥37160. That's £290.86 for 2. Worth it? Absolutely not but I would not hesitate to return the next time I am in Tokyo. Except the next time it will be for the 8k lunch set + the fillet steak sandwich to go. Really the sandwich was heart wrenchingly delicious…
SHIMA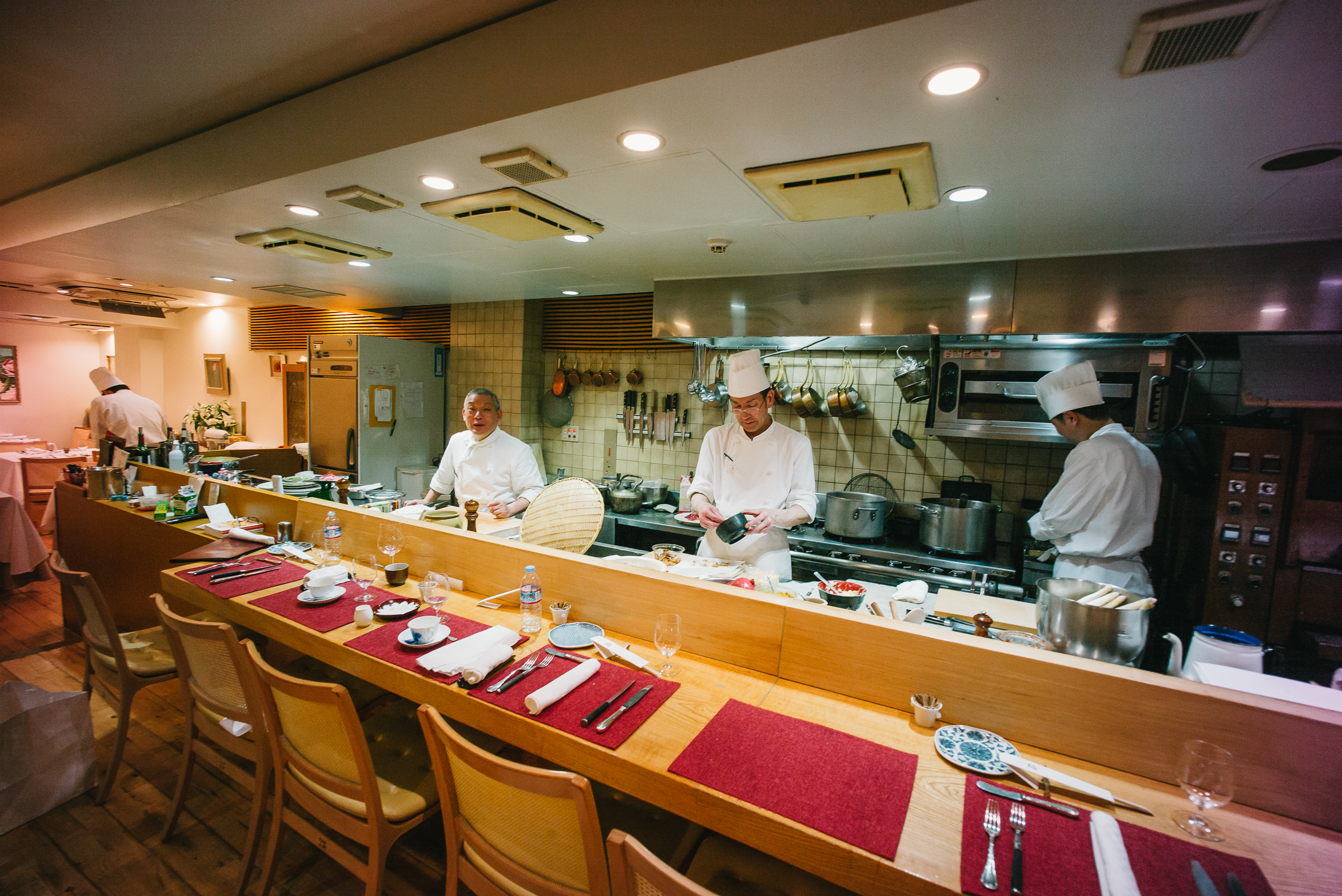 Oshima san's restaurant on the other hand feels like it has weathered in the actual 1990s. With a small brigade of 5, we were two of four people in for lunch on a Thursday. I noted all the stirring ongoing in the copper pots. Just like Hirayama's kitchen, Oshima san is an active practitioner of classic cuisine. Oshima san speaks perfect English as he has worked in both London and Paris in the past. Quite the class act, he knows exactly how to strike up a rapport with his diners, putting you at total ease. Clearly not a temple, the ambiance here is disarming, a relaxing place to eat, in fact this one of Shima's strong points.
Menu
We were offered their ALC menu (starters, mains, wine), though I asked for the set menu. 18000 buys you a set similar to Hirayama's, but Oshima san was relunctant to offer this. He kindly nudged us to go ALC, "more steak… do it" and so we did.
Fillet (hire) and Sirloin (rosu) are on offer here. Both are ¥13k for 150g, Kyoto beef as is well-publicised.
What we ate
Bread rolls – house made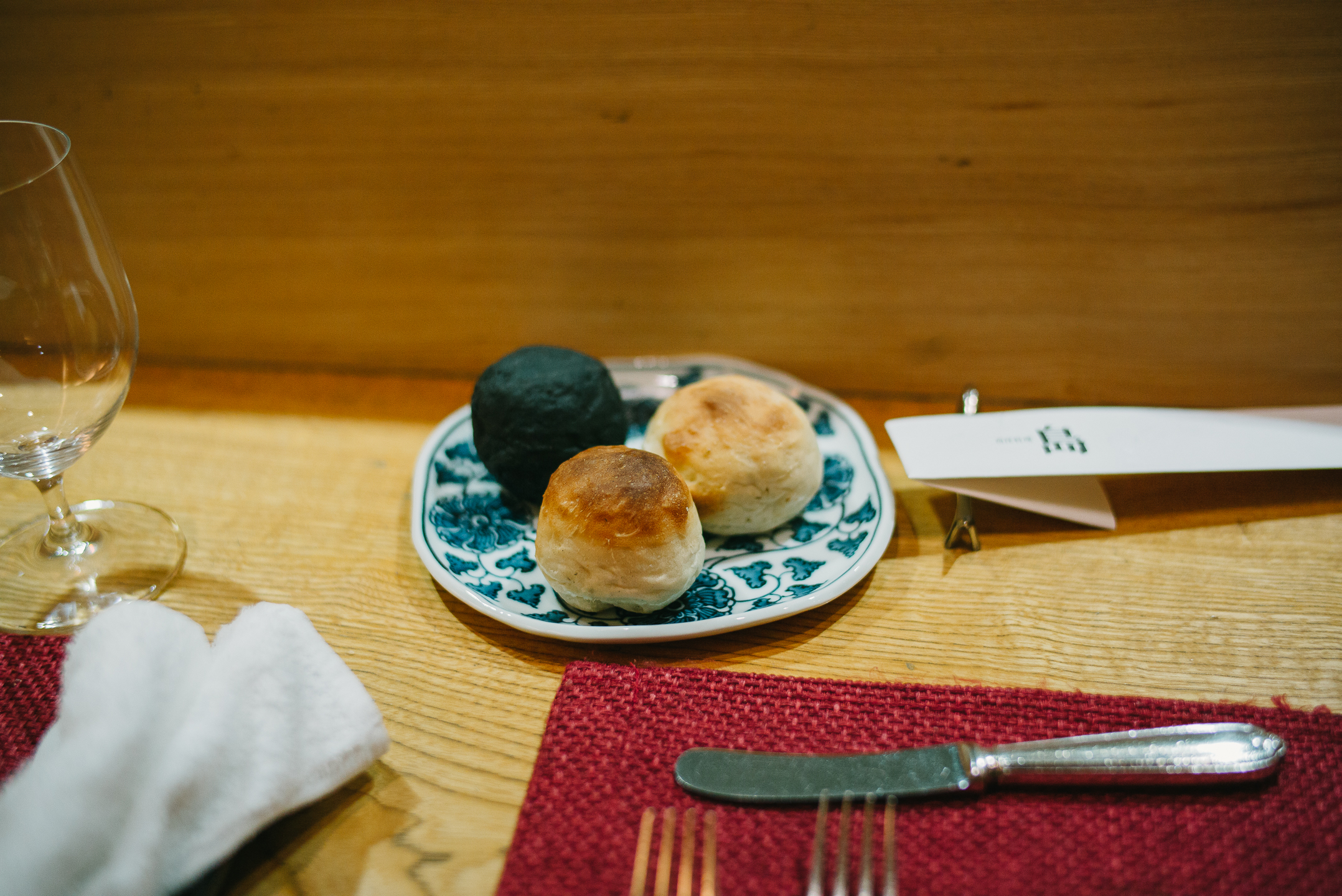 Good, especially the charcoal one.
Starters. Hokkaido Hairy Crab. Kegani. 1/4 crab for ¥2500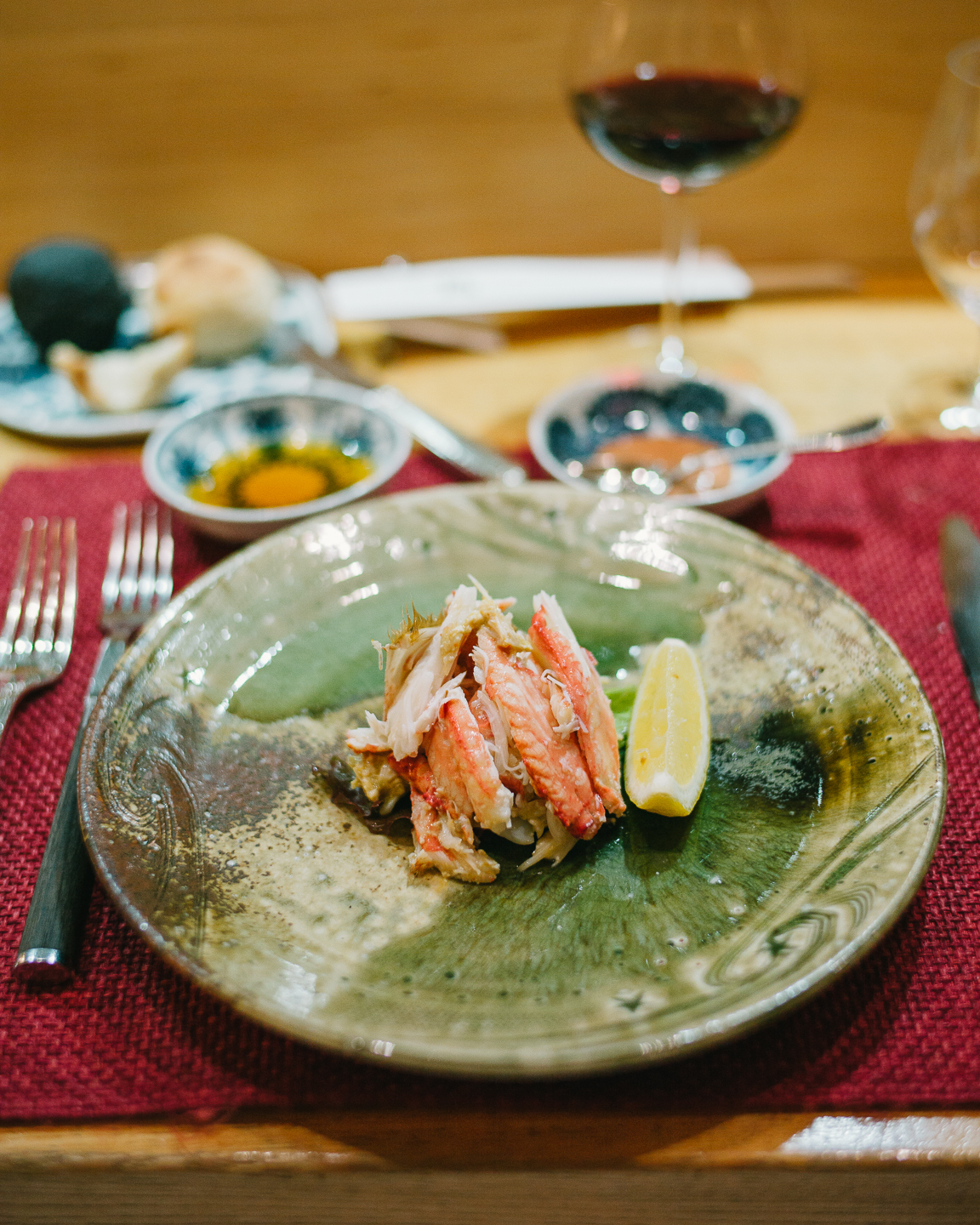 I was going to do abalone, but it's out of season and Oshima san suggested this instead.The kitchen were about to shell these (for the croquettes I think), as we were looking over the menu. So I asked Oshima san, and he dressed a half of the crustacean between the two of us. Leg meat too. Simple, sweet and fresh. Peak season just coming on. Expensive though.
.Steaks.
Fillet steak being weighed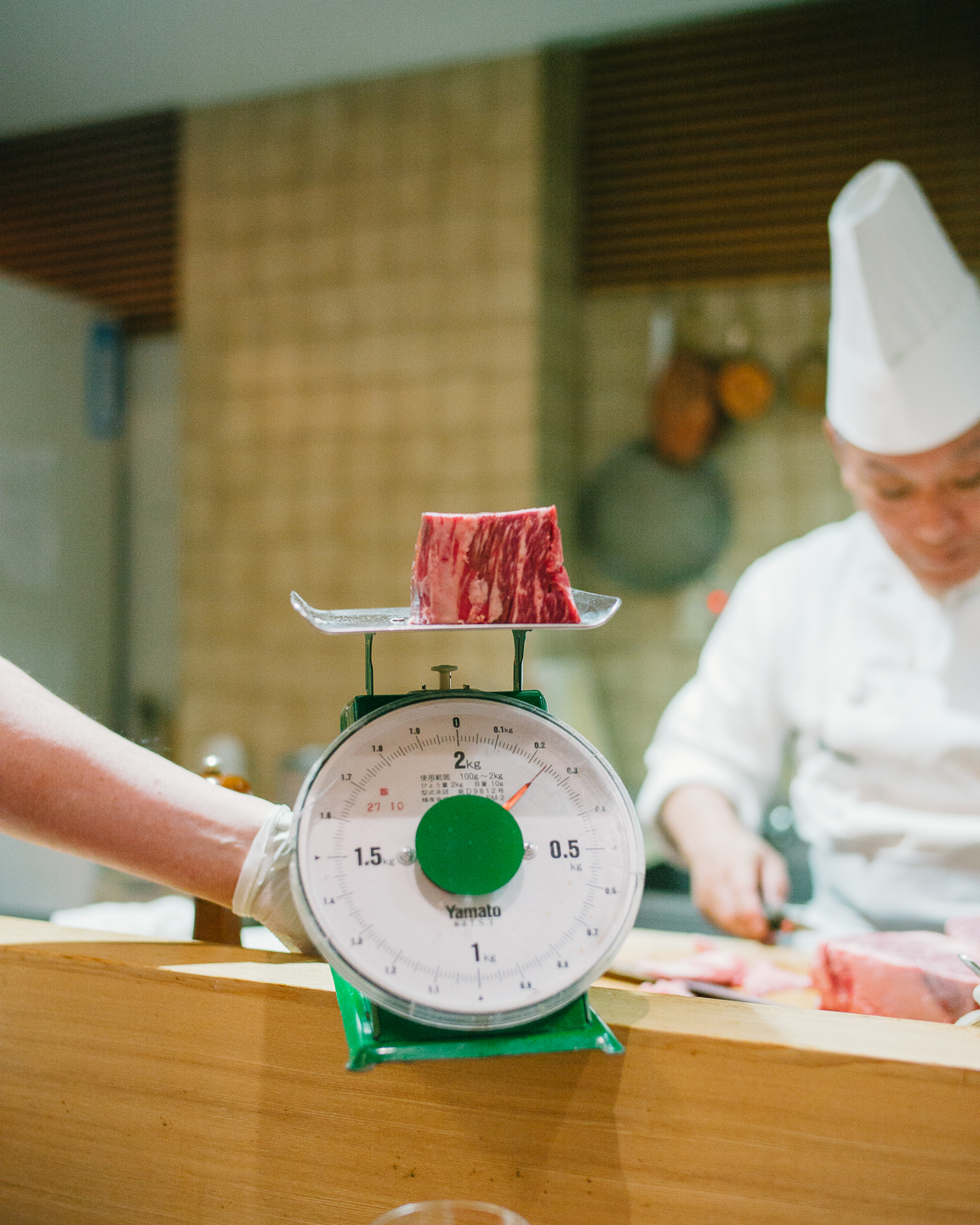 Pretty sure that reads 250g, unless there's a 50g tare? He charged me 200g only. Same story for the sirloin, 50g is 'discounted' somehow. You tell me why he does this.
Fillet steak, 200g, Medium rare, ¥17000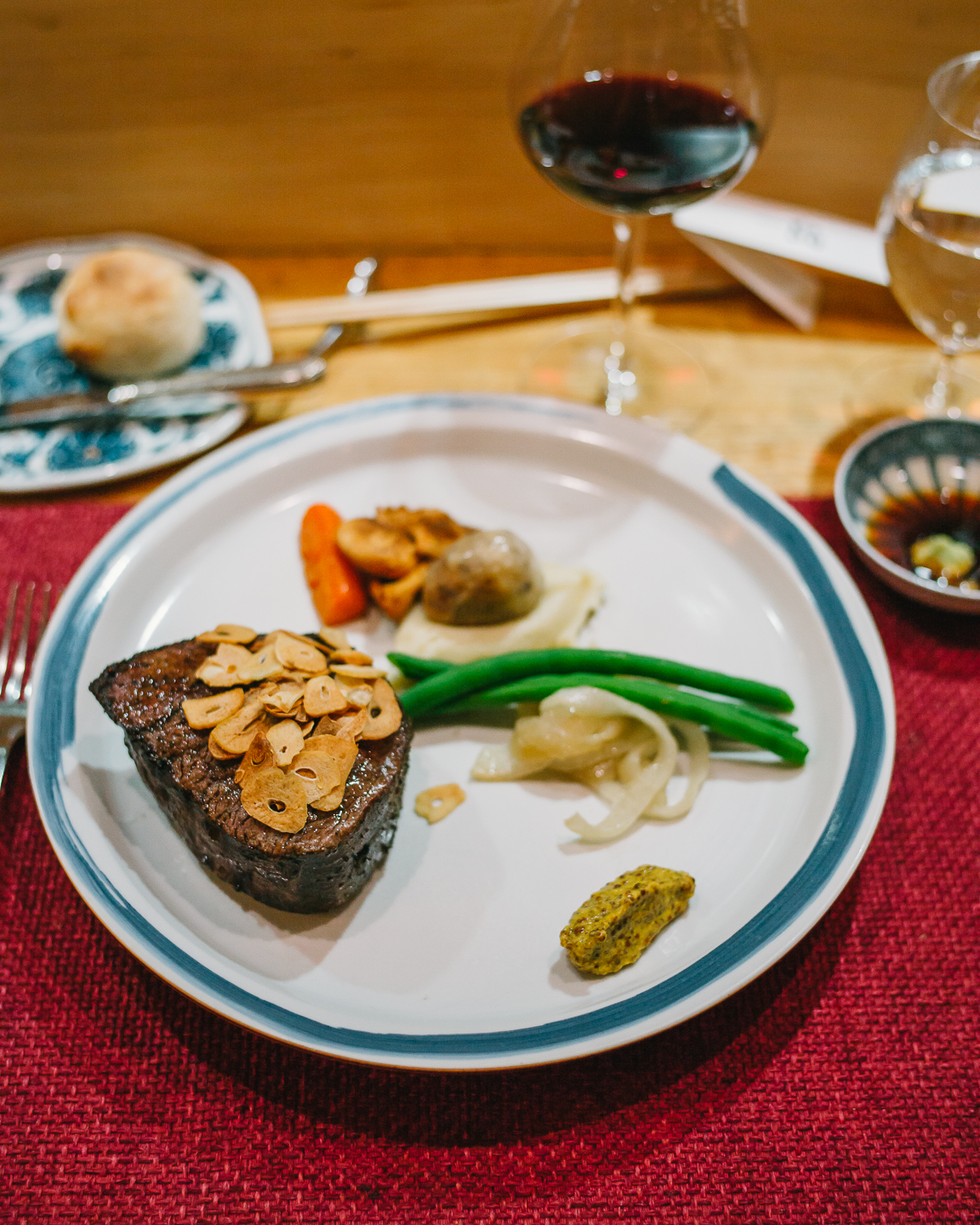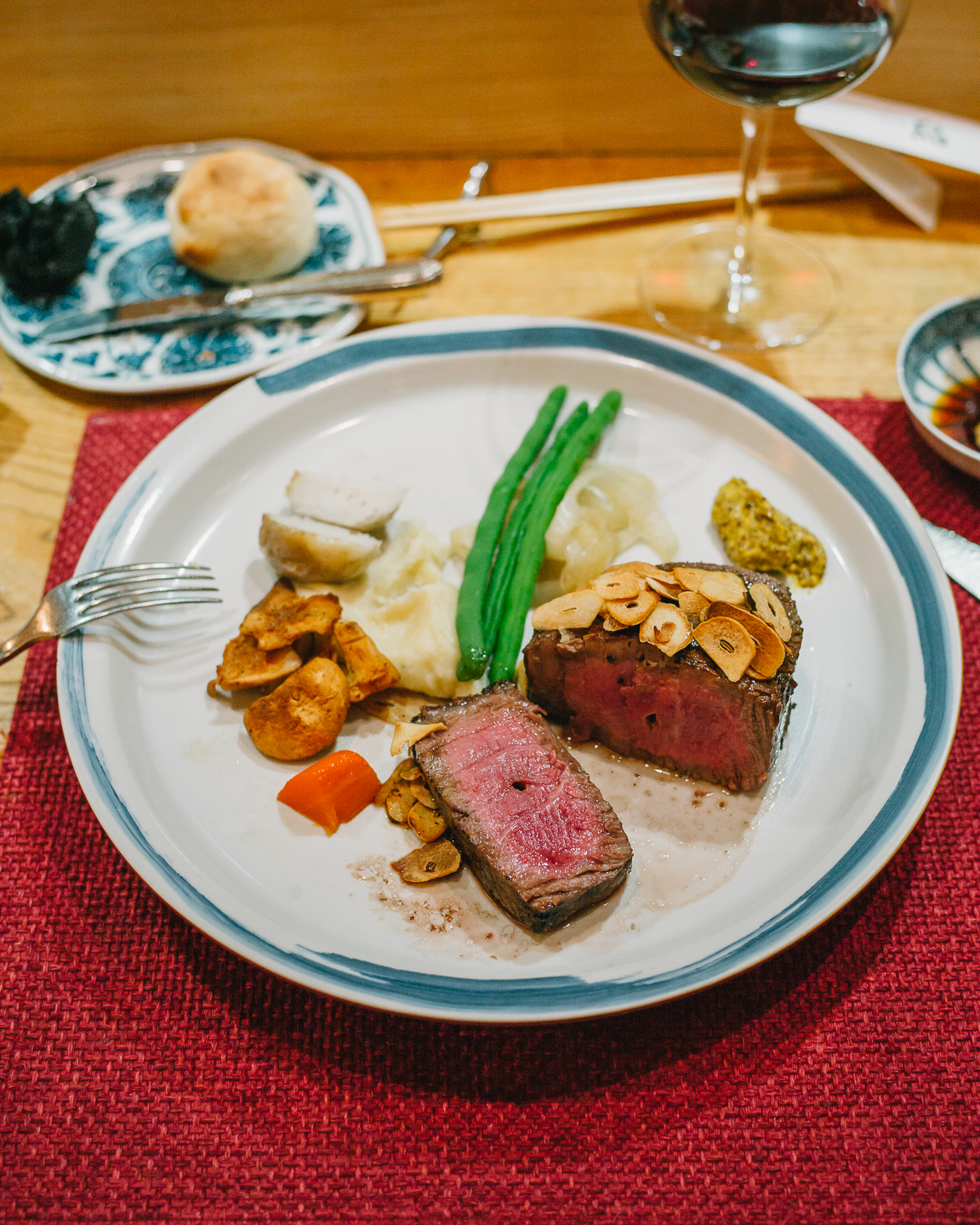 So tender…
Sirloin steak 150g, Medium, ¥13000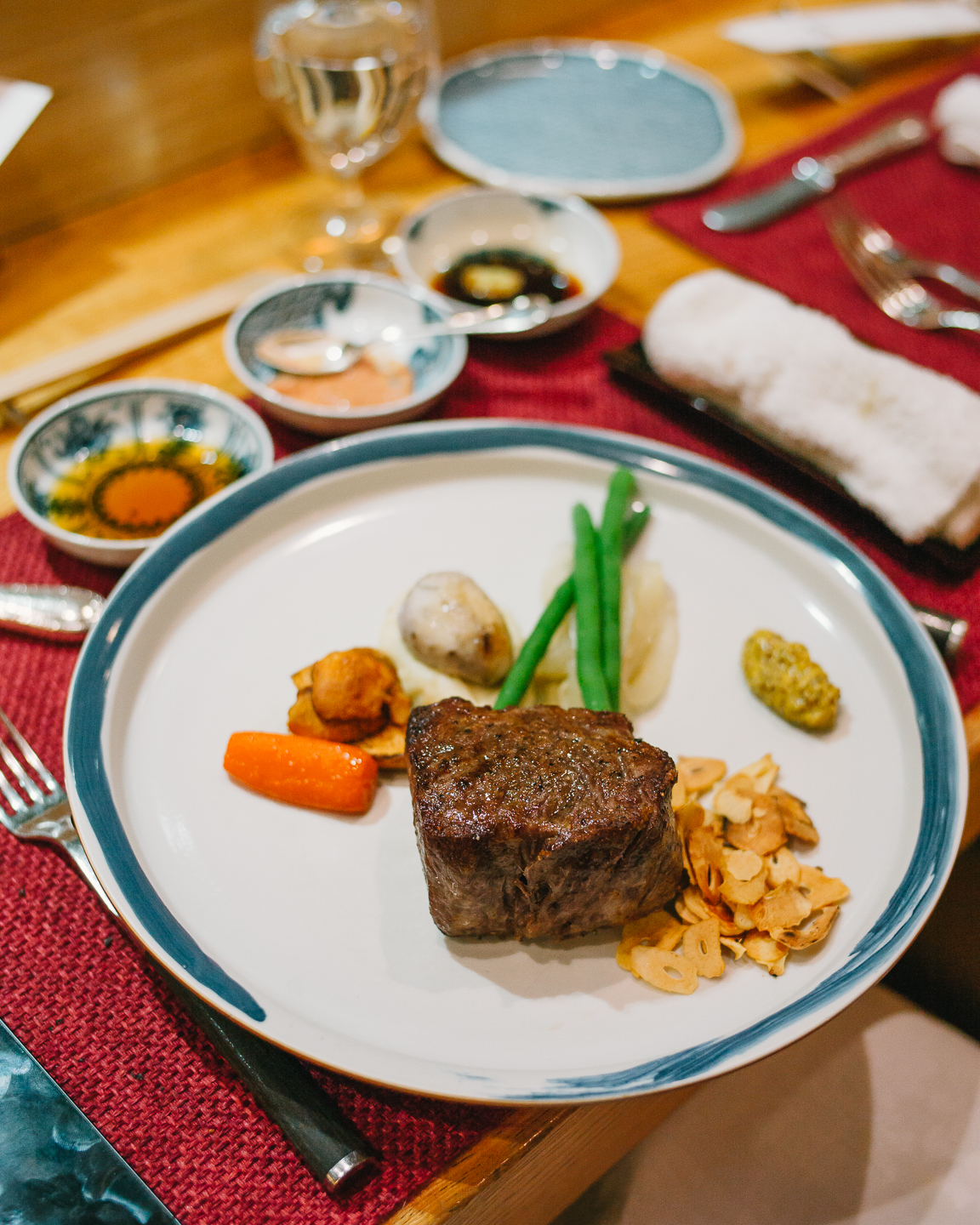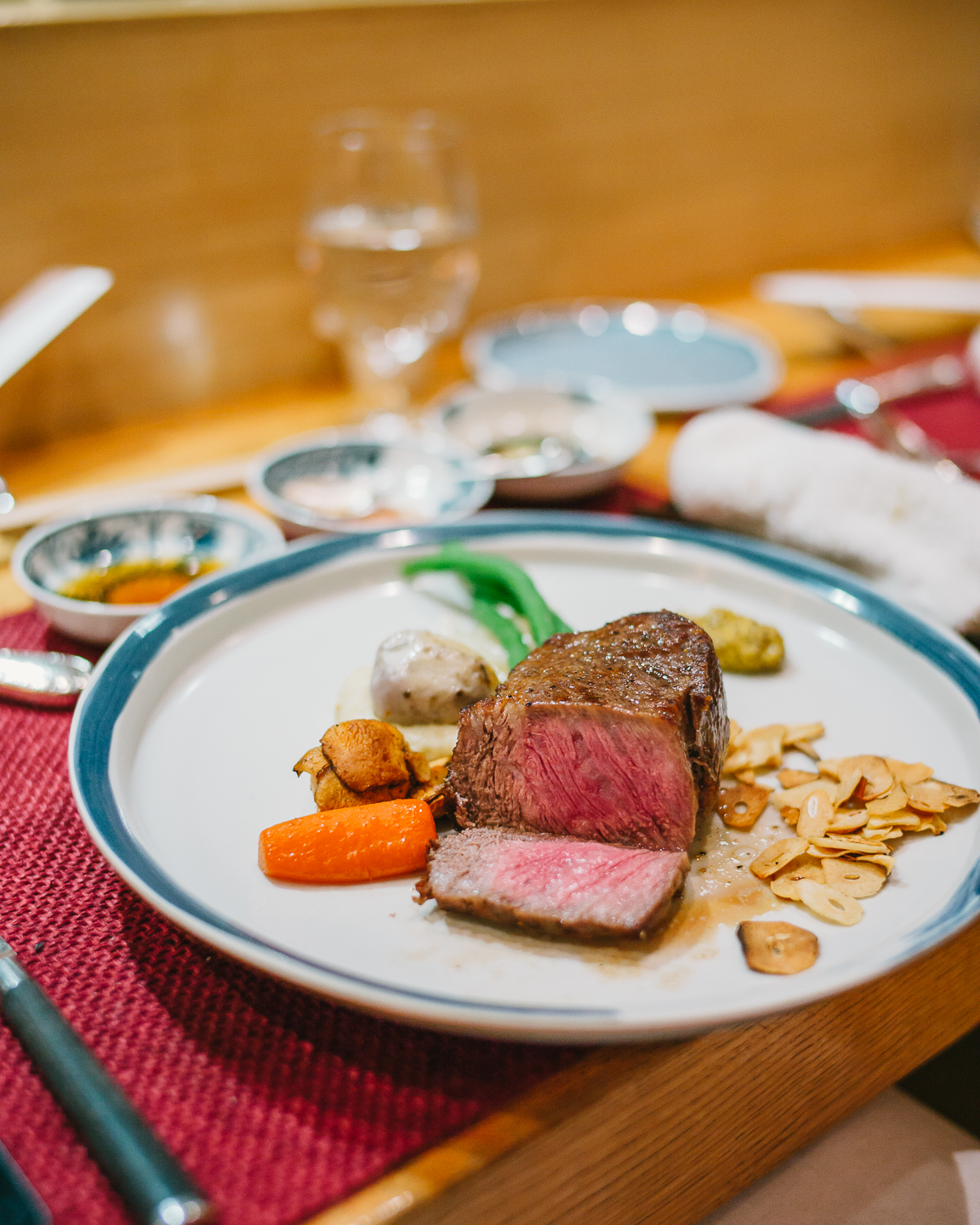 The carcasses are fridge aged for 10 days. Wagyu from Kyoto, Oshima san mentioned Owako(?) Bay [I didn't quite catch it properly. Sorry]. Like Hirayama san, he also prefers leaner beef because A5 is too fatty, and therefore he reckons is unhealthy. He also mentioned that he doesn't get all the fuss with dry ageing, I think a passing comment related to the rising popularity of dry ageing beef in Japan.
What amazed me was when he said his beef is only A4 grade. Both steaks were spectacularly tender, easily giving under a hilariously blunt table knife (see video clip above). For me, there was no discernible difference in tenderness between Shima's A4 Kyoto steaks versus Hirayama's A511 Kobes.
Greatly exciting was that this piece of beef has quite a bit of flavour compared to Hirayama's. I put this down to the fact that it's a closed rotisserie oven, that Oshima san is a better chef and obviously provenance. The grassy flavours come across as clear as Dexters. The sirloin really was the star I think, it is the fattier cut and so had much rich flavour to it. This Kyoto raised cattle is surely of distinct quality, despite the low grading. Beautiful beef.
Quickly rubbed with salt and pepper, then skewered and rolling around in the rotisserie charcoal oven-grill (setting appears to be at 220degC) for about 20mins. And then, finished on the plancha for a couple of seconds, and this I think is Oshima san's maillard reaction. No resting, straight on to cold plate, a little bit of leakage on the plate, but overall acceptable as the meat had ample sealing effect and therefore bursting with its natural juices.
In addition to trimming and grilling, Oshima san also handled the mash (using drum sieve) personally.
The rest of the plate really is quite impressive. It's a complete dish, albeit an expensive one that costs more than a £100 each (yikes). Girolles-like mushrooms (you tell me what they are), a kind of root veg similar to yam, garlic chips, a sort of Orleans grain mustard, mild tasting steamed Japanese onions, and fabulous old school mash made using drum sieve. Also fresh wasabi filed down by one of the brigade just as steak is out from oven – a nice touch. Gastronomy doesn't always transfer to fancy photos, but I certainly think Oshima san has good cuisine here.
Pudding: Ice cream (on the house)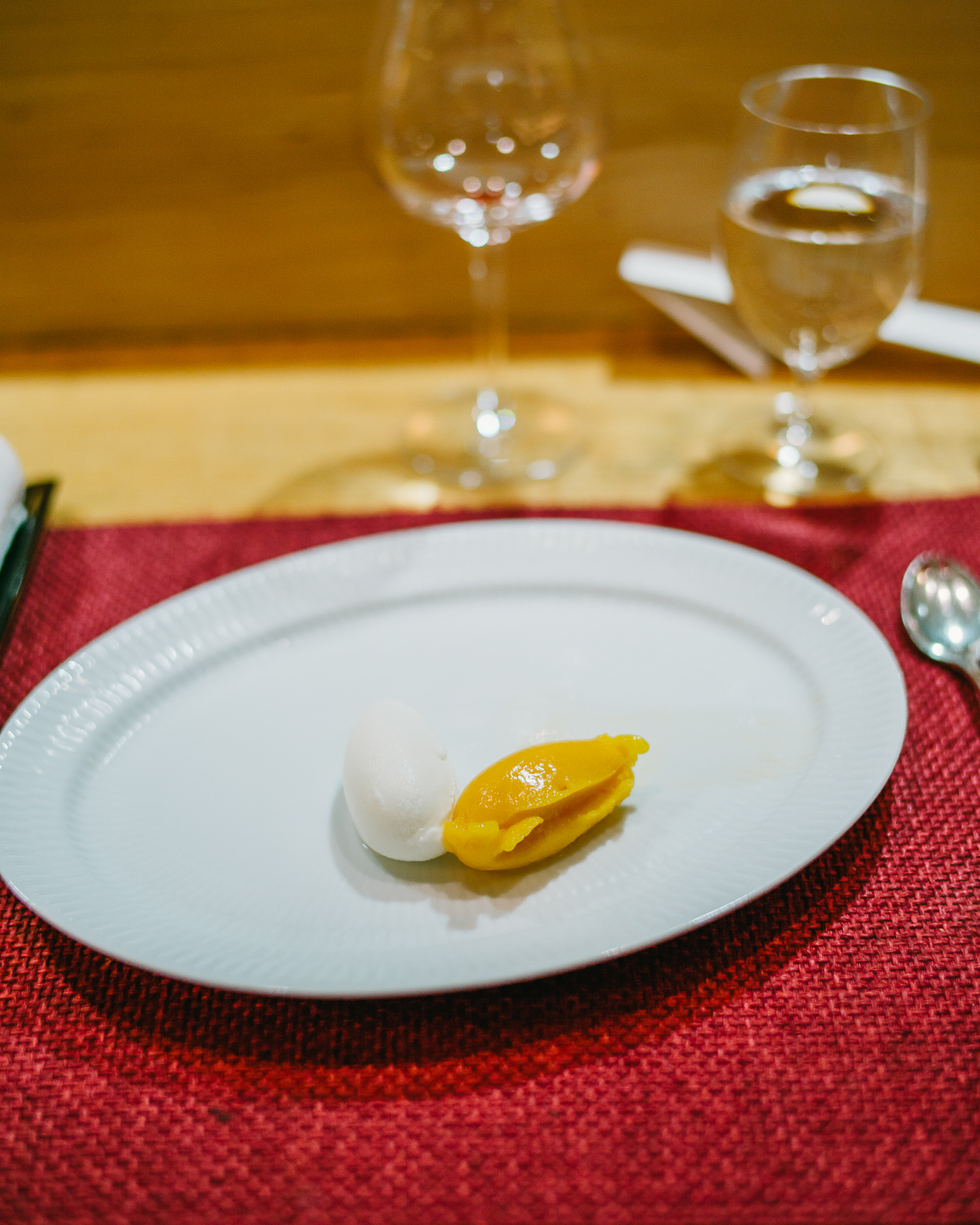 Yoghurt and alphonso mango.
Petit fours and coffee (on the house)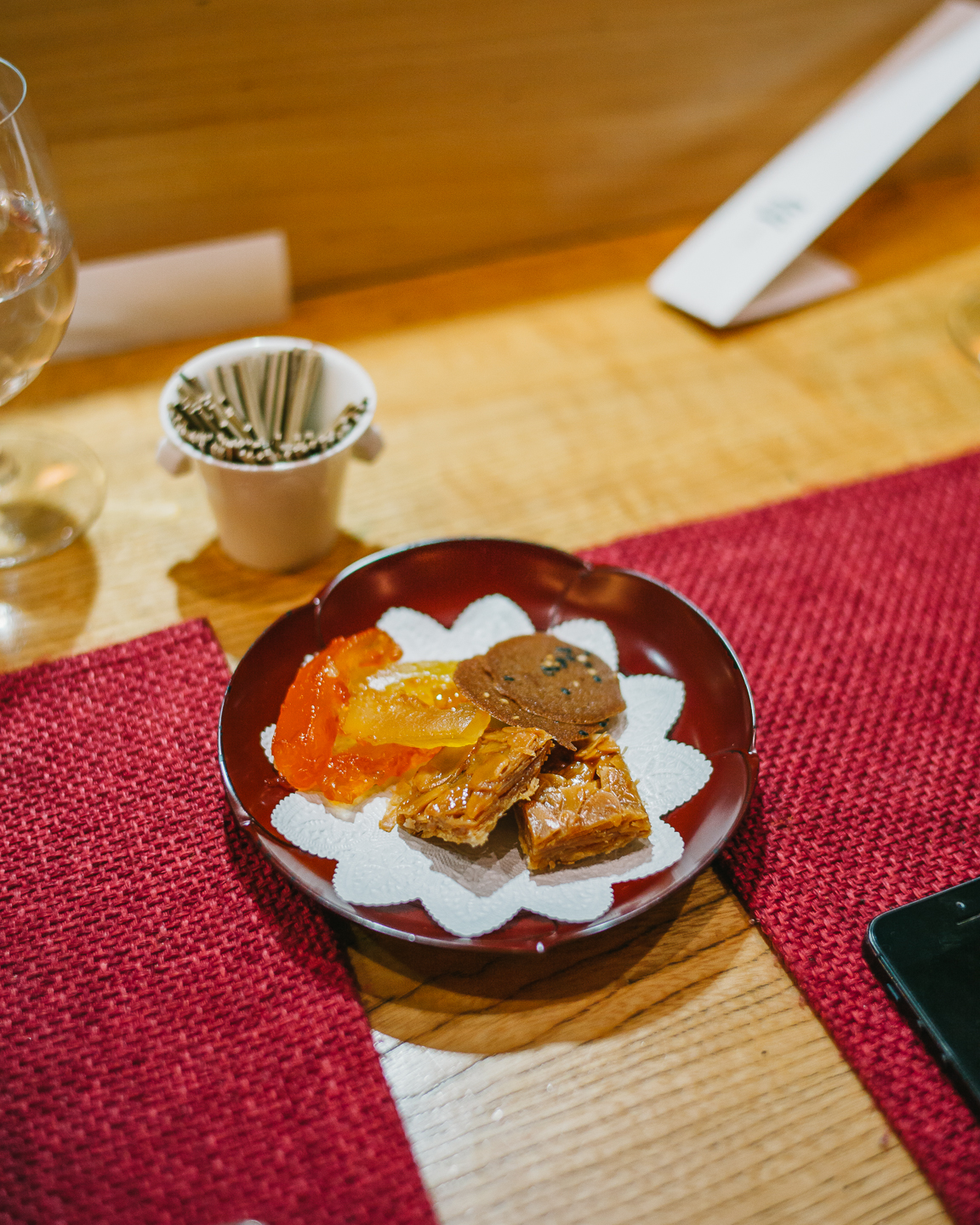 Grapefruit peel, almond florentines and… shucks I forgot what you call those Japanese biscuits.
Steak sandwich, ¥6000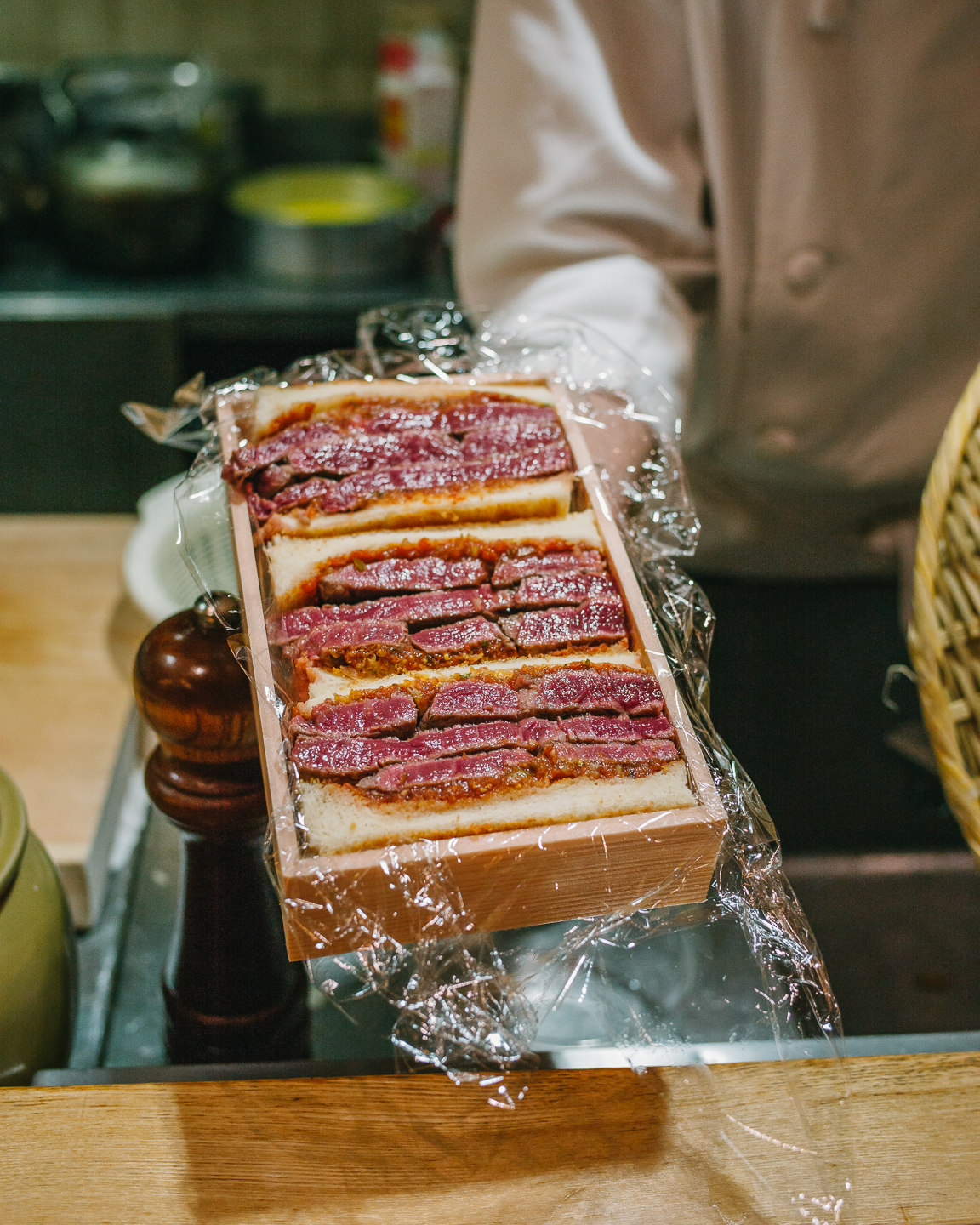 A la minute and to go, but not from Chef's hand, rather by the nice fella manning the teppan. Bread, butter, grain mustard, tomato relish, steak a la plancha.
Boom. Again. Just like Hirayama's, the steak sandwich experience is an adrenaline rush. It's hard to put into words how incredibly tender it is. You don't need a knife here, when you bite into it, the meat gives way, unleashing its oils and natural flavour. It's butter smooth, though the texture is still very much of (uncured) beef. Maybe the sensation is like 'sinewless' beef?
I'm pretty sure there's 200g of (sliced) fillet in here. The steak (on a plate) was good and felt like the "starter". The real main course (this sandwich) took place in the hotel room. Seriously gorgeous sandwich. This is a little cheaper, £46 sandwich…
Cost.
For A4 beef, Oshima san advertises ¥86k (£666) per kg, but in practice, ¥60k (£460) per kg as he appears to roll in an extra 50g per steak. That's still a lot of fucking money and if you care about beef grading, then his margins are likely higher than Hirayama, who offers A511s for ¥80k per kg.
Plus one glass of house wine, the meal for two came to ¥47534. That's £365 for 2. Worth it? Again, absolutely no way, though value aside, it really was quite a brilliant meal. I found OShima san's cuisine to be precise. A good kitchen. Hirayama's sandwich is superior, but Shima steaks are better plates of food.
People tell me that the sandwich is rolled in as part of the 18k set dinner, so you should go with that when you visit if you are on a (relatively) tight budget and avoid the ALC.
—
Reflections
Low temperature grilling over bincho tan for wagyu can produce quite the experience. Technically it is slow roasted beef and upon reflection, the low and slow probably helped to accentuate wagyu's inherent tenderness. Because the fat content is so much greater, only a touch of salt is needed to bring out the rich buttery flavours. What's most amazing is that beef in Japan is generally served spanking fresh, quite unlike the rest of the world, where dry-aged tenderisation and importantly flavour development is sought. If it is your first time, you will be surprised by the quality of wagyu and you will understand the foie gras analogies.
And so for those exact reasons, for steak, my preference remains dry-aged USDA primes (ribeyes for full fat) finished in a Josper for maximum maillard effect. All the carbon may yet kill me one day, but it is the best way to eat steak. I think smokiness is a crucial element of enjoying steak. As much as a I am a fan of Galician beef, it is too tough for my liking. If you get a nicely marbled carcass then sure it's superb. But Galician is a variable rather than consistent product and long ageing times do little to alter an inherently tough chew. You can't beat biology – goat to lamb innit. Give me 3 year old cows any day. For this reason, Peter Lugers' double cooked Prime USDA porterhouse remain my personal benchmark. And given the choice, I am quite happy to stick with a meal at Goodman in London (oh, if only they'd bring back the O'shea Irish Angus bone in rib-eyes).
As for costs, the top end stuff, say Matsusaka A511/512s are ¥40k to ¥60k (£300 to £460) / kg (for retail) and is a fair whack in the nuts. I expect to pay £40 to £80 / kg for prime USDAs, Galicians, Dexters, so you're looking at a 10x cost differential, stepping up to wagyu. If you have ask, then obviously it is not worth it. But if you love beef (as I do), then yes, totally worth the experience. There is nothing quite like wagyu anywhere else outside Japan. Wagyu strains in US, Oz, Chilean, Spanish or right here in Wales and Scotland are good, but are all pale imitations of the real deal. Hon wagyu is certainly a completely different breed of animal, beer diet or otherwise.
Though BMS values of <11 do slide down in cost quite considerably, so if you go to Japan and are keen on wagyu, it is worth getting a service apartment or an Airbnb and to buy your own at the food hall of a major department store (Daimaru, Mitsukoshi, Takashimaya, the last one backs Leroy and SELLS loads to the public).
Having said that, the wagyu steak sandwiches at both restaurants were absolutely stunning memories. I am glad to be fortunate enough to have them, and would gladly have them again.
And I am still waiting for you to invite me to Kawamura. Pretty please? I'll bring the wine. How about a 2010 Kusuda Pinot? A 89 Lynch Bages then. I would love to say Leroy Richebourg, but then I wouldn't be able to pay for the food.
—
One last thing…
There was one other wagyu experience which I do recommend, much less formal, a DIY yakiniku or Korean BBQ. I also included a visit this trip out to Kurogo ('Black 5') in Ikebukuro where we ordered diaphragm, rib, shortrib, tongue, other off-cuts and fatty pork. Plus loads of draft, we paid about £100 for two.
Ironically, also over (very) hot bincho but with diced and sliced fatty wagyu, rather than as steak. Smoke goes everywhere, fat melting then evaporating off white-hot coals. Zero delicacy but very satisfying nonetheless, full rich fat, soy, wagyu fat butter – it's all good.
DETAILS
Ginza Hirayama 銀座ひらやま
Steakhouse
Lunch ¥8k , ¥15k for set pp
Dinner ¥30k for set pp
7-17-1 Ginza Chuo Tokyo
Tel : +81-3-6264-0688
Subway : Ginza , Tsukijishijo
Shima 島
Steakhouse
Lunch ALC ave 16k for 3 courses pp
Dinner ¥18k, ¥23k for set pp
3-5-12 Nihonbashi Chuo Tokyo
Tel : +81-3-3271-7889
Subway : Tokyo main station or Nihombashi or Kyobashi
Kurugo 黒5 池袋東口店
BBQ Beef
Ave ¥4k pp
1-42-16 Higashiikebukuro Toshima Tokyo
Tel : +81-3-5944-9653
Subway : Ikebukuro